Are you planning a trip to Paris in the winter and wondering about the best places to stay near iconic attractions in top neighborhoods, fantastic shopping (including the January sales), and cozy bistros where you can savor tasty cuisine and drinks?
Here are perhaps the two most important things to know as you wonder where to stay in Paris in the winter:
1) Because this is the low tourist season in Paris, you'll have much less competition for booking at the most desirable properties.
2) Visiting Paris in winter means you will likely save a lot on your hotel bill - or you can afford to book posher accommodations.
Aside from about a 10-day period starting around a week before Christmas and continuing through New Year's Day, you'll find the lowest Paris hotel rates of the year during December, January, February, and even early March. It's like almost every hotel in the city goes on sale!
How much can you save? That depends - but typically about 20% to 50% or more.
Our recommended hotels and apartments for winter months focus on five popular Paris neighborhoods most favored by visitors during these months: the 1st District, the Marais, the 9th District, Saint-Germain, and Montmartre.
These five areas are ideal if you want to go to Christmas Markets, shop (don't forget, in addition to holiday gift shopping, winter sales start in early January!), visit cultural venues like the Louvre Museum, Paris Opera House, and Moulin Rouge, and stroll around iconic neighborhoods.
Top photo: Luxembourg Garden, with Pantheon in the background, in February, (c) Paris Discovery Guide
Paris Discovery Guide is a reader-supported publication. When you buy through our links, we may earn a commission at no additional cost for you. Learn more
---
1. Paris's 1st Arrondissement: Where to Stay in Winter
Staying in Paris's 1st Arrondissement during winter months gives you convenient access to top cultural attractions, numerous shopping opportunities, two of the city's most popular Christmas markets, and wonderful places to walk.
The 1st District is on Paris's Right Bank on the north side of the Seine River, and also includes part of Île de la Cité, the small island in the Seine that's home to Notre Dame Cathedral and other Medieval masterpieces.
Find out more top attractions in each of Paris's 20 arrondissements
Top Cultural Indoor Attractions
Stay in Paris's 1st arrondissement in winter for easy access to the giant Tuileries Garden Christmas Market and the magical Hotel de Ville Christmas Market, top cultural attractions such as Leonardo Da Vinci's Mona Lisa in the Louvre Museum, Monet's giant Water Lilies in the Orangerie Museum, contemporary art in the Pinault Collection, and spectacular stained glass from the Middle Ages at Sainte-Chapelle on Île de la Cité.
Where to Shop in the 1st Arrondissement
If you want to do holiday shopping or hit the January sales, you'll also be close to superb stores and boutiques throughout the 1st district. Here are top retail destinations:
Place Vendôme - Paris's largest concentration of high-end jewelers such as Cartier, Bulgari, and Boucheron around the square and along Rue de la Paix
Rue Saint-Honoré - Dior, Chanel, Louis Vuitton, Guerlain, Saint Laurent, and numerous other designer boutiques and showrooms
Rue de l'Opéra and nearby side streets - Fashion and home decor, fancy chocolate shops
Place des Victoires and surrounding streets - Numerous upscale stores and boutiques
Historical covered galleries and arcades - Galerie Véro Dodat, Galerie Vivienne, and the Palais Royal Garden Arcades, with exclusive boutiques and unique treasures
Dehillerin (18 Rue Coquillière) - Favorite emporium for knifes, copper pots, madeleine molds, and everything else you might want in your kitchen
Carrousel du Louvre (next the the Louvre at 99 Rue de Rivoli) - Small underground shopping mall with boutiques for French brands such as Fragonard, Maje, L'Occitane, Caudalie, and Pylones
La Samaritaine - Paris's newest luxury department store
Perfect Spots for Winter Walks in Paris 1
Tuileries Garden - Go to the Christmas Market in December; in January and February, admire the many statues
Palais Royal Garden - A hidden treasure; admire the rows of stately (bare) trees, and the Burren "columns" in the adjacent courtyard
Right Bank of the Seine River - Check out the bouquinistes (book sellers) as you stroll along the river banks
Where to Stay in Paris in Winter in Paris 1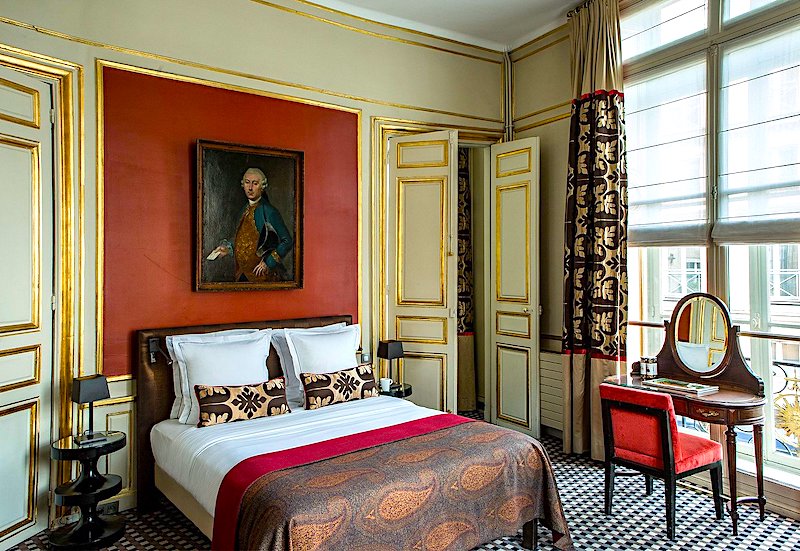 Find more hotels in Paris's 1st arrondissement
Find more to see & do in Paris's 1st arrondissement
---
2. Paris's Marais Neighborhood: Best Places to Stay in in the Winter
Paris's uber-popular Marais neighborhood sports lovely late medieval (highly restored), 17th century, and 18th century architecture give you a glimpse of what the city looked like before Napoleon III's 19th century modernization (but without the open sewers).
The Marais occupies large swaths of the 3rd and 4th districts on the city's Right Bank.
Best Tours for Exploring Le Marais in the Winter
Off-the-Beaten Track in Paris: 2-Hour Vintage 2CV Tour - Stay warm and cosy while your driver takes you to see interesting places in the Marais and other Paris neighborhoods
Iconic Neighborhoods Guided Walking Tour - Join this professionally-guided walking tour (choose the Marais option) and learn about the neighborhood's history, art, architecture, fashion boutiques, cool cafe, and hidden treasures
Le Marais Walking Food Tour - Explore the culinary scene in this chic neighborhood as you sample classic breads, taste wine and cheese at a covered market, indulge in French chocolates and macarons, and more
Top Indoor Cultural Attractions in the Marais
Choosing a hotel or apartment in Paris's Marais neighborhood for a winter stay gives you easy access to explore the Marais's many fascinating museums: including Centre Pompidou, the Musée de la Chasse et de la Nature (Museum of Hunting and Nature), the Picasso Museum, and Musée Carnavalet, just to name a few.
Where to Shop in the Marais
In recent years, so many famous international brands and designers, French retailers, indie boutiques, and discount stores from high-end to sell-by-the-kilo have flocked to the Marais that you'll find a dizzying array of shopping opportunities throughout the entire neighborhood.
Not sure where to begin? Any of these streets make a good starting point:
Rue de Rivoli - Larger stores, including many top French, European, and International brands, as well as some deep-discounters
Rue de Francs Bourgeois - If you're into trendy fashion, this main street is on point; duck down side streets for more eclectic brands
Rue de Vieille-du-Temple - A mix of everything, but especially leather goods and jewelry
Rue des Coutures Saint-Gervais - Look for interesting art galleries and indie designer clothing
Rue de Bretagne - Home to the historical Marché des Enfants Rouges covered food market, this is a fun street to explore; look for Ladurée and Pierre Hermé shops, ice cream vendors, and patisseries (pastry makers)
Village Saint-Paul - Mostly hidden from the street, you can access this historical shopping village with boutiques, art galleries, and bistros from Rue Saint-Paul, Rue Charlemagne, and Rue des Jardins Saint-Paul - just look for the signs!
Perfect Spots for Winter Walks in Paris's Marais
Place des Vosges - A lovely small park surrounded by stately 17th century buildings; look for #6, now the Victor Hugo Museum, where the famous author of Hunchback of Notre Dame and Les Misérables once lived
Small parks and almost-hidden gardens, such as these along Rue Payenne
Seine River banks, where you'll be looking straight across the water at Ile de la Cité
Where to Stay in the Marais in the Winter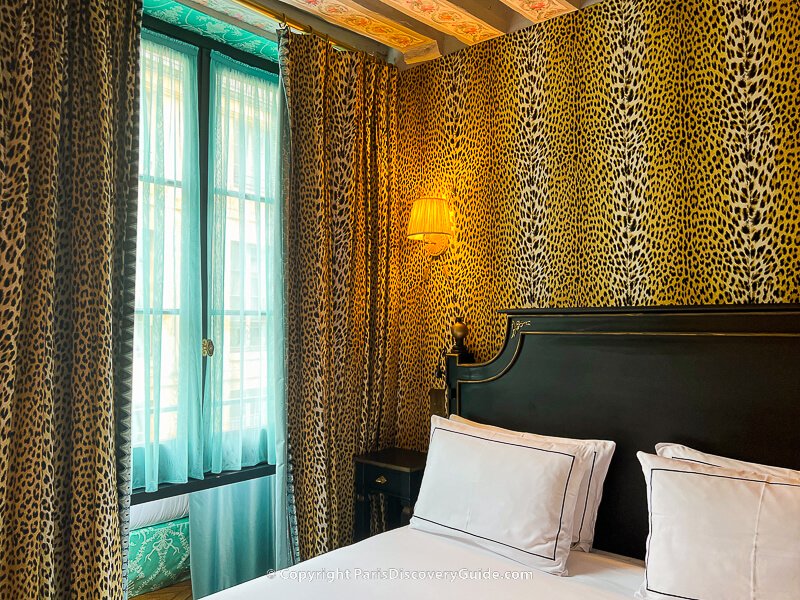 Quick tip about staying in the Marais: Many/most hotels in this highly desirable area occupy 17th and 18th century buildings, and guest rooms can be tiny.
If your budget permits, book one of the larger (and pricier) rooms to avoid tripping over your suitcase.
Find more hotels in the Marais
---
3. Best Places to Stay in Paris's 9th District in the Winter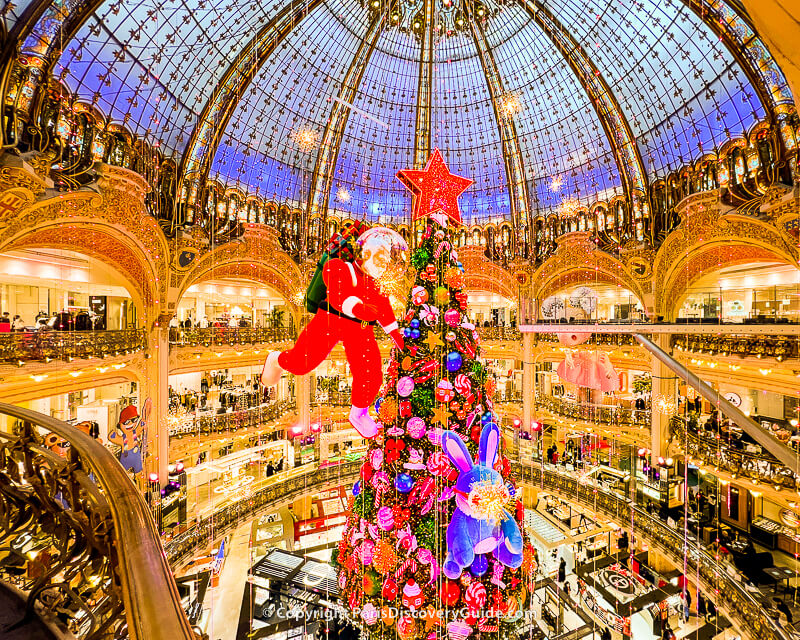 Top Indoor Cultural Attractions in the 9th District
The top two cultural attractions in Paris 9 are Opera Garnier, which you can explore on your own or catch an opera, ballet, or other performance, and Musée Grevin, Paris's wax museum which is one of the oldest in Europe and among the best in the world.
Where to Shop in the 9th
Two of Paris's biggest department stores, Galleries Lafayette and Printemps, occupy multiple buildings along several blocks of Boulevard Haussmann. Serious shoppers can easily spend a day (or more) in each of them.
Nearby are dozens, perhaps hundreds, of other stores - everything from large international brands, French favorites, smaller independent shops, and specialized boutiques. Truly a shoppers' paradise!
Serious foodies flock to the 9th's Rue des Martyrs, one of the city's best food streets. It runs north-south along the heart of the trendy SoPi (South of Pigalle) neighborhood, with a nice family vibe. Be sure to explore all the cross streets, too. You'll see lots of small independent boutiques, vintage clothing stores, stamp and old coin dealers, antique shops, and art galleries.
One of the most interesting cross streets near the Pigalle metro station is Rue Victor Masse, lined with shops selling second hand and vintage musical instruments and amplifiers, plus a couple of dilapidated-looking sex clubs in this former red light (but now rapidly gentrifying) district.
Perfect Spots for Winter Walks in Paris 9
Paris's 9th district is not known for its parks or green space, so the best walking routes are along commercial streets such as Rue des Martyrs.
Window-shopping in the 9th is always fascinating - but if winter walks where you can see trees and grass are important to you, consider staying in a different part of Paris, such as Saint-Germain-des-Prés, the Marais, or the 1st arrondissement, all of which have lovely parks and gardens.
In fairness, the 9th does have a few very small hidden gardens which you may discover if you like to explore interesting-looking alleys, but they really don't compare with Paris's magnificent larger parks.
Where to Stay in Paris in Winter in Paris 9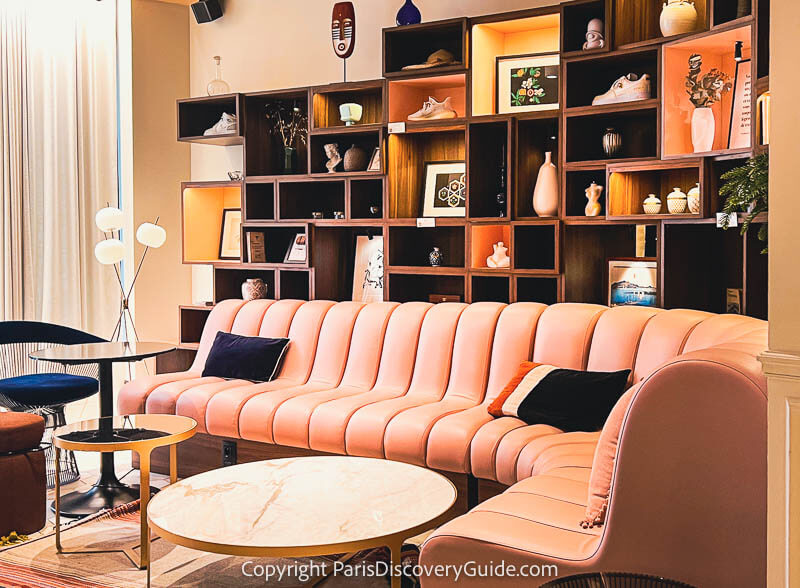 Maison Mère - New 4-star hotel with contemporary decor and an onsite restaurant/bar located on a tranquil side street next to leafy Square Montholon and close to the Rue des Martyrs food street
Chouchou - Fun 4-star design hotel with 63 guestrooms plus onsite entertainment - a guinguette-style bar, performance space, and food market; plus you're just a 5-minute walk from Palais Garnier, Galeries Lafayette, and Printemps
Hôtel Chopin - Budget-friendly 3-star hotel located in Passage Jouffroy, a 19th century glass-roofed shopping arcade which is also home to the Grevin Wax Museum
Laz' Hôtel Spa Urbain - Gorgeous 4-star hotel with an indoor pool, fitness room, spa, and hammam close to Galeries Lafayette and Printemps, the Olympia concert hall, and the Paris Opera House
Le Basile Hotel - This budget-friendly 3-star hotel - a rarity in its posh corner of the 9th - puts you within easy walking distance of Galeries Lafayette and Printemps, Opéra Garnier (Paris Opera House), and Madeleine Church
Find more hotels in Paris's 9st arrondissement
Find more to see & do in Paris's 9th arrondissement
---
4. Where to Stay in Saint-Germain-des-Prés during the Winter
Along with the Marais neighborhood, Saint-Germain-des-Prés is the favorite of many English-speaking visitors Paris visitors.
Perhaps more than any other spot in the city, its mix of 17th - 19th century architecture, cute boutiques, pedestrian-only streets, and cozy bistros look like the romantic and charming Paris you've seen in movies and paintings.
Officially, the Saint-Germain neighborhood includes less than half of the 6th arrondissement. But for practical purposes, many visitors see it as covering the entire 6th, (plus a chunk of the 5th), we're going to do the same in this article.
Top Indoor Cultural Attractions in Saint-Germain-des-Prés
The Orsay Museum, home to Paris's most famous collections of Impressionist and Post-Impressionist paintings, ranks as by far the biggest cultural attraction in the Saint-Germain-des-Prés area - even though it's actually in the 7th arrondissement.
Other top neighborhood gems are three magnificent churches, all perfect for exploring on winter days: Église Saint-Germain-des-Prés, Église Saint-Sulpice, and Église Saint Severin. (French language tip: église = church.)
Where to Shop in Saint Germain
All kinds of stores pack Saint-Germain's narrow streets.
Look for antique dealers, home decor stores, and art galleries between the Seine River and Rue de l'Université.
Stop by the Saint-Germain Paris Christmas Market in December, where you can shop for fine artisan products, specialty foods and wines, and cute souvenirs as well as holiday decor.
To see the latest, greatest, and most beautiful furniture, bathroom fixtures, and kitchen designs, walk the length of Boulevard Saint-Germain. Of course you'll also see plenty of other stores as well as some famous cafes and bistros (Les Deux Magots, Cafe de Flore, Brasserie Lipp, all favorite hang-outs of early 20th century writers and artists such as Hemingway, Sartre, de Beauvoir, Picasso, just to name a few).
Other main shopping (and dining) streets are Rue du Bac, Rue Jacob, Rue de Rennes, Rue Saint-Sulpice, Rue de Buci, and Rue de Seine, although turn down almost any other street and you're almost sure to discover more fashion boutiques.
Since we've expanded Saint-Germain's boundaries for this article, now is the time to mention that the Left Bank's famous Bon Marché luxury department store (24 Rue de Sevres) is also nearby.
Perfect Spot for Winter Walks in Saint Germain
Luxembourg Garden - One of Paris's largest city parks - spectacular year-round.
Where to Stay in Paris in Winter in Saint Germain
Find more Saint-Germain hotels & apartments
Find hotels & apartments in the nearby 7th arrondissement
---
5. Where to Stay in Montmartre in the Winter
Located in Paris's 18th district, Montmartre attracts visitors who love its village-like ambiance, narrow winding lanes, many appealing cafes and bistros, and small museums. It's also the scene of sizzling nightlife, especially along Boulevard de Clichy where famous cabaret Moulin Rouge and concert hall La Cigale are located.
Montmartre is also a favorite of budget-conscious travelers, and savings get even better during winter months.
Best Tours for Exploring Montmartre in the Winter
Top Indoor Cultural Attractions in Montmartre
Moulin Rouge is, by far, Montmartre's most famous cultural attraction, although the gleaming white Sacre Coeur Basilica on top of a hill runs a close second.
For many Paris visitors, a Moulin Rouge show with Champagne and perhaps dinner rank near the top of their bucket lists. Getting tickets and reservations during summer months can be a challenge, so if you're visiting during the winter, you should have a much easier time.
Winter is also an ideal time to visit one or more of these small museums tucked away in the hilly Montmartre neighborhood:
Dalí Paris (11 Rue Poulbot, 75018), where you can view around 300 paintings, furniture, and other works by surrealist artist Salvidore Dalí
Halle Saint Pierre (2 Rue Ronsard) - Light-filled exhibition space/cafe where you can see contemporary, "outsider," and pop art, and relax over a cappuccino and fresh-baked pastry
Musée de Montmartre (12 Rue Cortot), where you can see works by artists such as Modigliani and Utrillo who gathered in the back garden
Where to Shop in Montmartre
Small boutiques and numerous produce, cheese, meat, and other markets along Rue des Abbesses make this one of the neighborhood's most appealing shopping areas.
If you like to sew, you won't want to miss several blocks lined with fabric and trim shops. Start at the biggest and the best, Marché Saint-Pierre (2 Rue Charles Nodier) where you can explore five floors of fabulous fabrics. Then walk down Rue Livingston, where you'll more fabric stores, for one short block and turn right onto Rue d'Orsel, where you'll find even more.
If you're in Montmartre in December, visit the lovely Christmas Market at Place des Abbesses near Sacre Coeur and shop for artisan products for everyone on your holiday gift list.
Perfect Spot for Winter Walks in Montmartre
Stroll around Montmartre Cemetery, which you'll find picturesque monuments and graves of French writers, musicians, entertainers, and movie directors.
Where to Stay in Paris in Winter in Montmartre
---
More Articles about Where to Stay in Paris