Want to explore Paris's 9th arrondissement and wondering about the best things to do and see?
Two enormous Belle Époque grands magasins, Galeries Lafayette and Au Printemps, dominate a bustling shopping district in the 9th lined with French and international brand-name stores and smaller boutiques - but that's just the start of what you'll discover in the elegant 9th district, known for its sweeping boulevards and classic Haussmannian architecture.
Just a couple of blocks from the department stores, the opulent Palais Garnier attracts sell-out crowds for performances by the Paris Opera and Paris Opera Ballet. A variety of other concert halls and entertainment venues stage everything from rock to Broadway musicals .
A labyrinth of 19th century covered passages, one of Paris's most-loved market streets (and another equally fascinating but lesser-known one), a world-famous auction house, and more small boutiques and shops than you could possibly count make the 9th arrondissement a favorite of browsers and shoppers.
Less obvious, a large number of multi-national companies and banks also call the 9th district "home," making this area (along with parts of the 2nd and 8th districts) the city's largest business district aside from La Défence on the outskirts of Paris. That means you'll find a wide choice of hotels and lots of places to eat and drink.
You can easily spend more time exploring the 9th arrondissement of Paris than you might expect, and some of your favorite discoveries may be the less famous sights: the friendly vibe in the SoPi (South of Pigalle) neighborhood, a very fun wax museum, and small bistros, coffee shops, and bars.
In this article, we share the best things to do in Paris's 9th district, practical tips, and best 9th arrondissement hotels for your visit. Enjoy!
Where to stay in the 9th arrondissement
Top photo: Side view of Palais Garnier, the Paris Opera House
Paris Discovery Guide is a reader-supported publication. When you buy through our links, we may earn a commission at no additional cost for you. Learn more
---
Guide to 9th Arrondissement Paris: Top Attractions & Fun Things to Do
Explore the 9th District's Famous Department Stores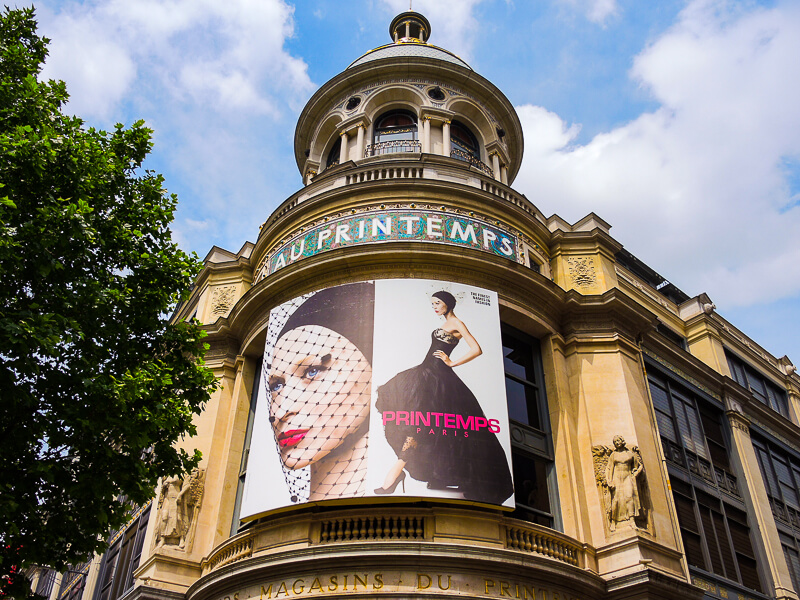 You can easily spend an entire day or longer exploring Galeries Lafayette Haussmann (40 Blvd Haussmann 75009) and Printemps (64 Blvd Haussmann), the two enormous late-19th century department stores sitting almost side-by-side sprawling across several blocks.
So where to start?
Both stores contain numerous designer boutiques representing just about every name in French and international luxury fashion (as well as more affordable ready-to-wear brands).
If you have limited time but want to shop for the latest styles from designers such Chanel, Prada, and Dior, visiting their boutiques at Galeries Lafayette or Printemps may be faster than going to their stand-alone Paris showrooms on Avenue Montaigne and Rue Saint-Honoré.
And beyond women's and men's fashion, both stores offer an extensive range of high-quality home goods and accessories.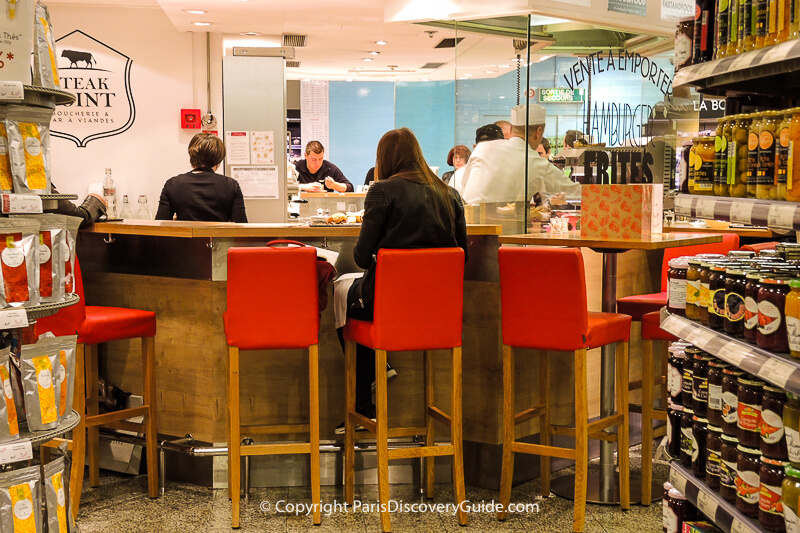 Look for: Gorgeous stained glass domes, onsite restaurants and cafes, rooftop terrace cafés offering panoramic 360 degree views of Paris with view of the Eiffel Tower, Sacre Coeur, and other famous monuments (you don't have to order anything to eat or drink to access the terraces), and spectacular window decorations during the Christmas holiday season.
Galeries Lafayette also stages periodic fashion shows and features an expansive food hall.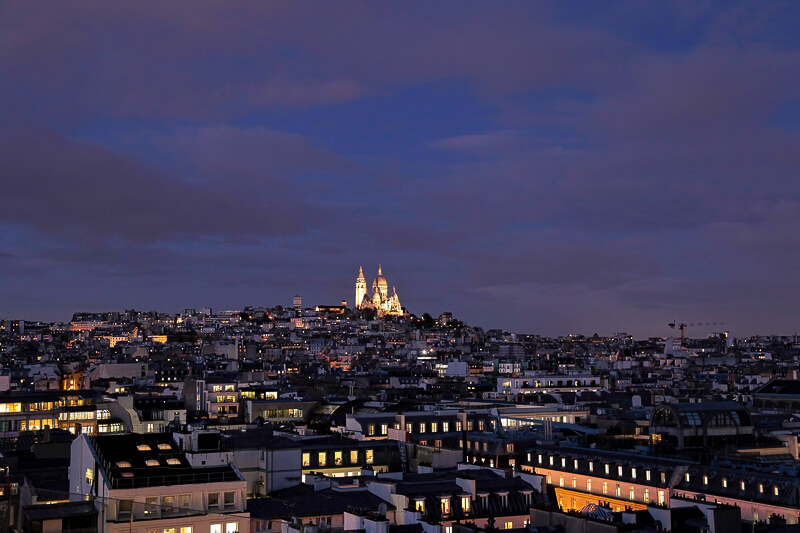 Visitor tips:
Galeries Lafayette Haussmann is the larger of the two stores with a broader selection of products and experiences on offer, but the somewhat smaller (but still huge) Printemps can be easier to navigate.
Although both have other stores dotted around Paris and elsewhere in France, their flagship locations on Boulevard Haussmann are by far the most spectacular.
No interest in shopping? Take 10 minutes to visit Galeries Lafayette's central atrium and experience looking up at the 6 floors of glittering boutiques and the magnificent glass dome.
Shop at All the Other Stores near the Grands Magasins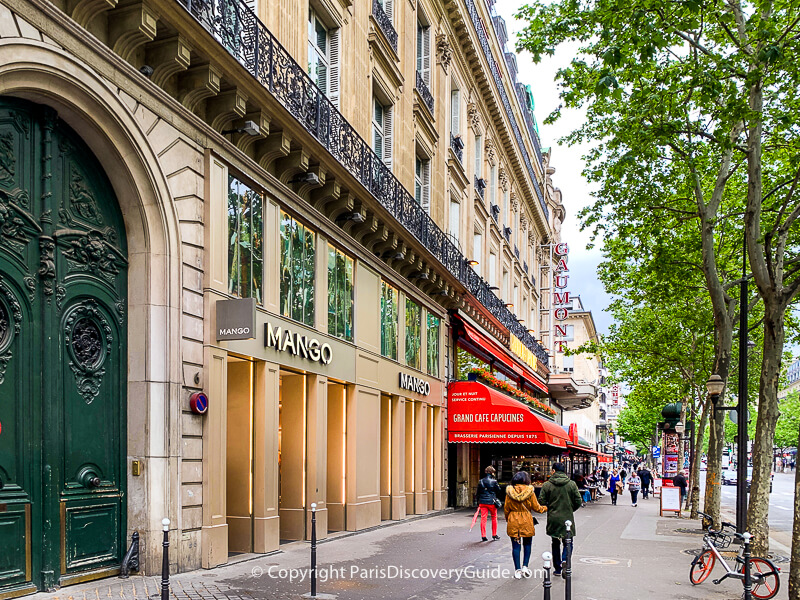 Surrounding Galeries Lafayette and Printemps, you'll find a huge number of other stores along the Grands Boulevards, avenues, and streets laid out by in the late 1800s by Emperor Napoleon III's city planner and now lined with shopping opportunities: Boulevard Haussmann, Boulevard Montmartre, Rue de Clichy, Avenue de l'Opera, Rue Halévy, Rue Vignon, and Boulevard de la Madeleine/Boulevard des Capucines/Boulevard des Italiens (the name changes every few blocks and yes, it can be confusing).
If designer boutiques in the grands magasins exceed your budget, look for stylish alternatives at international brands such as Zara, Uniqlo, H&M, and Mango, French brands such as Sophora, Caroll, Madura, and Lauren Vidal, and even a few American stores such as Apple, Gap, Adidas, and Reebok.
Within this area, you'll also find an enormous number of cafes, coffee shops, and bars where you can refuel when your energy lags.
Discover a Hidden Shopping Mall in the 9th District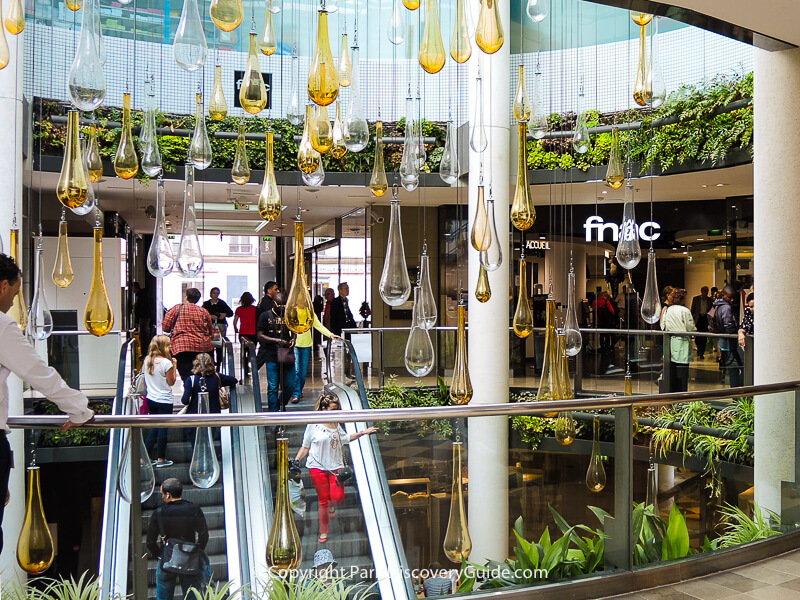 Hidden from sight near Printemps Haussmann is something you might not expect in this part of central Paris: an attractive light-filled shopping mall called Passage du Havre, home to about 40 stores.
These include a FNAC electronics store, plus other mostly-French retailers: Fossil, Yves Rocher Parfumerie, L'Occitane, Naf Naf women's clothing, Etam Lingerie, and Agatha. A Starbucks and a Pret à Manger compete for your coffee loyalty.
Over the escalators you can see the mall's most strikiing feature: a dazzling Murano chandelier with 120 hand-blown glass drops suspended from the beautiful glass-roofed rotunda.
The easiest way to spot the mall's entrance is to walk up Rue de Caumartin (the street between Printemps' two main buildings) cross Rue de Provence, and walk about 150 feet where you will see it on your left. There's also another entrance at 109 Rue Saint-Lazare.
Fun fact about Passage du Havre's history: Despite the modern appearance created by a late-1990s renovation, the mall actually dates back to 1845 when it opened as a covered arcade, the precursor to today's malls. Like so many places in Paris, the current mall sits on top of layers of history.
Be Dazzled at Palais Garnier, Paris 9's Top Cultural Attraction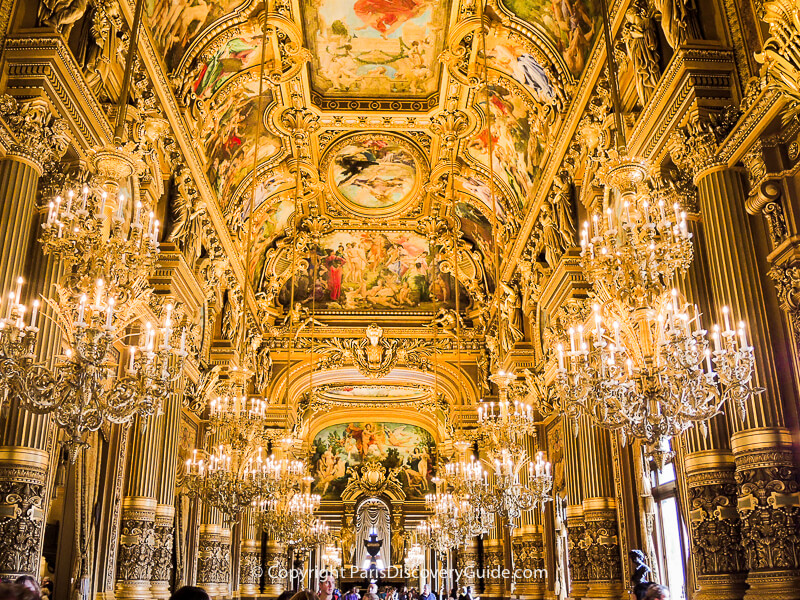 The most dazzling jewel of the 9th arrondissement and certainly one of the most fascinating places to visit in Paris is Palais Garnier.
Completed in 1875 during the rule of Emperor Napoleon III, the Paris Opera House, as it is commonly called, rivals Versailles for extravagant, over the top opulence. Don't miss the Grand Hall, massive curving staircase, and Marc Chagall mural painted on the domed ceiling. The Opera House also inspired Gaston Leroux's novel and the American musical, The Phantom of the Opera.
Tickets to the venue's world-class operas and occasional ballets (Opéra Bastille is where most ballets are now performed) can cost you a bundle but the experience is priceless. Performances typically sell out far in advance of their dates, so if you are planning a visit to Paris and want to see an opera or ballet, get your tickets as soon as you know your travel dates.
In addition to attending a performance, you can see Palais Garnier in two other ways:
Tip: Don't leave Palais Garnier without checking out the Boutique de l'Opera de Paris - the Opera House's onsite store packed with opera memorabilia and gift-worthy items.
Explore the 9th's Historic Covered Passages
Unlike Passage du Havre, which today bears little resemblance to its original structure, two other lovely 19th century covered passages in the middle of the busy 9th arrondissement retain their authenticity and original charm: Passage Jouffroy and Passage Verdeau.
Like Paris's other historic walkways, these pasages couverts Parisiens, as they are called in French, are an insider's secret - hidden gems you might never discover if you don't know where to find their entrances. They're the perfect spots to take refuge on a rainy or too-hot day - and to glimpse a bit of 19th century Paris preserved in their iron-framed glass roofs, detailed woodwork, and one-of-a-kind shops.
Discover Paris's best secret passages with a guide
Passage Jouffroy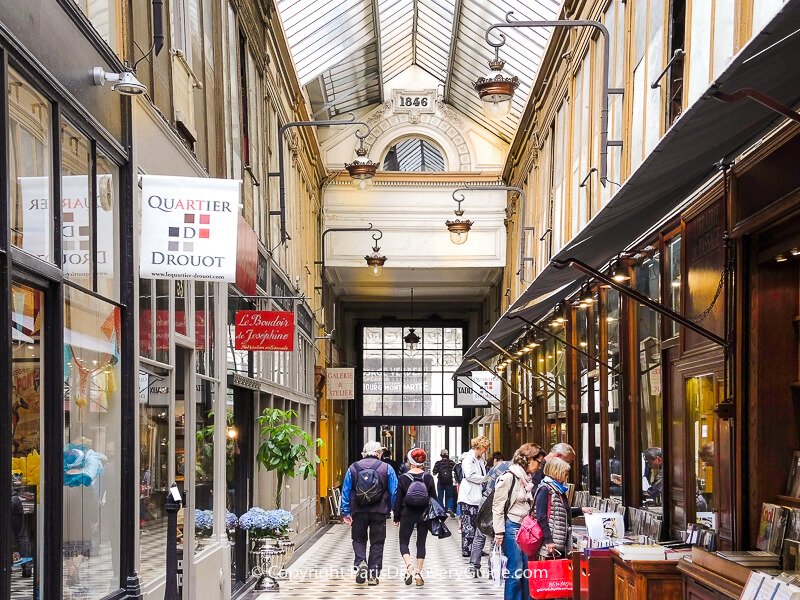 Passage Jouffroy dates back to 1846, when it received engineering acclaim as the first passage to be constructed only from metal and glass, with wood used just as ornamentation.
The gray, black, and white tile pavers covering the floor are original, restored as part of a total renovation in 1987.
Rather than being linear, like most of Paris's other covered arcades, Passage Jouffroy makes a sharp turn at one point and reveals a second section separated from the first by a small flight of stairs.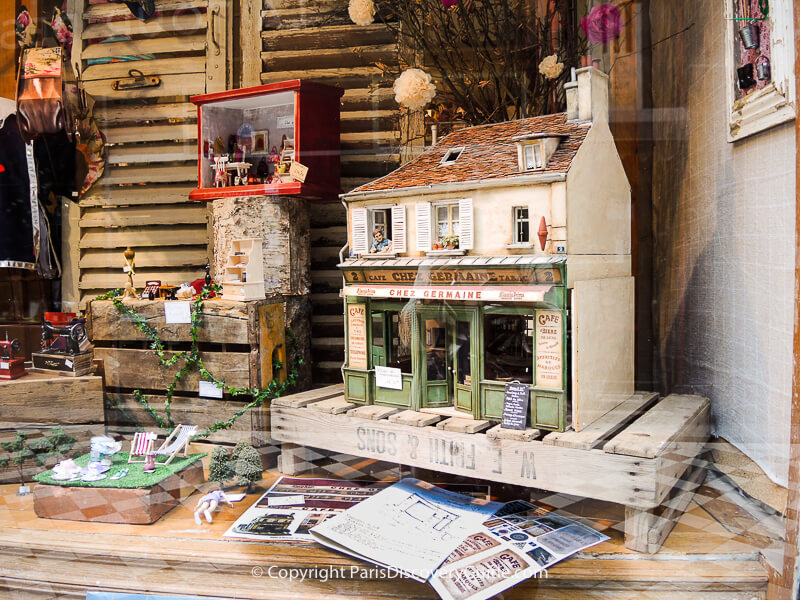 A wonderfully eclectic mix of unique individually-owned boutiques featuring toys, miniatures, new and used books, Indian imports, stamps, handmade clothing, antiques, and jewelry share space with several bistros and cafes, the immensely entertaining Grevin Wax Museum, and entrances to two hotels: Hôtel Chopin and Best Western Ronceray Opera.
Be sure to explore:
Pain d'Épices - Toy store packed with wooden music boxes, stuffed teddy bears, board games, dolls, puzzles, toy trains. Showstoppers: Doll houses with miniature furnishings, tiny food, accessories, garden tools - even battery-operated LED lights. Come here to buy unique gifts from Paris you won't find anywhere else.
Brésilophile - You'll see an enormous variety of crystals, geodes, carved quartz items, and lots more. Most lust-worthy: the crystal balls.
Galerie Fayet - New and antique canes, walking sticks, and umbrellas pack this small shop. Some are collectors' items, others are meant to be used, all are special. You'll feel like you're in a special museum, where even the most precious items may be purchased.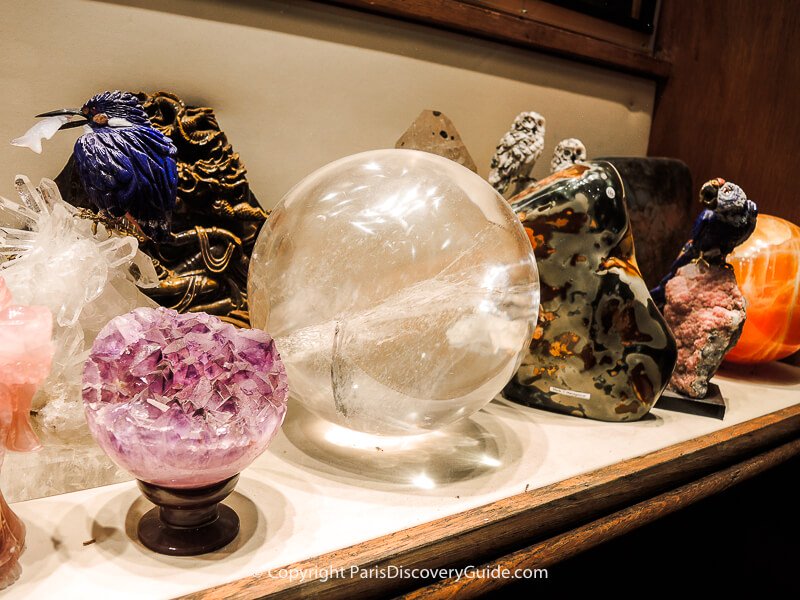 Passage Verdeau
Extending north from Passage Jouffroy, Passage Verdeau also opened in 1846 and while it shares some similarities with its southern cousin, its arched glass roof is slightly fancier although the floor has been replaced. Check out the neoclassical detailing of the woodwork and the original white clock hanging at one end.
Passage Verdeau's location close to the Drouot auction house runs through the middle of a city block dominated by small stamp, coin, book, and antique dealers, which are mostly what you'll find in the arcade's shops.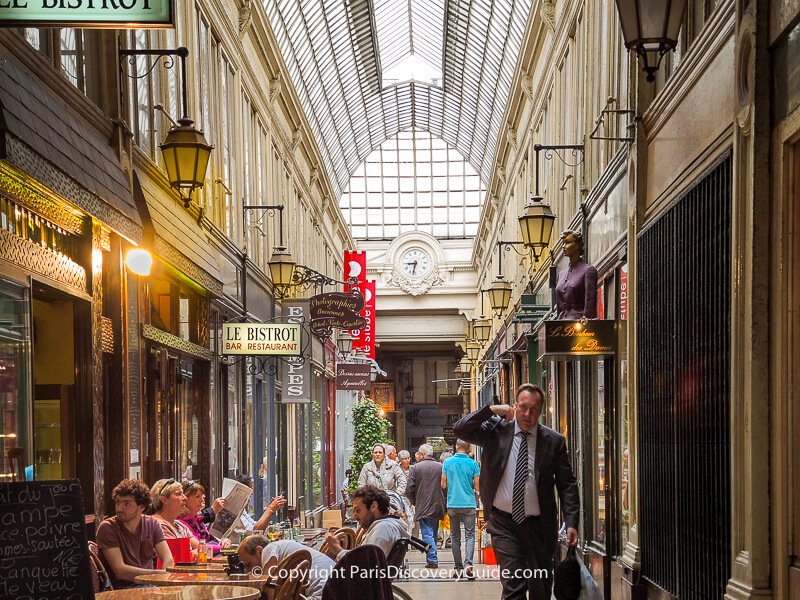 This passage is a favorite of stamp, book, and postcard collectors who browse the shops in hope of finding an overlooked treasure. Sometimes that happens. Don't be put off by the half-unpacked boxes and messy appearances - they may predict the best hunting grounds.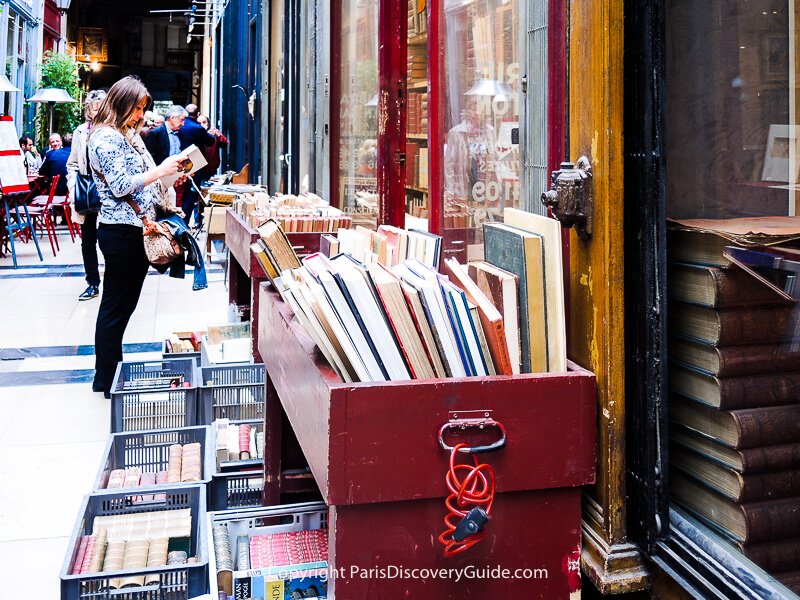 Look through the bins of prints, maps, drawings, and old postcards, check out the books for first editions, examine the vintage posters and antique silverware, and you may find something you love.
The art - mostly original prints, lithographs, drawings, etchings - can be especially rewarding to look through. You may be surprised by some of the affordable prices. Of course, not all of the art is original - you'll also see reproductions - so if that matters to you, be careful and caveat emptor.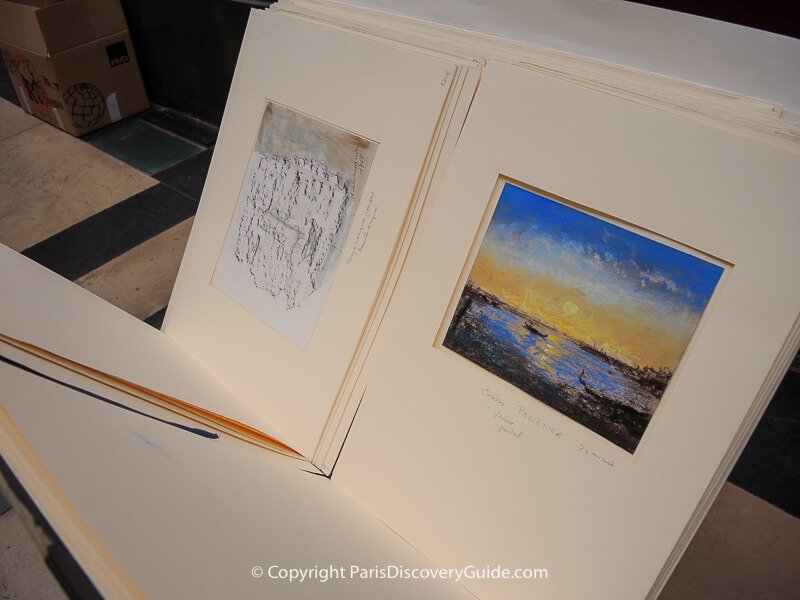 Getting to the 9th's covered passages: Access Passage Jouffroy and Passage Verdeau through entrances directly across from each other on Rue de la Grand Batelière between Rue Drouot and Rue du Faubourg Montmartre. Passage Jouffroy has a second entrance at 10 Boulevard Montmartre, and Passage Verdeau has one on Rue du Faubourg Montmartre.
Discover Paris's best secret passages with a guide
Chill with Your Favorite Characters at Musée Grevin
Want to hang with French movie stars, musicians, famous chefs, politicians, and even heroes (or villains) from the past?
Head to Musée Grevin, Paris's wax museum - one of the oldest in Europe and among the best in the world. You'll easily spot the ornate red and gold street entrance at 10 Boulevard Montmartre 75009, but you can also find the main entrance and ticket line inside Passage Jouffroy.
Once you're inside, the magic starts with a dazzling light show in an elaborate Hall of Mirrors before you proceed into the museum's surprisingly large main spaces.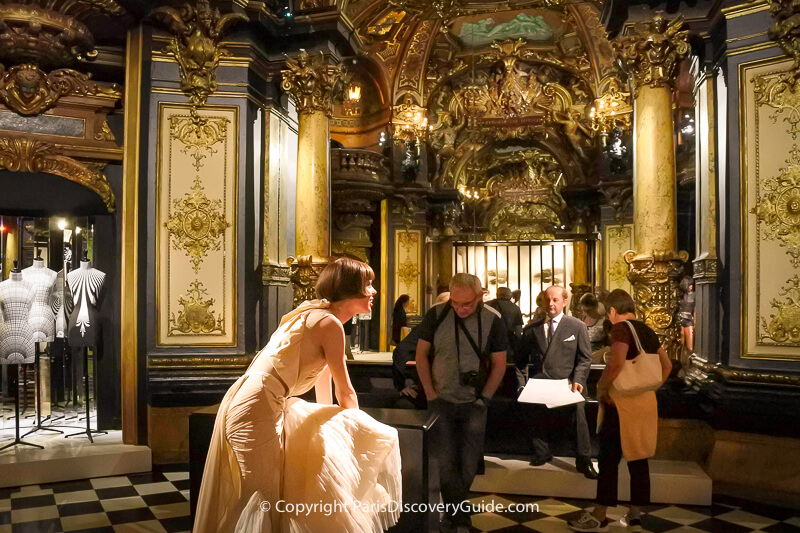 You'll experience a panorama of scenes with almost 500 wax characters depicting French history, culture, and contemporary life - look for everything from bloody scenes of the Inquisition and French Revolution to present-day film stars, sports greats, Bollywood favorites, and of course homages to French couture and culinary celebrities.
Pro tip: Save time by getting your tickets in advance online
Paris 9: Neighborhoods Today & Yesterday
Paris evolves - and so do its neighborhoods. Here are the 9th's main neighborhoods today, as well as historical names and official quartier names
Opéra - Informal name of the neighborhood dominated by Palais Garnier Opera and the big department stores in the southeastern corner of the 9th. The quartier name for this area is Chaussée-d'Antin, which you'll probably never hear; however, Opéra is also the official arrondissement name of the 9th district. Confusing? Yes.
SoPi (South of Pigalle) - Trendy neighborhood known for its foodie scene stretching south from the Blanche and Pigalle Metro stations with Rue des Martyrs at its heart; extends down to Rue Saint-Lazare between, more or less, Eglise Notre Dame de Lorette and Church of Saint Trinité.
Montholon Village - This tranquil, mosty residential enclave consists of just a few blocks surrounding the Square Montholon to the east of Rue des Martyrs. Filled with stately apartments, small hotels, galleries, boutiques, and bistros, it's a glimpse of authentic Parisian life.
Nouvelle Athènes (New Athens) - This is the historical name the mostly residential area today known as SoPi, where the cool artists and writers hung out and hosted salons between about 1820-1870; now it is the site of two specialty museums celebrating that era
Saint-Georges - Official name of the quartier overlapping with the Nouvelle Athènes and SoPi neighborhoods but today you really won't hear anyone use it unless they're talking about Place Saint-Georges, a gorgeous square next to the Saint-Georges Metro station surrounded by lovely mansions, cafes, art galleries, and residential buildings.
Rochechouart - This is the quartier name for the 9th's northeast corner; you'll very occasionally hear the neighborhood called Rochechouart, perhaps due to the informal Sunday morning street market along Boulevard de Rochechouart (its northern border), but in recent years, the neighborhood feels more like the eastern end of SoPi thanks to its many small food shops and cafes.
Cadet - This is another informal neighborhood name for the area along Rue Cadet, a pedestrian-only market street at its southern end, an extension of sorts of the Passage Verdeau near the Drouot auction house.
Rock on at the Olympia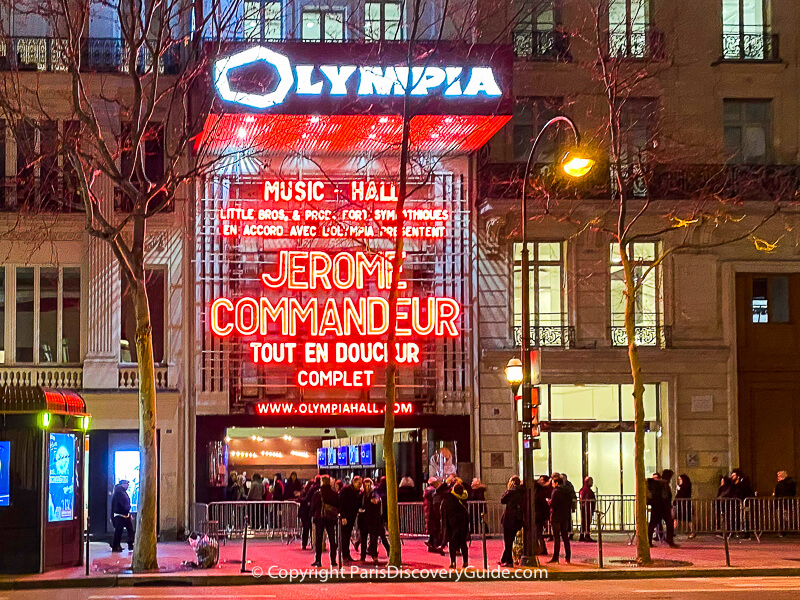 Edith Piaf, the Beatles, Charles Aznavour, Jimi Hendrix, Jacques Brel, Bob Dylan, Dalida, Norah Jones, Led Zeppelin, Johnny Hallyday, Taylor Swift, Yves Montand, Aretha Franklin, Jeff Buckley, Marlene Dietrich, and the Rolling Stones are just a small number of the famous French and international musicians who have performed at The Olympia (28 Boulevard des Capucines), one of Paris's top famous concert venues.
Although L'Olympia also hosted ballets, circuses, operettas, can-cans, and even movies for the first few decades after it opened in 1888, it has focused mainly on rock performances since the 1960s. Fans consider its acoustics among the best in Paris. If you are planning a trip to Paris and love music, always check out what's on at the Olympia.
Watch a Broadway Musical at the Mogador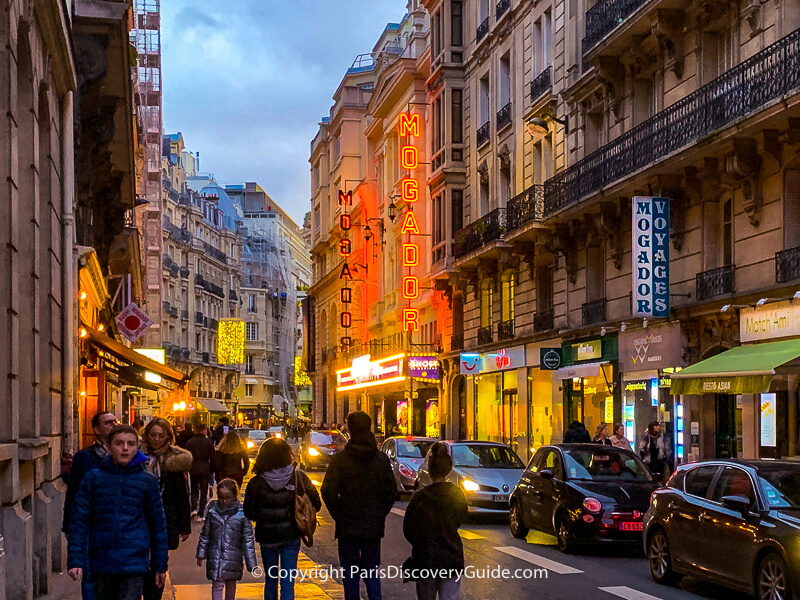 If you love theater - especially musicals - add attending a performance at Theatre Mogador (25 Rue de Mogador) to your "must-do in Paris" list.
Look for American Broadway favorites such as The Lion King, Chicago, Cats, Les Misérables, Ghost the Musical, Grease, Mamma Mia!, and Phantom of the Opera. Most performances are in French, with English subtitles projected.
Located just a couple of blocks north of Galeries Lafayette and Printemps, the renovated 1919 theater retains most of its original gorgeous details (and the excellent sightlines from the tiered seating) but now has air conditioning, plush red carpeting and comfy seats, and 6 bars where you can treat yourself to champagne, pastries, and savory snacks. The best place to get tickets is on the Mogador website.
Bid on a Treasure at Drouot Auction House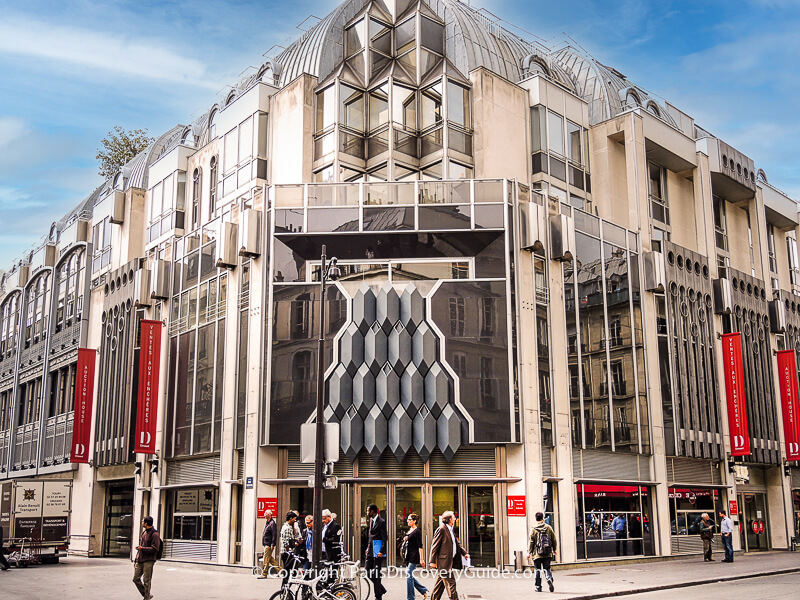 The main Paris location of esteemed auction house Drouot (9 Rue Drouot) dominates a corner in a quiet section of the 9th district close to Montmartre - a true hidden gem off the usual tourist path but a "must" for anyone.
Auctions of art, furniture, jewelry, accessories, knick-knacks and everything else you can imagine take place almost daily, with a public viewing of items to be offered on the following day. What if you buy something too large to fit in your suitcase? No worries - Drouot can arrange for shipping. Check their website for auction descriptions and dates.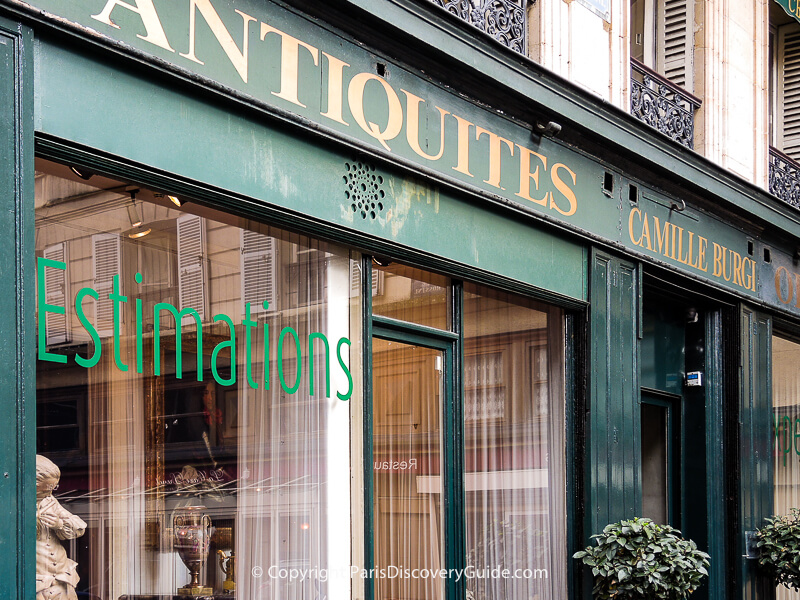 Can you attend a public viewing at Drouot even if you don't plan to bid or buy? Absolutely! In fact, this is an art and design lover's "insider secret" way to see treasures like a rarely-seen Van Gogh or exquisite 17th century furniture that usually disappear from public view into private collections.
If you're in the vicinity of Drouot and you like discovering vintage treasures and drool-worthy antiques, take time to explore the small specialty shops in the surrounding streets.
In addition to stores and galleries specializing in art, sculpture, jewelry, and furniture, you'll also see lots of small shops selling stamps and coins. This small corner of the 9th is a truly a collector's paradise, unknown to most Paris visitors.
Find out about shopping at Les Puces Paris flea market for vintage & antique treasures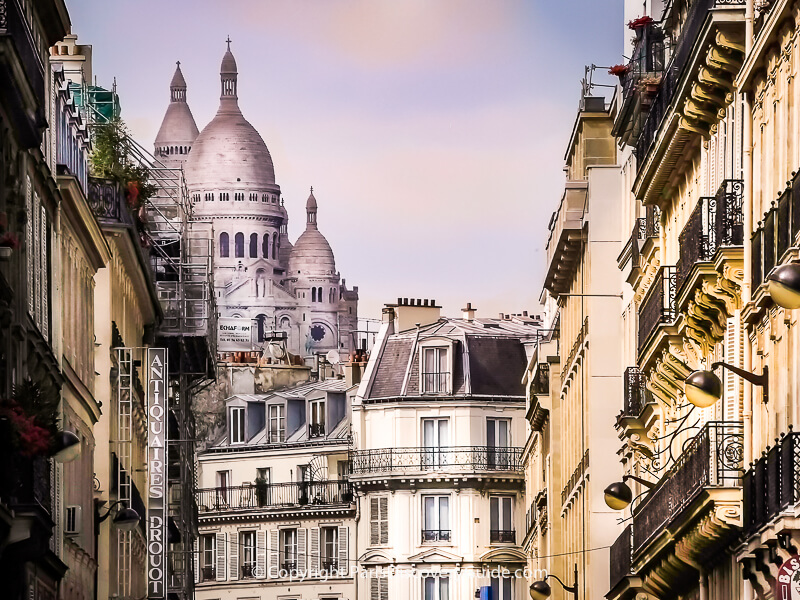 This part of the 9th arrondissement offers interesting views of Montmartre and Sacre Coeur, not much more than half a mile (1km) away. You'll also see a wonderful mix of late-19th century architectural styles.
Explore Rue des Martyrs & the SoPi Neighborhood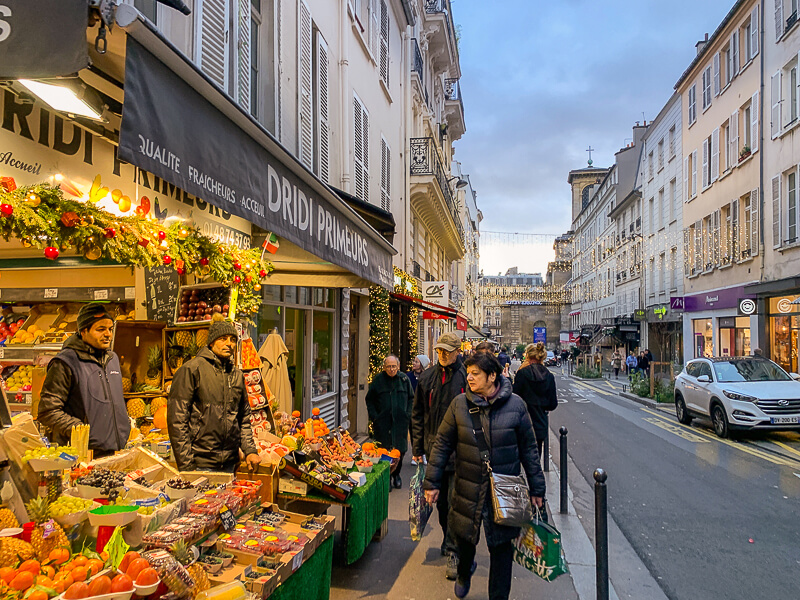 For much of the 19th century, the 9th arrondissement ranked as Paris's most fashionable district and the area south of today's Pigalle and Blanche metro stations, then known as Nouvelle Athènes, attracted the crème de la crème of that period's leading artists, writers, musicians, and intelligentsia. But by the late 1800s, the red-light neighborhood of Pigalle in the 18th arrondissement began to spill south, filling New Athens with brothels, prostitutes, and risqué cabarets.
Today, artists, creators, chefs and business builders (collectively called bobos - "bourgeois bohemians") have moved back in and rebranded the area as "SoPi" - South of Pigalle. Acclaimed bistros and trendy bars replaced the strip clubs and peep shows. Chic hotels now occupy the sites of former brothels, outlawed since 1946.
Today, SoPi is known for its friendly vibe, foodie culture and laid-back ambiance. Want to experience it? Start with Rue des Martyrs, one of the city's most authentic market streets. Explore on your own or even better, join a small-group tour where you'll visit artisan shops and sample cheese, pastries, food, and wine from some of the best restaurants in the 9th arrondissement Paris along the way.
Tip for families: Although SoPi (like the rest of the 9th arrondissement) is a safe neighborhood, the northern edge along Boulevard de Clichy does still have a slightly seedy feeling in a couple of spots due to some of the signs. If you're visiting with children, either avoid this street or be prepared for some potentially awkward questions.
Visit the 9th's Small Museums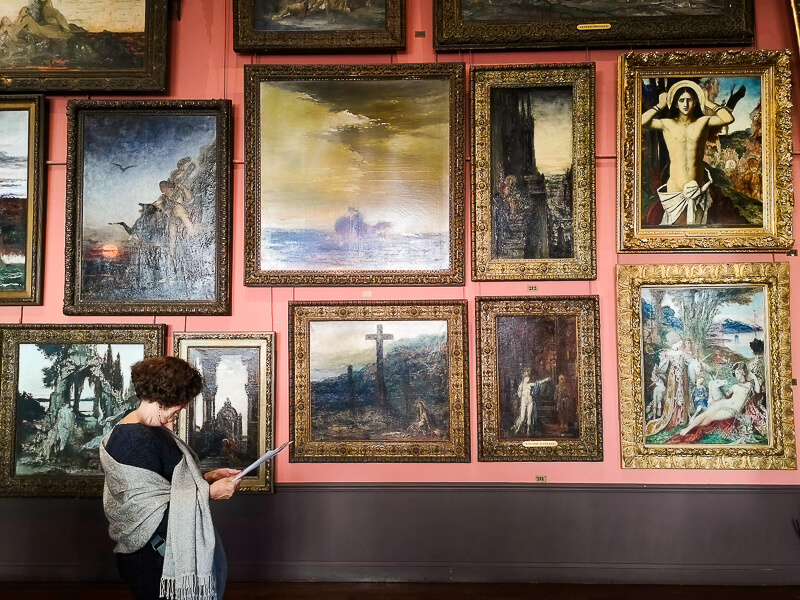 Several small specialized museums in the 9th arrondissement provide the perfect refuge if you want to duck out of a rain show for an hour or so and explore art and venues you might not otherwise encounter. Here are three of the best:
Musée National Gustave Moreau (14 Rue de la Rochefoucauld) - Former New Athens (now SoPi) home and studio of Symbolist painter Gustave Moreau. Although you can usually see a few of his paintings at the Orsay Museum, the huge collection on display at this studio museum gives you an immersive experience. Special treat: the fantastic ornate spiral staircase.
Musée de la Vie Romantique (14 Rue Chaptal) - This pale pink and green 4-floor building at the foot of Montmartre Hill evokes 19th century romanticism in Nouvelle Athènes when artist Ary Scheffer lived here and hosted weekly salons attended by George Sand, Chopin, Delacroix, Liszt, and other luminaries. The museum focuses on Sand, Scheffer, and their friends from the Romantic period. Tip: Visit on a sunny day, relax on the terrace surrounded by roses, and enjoy a treat from the onsite Rose Bakery.
Fragonard Musée du Parfum (9 Rue Scribe, near Opéra Garnier; free admission) - Learn about the creation process for French perfume and admire the museum's unique collection of perfume containers. Create your own signature perfume in this Paris workshop
Watch a Movie at Gaumont Opéra Theatre
Looking for something fun but low-key to do in Paris at night or on a rainy afternoon? The Gaumont Opera Movie Theatre (2 Boulevard des Capucines) features plenty of entertainment with 7 screens showing a wide assortment of films, including good movies for children and teens. Most will be in French with English subtitles - check listings online before you go.
As a plus, Gaumont Opera is surrounded by cafes, restaurants, and bars in case you want alternatives to popcorn in the theater.
Fun fact: The ornate building housing Gaumont Opera dates back to 1866 when it housed the Théâtre du Vaudeville, where opera composer Guiseppe Verdi famously (at least to opera fans) watched Alexandre Dumas's novel-turned-play, La Dame aux Camélias, and then rushed home to write La Traviata.
Spot Architectural Treasures from the Second Empire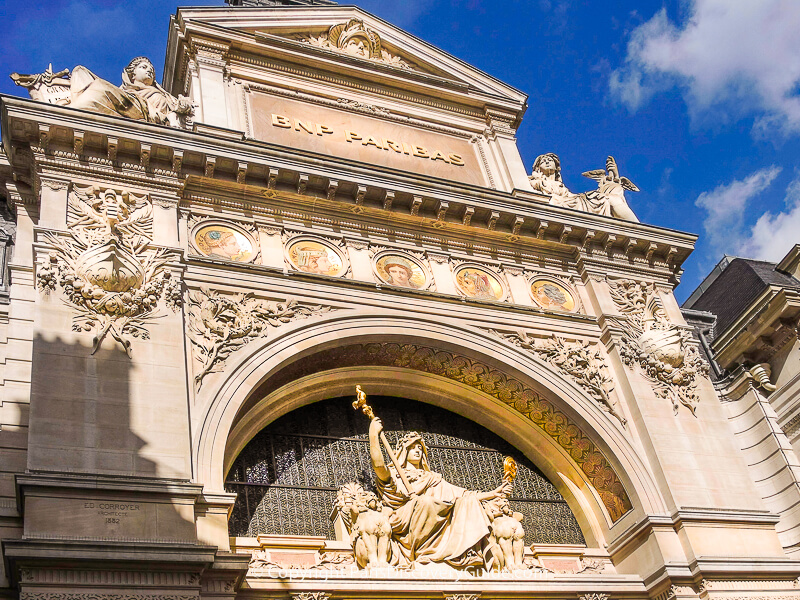 When Napoleon III became France's second emperor in 1852 and kicked off an almost 20 year period known as the Second Empire, he quickly appointed Baron Haussmann to modernize the city with broad boulevards, magnificent architecture, numerous parks, and the modern sanitation we all enjoy today.
As a result, the 9th district has outstanding 19th century architectural treasures. As you walk around, look around and up. You'll spot beautiful sculptures and elegant details in unexpected places, such as BNP Paribas Bank (14 Rue Bergère), built between 1878 and 1881.
The BNP building is usually closed to the public as the bank uses it for offices - but it sometimes opens to visitors for European Heritage Days in September. If you see it on the list of open properties, grab the opportunity to visit.
Be Dazzled by Paris's Most Spectacular Christmas Decorations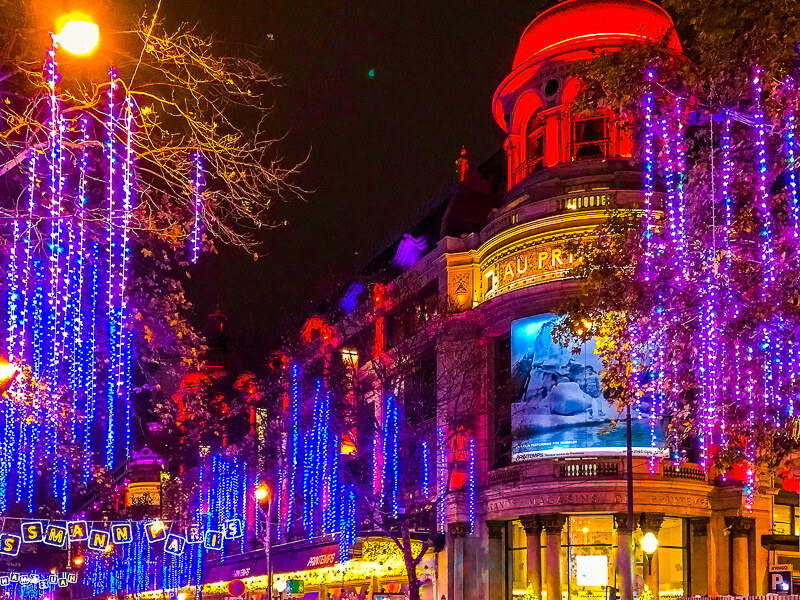 As soon as the holiday season kicks off in Paris around mid-November, the 9th Arrondissement puts up the most spectacular displays in the city. With dazzling Christmas lights, animated holiday windows, and lavish decorations, Galeries Lafayette and Printemps attract huge crowds of visitors.
Christmas markets pop up all over the city, including a fun one at the Gare Saint-Lazare train station. And "Illuminations tours" around the city on double-decker buses should not be missed!
If you're lucky enough to be in Paris at Christmas, set aside some time to soak up all the bright lights and joy of the holiday season in the 9th!
---
Recommended 9th Arrondissement Paris Hotels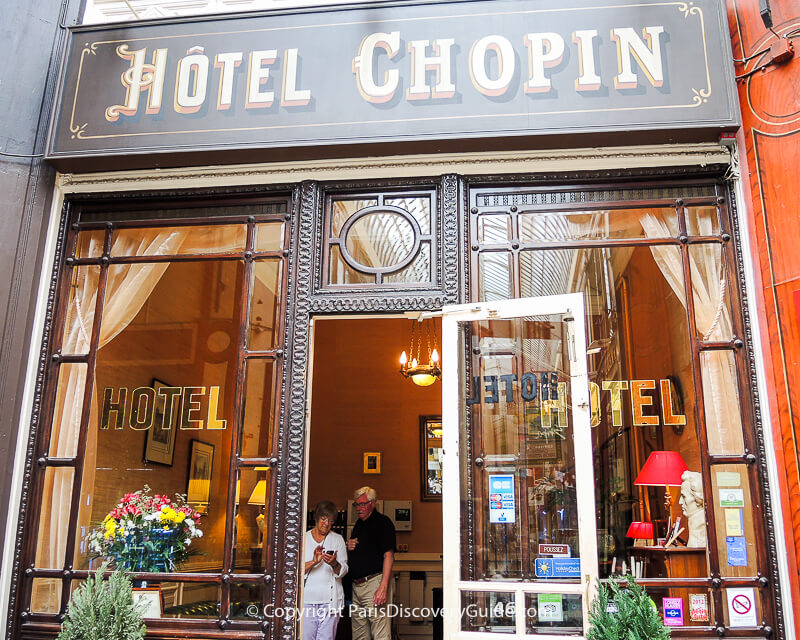 Hôtel Chopin (10 Boulevard Montmartre, Passage Jouffroy) - Located inside a historic glass-roofed arcade, this charming 2-star hotel with 36 guestrooms offers great value with en-suite bathrooms, air conditioning, safes, and charming Toile Jouy decor.
Maison Mère (7 Rue Mayran) - Lxurious new 4-star hotel with a frendly vibe between Square Montholon and Rue des Martyrs with 51 guestrooms with super-comfy beds and meticulous attention to details like great lighting and plenty of electrical and USB outlets; check out the hotel's co-working space, onsite bistrot/cocktail bar, art gallery, and concept store
InterContinental Paris Le Grand (2 Rue Scribe) - Spectacular historic 5-star hotel with 470 guestrooms 1 block from Palais Garnier; the outdoor terrace of onsite Cafe de la Paix is an ideal people-watching spot. Check out the great views of the opera house
Hotel Amour (8 Rue Navarin) - This popular and slightly risque 3-star boutique hotel with 24 guest rooms occupies a former maison close (brothel) in an area of the trendy SoPi neighborhood once filled with Pigalle cabarets
Hotel Banke Opera Autograph Collection (20 Rue de la Fayette) - Use your Marriott points at this classy 5-star hotel - one of the best in the 9th arrondissement - located in an early 20th century bank building with a glass dome ceiling, Roman-style mosaic floors, and an exclusive art collection
See more recommended hotels in the 9th district Paris
---
Some of the Best Restaurants, Cafes, & Bistros in the 9th Arrondissement
Picking "best" restaurants for a district such as the 9th which is literally packed with wonderful places to eat is actually impossible - but here are some fun and interesting choices to get you started:
Cafe de la Paix (5 Place de l'Opéra, InterContinental Paris Le Grand) - Despite a sumptuous interior with Second Empire frescoes and lots of gilding, the most coveted seats are on the street-side terrace due to the superb people-watching and views of Opera Garnier. Go for just a café crème or chocolat, a croque monsieur and onion soup for lunch, or a 4-course dinner. Excellent and pricey.
La Table des Anges (66 Rue des Martyrs, 75009) - This SoPi favorite serves modern French cuisine, meaning fresh and mostly local ingredients, prepared perfectly. Try the duck, quenelles (when they're on the menu), fish, and the excellent house-made paté.
Le Valois (66 Rue des Martyrs, 75009) - Best restaurant in the 9th arrondissement to dine on raclette, fondue, and other traditional rustic French dishes such as rabbit paté, beef tartar, onion soup. Burgers and steaks are good too. Fun place to come with families and friends.
Bouillon 47 (47 Rue de Rochechouart) - This popular bistro is another wonderful place to try modern French cuisine featuring the freshest ingredients expertly prepared.
Galeries Lafayette and Printemps - Last but certainly not least, both of these Grand Magasins offer numerous dining options - look around and choose what suits you best; you really can't go wrong at either place
---
More to See & Do in the 9th Arrondissement
---
More Paris Arrondissement Articles