Want to explore Île de la Cité, one of two attraction-packed islands in the Seine River at the heart of Paris?
You may already know Île de la Cité as the home of three magnificent world-famous medieval masterpieces - Notre Dame Cathedral, Sainte-Chapelle, and the Conciergerie - but it's also the birthplace of Paris and filled with lots of other interesting places for you to visit.
Almost 2,300 years ago, a Celtic tribe called the Parisii created a small settlement here, and since that time, Roman invaders, France's first kings, Medieval and Renaissance architects and builders, and the French Revolution have contributed to Île de la Cité's fascinating mix of history and charm.
Today, in addition to the three top medieval attractions, you can visit a wonderful flower and bird market that's flourished here since the early 1800s, a haunting World War II memorial, beautiful but almost hidden parks, an archeological dig where you can see layers of Paris history, a square lined with lovely buildings built in the early 1600s by a French king, inviting bistros and boutiques, and other special places missed by many visitors.
Consider beginning your explorations by joining a small-group guided tour of the island. One of the best is the Île de la Cité Walking Tour, which also includes skip-the-line tickets and tours of Sainte-Chapelle and the Conciergerie.
In this article, you'll find 14 fascinating places to visit plus a map of Île de la Cité, tips for getting there, suggestions about where to stay nearby, and where to eat.
Top photo: Notre Dame Cathedral before the fire, (c) Paris Discovery Guide
Paris Discovery Guide is a reader-supported publication. When you buy through our links, we may earn a commission at no additional cost for you. Learn more
---
14 Best Things to Do & See on Île de la Cité
1. Tour Île de la Cité By Foot or On Wheels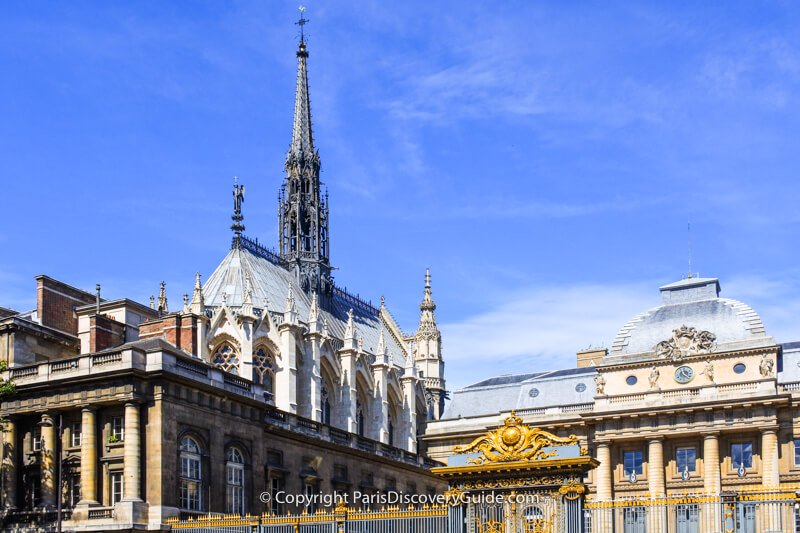 A popular way to get acquainted with Île de la Cité's famous and lesser-known attractions is to join a guided tour.
Whether you prefer to make the most of your time by visiting Île de la Cité with a local expert or you want a quick introduction to the neighborhood before exploring more on you own, these tours offer you a variety of fun and unforgettable experiences while seeing top attractions, learning about the island's history and lore, and even seeing other parts of Paris:
Fun fact about Île de la Cité: The island is split between two of Paris's 20 administrative districts. The island's western end is in the 1st arrondissement, and the eastern end is in the 4th.
---
2. Gaze at the Medieval Splendor of Notre Dame Cathedral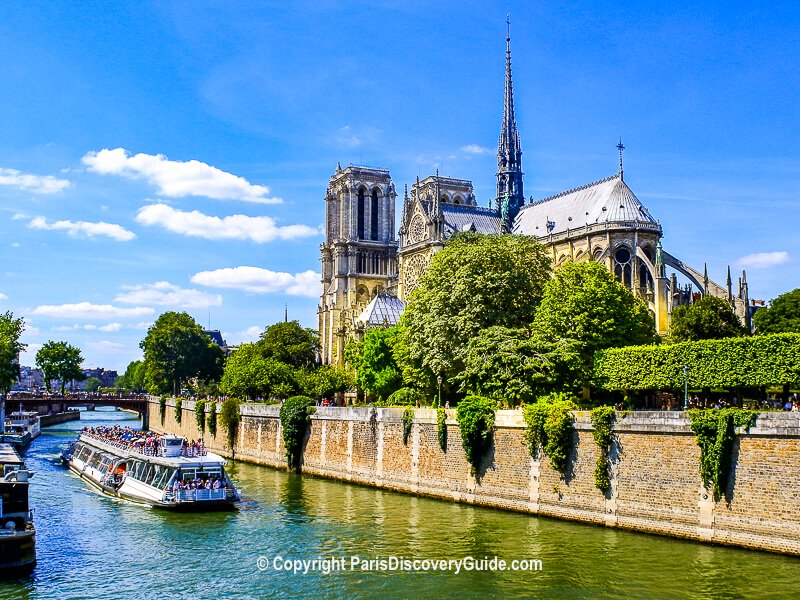 Notre Dame Cathedral - or in French, Notre-Dame de Paris, meaning "Our Lady of Paris) is one of the world's finest and most famous Gothic cathedrals, built between 1160 and 1260.
The cathedral is the most important medieval monument in Paris, and certainly the most important attraction on Île de la Cité. Its flying buttresses and vaulted ceilings, gorgeous stained glass rose windows, superb (and enormous) pipe organ and bells, massive quantities of decorative sculpture including its famous gargoyles, priceless art and religious relics, and beautiful concerts are just a few of the many reasons to visit.
Unfortunately, you cannot go inside right now. After a huge fire came close to destroying this irreplaceable cultural treasure, a multi-year restoration effort is now in progress, with a grand reopening planned for December 8, 2024. Check Paris December Events for details as they become available.
Other dates to note:
A special mass in the Nave is scheduled for April 15, 2024, exactly 6 years after the fire
A replica of the mid-19th century spire added by French architect Eugene Violette-le-Duc will be in place by the time of the 2024 Paris Summer Olympics
Despite all the scaffolding currently in place, Notre Dame still belongs on your "must visit" bucket list. From the front (the view in the photo at the top of this article), the cathedral doesn't actually look as bad as you might expect, and you can see quite a lot of the magnificent structure from the surrounding streets and across the river.
Only when you walk around and gaze at the sides and back will you notice the full extent of the damage - but you will still be able to see lots of the intricate sculptural details and the architecture.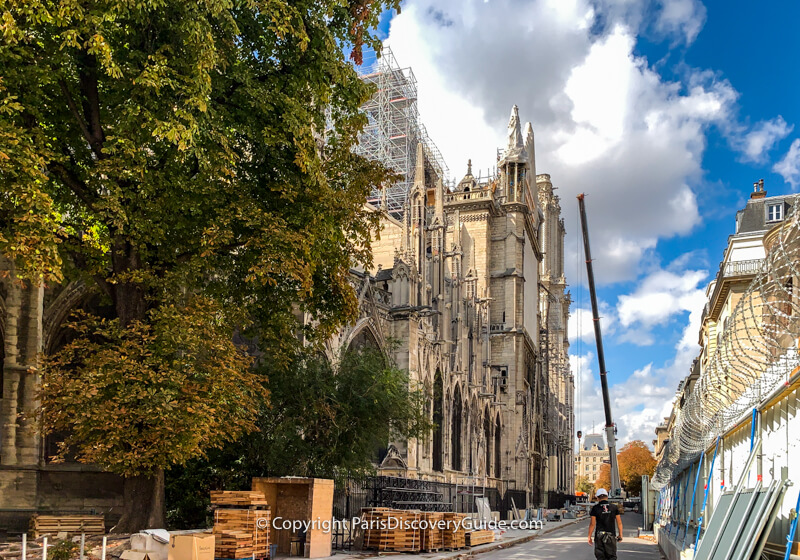 If you want to get current information about the status of the repairs and a French perspective about the politics surrounding restoration decisions, take one of the neighborhood walking tours mentioned above: Île de la Cité Walking Tour including Notre Dame (includes Sainte-Chapelle and Conciergerie skip the line tickets), Île de la Cité Walking Tour with Seine Cruise & Skip-the-Line Sainte-Chapelle tickets (the cruise lets you see the damaged cathedral from a different perspective, and Paris Highlights: From Notre Dame to Eiffel Tower are all good choices.
If you want to book a Seine cruise to see Notre Dame on your own, the hop-on hop-off Batobus is a good choice because you can cruise by as many times as you want, and the Notre Dame stop is close to the cathedral.
Finally, if you don't have a lot of time or want to combine seeing the famous cathedral with other acdtivities, consider a 1-hour Seine River cruise, an evening Seine River cruise with dinner, or a combo ticket for a hop-on hop-off bus tour, Eiffel Tower admission, and Seine River cruise.
---
3. Soak Up Beauty in Saint Chapelle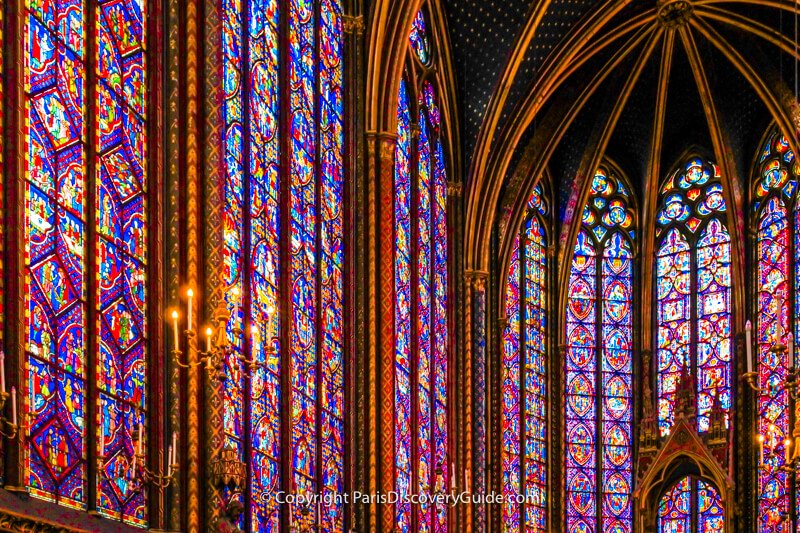 Famous for its dazzling medieval stained glass windows and candlelight concerts, Sainte Chapelle is another Gothic gem on Île de la Cité. In a city filled with magnificent churches, the beauty of this small chapel built to house religious relics has no equal.
If you're planning to visit for the first time, get the most from your experience by joining the small group Île de la Cité Walking Tour with tours of Sainte Chapelle and Conciergerie. Your guide will share highlights of Sainte Chapelle's history and architecture, and explain a few of the 1,113 scenes depicted in the chapel's 15 huge glass panels.
If you're planning a return visit - because one visit here is never enough - save time by getting a skip the line ticket or combo ticket that also includes the Conciergerie, almost next door.
Find out more about visiting Sainte Chapelle
---
4. Explore the Conciergerie: Medieval Palace, Reign of Terror Prison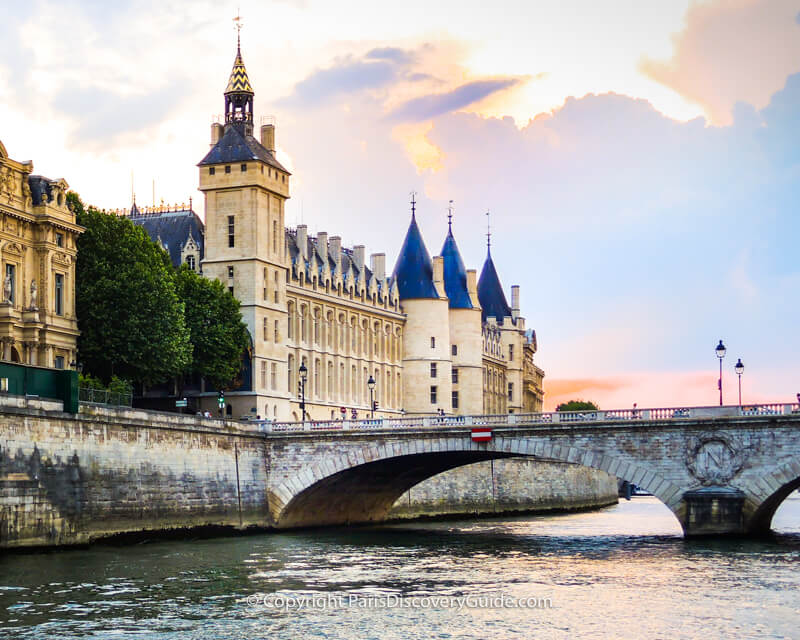 Many Paris visitors overlook the Conciergerie, Île de la Cité's third magnificent medieval attraction, in favor of Notre Dame and Saint Chapelle, its more famous neighbors. That's a pity because this UNESCO World Heritage site is a stunning example of 13th century secular Gothic architecture.
Aside from its spectacular soaring arches, vaulted ceilings, and immense spaces, the Conciergerie holds a special place history as the royal palace of the first French kings in addition to serving as a notorious Reign of Terror prison where Marie Antoinette spent her final days awaiting execution.
Best ways to see the Conciergerie:
Find out more about why to visit the Conciergerie
---
Find More Top Attractions Near Île de la Cité
Take a look at this Paris attractions map to find more fun things to do near Île de la Cité:
---
5. Relax in Place Dauphine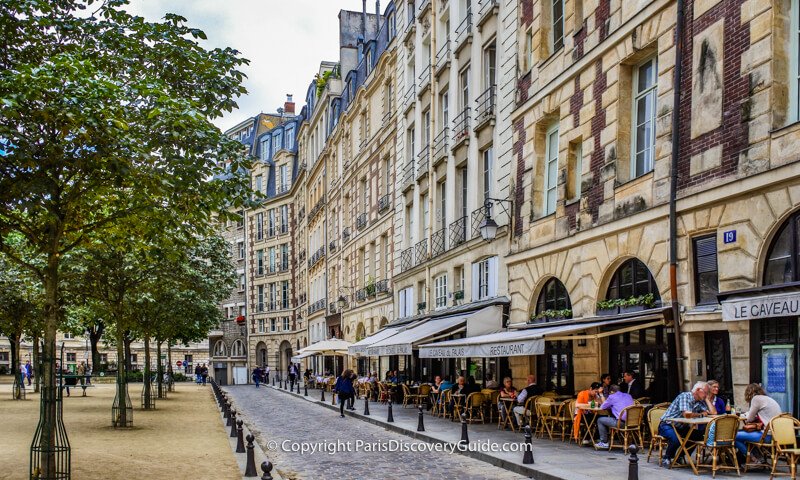 Almost hidden behind Sainte Chapelle and the Conciergerie are two special places that most Paris visitors miss - but you shouldn't.
The first one you'll come to is Place Dauphine, created by King Henri IV between 1607 and 1614 as one of his many projects to improve city life. You'll feel its charming and tranquility the moment you enter from Rue de Harlay. Stroll past the small book stores and antique shops tucked among the restaurants, enjoy a leisurely meal, or just find an empty park bench on the tree-filled gravel plaza and admire the (mostly) 17th century architecture.
Henry IV decreed (a perk of being king) that all the buildings surrounding the square must have the same appearance: two arcaded shops on the ground floor and two residential floors above, topped by an attic. Through the centuries, owners have added floors and embellished the building's façades. Only two remain mostly unchanged from their early 17th century design.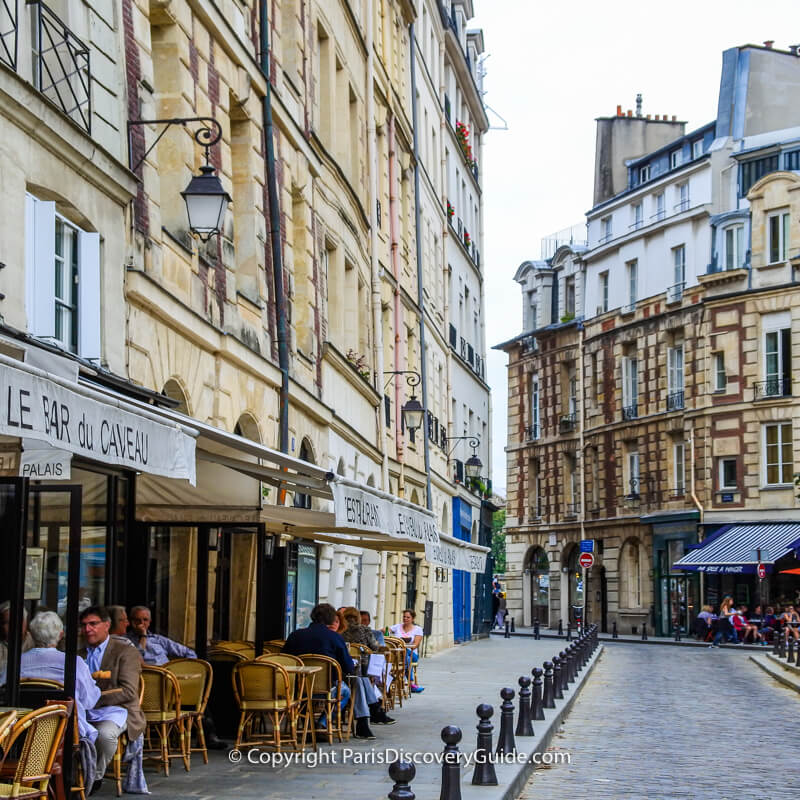 Want to see the two original buildings? Look toward the west, where the buildings come almost together to form the point of a triangle. See the last house on each side, noticeably shorter than the others? That's what they all once looked like.
Now, walk through the gap between the buildings (it's wider than it looks in the photo), and you'll see three more things: 1) Paris's oldest bridge, Pont Neuf, which connects Île de la Cité to the city's Right Bank and Left Bank, 2) a large statue of Henri IV on horseback facing east toward Place Dauphine, and 3) about 20 feet (7m) below, the second special place you should visit: Square du Vert-Galant.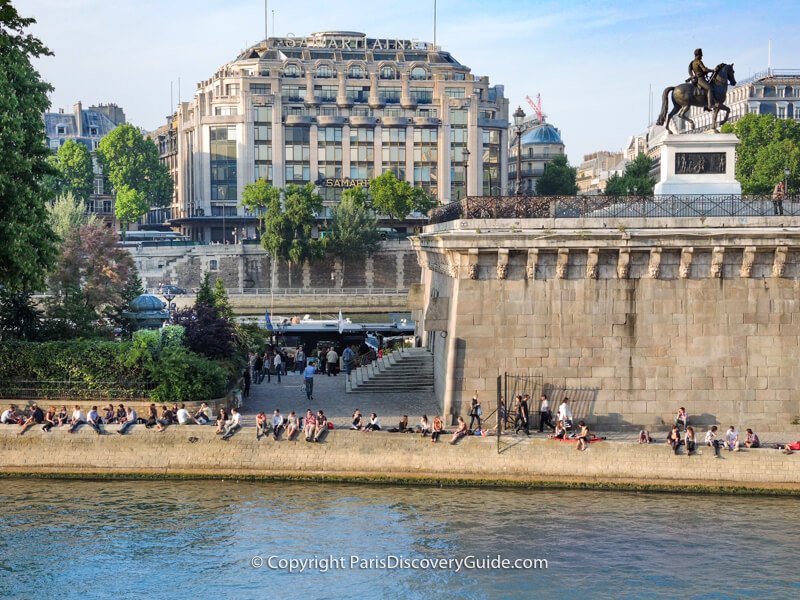 ---
6. Picnic in Square du Vert-Galant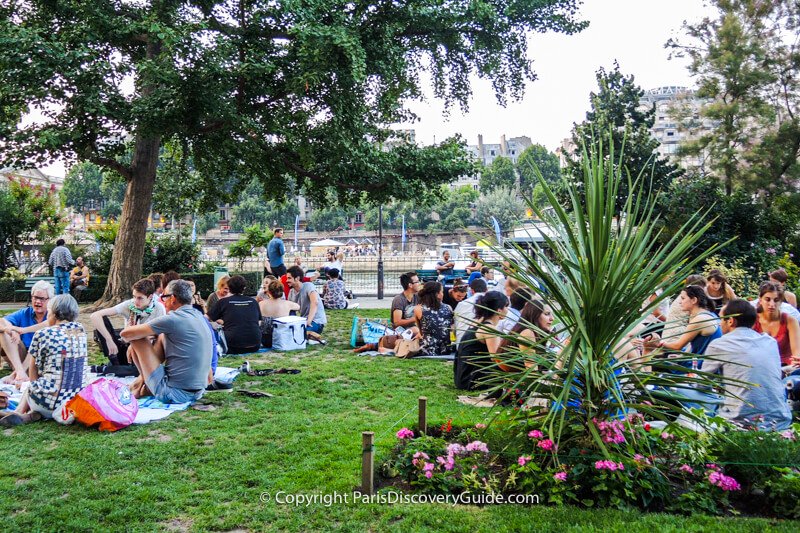 To reach Square du Vert-Galant, descend the rather steep set of stairs behind the statue of Henri IV.
You're near the spot where Jacques de Molay, the last Grand Master of the Knights Templar, was burned to death in front of a large crowd in 1314 before the garden existed. Bonus points if you can find a small bronze plaque memorializing the event. Hint: look up toward the bridge.
Walk through the gate into the park, and you're now on a small spit of land at Île de la Cité's western tip formed by lining a natural sandbar with rock walls, or quais.
This is one of the city's loveliest almost-hidden gardens, and a popular site for picnics.
Want to enjoy a picnic of your own here? You can buy provisions by crossing the Pont Neuf bridge to the Saint-Germain-des-Prés neighborhood on the Left Bank. Walk along Rue Dauphine (the extension of the bridge), and you'll see numerous small places offering tasty carryout and, of course, wine. No corkscrew? Just ask the shopkeeper to take out the cork for you.
---
7. Photograph the Pont Neuf Bridge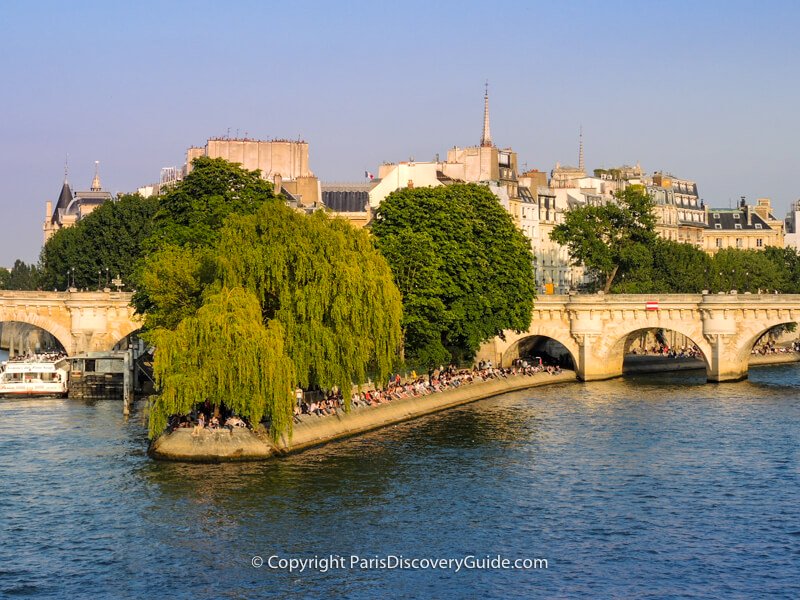 Pont Neuf opened to traffic in 1604 and is now the city's oldest bridge still in existence - ironic since its name means "new bridge."
Pont Neuf's arches hark back to the style used by Romans, and although it was the first bridge in Paris not to be lined with houses, it still attracted a lively crowd of thieves, murderers, gangs, hustlers, pickpockets, faith healers, prostitutes,entertainers, and tooth pullers - it even its own set of gallows for public executions.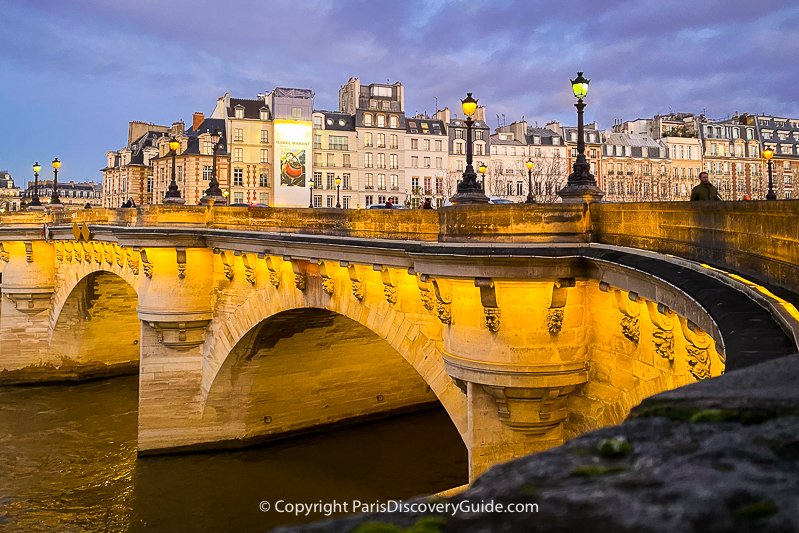 Try to imagine any of that happening today. Pont Neuf, now is quintessential Paris landmark, is one of the most photographed Paris bridges. If you want to take some of your own, late afternoon when the light bounces off the mellow stone is the best time.
---
8. Admire the Cité Metro Station's Art Nouveau Entrance
Although the Paris Metro boasts many different styles of entrances ranging from artistic to modern to slightly quirky, by far the most famous are the distinctive Art Nouveau masterpieces designed by architect Hector Guimard in the early 1900s.
Although 141 of Guimard's entrances once graced the city, only 86 of them remain. You can recognize them by their sinuous lines, organic motifs, and intricate details, evoking the Belle Époque era. Guimard crafted them from cast iron, and coated them with a signature shade of green paint similar to oxidized brass. The red glass globe lights are another defining feature.
To see one of the best Guimard entrances, stop by the Cité metro station, located in almost the exact center of the island. Bonus: you can then pop into Marché des Fleurs next to the station - a fantastic flower and bird market.
---
9. Soak Up Colors in Marché des Fleurs, Île de la Cité's Flower & Bird Market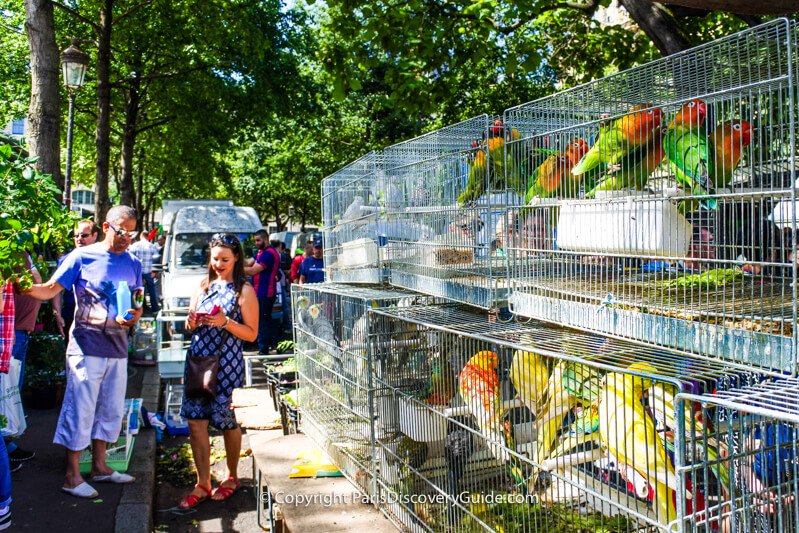 In a city filled with epic markets, Île de la Cité's Flower Market (Marché aux Fleurs) stands out. It's open every day from 8am-7:30pm, and has been delighting Parisians for over two centuries. Six green cast-iron pavilions with skylights make the market comfortable year-round, and outdoor tables accommodate even more vendors.
Stop by and admire the masses of colorful and fragrant offerings - every type of flower you can imagine. You'll also find all kinds of pots, tools, and other accessories. As Christmas approaches, the pavilions overflow with holiday arrangements and gifts.
On Sundays, the outdoor space transforms into a bird market catering to Parisians who love keeping a small parakeet or even a parrot as a pet in their apartments, although there are many exotic birds as well. You'll sometimes even see a few chickens and ducks.
But be warned: if you stop by thinking you'll spend only five minutes here, an hour can easily pass by before you realize it.
---
10. Stand on Point Zero
What it Point Zero?
Supposedly the Point Zero marker, a small bronze plaque set in granite amid the cobblestones in front of Notre Dame Cathedral, marks the exact center of the City of Paris.
Look at a map, and you may have your doubts about the "exact" part - but it is close to the center.
More important, the star in the marker's center is the point from which all distances in France are measured - which is why its exact name is Point Zéro des routes de France.
Don't be surprised if you have trouble finding the marker; it is small - less than 3 feet (1m) in diameter. Traditionally, Notre Dame's annual Christmas tree is placed directly on top of it - so here is a photo to help you locate the spot: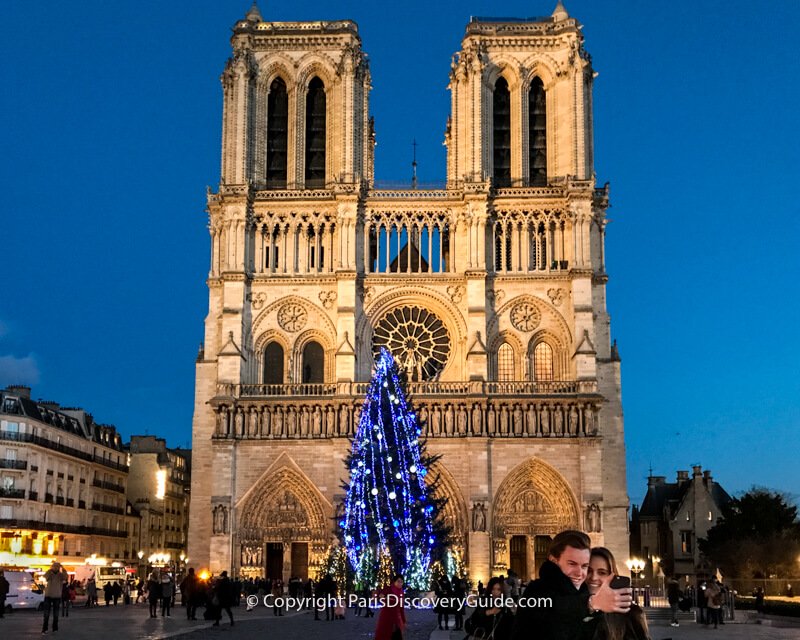 Find out more about Christmas in Paris
---
11. Remember the Dead at the Memorial des Martyrs de la Deportation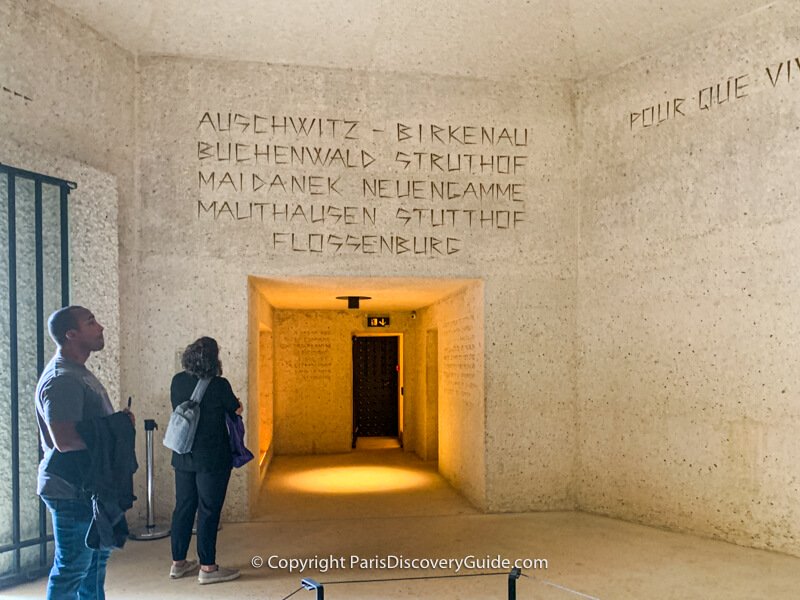 The Memorial to the Martyrs of the Deportation (Le Mémorial des Martyrs de la Déportation) commemorates the 200,000 people - French Jews, foreign Jews, Roma, political dissidents, refugees, communists, members of Résistance - deported by the Vichy France collaborationist government to Nazi death camps during World War II. You will find it located behind Notre Dame Cathedral on the site of a former morgue on the eastern tip of the island.
The Memorial is deliberately designed to be an immersive experience - so expect to perhaps feel claustrophobic, entrapped, and doomed as you descend the narrow stairs and walk through dimly-lit cells, just as deportees may have felt as they were conveyed out of France to concentration camps.
Most tourists miss this site. Don't be one of them. The Memorial is moving, evocative, thought-provoking, and if you visit, you'll remember it long after your trip is over.
Open daily from 10am-7pm from April through September, and 10am-5pm from October through March. Admission is free.
---
12. See Paris History at Crypte Archéologique
Crypte Archéologique started back in the 1960s when an excavation for a parking lot under the large plaza (Parvis) in front of Notre Dame unearthed some unexpected discoveries: layers and layers of artifacts representing over 2,000 years of Paris history.
After archeologists, antiquarians, and other specialists arrived on the scene, preserved, sorted out, and identified the jumble of ruins, a new museum emerged.
What can you see here? Roman baths and upscale Roman houses with forced-hot air heating systems ("hypocausts"), medieval walls, ramparts, wells, and house foundations, remnants of an ancient port, remains of an 18th century orphanage - and lots more.
Fortunately, 3D renditions help you make sense of what you're looking at: a panoramic view of how Paris has recreated itself through the centuries.
Admission: 9 euros, plus another 5 euros if you want an audio guide. Free entrance if you have a Paris Museum Pass.
---
13. See Charlemagne on Horseback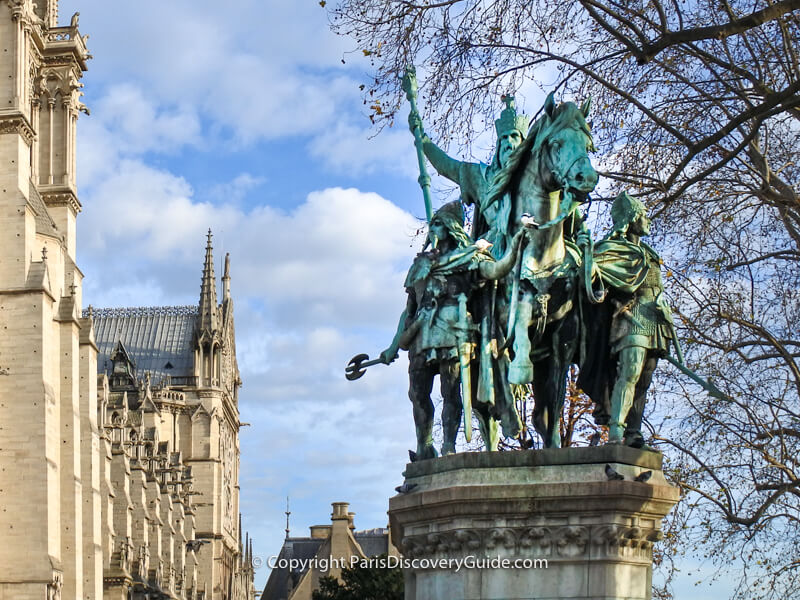 Like most of the older historic Paris neighborhoods, Île de la Cité has more than its share of statues of famous people, but the most imposing and best known is a bronze statue of Charlemagne, crowned King of the Franks in 800, on horseback with his guards Olivier and Roland.
The statue is located on a pedestal on the south side of the plaza (ie, toward the river) in front of Notre Dame. The statue is fairly magnificent, particularly if you're interested in Charlemagne - but the main reason you may want to be familiar with what it looks like is because many tour groups tell you to meet by it - so take a good look at the photo.
---
14. View Île de la Cité from a Different Perspective on a River Cruise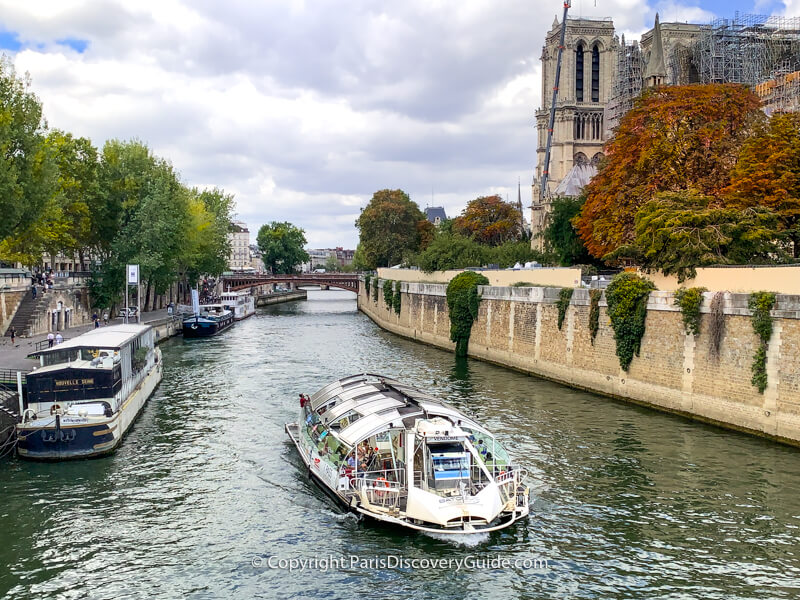 Walking around Île de la Cité and exploring it on foot lets you appreciate its many attractions close up - but viewing it during a Seine River sightseeing cruise gives you a whole different perspective.
You'll get up-close views of Square du Vert-Galant and the Pont-Neuf Bridge, see the full expanse of the Conciergerie and all its medieval towers, and have some of the best views of Notre Dame.
And of course, you'll see much more, as so many of Paris's most famous landmarks and monuments are located along the river.
---
Getting There: Île de la Cité Location & Map
Location: Middle of the Seine River, between the Right and Left Bank; Île de la Cité straddles the 1st and 4th Arrondissements 
Walking: Walking across any of the bridges to reach Île de la Cité: Pont Neuf, Pont Au Change, Pont Notre Dame, Pont d'Arcole, Pont au Double, Petit Pont, Pont de l'Archevêché, Pont Saint-Louis, Pont d'Arcole
Metro: Line 4, Cité station
Batobus: (Notre Dame or Hotel de Ville stop) - Get Batobus hop on hop off river cruise tickets
Bus: Lines 21, 38, 47, 58, 70, 75, 96; this map shows where they cross the island: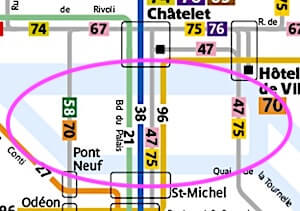 ---
Interactive Map Showing Top Attractions on Île de la Cité


Another Map Showing Île de la Cité
If you prefer non-interactive maps, this one created by Paris 16 and OpenStreetMap contributors show the island and nearby areas on the Right and Left Banks:
---
Best Hotels & Apartments near Île de la Cité
Although there are no hotels on Île de la Cité, you'll find plenty of wonderful choices just a few minutes' walk away on the Right Bank, Left Bank, and adjacent island, Île Saint-Louis. Here are a few to consider
Want more suggestions? Check out:
Île de la Cité does have a few high end and luxury apartments such as Residence Lancaster available for short-term rentals that are definitely worth considering if they fit your budget. Others include the Dauphine Apartments at 25 Place Dauphine, a historic 1610 building, and are rented through Paris Perfect.
First time visitor to Paris? Find out about the best neighborhoods to stay in
---
Map Showing More Paris Hotels & Apartments near Île de la Cité
Use this Paris hotel map to find more hotels and apartments on Île de la Cité. Enter your dates to see what's available and find the cheapest rates:
Check out the newest Paris hotels
---
Where to Eat on Île de la Cité: Bistros, Brasseries, Cafes, Raclette, & Creperies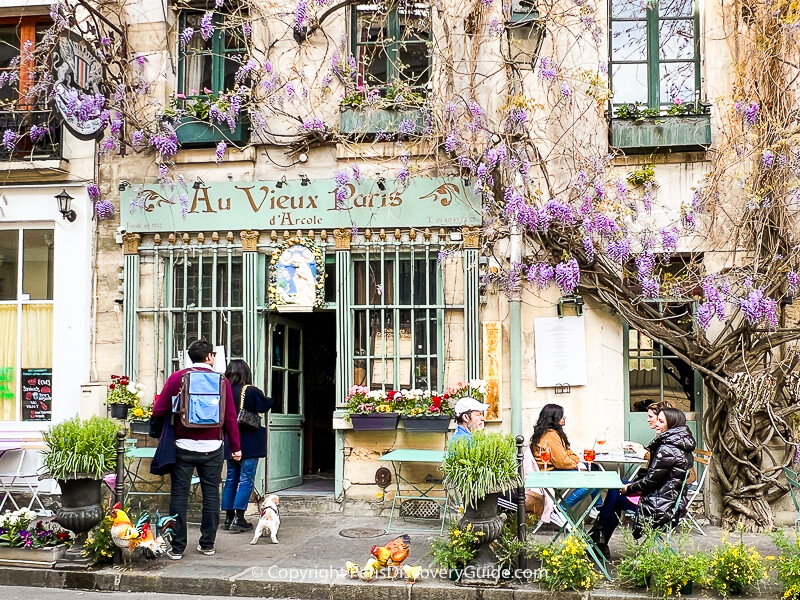 Place Dauphine - Many small restaurants, bistros, and cafes - all are good, so check out the menus and choose the one you like best
Across the street (Boulevard du Palais) from Sainte Chapelle and the Conciergerie: Les Deux Palais - favorite spot for burgers, steak-frites, salads, omelettes, and other traditional brasserie fare
Near Notre Dame - If you're facing the cathedral, you'll find lots of casual places along the street on its left - some may seem rather touristy, but the food is actually quite good
Au Vieux Paris d'Arcole (24 Rue Chanoinesse) - Although perhaps best known for its lovely display of wisteria blooms during April, this small cafe offers tasty traditional food near Notre Dame
Île Saint-Louis - Walk across Pont Saint-Louis and walk down Rue Saint-Louis en l'Île where you'll see a dozen or two choices including a couple of creperies - all are good. After your meal, head to Berthillon at #31 and indulge in the most famous ice cream in Paris
Latin Quarter - If you have a craving for raclette, head to Le Marmiton de Lutèce (6 Rue Saint-Severin) in the Latin Quarter, about a block from the river; to get there, walk across Petit Pont bridge, turn right onto Rue Severin, and you'll see Le Marmiton almost immediately on your right
---
More to Explore near Île de la Cité
You're in the center of Paris, surrounded by so much to see and do! Here are just a few suggestions for nearby famous as well as lesser-known attractions:
---