For a magical experience, head straight to Paris's Hotel de Ville Christmas Market, easily the city's most beautiful holiday market.
The best time to visit the market, which springs up in mid-November and then disappears by late December, is after dark when a dazzling light show turns the Hotel de Ville's ornate neo-Renaissance façade a brilliant blue as white snowflakes (aka, dots of white lights) seemingly drift down from the sky.
Hundreds of fir trees decorated with sparkling lights and ornaments create mini-forests, paths, and clearings across the broad plaza, or parvis, in front of the massive building housing Paris's city hall. Soft holiday music and Art Nouveau street lamps add to the ambiance.
Stroll around and you'll find Swiss-style chalets offering "Made in France" gifts and Christmas market food specialties such as hot mulled wine (vin chaud), raclette, and nutella crepes, free kids' activities such as a vintage carousel and snow tubing down a "luge," and special displays depicting forest animals.
How does this Christmas market compare with others? You'll have more fun (if you like carnivals) at the much-larger Tuileries Garden La Magie de Noël Market, and you'll find higher-end gifts at the Saint-Germain Christmas Market. Go to the Notre Dame Christmas Market for its tranquil, laid-back vibe, and hop on Line 1 of the metro to visit the enormous La Défense Christmas Market with its 350 chalets packed with fantastic food and shopping opportunities.
But for beauty, a few moments of tranquility in midst of a busy shopping neighborhood, and a festive ambiance, the Hotel de Ville Christmas Market can't be beat! Even if your real destination is the bustling BHV department store across Rue de Rivoli or Marais boutiques, spend a few moments at this enchanting spot soaking the spirit of the holidays.
Top photo: Christmas Market at Paris's Hotel de Ville, (c) Paris Discovery Guide
Paris Discovery Guide is a reader-supported publication. When you buy through our links, we may earn a commission at no additional cost for you. Learn more
---
Famous Paris Christmas Shows
---
What to Do & See at the Hotel de Ville Christmas Market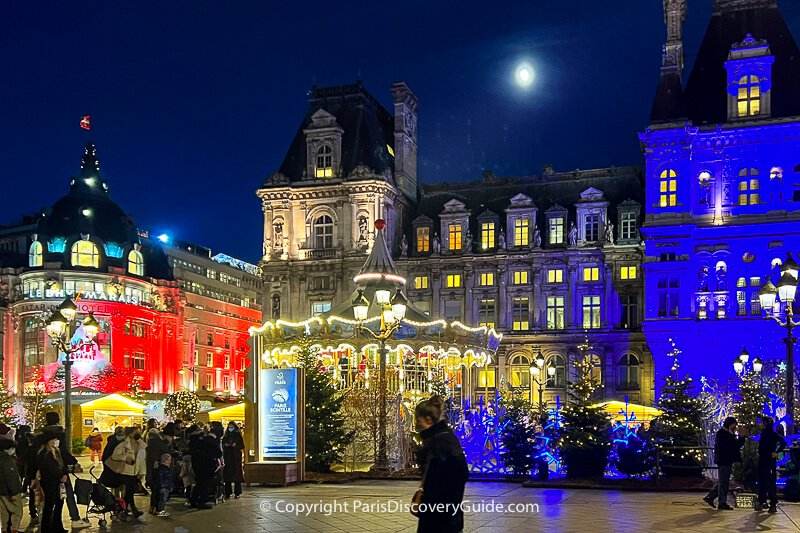 As you walk toward the Hotel de Ville, the Christmas Market is impossible to miss, especially during the evening when the brilliant blue and white light show across the front of the ornate City Hall building makes it stand out against the dark sky.
Across the street to the north (Rue de Rivoli), the Belle Epoque-era BHV department store glows red with its own holiday decorations, while the bright lights decorating the Christmas Market's carousel and surrounding "forest" of trees beckon you forward.
Stand across the street from Hotel de Ville's plaza, as we did for the above photo, and you'll see crowds of frenzied shoppers (and, perhaps not coincidentally, the French flag tricolors: red, white, blue, which you can also see in many of the building's windows).
But once you walk into the market (past the blue sign by the carousel), suddenly you're in a different, more peaceful space.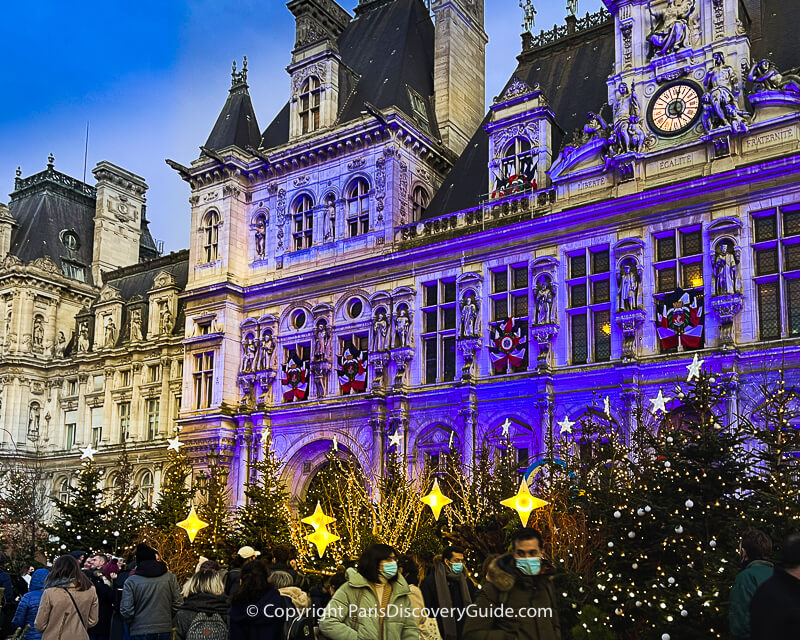 You'll hear soft instrumental renditions of traditional Christmas carols playing somewhere in the background. As you walk among the decorated trees, you'll almost believe you're in an enchanted forest.
You'll notice other visitors strolling around, sipping hot chocolate or mulled wine, checking out gifts at the chalets, or just relaxing for a few moments.
Let that be you. Soak up holiday spirit at Paris's loveliest Christmas Market, and enjoy the moment!
Here's a small sample of what you can experience at the Hotel de Ville Christmas Market:
1. A Magical Forest of Christmas Trees, Sparkling Lights, & Decorations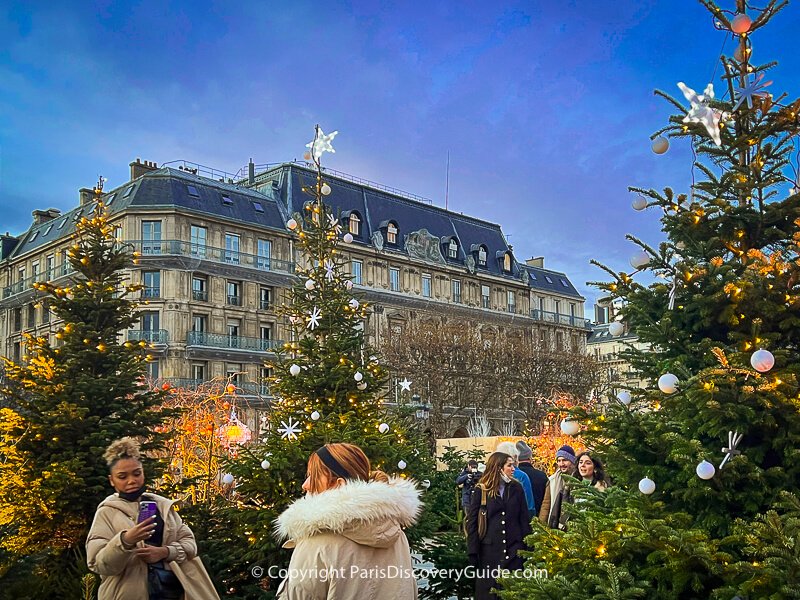 The enormous plaza (parvis) in front of Hotel de Ville covers over 100,000 square feet, or almost two and a half acres.
Normally, the parvis is a fairly barren expanse of concrete and gravel - but to create the special ambiance of this Christmas Market, the city totally transforms it by placing over a thousand decorated evergreen trees as well as lovely white (and clearly fake) "birch trees" along winding paths and small clearings. Glowing (but highly energy-efficient) LED lights cover many of the evergreens.
Pro Tip: Visit the Hotel de Ville during daytime and at night to enjoy the different effects.
---
Special Christmas Cruises
---
2. The Light Show across the Front of Hotel de Ville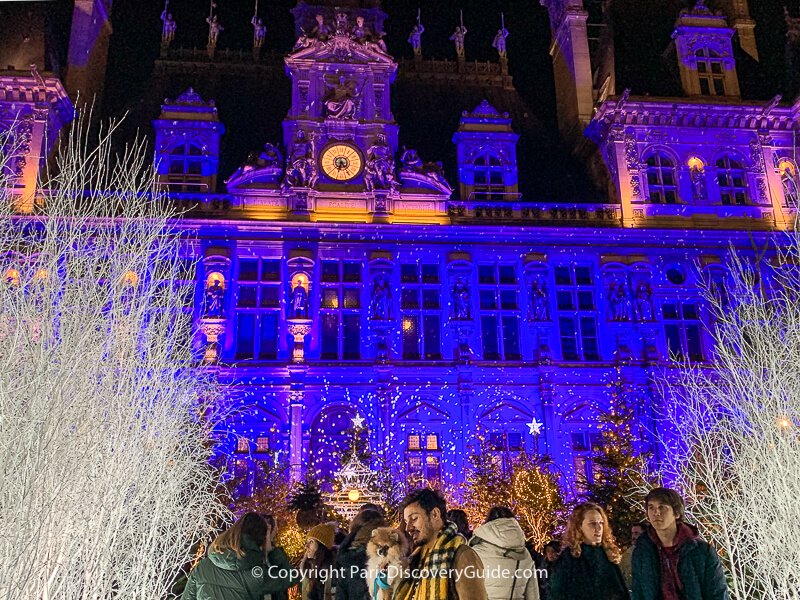 During daytime hours, you may notice a pale, almost lavender tone across the center section of Hotel de Ville, but by late afternoon as the sun begins to set, the color becomes more vivid.
The light show's full beauty becomes visible only at night, as the color deepens to dark blue and a magical display of tiny beams of white light drifts down from the top create the effect of gently falling show.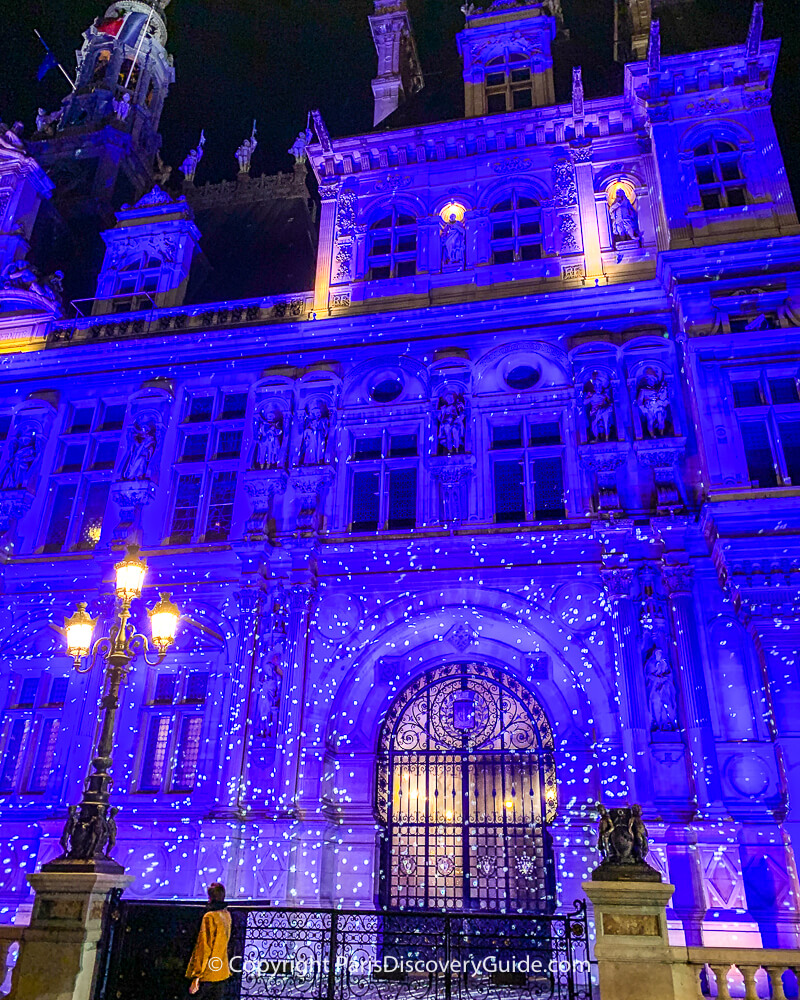 Pro tip: Get close to the building, and you'll almost feel like you're alone on a snowy night in Paris.
---
Sparkling Christmas Lights
---
3. Artisan "Made in Paris" Gifts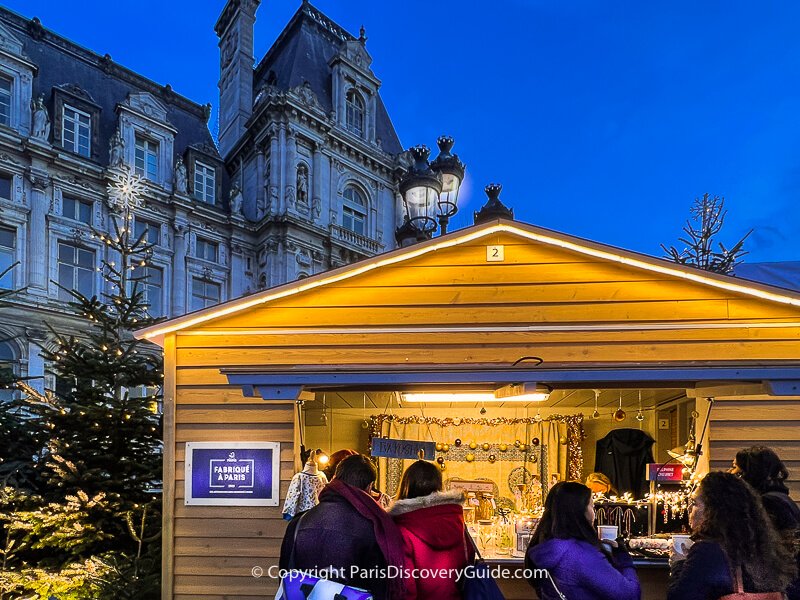 Although this Christmas market has relatively few chalets offering crafts and gift items, especially considering the amount of acreage it occupies, you'll be pleased by the high quality.
At other Christmas markets, you'll see "Fabriqué à France" signs - this one showcases Parisian artisans, so the signs announce "Fabriqué à Paris" - "Made in Paris."
What will you find? Lovely jewelry, handmade glass ornaments, artisan soaps, leather items, and clothing, such as fine woolen scarves and gloves are popular. Prices are generally reasonable. If you're looking for unique gifts created by Paris artisans, you'll be happy with what you'll find.
---
4. Christmas Market Food & Beverage Specialties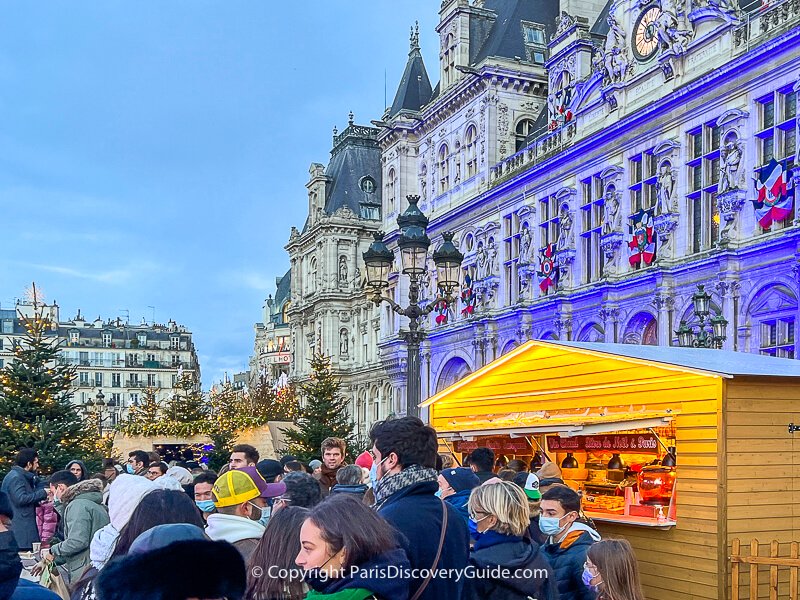 Similarly, there are relatively few chalets offering food and beverages here, so expect to wait in long lines during the evenings and weekends, as most of the food is made on the spot.
The focus is on simple favorites: hot roasted chestnuts, freshly made Nutella crèpes (although you can also choose ham and cheese with a fried egg), raclette (melted cheese open-faced sandwiches), tartiflette (creamy potato, cheese, and sausage dish, served steaming hot), hot chocolate, hot mulled wine, Champagne, beer, and sodas.
Pro tip: If you don't plan to eat or drink anything, avoid from these chalets because if you get close enough to smell the delicious food, you'll find yourself ordering some to devour on the spot.
More dining options: For a wider choice of menu items, walk over to Rue des Lombards (2 blocks west on Rue de Rivoli, turn right on Blvd de Sébastopol, and Rue des Lombards is 1 block on the left) where you'll see a dozen or so good choices where you enjoy tasty casual food such as steak-frites, omelettes, burgers, and salads. If your timing is right, you can even catch a jazz performance (a few are free if you order drinks and/or food, many have a small cover, and a few require advance tickets).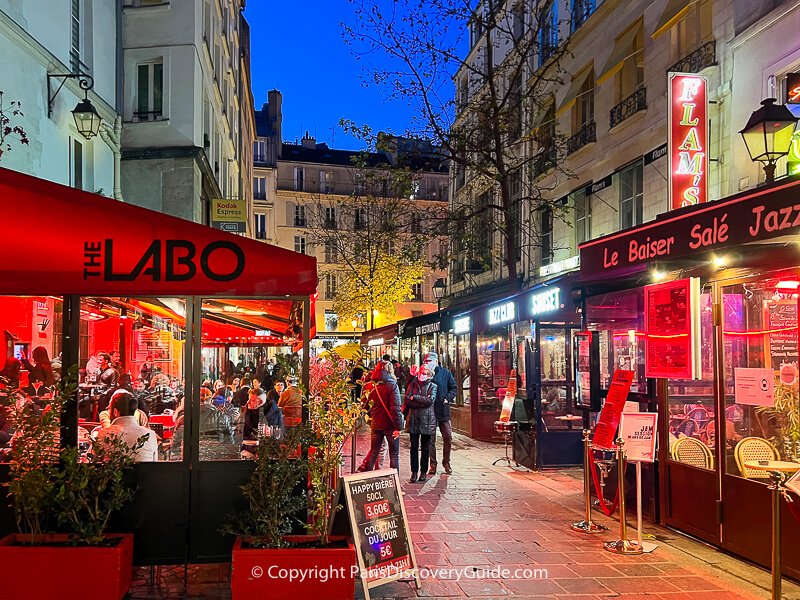 ---
More Ways to Celebrate Christmas in Paris
---
5. The Carousel & Other Free Activities for Children at Hotel de Ville Christmas Market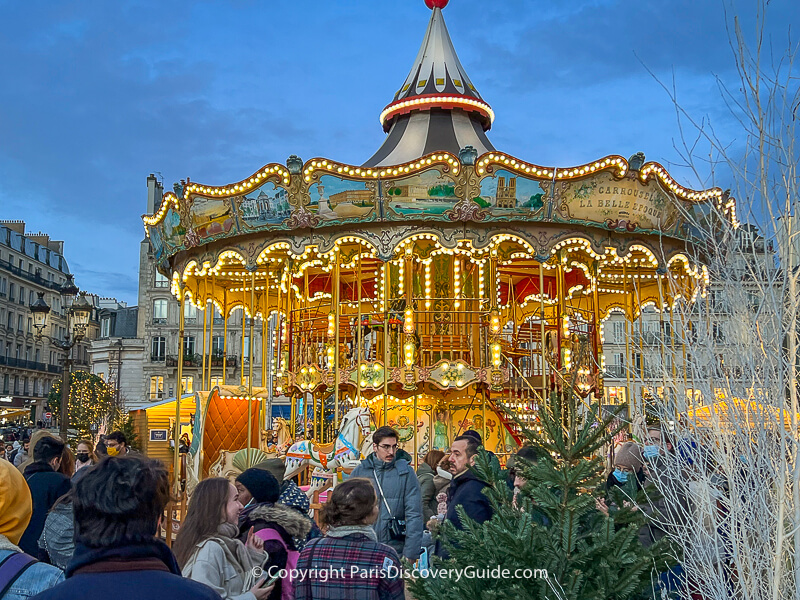 An old-fashioned carousel always appears at the Hotel de Ville Christmas Market, and like others dotted around city neighborhoods, they're free during the Christmas school holiday period.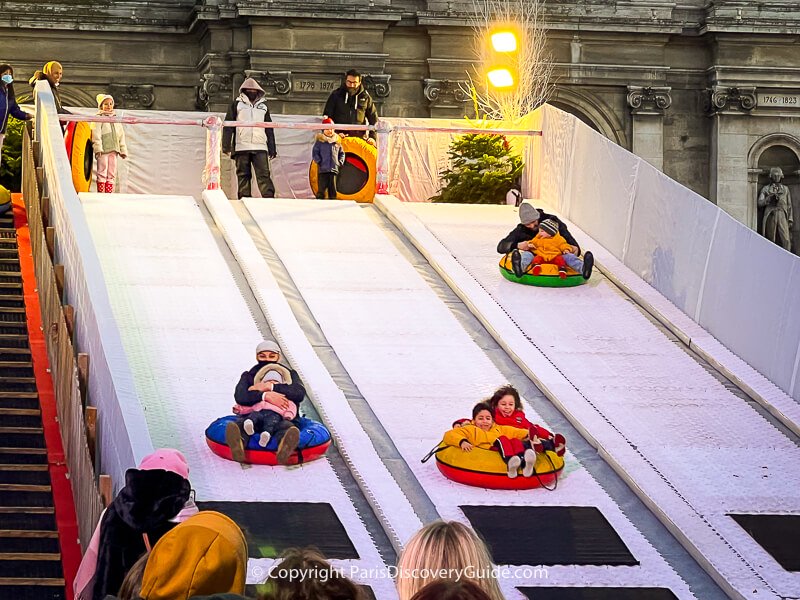 In addition, there are usually a couple of other activities especially for children such as a white "mountain side" for tubing, a climbing wall, and an ice skating rink.
Like the carousel, these activities are also free. Although lines can get long during the evenings and weekends, they move quickly. If you're visiting this Paris Christmas market with your family, the looks of joy on your children's faces as they enjoy these activities will be priceless.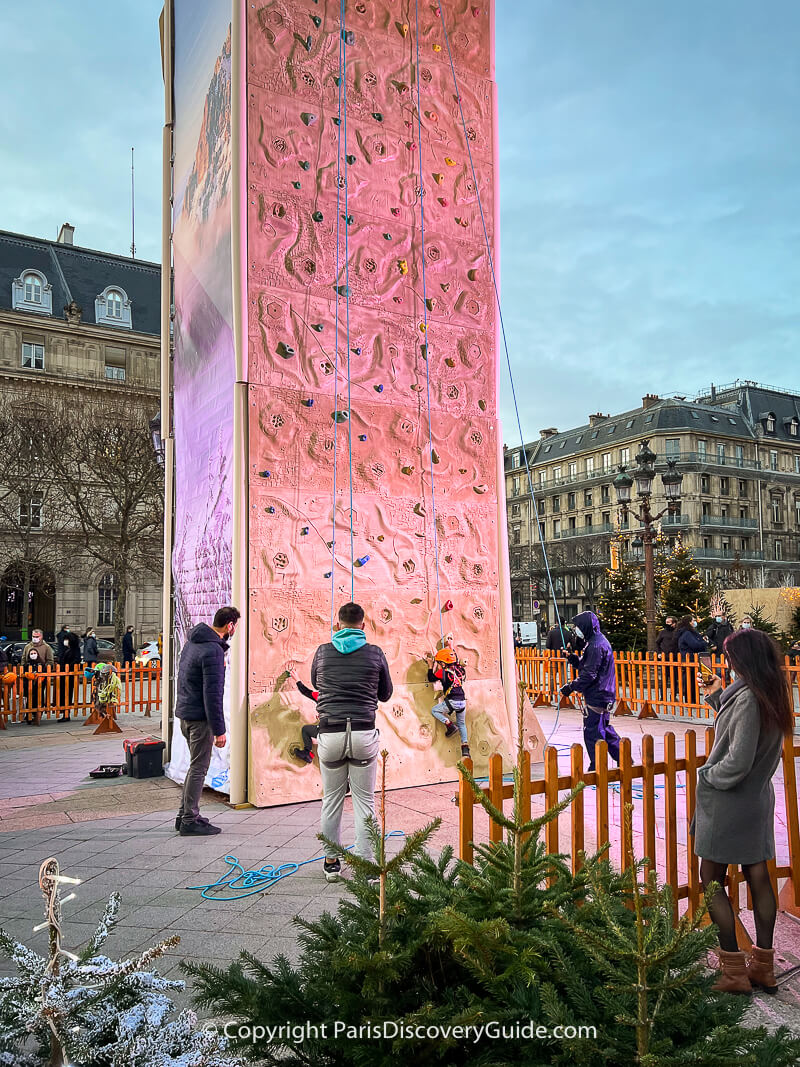 ---
6. Special "Forest Animal" Displays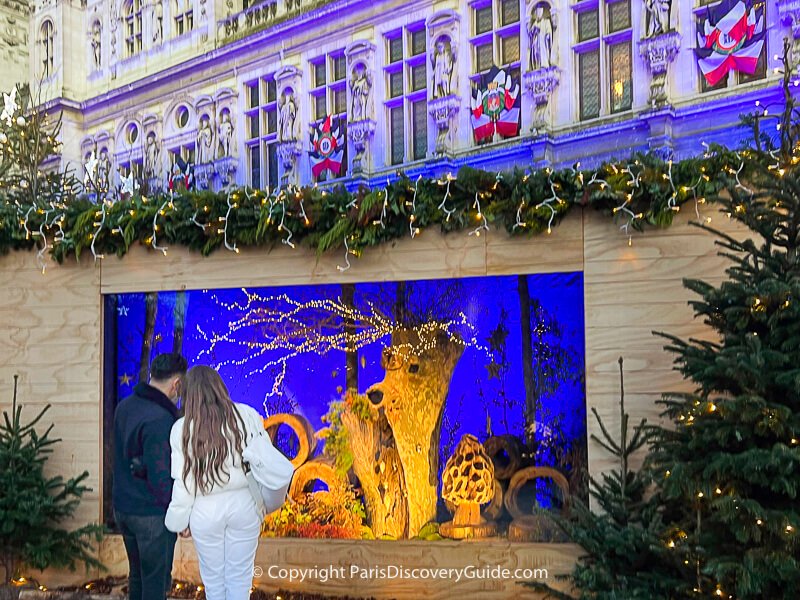 As you stroll around the Hotel de Ville Christmas Market, you'll see a number of rustic wooden chalets containing whimsical displays of forest life.
Look closely at the Christmas tree forests, and you may discover forest "animals" peering out from the foliage.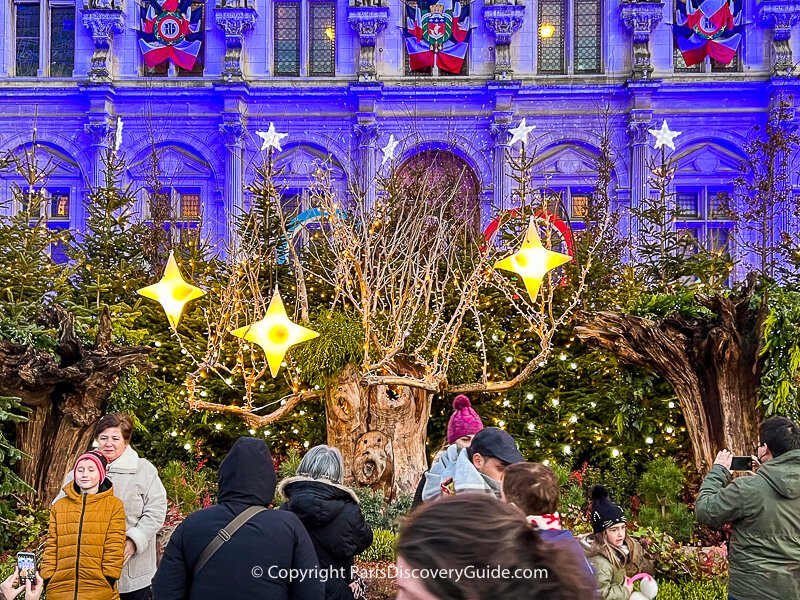 ---
7. Special Shows & Performers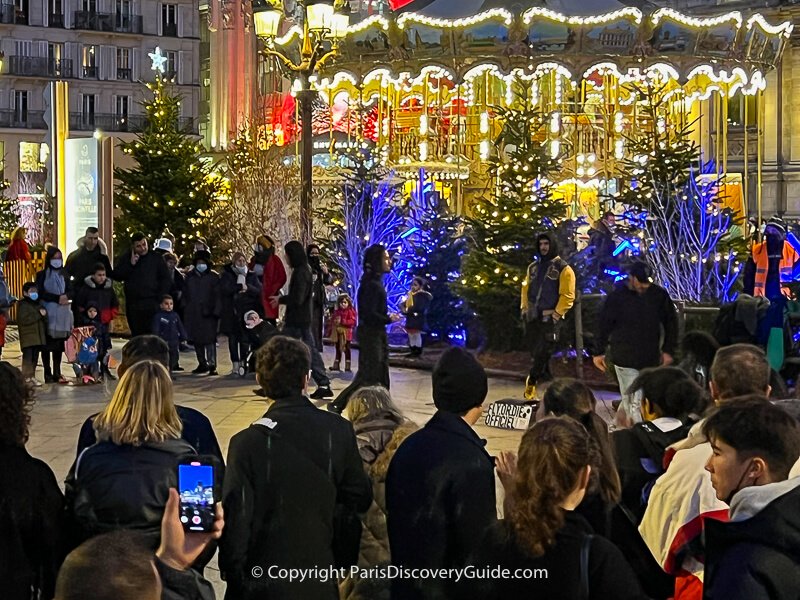 Around 5pm, look for performances by local musicians and dancers near the carousel. They don't happen every day and usually last only 15-20 minutes - but if you happen to catch one, they're fun to watch.
---
Hotel de Ville Christmas Market Visitor Information
Opening Hours & Dates
Opening Hours: Sunday-Thursday: 11am-10pm; Friday-Saturday: 11am-11pm
Dates: Early December - early January; check our Paris Events Calendar for December for exact dates
Cost: Free admission and free children's rides/activities plus whatever you spend on food, beverages, and gift items
Getting to the Hotel de Ville Christmas Market
Location: In front of Hotel de Ville, which is sandwiched between Rue de Rivoli on the north and the Seine River on the south
Métro: Hotel de Ville
---
More about the Hotel de Ville
Like almost every spot in this part of Paris, Hotel de Ville and the ground occupies contain layers of history accumulated over the centuries.
The current structure replaces one built in 1533, but its site has been the center of municipal power since 1357.
Members of the Commune de Paris, a revolutionary government that ruled Paris for 10 weeks after Napoleon III's Second Empire collapsed, burned down the 1533 building (along with a number of others) in 1871. The fire blazed for a week, destroying everything except for the town hall's the stone walls.
When the decision was made to rebuild it, the city directed the architects to replicate the ornate 16th century Renaissance building.
Like the exterior, the building's lavish interior also embodies Neo-Renaissance style, including a hidden jewel: an opulent "Salle de Fetes" (ballroom) said to emulate the Palace of Versailles' Hall of Mirrors. Normally closed the the public, it is sometimes open during European Heritage Days September.
---
Special Christmas Cruises
---
Best Places to Stay near Hotel de Ville Christmas Market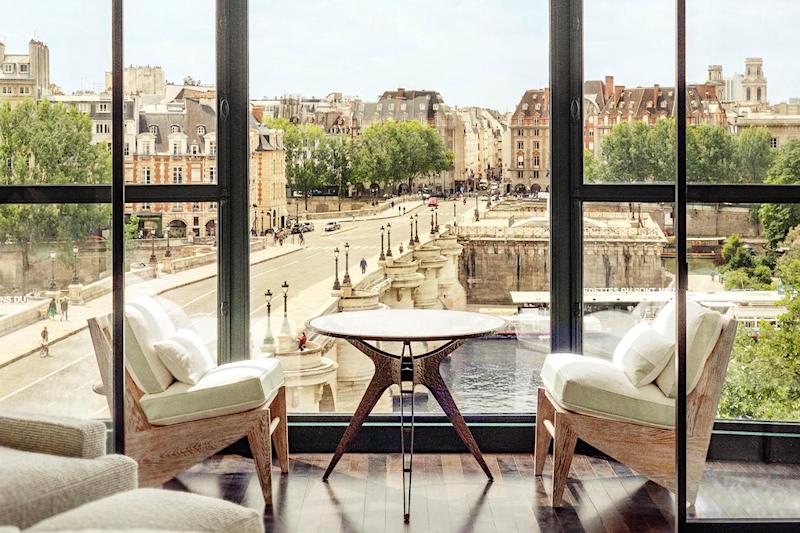 Paris's magnificent City Hall (Hotel de Ville) sits at the edge of the iconic Marais neighborhood. You can still see glimpses of Medieval Paris in the narrow winding streets and architecture while exploring top fashion boutiques, chic bistros, hidden gardens, and fascinating museums.
On the other side of the famous Rue de Rivoli shopping street is the grand BHV department store, and just a couple of blocks away, you'll find Centre Pompidou and all the jazz clubs on Rue des Lombards.  Plus, Hotel de Ville overlooks the Seine River, putting you steps away from Île de la Cité where you'll find Notre Dame, Sainte-Chapelle, and Marché des Oiseaux, Paris's famous bird and flower market.
All of these nearby attractions make the Hotel de Ville area an ideal location to stay in during your Paris visit, whether you're there during winter for the Christmas Market, summer when "beaches" pop up along the Seine, or throughout the year when there's always lots to do and see nearby.
Here are some suggestions:
9Confidential - Elegant 4-star boutique hotel with contemporary decor and fabulous rooftop views from upper floors in the heart of the Marais
Hotel Duo - Sophisticated and serene, this woman-run 4-star boutique hotel offers a superb Marais location on Rue de Temple
Hôtel Cheval Blanc Paris - The city's newest ultra-luxury 5-star hotel, located above the iconic La Samaritaine department store. Treat yourself to a room overlooking the Seine
Use this Paris hotel map to find more hotels and apartments near the Hotel de Ville Christmas Market. Add your travel dates to see availability and best rates:
Check out the newest Paris hotels
Find Christmas Market tours & other favorite Paris Christmas activities
---
More Fun Things to Do & See in Paris at Christmas
---
Holiday Shopping & Things to Do near Hotel de Ville Christmas Market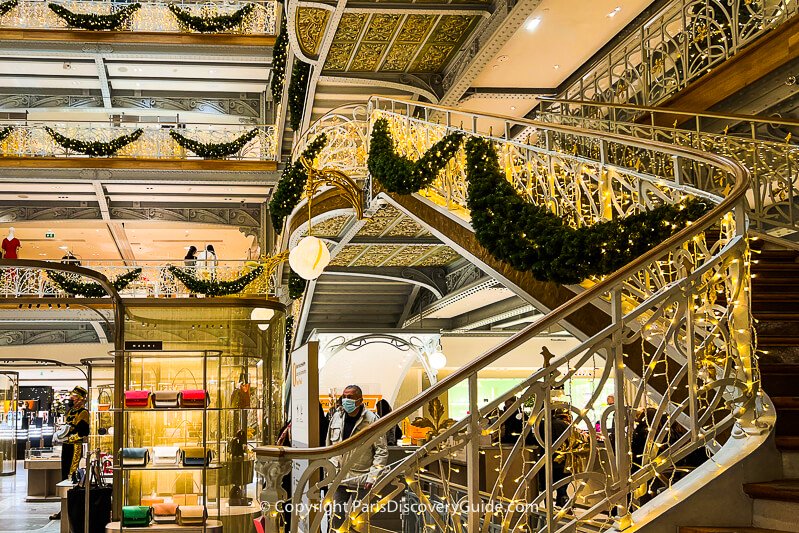 Need to do holiday shopping?  For luxury gifts, head to BHV and La Samaritaine on Rue de Rivoli, which is also where you'll find numerous stores packed with French and international brands.
For unique items, explore the Marais neighborhood to to the east and northeast of Hotel de Ville.
---
More About Celebrating Christmas Holidays in Paris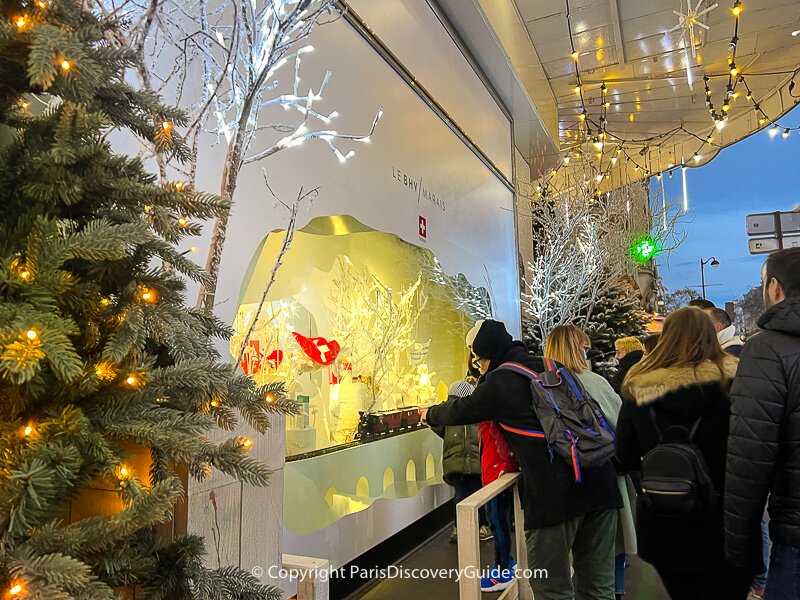 ---
More Fun Things to Do in Paris at Christmas
---
More about Paris in December