Even though Père Lachaise Cemetery (La Cimetière du Père-Lachaise) in eastern Paris may not be quite as famous as the Eiffel Tower or Arc de Triomphe, its combination of celebrity graves, haunting sculptures, and photo-worthy cobblestone lanes lined with elaborate tombs, family crypts, and poignant memorials make it the most visited burial ground in the world, attracting around 3.5 million visitors each year.
Wander along the winding paths criss-crossing the cemetery's rolling hills, and you'll see some of the world's best funeral architecture and art representing an astounding array of styles: Romanesque, Medieval, Neoclassic, Italian Renaissance, Second Empire, and Art Nouveau, just to name a few.
Almost everywhere you look, you'll spot sculptures of every size and shape imaginable: plump winged cherubs, macabre skulls flanked by bat wings, scantily clad women sprawled across tombstones, disembodied heads of famous men. Although many are beautiful and touching, some are downright weird.
But if you're like most first-time visitors to this "City of the Dead," you probably want to see the graves of famous people buried here.
And you'll find plenty. Jim Morrison of The Doors draws the biggest crowds among Americans. Among UK visitors, Oscar Wilde's tomb attracts avid fans. Opera lovers from everywhere pay homage at the grave of Maria Callas. And singer Edith Piaf is a perennial favorite of French visitors, while Ahmet Kaya's memorial is a current attraction.
But there are plenty more: stage and movie stars such as Sarah Bernhart, Simone Signoret, and Yves Montand, writers, artists, and composers like Colette, Gertrude Stein, Modigliani, Chopin, and Rossini, and numerous politicians, philosophers, scientists, revolutionaries, inventors, gourmands, military heroes, and business tycoons.
What's the best way to see the top attractions at Père Lachaise, especially if you're planning your first visit?
Although you can try locating specific tombs with a graveyard map (you'll find one of the best Père Lachaise maps further down in this article), it's not as easy as you might expect because the cemetery packs 70,000 burial plots into its 106 acres (43 hectares).
To make the most of your time, join one of the popular group or private tours. Your guide will know the best routes and shortcuts to take you to the most famous graves plus those with the especially fantastic sculptures and memorials, and will also entertain you with stories about the fascinating and sometimes eccentric people buried here.
Once you've taken a tour, you'll have a much better sense of the cemetery's most interesting sights and you can explore more on your own. Just don't be surprised if Père Lachaise draws you back for another visit every time you're in Paris, because you're sure to discover new things each time you come.
Top photo: Family sepulchres at Cimetière Père-Lachaise in early March
Best Ways to See
Père Lachaise Cemetery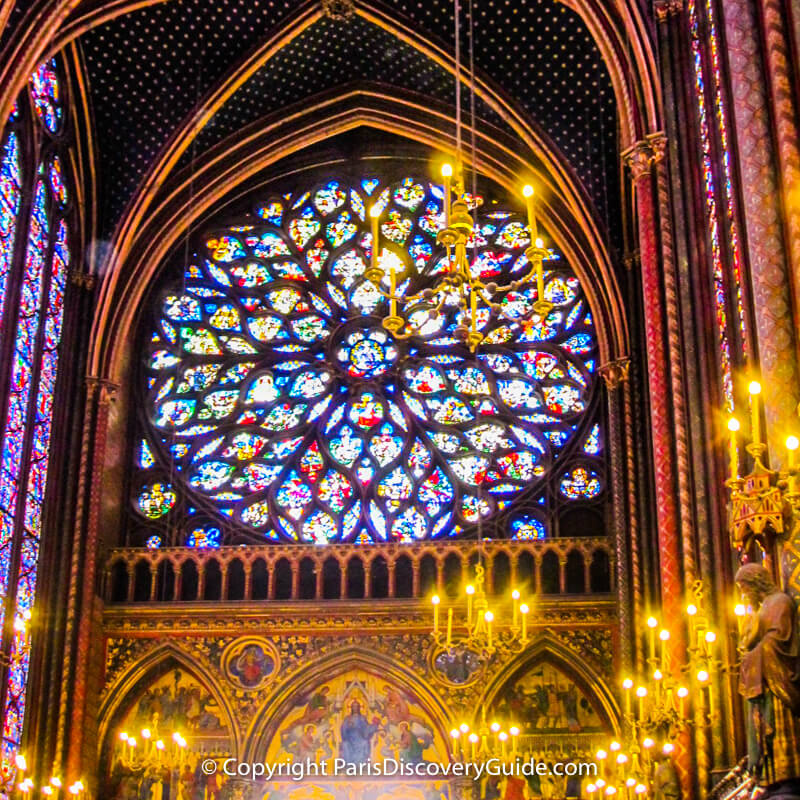 What are the best ways for you to experience Père Lachaise Cemetery?
There are three excellent options, and you can choose one, two, or all three of them, depending on how much time you have and what you want to do and see:
1. Tour

Père Lachaise

with a Guide
Starting with a guided tour is the best choice if you're making your first or second visit and you want to see as much as possible in a limited amount of time. Your guide will bring this "City of the Dead" to life for you with anecdotes about the cemetery and its permanent residents, and you'll see things you might not find nearly as quickly on your own.
Although the cemetery itself doesn't give tours, professional guides offer a variety of options for you to book in advance. Here are two of the most popular choices:
Does Père Lachaise offer "official" tours or "accredited" guides?
No.
If you're approached by someone in the cemetery representing themselves as an "official" tour guide or "accredited" Père Lachaise guide and offering to show you around the cemetery, this is a scam of sorts: if you agree on go on their "tour," they may show you 2-3 things (if you're American, they may offer to show you Jim Morrison's tomb) and then hit you up for a tip.
If you want to take a guided tour, book in advance with a professional. If all you want to see is Jim Morrison's grave, download a Père Lachaise map and find it on your own.
2. Be a Flâneur & Explore on Your Own
Père Lachaise Cemetery provides the perfect place for flânerie - strolling around and observing all your surroundings.
Whether you've already taken a guided tour and want to see more on your own or just want to walk around one of the most beautiful sites in Paris, you're almost guaranteed to find fascinating sights among Père Lachaise's rolling hills, winding paths, and 70,000 burial sites. The upper levels feature panoramic views of city rooftops and even the Eiffel Tower.
Is this the best or most efficient way to find specific memorials? No. But it is a perfect way to absorb the beauty and poignancy of Père Lachaise, and you're sure to stumble across (hopefully not literally) some fascinating tombs and monuments.
3. Use a Père Lachaise Map to Find Your Favorite Celebrity Graves
Can you find the final resting spots of the graveyard's most famous residents on your own, without a guide? Yes - although be prepared to have to spend more time that you might expect looking for some of the harder-to-find graves.
First, you'll need a map. Although you can find a map posted near most of the entrances, having your own printed map is a lot more convenient. You can download and print the free official Père Lachaise famous grave locations map in English here. (It is also available on the City of Paris website.)
If you don't have a chance to print a copy of the grave location map before your visit, you can usually buy a similar map for 5-15 euros at many of the small florist shops on the streets surrounding the cemetery.
Once you have a map in hand, all you need to do is identify locations for the tombs and memorials you want to visit and then plot your walking route. In theory
Père Lachaise

Visitor Information: Location, Maps, & Opening Hours

Admission: Free

Schedule:
- Opens at 8am Monday-Friday, 8:30am on Saturday, 9am on Sunday
- Closes at 5:30pm from November through mid-March, and at 6pm from mid-March through October
- Last admission is 15 minutes before closing

Days Closed: January 1, Easter, Easter Monday, Ascension Day, May 1, May 8, Whitsuntide, Whit Monday, July 14, August 15, November 1, November 11, December 25

Location: 18th Arrondissement

Entrances (Portes):  
- Porte Principale - Main entrance - Boulevard de Ménilmontant, across from Rue de la Roquette (Metro: Philippe Auguste or Père-Lachaise) 
- Porte du Repos - 16 Rue du Repos (Metro: Philippe August)
- Porte de la Réunion - Look for this entrance where Rue de la Réunion deadends at the cemetery; not accessible due to a flight of stairs if you have reduced mobility
- Porte des Amandiers - Boulevard de Ménilmontant, across from Père-Lachaise metro station; not accessible due to a flight of stairs if you have reduced mobility (Metro: Père-Lachaise)
- Porte Gambetta - Rue des Rondeaux, opposite Avenue du Père Lachaise (Metro: Gambetta)

Map Showing
Père Lachaise

Cemetery & Entrance Locations
Things to Know Before Your Visit
If you want to locate specific graves, you will need a Père Lachaise Cemetery map.
10 Interesting FAQs & Facts about
Père Lachaise
When was
Père Lachaise

Cemetery built?

And that's exactly what Père Lachaise's planners intended back in the early 1800s with faced with the challenge of creating interest in this burying ground far beyond the Paris city limits at that time. (Now, by contrast, you can hop on the metro in central Paris and be there in less than 10 minutes.)

Back in 1804 when the cemetery - then, as now, officially called Cimetière de l'Est - first opened, its location way beyond the Paris city limits made it unappealing and the métro, which now whisks you out there in 10 minutes or less from central Paris, wouldn't be inaugurated for almost another 100 years.

Faced with a lack of bodies to bury, the cemetery's developers launched a marketing compaign.

First, they "rebranded" the cemetery with the name of Henry XIV's Jesuit confessor, Père Lachaise, to imply to Roman Catholics that the cemetery might be consecrated ground (it is not).

Next, they relocated the remains of a handful of carefully chosen famous dead people: a pair of 12th century star-crossed lovers, Héloise and Abélard, to appeal to romantics, a couple of famous 17th century literary giants, playwright/actor Molière and poet La Fontaine, to Louise de Lorraine, wife of Henry III, and a handful of others.

its sectarian status in an era when most French Roman Catholics preferred to lay their loved ones to rest next to their neighborhood church

Most popular Jim Morrison (with Americans; don't try to visit on July 3), Edith Piaf, Frederic Chopin (cat), Oscar Wilde (now behind plexiglass walls), Colette, Yves Montand (and Simone Signoret), Rossini.

Despite its ancient-looking funeral art and mossy burial plots, Père Lachaise Cemetery welcomed its first bodies just over two centuries ago, even though some of bones buried there may be much older. By the late 1700s, unsanitary conditions and odors at overcrowded Paris church graveyards led to the creation of several municipal cemeteries outside of what were then the city limits. Napoleon Bonaparte established Père Lachaise as a non-sectarian cemetery in 1804 after decreeing that "every citizen has the right to be buried regardless of race or religion."

Although the graves here date back only a couple of centuries to the early 1800s, the oldest remains interred here are believed to be those of Heloise and Abelard, (small blurb).

When Napoleon III decided to open Cimetière Père Lachaise, as it is known in French, in 1803 as a municipal City of Paris non-sectarian burial site to relieve pressure from the often putrid closer-in cemetaries, its 103 acres (43 hectairs) were inconveniently beyond the city limits and the challenge was to make it attractive as a place for Parisans to bury their dead. A marketing campaign of sorts did the trick.

By the end of the 1700s, Paris city's churches. But by the end of the 17th century, they overflowed with old bones and newly decomposing bodies an effort was underway to move Parisian cemeteries beyond the city walls due to overcrowding and unsanitary conditions. Bones were transferred to the catacombs and to 3 new large cemeteries: PL in 1804 (cimitiere de l'est), Montparnasse in the south (1824), and Montmartre in the north (1825). 1860 - expanded city limit, so these were now inside the city.

Graves are private property of the families uniless they: expiere (limited durations), or are abandoned (in perpuity or 100 years old)

Despite being given a quasi-royal cachet by nameing it after Henry XIV's confessor, Father François d'Aix de La Chaise, who had once once lived here,
Celebrities & More at PLC
xxxxx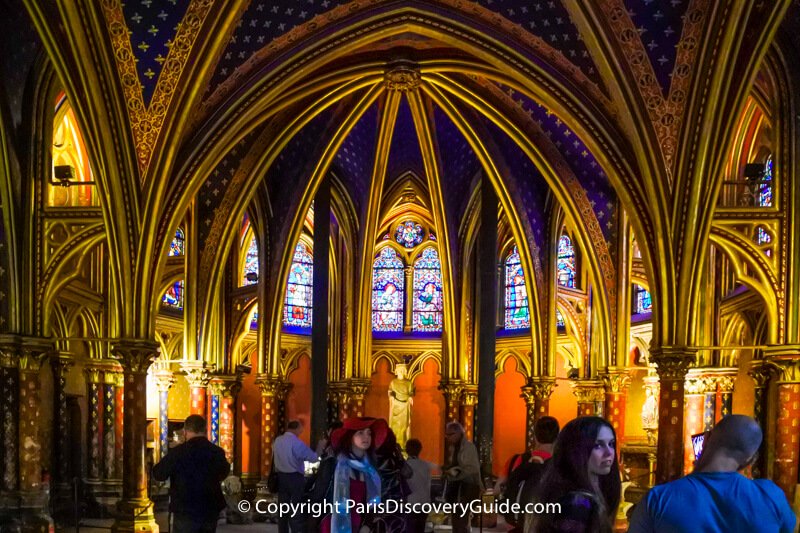 10 Interesting Facts about Sainte Chapelle
1. Although Sainte Chapelle measures only 118 feet long x 56 feet wide, the ceiling reaches 139 feet high.
2. The Crown of Thorns and Louis IX's other religious relics became scattered during the French Revolution. Most of them were recovered, and now reside at Notre Dame Cathedral. Even though Louis IX paid a small fortune for them - more than three times the cost of building Sainte-Chapelle - their authenticity has never been confirmed.
3. Pope Boniface VIII canonized Louis IX as a saint in 1297, the only French king awarded this distinction. Île Saint-Louis, the small island in the Seine River next to Île de la Cité where Sainte-Chapelle is located, is named after him (as is Saint Louis, Missouri, along with many other places around the world).
4. The king ordered the best stained glass craftsmen from the recently-completed Chartres Cathedral to create Sainte Chapelle's windows, and if you visit both places, you can see similarities: brilliant colors surpassing the simplicity of the windows' designs.
5. Although Sainte Chapelle sustained heavy damage during the French Revolution and required extensive renovation, much of the stained glass escaped destruction. About two-thirds of what you see today is original, dating back to the 13th century and making it the oldest surviving stained glass in Paris.
6. To protect the priceless treasures from destruction by the Nazis during World War II, workers removed and carefully labeled every piece of glass prior to the German invasion, and then replaced them after the war.
7. Sainte Chapelle's 275-foot spire dates back only to 1853. The chapel's previous four spires burned down.
8. A 7-year project to clean and restore Sainte Chapelle's stained glass completed a few years ago, leaving the windows more sparkling and beautiful than ever.
9. The Rose Window is most brilliant right before sunset as almost-horizontal streams of light shine through the glass.
10. As a French cultural site, Sainte Chapelle offers free admission for all visitors under 18 (photo ID required) and EU/EEA visitors 18-25 (photo ID required).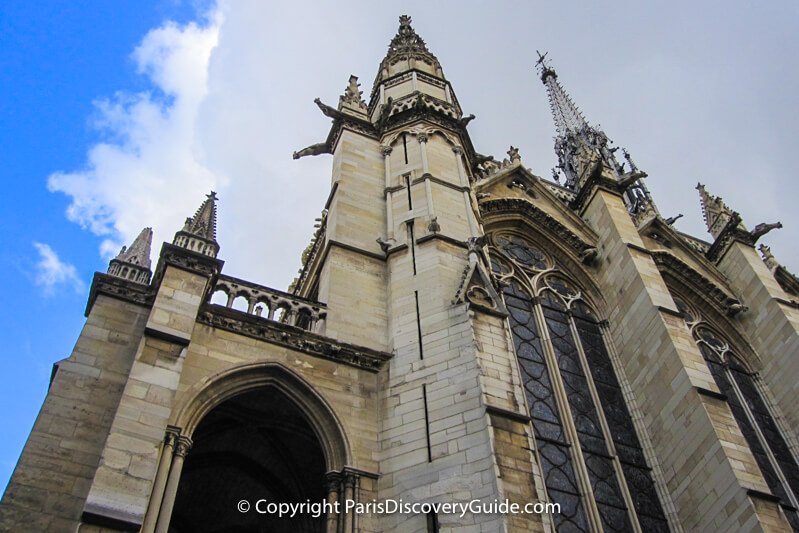 Where to Stay near Sainte Chapelle
Staying near Sainte Chapelle and Île de la Cité puts you in a wonderful location for exploring the many historic attractions, beautiful parks, and excellent bistros and restaurants in this central part of Paris. Here are several excellent choices within a 5-minute walk:
Want more ideas? Check out:
---
Map Showing More Paris Hotels
Use this Paris hotel map to find more hotels near Sainte Chapelle:
More ways to save on Paris hotels & apartments
Where to Eat near Sainte Chapelle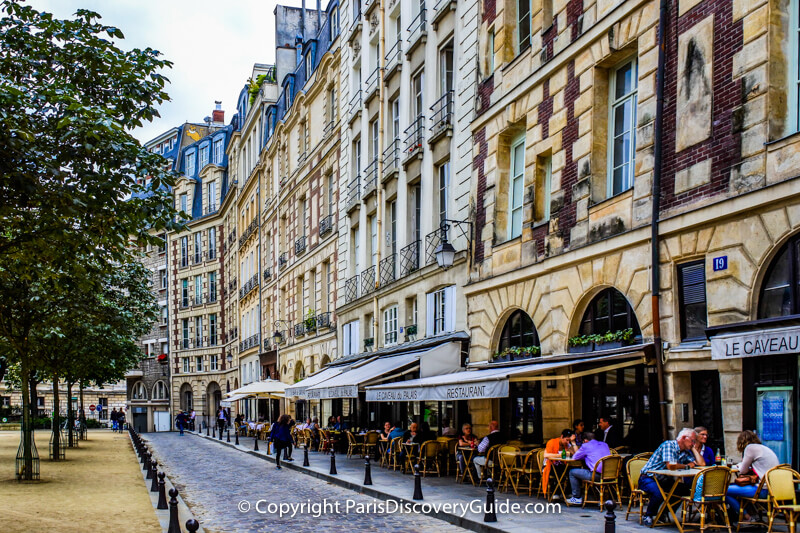 Les Deux Palais, almost directly across the street (Boulevard du Palais), is a popular place for simple brasserie fare: salads, steak-frites, pastas, or just a drink.
If you have more time, walk around the corner and follow the road along the river to Place Dauphine (1 block away - see the map below). You'll see 8-10 small restaurants and cafes lining the square. Check the posted menus to find what you like - all are good.
Place Dauphine is one of those quiet, hidden spots in Paris known to locals but usually not discovered by visitors.   Enjoy the small shops and eateries.
More Places to Explore near Sainte Chapelle
Almost next door is the Conciergerie - a medieval palace used as a prison called the "antechamber of the guillotine" during the Reign of Terror where Marie Antoinette spent her final days. It's a fascinating place to visit and explore, and you can save on the entrance fee when you get a combo skip-the-line ticket for both Sainte-Chapelle and the Conciergerie.
To explore the rest of the ancient area behind Sainte Chapelle, continue walking west (ie, away from Sainte Chapelle).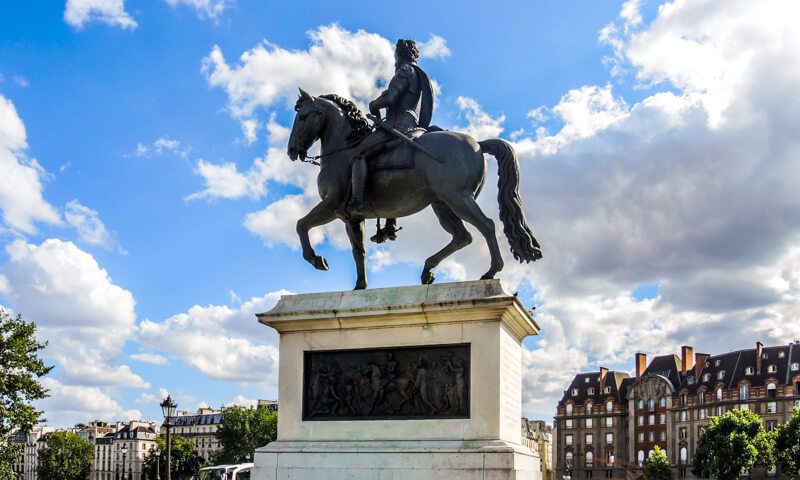 You'll see a magnificent statue of King Henry IV on horseback, and below that, a lovely park called Square de Vert Galant at the very tip of Île de la Cité.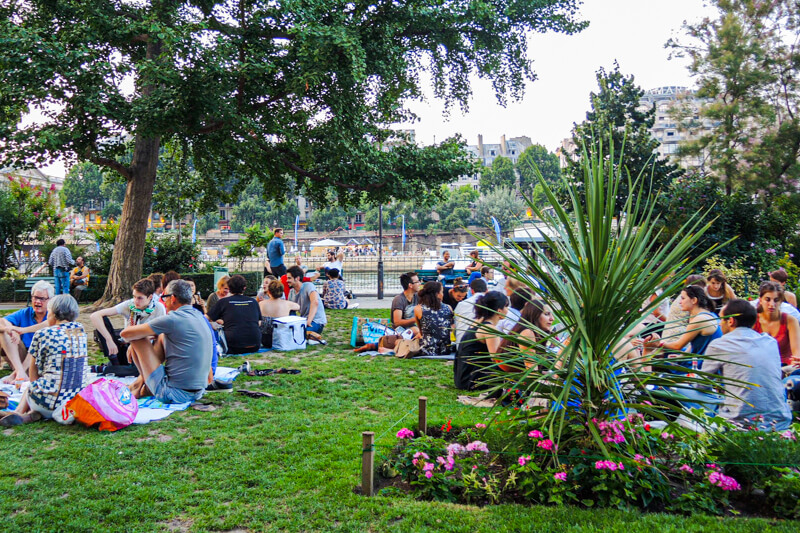 Walk down the stairs (they're easy to spot) to Square de Vert Galant, and find a spot on the grass or a nearby bench to relax for a bit after your Sainte Chapelle tour and watch all the sightseeing boats as they cruise down the Seine River.
More to See & Do near Sainte Chapelle