Staying at a Paris hotel near the Louvre not only gives you fast and easy access to this magnificent museum and the beautiful adjacent Tuileries Garden, but also puts you in the heart of the historic Louvre/Palais Royal neighborhood and all its top attractions.
If you want to soak in all the famous and lesser-known sites in this prestigious area, then by all means, stay here. After you've immersed yourself in the splendors of the Louvre and wandered through the flowers and statues in Tuileries, there's so much more to see and do.
You can take in the spectacular gilded fountains and Egyptian obelisk at Place de la Concorde, explore the hidden garden and surrounding antique shops and cafés behind Palais Royal, and shop in the glittering boutiques along Rue Saint-Honoré and Place Vendôme. And that's just the beginning!
Our hotel recommendations range from affordable 3- and 4-star boutique hotels to 5-star luxury accommodations. And if you want all the amenities of a top hotel but with the space and amenities of an apartment, check out our recommendation for a serviced suite.
Top Photo: Glass pyramid in the courtyard of the Louvre Museum in Paris, (c) Paris Discovery Guide
Paris Discovery Guide is a reader-supported publication. When you buy through our links, we may earn a commission at no additional cost for you. Learn more
---
Hotel du Louvre
★★★★★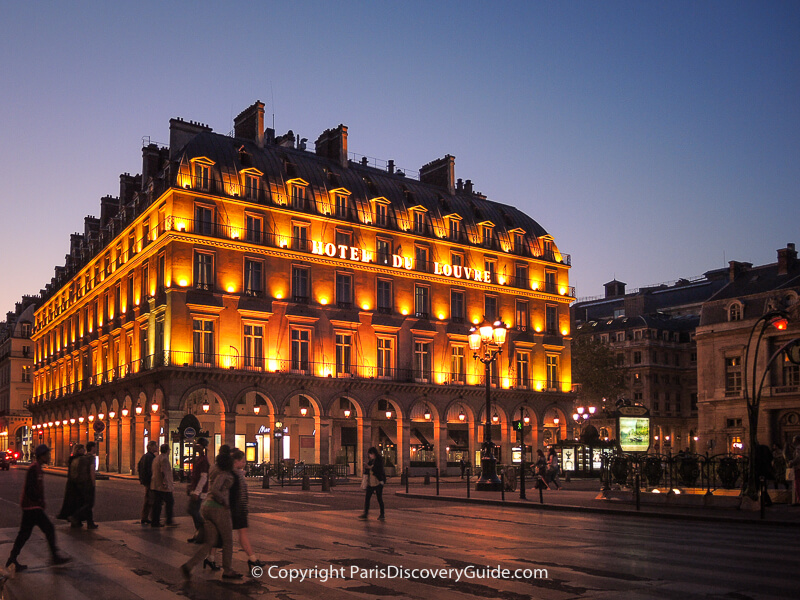 The 5-star Hôtel du Louvre overlooks Place André Malraux, a peaceful oasis on Rue Saint-Honoré about a 2-minute walk from the Louvre and Tuileries Garden.
With 177 guestrooms and suites, the hotel - part of the Hyatt family - gives you all the luxurious amenities and services you'd expect, plus the perfect location in the heart of one of Paris's loveliest neighborhoods.
In addition to being close to the Louvre, Jardin des Tuileries, and Musée de l'Orangerie (home to Monet's huge waterlily paintings) across the street, you find lots more to do and enjoy nearby. Relax in the gorgeous garden hidden behind Palais Royal, explore the fascinating antique stores surrounding it, and check out the designer fashions at nearby Place Vendôme. Galéries Lafayette, the Marais, and the magnificent Opéra Garnier (Paris Opera) are also all nearby.
Book Now
---
Relais du Louvre
★★★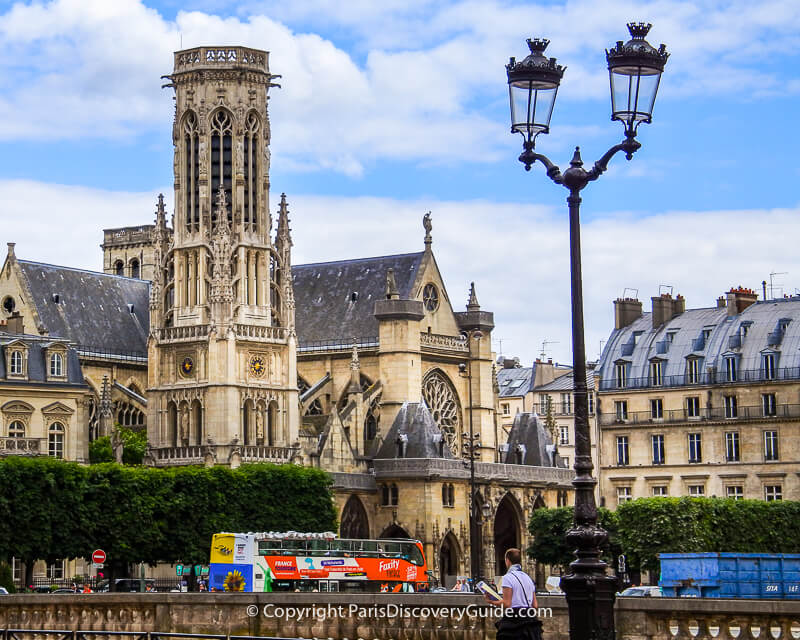 Located half a block from the eastern end of the Louvre, 3-star Relais du Louvre is tucked away on a quiet lane next to the 15th century Église Saint-Germain l'Auxerrois and about a 1-minute walk to the Seine River.
The hotel's 22 rooms and suites feature chic country-French decor and wonderful neighborhood or interior courtyard views. You can choose from a variety of sizes (smaller rooms usually offer bargain rates in this otherwise expensive neighborhood), and if you are traveling with your family, you'll be pleased by the affordable suites and family rooms.
The hotel's wonderful location puts you within easy reach of the Louvre and other nearby attractions, plus you can easily stroll across the Pont Neuf bridge to the Île de la Cité where you'll find Notre Dame and the boarding point for Seine River cruises, or continue on across to the Latin Quarter on the Left Bank. The fascinating Les Halles neighborhood as well as the Marais and Beaubourg (Center Pompidou) are also nearby. And of course, since this is Paris, you'll find plenty of wonderful places near your hotel to eat and shop as well.
Book Now
---
Hotel Madame Rêve
★★★
★
★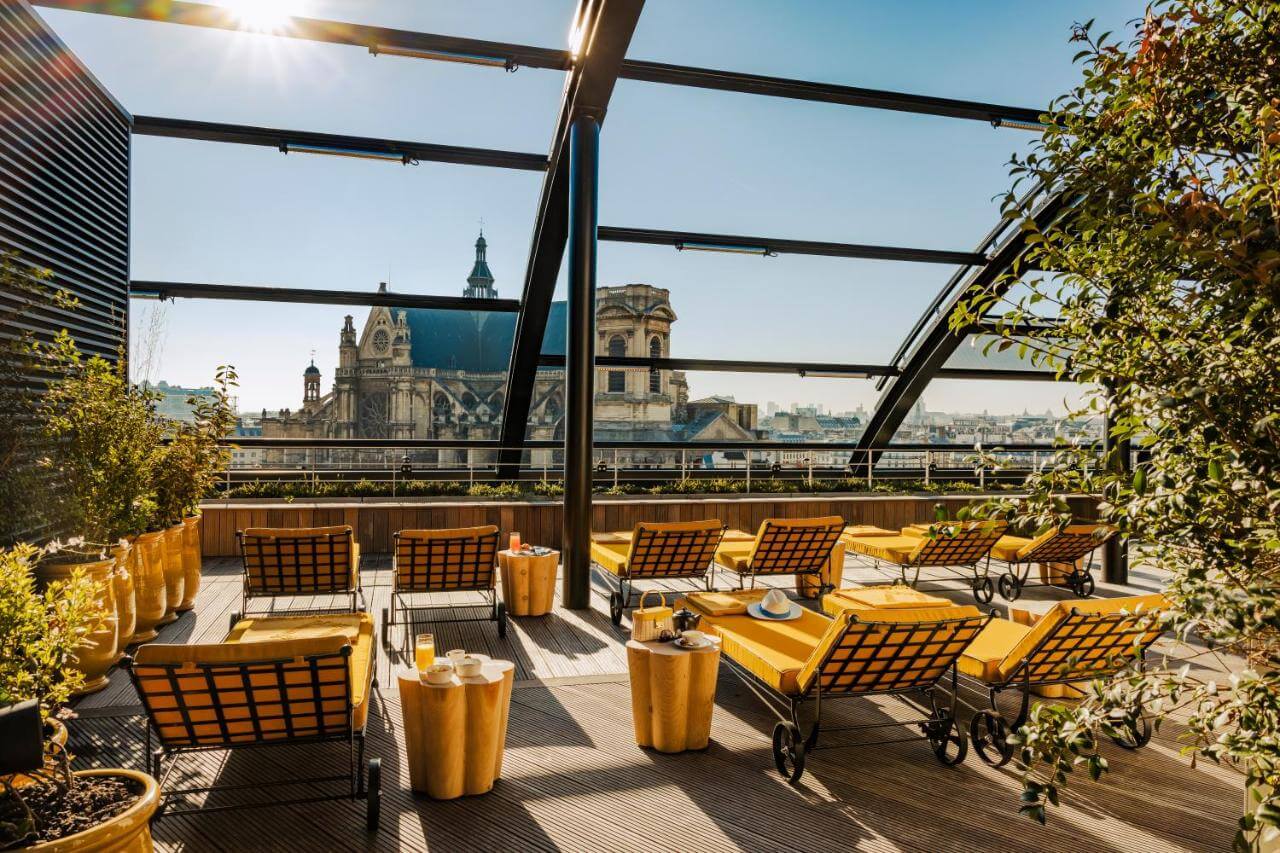 48 Rue du Louvre, 1st arrondissement
Even if recently-opened 5-star Hotel Madame Rêve weren't in an ideal location near the Louvre Museum - which it is - you'd still want it on your "best place to stay in Paris" bucket list because of its exceptional views, breath-taking public spaces, 82 luxurious guestrooms and suites, excellent service, and rooftop garden terrace. Whether you're visiting Paris for a romantic weekend, treating yourself to a solo get-away with lots of quality time in the onsite spa, or staying with your family in one of the suites that sleep four, you'll find so much to love here.
Once you step outside the hotel, you'll quickly appreciate Madame Rêve's superb location. The Louvre, Tuileries Garden, Saint-Eustache Church, and the Pinault Collection featuring contemporary art are just steps away. Île de la Cité, with Notre Dame and Sainte-Chapelle, is a 2-minute walk across the Pont Neuf bridge. And on the other side of the Seine is the arty part of the Saint-Germain neighborhood, where you can spend hours exploring galleries and design studios.
Pro tip: Almost all guestrooms and suites feature wonderful balconies and terraces - be sure to request one!
---
Le Pradey
★★★★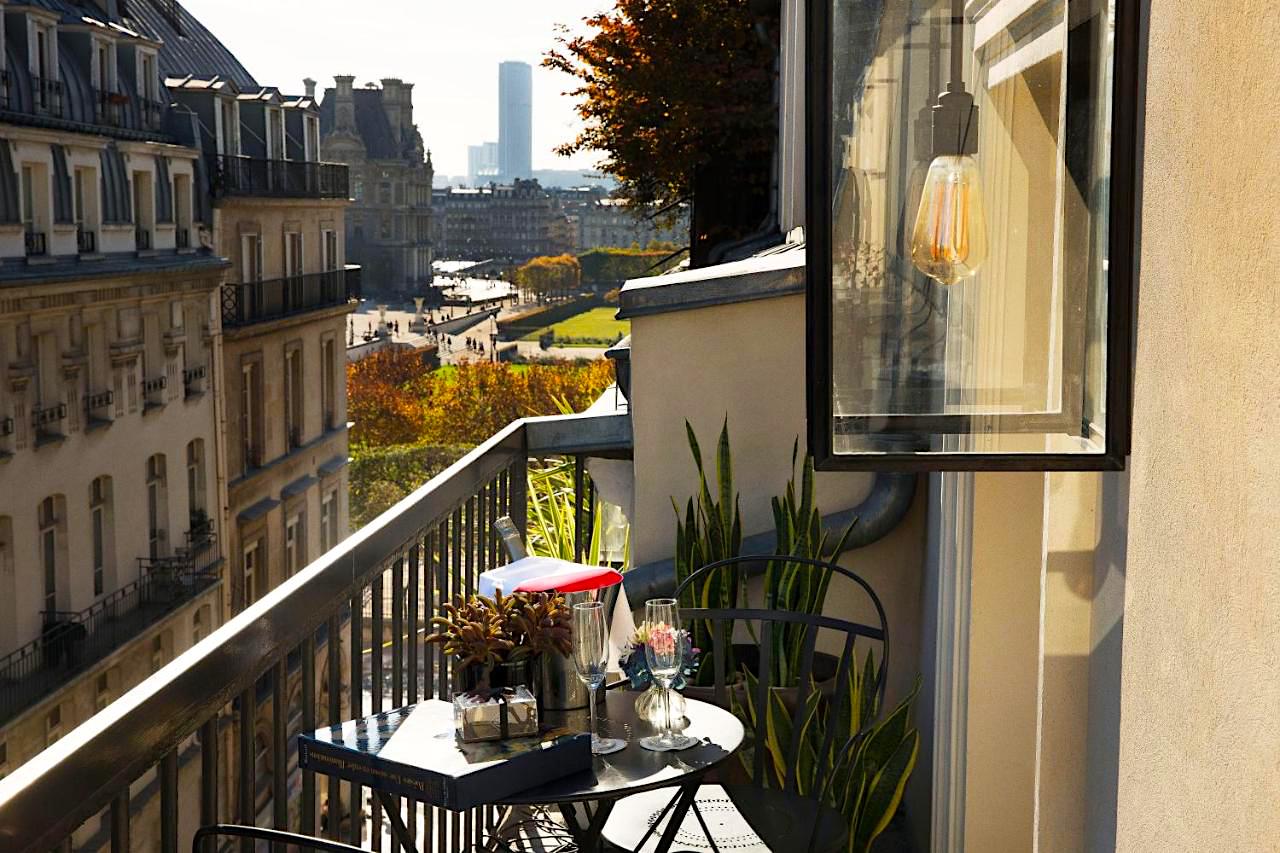 Elegant and sophisticated, the 4-star Le Pradey hotel offers sweeping views of Jardins des Tuileries and the Louvre from its location on a quiet side street lined with chic boutiques, galleries, and small bakeries and bistros.
Each of the hotel's 28 guestrooms and suites features a unique theme, ranging from sleekly traditional to wildly romantic. You'll enjoy the excellent service, the small library on the mezzanine area, and the superb location close to the Louvre, Jardin des Tuileries, Palais Royal, and Place de Concorde, as well as the excellent shopping along Rue Saint-Honoré and around Place Vendôme.
Walk across the Pont Royal bridge over the Seine River, and you'll be at the Orsay Museum where you can admire magnificent paintings by Van Gogh, Monet, Renoir, and other Impressionists and Post-Impressionists.
Want to go even further? A Métro stop is just a few steps away from La Pradey.
Book Now
---
La Clef Louvre
★★★★
★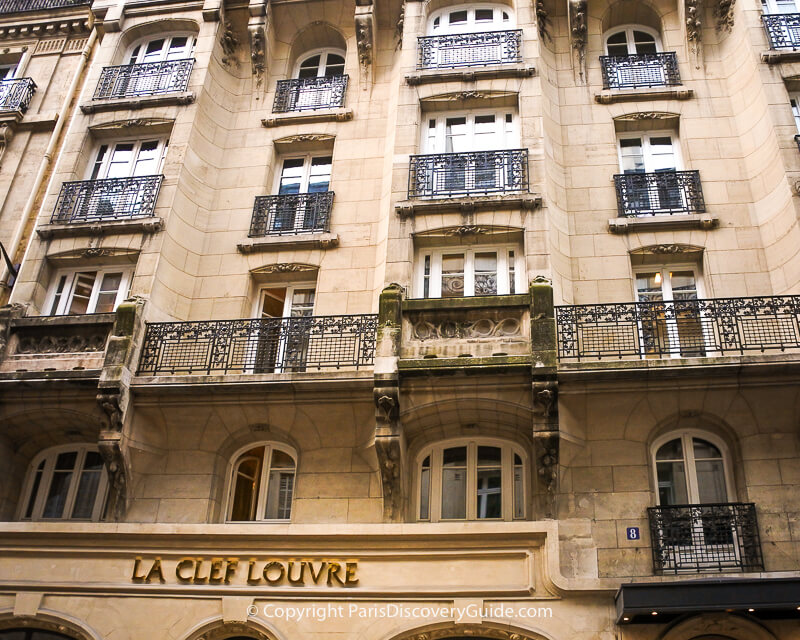 You get the best of both worlds when you stay in a serviced suite at La Clef Louvre, a cross between an apartment and a serviced hotel located in stately 1908 Art Nouveau building next to Comédie Française and just two short blocks from the Louvre, Musée des Arts Décoratifs, and Musée de l'Orangerie.
Like an apartment, La Clef Louvre's suites include fully equipped kitchenettes, tableware, and in most cases, washers and driers. Like a hotel, La Clef provides breakfast, 24x7 concierge service, a fitness center, and other amenities.
Staying here puts you at the heart of classic Paris, surrounded by all the top attractions. Enjoy exploring the city to the fullest - but no matter how busy you are, take advantage of La Clef Louvre's location and stroll over to the Louvre at twilight to see the Pyramid in Cour Napoleon glowing with lights - a magical sight!
Book Now
---
Hôtel Cambon
★★★★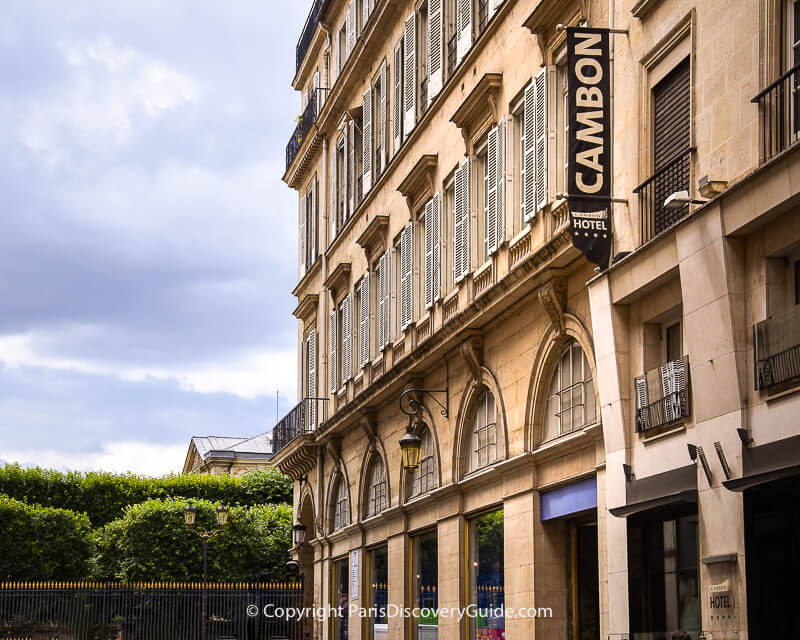 Four-star Hôtel Cambon offers a superb location on a quiet street close to Place de la Concorde, Tuileries Garden, Place Vendôme, and the Louvre.
The 40 individually decorated guestrooms and suites combine a bright modern vibe with wonderful artwork. Look for plenty of luxury touches and excellent service.
In addition to exploring all of the attractions near the Louvre, you'll also enjoy being very close to several top destinations in Paris's 8th Arrondissement. Explore the designer shops around Place de la Madeléine, stroll down Champs Élysées, and visit the (free) Musée des Beaux Arts at the Petit Palais.
Find more hotels in Paris's 1st arrondissement near the Louvre
---
Find More Paris Hotels & Apartments near the Louvre
---
Popular Ways to See the Louvre
---
More Articles about Where to Stay near the Louvre