Staying in a hotel or apartment in Paris's 12th arrondissement gives you the chance to experience the "real" Paris just a short distance outside of the touristic center.
Depending on which 12th arrondissement hotel or apartment you choose in this large and rather sprawling district, you may be close to ballet performances at the Opéra de la Bastille, large concerts featuring international stars at the AccorHotels Arena, the cute restaurants, Musée des Arts Forains, and charming boutiques in Bercy Village, and the large Marché d'Aligré where a covered market, open-air produce market, and a large antiques/vintage market attract shoppers from all over the city.
Promenade Plantée (Coulée Verte René-Dumont), the gorgeous elevated garden-filled park built on top of an abandoned railway tracks, cuts through the 12th district, as does the Paris Marathon route. On the arrondissement's east side lies the enormous Bois de Vincennes, complete with its own medieval castle, a zoo, two ponds where you can rent rowboats, and Parc Floral, site of several popular summer music festivals.
Staying in this area also gives you easy access by metro or on foot to famous sights such as the Louvre Museum, Arc de Triomphe, Notre Dame, and Eiffel Tower. Stroll a few blocks north to reach Père Lachaise Cemetery. Or cross the Seine River, which borders the district on the south, to explore the Botanical Garden and other attractions in the Latin Quarter.
Bonus: Because the 12th arrondissement is outside of the single-digit districts at the city's tourist center, you'll find some relatively bargain rates, even at 4-star hotels.
Find best things to do & see in Paris 12
Our recommendations for where to stay in Paris 12 include a variety of budget-friendly 3- and 4-star 12th arrondissement hotels featuring wonderful terraces, Seine River views, and attractive rates.
Top photo: Bercy Village cafes in the 12th arrondissement - Photo (c) Paris Discovery Guide
Paris Discovery Guide is a reader-supported publication. When you buy through our links, we may earn a commission at no additional cost for you. Learn more
---
Where to Stay in Paris's 12th District
CitizenM Gare de Lyon - Hip Accommodations near Gare de Lyon
★★★★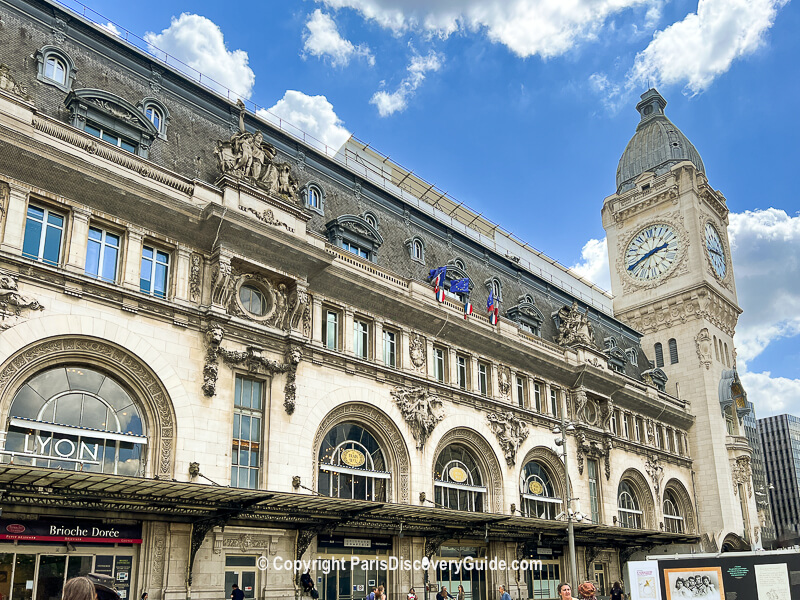 8 Rue Van Gogh, 12th Arrondissement
CitizenM Paris Gare de Lyon, located conveniently close to Gare de Lyon rail/metro station, takes a decidedly different approach to defining hotel space.
What you'll find: large public spaces with comfortable, put-your-feet up furniture and colorful art, welcoming bars and dining spaces plus a canteen with food and drink available 24x7, and 338 compact guest rooms with a huge extra long king size bed that folds up into a sofa by day, Italian linens, mood lighting, designer furniture, and a powerful rain shower. You'll also find some of the lowest 4-star hotel rates in the city.
CitizenM's Bercy location in the 12th arrondissement is ideal if you're heading to a concert or other event at AccorHotels Arena, a ballet at Opéra Bastille, or just want to hang out in Bercy Village or explore Plantée Promenade. Be sure to also check out the Seine River views from the hotel's 16th floor rooftop bar.
---
Holiday Inn Paris Gare de Lyon Bastille
★★★★
11 Rue de Lyon
Located in gorgeous Belle Epoque building close to the Gare de Lyon train station, the 4-star Holiday Inn Paris - Gare de Lyon Bastille features 128 guest rooms, including 20 junior suites and 4 suites, including some that are fully accessible (wheelchair-friendly). For a special treat, book the 7th floor suite with sweeping views of Paris.
The hotel's public areas make the most of the beautiful architectural details, and offer plush furnishings. In the guest rooms, you'll find sleekly modern decor in restful tones and super-comfortable beds.
Treat yourself to a sumptuous dinner (or even just a drink at the bar) at Le Train Bleu, located in nearyb Gare de Lyon.
Rue Crémieux, known for its lovely colored buildings favored for photo ops, is about 100 feet away from the hotel. You're also close to the Promenade Plantée and Marché d'Aligré.
Bonus: Most guest rooms are slightly larger (which is not to imply huge) than typical Paris hotel rooms.
---
Hotel Paradiso - the "World's First 'Cinema Hotel'"
★★★★
125 Boulevard Diderot, 12th arrondissement
With big 9-foot-wide projection screens in each of its 36 guestrooms (including two suites), 4-star Hotel Paradiso - which bills itself as the world's first "Cinema-Hotel" - offers thousands of on-demand movies for your watching pleasure along with lots of comfy pillows to recline on and, of course, popcorn and drinks. Depending on the room you choose, you can even watch from the tub, perhaps with a glass of wine in hand.
That's not all. When the weather is good, you can also head up to the hotel's rooftop cinema to watch more movies on a large screen. When the weather is bad? No problem - go next door where the hotel owner, France's MK2 art house group run by two movie-loving brothers, has a 6-screen theater plus a 17-seat cinema for the private use of guests where from dusk until dawn, you can watch whatever is playing in the other theaters.
There's a lot more to love here, including the onsite café, karaoke room, and nearby Promenade Plantée - but the in-room movies steal the show.
P.S. The hotel gets its name from a 1966 movie, Hotel Paradiso, about a writerr (Alec Guinness) who holes up in Hotel Paradiso to observe the upper-class Parisians of 1900 to gain material for his next play and gets more than he bargained for.
---
Hotel Paris Bastille - Contemporary Charm across from the Bastille Opera
★★
★
67 Rue de Lyon
The 37 guest rooms at the 3-star Hotel Paris Bastille feature comfortable contemporary furnishings, air conditioning, and wifi in a wonderful location across from the Bastille Opera and Place de la Bastille. The hotel serves a breakfast buffet, has an elevator, and offers budget-friendly rates.
You're also just a few blocks from the beautiful Place des Vosges in the Marais, as well as the Promenade Plantée, Seine River, and the Latin Quarter across the river in the 5th arrondissement. A nearby metro station gives you easy access to other parts of Paris.
---
More Places to Stay in the 12th Arrondissement
Find best things to do & see in Paris 12
---
Popular Ways to Explore Paris
---
More Articles about Where to Stay in Paris