Choosing a hotel in the Marais Paris neighborhood lets you experience first-hand the most charming part of the historic city center.
Spared by Baron Haussmann's 19th century modernization efforts, the Marais retains its narrow winding lanes, medieval architecture, and 17th century "hotel particulier" mansions.
Today, these centuries-old buildings house charming bistros and hip bars, art galleries and specialty museums, and, best of all for Paris visitors, unique designer hotels.
Choosing a Marais hotel for your stay in Paris puts you within easy walking distance of the Picasso Museum, Carnavalet Museum, the beautiful Place des Vosges park, and the city's best falafel on Rue des Rosiers in the historic Jewish Pletzl district.
Because of the Marais' central location, you're also close to other top Paris attractions such as Notre Dame Cathedral, Sainte-Chapelle, and the Louvre Museum, and just a short metro ride away from everywhere else.
Our recommendations for the best hotels in the Marais include charming 3-, 4- and 5-star boutique hotels and even a luxury B&B.
Top photo: Hotel du Petit Moulin, located in a former bakery in the Upper Marais Paris district - Photo courtesy of Hotel du Petit Moulin
Paris Discovery Guide is a reader-supported publication. When you buy through our links, we may earn a commission at no additional cost for you. Learn more
---
Where to Stay in Paris's Marais District
Hotel de JoBo ("Josephine Bonaparte")
★★★
★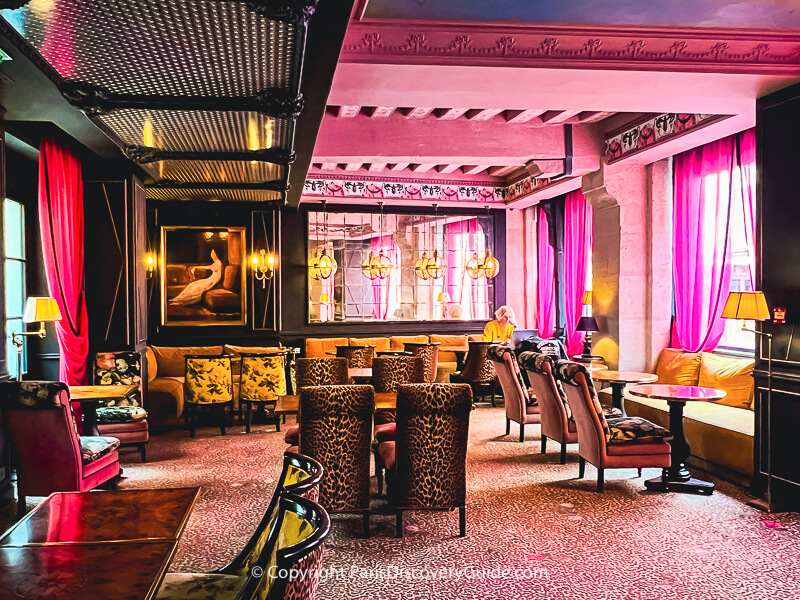 10 Rue d'Ormesson, 4th Arrondissement
The 24 guest rooms and suites of 4-star independently-owned Hotel de JoBo feature luxurious linens and sumptuous, jewel-box decor laced with tributes to Josephine Bonaparte, the Empress of France during her marriage to Napoleon I. Condé-Nast Traveller cited the hotel's "maximalist charm" when including JoBo in its most-recent "Best Hotels in Paris" article.
Located close to Place des Vosges and surrounded by bistros and boutiques, JoBo specializes in delivering personalized service by its gracious staff.
Behind the hotel's charming courtyard, you'll discover a comfortable cocoon where you can unwind during your Paris visit. Enjoy afternoon refreshments in the comfortable tea room or a cocktail there in the evening.
The hotel's location on a tiny pedestrian-only street puts you within easy walking distance of the most charming parts of the Marais neighborhood.
Pro Tip: Take a Paris taxi to/from the hotel rather than a shared ride service such as an Uber because only taxis are allowed on many of the narrow pedestrian-friendly streets in this area. Bonus: Taxis are also usually cheaper in this neighborhood.
---
Le Pavillon de la Reine & Spa
★★★★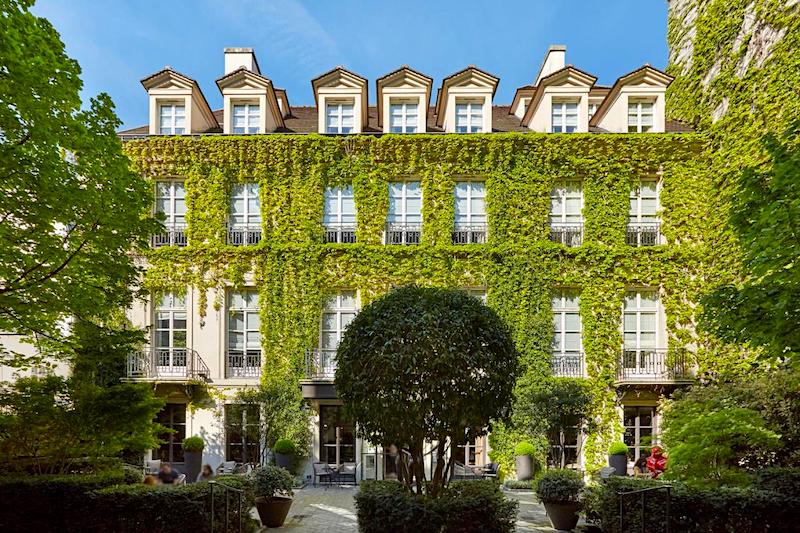 28 Place des Vosges, 3rd arrondissement
Sumptuous furnishings, attentive service, and an ideal location across from Place des Vosges, considered by many to be the most beautiful square in Paris, make the luxurious 5-star Le Pavillon de la Reine a top choice in the Marais for many travelers. The family-owned hotel occupies an ivy-covered 17th century building, and each of its 56 guestrooms and suites (including a 2-bedroom apartment) features unique decor ranging in style from classical to contemporary. You'll also enjoy the fitness room, hammam, and spa.
What many guests love the most, though, is the large private terrace in front of the hotel. The secluded grassy expanse will make you feel as though you're staying in a country manor in the heart of Paris.
---
Maison Proust
★★★
★
★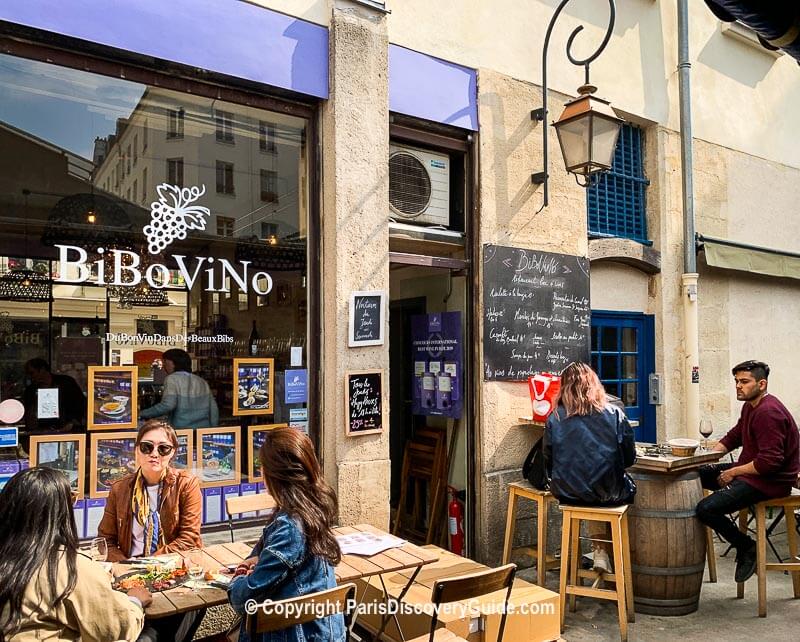 26 Rue de Picardie, 3rd arrondissement; nearest metro: Temple
Belle Epoque-themed decor, personalized service, and a wonderful onsite spa make the 5-star Maison Proust a fantastic addition to Paris's Upper Marais neighborhood.
The hotel's gem-like public spaces include a romantic bar/lounge, a tranquil Winter Garden, and round library topped with a domed ceiling featuring shimmering stars and stocked with leather-bound books which Proust himself might have read.
The hotel's 23 guestrooms and suites pay homage to Proust and his close friends such as Claude Monet by featuring colors, art, and other details selected to match their personalities. Even the hand-painted tiles in the spa reflect Proust's trips with his aunt to Morocco during his youth.
The hotel's location just over a block from the historical Enfants Rouge Covered Market puts you close to lots of wonderful small bistros and boutiques, as well as a small botanical garden/park at Square du Temple Elie Wiesel, also a block and a half away. You're also close to two excellent smaller museums, the Musée National Picasso-Paris and the lesser-known (but very visit-worthy) Museum of Hunting and Nature.
---
Hotel Sookie
★★★★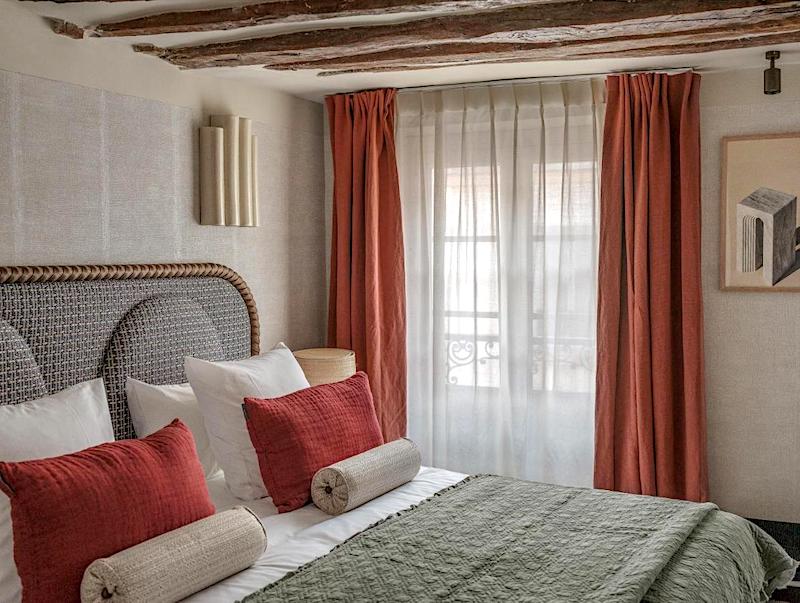 2 bis Rue Commines, 3rd arrondissement
Stone walls, wooden beams, interesting eco-friendly fabrics, and vintage finds give the new 4-star Hotel Sookie's 31 rooms and suites a "home away from home" vibe while still feeling chic and fresh. The hotel's all-day coffee shop, also open to the public, extends the warm feeling and gives you a perfect people-watching spot. Come in for a croissant and café crème, and relax to jazz, funk, and soul tunes from the cafe's vintage vinyl collection and turntable including American jazz guitarist Grant Green's 1970 hit, "Sookie, Sookie," inspiration for the hotel's name.
The hotel's location on a quiet street in the Upper Marais puts you within easy reach of some of the neighborhood's best galleries and trendiest bistros, plus you're just a short walk from the city's oldest covered market, Marché des Enfants Rouge, the Picasso Museum, acclaimed boutiques such as concept store Merci, and the nightlife in the trendy Oberkampf district.
Find more of Paris's newest hotels
---
More about the Marais
Have you noticed that some of the hotels highlighted in this article have addresses in Paris's 3rd arrondissement, and some in the 4th?
That's because the Marais neighborhood covers part of both districts. Haut Marais (Upper Marais) refers to the portion in the 3rd, which tends to be much quieter compared with the more commercial part of the Marais in the 4th.
Many people consider the Marais to be the city's trendiest neighborhood, and one of the best places to stay for first-time Paris visitors.
More about where to stay on your first trip to Paris: recommended neighborhoods
---
Hotel Jules & Jim
★★★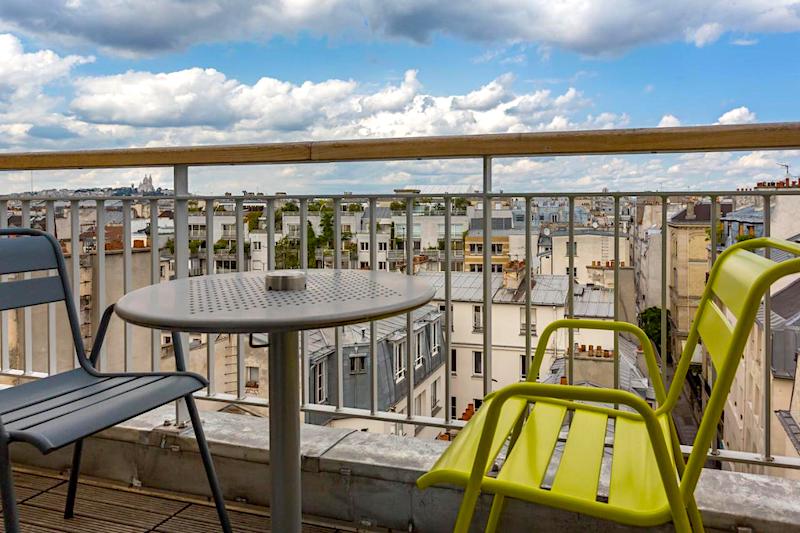 11 Rue des Gravilliers, 3rd Arrondissement
With only 23 guest rooms and a devoted fan base, you'll usually need to book early to get reservations at Hotel Jules & Jim, a 4-star favorite in the Upper Marais. A intimate bar, lovely secluded courtyard, air conditioning, an arty yet romantic ambiance, top-notch gym, and sleek furnishings will make you almost feel as though you're staying in a private home. For a very special treat, reserve a guest room with a balcony.
You'll also love the hotel's superb Upper Marais location, surrounded by museums, wonderful bistros, the appealing Enfants Rouge covered market, and chic shops.
---
Hôtel 9Confidentiel Paris
★★★★★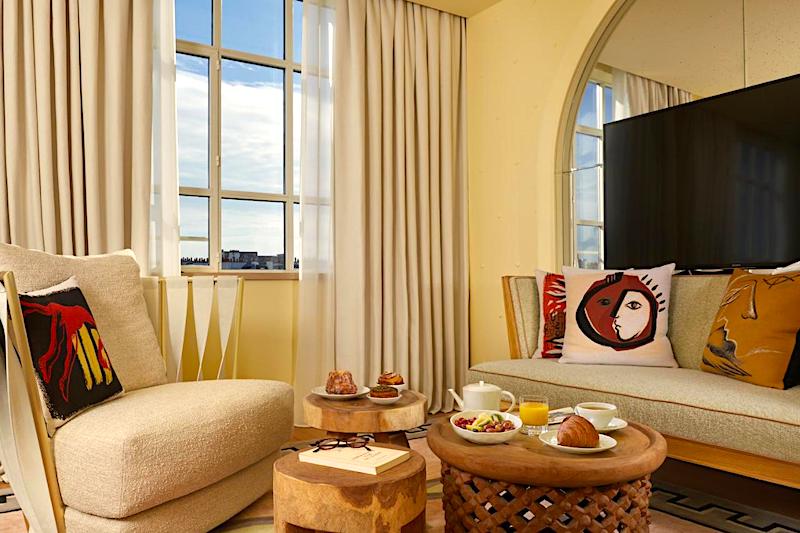 58 Rue du Roi de Sicile, 4th arrondissement
Vintage candy jars inspired Philippe Starck's Deco designs for 9Hôtel Confidentiel's 26 guest rooms and 3 luxurious suites - perfect motif for the glamorous 1920s moderne vibe that greets you as soon as you enter the plush lobby of this new and glitzy 5-star boutique hotel in Paris's chic but historic Marais neighborhood.
You'll also love the excellent service, super-comfortable beds, big-screen televisions, and wonderful location.
---
Elevators and Air Conditioning in Marais Hotels
Can you assume that most hotels in le Marais have elevators as well as air conditioning in the guest rooms?
If a hotel has four stars, then yes, because the 4-star rating is given only to hotels that have both (as well as meet numerous other criteria.
For 3-star hotels and below, air conditioning is not required. Although most 3-star Paris hotels do have it for competitive reasons, but there are exceptions. You also can't assume a 2-star and lower hotel will have an elevator to all (or any, for 1-star properties) floors.
In the Marais, some hotels as well as many other types of accommodation such as apartments and B&Bs are in historical buildings where structural constraints or historical regulations make elevators or air conditioning not possible.
---
Hotel du Petit Moulin
★★★★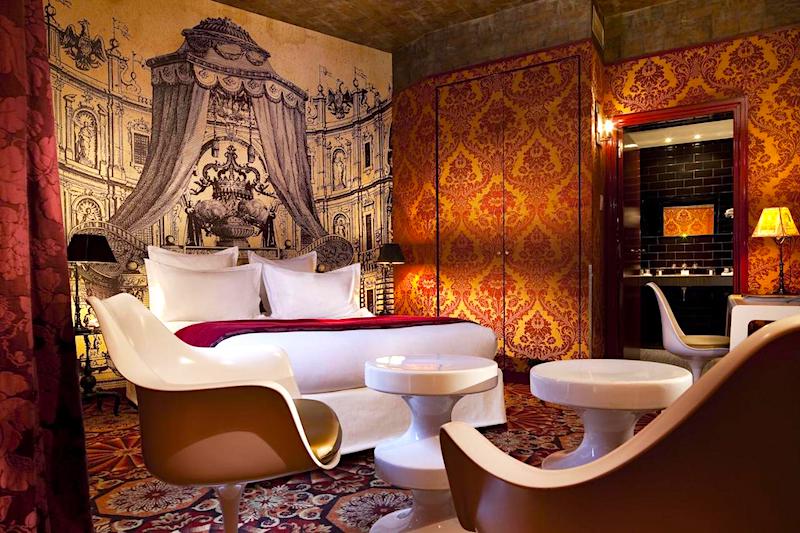 29/31 Rue de Poitou, 3rd Arrondissement
French fashion designer Christian Lacroix designed the fabulous over-the-top interiors at the luxurious 4-star Hotel du Petit Moulin in the trendy Haut Marais neighborhood, and once you experience the immersive effect of staying in one of the fantastical 17 guest rooms (including one suite), this may become your new home in Paris. The hotel occupies the site of the first bakery in Paris where Victor Hugo used to buy his baguettes back in the 1700s, and the original boulangerie window design remains in place, protected by French Heritage laws.
In addition to the hotel's super-comfy guest rooms, you'll enjoy the hotel's honesty bar and free use of the spa, fitness room, and complimentary bikes at nearby sister hotel, Pavillon de la Reine.
---
Assia & Nathalie Luxury B&B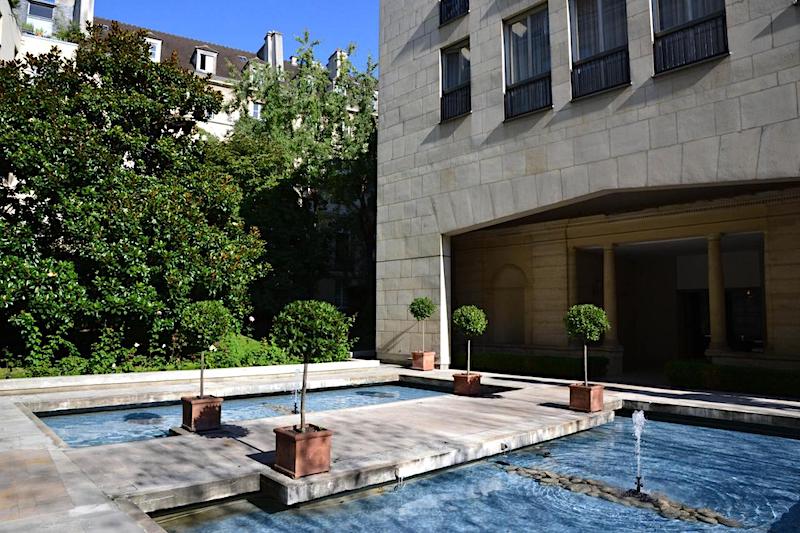 16 Rue du Parc Royal, 3rd Arrondissement
Located in a private wing of a modern apartment behind a gorgeous 18th century private mansion called Hôtel de Bonneval, the two spacious guest rooms with en suite bathrooms (one with a shower, and the other with a jacuzzi) at Assia & Nathalie Luxury B&B overlook serene gardens and greenery hidden from the street. Reserve just one room, or privatize the entire space by renting both for a family visit to Paris.
The hosts offer a lovely breakfast (included in the rates) as well as concierge services to help you have a wonderful stay in Paris.
---
More Places to Stay in the Marais
Find best things to do & see in Paris 3 and Paris 4
---
Popular Marais Tours
---
More Articles about Where to Stay in Paris