Paris offers an astonishing number of museums and monuments - 130 at last count, although the number grows all the time.
Although the Louvre Museum leaps to most people's minds as the most famous repository of art in Paris, you'll find many, many more places in this guide where you can immerse yourself in art, culture, and creative visions.
In fact, you'll probably discover at least a few visit-worthy museum and monuments you've never heard of.
Traditional "art" is just the beginning what they have to offer. So whether your interests focus on fashion, military history, economics, scientific innovations, graffiti (street art), wine, chocolate, vintage carousels, immersive art, architecture, or magic, you'll find at least one Paris museum or monument devoted to your favorite subject.
We also include institutions with living exhibitions: botanical gardens, zoos, and aquariums. Just like museums, their mission is to maintain, research, and protect collections.
In case you want to explore more than one museum or monument in a day or simply want to find out what's nearby, this guide groups them by arrondissement (Paris administrative districts). It also includes a few places in the Paris suburbs and nearby towns, such as the Palace of Versailles and even Monet's home and gardens in Giverny.
If you do plan to visit more than one museum in a day (or if you're planning an even more intense museum binge over the course of a few days), consider getting a Paris Museum Pass for 2, 4, or 6 days, as it can save you a lot of money. Sadly, it doesn't cover all museums and monuments, but it gets you in for free (aside from buying the pass) at most of the city's top museums plus many others.
Interested in the museums in a specific arrondissement or neighborhood? Use these quick links, as this is a very long list:
1st and 2nd Arrondissements - The Louvre, Sainte-Chapelle, La Conciergerie
3rd and 4th Arrondissements - Notre Dame Cathedral, Centre Pompidou, Picasso Museum
5th Arrondissement - Cluny Museum, Natural History Museum, Pantheon
6th and 7th Arrondissements - Eiffel Tower, Les Invalides (Army Museum), Rodin Museum, Maison Gainsbourg (Paris's newest house museum)
8th Arrondissement - Arc de Triomphe, Jacquemart-André Museum, Petit Palais
9th Arrondissement - Palais Garnier (Paris Opera House), Grevin Wax Museum, Vie Romantic Museum
10th, 11th, and 12th Arrondissements - Arts Forains (Carnival Arts Museum), Atelier des Lumnieres, Choco Story (Chocolate Museum)
13th, 14, and 15th Arrondissements - Catacombs, Montparnasse Tower, Musée de la Libération de Paris
16th Arrondissement - Musée Guimet, Palais de Tokyo, Fondation Louis Vuitton
17th and 18th Arrondissements - Sacre Coeur Basilica, Montmartre Museum, Musée National Jean-Jacques Henner
19th and 20th Arrondissements - Pere Lachaise Cemetery, Cité des Sciences et de l'Industrie, Musée de la Musique
Top photo: The Pantheon in Paris's Latin Quarter, (c) Paris Discovery Guide
Paris Discovery Guide is a reader-supported publication. When you buy through our links, we may earn a commission at no additional cost for you. Learn more
---
1st & 2nd Districts: Paris's Most Famous Museums & Medieval Monuments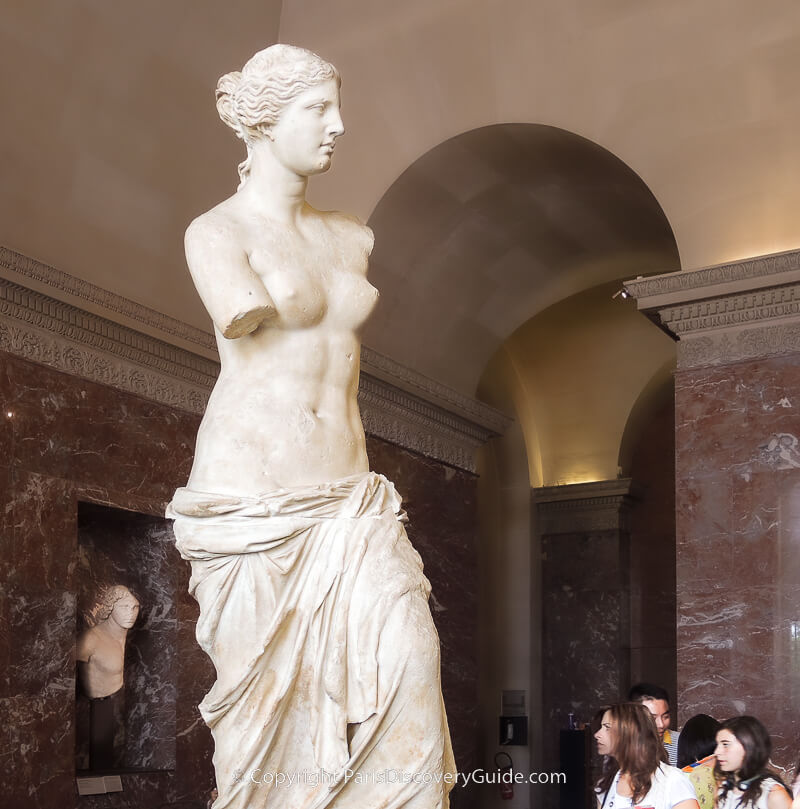 Arts Décoratifs Museum - Design and decorative arts, including fashion
Location:

107 Rue de Rivoli, Paris 1;

Metro:

Tuileries

or Palais Royal-Musee du Louvre
Closed: Mondays as well as December 25, January 1, May 1
Conciergerie - Historical monument: medieval palace and French Revolution/Reign of Terror prison - Tickets
Louvre Museum - Former French Renaissance palace, and now the world's biggest art museum; home to Da Vinci's Mona Lisa
Tickets
What you'll see on guided tours & top attractions
Musée en Herbe (23 Rue de l'Arbre Sec, 1st arr, Metro: Louvre-Rivoli) - Interactive art museum for children
Orangerie Museum - Art museum with Monet's massive water lily paintings
Location:

Tuileries Garden, 1st arr;

Metro:

Concorde


Closed: Tuesdays as well as December 25, January 1, May 1
Tickets
Pinault Collection - Contemporary art in Paris's historical Bourse
Sainte-Chapelle - Historical monument: medieval royal chapel with stunning stained glass
Saint-Eustache Church - Historical monument; flamboyant Gothic architecture, with Renaissance and Classical interior details; significant art in the chapels
Tour Jean Sans Peur - Historical monument: a medieval tower which was once part of a medieval private mansion and contained bedrooms and a grand stairway on the lower level and a fortified upper level, and now the tallest remaining medieval tower in Paris; open for self-guided tours and a guided tour on Sundays. The tower has five levels (be prepared to climb lots of stairs), usually two temporary exhibitions, and a small garden
Location: 20 Rue Etienne Marcel, 2nd arr; Metro: Etienne Marcel
Open: Wednesday - Sunday, 1:30pm - 6pm (may be closed on major holidays); tours on Sunday at 3pm (should arrive by 2:30)
More Information
Special Exhibitions at Paris Museums
In addition to their permanent collections, many Paris museums such as the Louvre also offer rotating temporary exhibitions. You can check what's on here.
---
3rd & 4th Districts: Marais & Île de la Cité Museums & Monuments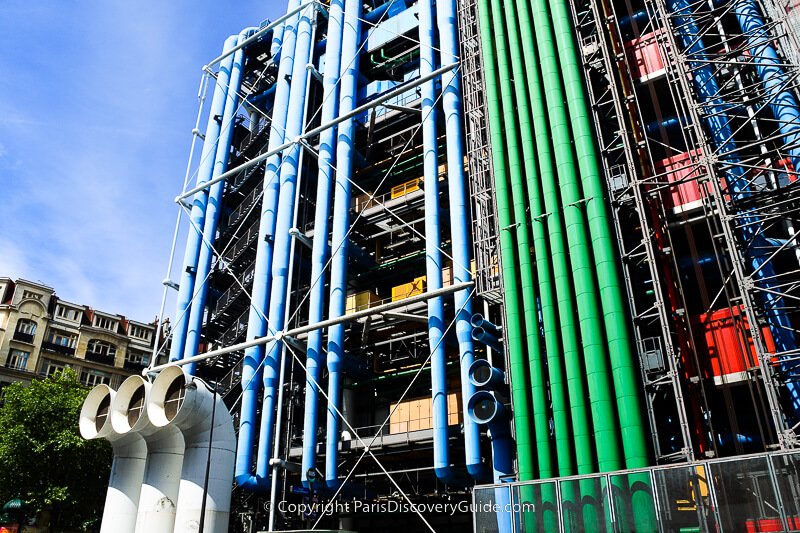 Archaeological Crypt of Île de la Cité - Archaeological museum with displays representing 2,000+ years of Paris history
Arts et Métiers Museum - History of innovations in science, technology, engineering communications, transportation, materials (and more)
Carnavalet Museum - History museum focused on the history of Paris from the Romans forward
Musée de la Chasse et de la Nature (Hunting and Nature Museum) (62 Rue des Archives, 3rd arr, Metro: Rambuteau) - Beautifully curated exploration of the relationships between humans who hunt and the animals they pursue
Centre Pompidou (Museum National d'Art Moderne) - Modern and contemporary art
Cognacq-Jay Museum - House museum; primarily 18th century French decor and art
Gaite Lyric - City of Paris cultural center with contemporary art, digital, and immersive exhibitions focused on cultural, social, democratic, and climate issues; usually closes for 6 weeks from August through mid-September
Hotel de Ville (Paris's City Hall) - Historical monument
Maison Européenne de la Photographie - Contemporary photography
Memorial des Martyrs de la Deportation (7 Quai de l'Archeveché, 4th arr, metro: Pont Marie) - Memorial to the 200,000+ French and Eastern European Jews, Roma, and other people who the Vichy France government deported to Nazi death camps during World War II
Musée d'Art et d'Histoire du Judaisme (Jewish Art and History Museum) - History and art
Musée de la Magie - Small museum devoted to magical arts
Musée Pierre Cardin - Fashion museum; displays haute couture designs by French designer Pierre Cardin (closed through the end of 2022)
Notre Dame de Paris Cathedral - Historical monument; Medieval Gothic architecture; priceless art and religious artifacts
Pavillon de l'Arsenal - Paris urban planning exhibition space and resource center
Picasso Museum - Modern art, mostly by Pablo Picasso
Hotel de Sens - Medieval mansion, now occupied by the Forney Library (decorative arts), with a lovely formal garden
Saint-Jacques Tower (Tour Saint-Jacques) - Historical monument: a 16th century Flamboyant Gothic tower; all that remains of a church destroyed during the French Revolution
Shoah Memorial (Holocaust Museum) - History museum focused on the history of the Holocaust, particularly from the perspective of French Jews during World War II; outside the museum is the Wall of the Righteous, containing the names of 3,300 non-Jewish people who helped save Jewish people during the war
Swedish Cultural Center (Institut Tessin) - Small permanent collection and temporary expositions of Swedish art.
Victor Hugo's House - House museum; French writer Victor Hugo's apartment at Place des Vosges
---
5th District: Latin Quarter and Jardin des Plantes Museums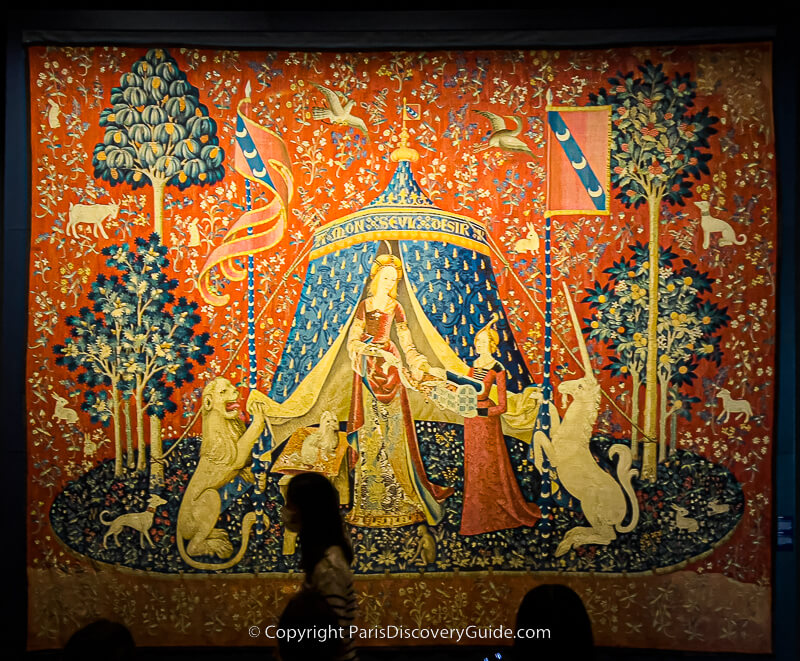 Arenes de Lutece - Historical monument: 1st century Roman arena
Musée de l'Assistance Publique - History museum; focus is on the history of Paris's hospitals
Cluny Museum - Roman and medieval art museum
Galerie de Geologie et de Mineralogie (Geology and Mineralogy Gallery) - Museum in Jardin des Plantes with collections (and stunning displays) of rocks, meteorites, gemstones, and crystals
Grande Mosquée de Paris - Historic monument; used by an Algerian branch of the French Resistance during World War II to hide rescued British parachutists as well as Jewish refugees. Today, it is the largest mosque in France, with a beautiful interior garden, marble Turkish baths (for women only), and a popular tea room
Histoire de la Médecine - Medical history museum
Histoire Naturelle - Natural history museum
Institute du Monde Arabe (Arab World Institute) - Renowned for its architecture by Jean Nouvel; its museum displays art and objects from the Arab world from pre-Islam times through the 20th century and hosts numerous special exhibitions. A rooftop terrace offers some of the best skyline views of Paris
Musée Curie - Historical science museum housed in Marie Curie's office and chemistry lab, and focused on the work of Marie and Pierre Curie; displays include the research apparatus used prior to 1940
Musée de la Sculpture en Plein Air - Late 20th century sculptures displayed outdoors in Jardin Tino Rossi along the banks of the Seine River
Musée du Service de Santé des Armées (Museum of Army Health Services) - Historical museum focused on French military medical services, on and off the battlefield
Pantheon - Historical monument with tombs of "national heroes," including American singer Josephine Baker, honored for her work in the French Resistance during World War II
Paris Police Museum - History museum focused on the history of the Paris police
Zadkine Museum - Small museum displaying the work of this modern Russian-born sculptor.
Find current & future Paris museum exhibitions
---
6th District Paris Museums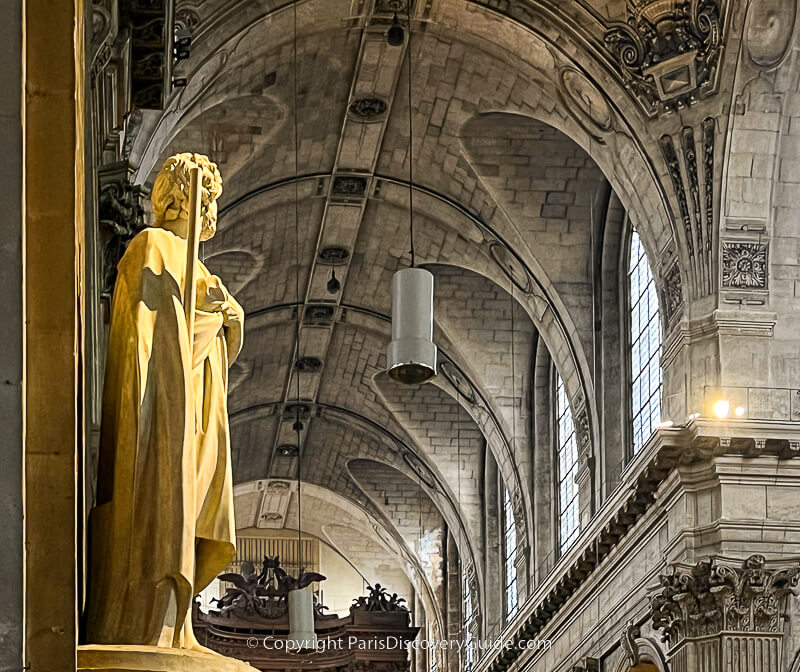 Delacroix Museum - 19th century painter Eugene Delacroix's final apartment and studio, with a number of his works on display
Fondation Dubuffet - House museum; personal archives and works of 20th century artist Jean Dubuffet
Maison Gainsbourg - The home of the late famous French singer/song writer Serge Gainsbourg, plus space for permanent collections and temporary exhibitions. More info & tickets
Musée de la Monnaie de Paris (Paris Mint Museum) - Combines a museum and a factory for a unique experience
Location: 11 Quai de Conti: Metro: Pont Neuf (walk across the Pont Neuf bridge)
Monnaie de Paris Tickets
Mundolingua - Language museum - Objects, information, and artifacts related to languages, linguistic diversity, and language acquisition
Musée du Luxembourg - Art museum; hosts temporary exhibitions of contemporary art
Saint Germain des Pres Church - Historical monument; one of the oldest churches in Paris with tower that dates back to around the year 1000.
Saint Sulpice Church - Historical monument; second largest church in Paris (only Notre Dame Cathedral is larger), known for its historical Cavaille-Coll organ and an elaborate 18th century gnomon (the part of a sundial that casts the shadow)
---
7th District Paris Museums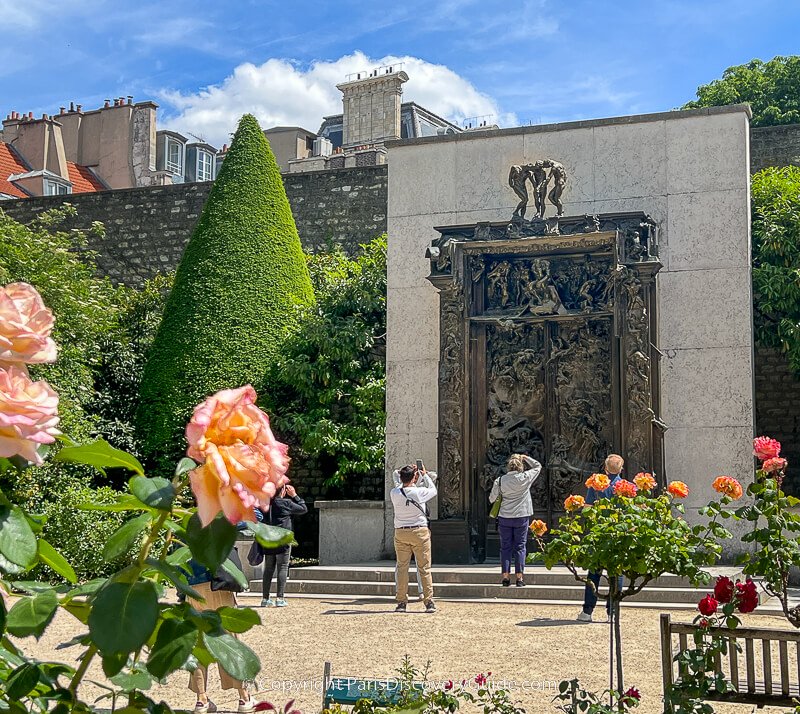 Army Museum (Musée de l'Armée) - Military history museum focused on the French army; located in the huge Les Invalides complex which also contains the dome where Napoleon's Tomb is located in a shrine of leading French military figures - Ticket for Napoleon's Tomb & Army Museum Entry
Egouts de Paris (Paris Sewers) - Museum in the sewers under the Quai d'Orsay, known for its sewer tours focusing on the history of the Paris sewers, roles of sewer workers, and water treatment methods
Eiffel Tower - Historical monument (and some of the best views of Paris)
Fluctuart - The work of street artists/graffiti artists/urban artists exhibited in a barge-turned-gallery floating on the Seine Rive
Fondation Custodia (121 Rue de Lille, 7th arr, Metro: Assemblée Nationale) - Private collection of Old Master drawings, prints, and paintings located in Hôtel Turgot (private mansion), with regular exhibitions
Les Invalides (Military Museum with Napoleon's Tomb) - French military history
Maillol Museum - Art museum, featuring the work of 20th century sculptor Aristide Maillol, as well as work by Degas, Matisse, Cezanne, Kadinsky, and Duchamp, established by Dina Vierny, Maillol's final model
Maison Gainsbourg - (5 Rue de Verneuil; Metro: Saint-Germain-des-Pres) - Part house museum, part cultural institution. Visit famous French musician Serge Gainsbourg's home, and see permanent and temporary exhibitions related to the late artist's life and work.
Tickets: Book visits on the Maison Gainsbourg website
More to Do: Due to the house's small size and space limitations, tours are difficult-to-impossible to book right now, but if you're in the neighborhood, walk by and admire the ever-evolving graffiti created by fans as a tribute on the house's front façade.
Musée d'Histoire Contemporaine - Military history museum, library, and archive center located in Les Invalides; includes documents, paintings and other art, photos, and even postcards
Musée des Plans-Reliefs - Military history museum located in Les Invalides, with collections of military topographic models created between 1668 and 1870 of fortified cities
Musée du Quai Branly Jacques Chirac (Non-Western Arts Museum) - Major art and ethnography museum focused on the indigenous peoples and cultures of Africa, Asia, Oceania, and the Americas - Book online
Tickets: 12€ adults; includes permanent collections & temporary exhibitions in the Garden Gallery; some special shows may require a separate ticket. Book online, or get free entry (not including ticketed shows) with a Paris Museum Pass
Location:

37 Quai Branly (almost next door to the Eiffel Tower), 7th arrondissement;

Metro/RER:

Pont d'Alma

Musée National de la Legion d'Honneur et des Ordres de Chevalerie - Military history museum focused on France's medals, decorations, knightly orders, and honors from Louis XI to the present; includes an assortment of Napoleon souvenirs and 300+ portraits of military men
Rodin Museum - Art museum dedicated to the work of French sculptor August Rodin; beautiful garden with outdoor sculptures and a magnificent rose garden - Tickets
---
8th District Paris Museums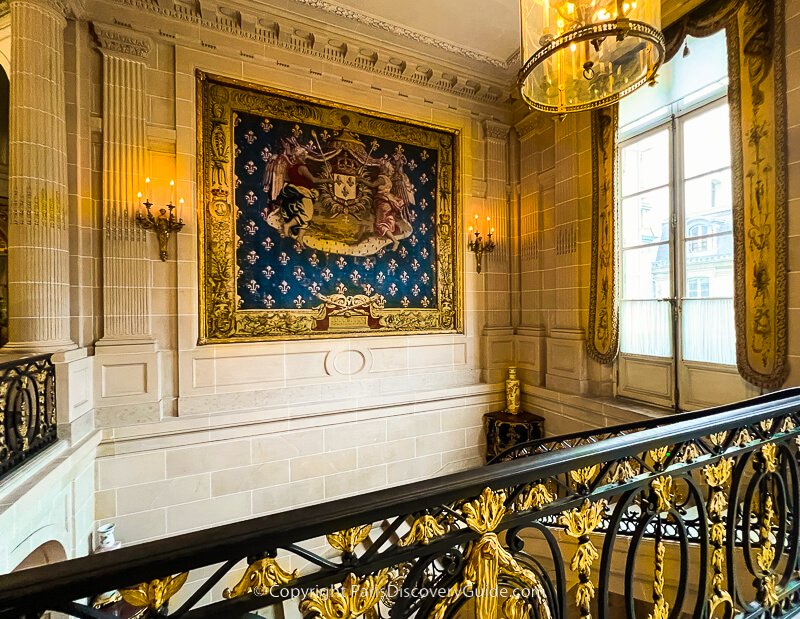 Arc de Triomphe - Historical monument
Cernuschi Museum - Asian art museum, founded by collector Henri Cernuschi in 1898 to display his collections of Chinese and Japanese art, but now much expanded to include art from Korea and Vietnam
Chapelle Expiatoire - Small chapel (now considered a monument) memorializes King Louis XVI and Queen Marie Antoinette
Grand Palais - Historical monument with an enormous glass dome, exhibition hall, and museum complex, currently closed for major renovations
Hotel de la Marine - 18th century mansion, now a registered national monument, which once housed the Navy Ministry offices, with stunningly elaborate decor rivals the Palace of Versailles; one wing contains Collection Al Thani, the private art collection of a Qatari sheik
Jacquemart-André Museum - House museum in a mansion owned by a wealthy banker and society painter who devoted a fortune to acquiring art (especially 15th and 16th Italian sculpture) and decorating their house in 18th-century styles.
Jeu de Paume - Modern and contemporary photography and digital arts museum
Nissim de Camondo Museum - House museum in a mansion built to display the owner's extensive collection of late-18th century French decorative arts
Palais de la Découverte - Children's science museum in a wing of the Grand Palais; currently closed for renovations
Petit Palais (Musée des Beaux Arts) - Fine arts museum
Find current & future Paris museum exhibitions
---
9th District Paris Museums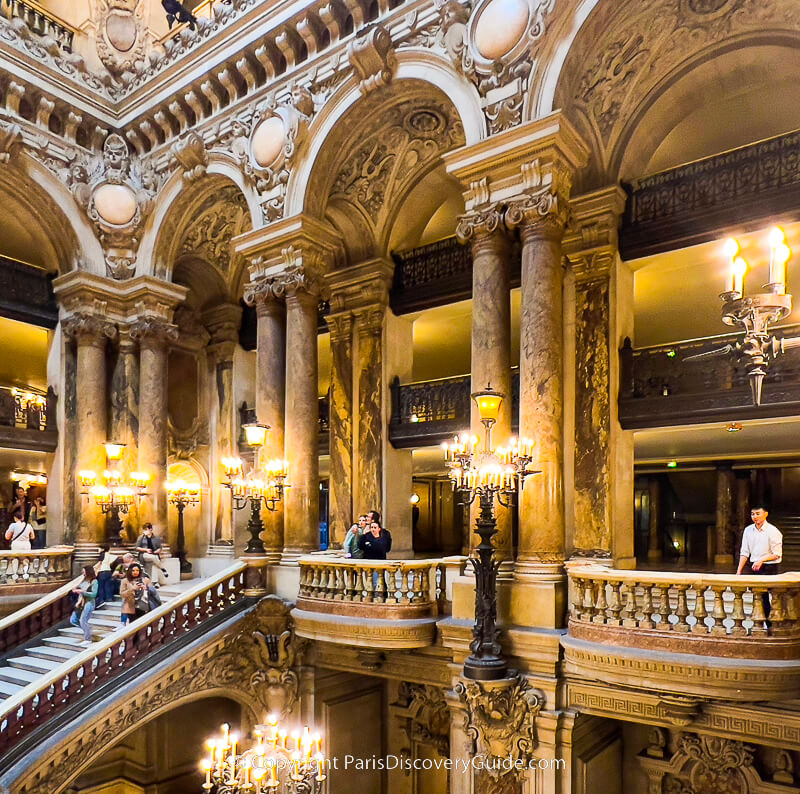 Grevin Wax Museum - Fun museum where life-like wax figures of French and International celebrities bring to life French culture (music, sports, politics, kitchens) as well as the gorier parts of French history (medieval dungeons, the Inquisition, the French Revolution, Reign of Terror, etc)
Gustave Moreau Museum - Art museum displaying the works of 19th century painter Gustave Moreau in his former apartment and studio/museum.
Musée de la Franc-Maçonnerie - Small museum of Freemasonry; displays historical artifacts of Freemasonry, fraternal organizations with their roots in medieval craft guilds
Musée de la Vie Romantique - Literary museum located in the New Athens neighborhood at the foot of Montmartre, this former home of painter Ary Scheffler displays items once owned by writer George Sand including some of her own watercolors, as well as works by many of the artists who once gathered here for the Friday night salons attended by Sand, Chopin, Delacroix, Ingres, Lamartine, Liszt, Dickens, and others.
Musée du Parfum Fragonard (Fragonard Perfume Museum) - Offers guided tours showing how perfume is made, and displays an extensive collection of perfume bottles from Ancient Egypt through the 20th century
Palais Garnier (Paris Opera House) - Ornate 19th century opera house used for operas and ballets, with dazzling public spaces and a museum gallery displaying costumes, art, and set models; historical monument.
---
Paris Museums in the 10th, 11th, & 12th Districts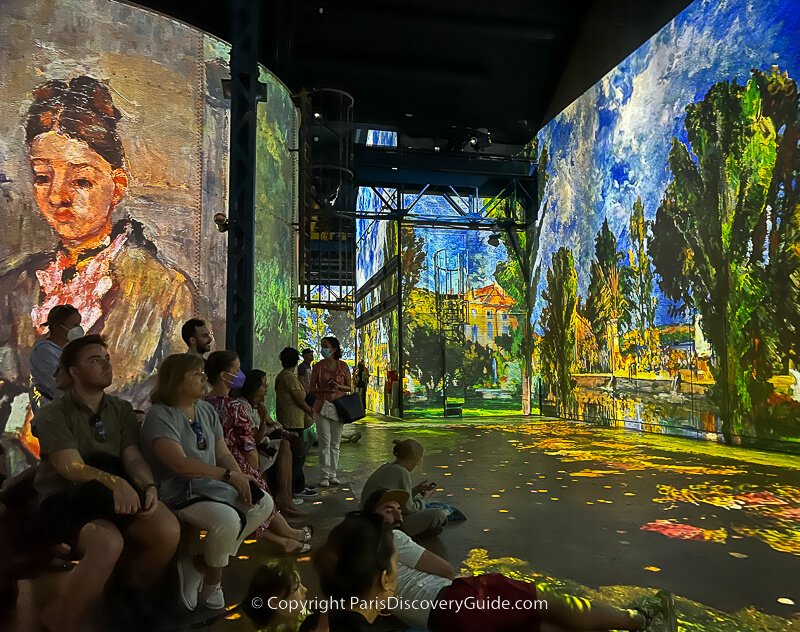 Arts Forains (Carnival Arts Museum) - Preserves merry-go-rounds, carousels, amusement rides, fair attractions and booths and other carnival artifacts
Atelier Anne Hoguet Eventails (Fan Museum) - Museum and workshop devoted to the art and craft of fan-making
Atelier des Lumières - Immersive art and music show in a former 19th century foundry, with new shows about once per year.
Location: 38 Rue Saint-Maur, Metro: Saint-Maur; 11th arr; buy tickets in advance online to get your desired date/time slot, as they often sell out
Choco-Story (Chocolate Museum)- Museum devoted to the history and art of making chocolate
Address: 28 Bd de Bonne Nouvelle, Paris 10; Metro: Bonne Nouvelle or Strausbourg Saint-Denis
Admission & Classes: Get your admission ticket to Le Musée du Chocolat Choco-Storybook; sign up for a Chocolate Making Workshop
Open: Monday - Sunday, 10am - 6pm
Edith Piaf Museum - Biographical museum about the life of French singer Edith Piaf
Musée de la Cinémathèque - Film museum devoted to the history of film and pre-cinema in France and around the world
Musée de l'Histoire de l'Immigration - Museum focused on the history of migration in France and the roles immigrants have played in the development of the country
Musée du Fumeur - Museum with a collection of objects related to smoking, including pipes snuffboxes, hookahs, cigars, and hemp-fiber clothing
---
Paris Museums in the 13th, 14th, & 15th Districts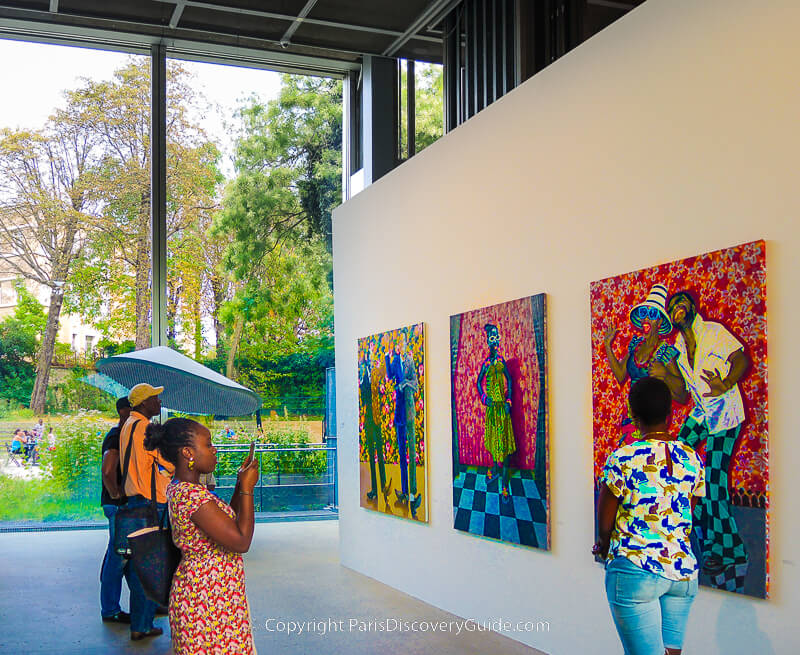 Bibliothèque Nationale - Francois Mitterrand Library
Paris Catacombs (Place Denfert-Rochereau, 14th arr, metro: Denfert-Rochereau) - Paris's famous underground City of the Dead, created in the late 18th century from abandoned stone quarry tunnels and containing the remains of around 6 million people.
Fondation Cartier pour l'Art Contemporain - Contemporary art and photography exhibitions
Galerie Itinerrance (24 Boulevard du General d'Armée Jean Simon, 13th arr, metro/RER: François Mitterrand or Tramway 3a Avenue de France- Exhibition space with revolving displays of street and urban art located on the Université Paris Cité Grands Moulins campus; also oversees the Street Art 13 "canvases" (ie, sides of buildings) and recruitment of artists
Gobelins Tapestry Manufacture
Henri Cartier-Bresson Fondation
La Fab - Contemporary art; exhibitions from the permanent street art collection of iconic French fashion designer, agnès b., as well as temporary exhibitions of other artists
Montparnasse Tower (33 Avenue du Maine, 15th arr, Metro: Montparnasse-Bienvenue) - Tallest building in France and considered a monument by some, although most Parisians consider it an eyesore; however, the observation deck on the 56th floor provides magnificent skyline views of the city and beyond.
More places to enjoy Paris skyline views
Musée Bourdelle - Art museum which incorporates French sculptor Antoine Bourdelle's studio, with over 500 of his works as well as his personal collection of his contemporaries including Rodin Ingres, and Delacroix. 18 Rue Antoine Bourdelle, Metro: Falguière, 15th arr; free admission to permanent collection
Musée de la Liberation de Paris
Musée Pasteur - Biographical museum; focused on the life of scientist Louis Pasteur
Postal Museum - Philatelic museum focused on postal stamps and postal history of France
Street Art 13 (Boulevard Vincent Auriol, 13th arr, metro: Place d'Italie or Chevaleret) - Open-air street art museum along and near Boulevard Vincent Auriol, sanctioned by the 13th's Mayor
---
16th District Paris Museums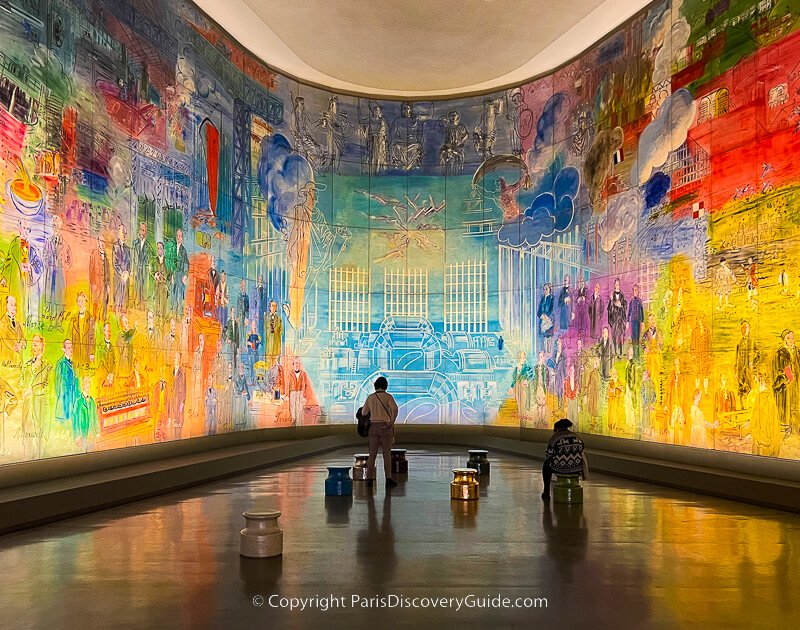 Art Moderne de la Ville de Paris - Modern and contemporary art, including Raoul Dufy's gigantic mural depicting the history of the development of electricity
Guimet Museum (Musée National des Arts Asiatiques-Guimet) - Ancient through contemporary Asian art; the top Asian art museum in Europe and one of the best in the world
Baccarat Museum - Perfume museum
Cité de l'Architecture et du Patrimoine - Architecture museum with not-quite-life-sized casts of 12th to 18th century French cathedrals and monuments, copies of stained glass and murals from French Romanesque and Gothic churches, and models of mid-19th century to present-day French and international architecture
Fondation Louis Vuitton - Modern & contemporary art, with two blockbuster exhibitions each year in a unique building designed by Frank Gehry on the edge of the Bois de Boulogne
La Roche House - House museum - Early 20th century house designed by Swiss-French architect Le Corbusier (aka Charles Edouard Jeanneret) and his cousin, Pierre Jeanneret; Corbusier's apartment and studio are nearby and can also be visited
Librairie du Compagnonnage - Small museum focused on French trade guilds
Maison Balzac - House museum - The hillside cottage in Passy where 19th century novelist Honoré de Balzac lived and worked
Musée Clemenceau - House museum - The apartment and garden of French statesman Georges Clemenceau, who lived there for the last 34 years of his life
Musée d'Art Dentaire Pierre Fauchard - History museum covering the development of dentistry in Paris, with a collection of about 1,500 instruments and other items, including some from the 1600s.
Musée de l'Homme - Anthropology museum focused on the diversity of cultures as well as human evolution
Tickets: Almost always include permanent collections & temporary exhibitions. Book online, or get free entry with a Paris Museum Pass
Location:

17 Place de Trocadero, 16th arrondissement;

Metro/RER:

Pont d'Alma

Musée de la Contrefaçon - Small museum dedicated to showing the differences between authentic items and counterfeits, with side-by-side displays of hundreds of objects
Find out more
Musée de la Marine - Naval history museum, with ship modes, maritime art, artifacts, and photos
Musée de Vin - Wine museum
Musée Marmottan Monet - The world's largest collection of art by Claude Monet, plus other art - Tickets
Musée Yves Saint-Laurent Paris - Fashion museum devoted to the couture of Yves Saint-Laurent located in the designers former haute couture house - Tickets
Palais de Tokyo - Contemporary and experimental art in all genres (including video and digital) by established and emerging artists; fantastic bookstore
Location: 13 Avenue du President Wilson, 16th arr; Metro: Line 9 to Iena or Alma Marceau; RER C to Pont de l'Alma
Tickets: Usually fast and easy to buy at the door, but you can also buy online
Palais Galliera - Fashion museum, with exhibits of French fashion design and costumes from the 18th century to the present; closed during exhibitions
Pavillon de l'Eau - Specialty museum focused on City of Paris water and the history of the city's water system
Roland Garros Museum - Tennis museum; currently closed for renovations and updating, including the incorporation of immersive experiences
Find current & future Paris museum exhibitions
---
17th & 18th Districts: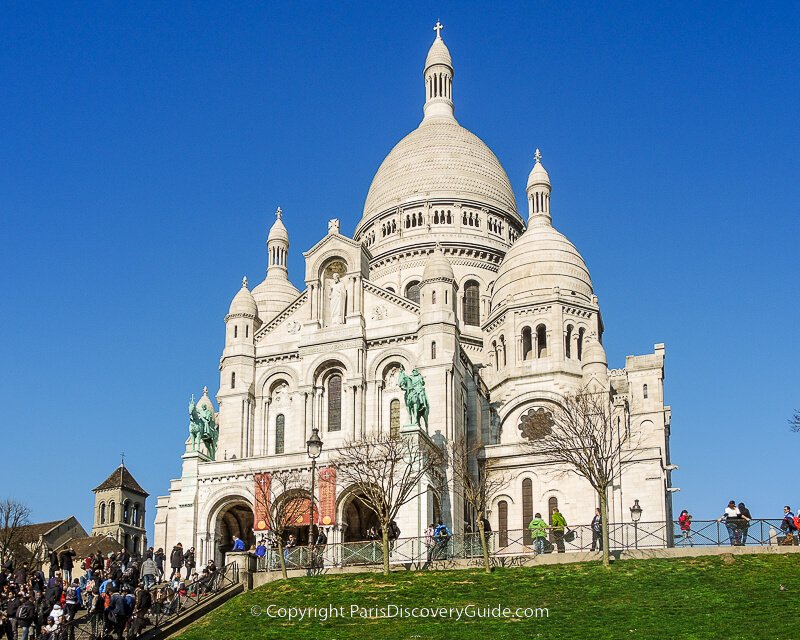 Citéco (aka Cité de l'Economie et de la Monnaie) - Economics museum housed in the 19th century Hôtel Baillard, a neo-Renaissance private mansion with much of its lavish interior paneling and other period details still intact and beautifully preserved
Espace Dalí
Halle Saint-Pierre - "Outsider" art museum
Musée National Jean-Jacques Henner - Art museum focused on the works of early 19th century French painter Jean-Jacques Henner
Montmartre Museum - History museum focused on the history of the local area as documented through paintings, posters, photos, and manuscripts
Sacre Coeur Basilica
---
19th & 20th Districts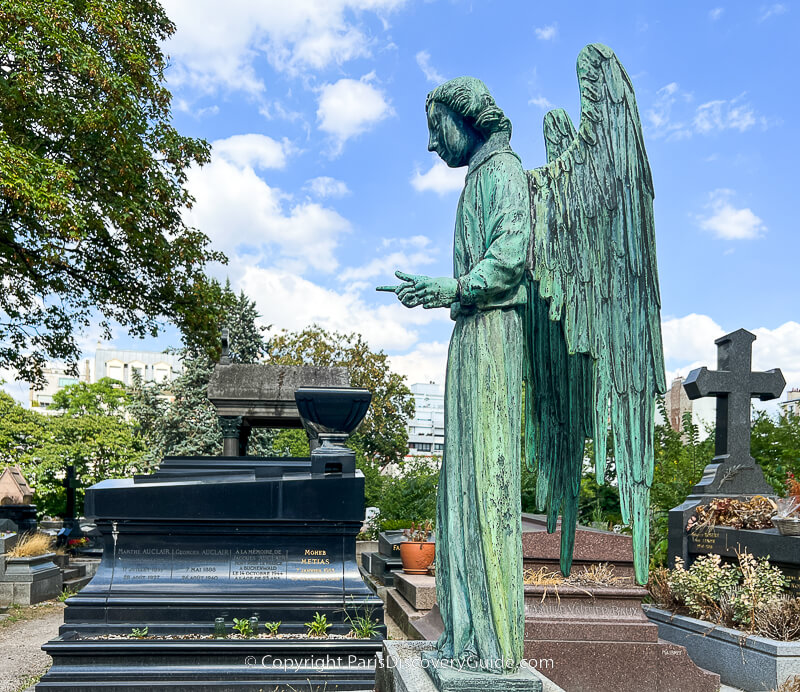 Cité des Sciences et de l'Industrie - Science and technology museum, which much of the content kid-friendly
Musée de la Musique
---
Museums & Monuments in Paris Suburbs & Nearby Towns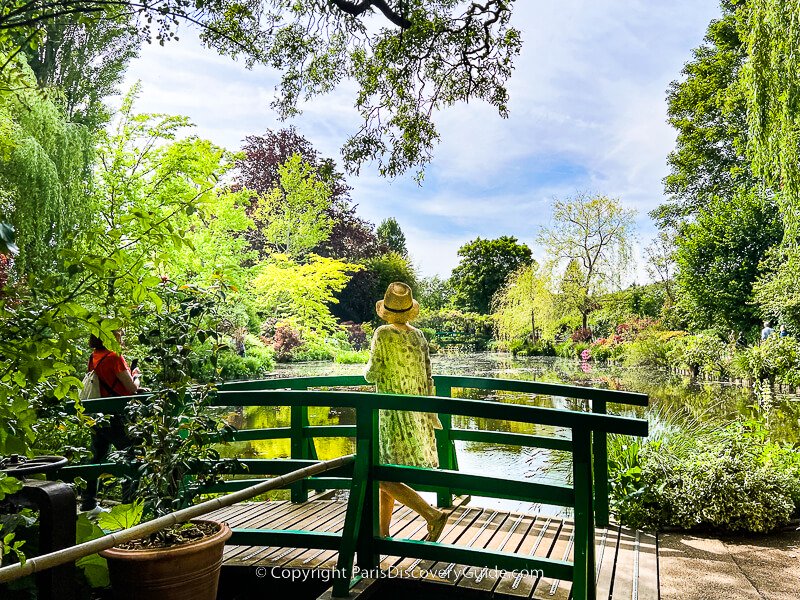 Air et de l'Espace - Air and space museum at Le Bourget airport
Chateau de Vincennes - Medieval castle, home to French kings in the 14th, 15th, and 16th centuries, in the town of Vincennes, adjacent to Bois de Vincennes in the 12th arrondissement
Grande Arche, La Defense
L'Arche du Photojournalisme - Exhibition space devoted to photojournalism at the top of the Grande Arche at La Defense
La Défense Open Air Museum - 69 mostly modern and contemporary, mostly massive sculptures located on and near the Esplanade de Defense
Saint-Denis Basilica Cathedral
---
Botanical Gardens, Zoos, & Aquariums
Botanical gardens, zoos, and aquariums, with their displays of living plants, animals, and fish, have more similarities with museums than you might think. The mission of both is to maintain, research, and protect collections of species; in that sense, they are fundamentally the same as, let's say, the Louvre.
Just as many Monet enthusiasts enjoy pairing a visit to the Orangerie to view his water lily paintings with a trip to see his water lily pond at Giverny in order to observe and appreciate his source of inspiration, animal lovers might want to pair a visit to the Musée de la Chasse et de la Nature (Hunting and Nature Museum) with a trip to the Parc Zoologique de Paris (Paris Zoo).
Here's a quick guide to the botanical gardens, zoos, and aquariums you'll find in Paris:
Botanical Gardens in Paris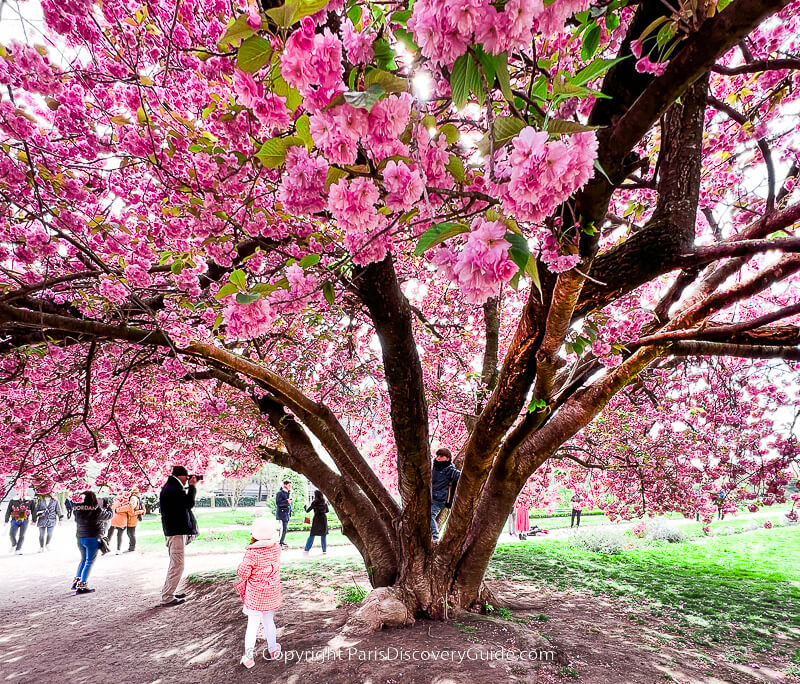 Parc de Bagatelle (16th) - Located in the center of Bois de Boulogne; best known for its rose garden with 10,000 rose bushes representing 1,200 different species; also has a waterfall, grotto, 19th century Chinese pagoda, a lush kitchen garden used to display new vegetable varieties, and a small chateau
Jardin des Plantes (5th arr) - Formally founded in 1635 as a royal medicinal plant garden, plants are maintained and displayed in four large greenhouses, and specialized outdoor gardens where you can see displays of roses, ornamental cherry trees, alpine species, irises, decorative plants, and much more.
More places to see cherry blossoms in Paris
Jardin des Serres d'Auteuil (Greenhouses at Auteuil) (16th arr) - Located at the edge of Bois de Boulogne between Roland Garros and the Parc des Princes stadium; formal outdoor gardens including a Japanese garden, English garden, and rose garden, five large greenhouses, and about 6,000 plant species; one of four botanical gardens managed by the City of Paris
Parc Floral de Paris (12th) - Fourth-largest park in Paris, located within Bois de Vincennes (the city's second-largest park); in addition to a spectacular floral display which differs each year, a variety of botanical gardens feature species such as ferns, rhododendrons, Japanese bonsai, cactus, Mediterranean plants, and much more
Paris Zoos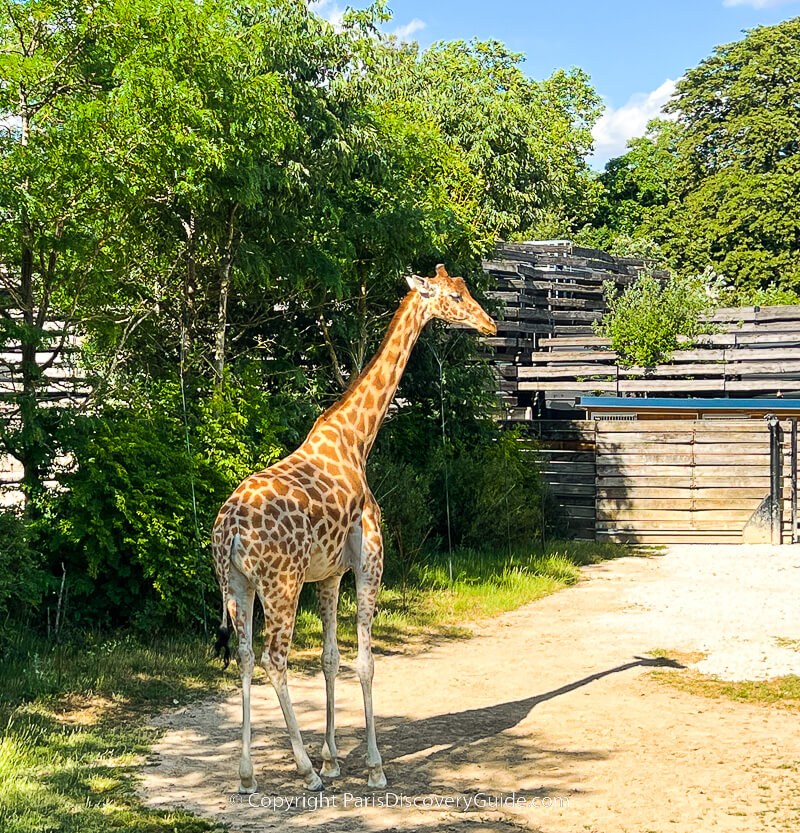 Menagerie du Jardin des Plantes (5th arr) - Originally populated with animal rescued after the French Revolution from the royal zoo at the Palace of Versailles, it now includes many rare smaller and medium-sized mammals, plus numerous varieties of birds and reptiles
Parc Zoologique de Paris ("Vincennes Zoo") (12th arr) - Part of the National Museum of Natural History, this large zoo in the Bois de Vincennes is dedicated to the protection of about 3,000 animals grouped into five biozones designed to replicate their natural habitats; also has a large greenhouse with a tropical rainforest habitat.
Menagerie at Jardin d'Acclimatation (Bois de Boulogne, 16th arrondissement, Metro: Les Sablons) - Small collection of birds and animals, inaugurated in 1860 by Napoleon III and Empress Eugenie, in this lovely park with a Korean Garden and small amusement area next to Fondation Louis-Vuitton
Paris Aquariums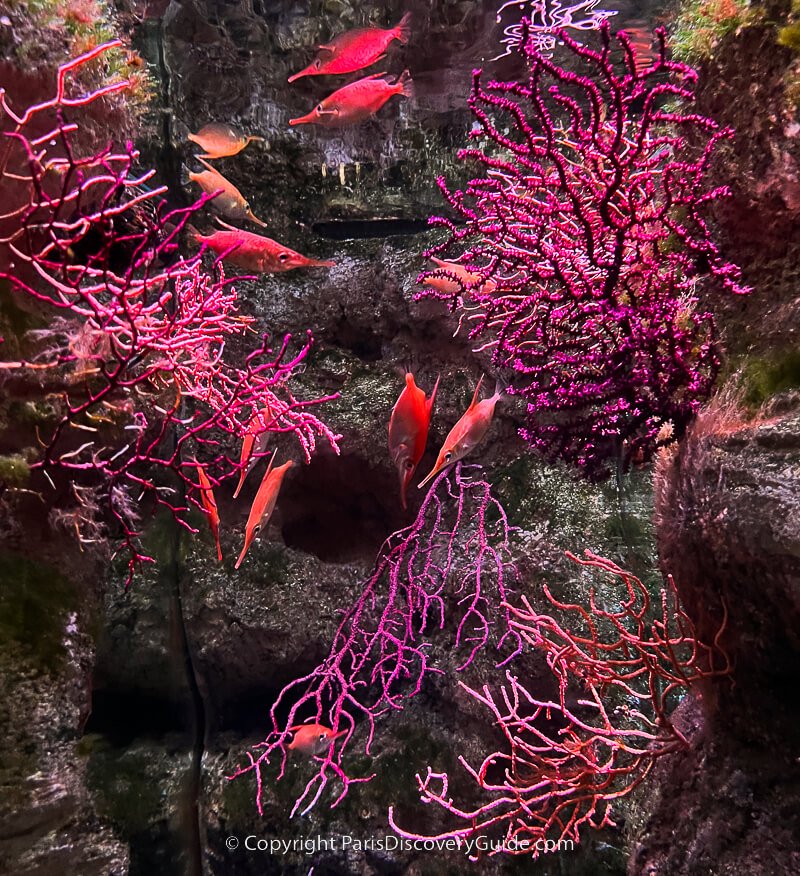 Aquarium de Paris (16th arr) - More than 7,500 species, including a gigantic tank with 50 sharks and Europe's largest jellyfish exhibit
Aquarium Tropical de la Porte Dorée (12th arr) - Piranhas, electric fish, sharks, and many more species of tropical marine life
---
More Articles about Paris Museums & Monuments