The biggest Paris event in April is the Paris Marathon, one of the biggest in the world due to its beautiful and mostly flat route past spectacular scenery and famous monuments.
Other top April events include major art and craft expositions, a huge "fun fair" dating back to early medieval times, the Easter holiday at the beginning of the month, and the arrival of spring in Paris as every tree in the city bursts into bloom, sidewalk tables fill up in front of brasseries and cafes, and sunshine makes everyone slightly giddy.
Lots of wonderful concerts pack the April calendar, with Easter concerts in historic churches, dinner concerts at Sainte-Chapelle, and wekk-known artists performing at iconic venues such as the Bataclan, Trianon, and AccorHotels Arena.
And don't miss new and recently opened Paris art exhibits at Grande Halle de la Villette, Atelier des Lumières, Centre Pompidou, and Musée de l'Orangerie.
Find more fun things to do in Paris during April
Top photo: Magnolia trees blooming in Paris in early April - Saint-Augustin Church dome in the background
---
Paris Marathon 2021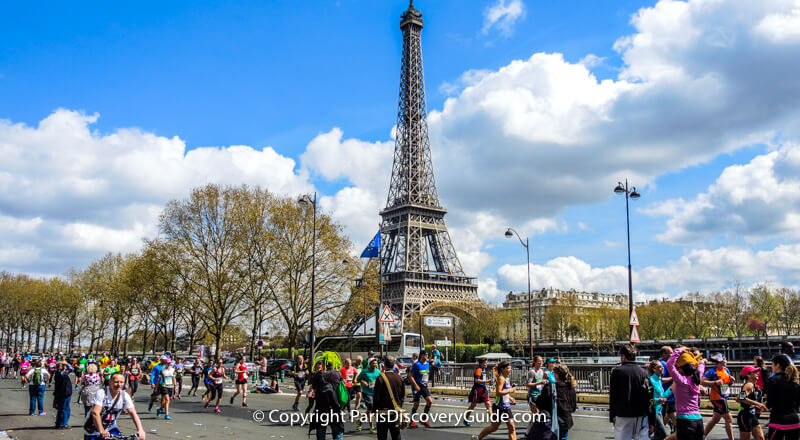 The Paris Marathon 2021 has been POSTPONED due to the Coronavirus. The race now kicks off on Sunday, October 17. As far as we know now, all other details are the same. Please see the October events calendar for updated information. The information below is for the April event, now postponed - we are leaving it up for now in case it is helpful for you if you are planning to come for the race next year, which will be on April 10, 2022.
The race kicks at the Arc de Triomphe as 65,000 runners from all over the world start the race course down Champs-Élysées and about a quarter of a million spectators line up along the 26.2 mile route to watch. The first group of Elite runners depart at 8:20am, with other groups following in waves until 9:50am.
Whether you're running or watching, the Marathon's mostly-flat 26.2 mile (42.2 km) route gives you spectacular close-up views of iconic landmarks such as the Eiffel Tower, Notre Dame, the Louvre, plus interesting tours of Paris's two huge wooded parklands. Thanks to the relatively flat route, the winner typically crosses the finish line in just over two hours, although you can still see plenty of runners along the route until at least mid-afternoon.
Events before the race include the 3-day Paris Marathon Expo at Porte de Versailles, where you can also pick up your bib, and an untimed 5K Breakfast Run on Saturday before the race past many of the famous sites runners will see on the full Marathon route the next day.
Tips for how to make the most of your Marathon experience
Recommended hotels for the Paris Marathon
---
April Concerts in Paris - 2021
Please note: The ongoing Covid pandemic continues to impact schedules. Due to the current restrictions, concerts have been canceled for the remainder of this month.
Easter Concerts
Other April Concerts
More Paris classical concerts, opera, & dance performances during April
More Paris rock, pop, jazz, rap, indie, & other concerts during April
Find Paris concerts for other months
---
Interesting Paris Tours for April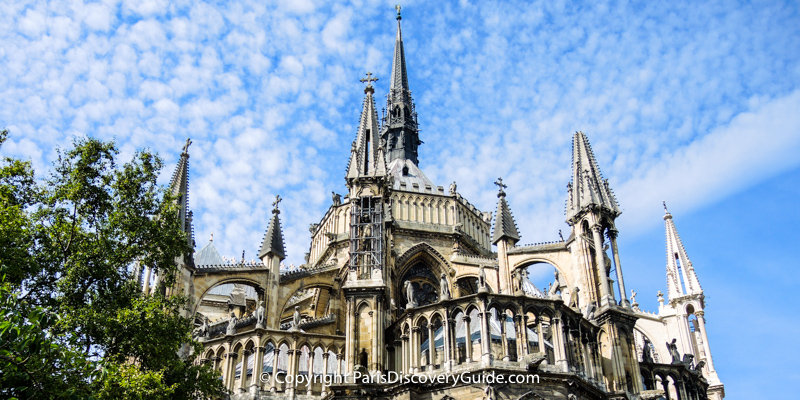 These highly-rated tours show you the best of Paris . . . and beyond!
Eiffel Tower Skip-the-Line and Summit Access Tour - No need to wait in a long line at Paris's most famous attraction when you're with this guided small-group tour. With your guide, you get priority access to the Eiffel Tower's 2nd level, and will learn about some of the famous monument's unique history. Head up to the tower's summit on your own and experience the amazing views (and perhaps a glass of Champagne). More
Moulin Rouge Show with 3-Course Dinner & Champagne - Pamper yourself with a fabulous 3-course dinner and Champagne and then watch Paris's famous Moulin Rouge cabaret show. More
Champagne Region Small Group Day Trip from Paris - A full-day guided visit through Champagne country, vineyard tours with free Champagne tasting, a traditional French lunch in Reims and a tour of its stunningly beautiful cathedral, a visit to the Moët and Chandon cellars, plus pickup/dropoff at your hotel . . . it's the perfect day trip from Paris! More
---
Musical Fountain Shows Begin at Versailles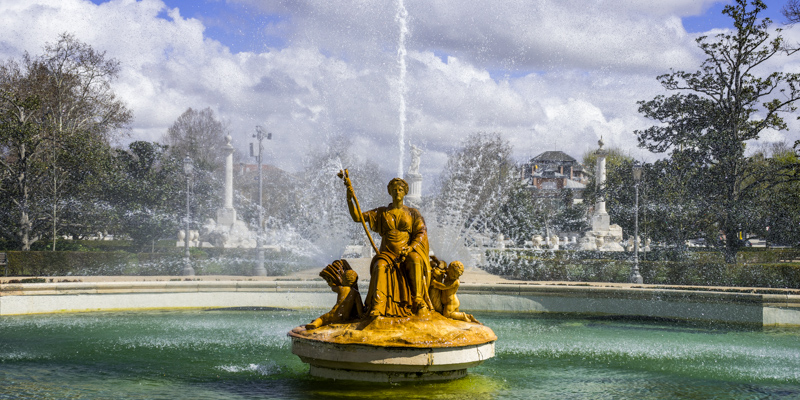 You can be sure that spring has arrived in Paris when the Musical Gardens and Musical Fountains Shows start for the season in the Gardens at Palace of Versailles in early April. Shows continue through late October/early November.
Getting to Versailles from Paris: Take the RER C from Paris - about a 30-minute ride - and get off at the Versailles Château Rive Gauche station. The Palace is about a 10-minute walk along a well-marked route. More about how to get from Paris to Versailles Palace
Hours: The Palace is open from 9am - 5:30pm, and the Gardens are open from 8am - 6pm. Both are open daily, except Mondays, Christmas, and New Year Day.
Tickets to Versailles & Musical Gardens or Fountain Show
Here are two highly-rated guided tours of Versailles that include Musical Gardens or Musical Fountains (on days when they take place):
Prefer to explore on your own? Get a Versailles Palace & Gardens "Passport" Ticket that includes the shows on days when they are available.
More Ways to See Versailles:
Find out more about tours to Versailles from Paris
---
April in Paris - Spring Arrives!
The beauty of April in Paris is legendary. With flowers blooming everywhere you look, plenty of sunny days (usually), and warm temperatures, April gives Paris visitors and residents the perfect excuse to stroll through the city's loveliest parks. Here are several familiar and less-known Parisian Edens you won't want to miss:
Jardin du Luxembourg (Rue de Médicis/Rue de Vaugirard, 6th arr.) - In the heart of the Left Bank, the park's mix of formal French gardens, English-style winding paths, and over 100 statues provide the perfect setting to discover early spring flowers. Metro: Rennes
Palais Royal Garden (8 Rue de Montpensier, 1st arr.) - Almost hidden behind Daniel Buren's columns in Palais Royal's courtyard, the garden is a tranquil haven from nearby Rue de Rivoli and the Louvre. Look for magnolias and daffodils in full bloom in early April, followed by foxgloves and roses as days grow warmer. Metro: Palais Royal/Musée du Louvre
Square Georges Cain (7 Rue Payenne, 3rd arr.) - On a quiet side street in the heart of the Marais, this small oasis captures the afternoon sun. In April, look for small blooming bulbs amid the statues and historic artifacts. Metro: St Paul
Discover more hidden gardens along Rue Payenne
---
Popular Seine River Cruises
---
Paris Museum Shows - Top Events - April
Revolutions 1966-1970: 5 Years that Changed the World
@ Grande Halle de la Villette - April 22 through August 23 - An exploration of the end of the 1960s through the lens of 5 "revolutions," and how they shape today's world. Tickets 15-18€ for adults and 5€ for children
Where: 211 Avenue Jean Jaurès, 19th arrondissement
Metro: Porte de Pantin or Porte de La Villette
Turner: Exposure
@ Musée Jacquemart-André, March 13-July 20 - Major retrospective of British landscape master Joseph Mallord William Turner with watercolors and oil paintings on loan from Tate Britain in London. Tickets 14.50€ (includes admission to the permanent collections plus this exhibition)
Location: 158 Boulevard Haussmann, 8th arr.
Nearest Metro : Saint Philippe du Roule
Monet, Renoir, Chagall - Journeys Around the Mediterranean
@ Atelier des Lumières - February 28 through Dec 31 - Immersive video/digitized exhibition of Monet's, Renoir's, and Chagall's masterpieces accompanied by original music. Tickets must be purchased online on the L'Atelier website
Open: 7 days/week
Where: 38 Rue Saint Maur, 11th arrondissement
Metro: Saint-Maur

Interested in a Louvre Museum guided tour? Find out how to choose one
Picasso Comics
@ Picasso Museum, March 31-July 21 - An exploration of the links between Picasso's works and the world of comics.
Admission: Adults 14€. Exhibit included with museum admission. Get skip-the-line priority tickets online or with a Paris Museum Pass
Location: 5 rue de Thorigny, 3rd arrondissement; closed Mondays
Metro: Saint-Sébastien-Froissart
Our World is Burning
@ Palais de Tokyo, February 21-May 17 - Using fire as a sign of danger, this exhibition explores the connections among ecological catastrophes, wars, and explosive international relations in the early 21st century, and their impact on contemporary creation. Tickets 12€; open from noon to midnight every day except Tuesdays, January 1, May 1, and December 25
Location: 13, Avenue du Président Wilson, 16 arr
Nearest Metro: Iéna and Alma Marceau
More info: https://palaisdetokyo.com
The Golden Age of Danish Painting
@ Petit Palais, April 28 - August 16 - More than 200 works by leading Danish artists from the "golden age" between 1800-1864. Show tickets 12€. (Free admission to Petit Palais' permanent collection)
Location: Petit Palais, Avenue Winston Churchill, 8th arrondissement
Nearest Metro: Champs-Élysées-Clemenceau
More info: www.petitpalais.paris.fr
Paris Museum and Attractions Passes
Get free admission and skip-the-line access to 60+ museums in and near Paris when you have a Paris Museum Pass for 2, 4, or 6 days. More info
---
Paris Foire du Trone - Throne Fair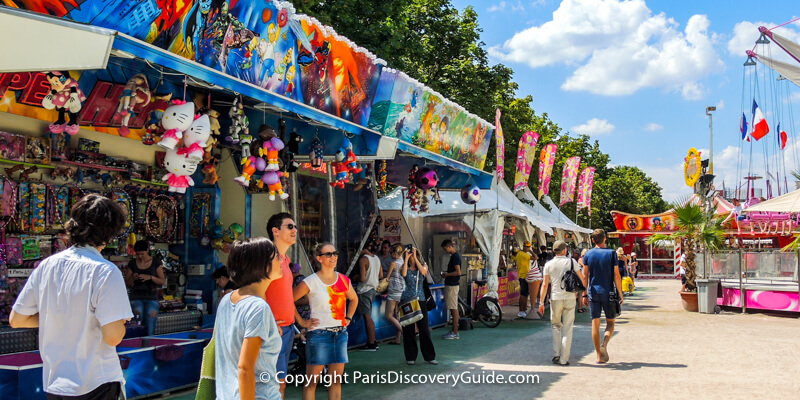 Visit Paris's huge Foire du Trone, and you'll become part of a tradition stretching back to 857 when 15-year old King Lothair established the first Fun Fair, once a festive market featuring gingerbread as a top seller and acrobats and gambling to entertain the crowds. Today, carnival rides, stuffed animals, fries, and beer rule as the fair attracts an estimated 5 million visitors during its 2-month spring season.
When: Through May 26, noon to midnight (1pm on Saturdays and the eves of public holidays)
Where: Bois de Vincennes, 12th arrondissement (Look for the fair on your right after you pass through the entrance near the Porte Dorée metro station)
Metro: Porte Dorée
Admission: Free - plus reasonable prices for food, drinks, rides, etc
Art Paris Art Fair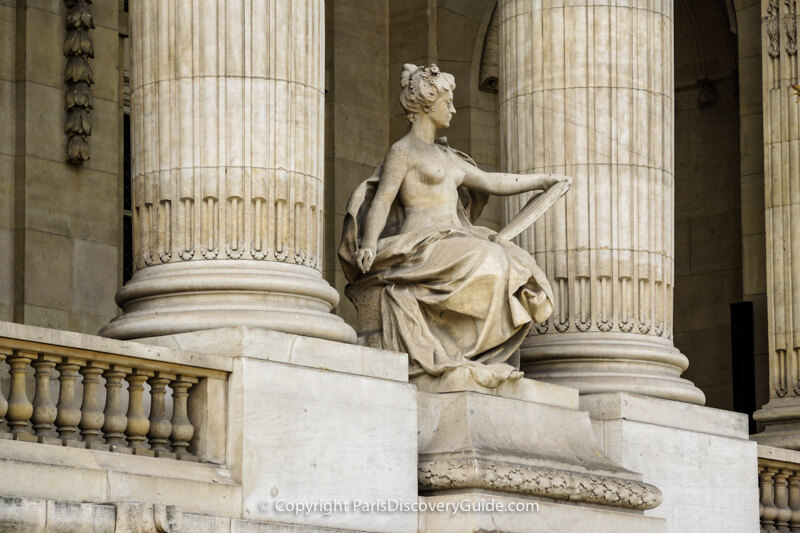 If modern or contemporary art fuels your passion, put the massive Art Paris Art Show at the top of your "must-see" list for April and head over to the Grand Palais to immerse yourself in the works of over 1,000 artists from 142 galleries from over 70 countries exhibited under the huge glass dome.
Special shows to seek out: an in-depth look at women artists in France; established and emerging artists from Bogota, Buenos Aires, Lima, and Mexico City; solo exhibits for numerous artists. Digital projections across the front of the Grand Palais add to the excitement.
When: April 2-5
Tickets: 25€ per day
Where: Grand Palais, Avenue Winston Churchill, 8th arrondissement
European Craft Days in Paris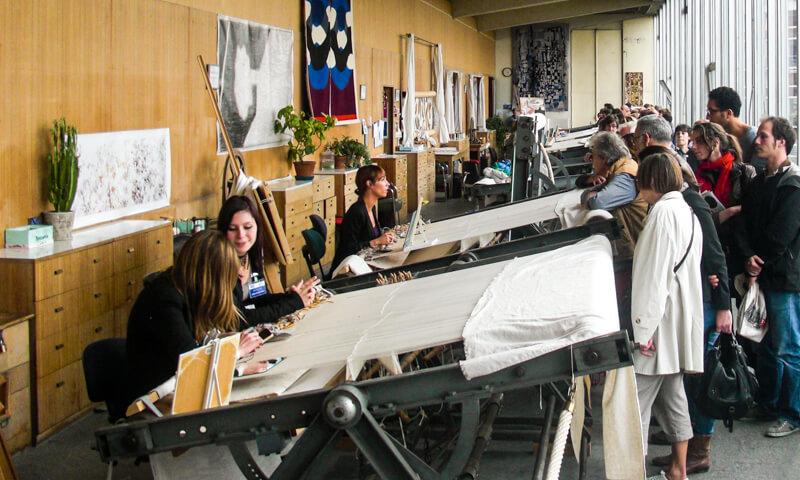 The European Days of Crafts (Journées Européennes des Métiers d'Art) takes place all over Europe and showcases contemporary expressions of traditional crafts by opening the doors of professional artisans to the public for a week each spring.
This is your chance to get a behind-the-scenes look at bookbinders, costume makers, jewelry designers, leather toolers, bicycle makers, stone carvers, tapestry weavers, furniture restorers, and much more, many of them at the city's top cultural institutions such as the Louvre and the Paris Opera. Go to the JAMA website to see what's on offer. With over 200 open studios in Paris, you'll have a wealth of choices.
When: April 6-12
Admission: Free, but many venues are small and limit participants, so advance registration is usually required.
Where: All over Paris (and France as well as the rest of Europe)
Easter in Paris - 2021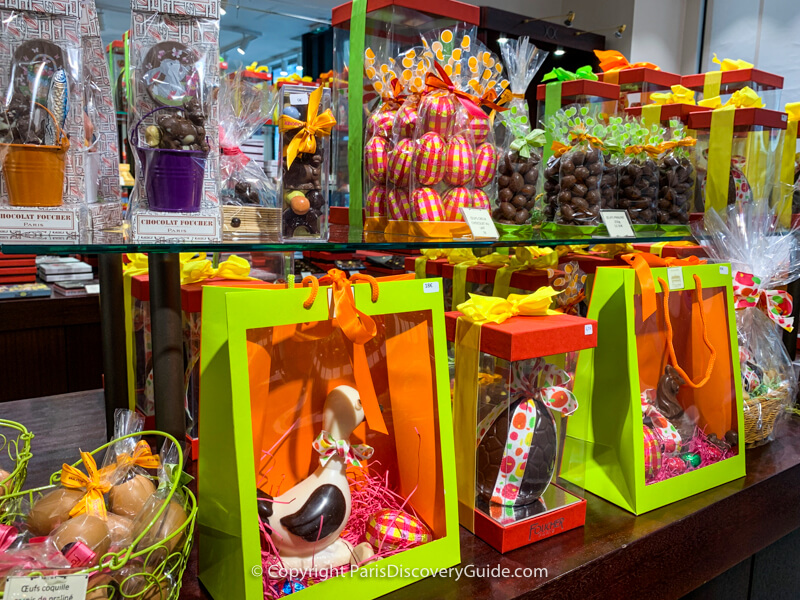 Displays of chocolate bunnies and brightly colored eggs in the windows of chocolate makers announce Easter in Paris a couple of weeks before the actual holiday.
In 2021, Easter takes place on Sunday, April 4, and the following Monday, April 5 is also a holiday for many Parisians - so be sure to buy your chocolate Easter treats a few days in advance, as many stores and restaurants will be closed on these days.
Popular Easter activities in Paris include attending religious services, strolling through the city's lovely parks to see spring flowers, enjoying a picnic (many restaurants will be closed), and attending an Easter concert. If you're visiting with children, don't miss city's largest Easter egg hunt in Parc André Citroen sponsored by Secours Populaire Français.
Find out more about Easter events and activities in Paris
Easter Concerts - Coming Soon
Paris Martial Arts Festival - 2021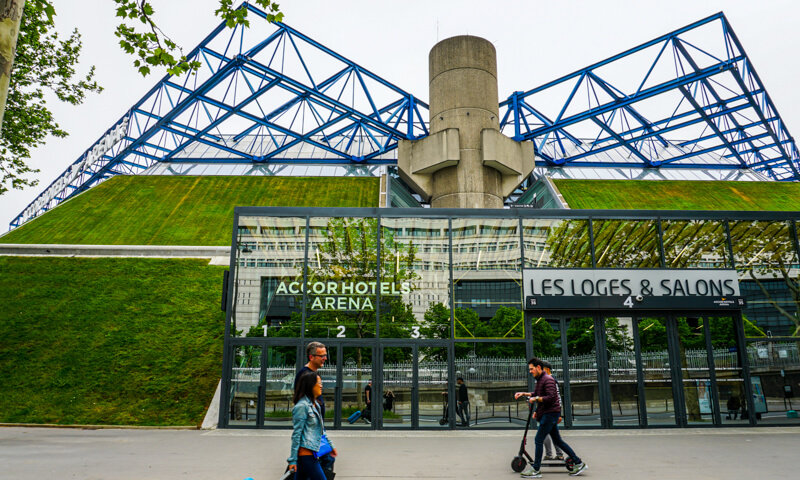 Accorhotels Arena
The Paris Martial Arts Festival features the greatest athletes from the world of martial arts at the Accorhotels Arena in the 12th arrondissement. Join other fans at this highly-rated international festival as over 300 experts, masters, and champions from all disciplines put on a spectacular show.
Dates: April 3, 2021
Location: Accorhotels Arena, 8 Boulevard de Bercy, 12th arr; Metro: Bercy
Get Your Martial Arts Festival Tickets
Hotels near Accorhotels Arena:
- Mercure Paris Bercy Bibliothèque - 4-star hotel with air conditioning and affordable rates across from a metro station - 5 minute walk to the arena. Request a room with a terrace overlooking the Seine River
- Kyriad Hotel Paris Bercy Village - 3-star modern hotel with cheerful contemporary decor - 5 minute walk to the arena and Line 14 metro station.
More Fun Things to Do & See in Paris in April
---
Need a Paris Hotel or Apartment for Your Visit?
Planning a trip to Paris? Use this hotel booking map to find hotels and apartments during your travel dates:
Check out the newest Paris hotels
---
Pin Now, Read Again Later
More Articles about Things to Do in Paris in April