Although you'll find plenty of Paris events in August to keep you entertained and busy, the city moves into vacation mode as many Parisians depart for summer holidays and everyone else soaks up the sunshine and enjoys the relaxed ambiance.
You'll find most of the biggest events in outdoor venues: laid-back activities and fun along Paris "beaches," concerts and other events at the Paris Neighborhood Festival, almost a whole month of free outdoor movies in beautiful Parc de la Villette, and at the end of the month, Rock en Seine, the biggest summer music festival in France.
As a bonus, you can even catch the final days - and biggest discounts and bargains - at the famous Paris summer sales at the beginning of August.
Get ready to have a memorable time in the City of Lights, and enjoy the long sunny days and fun things to do that makes August a wonderful time to visit Paris.
Top photo: Paris Plages "beach" on the Seine River's Right Bank
Paris Beaches - Paris Plages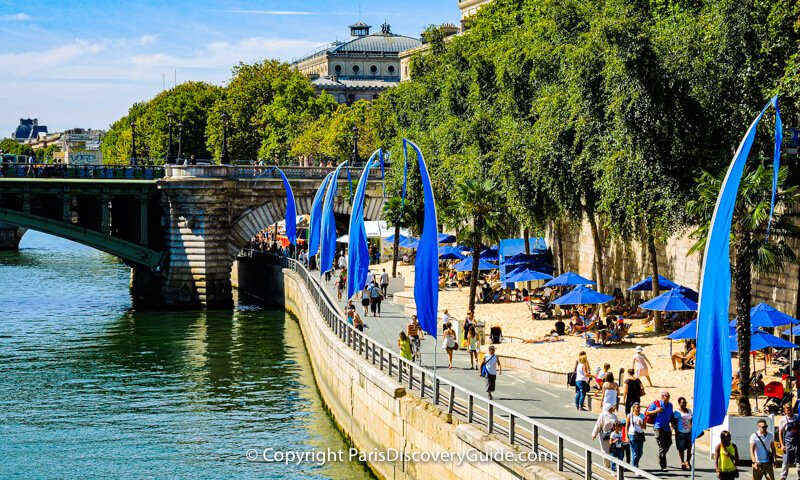 Paris Plages ("Paris Beaches") transforms parts of Paris into fun-filled beaches each summer. The (usually) hot August weather makes being by or in the water especially appealing.
You'll find Paris Plages at two main locations: Both the Left and Right Banks of the Parc Rives de Seine where deck chairs, umbrellas, sand, grass, and palm trees line both sides of the river, and La Villette Canal Basin in the 19th arrondissement where you can float in the huge Paris Plages swimming pools as well as enjoy canoeing, other water sports, and even a zipline along the Quai de Loire.
Dates: Through September 2
Seine River Cruises
August is also the perfect month to experience the city by water on a Seine River cruise. So many choices!
Summer Sales on Designer Fashions - Final Days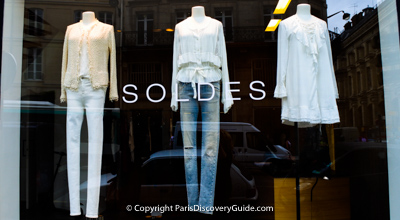 The famous Paris summer sales come to an end on August 6.
By August, Soldes signs in store windows all over the city will be announcing final reductions - as high as 70-80%, and occasionally even more. Although sale items may have already disappeared at some stores, savvy shoppers know that these last few days are when you'll find the biggest bargains.
Find out more about Paris Summer Sales 2020
Paris Tours for Fashionistas
August Concerts in Paris - 2020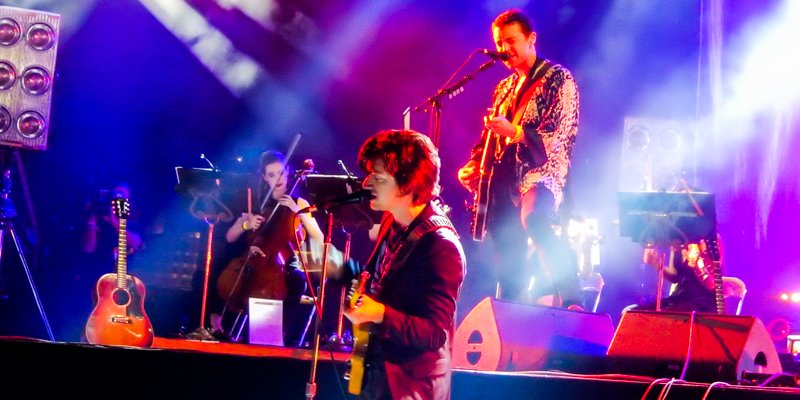 Concerts - Sainte Chapelle - August 1, 2, 3, 4, 5, 6, 7, 8, 9, 10, 11, 12, 13, 14, 15, 16, 17, 18, 19, 20, 21, 22, 23, 24, 25, 26, 27, 28, 29, 30, 31
Sainte Chapelle Concerts & Dinner at Les Fous de I'Île - August 1, 2, 3, 4, 5, 6, 7, 8, 9, 10, 11, 12, 13, 14, 15, 16, 17, 18, 19, 20, 21, 22, 23, 24, 25, 26, 27, 28, 29, 30, 31
Gospel & African-American Spirituals - Saint Julien le Pauvre Church - Aug 1, 8, 15, 29
Vivaldi's Four Seasons - Madeleine Church - Aug 1, 5, 8, 12, 15, 25, 29
Louis Tomlinson - L'Olympia - Aug 2
The Most Beautiful Opera Arias & Ave Maria - Saint Julien le Pauvre Church - Aug 2, 9
Beethoven, Chopin, & Schubert - Saint Julien le Pauvre Church - August 2, 6, 14, 25
Bach by Candlelight: Suites for Violoncello Solo - Saint Ephrem Church - Aug 2, 8, 12
Chopin and Liszt by Candlelight - Saint Ephrem Church - Aug 4, 26
The Most Beautiful Works of Frederic Chopin - Saint Julien le Pauvre Church - Aug 4, 9, 11, 15, 20
Bach by Candlelight: Goldberg Variations - Saint Ephrem Church - Aug 5, 29
Chopin by Candlelight - Saint Ephrem Church - August 9, 24, 27, 30
Liszt & Chopin - Saint Julien le Pauvre Church - August 10, 22, 24
Chopin, Satie, and Beethoven - Saint Ephrem Church - Aug 7, 16, 21
Bach Partitas & Paganini Caprices - Saint Ephrem Church - Aug 17
Vivaldi's Four Seasons & Mozart's A Little Night Music - Madeleine Church - Aug 21
Great Opera Arias - Saint Germain-des-Prés - Aug 22
The Most Beautiful Classical Music for Cello & Piano - Saint Julien le Pauvre Church - Aug 22, 30
Chopin, Gershwin, & Bach - Saint Julien le Pauvre Church - Aug 23
Best of Chopin with Teresa Czekaj - Saint Julien le Pauvre Church - Aug 27, 30
Rock en Seine - Aug 28 - Sept 1 - Cancelled
Hollywood Vampires - L'Olympia - Aug 31
More Paris classical concerts in during August
More Paris rock, pop, jazz, rap, & other concerts during August
More concerts throughout the year
Day Trip to Mont Saint Michel in August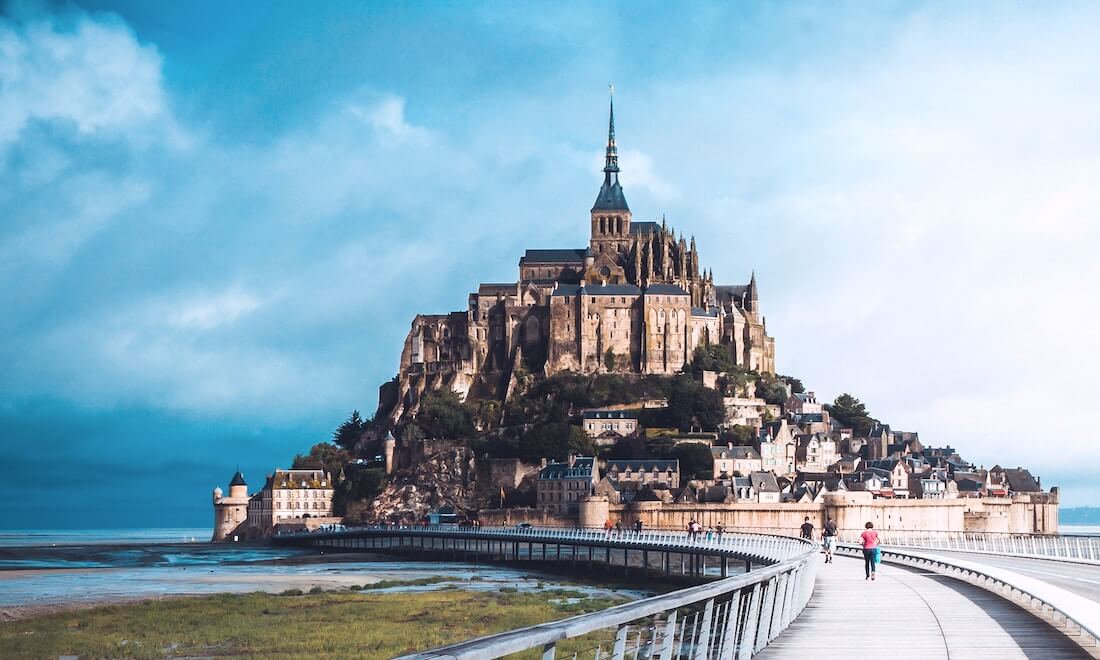 August is the perfect month to visit Mont Saint Michel, the magnificent medieval abbey rising from a tiny island just off the Atlantic Coast between Normandy and Brittany.
Comfortable private coach transportation from Paris makes it possible to visit Mont Saint Michel in just one day, while seeing the beautiful French countryside along the way. During August, you'll have lots of daylight and usually wonderful weather for your excursion.
Here are two of the most popular day trip choices:
Find out about other exciting Day Trips from Paris
Liberation of Paris - 76th Anniversary - 2020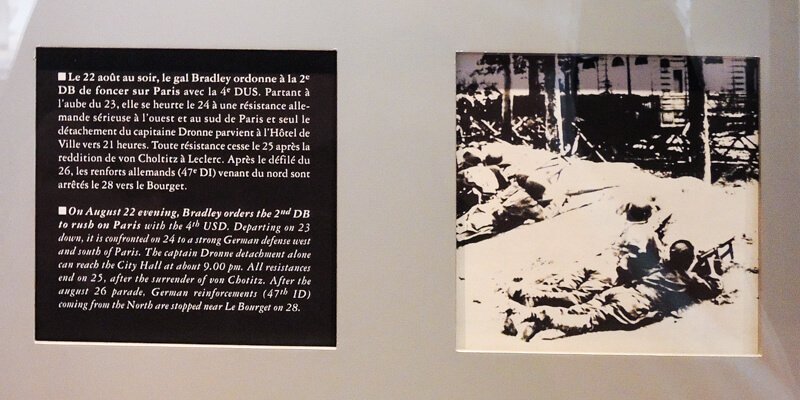 On August 25 each year, Paris City Hall (Hôtel de Ville) hosts a huge party to celebrate the anniversary of the Liberation of Paris during World War II, when Free French forces headed by General Philip Leclerc fought their way into Paris and forced the Nazis to surrender, bringing 4+ years of German occupation to an end.
This year marks the 76th anniversary, and Paris will celebrate with a series of festivities throughout the day:
12 noon - A ceremony and flag raising by Paris firemen at the Eiffel Tower commemorates the six pompiers (firefighters) who climbed to the top of this iconic symbol of Paris to unfurl a French flag in 1944 as a signal of liberation.
3:30pm - 4pm - A celebratory parade featuring vintage 1940s military and civilian vehicles, marchers dressed in 1940s styles, and a jazz band retraces the route taken by Général Leclerc and his liberation forces as they entered the city in 1944. The procession begins near the Porte d'Orléans metro station and marches along Avenue du Général Leclerc to the Denfert-Rochereau metro station, where the band will give a brief concert. Look for lots of tricolor banners, flags, and other decorations along the way, including archive images from the actual liberation projected on the front of the Gaumont cinema.
5pm - Hotel de Ville - Projections of images of the French Resistance, Liberation of Paris, and other historical events pay homage to those who died and commemorate the men and women who fought for peace, liberty, and human rights in the France Libre (Free France) Resistance movement. Inside City Hall, you can watch the 1966 film, "Is Paris Burning?" At 9pm, music performed by the Paris Chamber Orchestra and dancing begins on the large esplanade in front of Hôtel de Ville.  Admission is free.  If you're in Paris on August 25, stop by to celebrate this important event in Paris history.
6:30pm - Liberation of Paris Museum (Place Denfert-Rochereau, 14th arrondissement) opens after an almost 2-year effort to combine collections from the former Musée du Général Leclerc and Musée Jean Moulin in a magnificent new setting to give a visitors an immersive experience of the 4-year occupation and August 25,1944 Liberation of Paris. Find out more on the museum's website: http://www.museeliberation-leclerc-moulin.paris.fr
Rock en Seine Music Festival - CANCELLED for 2020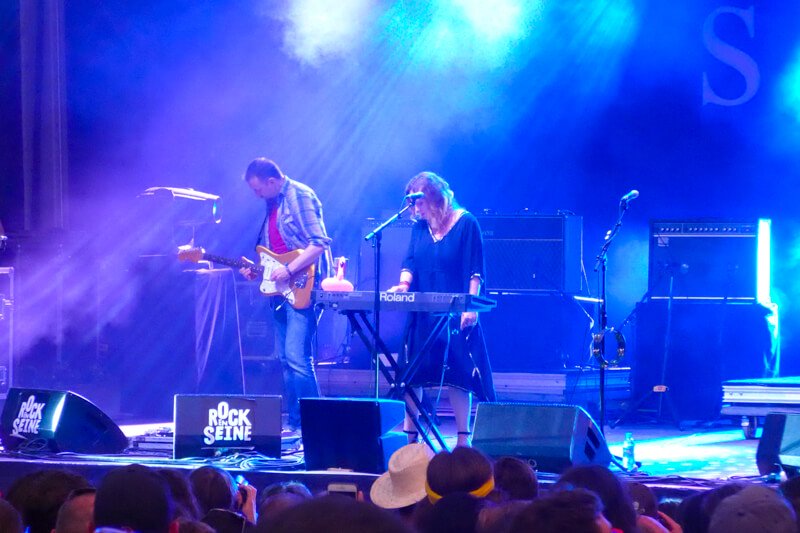 Rock en Seine, the biggest summer musical festival in France, brings 3 days of non-stop rock to Paris with 75 popular artists performing on 6 different stages in August. The date and lineup for this year will be announced later.
Here's a flavor from last year's festival: Malik Dhoudi with "Sous Garantie" -
Concerts take place at Parc de Saint-Cloud, a beautiful large park (famous for being the site of Marie Antoinette's rose garden) just outside of Paris and easily accessible on the Metro.
You can get single-day tickets, but a 3-day pass is the better deal. With a 3-day pass (or three 1-day tickets), you can camp overnight at the park for an additional modest fee.
Getting there: Take the Metro to Boulogne/Pont de Saint Cloud. The concert site is a 5-minute walk across the Seine from the Metro station. Entrance to the park is free for pedestrians.
More information & tickets: Rock en Seine website
Paris Discovery Tip: Not interested in Rock en Seine? Visit Parc de Saint-Cloud on another day. Explore the beautiful gardens, spread out a picnic lunch on the lawn, and enjoy August in Paris at its best.
Food Market at the Eiffel Tower - 2020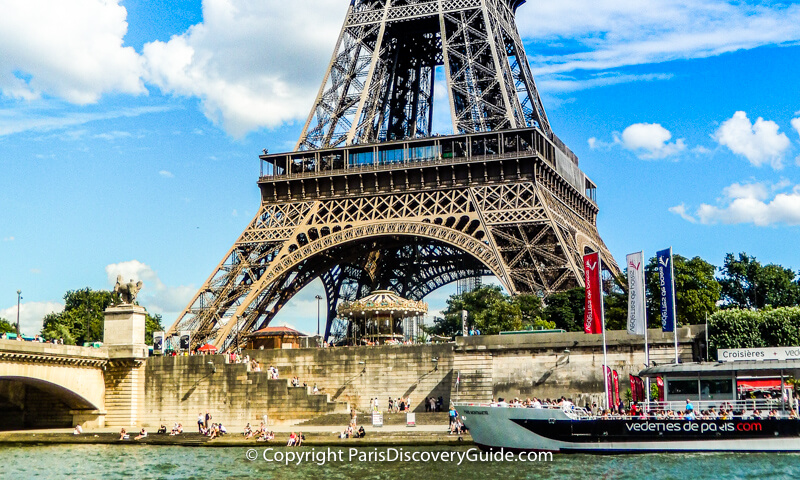 Visiting the Eiffel Tower or Quai Branly Museum during August?
Head over to the foot of the Eiffel Tower at 57 Quai Branley between August 3-Sept 1 to explore and enjoy tasty street food from all over the world - Indian, Green, Spanish, Creole, plus grilled food and fresh fruits at 20 different stands at a new pop-up food market. A well-stocked beer and juice bar completes the scene.
How to get Eiffel Tower skip-the-line priority access - why waste time standing in line?
Book Your Eiffel Tower Tickets Now
Classique au Vert Music Festival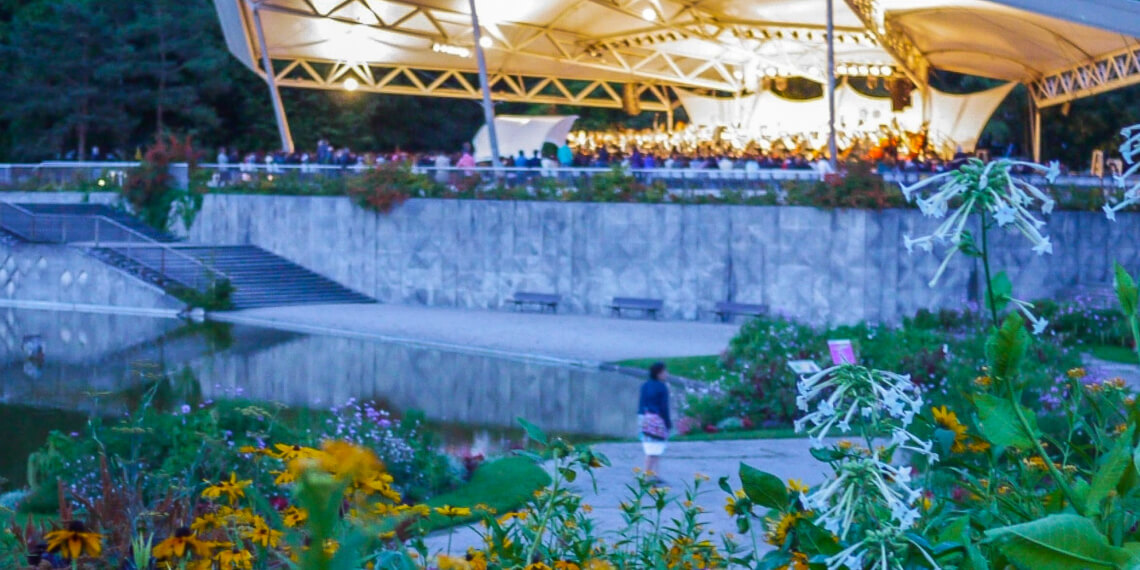 Classique au Vert brings 4 weekends of Saturday and Sunday concerts at 4pm to Parc Floral (the Paris Botanical Garden) in Bois de Vincennes from August 10 - September 1.
You'll hear top musicians performing everything from Mozart to Gershwin to Phillip Glass to Spanish fandangos in the outdoor amphitheater at Paris's largest green space (for context, three times the size of New York's Central Park). Bring a blanket and a picnic or buy wine and a sandwich at the park's snack bar, and get ready for a relaxing afternoon and evening enjoying sunshine, flowers, wandering peacocks, and superb music.
Concerts are free, although the park charges a small (2.50€) entrance fee during summer and early fall. Check the Festival's website for concert times, performers, and program.
Getting there: Bois de Vincennes, located in 12th Arrondissement on the eastern edge of Paris, is easy to reach - just hop on RER A train or Metro Line 1 to the Chateau de Vincennes Metro Station - the park is about a 3-minute walk from the station.
Bonus idea: Arrive early and stroll through Parc Floral's famous gardens, or explore Bois de Vincennes' other attractions such as its spectacular zoo, Lac Daumesnil, the aquarium, and 14th century Château de Vincennes.
Feast of the Assumption in Paris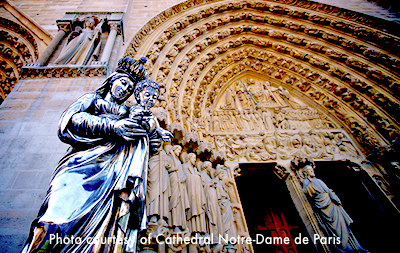 The Fête de l'Assomption, a Roman Catholic religious celebration commemorating the Virgin Mary's rise to heaven at Notre Dame Cathedral, takes place on August 14-15 each year. When August 15 falls on a Friday - which it does not in 2020 - you may find many stores and restaurants closed as Parisians take the opportunity to have a 3-day weekend during prime summer weather. Otherwise, most places remain open, even though Assumption Day is a French National Holiday.
Normally, Assumption Day observances begin on the 14th with a 6:30pm Mass at Notre Dame, followed by a vigil at 8:30pm and a procession by torchlight around the Cathedral and along the Seine River at 9:30pm. On the 15th, additional Assumption Masses take place throughout the morning, and then following vespers at 3:45, a procession of several thousand marchers and a figure of Mary and Baby Jesus winds around the Parisian streets near Notre Dame until about 6:30pm when another Mass concludes the ceremonies.
As a visitor, you are welcome to join the processions if you'd like, or just watch as they go by. Crowds are not dense, so you can easily find good viewing spots near Notre Dame.
PLEASE NOTE: Due to the tragic fire at Notre Dame, the Cathedral remains closed while repairs take place. Most other Catholic churches around the city will offer Assumption Masses. Nearby suggestions: Église de la Madeleine (8th arr), Église Saint-Eustache (1st arr), and Église Saint-Germain des Près (6th arr). We have NOT been able to confirm that an Assumption procession will take place in Paris this year.
More information: Notre Dame website (in French)
Paris Walking Tours for August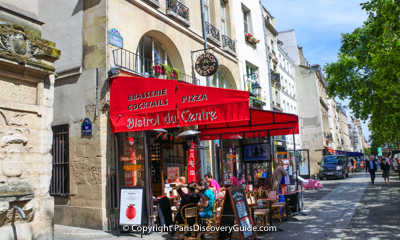 Get a close-up view of the city's treasures when you go on these special guided walking tours - perfect activity for balmy August days in Paris!
- Marais Walking Tour - Explore this romantic district by strolling along its bohemian streets to see charming galleries, monuments, centuries-old buildings, and fashion boutiques - Book now
- Medieval Paris Private Walking Tour - Discover life in the Middle Ages in Paris on this private walking tour at famous sites such as the Notre Dame Cathedral, Hotel de Cluny, and Fountain of the Innocents. You'll stroll along Medieval streets as your guide tells you about the culture, art, and architecture of this fascination period 800 years ago - Book now
Cinéma en Plein Air - Outdoor Movies at Parc de la Villette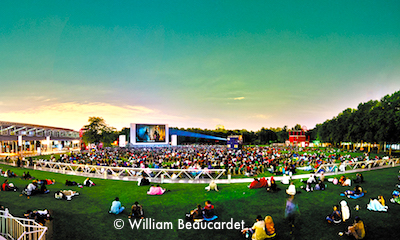 Free outdoor movies continue at Parc de la Villette through August in the Cinéma en Plein Air festival. A great mix of classic films and recent hits are shown in their original language with French subtitles as soon as the sky is dark enough (sunset in Paris is around 8:30pm at the beginning of August. Theme for 2020: The World of Tomorrow
Bring a blanket to sit on, or rent a folding chair for 7€, or 5 for 20€. And of course, pack a picnic dinner and a bottle or two of wine.
August Cinéma en Plein Air Lineup:
August 1- Captain Fantastic(English)
August 2- Snowpiercer, the Transperceneige (English, Korean)
August 3- First Steps: The Fugue (French)
August 4 - And in the Middle is a River (English)
August 7 - The Congress (French)
August 8 - Oslo August 31 (Norwegian)
August 9 - Dog Island (English)
August 10 - First Steps: Lost Body (French); Ready Player One (English)
August 11 - Lost Horizons (English)
August 14 - Gleaners and the Gleaner (French)
August 15 - Erin Brockovich (English)
August 16 - The Children of Men (English)
August 17 - First Steps: I Feel the Beat Rising in Me (French)
August 18 - Blade Runner (English)

Dates: Through August 18
Nearest Metro: Porte de Pantin
Paris Exhibits - Must-See Shows for August 2020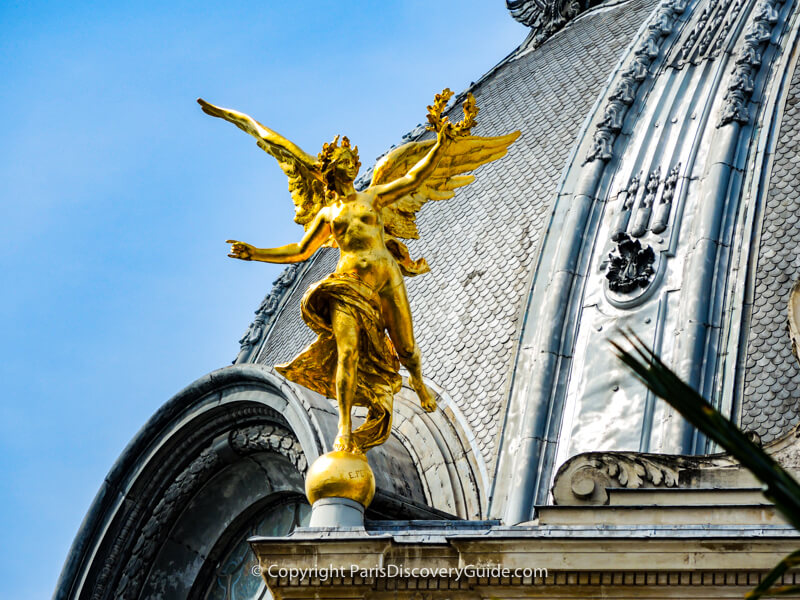 Revolutions 1966-1970: 5 Years that Changed the World
@ Grande Halle de la Villette - Through August 23, 2020 - An exploration of the end of the 1960s through the lens of 5 "revolutions," and how they shape today's world. Tickets 15-18€ for adults and 5€ for children
Where: 211 Avenue Jean Jaurès, 19th arrondissement
Metro: Porte de Pantin or Porte de La Villette
In the Drawing Room
@ Petit Palais, June 16 through October 4, 2020 - Selections from the prestigious Prat collection of French drawings from three centuries - Callot to Seurat - representing significant landmarks in art history. Show tickets 11€. (Free admission to Petit Palais' permanent collection)
Location: Petit Palais, Avenue Winston Churchill, 8th arrondissement
Nearest Metro: Champs-Élysées-Clemenceau
More info: www.petitpalais.paris.fr
Monet, Renoir, Chagall - Journeys Around the Mediterranean
@ Atelier des Lumières - February 28 through Dec 31, 2020 - Immersive video/digitized exhibition of Monet's, Renoir's, and Chagalls's masterpieces accompanied by original music. Tickets must be purchased online on the L'Atelier website
Open: 7 days/week
Where: 38 Rue Saint Maur, 11th arrondissement
Metro: Saint-Maur

The Advent of the Artist
@ Musée du Louvre, Through August 17, 2020 - Explores how anonymous craftspeople evolved to become recognized artists during the Renaissance and became recognized as heroes in novels and legends.
Location: Rue de Rivoli, 1st arrondissement
Closed: Tuesdays, January 1, May 1, and December 25
Tickets: 17€ (purchased online); includes special and permanent exhibits; free for under 26
Stay nearby: Hotels near the Louvre
Nearest Metro: Palais Royal/Musée du Louvre, Pyramides
More info: https://www.louvre.fr
Interested in a Louvre Museum guided tour? Find out how to choose one
The Golden Age of Danish Painting
@ Petit Palais, April 28 - August 16, 2020 - More than 200 works by leading Danish artists from the "golden age" between 1800-1864. Show tickets 12€. (Free admission to Petit Palais' permanent collection)
Location: Petit Palais, Avenue Winston Churchill, 8th arrondissement
Nearest Metro: Champs-Élysées-Clemenceau
More info: www.petitpalais.paris.fr
---
Paris Museum and Attractions Passes
Get free admission and skip-the-line access to 60+ museums in and near Paris when you have a Paris Museum Pass for 2, 4, or 6 days. (Access to special shows may require additional ticket.) More info
La Fête Foraine des Tuileries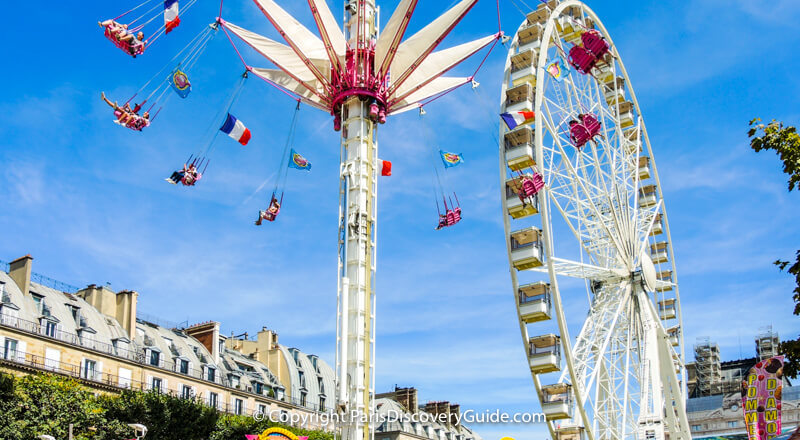 La Fête Foraine des Tuileries - literally, a "Fun Fair," or carnival - suddenly pops up in Paris's Tuileries Garden toward the end of June for two months of non-stop entertainment. With a giant ferris wheel (hint: bring your camera for great shots of Sacre Coeur and the Eiffel Tower), carousels, bumper cars, gut-wrenching rides for thrill seekers, children's games, and a lot more, the carnival entertains families with kids, teens, and everyone else seeking fun throughout the rest of the summer.
If you're visiting Paris, combine a stroll through Tuileries Garden and the Fête Foraine with a visit to other nearby attractions: the treasure-filled Louvre, Monet's giant Water Lily paintings at Musée de l'Orangerie at the opposite corner of the garden, and the Carrousel du Louvre underground shopping center next to the Tuileries metro station.
When: Through August 25, 11am to 11:45pm (12:45am Friday-Sunday)
Where: Jardin Tuileries (Tuileries Garden), 1st arrondissement (enter through the gate near the Tuileries metro station)
Metro: Tuileries
Admission: Free - plus whatever you spend on rides and games (most cost between 2-12€)

Silhouette Short Film Festival
Wrap up the summer and welcome early fall in Paris at the free outdoor Silhouette Short Film Festival held from August 30 through September 7 at Parc de la Butte du Chapeau Rouge in Paris's 19th arrondissement.
During the festival's 9 days, you'll have the chance to see 100 different French and international short films in a variety of categories: animation, drama, documentary, experimental, and more. Each evening's program kicks off at 6:30pm with a workshop, followed by a concert at 7:30pm. Films begin at 9pm.
Metro: Pré St-Gervais
Admission: Free
More Information: http://www.association-silhouette.com
Paris l'Été ("Paris in the Summer") - 2020
Want a fun excuse to explore different Paris neighborhood while celebrating summer in the city?
The annual Paris l'Été Festival (Paris SummerFestival) offers free or inexpensive outdoor music, dance, circus, and performances in all parts of the city, often in unusual places - usually more than 70 events in 30 different locations - and celebrates the city's cultural diversity while mixing avant-garde/off-beat events with more mainstream traditions. The festival runs from July 29 - August 2, and all events this year are free. Don't miss it!
Check Paris l'Été for schedule details.
More Top Paris Things to Do & See in August
Need Reservations? Use this Paris Hotel Map
Planning to visit Paris in August? Use this Paris hotel map to find accommodations and make your reservations: