Paris Events for August 2018
Although you'll find plenty of Paris events in August to keep you entertained and busy, the city into vacation mode as many Parisians depart for summer holidays and everyone else soaks up the sunshine and enjoys the relaxed ambiance.
You'll find most of the biggest events in outdoor venues: laid-back activities and fun along Paris "beaches," concerts and other events at the Paris Neighborhood Festival, almost a whole month of free outdoor movies in beautiful Parc de la Villette, and at the end of the month, Rock en Seine, the biggest summer music festival in France.
As a bonus, you can even catch the final days - and biggest discounts and bargains - at the famous Paris summer sales at the beginning of August.
Get ready to have a memorable time in the City of Lights, and enjoy the long sunny days and fun things to do that makes August a wonderful time to visit Paris.
Paris Beaches - Paris Plages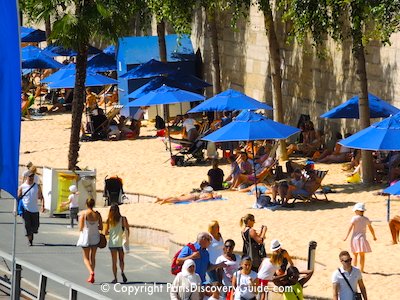 Paris Plages ("Paris Beaches") transforms parts of Paris into fun-filled beaches each summer.
You'll find lounge chairs, umbrellas, sand, grass, and palm trees along the new Parc Rives de Seine on both sides of the river, sports activities and more sand in the square in front of City Hall (Hotel de Ville), and huge Paris Plages swimming pools (open 11am-9pm from July 17 thru mid-Sept) as well as canoeing, other water sports, and even a zipline along the Quai de Loire along the La Villette Canal Basin in the 19th arrondissement.
Two new Paris Plages sites are opening this year at the Louis Lumière Stadium in the 20th arrondissement and the Elisabeth Stadium in the 14th.
Dates: Through September 3
---
Seine River Cruises
August is also the perfect month to experience the city by water on a Seine River cruise. So many choices!
---
Summer Sales on Designer Fashions - Final Days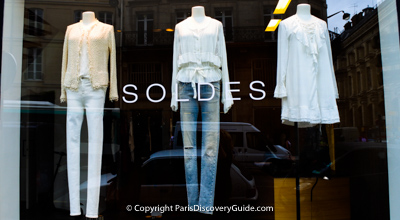 The famous Paris summer sales come to an end on August 8.
By August, Soldes signs in store windows all over the city will be announcing final reductions - as high as 70-80%, and occasionally even more. Although sale items may have already disappeared at some stores, savvy shoppers know that these last few days are when you'll find the biggest bargains.
---
August Concerts in Paris - 2018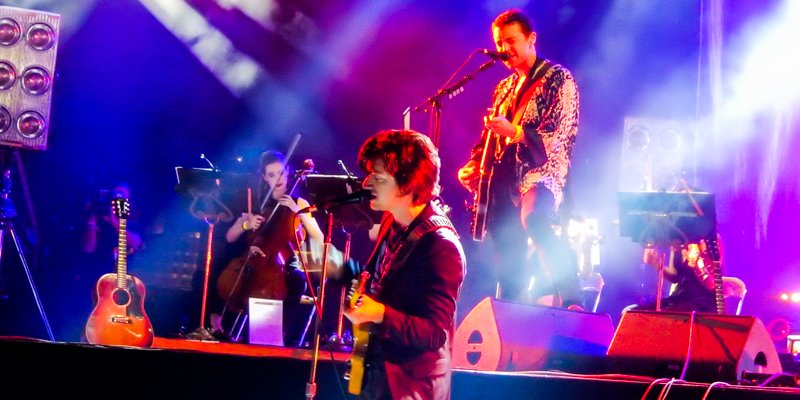 Rock en Seine Music Festival - 3-Day Pass - Domaine National de St Cloud, Saint Cloud (Paris suburb) - August 26-28
---
Rock en Seine Music Festival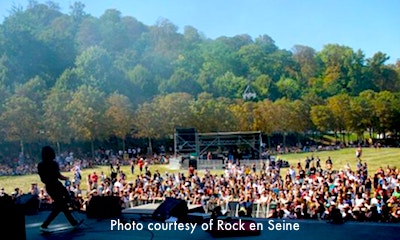 Rock en Seine, the biggest summer musical festival in France, brings 3 days of non-stop rock to Paris with 75 popular artists performing on 6 different stages on August 25, 26, and 27.
Concerts take place at Parc de Saint-Cloud, a beautiful large park (famous for being the site of Marie Antoinette's rose garden) just outside of Paris and easily accessible on the Metro.
You can get single-day tickets, but a 3-day pass is the better deal. With a 3-day pass (or three 1-day tickets), you can camp overnight at the park for an additional modest fee.
Getting there: Take the Metro to Boulogne/Pont de Saint Cloud. The concert site is a 5-minute walk across the Seine from the Metro station. Entrance to the park is free for pedestrians.
Paris Discovery Tip: Not interested in Rock en Seine? Visit Parc de Saint-Cloud on another day. Explore the beautiful gardens, spread out a picnic lunch on the lawn, and enjoy August at its best.
More information: Rock en Seine website
---
Liberation of Paris Festivities - 73rd Anniversary Celebration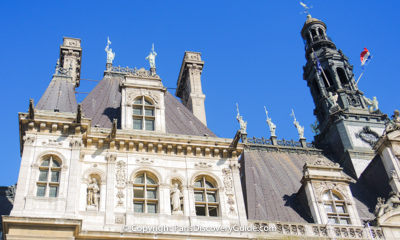 On August 25 each year, Paris City Hall (Hôtel de Ville) hosts a huge party to celebrate the 73rd anniversary of the Liberation of Paris, which ended 4+ years of German Nazi occupation of the city during World War II when Free French forces headed by General Philip Leclerc fought their way into Paris and forced the Nazis to surrender.
From 5-6pm, projections of images and historical events pay homage to those who died and commemorate the men and women who fought for peace, liberty, and human rights in the France Libre (Free France) Resistance movement.
At 9pm, music performed by the Paris Chamber Orchestra and dancing begins on the large esplanade in front of Hôtel de Ville. Admission is free. If you're in Paris on August 25, stop by to celebrate this important event in Paris history.
Nearest Metros: Châtelet, Cité, Saint-Paul
More information: Want to know more about the Liberation of Paris? Visit the Museum of General Leclerc/Museum of Jean Moulin - find out more on their website
---
Feast of the Assumption in Paris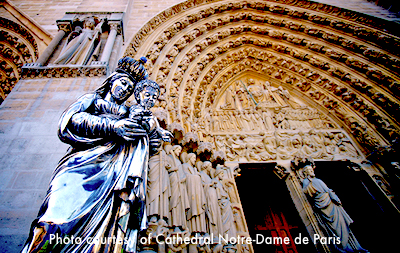 The Fête de l'Assomption, a Roman Catholic religious celebration commemorating the Virgin Mary's rise to heaven at Notre Dame Cathedral, takes place on August 14-15 each year. When August 15 falls on a Friday - which it does not in 2017 - you may find many stores and restaurants closed as Parisians take the opportunity to have a 3-day weekend during prime summer weather. Otherwise, most places remain open, even though Assumption Day is a French National Holiday.
Assumption Day observances begin on the 14th with a 6:30pm Mass at Notre Dame, followed by a vigil at 8:30pm and a procession by torchlight around the Cathedral and along the Seine River at 9:30pm. On the 15th, additional Assumption Masses take place throughout the morning, and then following vespers at 3:45, a procession of several thousand marchers and a figure of Mary and Baby Jesus winds around the Parisian streets near Notre Dame until about 6:30pm when another Mass concludes the ceremonies.
As a visitor, you are welcome to join the processions if you'd like, or just watch as they go by. Crowds are not dense, so you can easily find good viewing spots near Notre Dame.
More information: Notre Dame website (in French)
---
Paris Walking Tours for August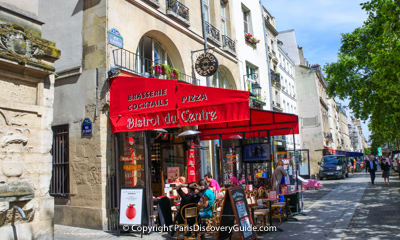 Get a close-up view of the city's treasures when you go on these special guided walking tours - perfect activity for balmy August days in Paris!
- Marais Walking Tour - Explore this romantic district by strolling along its bohemian streets to see charming galleries, monuments, centuries-old buildings, and fashion boutiques - Book now
- Medieval Paris Private Walking Tour - Discover life in the Middle Ages in Paris on this private walking tour at famous sites such as the Notre Dame Cathedral, Hotel de Cluny, and Fountain of the Innocents. You'll stroll along Medieval streets as your guide tells you about the culture, art, and architecture of this fascination period 800 years ago - Book now
---
Cinéma en Plein Air - Outdoor Movies at Parc de la Villette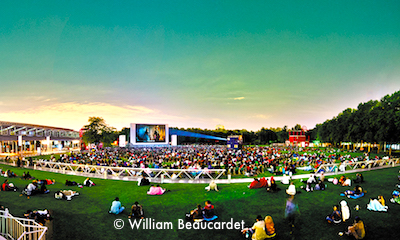 Free outdoor movies continue at Parc de la Villette through August in the Cinéma en Plein Air festival. A great mix of classic films and recent hits are shown in their original language with French subtitles as soon as the sky is dark enough (sunset in Paris is around 9:30pm at the beginning of July and 8:30pm at the end). The theme for 2017 is "In the Kitchen." Bring a blanket to sit on, or rent a folding chair for 7€, or 5 for 20€. And of course, pack a picnic dinner and a bottle or two of wine.
2017 Lineup for July:
August 3- Les Dèlices de Tokyo (Japanese)
August 4 - The Party (English)
August 5 - Beaudac (French) / Les Affranchis (French)
August 6 - Sabrina (English)
August 10 -Tampopo (Japanese)
August 11 - Les Noces Rebelles (English)
August 12 - Courir (French) / La Cérémonie (French)
August 13 - Amarcord (Italian)
August 17 - Sideways (English)
August 18 - La Graine et le Mulet(French)
August 19 - Le Génie de la Boite de Raviolis (French) / Ratatouille (English)
August 20 - Peau d'Ane (French)

Dates: Through August 20
Nearest Metro: Porte de Pantin
---
Paris Quartier d'Été
Want a fun excuse to explore different Paris neighborhoods? The annual Paris Quartier d'Été Festival (Summer Paris Neighborhood Festival) offers free or inexpensive outdoor music, dance, theater, and clown performances (get a pass to all events for 10€) - more than 70 events in 30 different locations. The festival continues through August 5. Check Paris Quartier d'Été for schedule details.
---
Paris Exhibits - Must-See Shows for August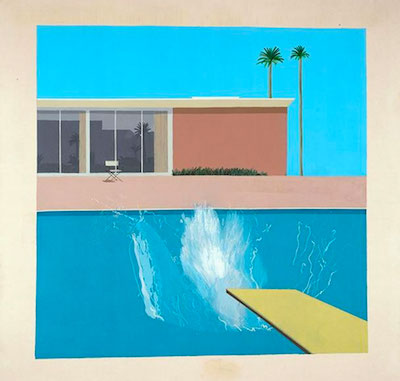 David Hockney
@ Centre Pompidou (Rue Saint-Martin, 4e), June 21 - October 23 - In celebration of David Hockney's 80th birthday, this retrospective exhibition lets you see over 100 of this English artist's representative works almost 20 years after his Paris debut at the Pompidou. Exhibit included with museum admission of 12€; free admission when you have a Paris Museum Pass
Location: Rue Saint-Martin, 4th arrondissement.
Nearest Metros: Rambuteau, Hôtel de Ville, Châtelet. RER: Châtelet les Halles, lines A, B, D
Imagine Van Gogh Exhibit
@ The Grand Hall at Parc de la Villette, July 23 - September 10 - An immersive experience based on the work of Vincent Van Gogh with music by Saint-Saens, Satie, Bach. Open daily 10am-7pm, and Saturday until 10pm (last admission at 8:30pm). Tickets 14.90€.
Location: Parc de la Villette (19th arr). Nearest Metro: Porte de Pantin.
More info: www.imagine-vangogh.com
Olga Picasso Exhibit
@ Musée Picasso, through September 3, 2017 - Focusing on the years that Pablo Picasso spent with his first wife, Russian Ballet ballerina Olga Kokhlova, this fascinating exhibit on the museum's first two floors juxtaposes his major works of this period (1917-1935) with his personal history to mirror the political and social environment between World War I and II. Admission: Exhibit included with museum admission of 12.50 €; free admission when you have a Paris Museum Pass
Location: 5 rue de Thorigny, 3rd arr
Nearest Metro: Saint Paul or Saint Sébastien Froissart
Femininities - Guy Bourdin
@ Maison Chloé (the newest Paris fashion museum/exhibition space, with 5 floors of a magnificent Hausmannian building dedicated to showcasing the luxury brand's history and culture), through September 3, 2017 - "Femininities" pays homage to famous fashion photographer Guy Bourdin's iconic photos of models wearing Chloé designs published in Vogue.
Admission: Reserve your date/time on Chloe's website (click on Maison/Exhibitions)
Location: 28 rue de la Baume, 9th arr
Nearest Metro: Mirosmenil
More Top Paris Things to Do & See in August