The weather in Paris in August is typically lovely and tranquil, with warm or hot daytime temperatures, warm or slightly chilly nights, mostly sunny skies, and, on average, only a few days when rain occurs.
August is the month when many Parisians go away for vacation - perhaps to the South of France where the weather is even hotter along the Mediterranean, or to visit family in other parts of the country, or to travel abroad.
Although some small shops and bistros (including many with Michelin-starred chefs) will be closed for part or all of the month, don't worry if you're wondering if you should travel to Paris in August. You'll find plenty of open places to eat, especially in areas popular with tourists, and many places to shop as well.
Because the weather is usually delightful, many activities move outside this month: film festivals, music festivals (including the hugely popular Rock en Seine), and of course outdoor dining along the river and at every restaurant terrace in the city. You'll also find lots of fun Paris Plages (Paris beaches) activities along the river.
And the bonus? Hotel rates and even flights are significantly cheaper this month compared with June and July, partly because American tourists tend to stay away (perhaps because of the mistaken belief that "everything" is closed during August and also because many American schools restart this month). There are still plenty of tourists from other countries, though, so the city is far from deserted.
If you visit Paris during August, you'll most likely enjoy lovely weather mostly uninterrupted by rain. But as you'll notice later in this article, surprisingly cold temperatures can also happen for as long as 2-3 days, so you should be prepared just in case - more about what to pack later!
August is the perfect month for outdoor sightseeing - a bike tour of iconic neighborhoods, a food tasting tour in the Marais, or Versailles Palace and Garden tour combined with Musical Fountains or Musical Gardens.
In this article, you'll everything you want to know about August weather in Paris, packing tips, top things to do during your August visit, and even recommendations about where to stay this month.
Article contents:
Top photo: Eiffel Tower and Paris rooftops during August - Photo: AdobeStock
Paris Discovery Guide is a reader-supported publication. When you buy through our links, we may earn a commission at no additional cost for you. Learn more
---
What Is Paris Weather in August Really Like?
Paris weather during August makes this the quintessential summer month with long, hot days and balmy evening temperatures.
Of course, there are exceptions because weather patterns differ each year. However, if you spend a week or more in Paris during August, you'll get an addictive taste of what may feel like the perfect summer experience.
Paris Temperatures in August: Average Highs & Lows
Here's a quick look at what August weather in Paris looks like on Fahrenheit (F) and Celsius (C) degree scales for average daily high and low temperatures, which have increased by 1-2 degrees Fahrenheit during the past decade:
Average August high temperature: 79°F (26°C)
Average August low temperature: 58°F (14°C)
What's interesting to note is that the average high temperature for August is identical to the average high for July, and the average low temperature is only one degree lower.
Although these temperatures may look perfect, remember - they are averages. They are definitely not a weather forecast for the month of August in Paris.
To better understand what actual temperatures might be during your August visit, always check the August high and low temperature ranges in the following section.
Weather Statistics for August in Paris: High & Low Temperature Ranges
These temperature ranges for highs and lows in Paris in August will give you a better idea than the monthly averages about what you might experience. You'll find these ranges especially useful for deciding what to pack.
Here's the range of daily highs and lows throughout a typical Paris August:
Range of daily maximum temperatures during August: 67°F to 104°F (20°C to 40°C)
Range of daily minimum temperatures during August: 43°F to 64° F (6°C to 18°C)
Temperatures on both ends of these ranges are slightly lower than the July ranges. Heat of as high as 104°F (40°C) is significant, but prolonged heat waves (more than a day or two) are less likely to happen in August than in July.
Find out how to stay cool during Paris heat waves
Record August high temperature (1991-present): 104°F (40°C) in 2003
Record August low temperature (1991-present): 43°F (6°C) in 2014
Do also take note of the record low of 43°F (6°C). You'll see more about that in the section below about rain - because that's what accompanied that low 2014 temperature. Even though temperatures that low don't happen every year, you'll want to pack a sweater or light jacket... just in case.
Sun and Clouds during August: What to Expect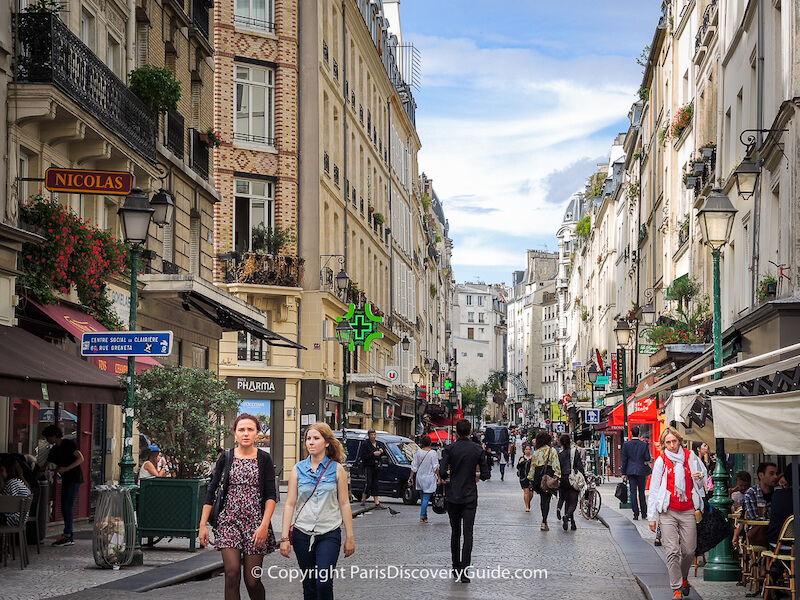 As you can see in the photos in this article, August in Paris offers a mix of brilliant blue, sunny skies, overcast conditions, and menacing-looking clouds that often appear right before a quick downpour.
Sadly, days begin to feel noticeably shorter toward the end of August as the long, lazy days of summer come to a close as September - always a buzzy, high-energy month as re-energized Parisians return from vacation - draws near.
Here's what you can expect during August:
Average hours of daylight: 14 hours, 20 minutes
Average hours of sunshine during August: 7 hours per day

By the end of August, the sun sets at 8:35pm - over an hour earlier than at the beginning of the month.
---
How Much Rain & Wind Does Paris Get in August?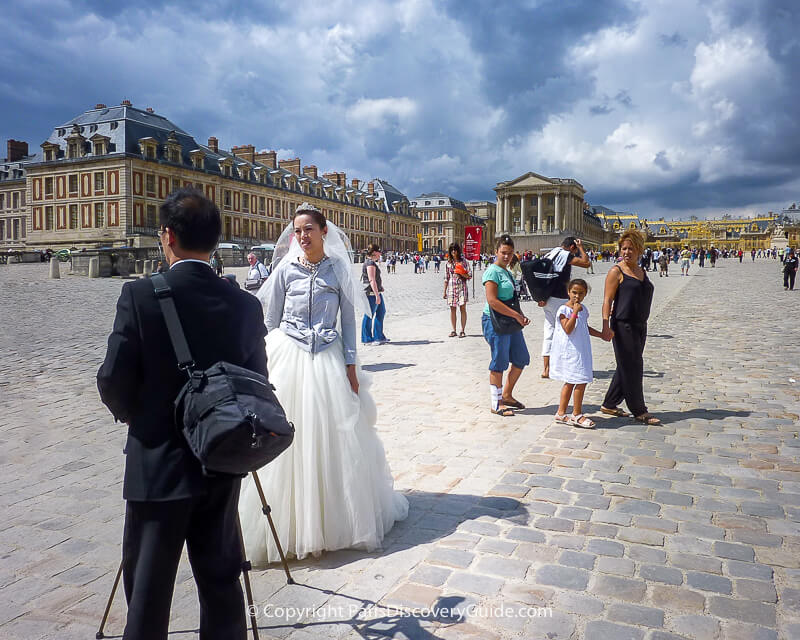 On average, Paris records about 2.2 inches (about 56 mm) of precipitation over 7 days during August. That's an average amount precipitation but the smallest number of rainy days of any month.
During typical years, you will probably barely notice the rain, especially since some of it may fall at night. Thunderstorms (usually at night) are not uncommon in August.
But there can also be sudden downpours during the day. Even though they may be over almost as soon as they start, you will definitely notice them, especially if you're doing something like a photo shoot. And especially if you're wearing something fancy, like your wedding dress.
If you see dark clouds like those in the above photo suddenly appear, take shelter! Don't wait to see what happens.
---
What about the Weather at Popular Day Trip Locations?
August is an ideal time to make a day trips outside of the city. For popular locations near Paris such as Versailles Palace, Disneyland Paris, the Champagne region, and Giverny, August weather will be almost identical to conditions in Paris.
If you plan day trips to more distant spots such as Mont Saint Michel, the D-Day landing beaches in Normandy, or perhaps to the Loire Valley to visit castles, check their local weather before you go. At this time of the year, the Loire Valley is usually fairly similar to Paris, while coastal areas may be slightly cooler and offer welcome breezes.
---
What to Pack for August Weather in Paris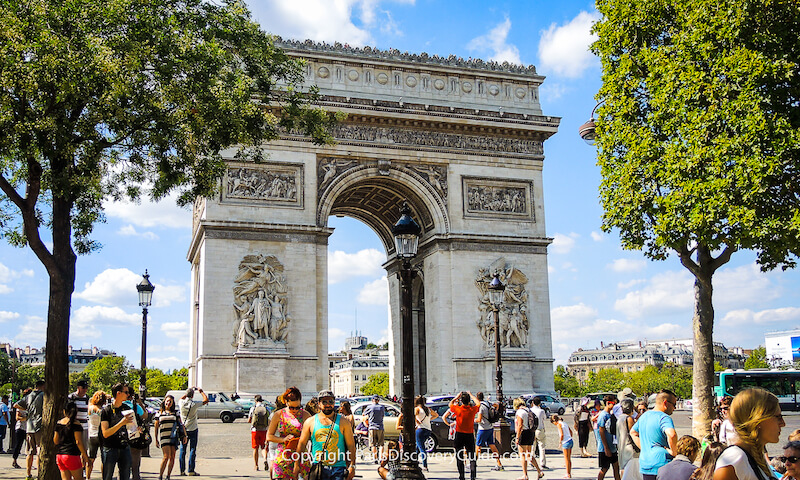 As average temperature ranges show, Paris weather during August can vary from extremely hot to much colder than you might expect - so pack accordingly.
The good thing about August heat in Paris is that humidity tends to be lower than in late spring/early summer months. Even though you may feel hot, you probably won't feel too sweaty.
Although low temperatures are a rarity this month, you may be planning activities that will take you into cooler conditions. For example, temperatures in wine cellars and Champagne caves must stay at around 45°F (7°C) and feel cold and bone-chilling even during the summer. If a visit to the Catacombs is on your agenda, you'll encounter similar temperatures.
Temperatures on Seine River cruises and even at the top of open-air tour buses feel about 10° cooler than on land because you're in motion. If you're visiting coastal areas such as the Normandy D-Day landing beaches, coastal winds can make the air feel even chillier.
On the other hand, if you're planning walking or biking tours and other outdoor activities, you'll need to be prepared for intense sun and possibly very high temperatures.
In addition to your core wardrobe of tops, bottoms, comfortable walking shoes, and under garments, these are the essentials and options to consider for August:
Sun screen and perhaps a sun hat. You can also buy high-quality sun screen (look for La Roche Posay and Vichy brands) in almost every Paris pharmacie (look for a green fluorescent cross outside the building).
A light or medium sweater or even a light-weight jacket, depending on what activities you have planned. If you arrive and discover you don't have what you need, finding one to buy may be tough or even impossible this month. By August, shops have sold most of their seasonal merchandise during the summer sales. By the second half of the month, choices will be slim to non-existent as stores won't start showing their fall collections until September. August is a month when you should bring whatever clothing you might need with you.
A mix of sleeveless and short-sleeved tops plus lightweight pants and/or skirts and possibly a sundress. Considering the possibility of cooler weather (or even protection against the hot August sun), you might throw in a long-sleeved shirt.
Sandals - Should you bring a pair? Paris sidewalks tend to have more dog poop than you may be used to dodging, and many Paris parks such as Tuileries Garden cover their paths with a mixture of finely ground lime, gravel, and sand which feels miserably sharp if it gets under the soles of your feet - so wear sandals at your own risk. Birkenstocks with socks? OK, not the most fashionable look, but decent protection on the grittier paths. You will also see plenty of tourists wearing flip-flops, but they're not the best choice for navigating cobblestones.
Although a small collapsible umbrella might be useful if you experience rainy days, you may not want to make the effort to carry one as August showers don't usually last long. You can always buy one in Paris if you need it - most small convenience stores and souvenir shops sell them for 5-10€.
Pro Tip: Right before you start packing for your trip, check the 7-day Paris weather forecast in case of any surprises. Here's the forecast in both Fahrenheit and Celsius:
PARIS WEATHER
PARIS WEATHER
---
Is Visiting Paris in August Worth It?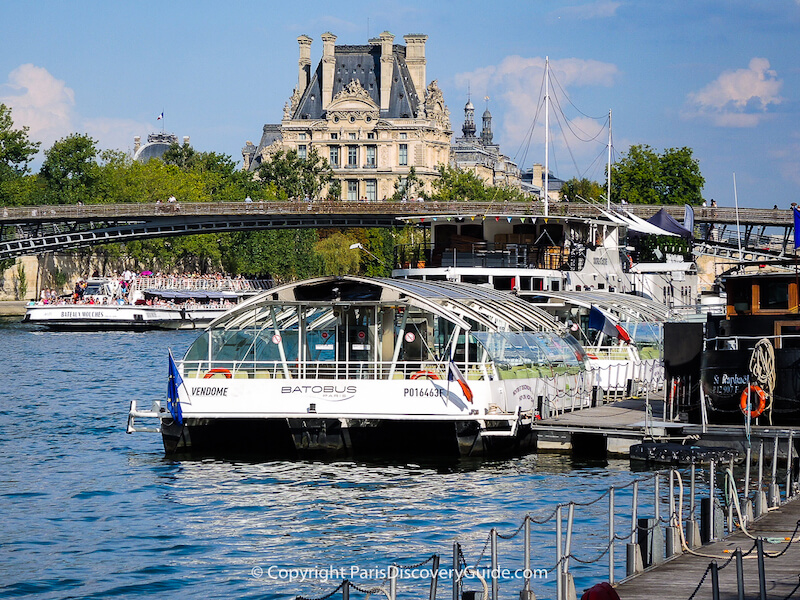 Yes. August is a lovely month to visit if you like heat, sun, and blue-sky days.
As you'll see, there are some significant bonuses to visiting Paris in August rather than earlier in the summer:
Cheaper flights and lower hotel rates - not quite as low as during January, February, and early February, but significantly cheaper than the previous summer months
An exciting lineup of classical concerts (including daily performances at Sainte-Chapelle) as well as big internationally-famous artists headlining stadium concerts
Free outdoor concerts and movies in Paris parks
All the activities and pop-up bars and cafes along the Seine River
The city's relaxed, laid-back vibe - truly, an August-only phenomenon
---
Weather-Proof Things to Do in Paris in August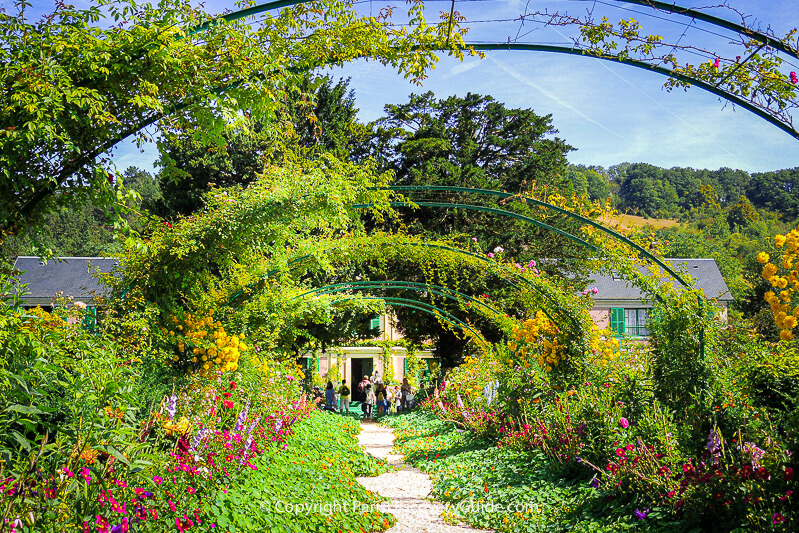 Recommended activities for sightseeing in and near Paris during hot (and occasionally rainy) August weather:
---
More Fun Things to Do & See in Paris in August
---
Where to Stay in Paris during August
As you know by now, August weather in Paris will usually be gorgeous. Even though you may want to stay in central Paris neighborhoods for the convenience of being close to top attractions, lots of restaurants, and metro stations, spend time in some of Paris's epic large parks in the double-digit arrondissements: Bois de Vincennes in the 11th, Bois de Boulogne (home to the Louis Vuitton Foundation) in the 16th, the beautiful sloping hills of Parc de Montsouris in the 14th. On warm summer evenings, stroll by the Seine River or take a river cruise.
With these criteria in mind, we recommend staying in these top locations during August:
Latin Quarter Hotels - Paris's Latin Quarter offers a wonderful mix of outdoor markets, a former Roman Arena-turned-park, lots of smaller parks and gardens (plus Luxembourg Garden on its border, and easy access to a picturesque part of the Seine River.
Saint Germain neighborhood - Choose the popular Saint Germain neighborhood on the Left Bank of the Seine River, and you'll be close to famous bistros such as Les Deux Magots and Cafe de Flore, fabulous shopping, the Orsay Museum, and evening concerts at the medieval Saint-Germain-des-Prés church
Paris Hotels near the Louvre Museum and Tuileries Garden - These hotels in the heart of historic Paris close to the Louvre and gorgeous Palais Royal Garden, Jardin des Tuileries, as well as other top attractions, the Seine River, and too many wonderful restaurants and bistros to count!
Use this hotel booking map to find more hotels and apartments for your travel dates:
Check out the newest Paris hotels
---
---
Paris Weather Resources
Want current Paris weather predictions? This is a good French source: Meteoblue
Historical weather data sources: The Weather Channel, Weather Spark, and Time and Date
---
---