Walk through the arched entrance into Cour du Commerce Saint-André, an almost-hidden passage at 130 Boulevard Saint-Germain in Paris's 6th arrondissement, and you'll step back in time to the world of 1734 when small shops lined the narrow lane paved with cobblestones and bon vivants mingled with future revolutionaries at Le Procope, the bistro founded in 1686 and still popular today.
What you'll see along this pedestrian-only walkway is an enchanting glimpse of how Paris looked before Emperor Napoleon III, nephew of Napoleon Bonaparte, ordered Baron Haussmann in 1852 to modernize the city.
This article covers the past and present highlights of this popular lane, including a few of its most colorful layers of history as well as the interesting things you can do and see here today.
Top photo: Cour de Commerce Saint-André, including Le Procope on the left and the glass roof near the back
Paris Discovery Guide is a reader-supported publication. When you buy through our links, we may earn a commission at no additional cost for you. Learn more
---
Cour de Commerce Saint-André: From the Middle Ages to Today
To Napoleon, "Modernization" meant demolishing whole areas of Paris unchanged since the Middle Ages.
In return Parisians got broad streets such as Boulevard Saint-Germain where they could walk without being splashed by mud (or worse) from passing horses and carriages.
And that was just the beginning. Napoleon also put in place a modern sanitation system (no more open sewers!), safe drinking water, gas lanterns in the previously dark streets, and beautiful parks and green spaces.
Today, no one would want to give up those modern amenities to return to Medieval times.
But that being said, there's still something very special about discovering hidden corners of pre-Napoleon Paris where you can experience, even if just for a few moments, a glimpse of the city during earlier times.
So stop by Cour de Commerce Saint-André and soak up the architecture as you sip a drink or enjoy a meal at one of the patio tables dotting the 400 foot/120 meter long passage.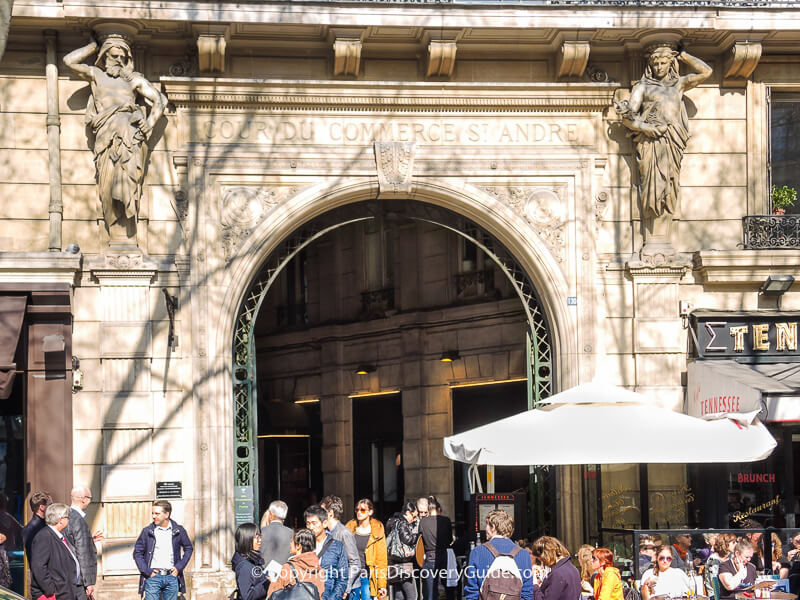 Look down, and you'll see the lane's original cobblestones - one of the few areas in Paris where they still exist.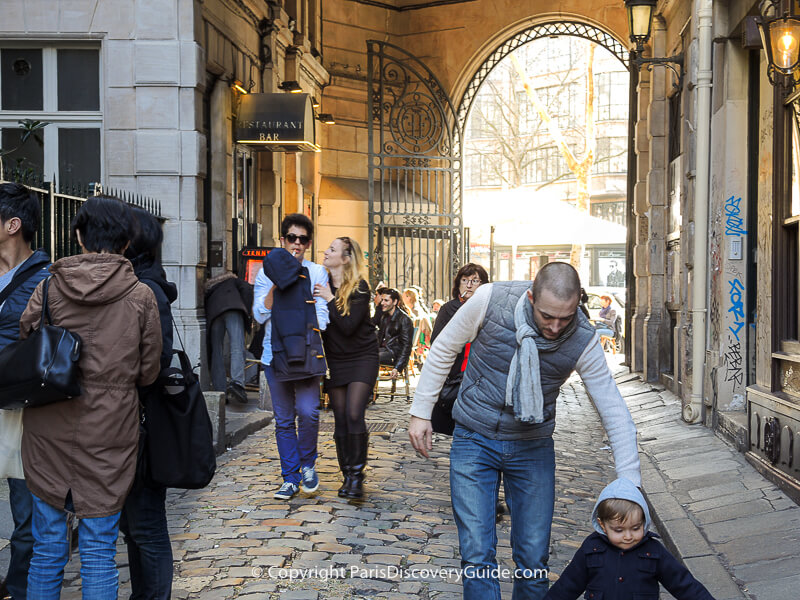 Glance in the direction of the Rue Saint-André des Arts entrance, and you'll notice a glass roof added to that section of the passage in 1823 as covered passages became fashionable.
You'll also see an iron gate which separates this section from the rest of the passage and is locked at night.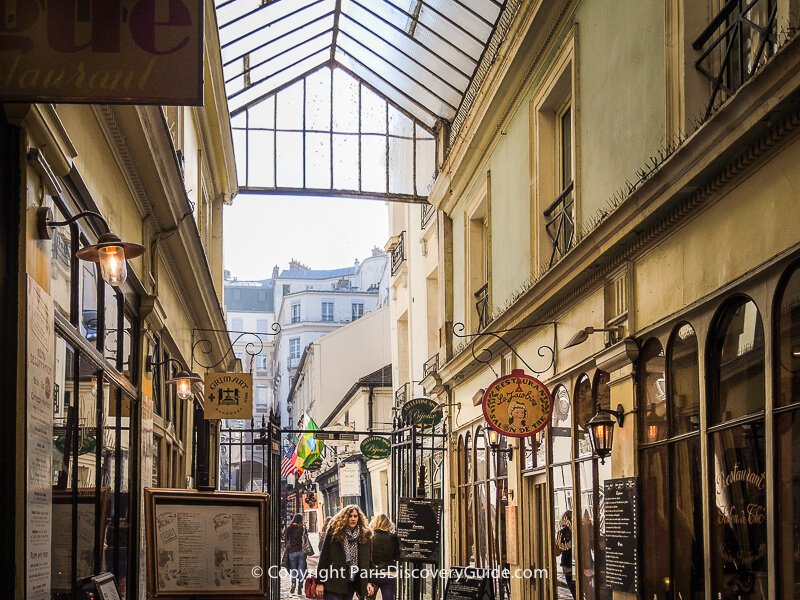 The walkway rests next to the fortified wall French King Philippe-Auguste built around the city in the 12th century - you can see parts of it inside No. 4. The passage also cuts through an area previously used as courts used for jeu de paume, a game similar to tennis.
But Cour de Commerce Saint-André also has a darker history - one involving revolution, murder, and - prepare yourself for this - sheep.
But before we get to the grisly part of the passage's story, let's take a look at the historical heart of the Cour: the famous 400+ year old café, Le Procope.
---
Le Procope: Favorite Cafe of Artists, Writers, Philosophers, & Revolutionaries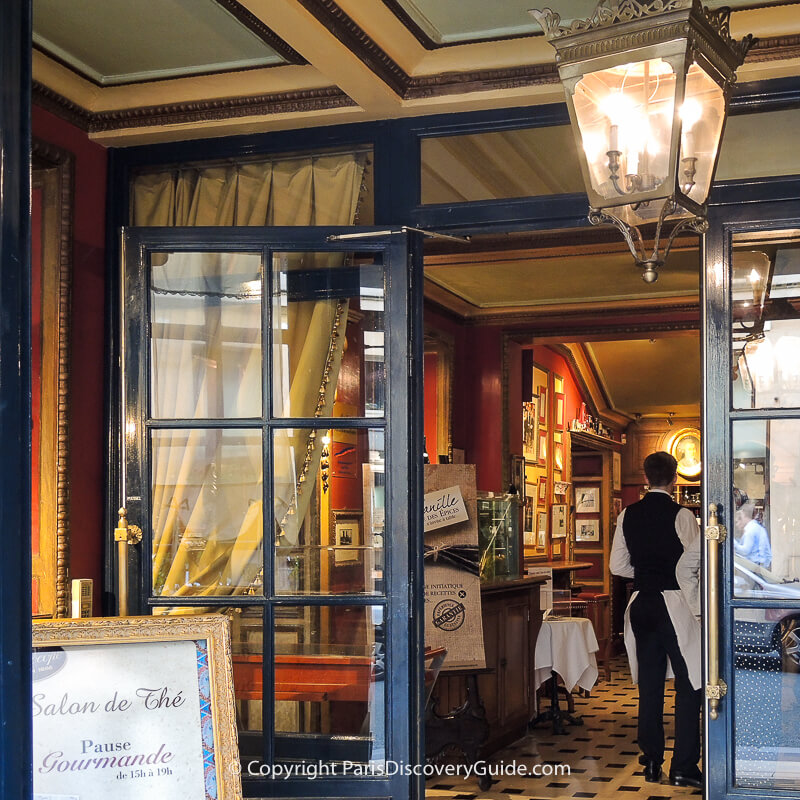 You might consider Le Procope as the cornerstone of Cour du Commerce Saint-Andre. The cafe had already distinguished itself as a thriving establishment for almost half a century when the passage behind its premises opened 1734, and it is still a highly popular bistro today.
Long before Sartre, Hemingway and other post-WWII philosophers and writers hung out at Les Deux Magots and other cafes further down on Boulevard Saint-Germain, Le Procope became the favored meet-up location for groups of other French artists, intellectuals, and literati soon after it opened in 1686.
Some of the greatest philosophers of the Enlightenment - Voltaire, Jean-Jacques Rousseau, Montesquieu - frequented Le Procope and perhaps debated their beliefs about liberty, separation of church and state, and separation of powers over a glass or two of wine. Allthough, Voltaire reportedly loved Le Procope's coffee and ice cream even more.
In the late 1700s, French revolutionaries Maximilien Robespierre, Georges-Jacques Danton, and Jean-Paul Marat also met at Le Procope to plot the French Revolution and discuss their ideals.
These encompassed far-reaching goals: the overthrow of the monarchy,the granting of basic human rights for even the poorest members of society, the "universal" (which to them only included men) right to vote regardless of social or economic class, and the abolition of slavery in France and her colonies.
Sadly, all three of these visionaries died violently in 1793-94 as the ideals of the revolution devolved into the bloody aftermath known as the "Reign of Terror."
Other late-18th century patrons included playwright Beaumarchais ("Barber of Seville," "Marriage of Figaro"), who helped smuggle guns and money to support the American Revolution, Thomas Jefferson, Benjamin Franklin, Napoleon Bonaparte, and reportedly even Marie Antoinette.
Since the establishment normally catered to men only during this period, that rumor may be questionable - although other rumors claim she sometimes donned disguises when she wished to move about freely.
Later, in the 19th century, writers and reformers such as George Sand (breaking the men-only barrier), Victor Hugo, Paul Verlaine, Balzac, Anatole France, and Léon Gambetta continued to frequent Le Procope.
Should You Visit Le Procope Today?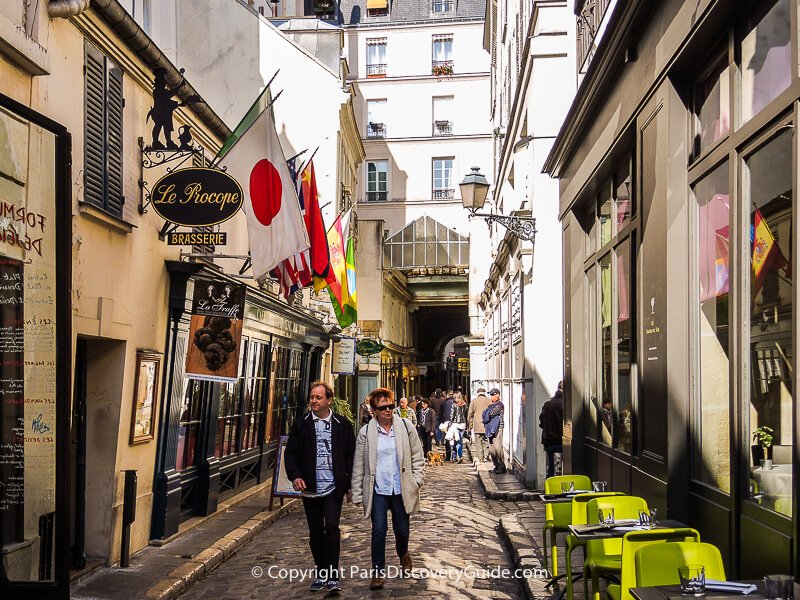 Absolutely! Although new owners in the 19th century changed the restaurant's name a few times, they preserved the interior and then finally changed its name back to the original Café Procope.
Today, tourists and local Parisians typically fill the cafe to capacity.
The menu usually includes traditional French favorites such as onion soup gratinée, raw oysters, escargot, sole meunière, beef tartare, duck, and even coq au vin and a few other historical recipes. The calf's head dish from the 1686 opening menu may not be for everyone, although it does have its fans.
And in homage to Voltaire, the dessert menu incorporates homemade ice cream in several of the choices. He might especially have loved the Café Liégeois Procope, with white coffee ice cream, coffee gelée, coffee panna cotta, and freshly whipped cream.
Le Procope also offers fixed price 2- and 3- course menus for lunch and dinner.
Sit inside to enjoy the lovely 18th century decor, paintings of famous patrons, and memorabilia on display, including Napoleon Bonaparte's hat, supposedly left there by him when he didn't have enough francs to pay for drinks.
Or sit on the back terrace to enjoy fresh air, sunshine, and people-watching along Cour de Commerce Saint-André.
Where to find Le Procope
Front entrance: 13 Rue de l'Ancienne Comédie
Terrace seating on Cour du Commerce Saint-Andre: About halfway down the passage - look for the colorful flags over the entrance
---
Now for the Darker Side of Cour du Commerce: Testing the Guillotine
During the early months of the French Revolution in 1789, the National Assembly passed a law requiring that all executions must be performed by beheading, considered more humane than the other more torturous methods such as hanging, burning, boiling, strangulation, and dismemberment that were common at that time.
But what does that have to do with Cour du Commerce Saint-Andre?
Primitive guillotines had been in use in Europe since the 1200s or earlier, but their flawed designs meant they didn't work well and definitely would not meet the "humane death " goal of the new law.
German engineer Tobias Schmidt was living at Number 9 in the Cour du Commerce above his basement workshop where he made harpsichords when French surgeon Antoine Louis asked him to test a prototype of an improved device.
And so he did, starting in April 1789, first on hay bales, then on a number of sheep,and finally on corpses procured from the Paris morgue.
After the euphoric early years of the Revolution gave way to the bloody 1793-94 Reign of Terror, at least 10,000 people died by guillotine. Among them were the former king and queen, Louis XVI and Marie Antoinette, as well as revolutionary leaders and Le Procope habitués, Robespierre and Danton.
---
Murder at Number 8, Cour du Commerce Saint-Andre
Jean-Paul Marat, another Le Procope patron and revolutionary-turned-radical, lived in the Cour at Number 8 where he also printed his broadsheet newspaper, L'Ami du Peuple ("The People's Friend"). As a journalist, Marat advocated for basic human rights for even the poorest members of society,
Because of the need to soothe an agonizingly itchy and painful skin disease, now thought to have been triggered by an autoimmune disorder, Marat spent much of each day soaking in a copper-lined tub which he had topped with a writing table.
That's where he was on July 13, 1793 when Charlotte Corday, a sympathizer of a more moderate political faction, stabbed him to death with a 6 inch kitchen knife. After a quick trial, she was guillotined days later.
Today, you can see Marat's death depicted in a realistic scene which includes his actual copper tub at the 9th district's Grevin Wax Museum, which features additional life-like displays of the Revolutionary War and other parts of French history.
Get tickets for the Grevin Wax Museum
---
More to See & Do near Cour du Commerce Saint-André
---
Cour du Commerce Saint-Andre: Where to Dine, Drink, & Shop
Restaurants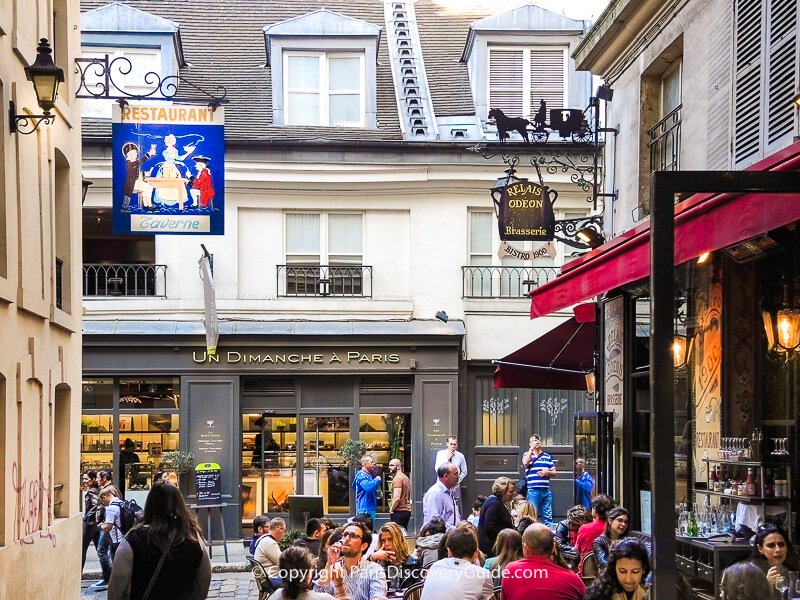 Le Procope (13 Rue de l'Ancienne Comédie) - French classics, wonderful desserts, and the thrill of being able to say you've eaten in the oldest restaurant in Paris.
Le Pub Saint-Germain (17 Rue de l'Ancienne Comédie) - Sit outside on the pub's terrace on historic Cour du Commerce or head indoors to watch sports, seek out the pool table tucked away in an alcove, or sip afternoon tea in the family-friendly Green Room on the 2nd floor. Wide selection of French microbrewery and craft beers, and good pub food with a Parisian twist. Fun Fact: Back in the 1700s, Marat used to ring the bell that you can see on the pub's rooftop whenever he published the latest edition of his revolutionary newsletter,

L'Ami du Peuple.

La Jacobine (59-61 Cour du Commerce Saint-André) - Traditional French classics such as onion soup gratinée, duck, escargot, fois gras, beef bourguignon.
Le Relais Odéon (132 Boulevard Saint-Germain) - Casual brasserie fare including burgers, pasta, pizza, cheese and charcouterie platters; plats du jour usually feature more traditionally French food, and are often very good. Sit inside, or outside on the Cour terrace. Be sure to check out the lovely 1900 Art Nouveau designs on the side of the building, one of several protected historic façades, roofs, and signs in this passage.
Un Dimanche à Paris (4 Cour du Commerce Saint-André) - A chocolate empire owned by Pierre Cluizel, scion of a famous French chocolatier, and a master in his own right. This establishment offers everything: a chocolate shop, a tea room, a restaurant, and even a teaching kitchen and tasting room. Check Un Dimanche's website for classes and special events. Update: Sadly, Un Dimanche à Paris has closed in its Cour du Commerce location and reopened in Dubai while searching for another Paris location - so stay tuned!
Shops & Boutiques
Maison Brémond 1830 / Epicerie Fine (8 Cour du Commerce Saint-André / 130 Boulevard Saint Germain) - All kinds of specialty and organics products from Provence: olive oils, mustards, truffles, vinegars, herbs, honey, tapenades, chutneys, and pestos. The spreads are outstanding - for a completely decadent treat, try the organic hazelnut and cocoa blend.
Hayari Parfums et Accessoires (1 Cour du Commerce Saint André; enter from the Passage at 130 Boulevard Saint Germain) - Fragrances, jewelry, and leather bags in a beautiful showroom; fashion designer Nabil Hayari's Champs Elysees Paris couture showroom is at 27 Rue de Marignan, 75008
Grim' Art (59-61 Rue Saint-André des Arts / Cour du Commerce) - Leather-bound journals, satchels, beautiful calligraphy sets, fine paper and inks - this special shop attracts artists, writers, and even movie set designers (and all the rest of us who can't resist these special products). Although you can get a flavor for what they have on their website, seeing these special items in person is even better.
---
Where to Stay near Cour du Commerce Saint-Andre
Choosing a hotel or apartment near Cour du Commerce Saint-Andre puts you in a fascinating part of the Latin Quarter filled with narrow streets and old buildings left untouched by Haussmann's urban renewal efforts.
Here are several excellent choices located near the historic passage and the Seine River:
Relais Hôtel du Vieux Paris- Charming 4-star boutique hotel in a historic 15th century building in the Latin Quarter neighborhood near Cour du Commerce - just a quick walk across the Pont Saint-Michel bridge brings you to Sainte Chapelle and Notre Dame
Book now
Citadines Saint-Germain-des-Prés Paris - Aparthotel featuring serviced studios and apartments with kitchens, air conditioning close to the Seine River; fitness room and free wifi - Relais Hôtel du Vieux Paris Request accommodations with a river view
Book now
Hôtel Montalembert - Acclaimed 5-star boutique hotel in Saint Germain de Prés near museums, the Bon Marché luxury shopping complex, and numerous small boutiques and antique shops
Find best rates
Find more hotels & apartments in the 6th arrondissement
Map Showing More Paris Hotels
Use this Paris hotel map to find more hotels near Cour du Commerce Saint-Andre:
Check out the newest Paris hotels
---
How to Get to Cour du Commerce Saint-Andre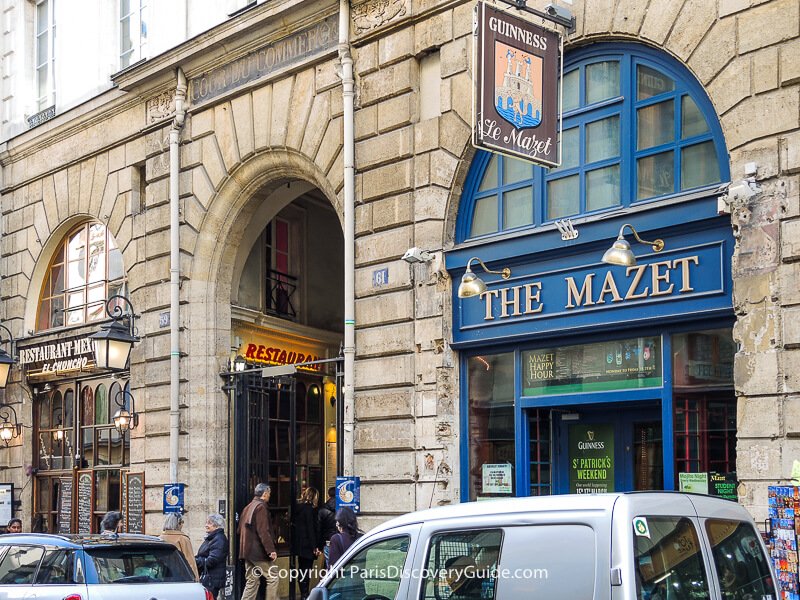 Entrance Locations & Transportation Information
130 Boulevard Saint-Germain
21 Rue de l'Ancienne Comédie
59 Rue Saint-André-des-Arts
Nearest Metro Station: Odéon
Visit more covered passages in Paris
Map Showing Cour du Commerce Saint-Andre Location
---