Walk along Rue Payenne in Paris's Marais neighborhood, and you'll discover four charming small parks and gardens tucked away among the 17th century mansions lining on block of this street in the 3rd arrondissement.
Yes, that's right - 4 lovely gardens to visit on just one short block in the Marais.
But . . . unless you're looking for Rue Payenne, you can easily miss it, even though it is a stone's throw from the Picasso Museum.
You'll find Rue Payenne tucked between boutique-filled Rue des Francs-Bourgeois, which marks the boundary between the 3rd and 4th arrondissements in the Marais neighborhood, and Rue du Parc Royal. In fact, if you're walking along Rue Pavée in the 4th, it becomes Rue Payenne in the 3rd.
With no shops or other obvious attractions, most visitors ignore this block - which is part of what makes it special: no masses of tourists crowding the sidewalks.
Start your walk by walking up Rue Pavée or by turning onto Rue Payenne from Rue des Francs Bourgeois, and get ready to explore each of the four hidden gems on this block.
Top Photo: Square Léopold-Achille on Rue Payenne in the Upper Marais
Top photo: Rainy December evening in Paris's Saint Germain neighborhood, (c) Paris Discovery Guide
Paris Discovery Guide is a reader-supported publication. When you buy through our links, we may earn a commission at no additional cost for you. Learn more
---
Garden # 1: Jardin Lazare-Rachline
After turning onto Rue Payenne from Rue des Francs Bourgeois, almost immediately you'll spot a see-through iron gate on your left. Open it and walk through, and you'll be in the lovely Jardin Lazare-Rachline (9 Rue Payenne).
Dedicated to the memory of an outspoken critic of anti-Semitism and key French Resistance organizer during World War II, this tranquil oasis dates back to 1575 when it was created behind Hôtel Dônon, now known as Musée Cognac-Jay, on nearby Rue Elzevir.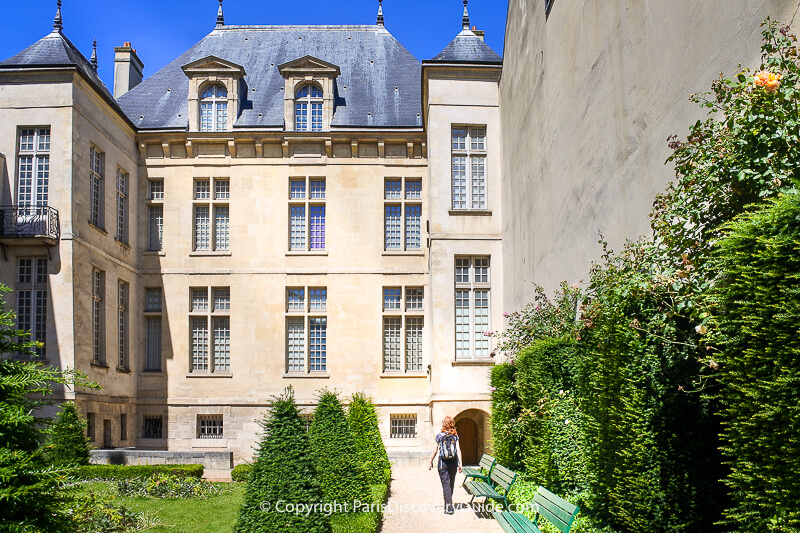 On sunny afternoons, a sweet fragrance wafts from the low box hedges and the climbing roses framing each side of the garden.
At first glance, the garden seems perfectly symmetrical - but take a closer look: the roses reaching up on the sunnier north wall are far more exuberant.
On most days, you may be the only visitor here and you'll feel like you're in your own small Eden.
---
Garden # 2: Centre Culturel Suédois
Walk a few more steps down Rue Payenne, and the next gate you come to - blue, massive, and open only from noon to 6pm, Tuesday through Sunday - leads to a paved courtyard with a few tables and chairs. On sunny days, you'll glimpse people eating, drinking, and chatting.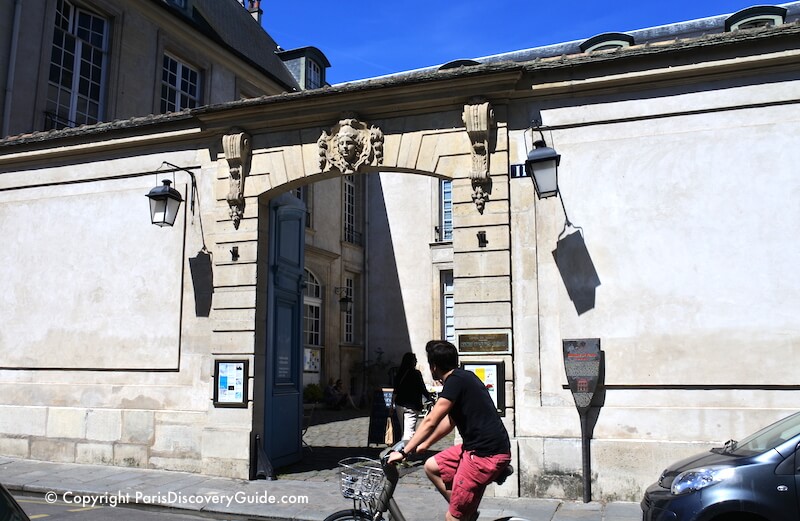 This is the almost-hidden terrace garden of the Swedish Cultural Center (Institut Suédois à Paris, 9 Rue Payenne) where you can enjoy Swedish coffee, fresh-baked bread and pastries, and other good things.
Indoors, the Cultural Center occupies Hôtel de Marle, a magnificent private mansion built in 1560. You'll find an indoor café, a museum, and many Swedish cultural activities such as concerts scheduled throughout the year. The museum presents numerous temporary exhibitions, often featuring the art of Scandinavian artists, and admission is free.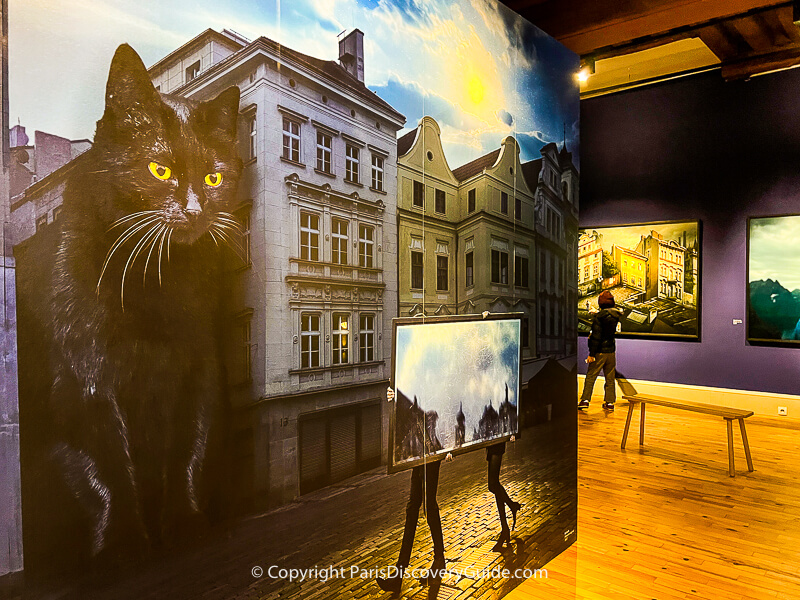 If you're lucky enough to visit in the summer, sit outside, soak up the sun, and enjoy a Swedish snack in this secluded space, softened by green foliage around the edges and gurgling water from an ancient fountain set in the wall.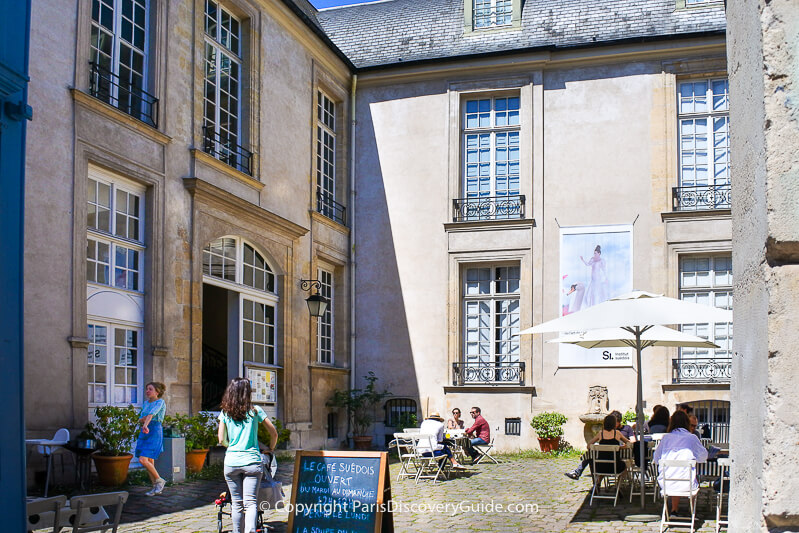 ---
Garden # 3: Square Georges-Cain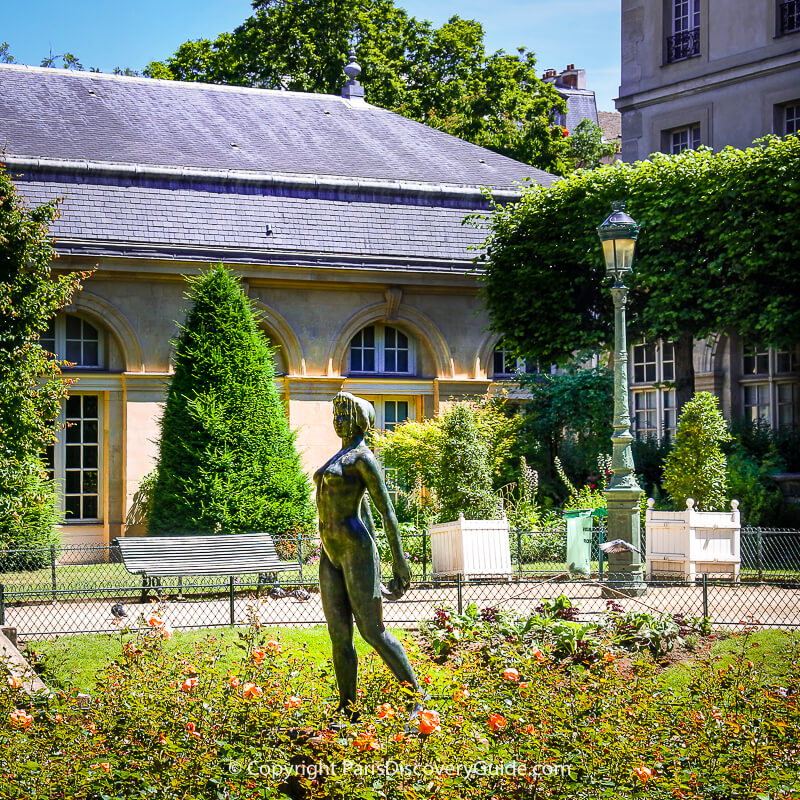 The first thing you may notice about Square Georges Cain (12 Rue Payenne), part of a 13th century convent's market garden, is the gleaming bronze statue of a nude woman.
Sculpted by Aristide Maillol, the statue graces a sunken garden where apricot-tinted roses bloom throughout summer and fall.
The wall framing the garden's south side contains a number of interesting historical Paris artifacts from the nearby Carnavalet Museum (16 Rue des Francs Bourgeois).
This pediment and columns came from the central pavilion of the old Tuileries Palace, built by Catherine de Medici in the mid-1500s and home to French rulers for 300 years until insurrectionists torched it in 1871.
Look closely, and you can see a few areas still blackened by the fire.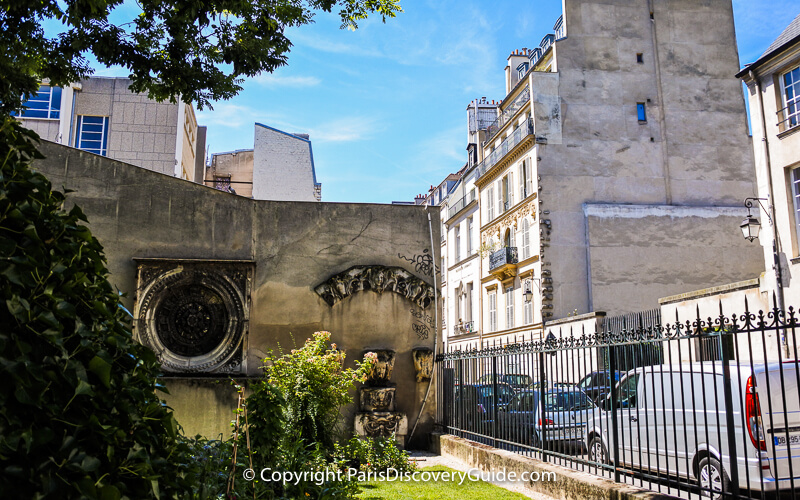 At the end of the wall, you will spot a rosette from the old Paris City Hall and a Merovingian-era sarcophagi, side by side.
(In case you're not up on the details of French history, Merovingian kings ruled much of Western Europe from 457 CE to 752 CE.)
On summer days, the sound of birds fills the garden, and plenty of benches invite you in to sit for awhile and listen.
---
Garden # 4: Square Léopold-Achille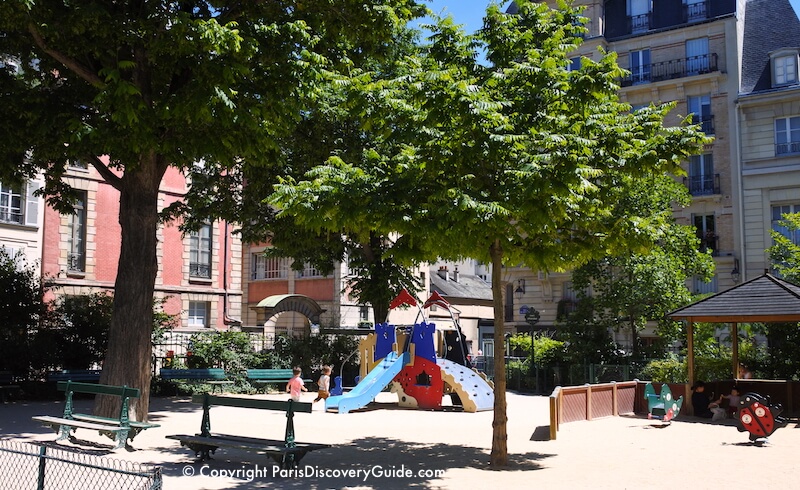 If you're traveling with children, you may want to bypass all the other Rue Payenne gardens and head straight to Square Léopold-Achille at the end of the street, where a well-equipped playground makes this a top choice for families.
But even if you don't have kids in tow, there's a lot to love about this garden.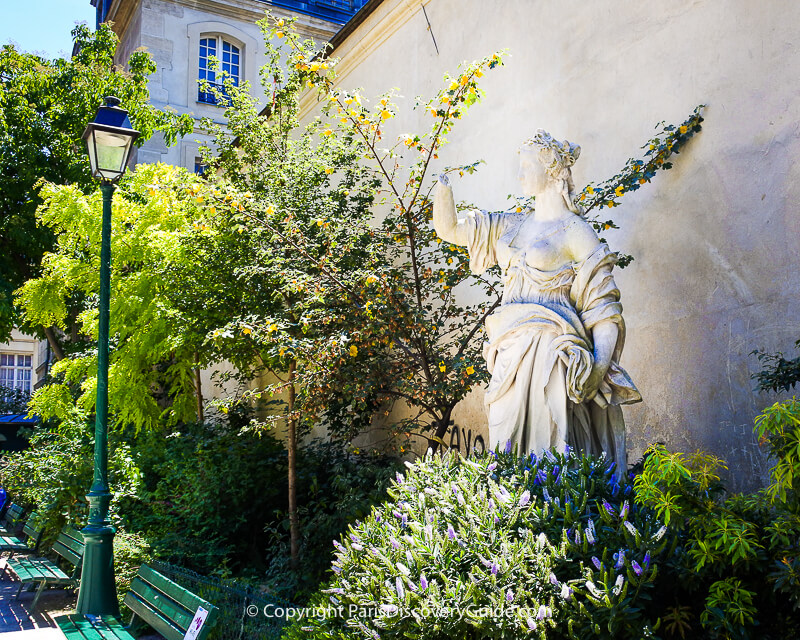 Once part of the same 13th century market plot as Square Georges Cain and later part of a royal garden extending all the way to Place des Vosges, this park offers you comfortable benches, fragrant blooming plants and flowers, and a lovely statue dating back to 1841 called Femme Debout ("standing woman").
If you visit, try this special challenge: see if you find the alcove containing a sculpted vault with two salamanders facing each other and a decorative letter "F" at the top - a historic remnant from the reign of François I (1494-1547).
---
Where to Eat near Rue Payenne Gardens: Le Sévigné (currently closed for renovations)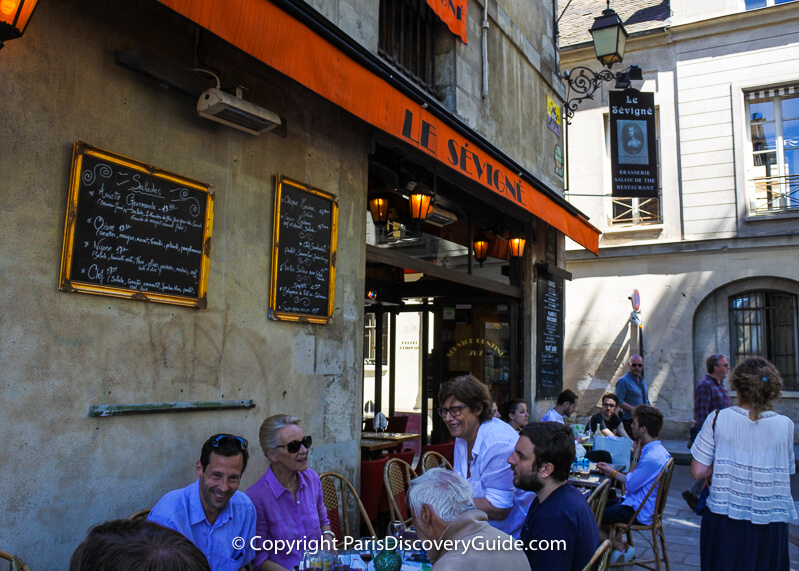 Le Sévigné (15 Rue Payenne, 75003), directly across from Square Leopold Achille at the corner of Rue Parc-Royal, not only serves up tasty brasserie fare but also gives you the experience, if only for a couple of hours, of being part of this secluded corner of the Marais off the regular tourist path.
The menu includes plenty of reasonably-priced casual favorites, several daily specialties (always a good bet), and wonderful wine choices.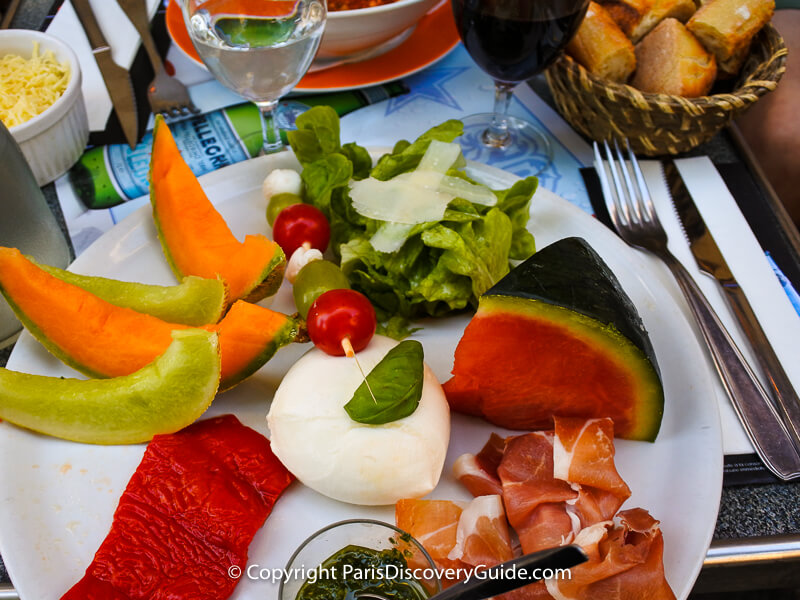 What makes this restaurant special, in addition to the good food and drink, is the friendly neighborhood vibe.
The charming owner/chef greets the mostly local diners by name as he stops by each table to chat for a few moments.
By the time you leave, he'll know your name too - and welcome you warmly when you return.
---
Where to Stay near Rue Payenne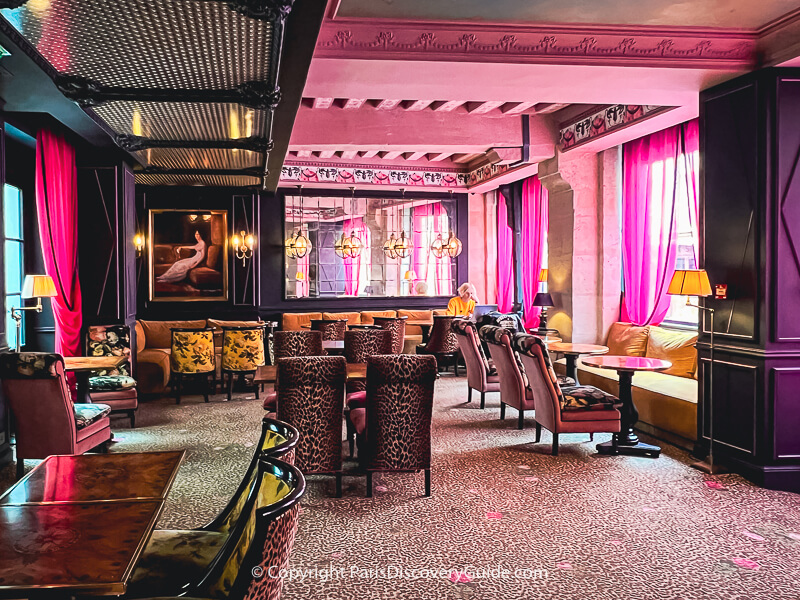 Want to stay in the perfect location for exploring the neighborhood as well as the rest of Paris? Take a look at these charming boutique Marais hotels:
Hôtel de JoBo ("Josephine Bonaparte") - Once a 17th century convent, the 24 individually decorated rooms and public spaces in this luxurious hotel combine gorgeous jewel-box decor with comfort. More
Les Tournelles - With charmingly classical decor, this 24-room hotel in a 17th century building is named after the 15th century Tournelles Palace which once graced the site of nearby Place des Vosges park. More
Hotel Caron - This highly rated 3-star boutique hotel with 18 guestrooms (including an accessible room), air-conditioning, an elevator, and personal safes is just 3 short blocks from Rue Payenne and even closer to the beautiful Place des Vosges park and trendy Marais boutiques. More
---
More Ways to Explore the Marais & Paris
---
More Marais Recommendations for You