15th Arrondissement Paris hotels and apartments offer affordable accommodations in a mostly middle-to-upper income residential area away from the touristic center, yet numerous metro lines whisk you to top attractions quickly and easily.
In fact, if you choose a hotel in the Grenelle neighborhood next to Champ de Mars, you'll be just as close to the Eiffel Tower as you would be if you stayed on the other side of the park in the 7th district yet you'll likely enjoy a lower hotel rate.
The 15th arrondissement has also has plenty of its own attractions: Montparnasse Tower (go to the top for fantastic views of the Eiffel Tower), Île des Cygnes (more Eiffel Tower views), Parc André Citroën with its hot air balloon, the Bourdelle Museum, the huge Beaugrenelle shopping center, and Parc Georges Brassens. And don't miss the 15th's weekly outdoor markets.
Unlike in the pricier 6th and 7th arrondissements next door, the 15th is where you'll find plenty of 3-star and 4-star hotels with affordable, even bargain, rates. The best part? Thanks to the excellent metro connections, you still have quick access to top attractions while getting the experience of staying in authentic Parisian neighborhood.
Top photo: Bistros and restaurants by Hotel Convention Montparnasse in Paris's 15th Arrondissement, (c) Copyright Paris Discovery Guide, all rights reserved
Paris Discovery Guide is a reader-supported publication. When you buy through our links, we may earn a commission at no additional cost for you. Learn more
---
Where to Stay in Paris 15th District
Hotel Moderniste
★★★
★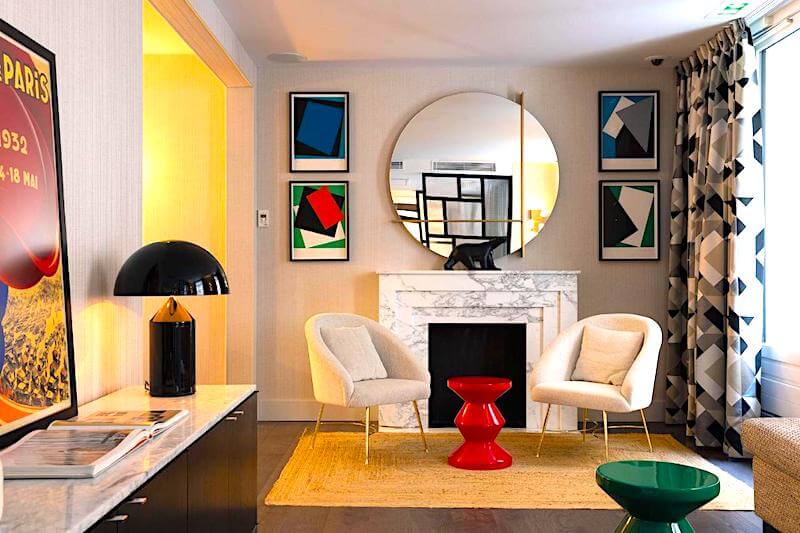 5 Rue de Langeac, 15th arrondissement
Hotel Moderniste, located in Paris's village-like Convention neighborhood about halfway between the Porte de Versailles exhibition center and the Convention Metro station where Line 12 whisks to you central Paris and Montmartre, offers 40 guestrooms (including family rooms that can sleep up to 5) and a clean, modern vibe enhanced by Art Deco/Moderne decor. A spacious breakfast room doubles as a lounge area where you can enjoy complimentary coffee, tea, and madeleines during the afternoon and evening, and also offers an honesty bar.
Like its sister hotel, Hotel Fabric in Oberkampf, the 4-star Hotel Moderniste provides excellent soundproofing and super-comfy bedding - the two most important things for a good night's sleep. Although room sizes are a bit small, like most Paris hotels, the very affordable rates mean you get great value for your money.
You'll find plenty of small but good places to eat and shop in the Convention neighborhood. An open-air market along Rue de la Convention on Tuesdays, Thursdays, and Sundays offers produce, prepared food, clothing (including a vendor selling lovely leather bags and linen clothing made in Italy), and other articles.
Also, don't miss the weekend used and antique book market at nearby Parc George Brassens, which also offers seasonal pony rides and a puppet theater for kids, and even has its own small vineyard.
---
Pullman Eiffel Tower Hotel
★★★★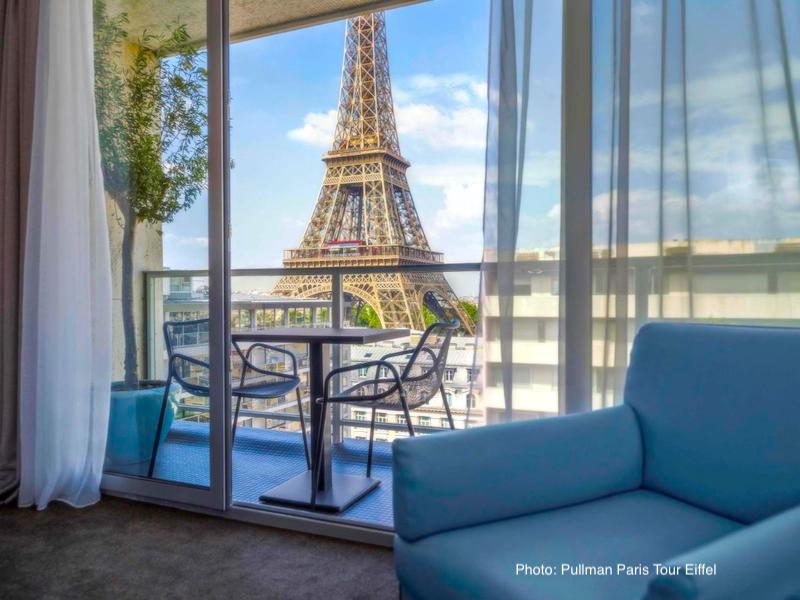 The 4-star Pullman Eiffel Tower Hotel, in the 15th's Grenelle neighborhood, offers spectacular Eiffel Tower views from many rooms and even the well-equipped gym from its location near the edge of the Champs de Mars - just a few of the reasons why visitors rank it as one of the most popular "great value" hotels in this part of Paris.
Cross over the Seine River to the Right Bank and you'll be at Trocadéro for even more views of the Tour Eiffel as well as easy access to all the interesting museums in Palais de Chaillot.
Compared with most other Paris hotels near the Eiffel Tower, the Pullman is huge - 430 guestrooms and suites comfortably decorated in sophisticated grays with occasional pops of bright color. In addition, the hotel offers plenty of adjoining rooms, making it a top choice for families or groups of friends.
Book Now
---
Hôtel Rose Bourbon
★★★
53 Rue de l'Église, 15th Arrondissement
Hôtel Rose Bourbon is the latest and one of the most stylish hotels in a lovely residential part of the 15th arrondissement's popular Grenelle neighborhood. Inspired by the Art Deco bourbon rose motif, it features 39 serene guest rooms with comfortable modern furnishings, splashes of jewel-like colors, warm hardwood floors, and appealing public areas.
Although the hotel is only 10 minutes by metro to the more touristy part of Paris and is an easy walk to the Eiffel Tower, Branly Museum, Seine River, and the André Citroen Park, home to Paris's tethered hot air balloon, it also lets you experience what living in a real Paris neighborhood might be like.
Explore Grenelle's weekly street markets, dine in the local bistros (one of the best is on the hotel's ground floor), and get to know a part of Paris that's outside of the regular tourist district - and enjoy bargain hotel rates at this 3-star hotel.
Pro Tip: Request a room with a balcony
Book Now
---
Mama Shelter Paris West
★★★
20 Avenue de la Porte de la Plaine, 15th Arrondissement
Stay in Mama Shelter West Paris and you'll get to experience the friendly, upscale 15th arrondissement, an "off-the-beaten-track" location little known to most visitors but offering plenty of interesting things to do: check out the huge weekend book market at Parc Georges Brassens (if you're visiting with children, they'll love the park's pony rides and puppet theater), linger over a drink or lunch at Café Arthur et Juliette by the park, or explore the newly accessible green space along the Petite Ceinture railroad tracks. Best of all, Mama Shelter West's location puts you less than 5 minutes from the Palais des Sports and Porte de Versailles, site of many expositions including the Paris Marathon Expo.
You'll also love the comfortable beds, fun ambiance and amenities, and attractive rates that Mama Shelter hotels are known for. What's special here: the onsite pizzeria and rotisserie, and a rooftop terrace restaurant/bar where you can enjoy wonderful views of the Paris skyline. Want to explore the city's top attractions? Hop on the metro at Porte de Versailles, and you'll be in central Paris in less than 10 minutes.
Book Now
---
Hotel Ami
★★★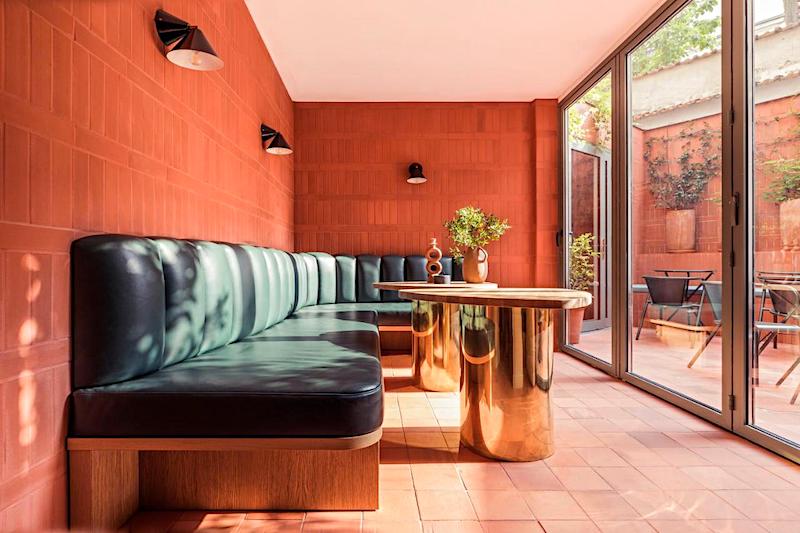 7 Rue du General Beuret, 15th arrondissement
If you're looking for an affordable Paris hotel in an appealing neighborhood close to the Eiffel Tower, take a close look at the 3-star Hotel Ami featuring glimpses of the famous attraction from a few upper-floor rooms (like #67) and just a 10-minute walk to Champ de Mars. Although the boutique property located in a former post office has been operating here since 1925, a complete top-to-bottom renovation makes it feel like new with a dazzling Nordic-minimalist design that makes the most of the compact 41 guest room spaces, including a family room.
Need more space? Head down to the appealing bar/lounge or charming walled terrace where you can sip a glass of wine or a cup of coffee made from freshly roasted organic beans sourced from local Paris roaster, Lomi. The surrounding Saint-Lambert neighborhood, a popular residential area, is also home to artisan workshops as well as numerous small restaurants, brasseries, and shops. Hop on the Metro at the Vaugirard station (Line 12) around the corner, and you'll be at the Orsay Museum in less than 10 minutes, and in Montmartre in another 7-8 minutes.
---
More Places to Stay in the 15th Arrondissement
---
Find More 15th District Hotels & Apartments
Enter your check-in date to see hotels and rates available for your visit.
Tip: If you enter only your check-in date, the map will display rates for one night for the cheapest available room. If you plan to stay more than one night, enter your check-in and check-out dates to see the total cost for your visit.
---
Popular Ways to Explore Paris
---
More Articles about Where to Stay in Paris