Where should you stay near the Palace of Versailles when you want more than one day to explore France's most famous chateau, conveniently located on the outskirts of Paris?
Fortunately, you'll find many splendid hotels and apartments to suit your budget from cheap (but good!) to 5-star luxury, most within a 2-10 minute walk to the Palace and equally close to the station where you'll get off the train from Paris.
You can even stay at the Palace of Versailles when you book a room or suite in the magnificent 5-star Airelles Château de Versailles Le Grand Contrôle luxury resort located in a fully renovated historic building on the Estate's grounds.
Why Spend the Night in Versailles?
With Chateau de Versailles just a 40-50 minute train ride from Paris, why not head back to the city at the end of the day?
Here are three reasons to make your Versailles excursion longer than just a day trip:
You want to spend more than one day leisurely exploring the Palace and the rest of the Estate.
After touring the Palace and Gardens all day, you may be tired and hungry. Perhaps you want to eat dinner in one of Versaille's appealing restaurants and enjoy a glass of wine or two.  Why not spend a relaxing night in a Versailles hotel and take the train back to Paris after breakfast?
You can save money! Versailles hotels and apartments tend to be comparatively cheaper than those in Paris. And if you book one of the resort-like hotels, you get a totally different experience.
Top photo: One wing of the Palace of Versailles, with line of people waiting to enter, (c) Paris Discovery Guide
Paris Discovery Guide is a reader-supported publication. When you buy through our links, we may earn a commission at no additional cost for you. Learn more
---
Le Louis Versailles Chateau - MGallery (Re-branded from Pullman Versailles Chateau)
★★★★
2 bis Avenue de Paris, Versailles
An ideal location between the Gare de Versailles/Château Rive Gauche RER station and the Palace of Versailles, plenty of amenities, and excellent service make 154 room Hôtel Le Louis Versailles Chateau MGallery the top choice of travelers looking for a luxurious 4-star experience.
(In case you're wondering, until recently the hotel was called the Pullman Versailles Chateau - both are part of the Accor Hotel family.)
Soak up the Mediterranean vibe of the attractive terrace, savor modern French cuisine in the onsite L'Alcove restaurant, and enjoy the sparkling public spaces and comfortable guestrooms and suites.  Traveling with your family?  Book a family room. 
A fully-equipped fitness room, spa, and hammam let you work out and relax.  And best of all, the hotel is just a 5-minute walk to the Palace Gardens and surrounding park - the perfect spot for your evening stroll.
---
Hotel Le Versailles
★★★★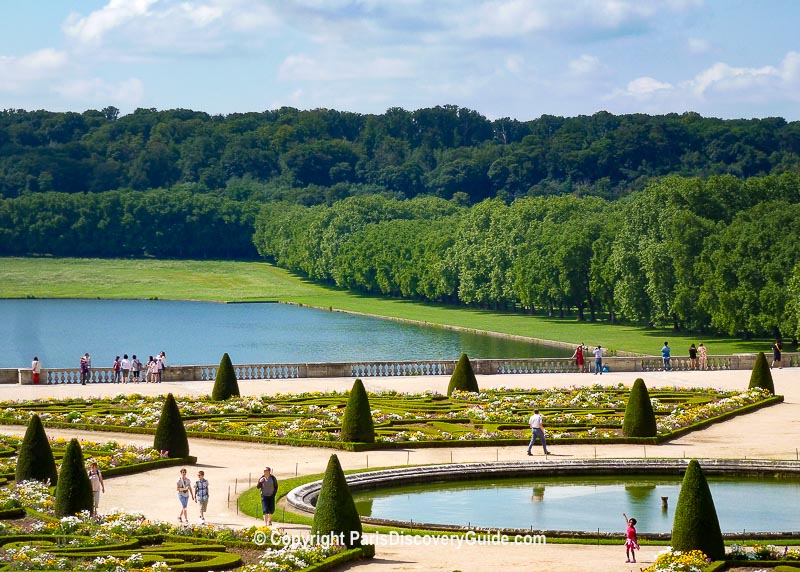 Located only about a 2-minute walk from the Palace, the 4-star Hôtel le Versailles gives you easy access to the famous chateau. You'll also enjoy dining at the nearby restaurants.
The hotel's 47 guestrooms feature richly vibrant colors, large wall murals depicting the palace and its famous occupants, and soundproof windows, room-darkening shades, and comfortable beds to give you a restful night's sleep.  You can expect top-notch service from the helpful staff.
---
Hôtel d'Angleterre
★★
Just a 5-minute walk from the RER train station and even closer to the Palace, the 2-star Hotel d'Angleterre offers simple and rather basic accommodations at cheap (for Versailles) rates.
All rooms have private baths, but the hotel does not offer air-conditioning or an elevator. 
Single, double, and even family rooms are available, and a few rooms have balconies.  Remember, this is a 2-star hotel so you should expect the guest rooms to be small. If you want more space, consider booking a double instead of a single!
In addition to being close to the station and the Palace, Hotel d'Angleterre is located on a side street. You'll find plenty of appealing restaurants on a nearby commercial street. 
A small terrace behind the hotel features a seating area and an attractive mostly-walled garden.
If you're looking for a bargain hotel in a relatively expensive area, understand the limitations of 2-star hotels, and feel comfortable with them, Hotel d'Angleterre has a lot to offer along with cheap rates.
More about the Palace of Versailles
---
Waldorf Astoria Versailles - Trianon Palace
★★★★
★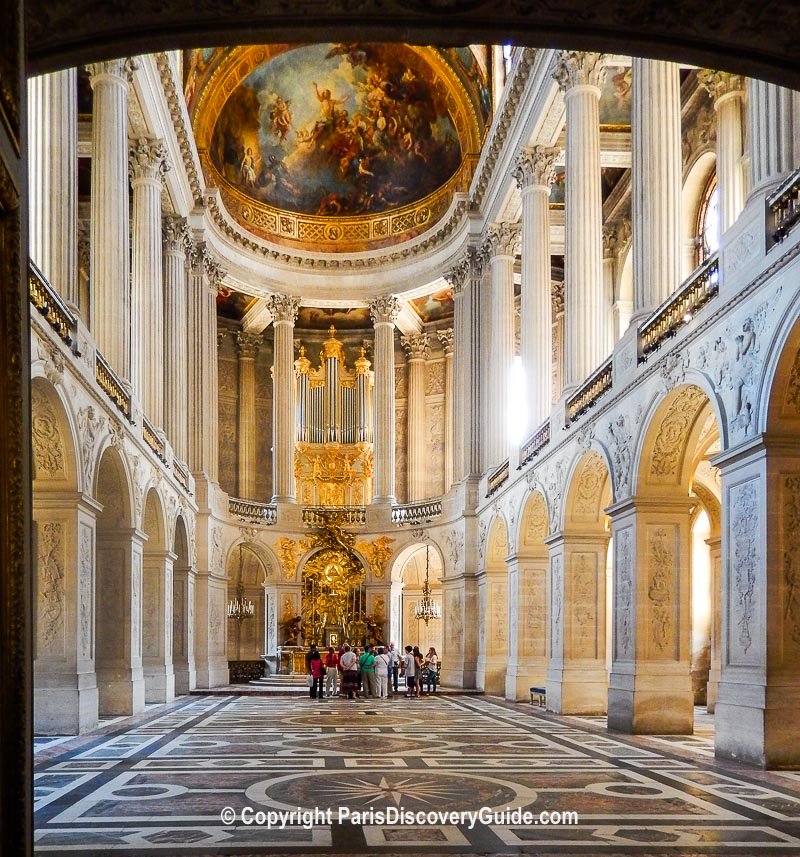 A stay in the 5-star Waldorf Astoria Versailles-Trianon Palace puts you practically on the grounds of the Palace of Versailles, tucked between the chateau and the Grand Trianon.  You'll enjoy spectacular views from many of the hotel's 85 guestrooms and 15 suites.
You'll also find plenty of resort-worthy amenities:  a lovely pool in the hotel's Guerlain Spa for swimming, floating, and relaxation, a superb Michelin-starred Gordon Ramsay restaurant featuring innovative spins on French classics (tip: book your table far in advance), and super-comfortable beds.  There's also a fitness center, sauna, and tennis courts for you to enjoy. 
Located just 14 miles (23 km) from Paris, the Waldorf Astoria Versailles-Trianon gives you the perfect spot to relax and enjoy yourself after exploring the Palace of Versailles and its estate.
Bonus:  Rates are a great bargain compared with equivalent accommodations in Paris - and the views of Versailles are unbeatable.
---
Book Your Versailles Tickets Now
---
Le Petit Pavillon de Versailles Apartment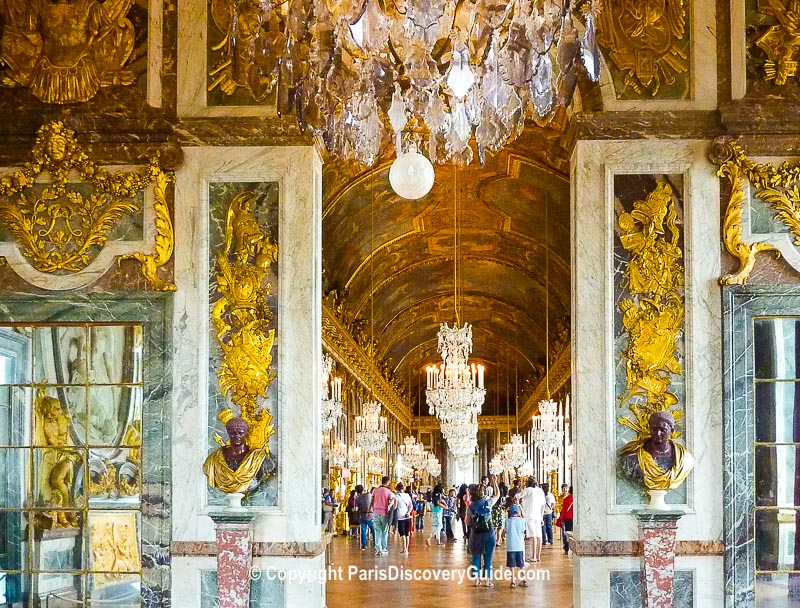 Le Petit Pavillon de Versailles is a small but lovely guest house apartment equipped with everything you need for a comfortable stay. Located on a quiet side street about a 5-minute walk from the Chateau de Versailles entrance, the apartment is close to many shops and restaurants.
The maisonette's living space is bright and airy, with tasteful French Provincial style decor in harmonious tones of white, cream, and taupe, and a small but well-equipped kitchen. 
The comfortable bed in the bedroom sleeps two.
The apartment also offers free WiFi.
---
Royal Hotel Versailles
★★
Although the 2-star Royal Hôtel Versailles offers only 31 rooms, they include a wide range of options. In addition to standard rooms, you can choose a family room that will sleep 4 or a studio room featuring a small kitchenette and dining space for 1-2 people.  
For budget travelers looking for the cheapest rates, there's even a "simple" room where you reach its private bathroom by going just across the hall.
The hotel is located just 2-3 (depending on how you count) short blocks from the RER station, so about a 12-minute walk to Versailles Palace.
The hotel's relatively new owners have updated the guest rooms and bathrooms. Decor is simple but charming.
Breakfast choices go way beyond the official 2-star minimum requirements and include jams made in-house from seasonal fruits.
As a bonus, the hotel's 20th century (1953) 3-floor building includes an elevator - one more thing that puts it a step above most 2-star hotels.
---
Novotel Chateau de Versailles
★★★★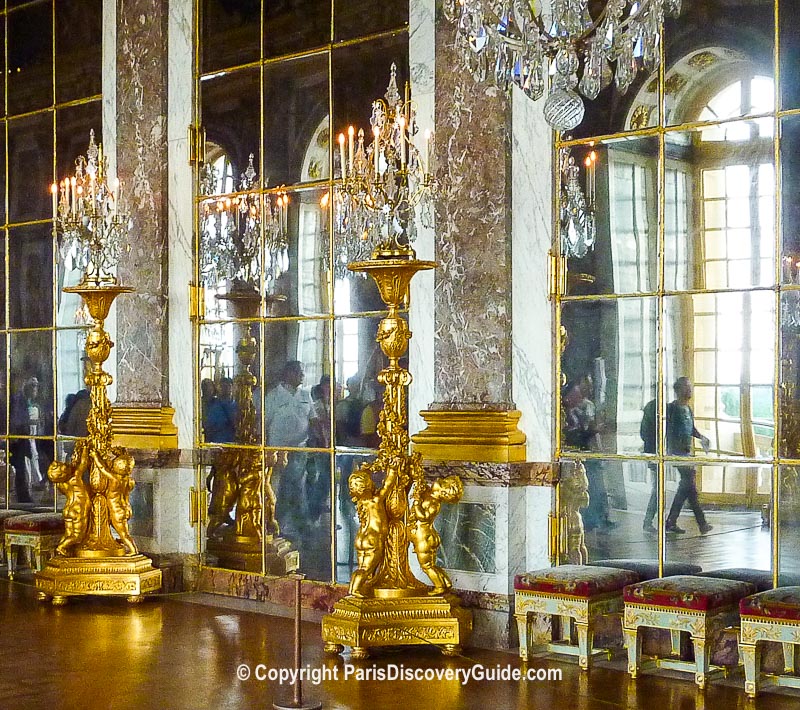 Located about a 10-15 minute walk from the Palace entrance, the 4-star Novotel Chateau de Versailles features sophisticated public spaces.
Spacious guest rooms feature comfortable beds, air conditioning, free WiFi, and calm colors.
The hotel is family-friendly and welcoming to children. An onsite restaurant serving modern French cuisine gives you a convenient dining option.
---
Ibis Chateau de Versailles
★★★
4 Avenue du General de Gaulle, Versailles
Ibis hotels are known for delivering very good value at a very affordable price, and the Ibis Versailles Chateau is no exception, starting with its super-convenient location about halfway between the train station and the chateau.
The hotel's 87 air-conditioned rooms feature modern decor and comfortable beds. You can enjoy the hotel's onsite buffet breakfast, or head to the many nearby restaurants.
The only catch? This hotel fills up quickly during the busiest seasons, so in order to get accommodations here, you need to book at least a few weeks early.
---
Hotel La Residence Du Berry
★★★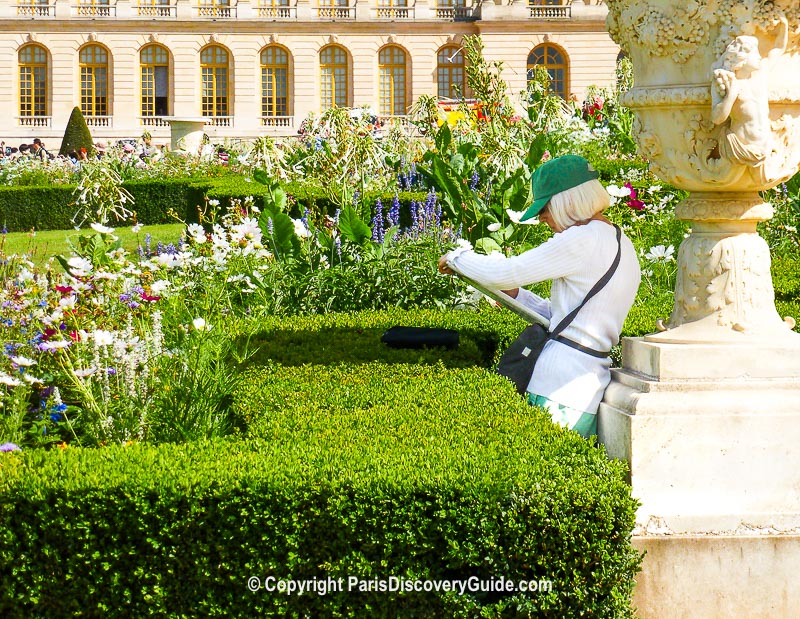 La Residence du Berry Hotel occupies a historic 1727 mansion built by King Louis XV for Sieur Louis Delalande, the officer who guarded the castle's silverware against theft by larcenous guests.  
You'll still see many original architectural details, including its exterior and the gorgeous exposed wooden beams along the staircase and in many of the 37 guest rooms and suites.
Enjoy a game of billiards at the bar, or relax on the secluded terrace. 
The 3-star hotel features an elevator and is several blocks from the Versailles Chateau-Rive Gauche RER station and about a 10-minute walk from the Palace.
---
Hotel Versailles-Chantiers
★★★
Located across from the Versailles-Chantiers RER station (ie, the one that's slightly farther from the Palace than the closer Rive Gauche station), the 3-star Hotel Versailles-Chantier is about a 15-minute walk to the Palace.
Although not quite as convenient other hotels and apartments featured in this article, Hotel Versailles-Chantier's modern design with air conditioning, an elevator, comfortable beds, international plugs, reduced mobility access, and lovely decor make it an attractive choice with budget-friendly rates.
Don't miss the lovely views from the terrace by the 6th-floor breakfast room!
---
Le Logis Versaillais Apartments
Le Logis Versaillais' 12 attractive modern apartments overlook a quiet paved courtyard and accommodate 2-4 people.
The owners will add a crib on request for a small extra charge.
The apartments range in size from studios to 1-bedrooms. Each features modern furnishings and cheerful decor. Kitchenettes in each unit provide everything you need to make a casual meal, and nearby neighborhood markets and boulangeries make shopping easy.
The Versailles-Chantiers RER station is about a block away. A 10-15 minute walk will get you to the Palace of Versailles.
---
How to Stay AT the Palace of Versailles
★★★★★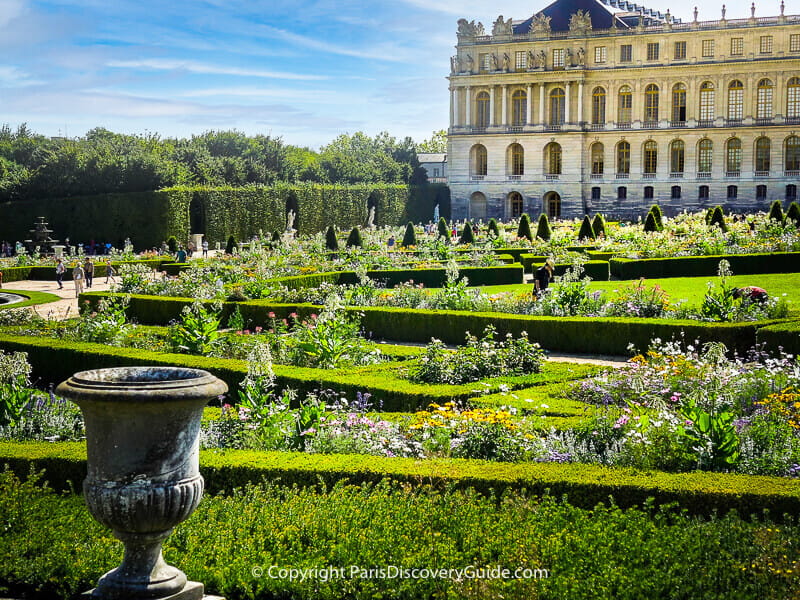 Imagine if you could stay on the Versailles Estate itself and wake up every morning to views of the magnificent gardens and Palace.
Now, thanks to the spectacular new 5-star Airelles Château de Versailles: Le Grand Contrôle hotel, you can.
Airelles, a French luxury hotel brand, has restored and transformed Le Grand Contrôle, a magnificent 1681 building where King Louis XIV once hosted Europe's brightest stars during the Enlightenment - artists, musicians, writers, scientists, politicians, ambassadors. Now, 14 spectacular guest rooms and suites as well as public spaces feature exquisite period furnishings, art, and decor.
The luxurious amenities you'll enjoy include a fabulous spa with pool, an Alain Ducasse restaurant, and your own butler. You also get complimentary perks: a private tour of the Estate of Trianon every morning, a private after-hours tour of the Palace every evening, yoga and fitness classes, and unlimited access to the electric golf carts and electric boats - plus daily breakfast, mini bar, and afternoon tea.
Of course, a stay here does not come cheap (rates start at over $2,000), but your memories of your experiences here will be priceless. Book by phone or email: +33 (0)1 85 36 05 50; reservation.legrandcontrole@airelles.com
---
A l'Hotel des Roys
★★★
14 Avenue de Paris
Located almost across the street from the front entrance to the Versailles Palace grounds, 3-star A l'Hotel des Roys> offers unbeatable convenience and the personalized service of a boutique hotel.
The hotel's 37 affordable guestrooms offers a variety of sizes, including a quadruple family room for up to four guests. Books and game boards are available to enjoy during your visit.
An outdoor terrace gives you the perfect spot to your breakfast - or simply relax after a long day exploring the Palace and its gardens.
---
Hotel Map Showing Where to Stay near the Palace of Versailles
To see the locations and rates of hotels and apartments mentioned in this article and to find even more hotels near the Palace of Versailles, enter your check-in date for your visit to see what's available.
Tip: If you enter just your check-in date, the map will display rates for one night in the cheapest available room. If you plan to stay more than one night, enter your check-in and check-out dates to see the total cost for your visit.
Find more hotels in Paris & at other day trip destinations
---
Fun Ways to See Versailles Palace & Gardens
Find out more about tours to Versailles from Paris
---
More Articles about Visiting Palace of Versailles