When you choose one of the excellent hotels near Notre Dame for your visit, you'll be close to the famous cathedral as well as two other medieval masterpieces on Paris's historic Île de la Cité: Sainte-Chapelle and its soaring stained glass windows, and the haunting Conciergerie where Marie Antoinette spent her last days.
Although there are no hotels aside from a small guesthouse or two on Île de la Cité itself, you can choose from plenty of wonderful places to stay on neighboring island Île Saint-Louis or across the Seine in the Latin Quarter.
Île Saint-Louis is mostly residential, with wonderful cafés and shops at street level. Lovely small boutique hotels occupy several of the island's elegant 17th century townhouses, giving you a taste of what life is like in this special Paris enclave.
Or, you can opt for the livelier vibe of the Latin Quarter, just a 1-2 minutes' walk from Notre Dame on the Left Bank. Our recommendations in this famous neighborhood (including a couple of Paris hotels with balconies or a rooftop terrace) are near the river, a fascinating area you'll enjoy exploring.
---
Hôtel des Deux-Îles
★★★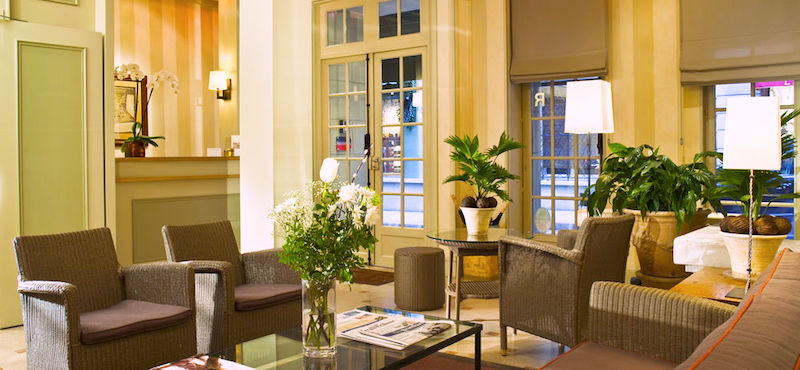 Located on Île Saint-Louis just 5 minutes by foot from Notre Dame, 3-star Hôtel des Deux-Îles is surrounded by tantalizing food shops, wonderful bistros, and fashion boutiques.
The hotel's 17 guestrooms feature charming, restful decor and let you experience, if only for a few days, life in an elegant 17th century townhouse. But don't worry - the luxurious, spacious bathrooms are definitely 21st century!
You'll find plenty to explore (and buy) on this special island in the middle of the Seine - be sure to sample the famous ice cream at Berthillon around the corner on Rue Saint-Louis en l'Île - but you'll also appreciate how this central location puts you close to multiple other attractions and Métro stops on both banks of the Seine.
---
Hôtel Parc Saint-Séverin
★★★★
The charming 4-star Hôtel Parc Saint-Séverin overlooks a quiet pedestrian-only street behind Église Saint-Séverin in Paris's Latin Quarter.
The hotel's 27 rooms are decorated in calm neutral shades with pops of jewel-like colors and many luxury touches. You'll find that the hotel's smaller rooms are a bargain for this location, while larger ones offer balconies with wonderful Paris rooftop and skyline views.
You can easily reach both Notre Dame and Sainte-Chapelle in about 5 minutes on foot, but be sure to also take time to explore this neighborhood's gems - the medieval tapestries and Roman baths at Cluny Museum, the English-language bookstore and café at Shakespeare & Company, and if you're here in December, the wonderful Christmas market held each year at Square René Viviani, directly across the Seine from Notre Dame.
---
Hôtel Saint-Louis en l'Île
★★★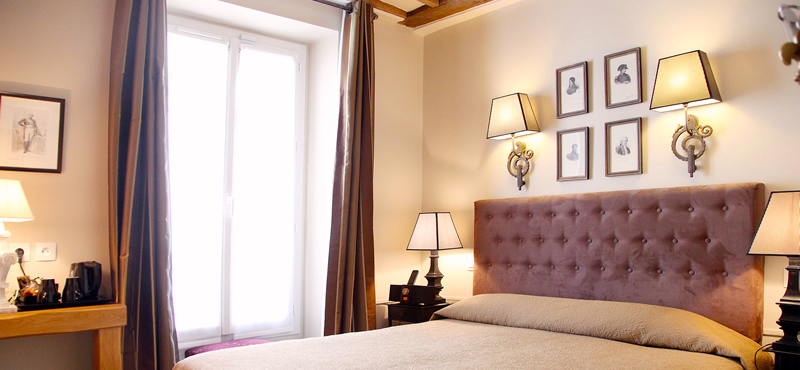 The 3-star Hôtel Saint-Louis en l'Île is only about 300 yards - the length of an American football field - or a 4-minute walk from Notre Dame, making it the closest of all the Île Saint-Louis hotels.
With only 20 rooms on the hotel's 5 floors, you'll feel like you are in a private home, tastefully decorated with a few satiny old beams and terra cotta tiles to remind you of its 17th century origins. You'll love the personalized service, including the hotel's own airport transport and car service (extra fee).
When you're not exploring all of the nearby attractions, there's lots to enjoy on the island - relax over a leisurely lunch at an outdoor table at a nearby restaurant, stroll along the Seine, and enjoy the street performers on the Pont Saint-Louis bridge.
---
Albe Hôtel Saint-Michel
★★★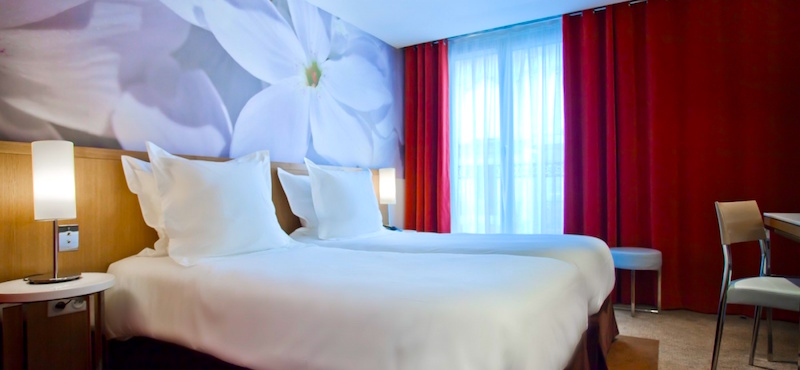 Chic modern furnishings and a location on a quiet side street make the 3-star Albe Hôtel Saint-Michel a comfortable haven, despite being just steps away from the Saint Michel Métro/RER station, gateway to the lively Latin Quarter yet still close to Notre Dame.
Each of the Albe Hotel's 43 guestrooms and suites is decorated with a unique theme, with a Scandinavian influence in the clean design and splashes of color against monochromes. The hotel offers plenty of triples, making it a great choice for small families or a group of friends.
You'll have easy access to Notre Dame and other Île de la Cité attractions, as well as to all the wonderful Latin Quarter bistros, galleries, and boutiques.
---
Hôtel Henri IV
★★★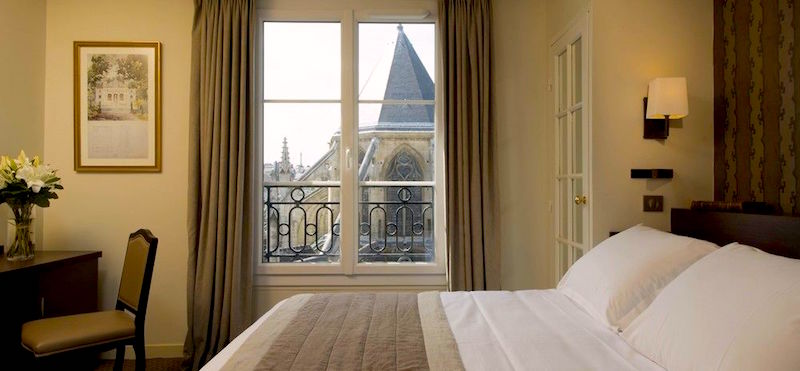 Located next to 13th century Église Saint Séverin in the Latin Quarter, the 3-star boutique Hôtel Henri IV - Rive Gauche is only about a 3-minute walk from Notre Dame Cathedral.
With only 23 guestrooms in the stately 17th century townhouse, you'll feel at home among the antique furniture, warm woodwork, tapestries, and vintage tiles - but you'll also enjoy the luxuriously modern bathrooms and comfortable beds. For a special treat, request a room with a balcony overlooking Paris rooftops. And don't miss the small guests-only private rooftop terrace!
The hotel's location means you're close to all the top Latin Quarter attractions in addition to Notre Dame and Île de la Cité. Be sure to take some time to explore beautiful Saint Séverin Church next door.
---
Find More Paris Hotels & Apartments near Notre Dame
Use this Paris accommodations map to find more hotels and apartments near Notre Dame Cathedral and other top destinations.
Enter your travel dates to see best rates:
Check out the newest Paris hotels
---
Fun Ways to See Notre Dame Cathedral
Even though the famous cathedral is still blocked off to visitors while rebuilding efforts repair damage from the tragic 2019 fire, it is still worth seeing and hearing an expert guide's perspective on its importance in Paris history.
***y-gyg-notre-dame.shtml***
---
More Articles about Best Places to Stay in Paris