Do you love veering slightly off the usual tourist paths to discover hidden gems when you travel to Paris?
If your answer is "Yes," then put exploring Paris's covered passages, or "passages couverts" as they are called in French, high on your rainy day Paris bucket list. An afternoon spent wandering through these 18th- and 19th-century private shopping lanes will give you a fascinating glimpse of an almost-forgotten era in the city's history.
With their spectacular glass roofs and elaborate Neoclassical, Art Nouveau, and even Art Deco decor and embellishments, the best covered passages in Paris's central districts give you a unique place to shop for artisan gifts, enjoy a casual meal, and soak up the historical details.
Located mostly in Paris's wealthier Right Bank, covered passages are essentially private pedestrian-only paved roads built in spaces between existing buildings and connecting two main thoroughfares, with iron gates or large wood doors at each end that get closed and locked every night.
From the street, all you can typically see are the passages' entrances, and they are easy to miss unless you know what to look for.
But once you venture inside the covered passages, the street view gets replaced by a completely different universe.
Spectacular glass roofs let light pour in while protecting walkers from rain and cold. Rows of shops, cafes, and sometimes theaters and concert halls line both sides of the covered walkways.
To maximize their profits, builders typically added upper floors for apartments, often with interior windows overlooking the passages. Today, if you look up, you may still see these dwellings (although some now function as offices).
To attract wealthy upper middle-class shoppers, many passages displayed elaborate decor and embellishments in neoclassical, art nouveau, and even art deco styles - which is still part of their allure.
Some practically drip with gilding, marble, mosaics, fancy clocks, mirrors, sculpture, elaborate wood paneling, and decorative paintings, which of course adds to their charm. Even if you have no interest in shopping, the ornamentation makes the passages worth seeing.
How Many Covered Passages Still Exist in Paris?
Today, 21 covered passages still exist in Paris, although that number includes one (Passage des Princes) that is closed for either major renovations or demolition and another that is closed to the public.
Although we include the modern Passage du Havre shopping mall in this article for reference, all that it shares with the original covered passage is its name and location, so it is not included in the count of 21.
How many covered passages once existed in Paris? Based on historical property records, maps, and other sources, French researchers and architectural historians have identified 20 additional passages (including Passage du Havre) that were demolished.
Adding the 20 destroyed passages to the 21 that still remain, that means a total of 41 of these special historical sites existed in Paris at some point.
Among the remaining 21 covered passages, a sizeable handful thrive, two are currently closed to the public, and most of the others retain enough of their original details to be worth a quick stop-by if you're in the neighborhood.
In the next section, you'll find our comprehensive guide to Paris's hidden passages with descriptions, details, and visiting information about all of the 21 remaining covered passages.
Paris Covered Passages Walking Tours
To explore Paris's covered passes with an expert guide, join one of these popular walking tours:
Please note: Although the information about open days and hours was accurate (to the best of our knowledge) at the time of publication and we update it periodically, it may change at any time without our knowledge. Please verify days/times before coming, and be flexible with your plans in case of unexpected closures. Most of these passages close on public holidays, many close on Sundays, and some also close during parts of August.
Top photo: Galerie Vivienne, covered passage in Paris's 2nd district, (c) Paris Discovery Guide
Paris Discovery Guide is a reader-supported publication. When you buy through our links, we may earn a commission at no additional cost for you. Learn more
---
How to Use this Guide to Covered Passages in Paris
Covered Passage Map
---
Article Contents
This article is long and packed with information and tips. If you're interested in a specific passage, use these quick links:
Covered Passage Star Ratings
To help you decide whether you want to visit (or not), we've given each passage a star ranking:
★★★ - The crème de crème and hidden gems: the most beautiful, charming, and/or fascinating covered passages - well worth a special trip to explore, and perfect for shopping, a meal, or spending a rainy afternoon
★★ - Stop by and explore if you happen to be in the neighborhood or if you happen to have a special interest in what's on offer inside
★ - Most of these are currently closed, with an unclear future - but if you're nearby, you can at least see the exterior, and, if you're curious, you may be able to peer inside
---
Covered Passages Near Palais Royal
Galerie Véro-Dodat: Paris's Most Elegant and Luxurious Covered Passage
★★★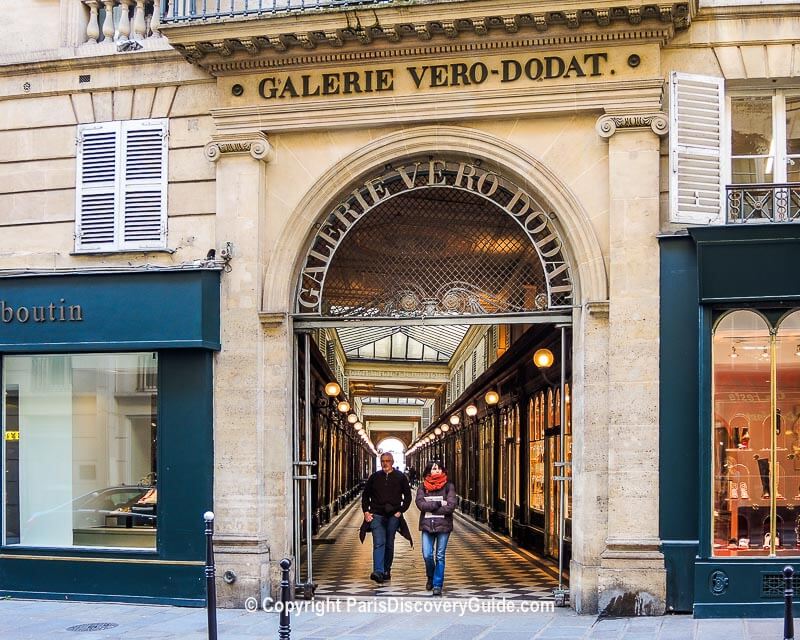 When Galerie Véro-Dodat opened in 1826 just as Parisians' passion for covered passages was sweeping full-force across the city, it stood out from other nearby competitors because of its elegant neoclassical design, assortment of luxury boutiques, and stunning peaked glass ceilings.
It still does.
Identical wood-paneled shop fronts with tall arched glass windows, ornate columns, mirrors topped by glass light globes, ceiling paintings of mythological Greek characters between the glass roofs, and a beautifully maintained black and white marble floor give you a lot to admire here, even before you enter the shops.
Built by a local charcutier (butcher) named Benoît Véro and a wealthy financier named Dodat, the passage gave Parisians a convenient short cut between the shops under the covered arcades surrounding the Palais Royal Garden and Les Halles, Paris's former central fresh food market.
Galerie Vero-Dodat's popularity soared almost as soon as it opened, and it retained its appeal until well into the 19th century, long after shoppers deserted other covered passages in favor of the new Bon Marché and other big department stores. After a top-to-bottom restoration in 1997, the passage again displays its original beauty.
Although the two Louboutin showrooms may be the showstoppers, the art galleries, antique and home decor stores, an antiquarian bookseller, jewelry and accessories shops, and luxury clothing boutiques are outstanding.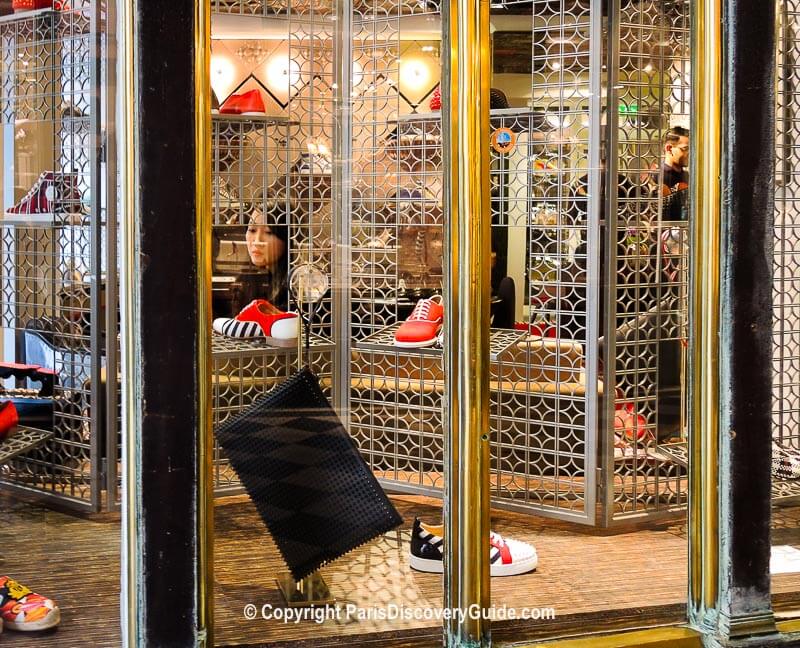 Many of the shop owners are specialists in their fields, and attract international clientele.
For example, if you are a highly acclaimed gypsy jazz guitarist from another European country and need a specialized repair on your Selmer Maccaferri, you'll seek out the expertise at the stringed instrument and sales showroom at F. Charle.
The rest of us will be content to just drool at the vintage concert posters in the window.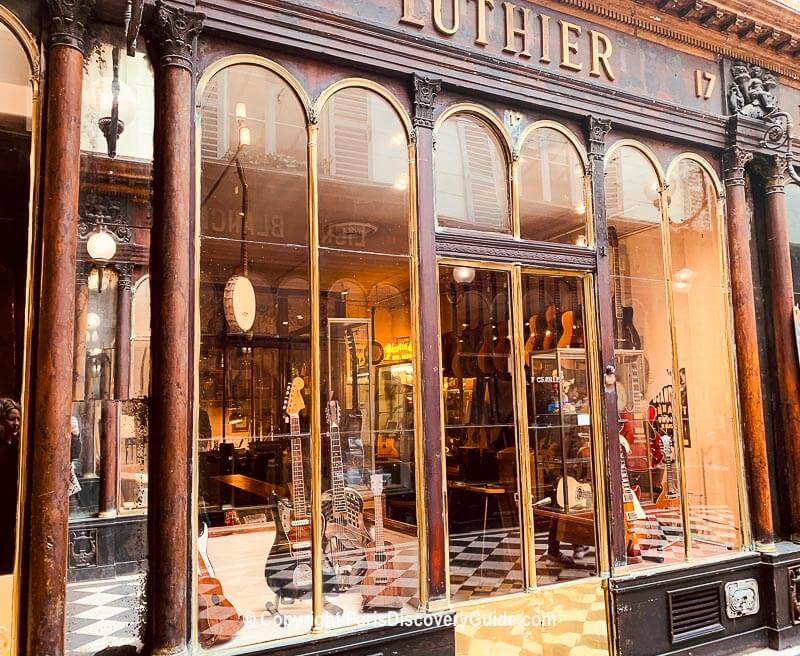 Galerie Véro Dodat also includes a couple of appealing and affordable places to eat: historic Café de l'Epoque, which serves up classic French brasserie dishes, and Restaurant Véro-Dodat, which specializes in simple homemade dishes.
Véro-Dodat Gallery location: Entrances at 2 Rue du Bouloi and 19 Rue Jean-Jacques-Rousseau; 1st arrondissement
Open: Monday - Saturday, 7am - 10pm
Other nearby attractions: Contemporary art at the Pinault Collection in the Bourse de Commerce; kitchenware emporium E. Dehillerin on Rue Coquillière. Also nearby: Seine River, Louvre Museum, Palais Royal Garden, Les Halles, Saint-Eustasche Church
Galerie Vivienne: Still Charming & Beautiful after 200 Years
★★★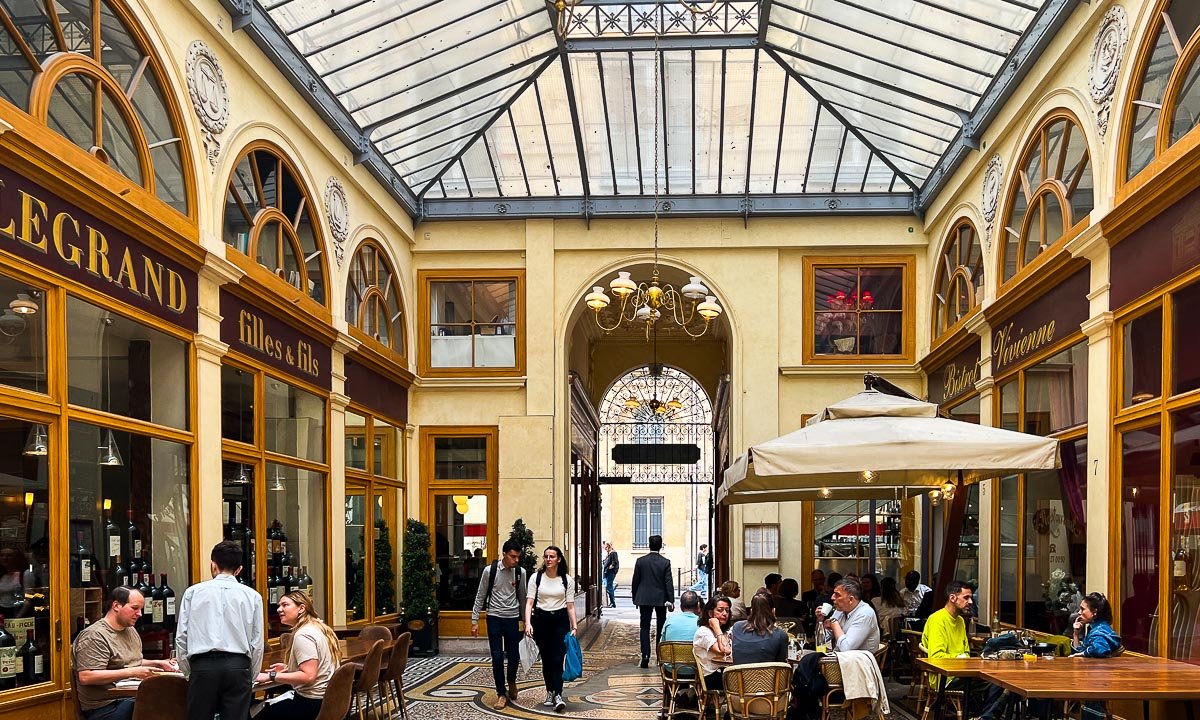 Upscale Galerie Vivienne (entrances at 6 Rue Vivienne, 5 Rue de la Banque, and on Rue des Petits-Champs) opened in 1826 after three years of construction.
The owner, a notaire (the French term for a real estate lawyer) named Marchoux lived at 6 Rue Vivienne and bought several adjacent properties for development, with room for an L-shaped passage running between them.
To maximize the available space, Marchoux's architect designed a passage punctuated by spacious areas perfect for dining and wine-sipping, which you can still enjoy today.
Almost 200 years after it opened, Galerie Vivienne continues to be one of the loveliest of the Paris passages, thanks to its beautifully restored original mosaic floors, decorative elements inspired by ancient Greece, a soaring steel-and-glass roof over a rotunda, and numerous high-end clothing boutiques, gift shops and specialty stores, including antique and vintage shops.
Most notably, Jean-Paul Gautier put Galerie Vivienne on the luxury fashion map when he opened his flagship boutique there in 1986, not long after Madonna and other designers have followed even though Gautier has moved on.
If you are an oenophile, you'll want to stop by Lucien Legrande Filles et Fils to browse their superb selections of wines and gourmet foods, or experience a special wine tasting event or meal in its adjacent restaurant, Le Comptoir de Dégustation.
Across the passage, Bistro Vivienne serves French cuisine favorites.
Nearby: Galerie Colbert and Passage des Deux Pavillons, Rue Sainte-Anne Asian restaurants, Palais Garnier (Paris Opera House)
Entrances: 4 Rue des Petits-Champs, 6 Rue Vivienne, and 5 Rue de la Banque; nearest metro: Bourse or Pyramides
Open: Monday - Sunday, 8:30am - 8:30pm
More to Explore: If you are interested in design (and eventually seeing another covered passage), leave Galerie Vivienne through the Rue de la Banque exit. Take a few moments to admire the Notre Dame des Victoires Basilica to your left, and then walk up Rue du Mail for excellent window-shopping at interior design, furniture, and fabric showrooms. Once you pass Rue Montmartre, the street become Rue de Clery in the Sentier neighborhood. One street over is Rue d'Aboukir, where you can find another covered passage, Passage du Caire (to spot its entrance, look for Hotel du Sentier).
What Made Paris's Covered Passages So Popular?
The first covered passages began to pop up in Paris during the late 1700s to provide the newly emerging bourgeois (middle class) with sheltered spots for indulging in their favorite leisure activities: strolling, meeting up with friends, shopping for luxury items, dining, drinking, and even attending the theater or seeing a show. They can be seen as precursors of today's shopping malls and entertainment complexes.
The Paris of 250 years ago is almost impossible to imagine as you walk around the city today - but at that time, Paris was still basically medieval in its design and amenities, defined by small half-timbered buildings, narrow winding lanes, no sidewalks, and open sewers.
Every time rain fell, the lanes filled with mud that horse-drawn carriages splashed onto any pedestrians brave or unlucky enough to be walking along the edge of the roads. And thanks to the horses, mud wasn't the only messy substance hitting the walkers. In addition, the city smelled really, really bad.
To address these needs (and, of course, to make money), developers, investors, speculators, and capitalists created a new type of urban environment: covered passages. Once you visit one, you'll see why they're considered the precursors of modern shopping malls.
Galerie Colbert - A Spectacular Reconstruction (But No Shops!)
★★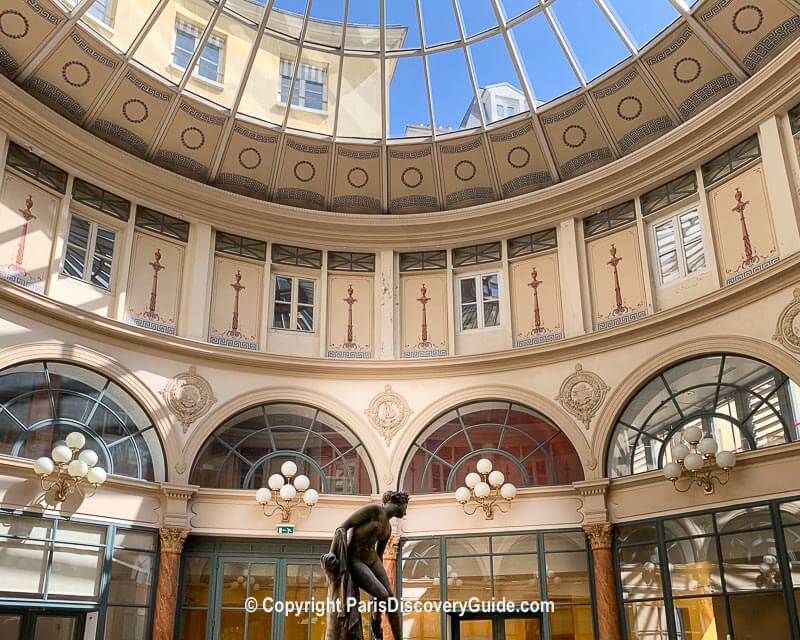 The first two things you'll notice about Galerie Colbert are 1) its spectacular rotunda topped by a glass dome, and 2) it contains just one restaurant, the splendid and very popular brasserie, Le Grand Colbert, and no shops.
That's because the National Library of the Institut de France bought the 1826 covered gallery (along with its next-door neighbor, Galerie Vivienne) in the 1980s. It now houses the National Institute of Art History plus a number of cultural institutions.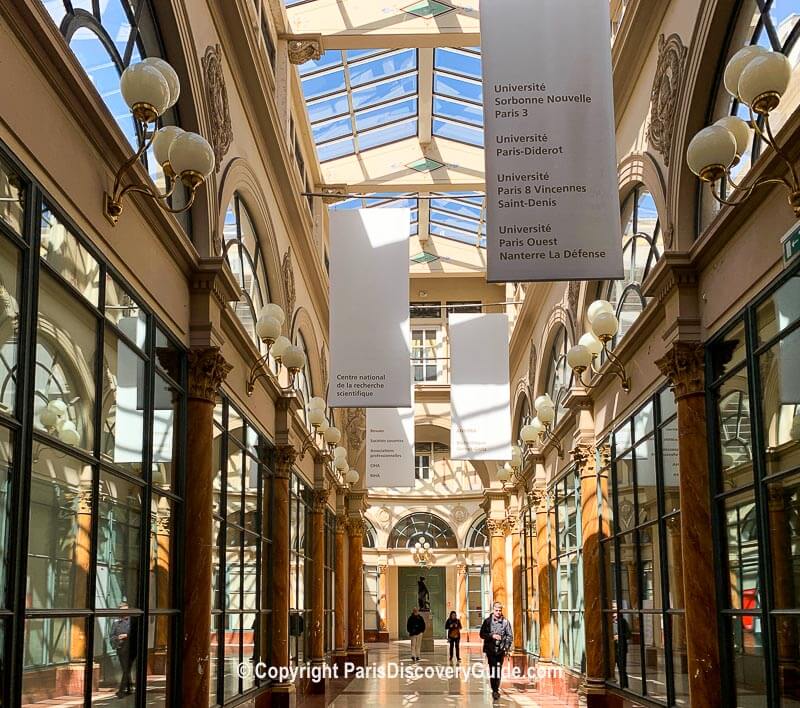 Galerie Colbert owes much of its beauty to Adam & Company, a group of speculators who noticed the almost instant commercial success of nearby Galerie Vivienne after its 1826 opening.
They decided to compete with Galerie Vivienne by opening later that year an even more elaborate and beautiful covered passage next door featuring opulent Pompeian-style decor, spacious halls, and of course (since Galerie Vivienne had one), a gorgeous rotunda.
To ensure a competitive advantage, they located its entrance directly across the street from Passage des Deux Pavillons in the hope that shoppers leaving Palais Royal would head to their passage instead of the slightly less convenient Galerie Vivienne.
Not surprisingly, the relationship between the owners of the two rival passages quickly deteriorated.
But Adam & Co's scheme to divert Galerie Vivienne's customers to Galerie Colbert backfired when Galerie Vivienne's owner outwitted them by promptly buying Passage des Deux Pavillons and rerouting its entrance to open directly across from Galerie Vivienne.
Even though Galerie Colbert enjoyed a surge of success when it first opened, its popularity soon began to decline, and never recovered.
By the time the National Library acquired Galerie Colbert, it had been closed to the public for about a decade. Its rotunda was totally missing; overall, the structure was beyond repair. The passage had to be demolished and was rebuilt in 1985 under the direction of French architect Louis Blanchet, who specialized in the restoration of historical buildings.
You can still walk through Galerie Colbert (after passing a security check point) to admire the dome and ornate glass-roofed passage. It's well worth seeing, especially on a sunny day.
Even though the passage you'll experience today is a reproduction, it is believed to closely resemble the original in most regards, including the meticulous re-creation of the Pompeian Italian decor.
The biggest difference, of course, is the lack of shops.
For a special treat, enjoy a meal at Le Grande Colbert, which was also renovated in 1985 and is now one of Paris's loveliest Belle Epoque-style brasseries featuring ornate Art Nouveau and Pompeian decorations and an appealing (and reasonably affordable) menu with an emphasis on seafood.
Nearby: Passage Vivienne and Passage des Deux Pavillons, Palais Royal Garden, Louvre Museum
Entrances: 6 Rue des Petits-Champs, 4 Rue Vivienne; nearest metro: Bourse or Pyramides
Open: Monday - Sunday, 8:30am - 8:30pm
More to See: For a special treat, enjoy a meal at Le Grande Colbert, a former bouillon (a type of French restaurant that became popular in the late 1800s/early 1900s and that serves simple, traditional cuisine at affordable prices) which was also renovated in 1985 and is now one of Paris's loveliest Belle Epoque-style brasseries featuring rather elaborate Art Nouveau (typical in bouillons) and Pompeian decor and an appealing, reasonably affordable menu with an emphasis on seafood.
Passage des Deux Pavillons: Artisans & Specialty Boutiques
★★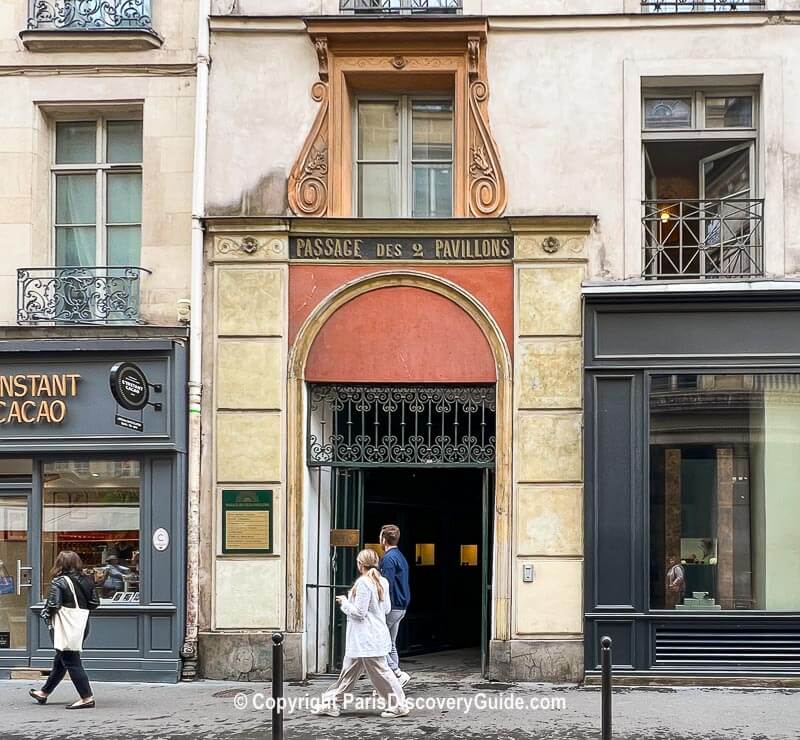 Passage des Deux Pavillons, the second-shortest of Paris's covered shopping passages, opened in 1820 as a covered walkway between the elegant late 18th century Palais Royal arcades and Rue des Petit-Champs.
The most dramatic moments in the passage's history arose from a bitter rivalry between the owners of two covered walkways on the other side of Rue des Petit-Champs, Galerie Vivienne and Galerie Colbert, which both opened in 1826.
When the developers of Galerie Colbert noticed the popularity of newly-opened Galerie Vivienne, thanks in part to its proximity to Passage des Deux Pavillons' entrance, they designed Galerie Colbert so that its own entrance would be directly across the street. Shoppers, they reasoned, would take the most direct path into their own passage.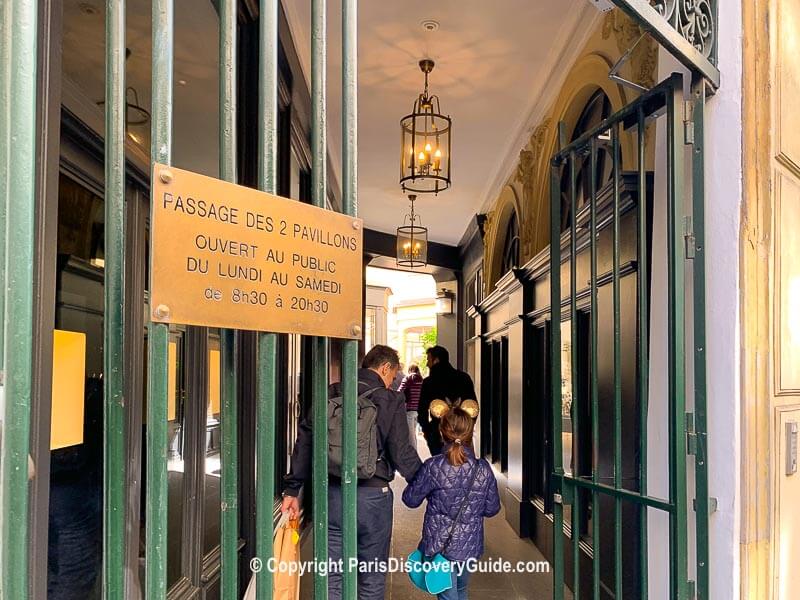 And that's exactly what happened - until the owners of Galerie Vivienne bought Passage des Deux Pavillons and repositioned its entrance to be directly across from their own.
You'll experience the effect of this bit of history as you navigate the rather strange twists and turns you'll encounter as you explore the walkway.
What makes Passage des Deux Pavillons fascinating today is its unique selection of highly skilled artisans and specialty boutiques, such as Derville, the maker of bespoke made-to-measure shoes, leather bags, and small (and affordable) gift-worthy leather items.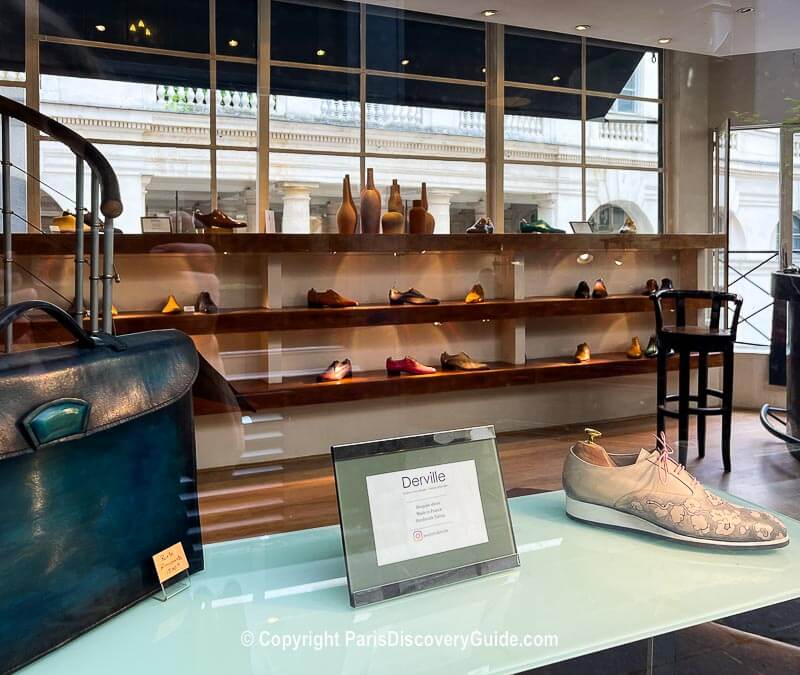 Entrances: 6 Rue de Beaujolais (lower level by Palais Royal), 5 Rue des Petits-Champs (upper level), 1st arrondissement
Open: Monday - Sunday, 8:30am - 8:30pm
Other nearby attractions: The covered arcades surrounding Palais Royal Garden; Willi's Wine Bar (13 rue des Petits Champs); the Musée du Louvre on the other side of Rue de Rivoli
---
Covered Passages near the Grands Boulevards
The 2nd arrondissement is where you'll find the biggest assortment of covered passages, including several of the most popular and most fascinating.
If you're looking for rainy day activities in Paris, you could easily fill the entire day exploring them and still perhaps not have enough time to visit every one - especially if you take time out for a leisurely lunch, perhaps visit the Grevin Wax Museum in Passage Jouffroy, and relax over a glass of wine at a cafe for some quality people-watching time.
Quick links to passages in this section:
Passage Choiseul - Artisan Boutiques & Asian Bistros near Rue Sainte-Anne
★★★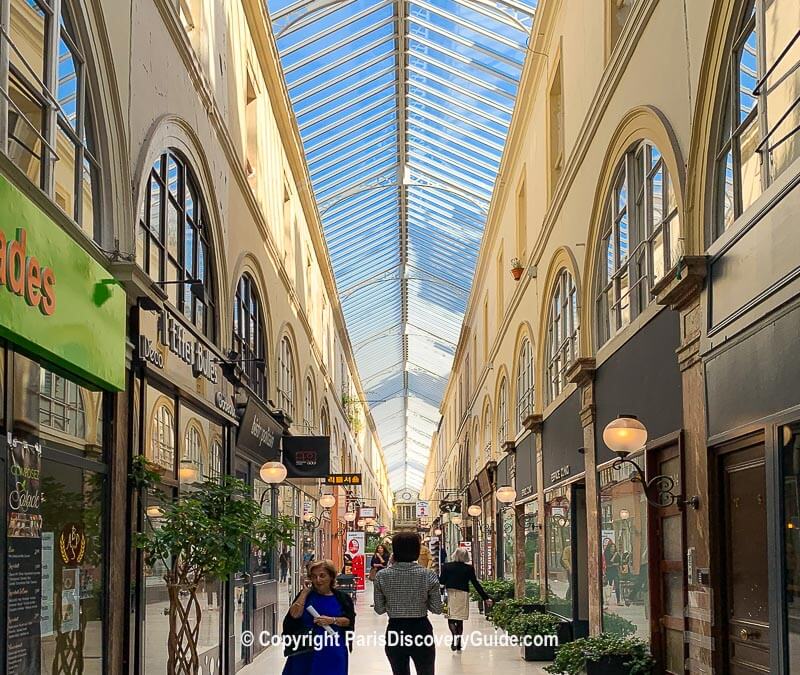 Dating back to 1826, Passage Choiseul is an extension of Rue de Choiseul (entrances at 40 Rue des Petits-Champs and 23 Rue Saint-Augustin) near the trendy Rue Sainte-Anne neighborhood, known for its many popular Asian restaurants and shops.
Passage Choiseul contains a variety of antique and vintage shops, galleries, clothing boutiques, jewelers, and specialty businesses, some of which have been here for over a century.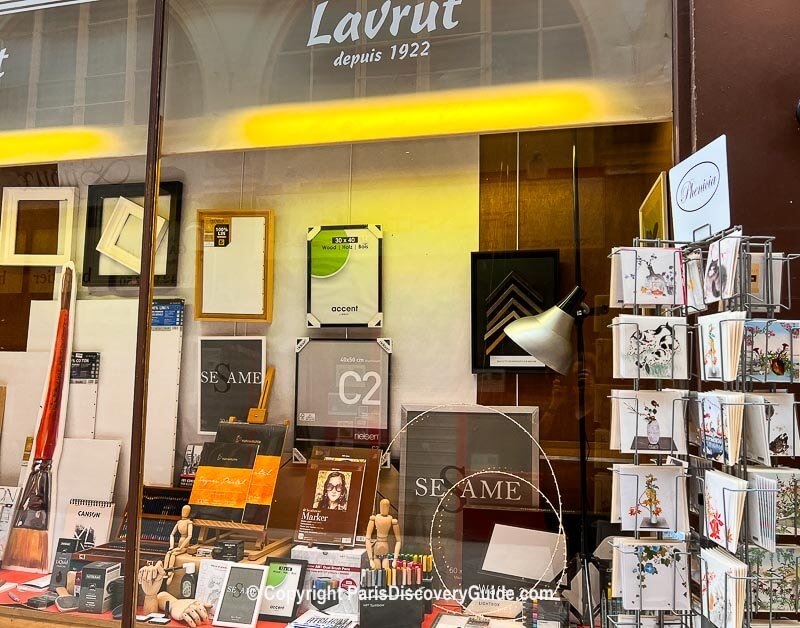 If you're shopping for unique gifts for deserving recipients (such as yourself), be sure to stop by Lavrut (#52), featuring gorgeous art supplies, and Boisnard, an engraver and printing shop that also carries irresistible leather goods, notebooks, and pens.
Of course, plenty of the other specialty boutiques here offer many gift-worthy items - everything from inexpensive 10€ canvas shopping bags printed with cute designs that you won't see anywhere else to very expensive exquisite antiques and artworks.
There are also plenty of things between these two extremes, including several fashion boutiques with unique and original designs.
You may spend much more time browsing here than you expected when you walked in.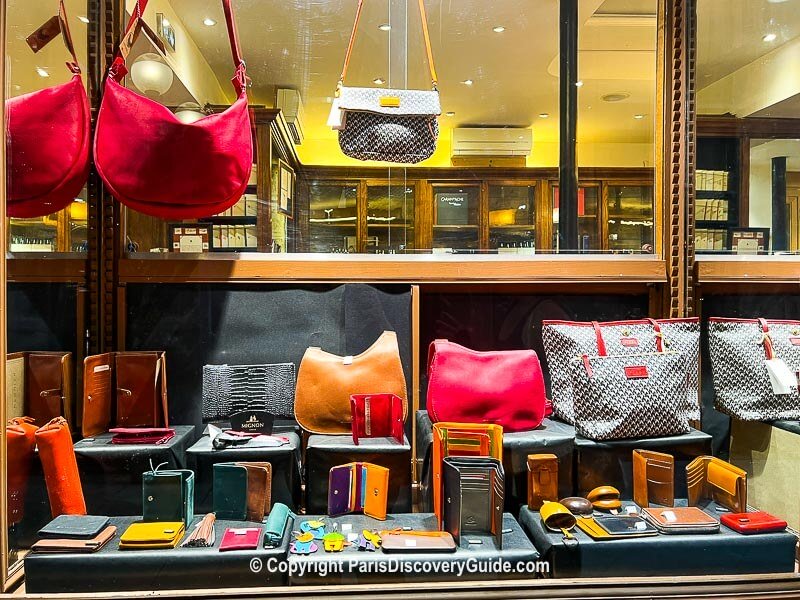 In recent years, Passage Choiseul has attracted a number of Korean and Japanese bistros and high-end specialty businesses such as clothing designers, jewelry, and sculpture. If you're in Paris in early December, don't miss the pop-up Japanese Christmas Market which takes place here, usually for about three days.
The Asian boutiques create a strong synergy with the many Asian restaurants along nearby Rue Sainte-Anne and side streets.
Passage Choiseul's Asian connections go back to 1970 when Japanese fashion designer Kenzo Takada opened his first Paris boutique here and hung out frequently with fellow designers Yves Saint Laurent and Karl Lagerfeld at the Le Sept disco on nearby Rue Sainte-Anne.
At that time Le Sept (which closed a decade later) formed the epicenter for trendy clubs frequented by artists, musicians, fashion designers, as well as much of Paris's younger gay community.
Kenzo (as the designer was known) is credited with creating such a buzz for the area that Japanese guidebooks started listing it as a Paris destination, thus attracting Japanese tourists who had begun visiting Paris in large numbers at this time. This led to more Japanese businesses opening in the area.
After a decade in Passage Choiseul, Kenzo and other designers moved slightly east to Place des Victoires - but the Asian influence in this part of the 2nd continues to grow, with Korean restaurants and markets currently enjoying a big surge of popularity.
Bonus: The arcade is also home to Théâtre des Bouffes Parisiens, founded in 1855 by composer Jacques Offenbach, who used it to stage light ("comic") Italian operas plus his own most famous work, "Orpheus in the Underworld." Today, the 600-seat Italian-style theater currently hosts popular musicals and operettas (in French).
Tip: You can also access Passage Choiseul from Rue Sainte-Anne via Passage Sainte-Anne - but don't expect a glass roof and light-filled space - it's more like a dark hallway where you'll sometimes see mops and other cleaning supplies propped by the walls.
More about Passage Sainte-Anne
Passage Sainte-Anne was added to Passage Choiseul in 1829 to provide access from Rue Sainte-Anne.
Similar to the short galleries branching from Passage of Panoramas (described in the next section) to nearby streets, Passage Sainte-Anne intended to give an additional point of entry to Passage Choiseul, rather than to function as a separate entity.
Although initially small vendors such as tailors and cobblers occupied tiny stalls lining both sides of Passage Sainte-Anne, its narrow width proved to be insufficient for all but the simplest one-person businesses such as tailors and cobblers.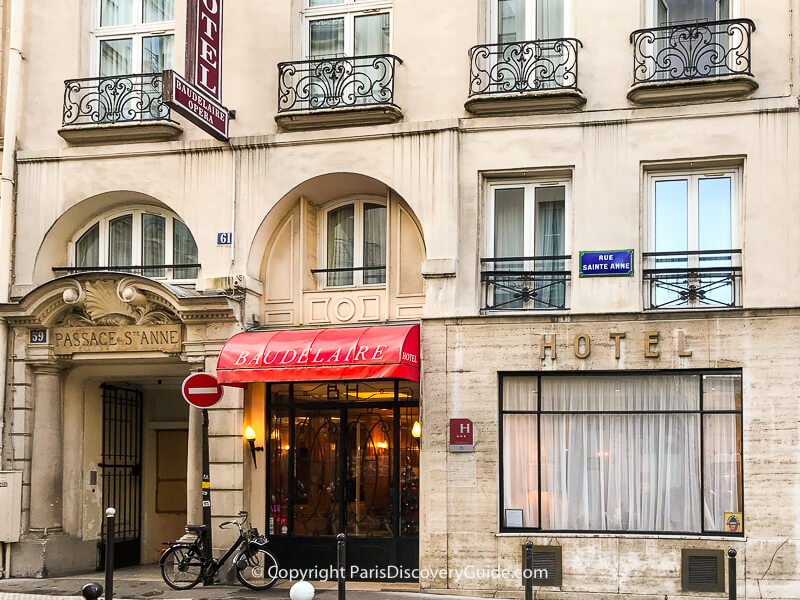 Fun Fact: French Symbolist poet Charles Baudelaire ("Les Fleurs du Mal") lived for a few months in 1854 in the building next to the Passage Sainte-Anne entrance which is now Hôtel Baudelaire Opera.
Entrances: 40 Rue des Petits Champs, 23 Rue Saint-Augustin, and 40 Rue Dalayrac, and 59 Rue Sainte-Anne (via Passage Sainte-Anne); nearest metro: Quartre Septembre or Pyramides
Open: Monday - Sunday, 8:30am - 8:30pm
Want to Explore the Passages with an Expert?
Join a secret passages tour to learn more about the passages' history and where to find the best treasures today.
Passage des Panoramas: A Stamp & Coin Collector's Paradise
★★★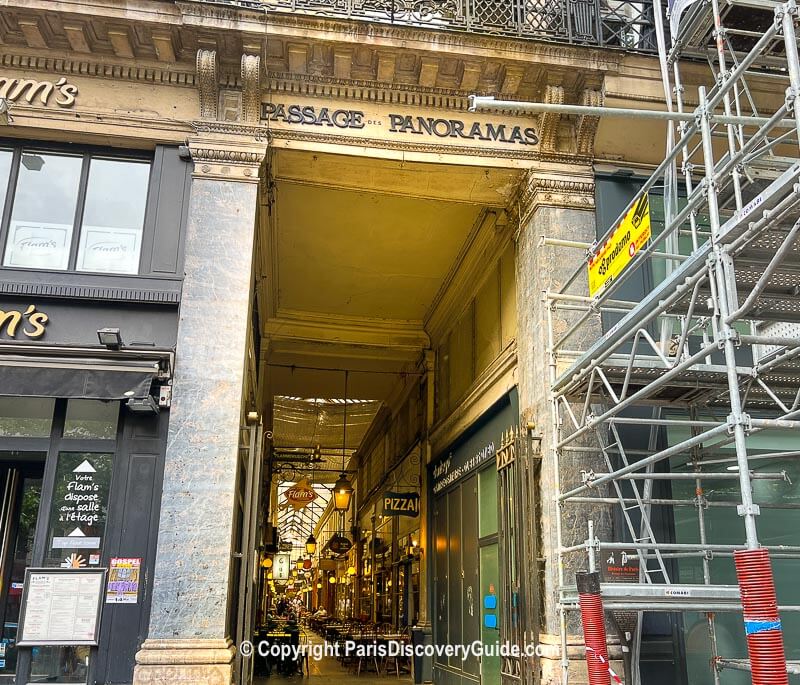 From the street, you won't get much of a clue about what you'll find inside Passage des Panoramas. But don't let that stop you from going in and exploring the fascinating boutiques, or having a meal at one of the passage's many affordable bistros.
Passage des Panoramas opened - sort of - in 1799 and, incidentally, was one of the first public spaces in Paris to later get gas lighting (1816-17). It forms a maze at its southern end with four other glass-roofed arcades added in the 1830s to connect it to nearby streets - Galerie Saint-Marc, Galerie Feydeau, Galerie Montmartre, Galerie des Variétes.
Initially, however, the "passage" consisted only of two rotundas (round buildings) with landscapes called "panoramas" painted on their interior walls - a fashionable crowd-pleasing attraction in Paris at that time.
During the following year, the panoramas' owner built an alley to link the rotundas to each other as well as to Boulevard Montmartre and Rue Saint-Marc, and that's how the passage you see today began.
The passage quickly became immensely popularwith Parisians, partly because of its convenient location in a busy part of the city, and partly because of its assortment of elegant shops.
Théatre des Variétés, which opened in 1807 and continues to present musicals and comedies, anchors the end of Galerie des Variétés, the poshest part of Passage des Panoramas.
At its northern point, the passage ends at Boulevard Montmartre across the street from the Grevin Wax Museum and Passage Jouffroy in the 9th arrondissement.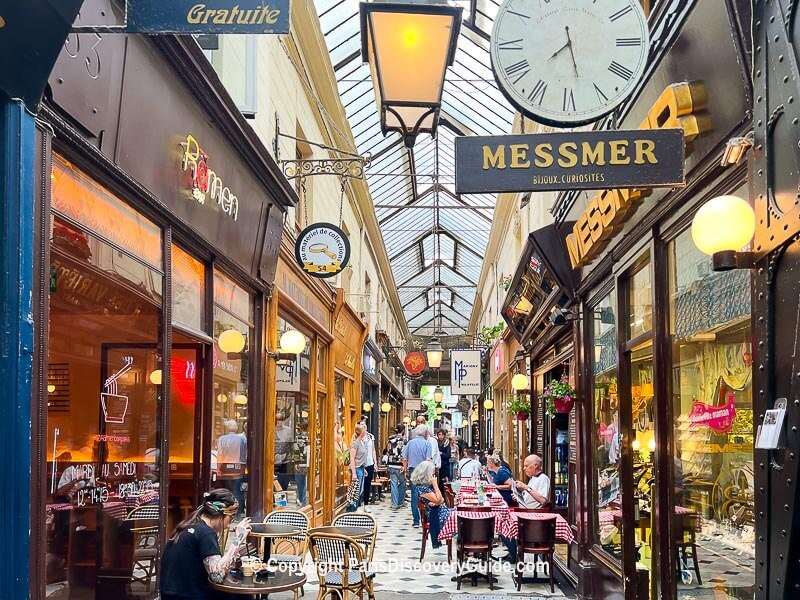 Dealers specializing in antiques, stamps, and old coins traditionally occupied many of the small shops when Passage des Panoramas first opened, and they still do, although today you'll also find art galleries, vintage sellers, wine shops, jewelers, antique shops, clothing boutiques, and many small cafes and bistros.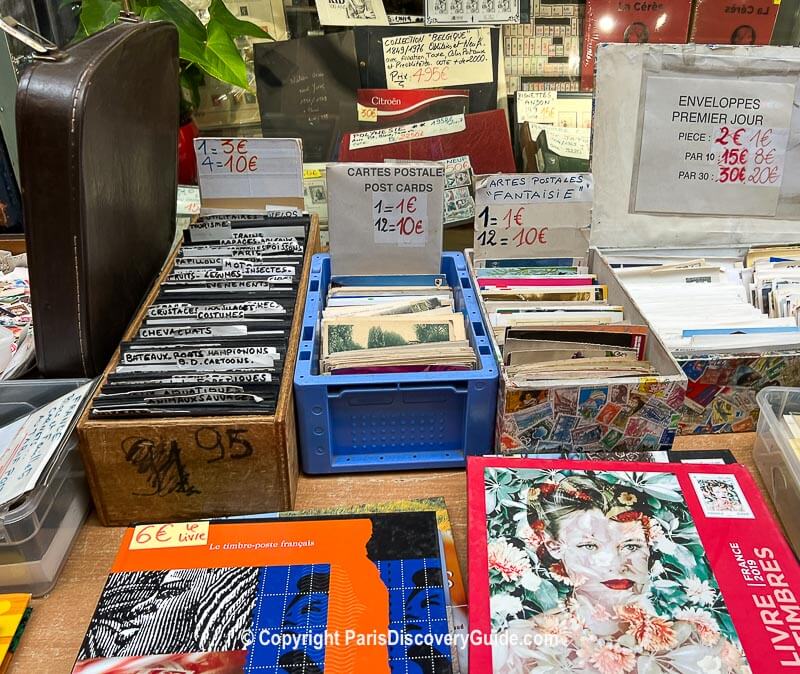 Parts of Passage des Panoramas look fairly shabby (don't be put off - it's part of the vintage charm), while other sections seem to be under non-ending reconstruction. Wander around and let your interests guide you while trying not to get lost in the maze.
Don't feel surprised if you end up spending much longer here than you expected. You may even start thinking about becoming a stamp collector, based on all the fascinating postal-related items from around the world that you'll see here.
And when you do finally leave, take a look at the shops along the streets near the passage's entrances. On all sides, you'll discover treasure troves of fascinating boutiques, antique shops, stamp dealers, coin dealers, and galleries, especially along Rue Vivienne. In fact, if you walk south for a few blocks, you'll be back at Galerie Vivienne. This entire section of the 2nd arrondissement is a collector's paradise.
Entrances: 10 Rue Saint-Marc, 11 Boulevard Montmartre, 38 Rue Vivienne, 151 Rue Montmartre, 2nd arrondissement; nearest metros: Bourse, Richelieu-Drouot, and Grands Boulevards
Open: Monday - Sunday, 6am - 12 midnight
Nearby: Passage Jouffroy, Musée Grevin (Wax Museum), and Drouot (9 Rue Drouot, free admission), Paris's premier auction house, a must-visit destination if you're fascinated by art, antiques, and vintage.
Passage Jouffroy
★★★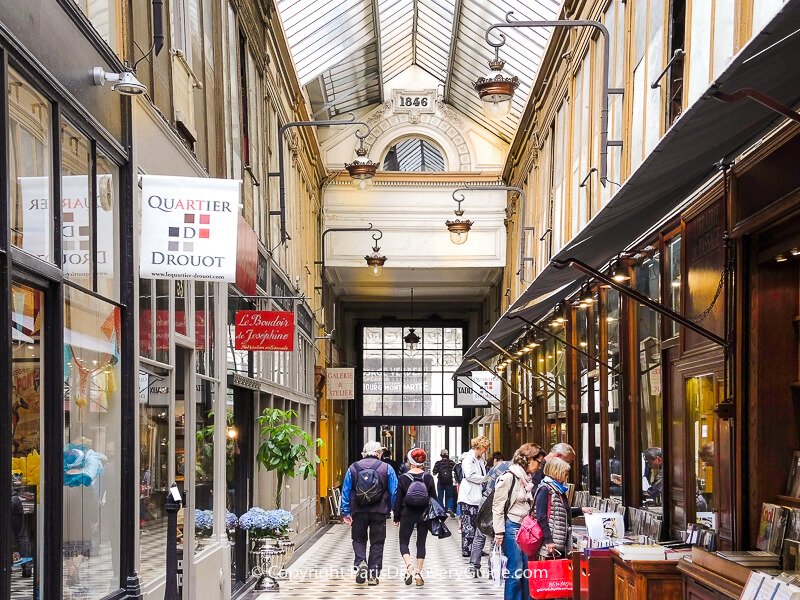 Passage Jouffroy dates back to 1846, when it received engineering acclaim as the first passage to be constructed only from metal and glass, with wood used just as ornamentation.
It also achieved another covered passage "first" with its heated floors- a highly appealing feature for winter-weary Parisians suffering from cold feet.
As you walk through the passage today, look down at the floor - you are walking on the original gray, black, and white tile pavers, restored as part of a total renovation in 1987.
Rather than being linear, like most of Paris's other covered arcades, Passage Jouffroy makes a sharp turn at one point and reveals a second section separated from the first by a small flight of stairs.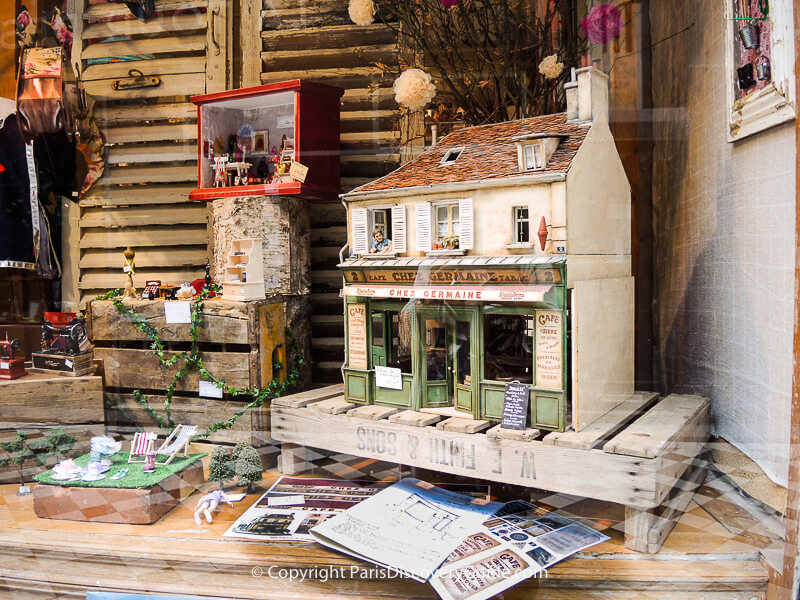 A wonderfully eclectic mix of unique individually-owned boutiques featuring toys, miniatures, new and used books, Indian imports, stamps, handmade clothing, antiques, and jewelry share space with several bistros and cafes, the immensely entertaining Grevin Wax Museum, and entrances to two hotels: Hôtel Chopin and Best Western Ronceray Opera.
Be sure to explore:
Pain d'Épices - Toy store packed with wooden music boxes, stuffed teddy bears, board games, dolls, puzzles, toy trains. Showstoppers: Doll houses with miniature furnishings, tiny food, accessories, garden tools - even battery-operated LED lights. Come here to buy unique gifts from Paris you won't find anywhere else.
Brésilophile - You'll see an enormous variety of crystals, geodes, carved quartz items, and lots more. Most lust-worthy: the crystal balls.
Galerie Fayet - New and antique canes, walking sticks, and umbrellas pack this small shop. Some are collectors' items, others are meant to be used, all are special. You'll feel like you're in a special museum, where even the most precious items may be purchased.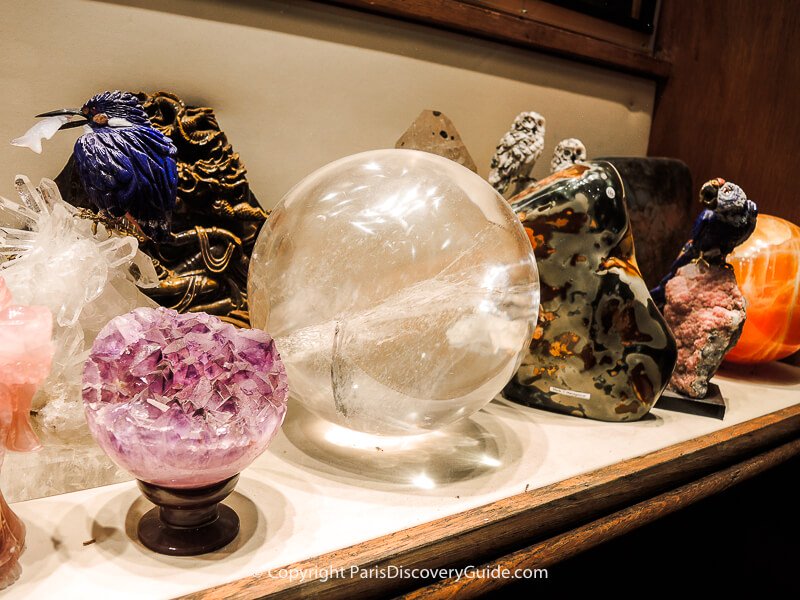 Entrances:  9 Rue De La Grange Bateliere, 10-12 Boulevard Montmartre, in the 9th arrondissement; nearest metro: Grands Boulevards
Open: Monday - Sunday, 8:30am - 8:30pm
What Are the Most Important Characteristics of Covered Passages?
Paris's historical covered passages soared in popularity by providing four key characteristics that addressed the needs and wants of bourgeois Parisians:
Pedestrian-only walkways carved out spaces between existing buildings give visitors a protected, paved shortcut between two main thoroughfares
Spectacular glass roofs let light pour in (a necessity before the days of gas lamps or electric lights) while protecting visitors from rain and cold
Shops, cafes, and sometimes theaters and concert halls line both sides of the covered walkways
In passages in wealthy neighborhoods, elaborate decor and ornamentation in neoclassical, art nouveau, and even art deco styles appeal to upper middle-class shoppers' desire for luxury; in passages in more working-class neighborhoods, the style may be plainer but the decor still gives the visitors the sense of being in a special place
To maximize their profits, developers typically added upper floors for apartments, often with interior windows overlooking the passages. Today, if you look up, you may still see these dwellings (although some now function as offices).
The first passage, Passage Feydeau (which no longer exists), opened in 1791. Another 40 or so popped up during the next 100+ years. However, builders erected most of them between 1820-1840.
Passage Verdeau
★★★
Extending north from Passage Jouffroy, Passage Verdeau also opened in 1846 and while it shares some similarities with its southern cousin, its arched glass roof is slightly fancier although the floor has been replaced. Check out the neoclassical detailing of the woodwork and the original white clock hanging at one end.
Passage Verdeau's location close to the Drouot auction house runs through the middle of a city block dominated by small stamp, coin, book, and antique dealers, which are mostly what you'll find in the arcade's shops.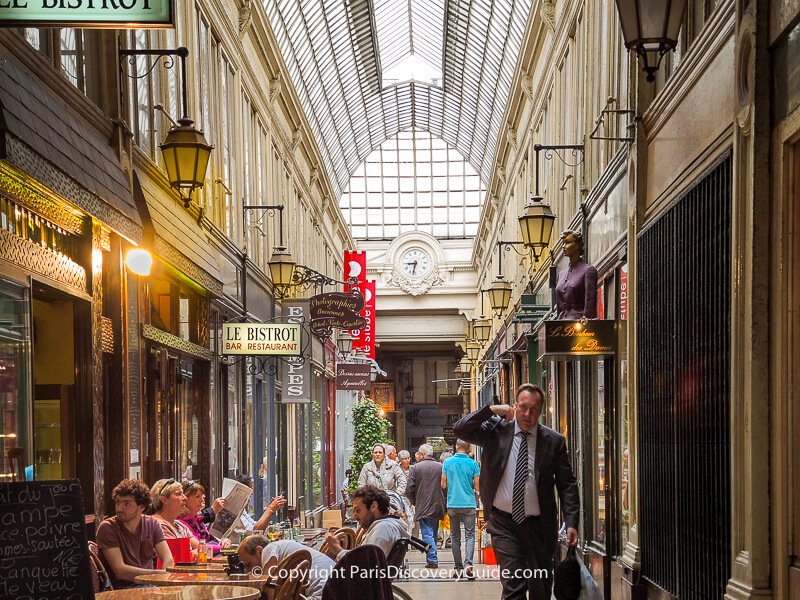 This passage is a favorite of stamp, book, and postcard collectors who browse the shops in hope of finding an overlooked treasure. Sometimes that happens.
Don't be put off by the half-unpacked boxes and messy appearances - they may predict the best hunting grounds.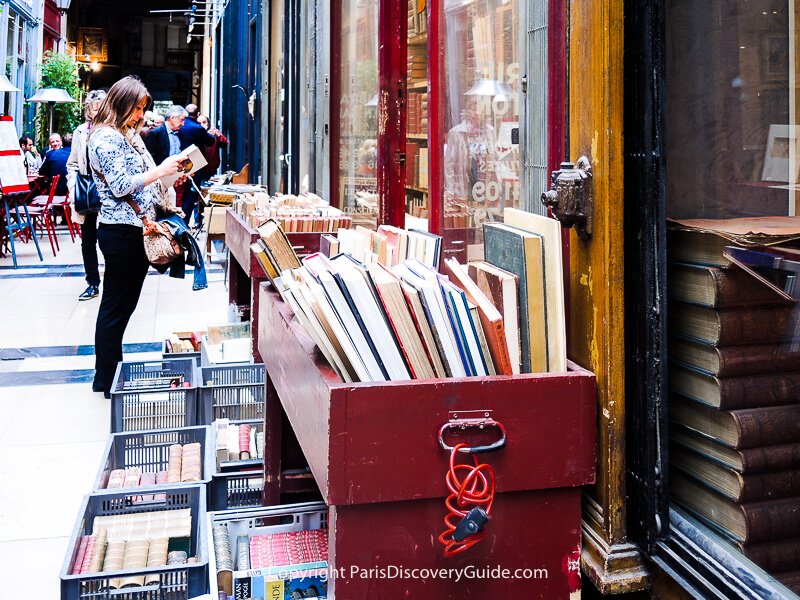 Look through the bins of prints, maps, drawings, and old postcards, check out the books for first editions, examine the vintage posters and antique silverware, and you may find something you love.
The art - mostly original prints, lithographs, drawings, etchings - can be especially rewarding to look through. You may be surprised by some of the affordable prices. Of course, not all of the art is original - you'll also see reproductions - so if that matters to you, be careful and caveat emptor.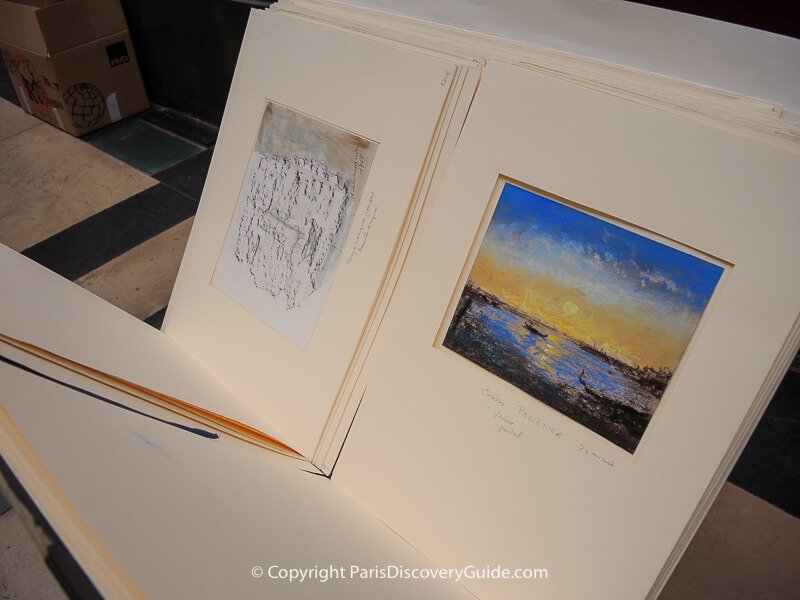 Getting to the 9th's covered passages: Access Passage Jouffroy and Passage Verdeau through entrances directly across from each other on Rue de la Grand Batelière between Rue Drouot and Rue du Faubourg Montmartre. Passage Jouffroy has a second entrance at 10 Boulevard Montmartre, and Passage Verdeau has one on Rue du Faubourg Montmartre.
Discover Paris's best secret passages with a guide
Entrances: 4 Rue des Petits-Champs, 6 Rue Vivienne, and 1 Rue de la Banque, 2nd arrondissement; nearest metro: Grands Boulevards
Open: Monday - Sunday, 9am - 9:30pm
Passage des Princes: Permanently Closed?
★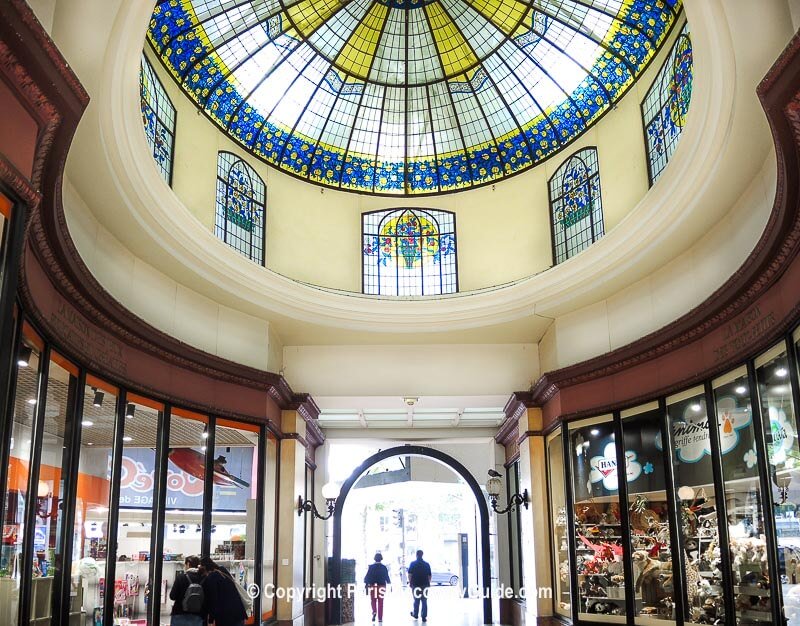 Passage des Princes has the distinction of being the last covered arcade authorized during the era of Baron Haussmann, who eliminated a number of others as he rebuilt the city.
A French bank built Passage des Princes on speculation, but declared bankruptcy a year after it opened in 1860. A few years later, the French insurance and investment company now known as AGF (Assurances Générales de France, formerly Compagnie d'Assurances Générales sur la Vie) bought the passage and reportedly still owns it.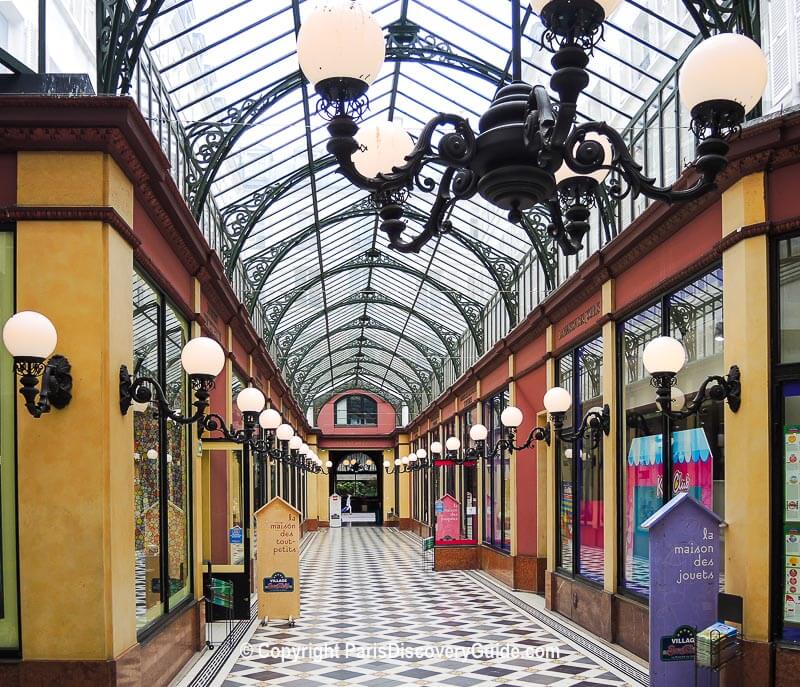 The owners mostly demolished the passage in 1985 while reconfiguring the buildings around it, and then had two architects oversee its reconstruction almost to its original specifications, aside from the modifications to its layout and the addition of a rather jarringly modern entrance on Boulevard des Italiens.
The architects reused as much of the original materials as possible, and the restored passage reopened in 1995, more splendid than ever.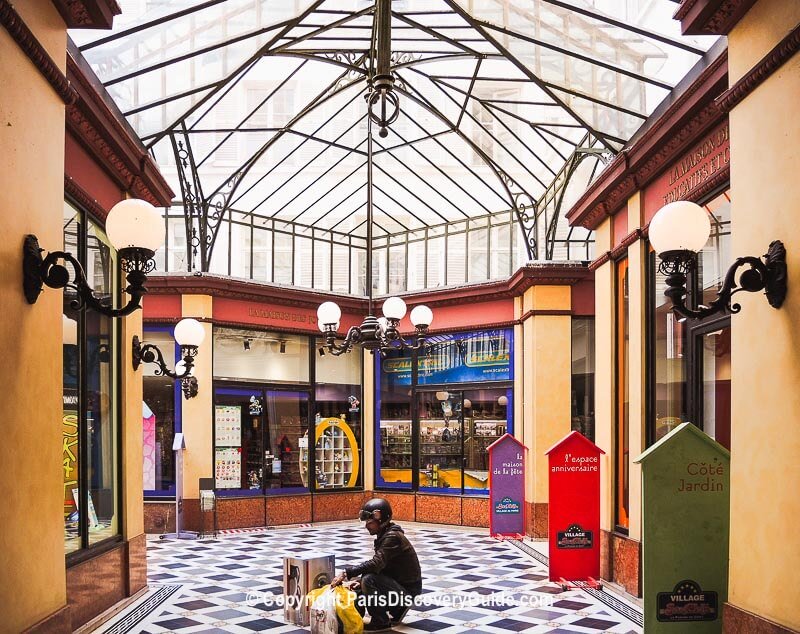 Today, Passage des Princes ranks high among the city's best-maintained historical covered passages.
The passage boasts two spectacular glass cupolas, a stained glass cupola and two galleries (paths) covered by soaring steel and glass roofs supported by braces with curving Art Nouveau arabesques.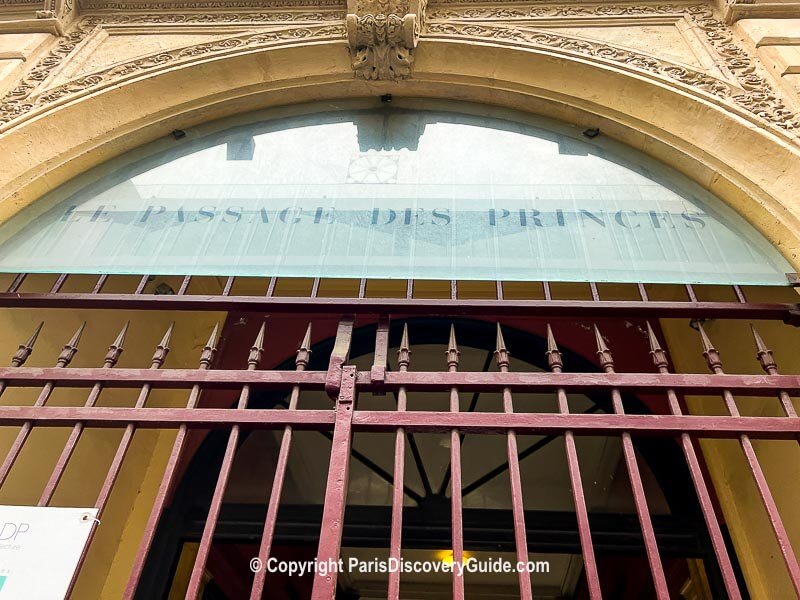 In recent years, a toy company leased the entire space and used all the shops to display their inventory.
Each shop appealed to a different age group or interest: stuffed animals, dolls, other toys, scale models, and games of all sorts, including video arcades.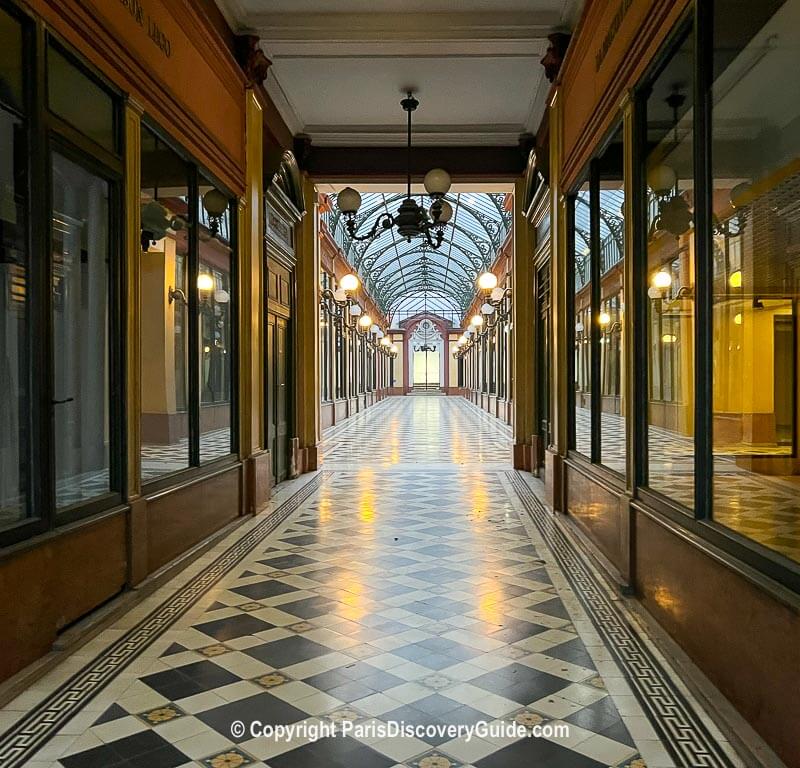 In 2022, the shops emptied out. Locked iron gates now block the passage's street entrances. It is not clear if the passage is awaiting new tenants, further renovations, or some other fate.
As of 2023, a Google search lists the Passage des Princes as "Permanently closed.
If true, that would be a stunning and shameful loss of a beautiful part of historical Paris.
Entrances: 7 Boulevard des Italiens, 97 Rue de Richelieu, 2nd arrondissement
---
Are Covered Arcades the Same as Covered Passages?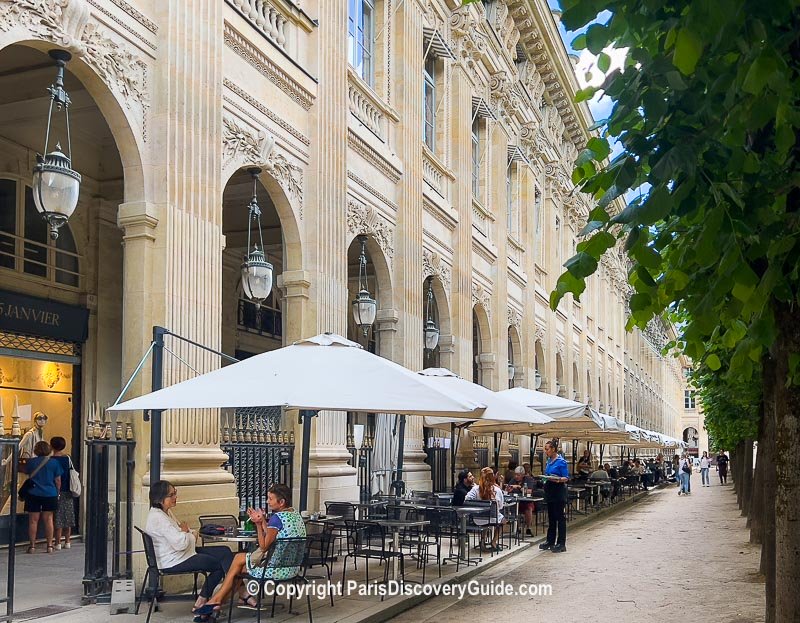 No. Although covered arcades appeared in Paris at about the same time as covered passages, they differ architecturally in four significant ways:
Covered passages were developed as private roads cutting through the interior of a block of buildings and linking two main thoroughfares, while covered arcades were built along the sides of buildings and faced a road or, sometimes, a square or park
Instead of being fully enclosed like covered passages, covered arcades feature an open side with columns or pilasters supporting the roof
Covered arcades have solid roofs that block overhead light, whereas covered passages have glass roofs designed to let in as much light as possible
Because covered arcades have open sides, they cannot be heated during cold Paris winters, whereas covered passages offer this comfort
You can still see covered arcades around Paris today. Here are four of the best:
Palais Royal Garden (1st arr)
Along Rue de Rivoli across from the Louvre (1st arr)
Place de Vosges, in the Marais (4th arr)
Rue des Colonnes (2nd arr)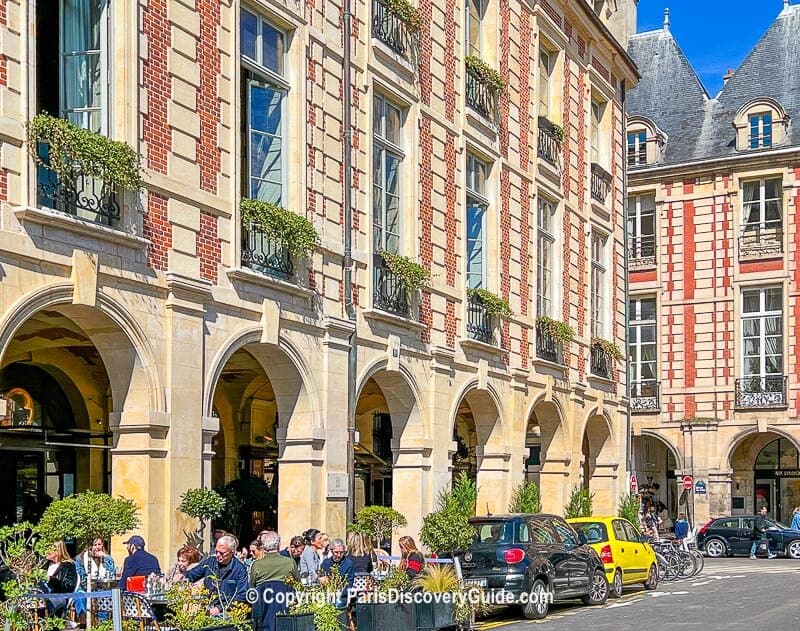 ---
Covered Passages Along Paris's Charles V Wall
It's easy to forget that for many centuries, Paris was a fortified city, surrounded by a succession of seven stone walls. Each ruler who built a new wall moved it further from Paris's center to encompass the growing city.
Although bits of a few walls remain intact (for example, part of Philip II's wall built in 1190 now forms the backdrop of a sports field used by local teens in the 4th arrondissement), they typically were torn down. The stones were repurposed (sometimes for new walls), and the ground previously covered by the walls often became roads.
The following passages were built more or less along the eastern edges of Charles V's wall, erected between 1356 and 1383. After Louis XIII destroyed the wall in the 1640s, the area evolved into a prosperous part of the city filled with high-quality architecture, theaters, restaurants, and nightlife - all good omens for developers who built their covered passages here in the late 1700s/early 1800s.
You'll find most of these passages along a north/south corridor formed by Rue Saint-Denis/Rue du Faubourg Saint-Denis ("Faubourg" roughly translates to "outside the wall" - in other words, suburban) and Rue Saint-Martin/Rue du Faubourg Saint-Martin, although one is a few blocks near Place de République where one of the wall's gates (Porte du Temple) once stood.
During the 20th century, this part of Paris fell out of fashion as industry moved in. The Sentier district, for example, became the center of textile and garment manufacturing and wholesale showrooms, which adversely impacted the covered passages.
But in the late 1990s, internet startups began moving into the neighborhood, highly acclaimed bistros popped up in the newly trendy area, and today, the opening of luxurious 4-star hotels (including one inside a passage) signals encroaching gentrification.
Quick links to passages in this section:
Passage du Grand-Cerf - Arts, Crafts, & More in this Gorgeous Glass-Roofed Arcade
★★★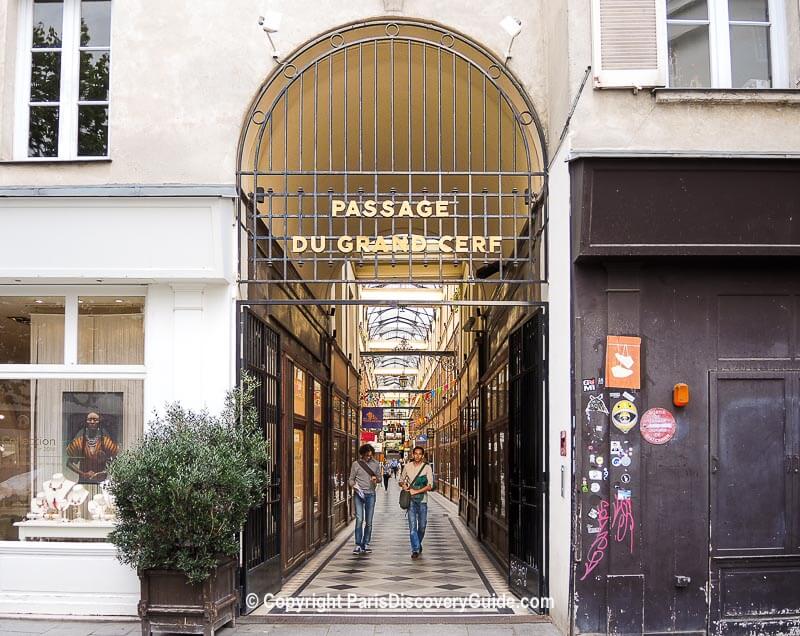 With its steel and glass roof soaring three floors high, light-filled Passage du Grand Cerf provides the perfect setting for the arty shops and boutiques lining its long tile-floored corridor.
A bank created the passage on speculation in 1825 as Parisians' love for shopping and strolling in protected walkways boomed, but construction techniques used in the roof's metal framing suggests it was added around 1835.
The passage's 38.6 foot (11.8 m) height not only makes it the highest of all the existing covered passages, but also lets enormous amounts of light stream in.
Come here for vintage treasures, art, crafts, and artisan-made jewelry and clothing.
You'll also discover some boutiques filled with contents too eclectic to classify - but fascinating to explore.
Plan to spend longer here than you might reasonably expect.
Entrances: 145 Rue Saint-Martin, 10 Rue Dussoubs, 2nd arrondissement; nearest metro: Etienne-Marcel
Open: Monday - Sunday, 8:30am - 8:30pm
Discover Paris's best secret passages with a guide
Passage du Bourg l'Abbe - Faded Beauty
★★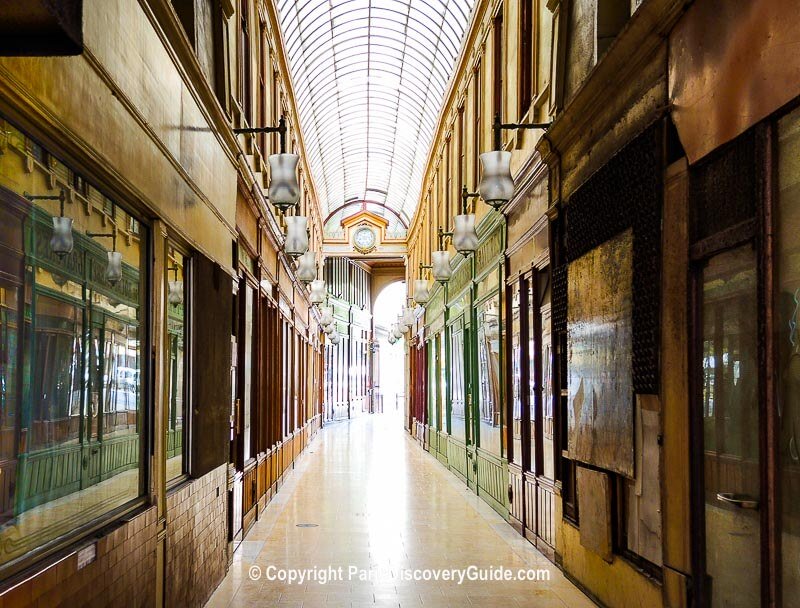 This once-elegant Passage du Bourg l'Abbe, built in 1828, retains much of its beauty and original details, despite the current mish-mash of shops, artisans, and a few boarded-up spaces inside marring its faded elegance.
Most of the passage's interior facade appears to be intact, and needs a bit of cleaning to restore it to splendor. The barometer at the passage's end is especially lovely, although it may no longer be working accurately to predict the weather.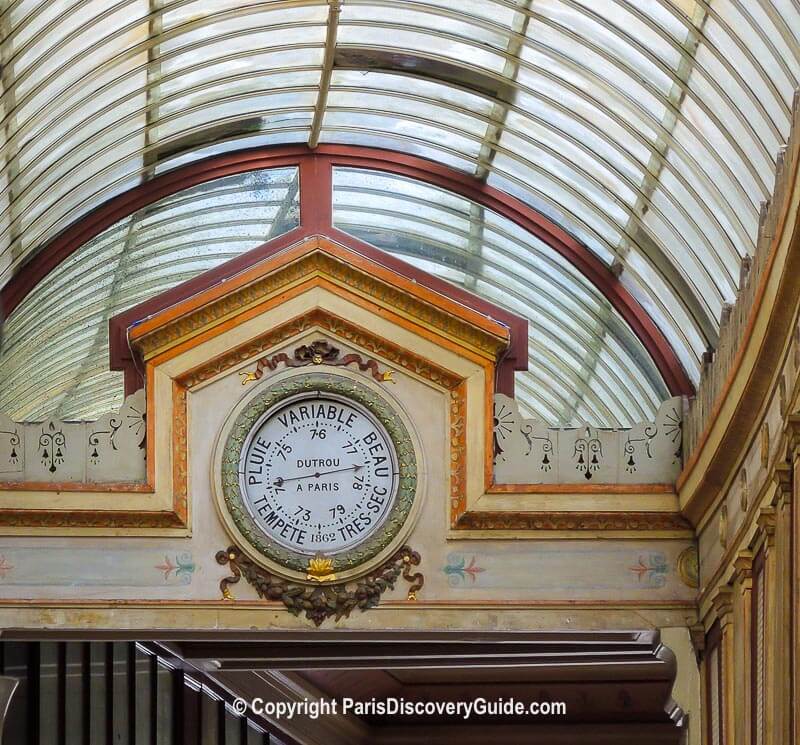 Although the passage originally formed an unbroken connection with Passage du Cerf on the other side of Rue Saint-Denis with the open-air Passage de l'Ancre, the eastern end of the passage was lopped off in 1854 to accommodate Baron Haussmann's creation of Boulevard Sebastopol and Rue du Palestro during his modernization of Paris.
Famed French architect Henri Blondel, best known for his vision for the Bourse de Commerce (now the Pinault Collection) near Les Halles, also designed the Second Empire-style Rue du Palestro entrance framed by two carytids representing Industry and Commerce.
Entrances: 120 Rue Saint-Denis and 3 Rue de Palestro, 2nd arrondissement; nearest metro: Etienne-Marcel
Open: Monday - Saturday, 7:30am - 7:30pm
Passage du Caire: The Oldest & Longest Covered Walkway in Paris
★★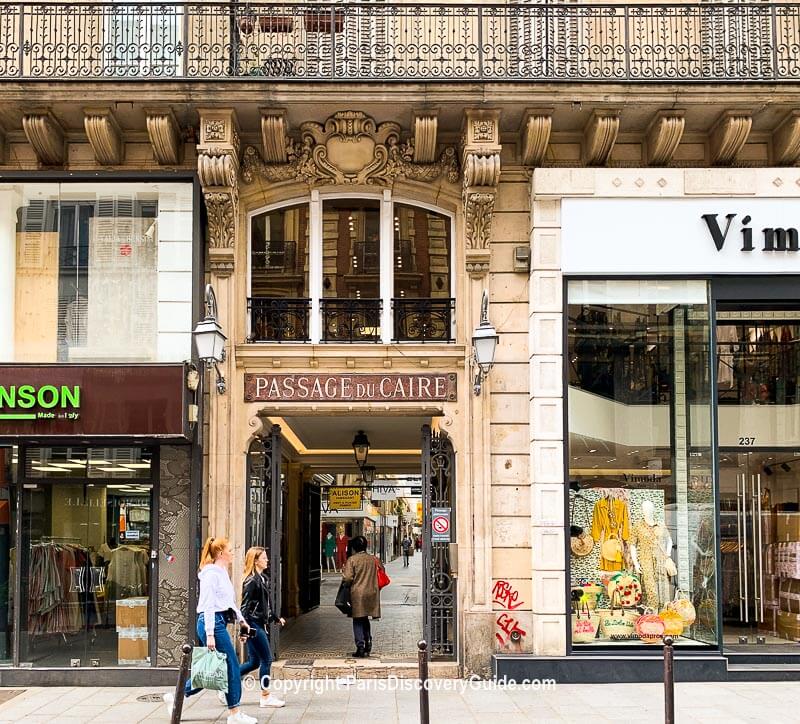 Despite being somewhat shabby and run-down, Passage du Caire still manages to exude an air of its former grandeur, especially when you look at it from the point where its three walkways converge as light streams in through the peaked glass roof.
Passage du Caire opened in 1798 just as Napoleon's campaign in Egypt ignited the French capital with "Egyptmania" - a craze for all things Egyptian.
Don't miss the three sculptural images of the Egyptian goddess Hathor peering down from the side of the building on Place du Caire where the passage's main entrance is located.
Also, try to spot the six columns that resemble palm trees - no doubt another reference to Egypt.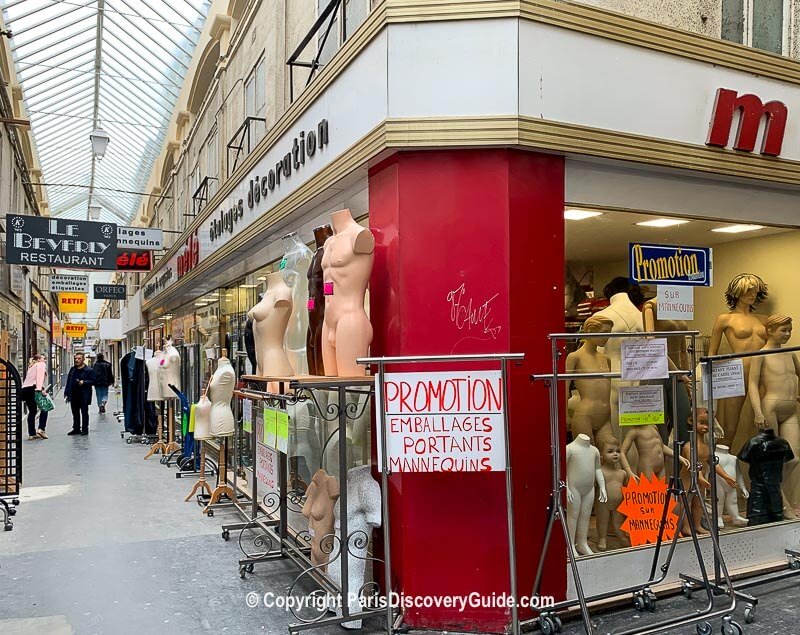 In addition to being the oldest covered gallery in Paris, Passage du Caire is also the longest, narrowest, and the only passage currently occupied by wholesale textile, trim, and ready-to-wear businesses - a microcosm of the garment industry in Sentier.
Initially, however, the passage's shops sold a much broader mix of items, deliberately invoking the souks and bazaars of Tunisia, Turkey, and Persia (modern-day Iran).
Right now, Passage du Caire is a fascinating place to just stroll through and observe all the activity related to the wholesale fashion industry.
But for the past decade or so, the Sentier neighborhood has been experiencing a slow transformation as small tech businesses move in, retail boutiques begin to appear where wholesale once reigned supreme, and new 4-star hotels attract affluent guests.
Frenchie's original bistro and gastro-empire along nearby Rue de Nil continues to inspire the opening of even more uber-popular bistros and eateries - check out (or stand in) the line at Boneshaker doughnuts on Rue d'Aboukir, less than a block from the passage's Place du Caire entrance, if you want to get first-hand experience (and a delicious treat).
At Passage du Caire's Place du Caire entrance, the posh recently-opened 4-star boutique Hotel du Sentier features beautifully designed guest rooms, including some on upper floors overlooking the glass-roofed passage. On the other side of the passage, 3-star Hotel Edgar and Achille (31 Rue d'Alexandrie) overlooks a quiet plaza and attracts UK guests due to its easy (with a rolling suitcase) 20-minute walk from Gare du Nord.
Perhaps sooner rather than later, gentrification may transform this passage - so if you're in the neighborhood, stop by periodically to see how it evolves. (Or check back here for updates.)
Entrances: 33 Rue d'Alexandre, 2, Place du Caire, 237-239 Rue Saint-Denis, 14, 34, and 44 Rue de Caire, 2nd arrondissement; nearest metro: Bourse or Pyramides
Open: Monday - Friday, 7am - 6:30pm
Passage du Ponceau: A Victim of Modernization
★
★
Unfortunately, time, circumstances, and periodic "updates" have erased much of the authenticity of Passage du Ponceau, which opened in 1826 across from Passage du Caire's Rue Saint-Denis entrance.
Baron Haussmann's city modernization efforts shortened the passage's eastern end when the construction of Boulevarde de Sébastopol replaced a smaller street. Portions of the passage's original shop fronts were replaced at some point with modern plate glass, and perhaps worst of all, the glass roofs were removed in the 1960s in favor of sheets of acrylic.
However, you can still spot a few remnants of the passage's original splendor: the charming original wooden façade at the former gardien's (caretaker's) quarters at #64, carved columns along the shop windows, a lovely curving wooden staircase leading to upper floors, and other details on the upper level.
In particular, the wooden sections of the ceiling retain their original details and perhaps more than any other element, give you a hint of how appealing this passage must once have been, and possibly could be again some day .
The passage offers a mix of shops and small cafes, and provides a quiet refuge from the busy surrounding streets.
If you're visiting Passage du Caire and have a few extra minutes, you might do a quick walk-through, especially if you're heading in the direction of Boulevard de Sebastopol.
Entrances: 212 Rue Saint-Denis, 119 Boulevard de Sébastopol, 2nd arrondissement
Passage du Prado
★★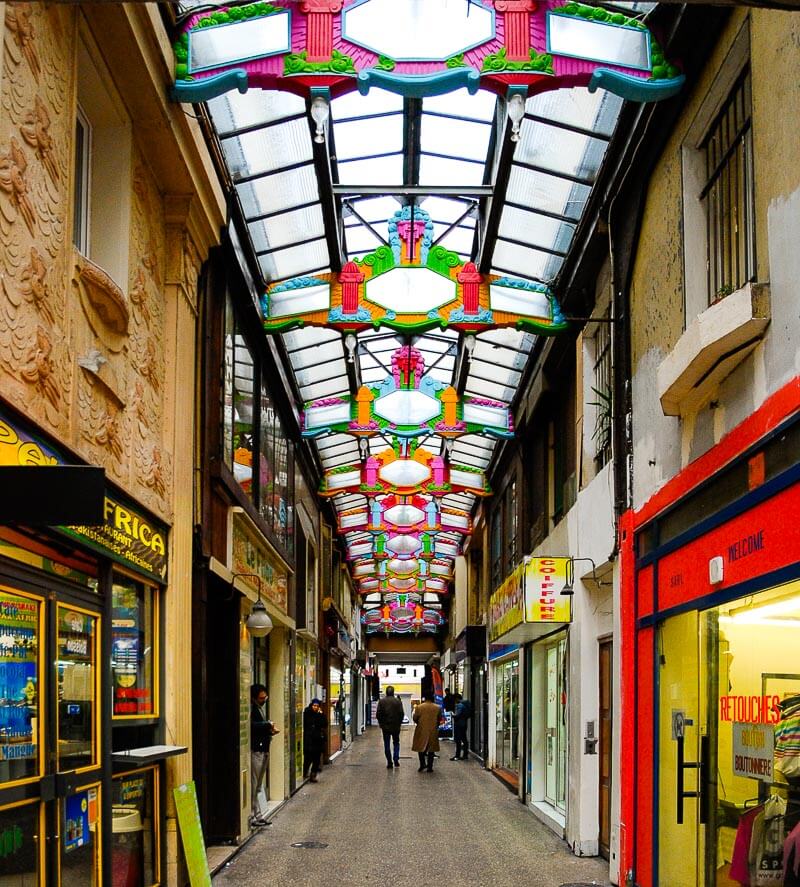 The Faubourg-Saint-Denis neighborhood in the 10th arrondissement where Passage du Prado is located is criss-crossed with open-air passages providing walkways between buildings.
Passage du Prado, which was initially called Bois-de-Boulogne in commemoration of a popular dance hall that originally occupied the space, was constructed in 1785 as one of these uncovered passages.
Although its precise history after that is a bit vague, its rotunda located at the point where its two sections meet is believed to date back to the early 19th century. The glass and metal roof was most likely added in the mid-1920s, when its owners renamed it Passage du Prado after the Madrid museum.
The 1920s Art Decor motifs in the passage's well-preserved side panels, the dome of the rotunda, and the wood and plaster panels under the roof trusses set it apart from other passages. In recent years, the upper panels under the glass roof have been painted with vivid colors evocative of India and the neighborhood's local Indian community.
Shops offer mostly utilitarian services - barbers, hairdressers, tailors, translators, travel agents - plus a small number of retail outlets and cafes, and even a small hotel under the cupola.
Although a couple of decades ago most businesses here reflected connections with India, today you'll also see East African, West African, Pakistani,and Turkish influence added to the mix.
The passage has a calm, laid-back vibe, making it a tranquil oasis in the midst of this bustling neighborhood.
Entrances: 16 Boulevard Saint-Denis and 16 Rue du Faubourg-Saint-Denis, 10th arrondissement; nearest metro: Chateau d'Eau
Open: Monday - Sunday, 8:30am - 8:30pm
Nearby: The Saint-Denis Gate (Porte Saint-Denis), which was built in 1672 by Louis XIV on the site of one of the original gates of the Charles V Wall. It is one of Paris's four triumphal arches and commemorates some of Louis XIV's military victories
Passage Brady
★★★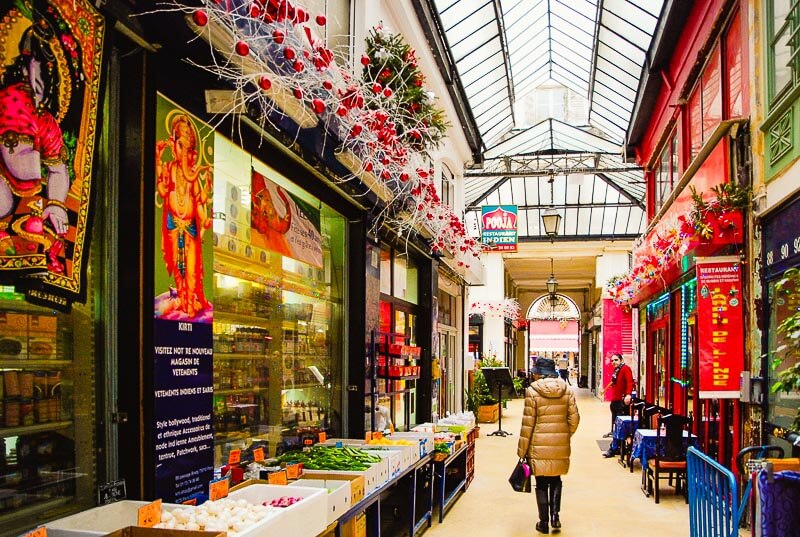 Unlike other covered passages which you can't really see until you pass through their entrance, Passage Brady can be easily spotted from the street, thanks to its peaked glass roofs sandwiched between two taller neighbors.
Walk inside through the Rue du Faubourg-Saint-Denis or 33 Boulevard de Strasbourg entrance, and you'll be met with splashes of vibrant colors and the tantalizing smells of fragrant spices, thanks to the passages' many Indian (plus a few Bangladeshi, Mauritian, Reunion, and Pakistani) restaurants, food shops, and spice vendors.
When a tradesman named Brady built the passage in 1828, it ran in a continuous length between Rue du Faubourg-Saint-Denis on the west and Rue du Faubourg-Saint-Martin with a rotunda more or less in the middle. A gracefully vaulted glass roof covered the western end and rotunda.
But in 1854, Baron Haussmann created Boulevard de Strasbourg, which slashed through the middle, eliminating the rotunda and dividing the passage into two parts. Fortunately, most of the glass remained intact.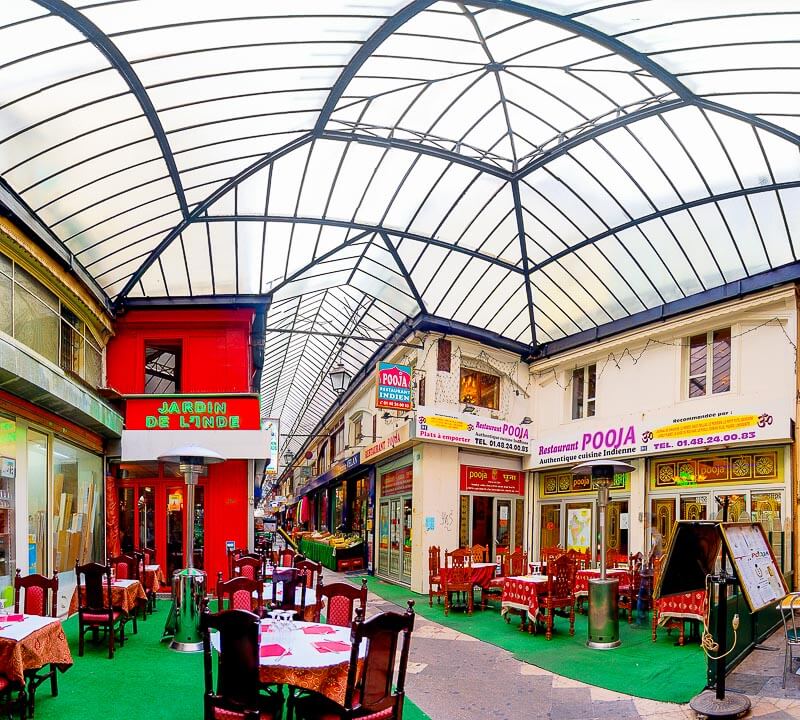 Today, there's not much to see on the uncovered eastern end, which functions mainly as a paved short cut for pedestrians.
The part of the passage to explore is the covered western end, where light streams through the vaulted glass roofs, diners feast on inexpensive (ie, cheap) meals from the dozen or so restaurants, and shoppers scoop up silk saris, fragrant incense, fresh produce, and specialty Indian products.
The Indian-themed decor attracts most of the attention, but if you look closely, you can still see some of the Art Deco embellishments (similar to Passage du Prado, these were no doubt added during the 1920s or 1930s.
Pick out whichever restaurant appeals to you the most, and enjoy an unforgettable meal.
Entrances: 46 Rue du Faubourg-Saint-Denis - 33 Boulevard de Strasbourg (covered section), and 22 Boulevard de Strasbourg - 43 Rue du Faubourg-Saint-Martin (uncovered section), 10th arrondissement; nearest metro: Bourse or Pyramides
Open: Daily from mid-morning to around 11:30pm (hours and days vary by restaurant)
Nearby: Bouillon Julien, the Saint-Denis Gate, one of Paris's four triumphal arches
Passage Vendome: A Lovely Ghost Haunts République
★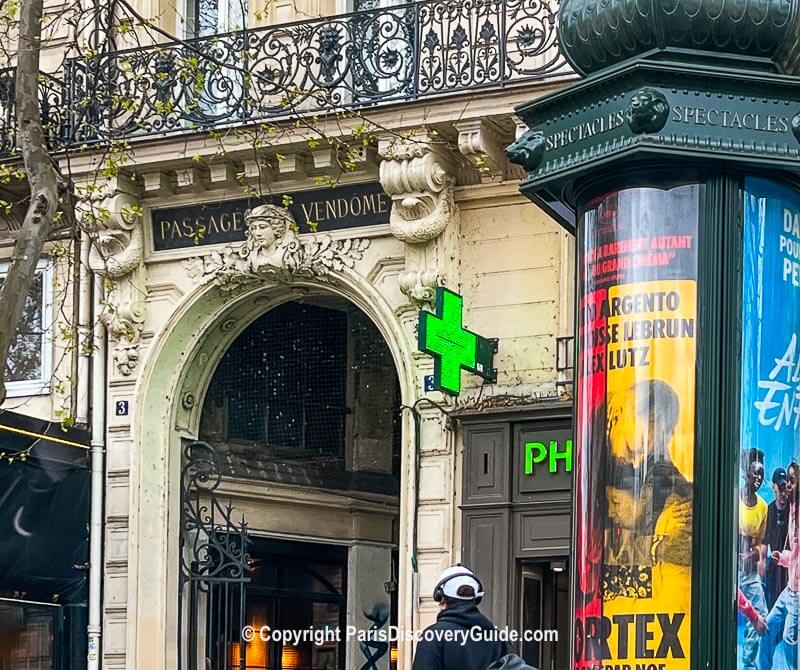 Walk though Passage Vendome, and you can almost feel the spirit of a more hopeful past urging you to imagine the space filled with charming boutiques, cute cafes, and art galleries befitting this hip neighborhood.
Almost by the time Passage Vendôme opened in 1827 with 40 shops, it fell into decline for reasons now lost in the fog of history - a pity, because of its elegant architecture, arched glass roof, and seemingly ideal location at the edge of Place de la République.
Thanks to Napoleon III and Baron Haussmann's modernization of Paris beginning in the 1850s during the Second Empire, the creation of Place de la République caused 4 meters to be chopped off of the passage, reducing its length to 57 m. This accounts for the addition of a somewhat less-elegant section of peaked glass roof and newer entrance near the plaza
A partial renovation restored its windows, cornices, paintings, and shop facades in 2005, and for a short time, it again thrived. But now, most of the shops have closed, graffiti (not the cool or artistic type) defaces the walls, and the floor desperately needs repair.
Rumors suggest that consideration of yet another restoration may be underway, thanks in part to petitions from surrounding residents. This hidden gem deserves to be shine and prosper again.
Entrances: 3 Place de la Republique, 16 Rue Beranger, 3rd arrondissement; nearest metro: Republique
Open: Monday - Friday, 7:15am - 8pm, Saturday 8am - 8pm
Passage Ben-Aïad: Closed - But Maybe Not Forever?
★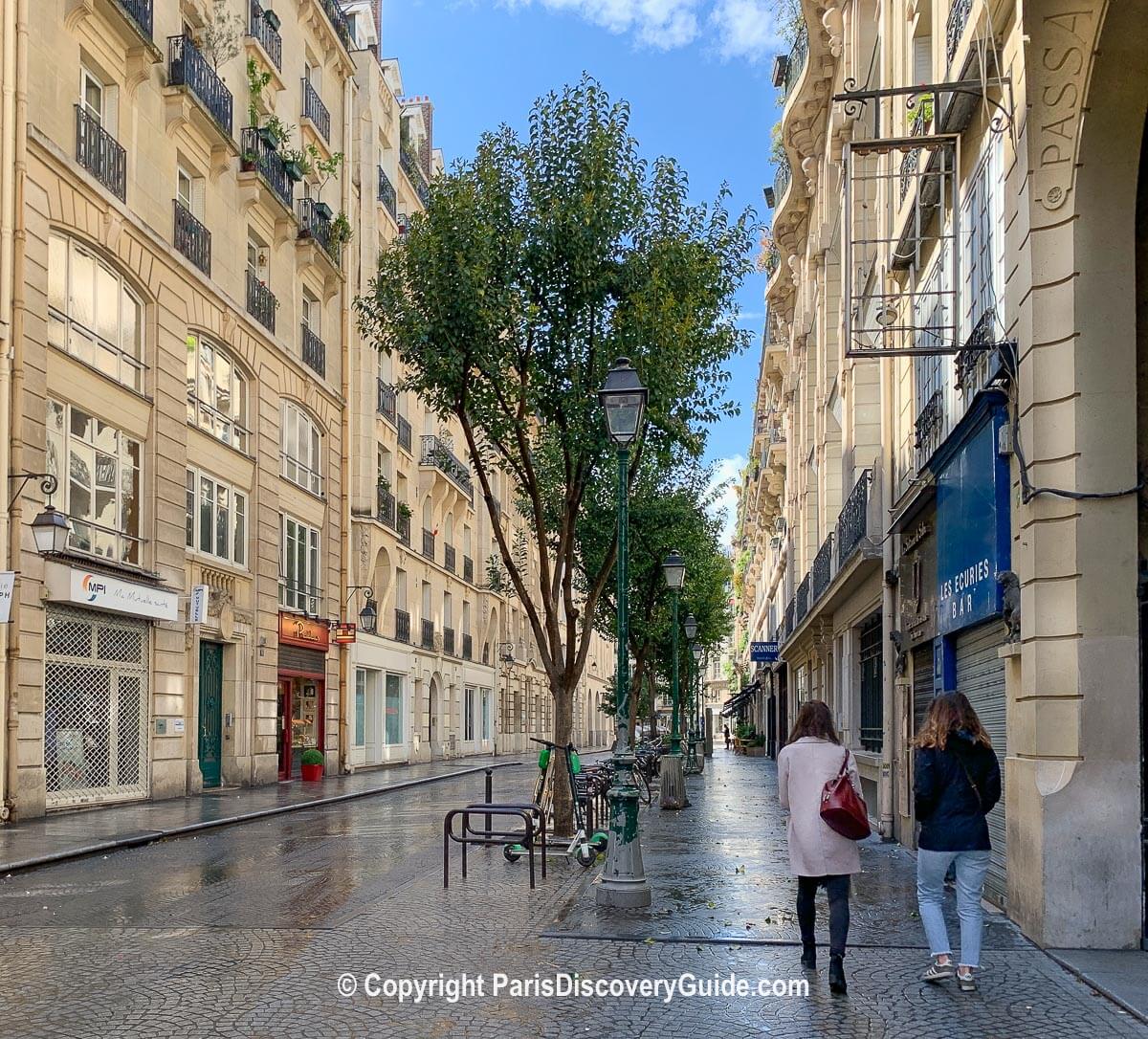 Currently closed to the public.
Passage Ben Aïad is the last remaining portion of the much larger and quite elaborate Passage du Saumon, which was constructed in 1826 but mostly demolished at the end of the 19th century. It is named after a wealthy Tunisian general who bought it in 1853.
The passage, which is 295 feet (90 m) long, links Rue Bachaumont and Rue Leopold-Bellan. Although its owner uses locked iron gates to block public access, you can peer through the metal bars if you happen to be walking by - worth the effort, because of the still-lovely glass canopy roof and what appears to be attractive ornamentation along the walls.
What makes this passage potentially special is its location in a popular foodie hot-spot less than a five-minute walk from Les Halles. Half a block to the east is the fabulous Rue Montorgueil food street; half a block to the west is Rue Montmartre, home to lovely boutiques including A. Simon, one of Paris's top kitchen supply stores. The luxurious 4-star Hotel Bachaumont is less than 200 feet from the passage, and other specialty shops dot the rest of the street.
With such fashionable shopper-friendly surroundings, it's surprising that this passage remains closed. So much potential lies behind those locked gates.
Entrances: 9-11 Rue Leopold-Bellan, 8 Rue Bachaumont, 2nd arrondissement; nearest metro: Sentier
Covered Passages near Place de Madeleine
Quick links to passages in this section:
Galerie de la Madeleine
★★★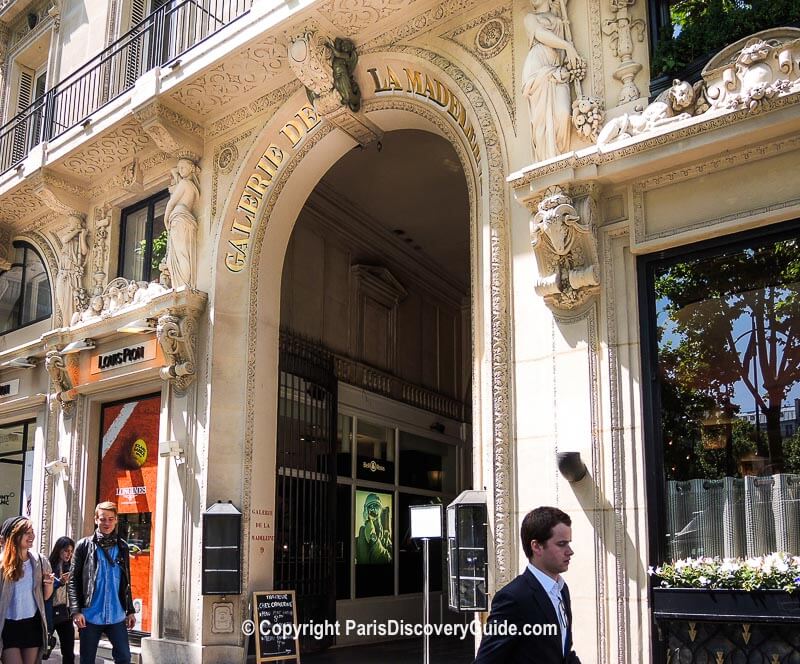 Located across from the Neoclassical Madeleine Church in Paris's prestigious Place de la Madeleine, Galerie de la Madeleine opened in 1845.
The shopping arcade's developer, the Passage Jouffroy Company (which also developed Passage Jouffroy and Passage Verdeau), spared no expense in the design and decor to ensure its harmony with its affluent neighbors around the plaza.
If you're in front of the entrance, be sure to look up and notice the elaborate carytids flanking each side of the arch.
(In case you're wondering, a carytid is a sculpted female figure, draped more or less with Greek-style clothing, that takes the place of a column to provide architectural support. The male equivalent is called an atlas. Look around as you stroll through Paris and you'll see far more caryatids than atlases.)
Although many of the caryatids propping up Parisian's 19th century buildings were cast from forms, those at Galerie de la Madeleine were individually hand-carved in keeping with the rest of the building's elaborate sculptural elements and the neighborhood's luxury vibe.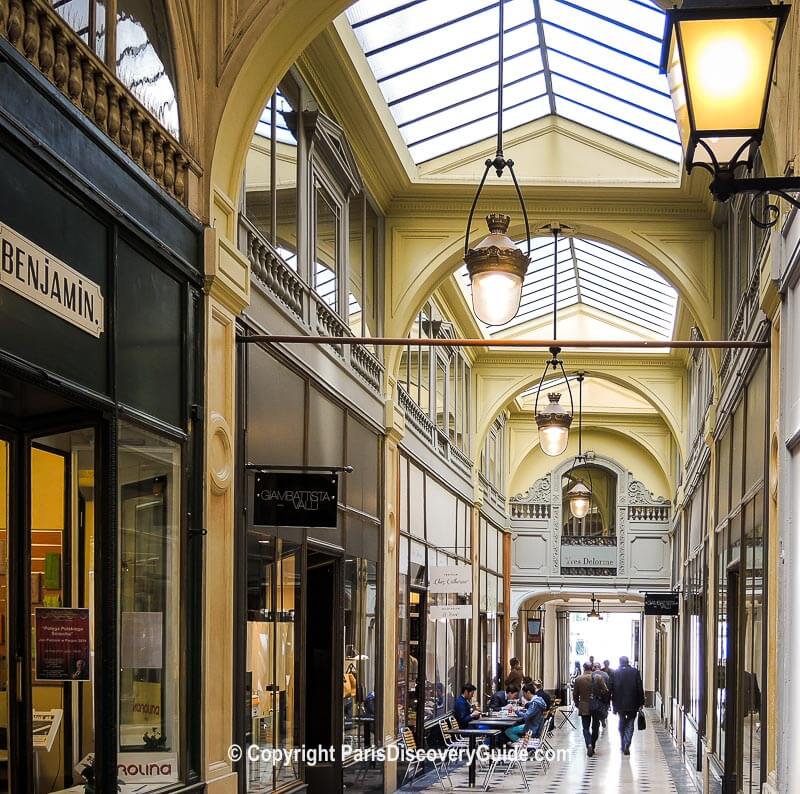 Inside, the passage retains its mid-19th century elegance and is impeccably maintained.
As you wander through, you'll find a mix of high-end clothing boutiques, galleries, antique shops, and places to eat and drink.
Although a couple of the restaurants get pricey at night, you can enjoy affordable bakery-style lunches at competitive prices.
Or if you want more choices, continue out the back door to Rue Boissy d'Anglas, which is lined with affordable sidewalk cafes and bistros catering to the many office workers (and tourists) in this area.
Entrances: 9 Place de la Madeleine, 30 Rue Boissy d'Anglas, 8th arrondissement; nearest metro: Madeleine
Open: Monday - Saturday, 8am - 11pm; closed on Sunday and public holidays
Passage Puteaux: An Insiders' Secret
★
★
A contractor named Louis Puteaux financed the construction of Passage Puteaux based on speculation that Gare Saint-Lazare (then called Gare de l'Ouest) would be built close b and provide a steady stream of customers.
The passage opened in 1839. At 29 m long, it is the shortest passage in Paris. A glass roof covers only half of it while the other half has a regular ceiling. Old-fashioned lanterns hanging from Grecian-style pilasters with elaborately carved tops provide a charming period vibe.
Sadly, for M. Puteaux and his bank account, the rail station opened a few years later farther north. The crowds of patrons he'd envisioned for his shopping mall never materialized and his ill-fated passage languished, mostly empty and unloved.
Today, restaurants including the popular La Boutique des Vins wine shop, bars, and a few shops line the well-preserved passage, with chairs and tables along both sides of the central hall. It's a local favorite, and a sort of "insider's secret" in this bustling part of the city close to the Palais Garnier opera house, Printemps Haussmann department store, and Place de la Madeleine.
The passage is also surrounded by a number of hotels, including the 5-star Hyatt Paris Madeleine - so if you happen to stay there, stop by Passage Puteaux and savor a glass of wine under the beautiful glass canopy roof.
Entrances: 33 Rue de l'Arcade, 28 Rue Pasquier, 8th arrondissement; nearest metro: Saint-Augustin
Open: Monday - Friday, 7am - midnight
Passage du Havre
★★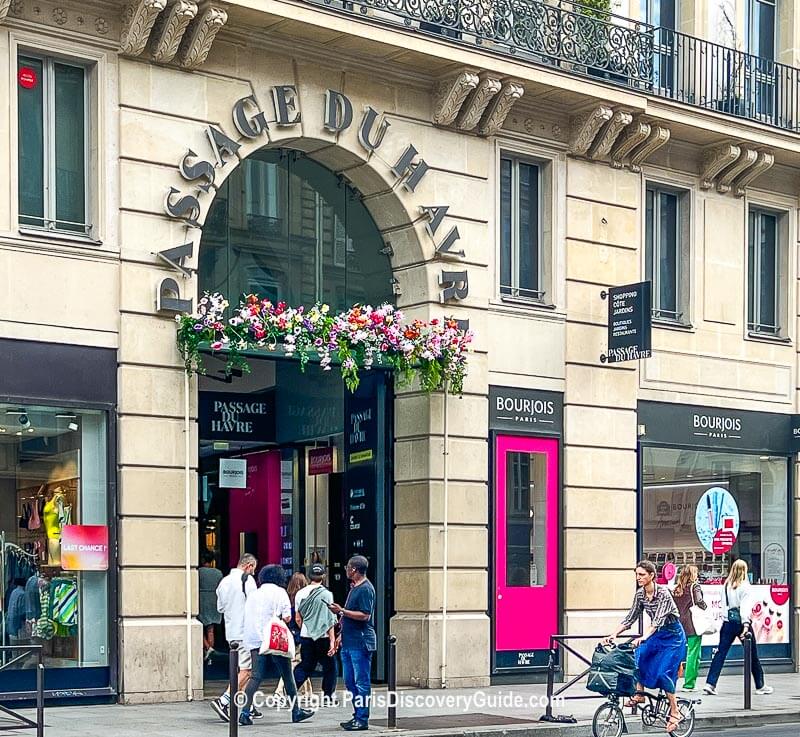 Architectural historians often cite the covered passages as precursors to today's modern shopping malls, but most new malls are not built on the footprint of the historical properties. Passage du Havre is the exception.
From the street, Passage du Havre looks as though it might be one of Paris's historical 18th and 19th century covered passages. But it is not.
Instead, you'll find a new-ish modern shopping mall constructed in the space once occupied by the original Passage du Havre which opened here in 1845, a stone's throw away from the new Gare Saint-Lazare train station.
During the course of 150 years, Passage du Havre's tenants included a cane and umbrella merchant, a printer, a butcher, a funeral wreath shop, and finally, stores selling model trains.
But by the end of the 20th century, the passage had become delapidated, and its owners demolished it in 1995.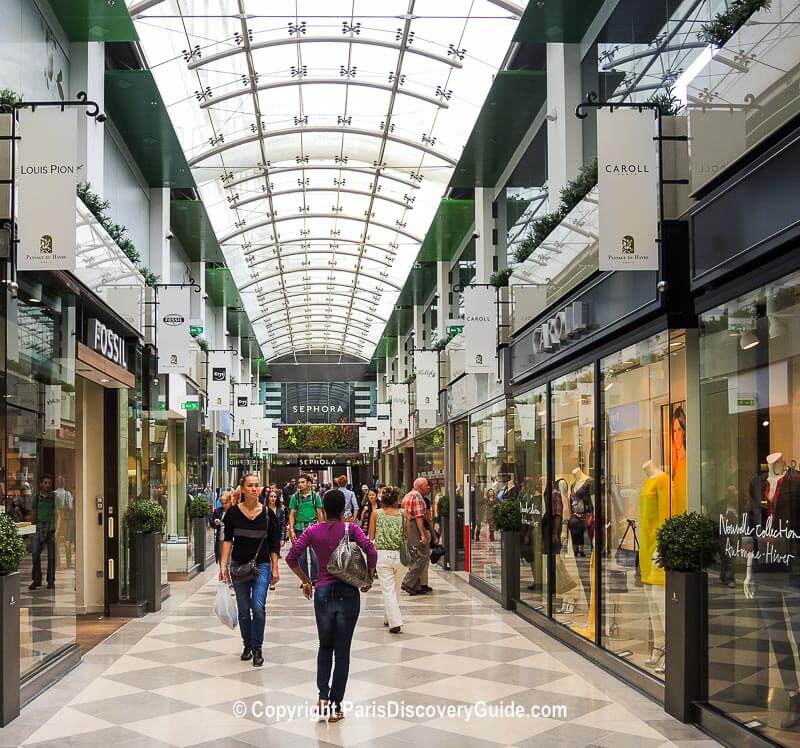 The architect of its replacement, Michel Macary, made a deliberate decision to not replicate or even echo the layout, construction materials, or ambiance of the original covered passage.
Instead, Macary designed a modern commercial shopping center, in sharp contrast to the approach taken in the reconstruction of Passage des Princes and Galerie Colbert which replicated the original structures and even reused original materials to the degree possible.
So that's what you see today: a late-20th century mall. Some elements such as the glass roof and cupola do echo features popularized by the historical covered passages but otherwise, the property's architectural past has been erased.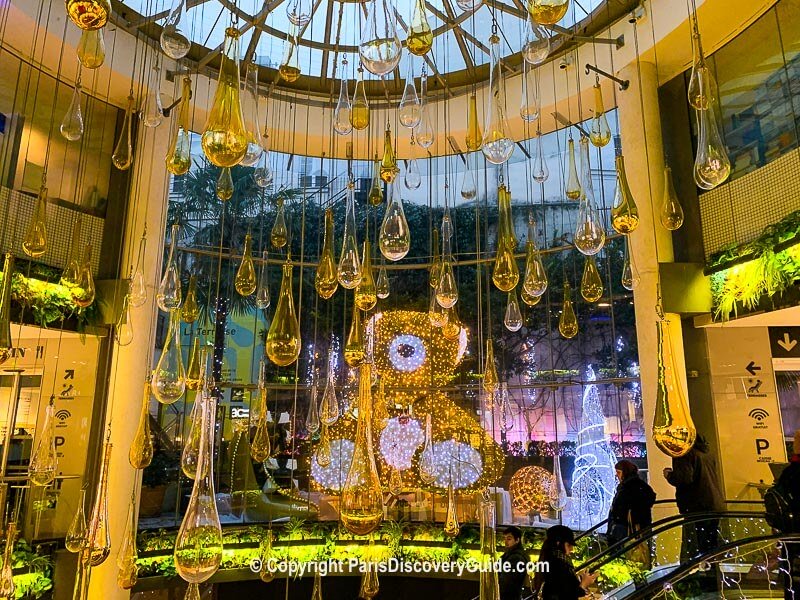 Is Passage du Havre Still Worth Visiting?
That depends.
If you want to see a historical Parisian covered passage, then no. Don't bother.
But if you want to see a thoughtfully designed modern shopping mall with modern of sky-lit ceilings and lovely glass domes, then yes.
With Fnac an an anchor and around 40 other stores, Passage du Havre provides a convenient place to shop for items you may not find at nearby Printemps Haussmann or Galeries Lafayette (which have their own stunningly beautiful stained glass domes).
While you're at Passage du Havre, take a moment to admire the truly spectacular Murano chandelier with 120 hand-blown glass drops hanging from the top of the glass-roofed rotunda.
Entrances: 69 Rue de Caumartin, 109 Rue Saint-Lazare, Rue de Havre, 9th arrondissement; nearest metro: Havre-Caumartin
Open: Monday - Wednesday and Saturday, 9:30am - 8pm; Thursday and Friday, 9:30am - 8:30pm, Sunday 11am - 7pm
Why Did Paris's Covered Passages Lose their Popularity?
During the second half of the 19th century, Parisians' love affair with the covered passages faded rather rapidly after a new type of shopping venue - large department stores such as Bon Marché, BHV Marais, Printemps, La Samaritaine, and Galeries Lafayette - captured their enthusiasm.
At the same time, Baron Haussmann launched a massive redesign of Paris by creating broad avenues and boulevards, paved sidewalks, and a modern sewer system, which gave Parisians many more choices of places to walk.
By the advent of the Belle Époque period toward the end of the century, covered passages no longer served their original purpose. Once chic or modern, they had become passé.
A few passages were demolished before the mid-1800s, several fell prey to Haussmann's redesign of Paris, and still others were dismantled throughout the 20th century, including as recently as 1995 (or 2022, if Passage des Princes falls to the wrecking ball).
---
Passages on Avenue des Champs-Elysées
Les Arcades des Champs-Elysées (Arcades du Lido) - A 20th Century Covered Passage Revival
★★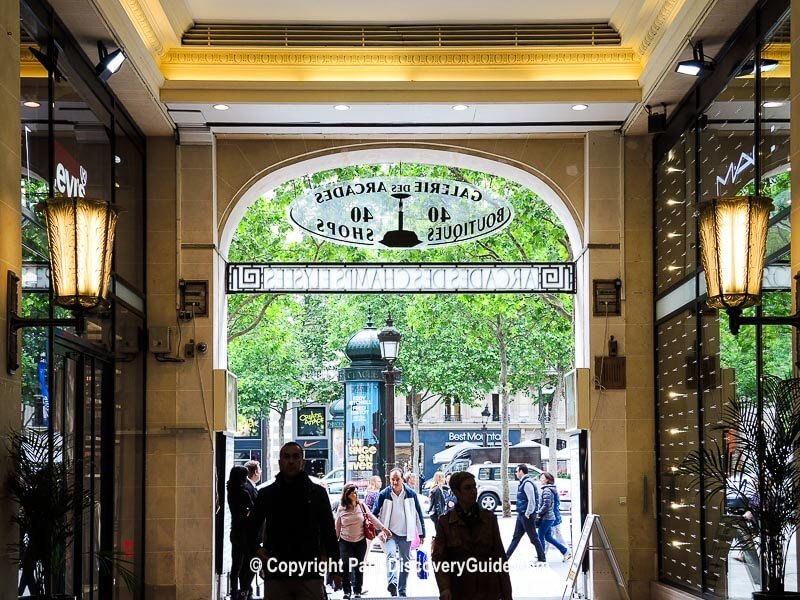 You might accurately say that Les Arcades des Champs-Élysées is the final 19th century-style passage couvert parisienne to be built in the city (aside from reconstructions, such as Galerie Colbert and, to some degree, Passage du Havre).
But surprisingly, this passage with its mix of Art Deco and Neoclassical decor was actually constructed and opened to much fanfare and 3,000 guests in 1926 by Paris gemstone importer Leonard Rosenthal, locally called "la roi de la perle fine" - the king of fine pearls.
Although Avenue des Champs-Élysées had been considered one of the most elegant promenades of Fin du Siècle Paris during the late 19th century, within 20 years it transitioned from a bucolic mostly-residential district to a hot spot of commercial development.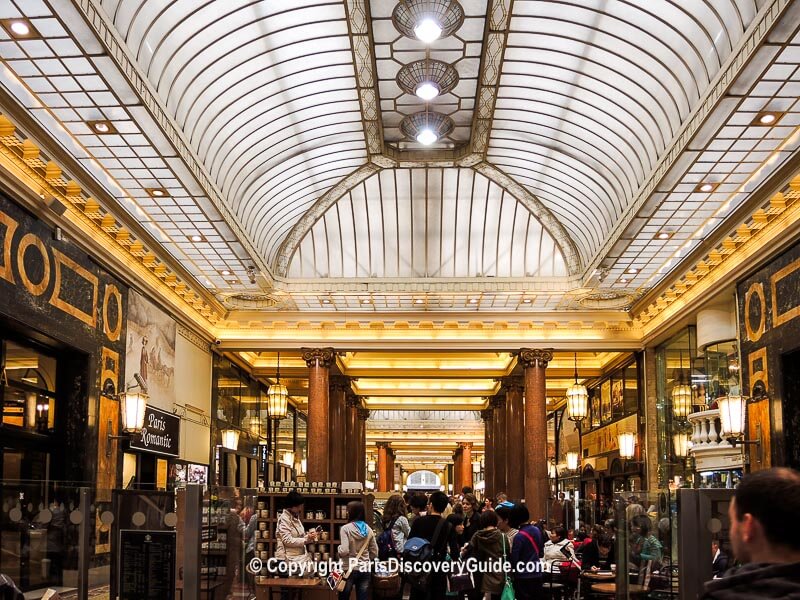 Hoping to profit from this building boom, Rosenthal bought a long, narrow hotel which extended all the way to the street behind it - perfect, he realized, for a large and super-luxurious covered passage, once he demolished the existing structure.
Arcades du Lido, as the new 2-floored covered passage was first called, featured a basement-level spa and beauty salon called "Le Lido," and a heated swimming pool known as the "Paris Beach."
On the ground floor and upper level, the passage's sumptuous decor included a gorgeous glass canopy roof and stained glass, soaring granite columns, marble floors, fancy wrought iron, and beautiful light fixtures and lanterns created by the famed jewelry designer and glass artist, René Lalique. At the center of Les Arcades stood a large Art Deco-style fountain, also by Lalique.
Visit today, and you'll still see most of those beautiful features. The passage is now called Les Arcades des Champs-Elysees.
Although the pool no longer exists and Le Lido became an entertainment venue before morphing into the famous cabaret, now located a couple of blocks away, the rest of the original passage (now the central aisle) remains remarkably unchanged, including all the Art Deco and Neoclassical motifs.
Just be aware that once you leave the original area, the passage is indistinguishable from any modern suburban mall.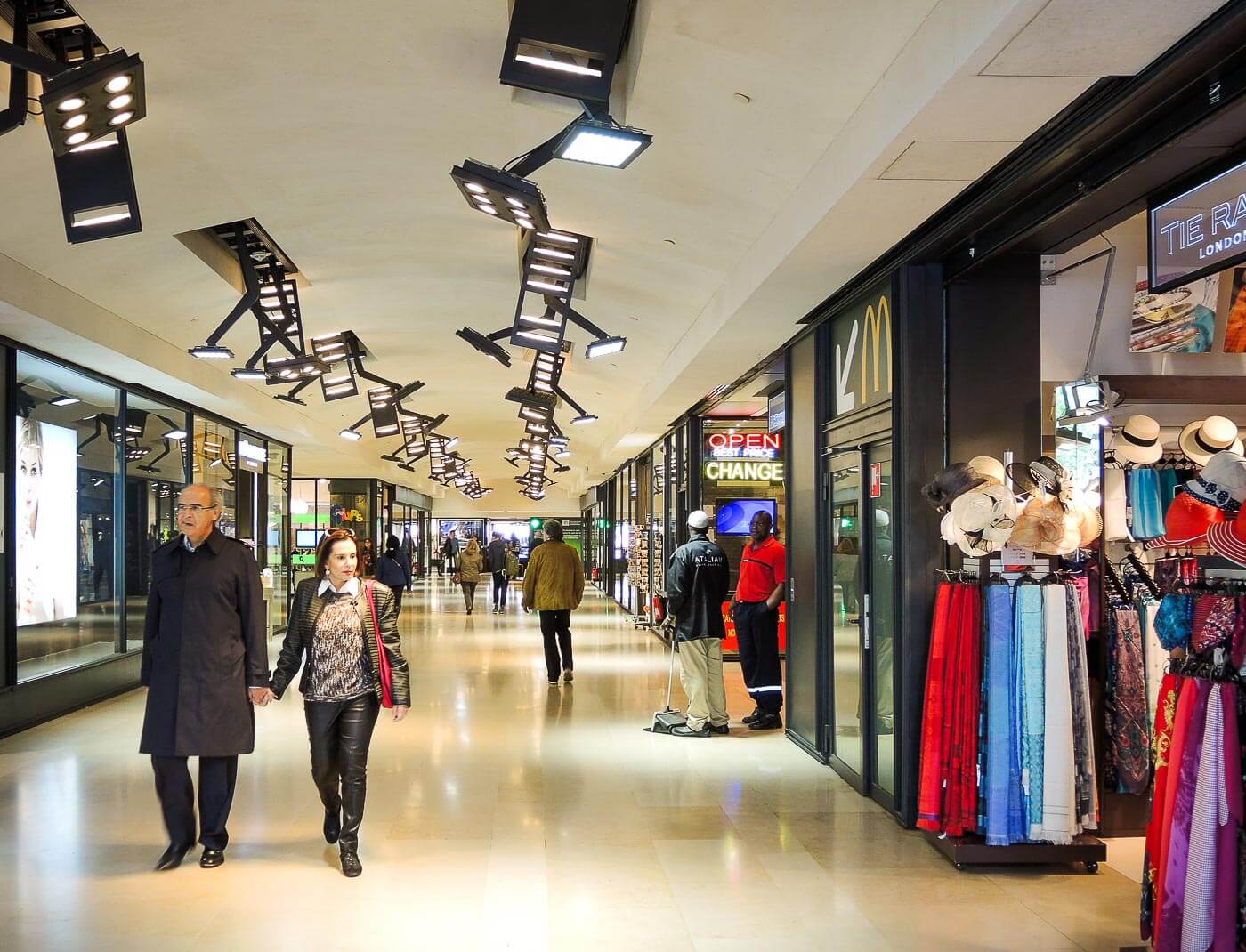 Entrances: 76-78 Avenue des Champs-Elysées, 9 Rue de Ponthieu, 8th arrondissement; nearest metro: George V
Open: Monday - Sunday, 8:30am - 9pm
Other Covered Passages along Champs-Elysees
Buoyed by the success of Les Arcades des Champs-Elysees, Rosenthal and other developers felt sure that a new period of popularity for covered passages had begun.
During the late 1920s-1930s, they developed a number of passages lined with shops along the famous Avenue, particularly on the north side.
But whereas Les Arcades, like the classic 19th century passages, was constructed between buildings to form a private lane between streets, these other new 20th century passages tended to be courtyards or atriums carved from the middle of existing buildings.
Some did not flourish, while others continue to thrive today, but they are not really covered passages in the historical 18th-19th century mold.
Should you visit them today? Absolutely, if your focus is on shopping. You'll find a terrific mix of French, European, and International brands. Look for their entrances along the north sid of Champs-Elysees.
But if you want to explore the charming covered passages of yester-year, visit the genuinely historical covered passages included in this article, especially those with three stars.
---
A Left Bank Covered Passage in Paris's 6th District
Cour du Commerce Saint-André: A Covered Passage with Medieval Roots -
★★★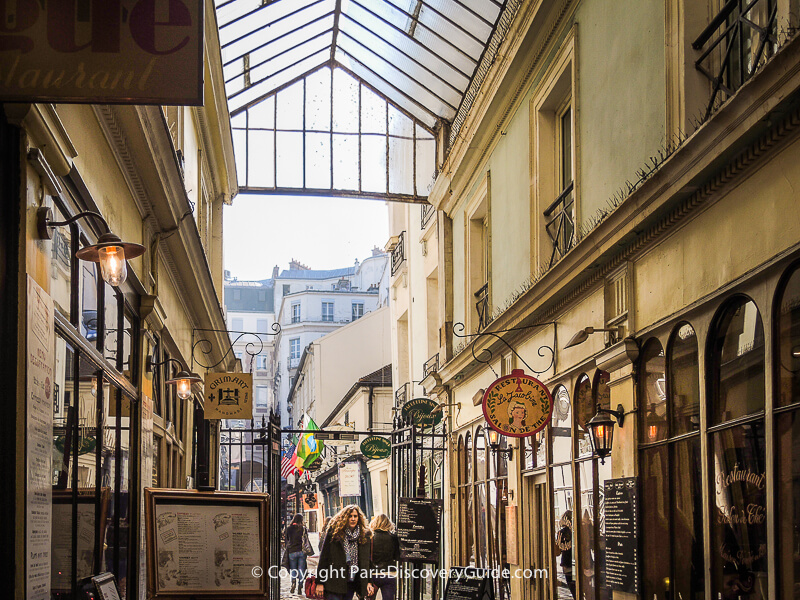 Cour du Commerce Saint-André may not be the fanciest of the covered passages, and only part of it is covered with a glass roof added a hundred years or more after its development.
However, Cour du Commerce is most likely the oldest, with its roots in Medieval times and with shops lining the narrow cobblestone walkway by the early 1700s - even earlier, if you count back to 1686, the year that its oldest bistro, Le Precope, opened its doors to hungry Parisians bedazzled by the crystal chandeliers, mahogany and crimson velvet decor, luxurious ambiance, and hearty food and drink designed to attract the actors, patrons, and playwrights associated with the Comédie Française Theater, then located across the road.
Part of the lane became a covered passage in 1823 when the owners installed a glass roof over the section near Rue Saint-André-des-Arts, no doubt hoping to profit from the covered passage craze sweeping the city during that period.
Today, Cour de Commerce Saint-André contains a wonderful selection of unique shops and excellent restaurants and cafes including Le Procope, where an appealing menu with traditional and contemporary dishes still attracts crowds after 400+ years.
But this passage also embodies layers and layers of history - everything from remains of a 12th century wall to bloody connections with the French Revolution.
Find out more about Cour de Commerce Saint-André, its dark history, and today's boutiques and bistros
Entrances: 59 Rue Saint-André-des-Arts, 21 Rue de l'Ancienne-Comédie, 130 Boulevard Saint-Germain, 6th arrondissement; nearest metro: Odéon
Open: The iron gates at each end of the glass-covered section are closed and locked at night during non-business hours, which vary by day and season. The large, elaborate gates at the entrances on Boulevard Saint-Germain and Rue de l'Ancienne-Comédie usually remain open quite late and reopen early, but we have occasionally seen them closed (and locked) during early morning hours.
---
Paris Covered Passages Walking Tours
To explore Paris's covered passes with an expert guide, join one of these popular walking tours:
Want to discover more hidden gems in Paris? Consider these tours:
Secret Gardens Walking Tour - Explore hidden gardens, secret squares, and grand historical spaces in out-of-the-way Paris neighborhoods
Authentic French Experience with a Local - Experience popular corners of Paris from an insider's perspective as your guide drives you around the capital and shows you everything from top cultural sites to traditional markets.
---
R.I.P. (Rest in Peace): List of the Demolished Covered Passages of Paris
Here are the names, arrondissement, opening dates, and demolition dates of the covered passages in Paris that no longer exist:
Passage Feydeau, 2nd arr, 1791-1829
Galerie Saint-Honoré, 1st arr, 1810-1825
Passage Delorme, 1st arr, 1808-1896
Passage Montesquieu, 1st arr, 1812-about 1860
Passage de la Ville-l'Evèque, 8th arr, 1815-uncertain
Passage de l'Opera, 9th arr, 1823-1925
Passage de Pont-Neuf, 6th arr, 1823-1912
Passage du Trocadero, 1st arr, 1824-1826
Passage Laffitte, 9th arr, 1824-uncertain
Bazar Boufflers, 2nd arr, 1825-March,1829 (destroyed by fire); rebuilt as quickly as possible and reopened as Galerie de Fer, December, 1829-1878
Passage Saint-Denis, 2nd arr, 1826-1854
Passage du Saumon, 2nd arr, 1828-1899 (partially; the part now called Passage Ben-Aïad still exists, although it is closed to the public)
Galerie de l'Opera-Comique, 2nd arr, 1827-1890
Passage Saucède, 2nd arr, 1827-1854
Galerie Foy, 9th arr, 1829-uncertain
Galerie d'Orleans, 1st arr, 1829-1935
Galerie de Cherbourg, 8th arr, 1839-1933
Galerie de Bergère, 9th arr, 1842-1927
Passage Richer, 9th arr, 1842-closed in 1927
Passage du Havre, 8th arr, 1845-1995 (demolished, with a modern shopping mall built in the same space in 1997)
---
More Fun Things to Do & See in Paris
---
More Articles about Things to Do & See in Paris
---
Selected Resources about Covered Passages Used in this Article
The following resources were invaluable for researching the historical and architectural information about covered passages in Paris, including those which no longer exist:
Delorme, Jean-Claude and Anne-Marie Dubois. Passages Couverts Parisiens. Programme/Companie Parisienne du Livre, 2014. (in French)
Lambert, Guy. The Covered Passages of Paris. Editions du Patrimoine, Centre des Monuments Nationaux, 2003. (in English)
Lemoine, Bertrand. Les Passages Couverts en France. Délégation à l'Action Artistique de la Ville de Paris, 1990. (in French)
Passages & Galeries. http://passagesetgaleries.fr/ (in French; website of the Paris-based association tasked with protecting and helping to rehabilitate and restore Paris's historical covered passages)
Less useful, but somewhat interesting:
Benjamin, Walter. The Arcades Project. Trans. Howard Eiland and Kevin McLaughlin. Belknap Press of Harvard University Press, 2003. (in English; translated from German)
For cultural, social, and urban architectural history of the 19th century, and in particular, Baron Haussmann's redesign of Paris:
Kelley, Russell. The Making of Paris. Rowman & Littlefield, Lanham, Maryland, 2021.
McAuliffe, Mary. Paris, City of Dreams. Rowman & Littlefield, Lanham, Maryland, 2020.