Paris events in March welcome early signs of spring and longer days to the City of Lights as events move outside again.
On sunny March days, sidewalk tables fill up outside the city's many cafes and brasseries (such as La Turenne Brasserie near Place des Vosges in the Marais, show in top photo), and you'll begin to see hints of green in the trees.
Major outdoor events include a half-marathon around the city, several trade shows, and a huge "fun fair" (carnival) dating back to 857 (yes, almost 13 centuries ago) provide the perfect excuse for being outside.
Exciting exhibits open at Musée Picasso and Musée Jacquemart-André, and plenty of concerts give you the chance to hear your favorite type of music.
A huge book show brings together publishers, writers, and fans for four event-packed days.
Top photo: Sidewalk tables at a cafe in the Marais in March, (c) Paris Discovery Guide
Paris Discovery Guide is a reader-supported publication. When you buy through our links, we may earn a commission at no additional cost for you. Learn more
---
March Concerts in Paris - 2023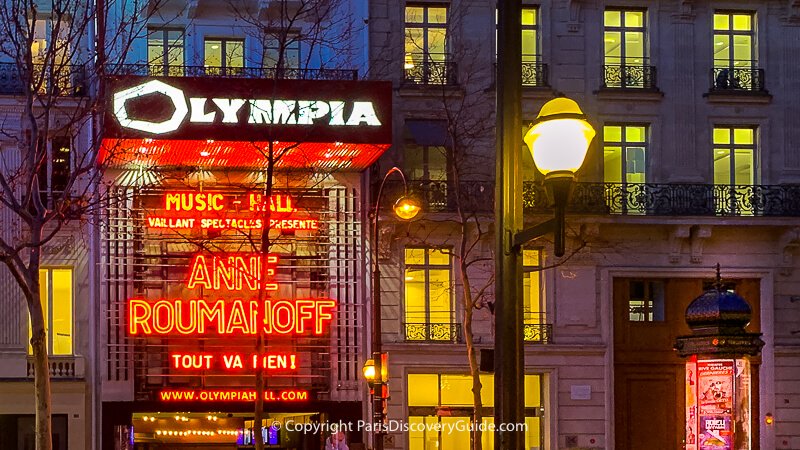 More Paris classical concerts, opera, & dance performances during March
More Paris rock, pop, jazz, rap, indie, & other concerts during March
Find Paris concerts for other months
---
Paris Exhibits - Top Shows during March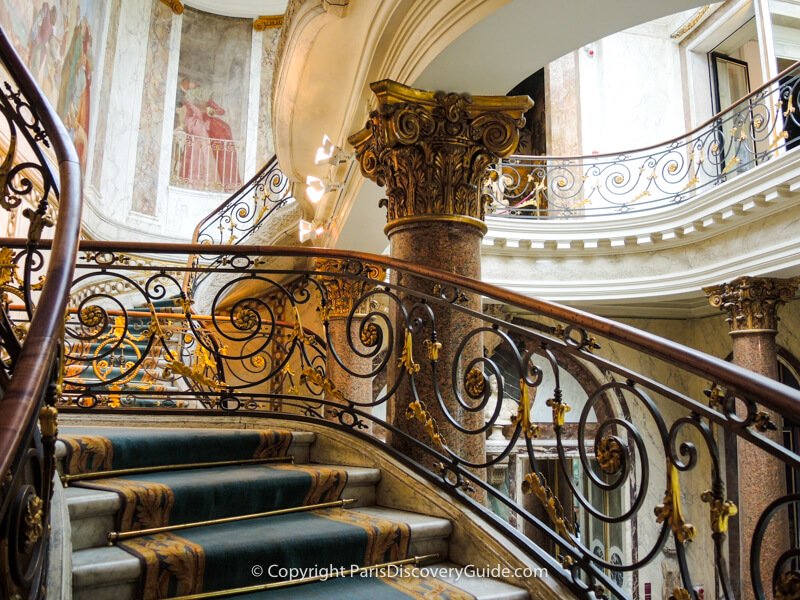 Sayed Haider Raza @ Centre Pompidou
First solo exhibition of paintings by this Mumbai artist who lived in France between 1950-2010, with emphasis on the transcultural dynamics in his work.
Dates: February 16 - May 15, 2023; Gallery 4, Level 1
Tickets: 15€ adults plus 3€ online booking fee; usually includes special exhibits and permanent collections but sometimes there's an upcharge for special exhibitions - typically just another 1€-3€; book in advance with a reserved time slot and skip-the-line access; can also book in advance for free admission with a Paris Museum Pass
Location: Rue de Rivoli, Paris 1; Metro: Palais Royal/Musée du Louvre
Musée de l'Homme (Anthropology Museum)
Arts and Prehistory
Discover masterpieces of prehistoric art from around the world and trace the power of human creativity since the dawn of time.
Dates: Through May 22, 2023
Tickets: 13€ adults; includes permanent collections & temporary exhibitions. Book online, or get free entry with a Paris Museum Pass
Location: 17 Place de Trocadero, 16th arrondissement; Metro/RER: Pont d'Alma
Atelier des Lumieres
Immersive digital show accompanied by original music explores the works major artists (to be announced soon for March). Shows are sure to be fantastic - don't miss them!
Dates: Through 2023; open daily
Tickets: 16€ adults online on the L'Atelier website
Getting there: 38 Rue Saint Maur, 11th arrondissement; Metro: Saint-Maur
Interested in a Louvre Museum guided tour? Find out how to choose the best one to match your interests
---
Paris Museum and Attractions Passes
Get free admission and skip-the-line access to 60+ museums in and near Paris when you have a Paris Museum Pass for 2, 4, or 6 days. More info
---
Cherry Blossoms Start to Bloom in Paris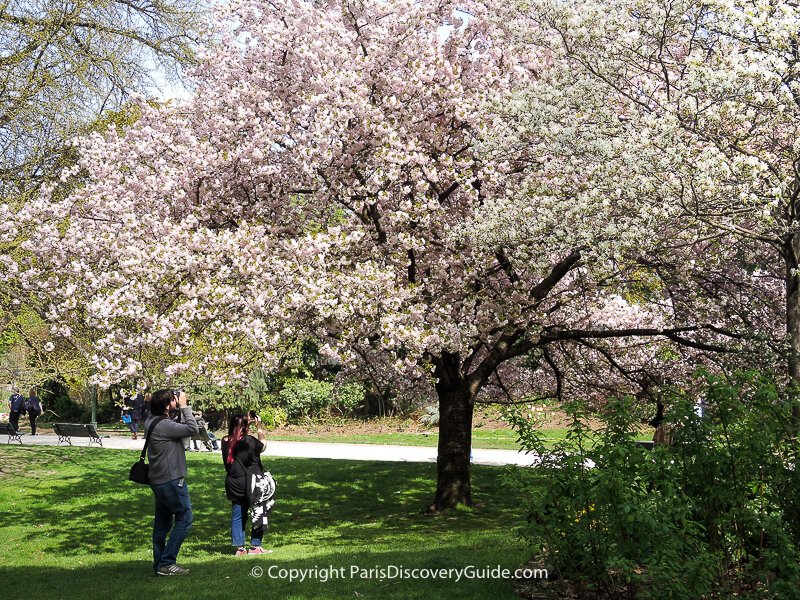 Cherry blossoms start blooming all over the city by the beginning of the month, brightening the landscape and marking the unofficial beginning of spring. This is an annual March event in Paris you won't want to miss!
Find the best 27 locations to see gorgeous cherry blossoms in Paris
---
French Open Tickets for Roland Garros On Sale
Public ticket sales begin on sale on March 15 for the French Open Tennis Tournament, second Grand Slam of the season held this year from May 28 - June 11.
If you want to attend a match, you need to move fast once sales open as the most popular tickets always sell out quickly.
Find French Open schedule, ticket information, and everything else you need to know about this famous sports event on the Roland-Garros website.
---
Paris Visitor's Tip: Daylight Savings Time in France 2023
Daylight Savings Time in France - Just a reminder: Paris, France, and most other European countries switch to Daylight Savings Time (DST) on the last Sunday of the month - March 26 this year, so at 2am, move your clocks ahead by one hour. You lose an hour of sleep - but an extra hour of daylight at the end of the day feels awesome!
---
Car-Free Sundays in Paris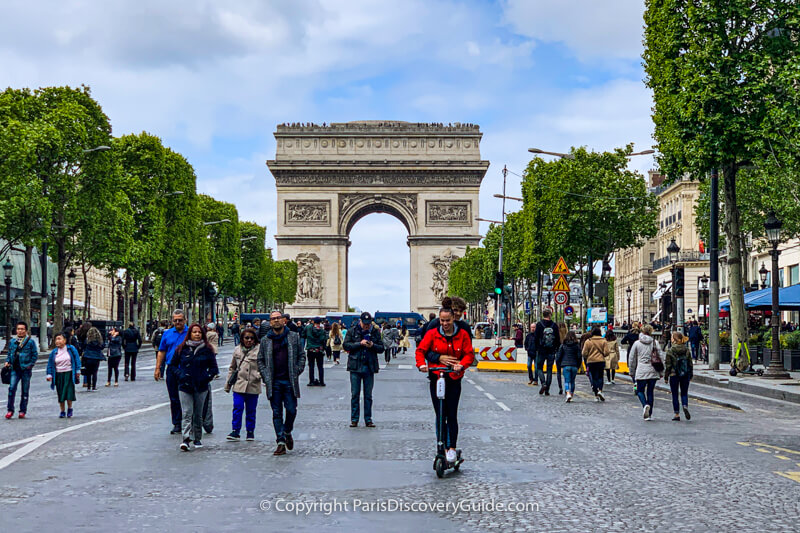 Can you imagine Paris without cars or any of their accompanying pollution and noise?
You can experience this on Sunday, March 5 - as well as the first Sunday of every month throughout many Paris neighborhoods. Some extend this to include every Sunday - and a few areas go car-free on Saturdays as well.
So get ready to walk or ride your bike down the middle of the busiest Paris streets and avenues, and see the city in a new way!
You can find a list of these areas on the City of Paris's website.
Although most vehicles (including electric) are banned, you'll see a few exceptions: emergency and police vehicles operate as usual, and taxis, city buses, and regular tourist buses (Open Tour and Big Bus lines) also run, but at a slower-than-normal speed.
Paris has measured a significant drop in pollution and noise on car-free days. So grab your skate board, bike, or favorite walking shoes, and spend the day outdoors enjoying fresh air and tranquility.
---
Paris Half Marathon - (Semi Marathon de Paris) - 2023
As a warm up of sorts for the Paris Marathon in April, Paris also hosts an annual half-marathon known as Semi de Paris each year in March.
This year, the Paris Half Marathon takes place on Sunday, March 5, with about 40,000 runners expected to participate in the 21.1km race.
The Half Marathon course begins on the Left Bank of the Seine River at Pont de Sully, crosses to the Left Bank and proceeds along the Seine to Pont de Tolbiac near the François Mitterand Library before crossing the bridge and proceeding through Parc de Bercy. At Rue de Charenton, runners turn right and make a large loop through Bois de Vincennes, the giant forest and parkland on the east side of the city, and then emerge onto Avenue Daumesnil. At Place Felix Eboué, the runners will turn left onto Boulevard de Bercy, continue to the Seine, and again turn left onto Quai de Bercy, continuing along the Seine to Hôtel de Ville before right up to Rue de Rivoli, then making another right to continue onto Place de la Bastille, and then onto the finish line at Rue de Lyon. (to be confirmed soon)
Start time for the Elite racers is 9am, with staggered start times for everyone else until 10:40am. Winners cross the Finish Line around 10am, and most runners will finish by early afternoon.
Want to find a good viewing location? You'll find the course map here.
---
Paris Martial Arts Festival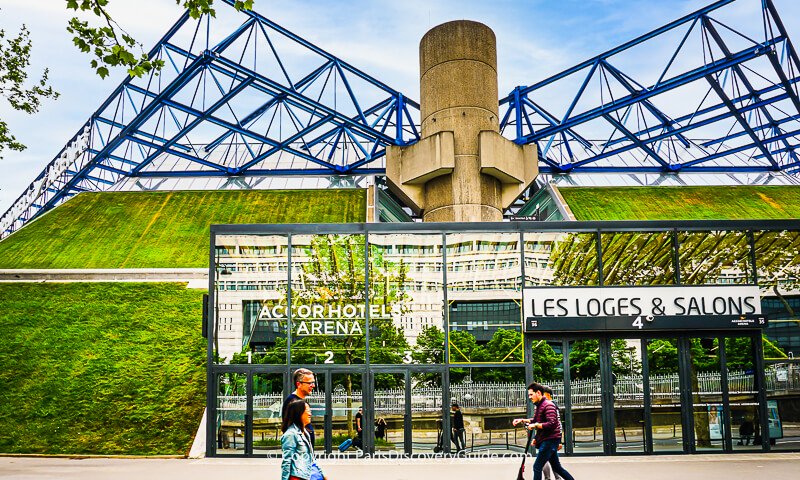 Accorhotels Arena
The Paris Martial Arts Festival features the greatest athletes from the world of martial arts at the Accorhotels Arena in the 12th arrondissement. Join other fans at this highly-rated international festival as over 300 experts, masters, and champions from all disciplines put on a spectacular show.
Dates: March 11, 2023
Location: Accorhotels Arena, 8 Boulevard de Bercy, 12th arr; Metro: Bercy
Get Your Martial Arts Festival Tickets
Hotels near Accorhotels Arena:
- Mercure Paris Bercy Bibliothèque - 4-star hotel with air conditioning and affordable rates across from a metro station - 5 minute walk to the arena. Request a room with a terrace overlooking the Seine River
- Kyriad Hotel Paris Bercy Village - 3-star modern hotel with cheerful contemporary decor - 5 minute walk to the arena and Line 14 metro station.
---
Saint-Jacques Scallop Festival in Montmartre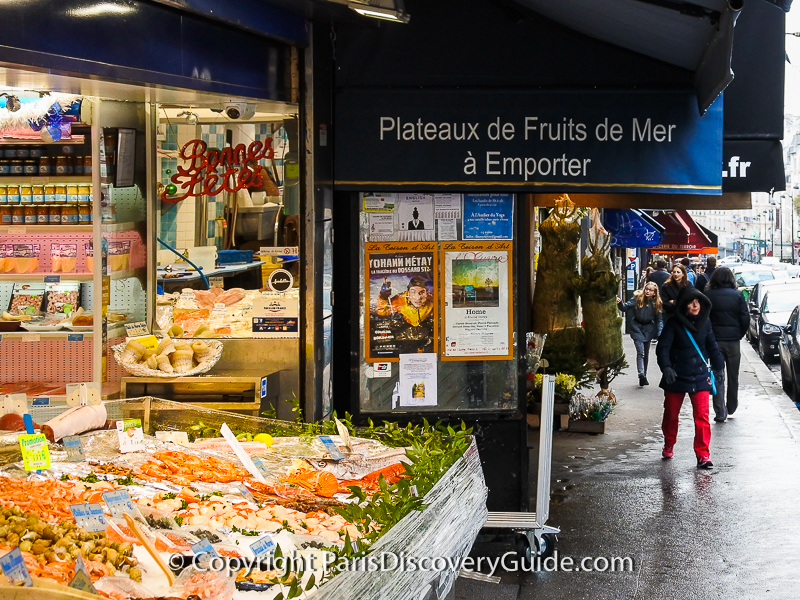 Scallops and other seafood at a market on Rue des Abbesses
As seafood-loving Parisians know, the annual Coquille Saint-Jacques Festival at Place des Abbesses in Montmartre should be on your must-visit list for the weekend of March 18-19. (to be confirmed)
Although this pop-up festival offers free and fee-based tastings of fresh scallops, oysters, and other seafood from Brittany presented by about 20 specialists, there's a lot to love here: crepes, buttered caramel, and traditional Breton charcuterie, culinary demonstrations and tastings, musical entertainment, and even a fish pavilion.
Festival hours are 9am - 7pm on Saturday and 9:30am - 6 pm on Sunday. And for even more choices, check out all the seafood, cheese, wine, produce, and chocolate shops along Rue des Abbesses, one of Paris's great market streets.
---
European Craft Days in Paris 2023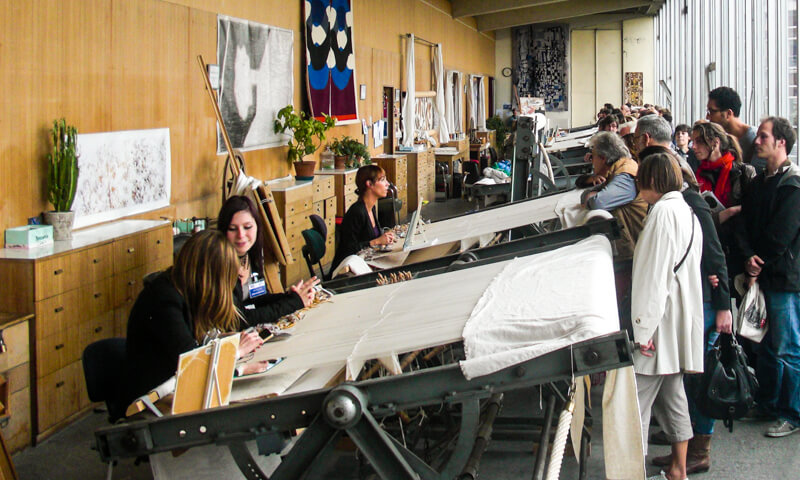 The European Days of Crafts (Journées Européennes des Métiers d'Art) takes place all over Europe and showcases contemporary expressions of traditional crafts by opening the doors of professional artisans to the public for a week each spring.
This is your chance to get a behind-the-scenes look at bookbinders, costume makers, jewelry designers, leather toolers, bicycle makers, stone carvers, tapestry weavers, furniture restorers, and much more, many of them at the city's top cultural institutions such as the Louvre and the Paris Opera. Go to the JAMA website to see what's on offer. Use the map to search; you'll have to click about 10 times to drill down to Paris events, but it's worth the effort. With over 200 open studios in Paris, you'll have a wealth of choices.
When: March 27 - April 2
Admission: Free, but many venues are small and limit participants, so advance registration is usually required and some fill up very quickly
Where: All over Paris (and France as well as the rest of Europe)
---
One Thousand and One Orchids Show at Jardin des Plantes - 2023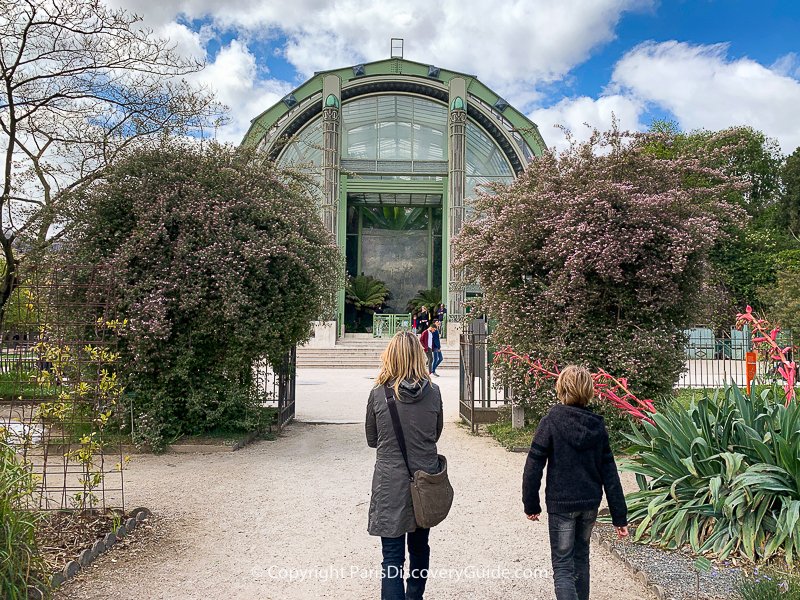 One of the greenhouses in Jardin des Plantes
Chase away the dregs of winter at the Botanical Garden's annual display of 700 fabulous orchids (just a tiny fraction of the Garden's collection of 92,000 specimums) arranged in natural settings throughout the garden's enormous greenhouses.
Dates: February 8 - March 6, 2022
Tickets: 7€ adults; buy online or at the greenhouse entrance (admission to the Botanical Garden is free)
Location: Greenhouses, Jardin des Plantes, Paris 5; Metro: Jussieu, Place Monge, Austerlitz, or Quai de la Rapée (walk across the Pont d'Austerlitz bridge to the garden)
More about Paris in March
---
More Fun Things to Do & See in Paris in March
---
Need to Book a Paris Hotel or Apartment for Your March Visit?
Planning a trip to Paris during early spring? Use this hotel map to find hotels and apartments near your favorite March events and Paris attractions:
Check out the newest Paris hotels
---
More Articles about Things to Do during March in Paris
---
More Fun Activities