If you are lucky enough to spend Bastille Day - known in France as La Fête Nationale or Le Quatorze Juillet - in Paris, you'll get to be part of the biggest summer celebration in the city.
Bastille Day festivities always take place on July 14, the anniversary of the storming of the infamous Bastille prison in 1789 - a turning point for the success of the French Revolution, and now a national holiday throughout France.
Celebrations kick off with a formal military ceremony followed by a huge military parade down the Avenue des Champs Élysées and flyover by military aircraft.
A spectacular fireworks show at the Eiffel Tower on the Champ de Mars starts at 11pm and lights up the sky for half an hour.
But there's a lot more to enjoy in Paris on Bastille Day, also known as French National Day.
Gather on the Champs de Mars with a blanket and picnic to relax and enjoy free concerts before the fireworks, attend one of the popular Bals des Pompiers (Firemen's Balls), cruise down the Seine river while enjoying dinner and fireworks, or visit one of the many museums open for the occasion.
Here are our best tips for how to celebrate Bastille Day in Paris.
Bastille Day Parade & Military Flyover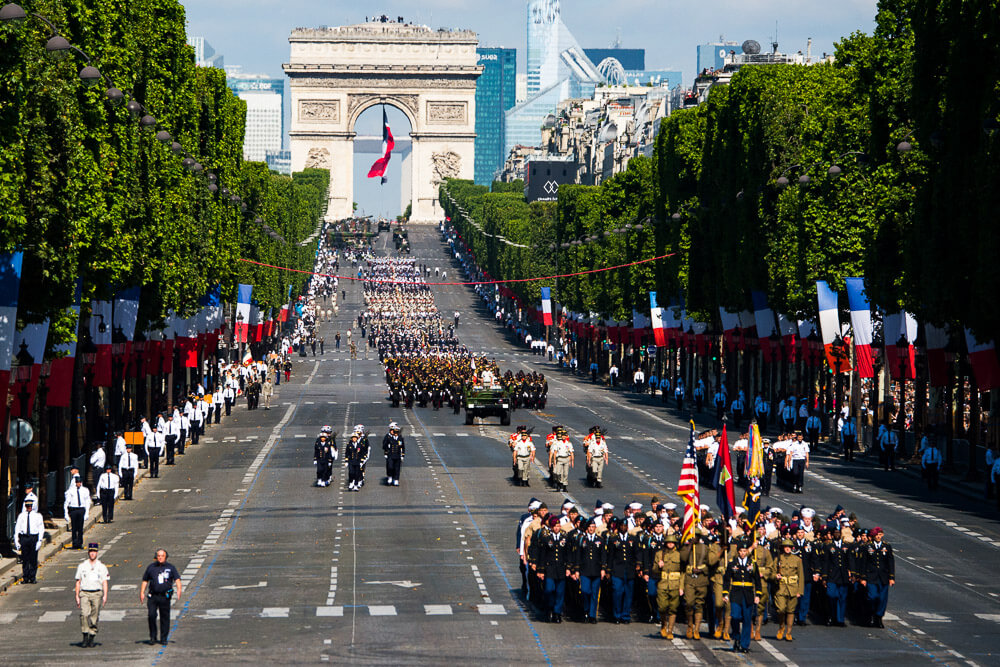 Bastille Day celebrations in Paris kick off at 10am with formal military exercises at the Arc de Triomphe, starting with an impressive trumpet, bugle, and drum fanfare to announce the arrival of the President of the French Republic, who inspects the assembled military troops and presides over other ceremonies and tributes.
At around 10:45, a magnificent flyover of military aircraft featuring the colors of the French flag takes place overhead.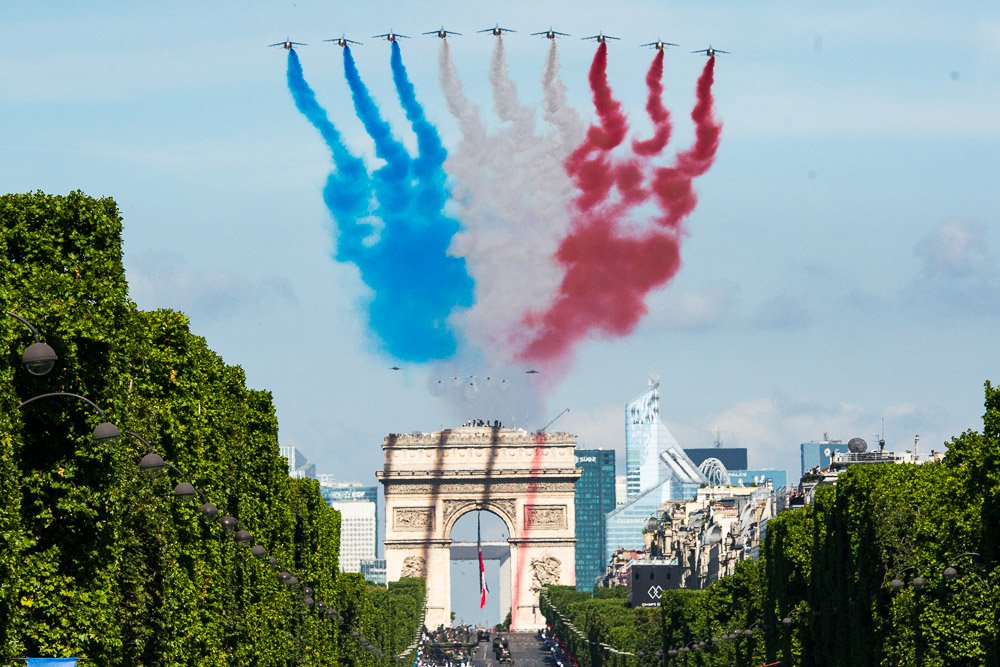 A huge military parade down the Champs-Élysées from the Arc de Triomphe to Place de la Concord starts at 11am and lasts about an hour. It includes representatives of elite French military regiments on foot, on horseback, and in vehicles - including tanks.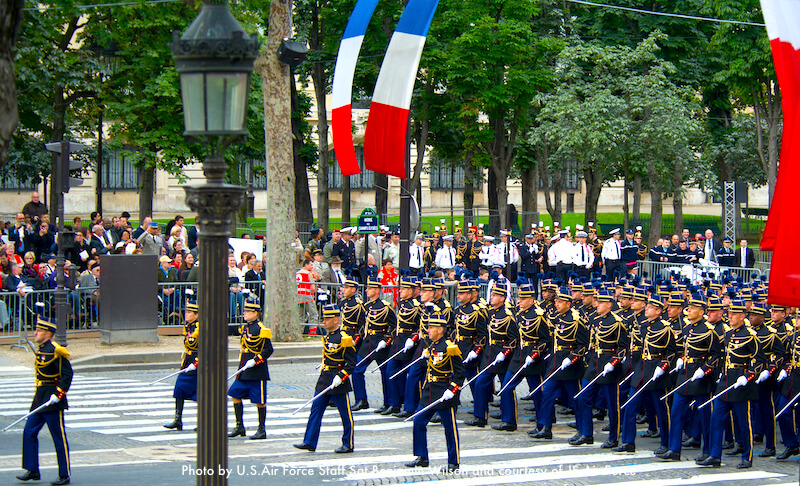 If you want to stake out a good viewing position for the parade, plan to arrive by 8am or even earlier. Crowds are usually (unless the weather is bad) massive - partly because you must be behind the barricades, which does not leave much room along the sidewalks - plus you also need to go through a security check point.
If you want to be sure of a superb view, reserve one of the rooms or suites overlooking the parade route at the 5-star Paris Marriott Champs-Élysées. You should expect the rates to be pricey - but the views will be priceless.
Or, you can also try to snag seats on the upper level of one of the cafes along Champs-Élysées by stopping by a few days in advance and asking to reserve a window table.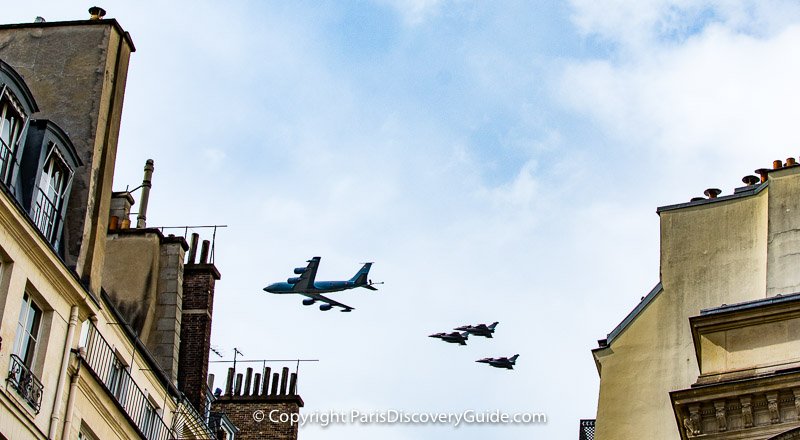 If you want to skip the parade but watch the military aircraft flyover, logistics are much easier - you can see the planes from many spots in the city.
Nearby parks such as Jardin des Tuileries (Tuileries Garden) and the Esplanade des Invalides (on the Left Bank) are both ideal viewing locations because your line of vision won't be blocked by nearby buildings.
Which Metro Stations & Streets Are Closed for the Parade?
About half a dozen metro stations fully or partially close during the morning on 14 Juillet for the parade and flyover.
Metro stations closed from 8am to 12 noon
At least two metro stations in the parade area (Tuileries and Concorde) will be closed completely, and those along the Champs-Élysées (Champs-Elysées Clemenceau, Franklin D. Roosevelt, George V, CDG-Étoile) may either be closed or have only one entrance open. If they are open at all, they will be mobbed, so consider other nearby stations (Saint-Philippe-du-Roule, Terne, Alma-Marceau, Victor Hugo, Gare de Neuilly/Porte Maillot, even Invalides on the Left Bank).
Champs-Élysées and numerous other nearby streets will be closed to vehicles from 6:30am - 1pm, which means buses will be re-routed to avoid the area. So wear comfortable walking shoes and bring a water bottle (or two). Expect heavy security in the Champs-Élysées - Place de la Corcorde area.
Fireworks and Free Concerts - Eiffel Tower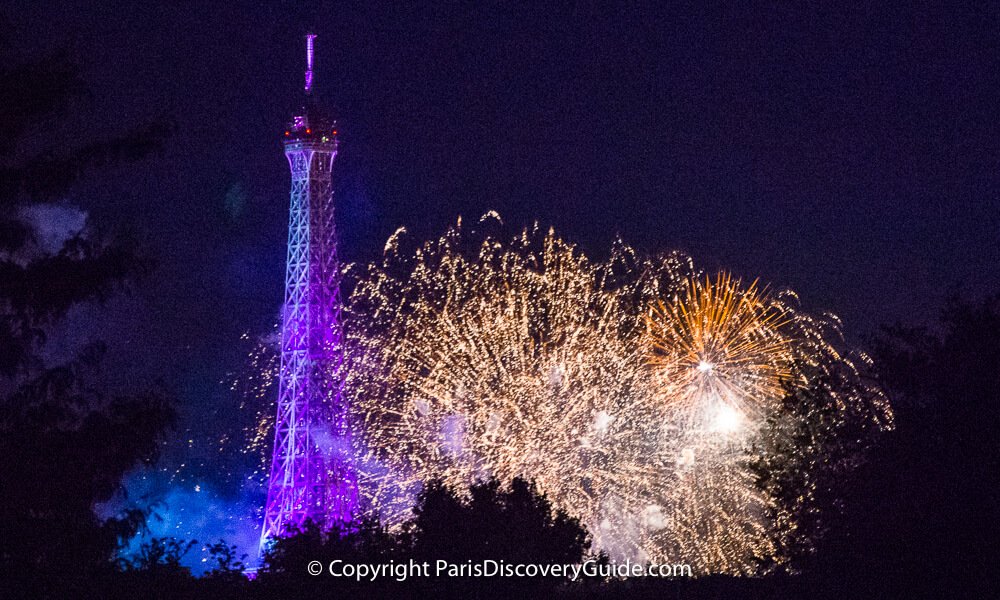 A truly spectacular Bastille Day fireworks show at the Eiffel Tower and Trocadéro Garden across the Seine sends dazzling bursts of light across the Parisian night sky. The show follows a different theme each year - and each year, you'll swear the display is the best ever.
Many - up to about a million - Parisians picnic and relax all afternoon on the Champ de Mars, the large grassy park surrounding the Eiffel Tower. If you want to drink wine or champagne as part of your picnic, start early because alcohol is banned on Champ de Mars after 3pm.
Champ de Mars is also the site of free open air concerts through the early evening hours. At 9:30pm, a special concert of classical music and opera featuring internationally acclaimed artists begins, with musicians performing from the base of the Eiffel Tower and special lighting effects.
The fireworks start at 11pm, once the sky is finally almost dark, and last about 35 minutes.
Which Metro Stations & Streets Close for the Fireworks?
At least four metro stations in the Eiffel Tower vicinity (Passy, Dupleix, Ecole Militaire, Bir-Hakeim) will be closed completely, while others (La Motte Picquet-Grenelle, Trocadero) may have only one entrance open. Iena closes at 9pm.
Bastille Day: Paris Insider's Tip
If you plan to spend the afternoon and evening at Champ de Mars, be aware that there are very few public toilets in this area compared with the number of people who gather for the concerts and fireworks. Area cafés will not let you use their facilities unless you are there for a drink or a meal.
You can find public restrooms at Parc Rives de Seine - the riverside park along the Left Bank of the Seine just beyond the Eiffel Tower. They are usually reasonably clean and a fine option if you're not at a cafe.
Special Bastille Day Fireworks Cruises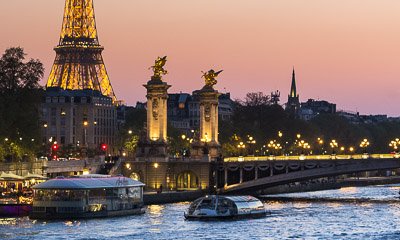 Perhaps the best place to see the Bastille Day fireworks is from a cruise boat on the Seine on July 14. Enjoy dinner and fine wine as you float past all the iconic landmarks along the Seine, and then watch the dazzling fireworks overhead.
The Paris Sightseeing Bastille Day Cruise combines a romantic cruise down the Seine past the city's top landmarks with a perfect location on the river across from the Eiffel Tower for watching the fireworks light up the sky. Enjoy a picnic dinner on board. Available on July 14th only, and sells out early - so don't wait to book.
One of our favorites is this magical Bastille Day Dinner Cruise with a 6-course gourmet dinner, wine and Champagne, live music, and a perfect view of the fireworks from the deck. This cruise takes place on Bastille Day only and always sells out - so book early!
Another popular choice is the Bateaux Parisiens Dinner Cruise on the Seine, which includes pickup and dropoff at your hotel. You'll enjoy a 3-hour Seine River cruise, a 3-course dinner with wine, live music, and panoramic views of the Eiffel Tower and other famous landmarks. Available every evening - but book far ahead for Bastille Day.
More Seine River Cruises
More Great Places to Watch the Bastille Day Fireworks in Paris
If you don't want to join the million or so Parisians on the Champ de Mars and don't have reservations on a Bastille Day fireworks cruise, you will be able to see the fireworks show from any point in Paris where you can see the Eiffel Tower.
For close-up views, an area that's almost as popular as Champ de Mars (and sometimes even more crowded) is Trocadéro, across the Seine from the Eiffel Tower. Here, too, you need to arrive early to stake out your spot.
As with any densely crowded location, watch out for pickpockets.
Other popular viewing areas that may be somewhat less crowded include the nearby banks of the Seine, bridges over the river, the area around Place de la Concorde, and even some areas of the Tuileries Garden (you have to pick your spot carefully here due to the many trees).
Keep in mind that numerous metro stations near the Eiffel Tower will start to close as early as 7pm: Dupleix, Ecole Militaire, Passy, Iéna, Trocadéro, Motte-Piquet-Grenelle, and sometimes more, depending on security considerations. You'll see signs about closures posted in the stations. Most city buses will run, but be rerouted. Security barricades may be in place in some locations.
So to the degree possible, pick a viewing location that you can either walk to, or reach on a metro well beyond the security zone.
Because of the massive crowds, this is not the night to count on getting a taxi or uber!
Firemen's Balls - Bastille Day Parties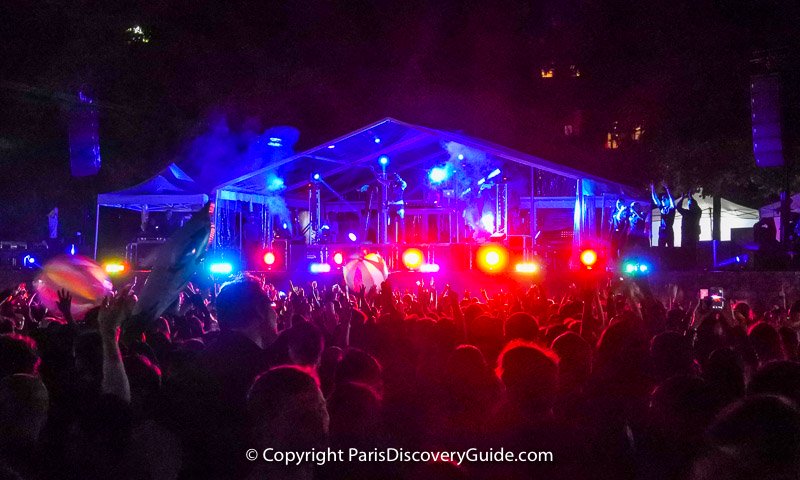 After the Bastille Day fireworks end, festivities continue at les Bals des Pompiers (Firemen's Balls), organized by fire stations throughout Paris in a tradition that started a century ago.
In case "ball" conjures up visions of formal attire and a stuffy ambiance, rest assured that these balls are just the opposite: informal, outdoor parties with lots of music, dancing, champagne, and fun.
The Firemen's Balls take place on July 13 and 14, and start at 9pm and last until 4am. They are open to the public, and a wonderful way, if you're a visitor, to experience the "real" Paris!
More information about Bals des Pompiers and their locations in Paris
French History Refresher: Why Bastille Day is a French National Holiday?
Similar to Independence Day on July 4 in the United States, Bastille Day celebrates the overthrow of a repressive monarchy and the beginning of democracy in France during the French Revolution of 1789.
Although pressure against France's all-powerful rulers had been brewing for decades, revolution began in earnest in 1787 amid a severe economic crisis and an ineffective out-of-touch king, Louis XVI, and his wife, Marie-Antoinette.
On July 14, 1789, anti-Monarchist forces in search of gunpower and weapons stormed the Bastille, a medieval fortress, and freed its prisoners. Although only seven prisoners were incarcerated, all for non-political reasons, the Bastille's past as a prison for political dissidents its fall held great symbolic meaning to the revolutionaries. Even more important: Royalist troops stood by without intervening while this was happening - a signal heard across across Paris and the rest of France that Louis XVI no longer fully controlled his army.
A few weeks later, on August 4, 1789, the French Assembly adopted the "Declaration of the Rights of Man and of the Citizen," which officially abolished feudalism and adopted a system based on equal opportunity, freedom of speech, and a representative government - thereby undermining the power of the monarchy.
The revolution raged on for another 10 or so years, finally winding down for awhile when Napoleon Bonaparte took control and the country adopted a new constitution in 1799. Permanently eliminating rule by monarchy took two more revolutions - one in 1830 and another in 1848, and the practice of revolting against repressive regimes continued into the 20th century, notably with the student riots in 1968.
The first Bastille Day parade to commemorate the momentous event took place in 1780, a year after the storming of the prison, making it the oldest military parade in the world. The parade has continued every year since, except during the years of the Nazi occupation during World War II.
So if you are in Paris on Bastille Day, join in the festivities and raise a glass to salute France's hard-won liberté, egalité, fraternité!
More Things to Do on Bastille Day in Paris
Most large museums, department stores, and shopping complexes in Paris will be open on Bastille Day. (Remember, summer sales are still underway!) The Arc de Triomphe is open only in the afternoon due to the Bastille Day Parade during the morning.
You should expect to large crowds at the most popular museums and outdoor attractions - the Louvre, Orsay, Picasso, Catacombs, Centre Pompidou, Paris Zoological Park, Garden of Acclimatization - so consider heading to less well-known venues - Dali Paris, Conciergerie, Palace of Discovery, Guimet Museum, Grand Perfume Museum, Science and Industry Museum, the Museum of Modern Art of the City of Paris.
Paris parks including Jardin D'Acclimatation in Bois de Boulogne and Bois de Vincennes/Parc Zoologique de Paris (Vincennes Zoo) are all open, along with some of the larger public swimming pools (Piscine Pontoise in the 5th, Josephine Baker in the 15th, the huge Aquaboulevard in the 15th, Champerret in the 17th, and Georges Vallerey in the 20th).
Many neighborhood bakeries and small produce stores will be open (although in the morning only in some cases) so that Parisians can buy picnic supplies; many local residents spend at least part of Bastille Day relaxing in a park with family, friends, food, and wine.
The metro and city buses run as usual, except for the station closures around Champs-Élysées and the Eiffel Tower/Champ de Mars mentioned above.
Find Out More about the French Revolution
Even though little remains of the infamous Bastille prison, many of the other buildings and sites where the Revolution took place remain. The best way to see these places in context is to join a French Revolution tour led by an expert guide. Here are two interesting choices:
---
More Fun Things to Do & See in Paris
Want to Save on Your Paris Hotel?
Check our tips on how to find discounts, deals, and bargains for Paris hotels. Whether you're looking for cheap accommodations or want to pay less for luxury, we'll show you How to Save on Hotels in Paris.
See Trip Advisor's Best Value Deals to save BIG on your Paris hotel