Exciting Paris events during February include final Winter Sales (look for the biggest bargains this month!), a trio of Chinese New Year parades, a lively roster of concerts and museum shows, and believe it or not, the first signs of spring toward the end of the month.
Valentine's Day means you'll see lovely displays in bakery windows, and special menus in the city's romantic bistros. If you're visiting, don't miss the romantic dinners, shows, and cruises on this day.
With warmer temperature, longer days, and the first flowers appearing on early-blooming cherry trees, February is a wonderful time to explore Paris, visit museums, and enjoy hints of romance in the air.
Celebrate being in the "City of Love" by posing for a photo in front of the famous blue and white Wall of Love in Rictus Square in Montmartre where you'll see I Love You written 311 times and in 250 different languages.
Top photo: Le mur des je t'aime (the Wall of Love) in Rictus Square in Montmartre
Chinese New Year Parades in Paris - Dates & Locations 2020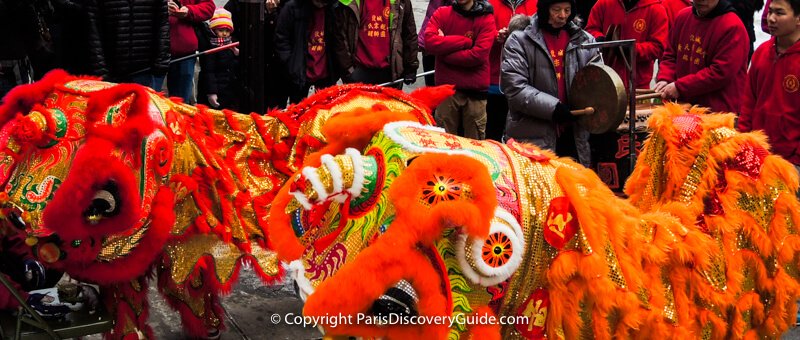 Chinese New Year parades, festivities, and other events span about two weeks during February in Paris, home to Europe's largest Asian community. Don't miss the chance to experience the Lion Dancers, colorful dragons, drums, firecrackers, food, and activities!
Chinese New Year falls on Saturday, January 25 in 2020, with most celebrations taking place a week or two before or after this date. The 2020 New Year marks the Year of the Rat.
Here are the 2020 parade dates and locations for the biggest Chinese New Year parades and other celebrations in Paris:
13th Arrondissement - Sunday, February 2, 1pm-5pm; parade kicks off at 2pm at 44 Porte d'Ivry (near Metro station), with other festivities including a lion dance taking place between January 20 and February 2. Find more details here
Marais - The Chinese New Year Parade of the 3rd and 4th districts (ie, Marais) returns this year on Saturday, February 8, (to be confirmed) kicking off at Place de la République (find parade route here). In addition, many free Chinese cultural activities from February 3-8 at the 3rd arrondissement's Town Hall (2 Rue Eugène Spuller). For details: 3rd Arrondissement Town Hall website (look for updates about 2 weeks before the event)
Belleville (10th, 11th, 19th, and 20th arrondissements) - Sunday, February 2), 10:30am kickoff at the Belleville Metro station (date/time to be confirmed)
Find out more about Paris Chinese New Year Parades including routes, other activities and things to do, and nearby places to stay
Future Chinese New Year dates: January 25, 2020; February 12, 2021; February 1, 2022; January 22, 2023; February 10, 2024; January 29, 2025
Valentine's Day in Paris: Celebrate Your Love in the City of Love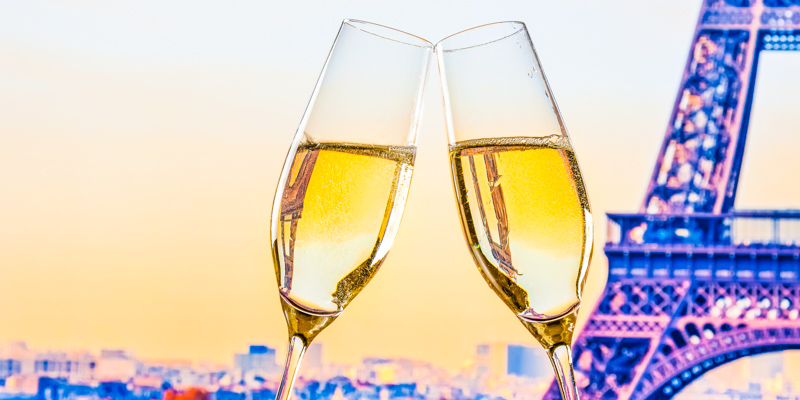 Not surprisingly, the City of Love pulls out all the stops on Valentine's Day. If you're visiting Paris on February 14, romantic cruises down the Seine River give you the perfect combination of Champagne, a special Valentine's Day dinner, and iconic views as you pass by the Eiffel Tower and other top attractions. Here are two of the best, plus a spectacular Valentine's Day show and dinner:
More Valentine's Day Celebrations in Paris:
Car-Free Sundays in Paris 2020
Can you imagine Paris without cars or any of their accompanying pollution and noise?
You can experience this on Sunday, February 3 - as well as the first Sunday of every month throughout many Paris neighborhoods. Some extend this to include every Sunday - and a few areas go car-free on Saturdays as well.
So get ready to walk or ride your bike down the middle of the busiest Paris streets and avenues, and see the city in a new way!
You can find a list of these areas on the City of Paris's website.
Although most vehicles (including electric) are banned, you'll see a few exceptions: emergency and police vehicles operate as usual, and taxis, city buses, and regular tourist buses (Open Tour and Big Bus lines) also run, but at a slower-than-normal speed.
Paris has measured a significant drop in pollution and noise on car-free days. So grab your skate board, bike, or favorite walking shoes, and spend the day outdoors enjoying fresh air and tranquility.
February Concerts in Paris - 2020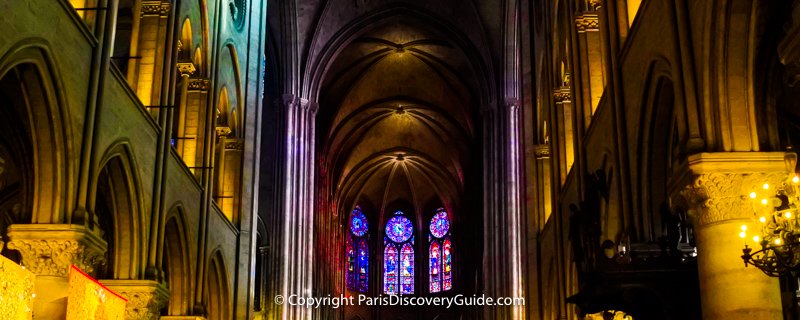 More Paris classical concerts during February
More Paris rock, pop, jazz, rap, indie, & other concerts during February
Find Paris concerts for other months
Paris Grand Slam: Judo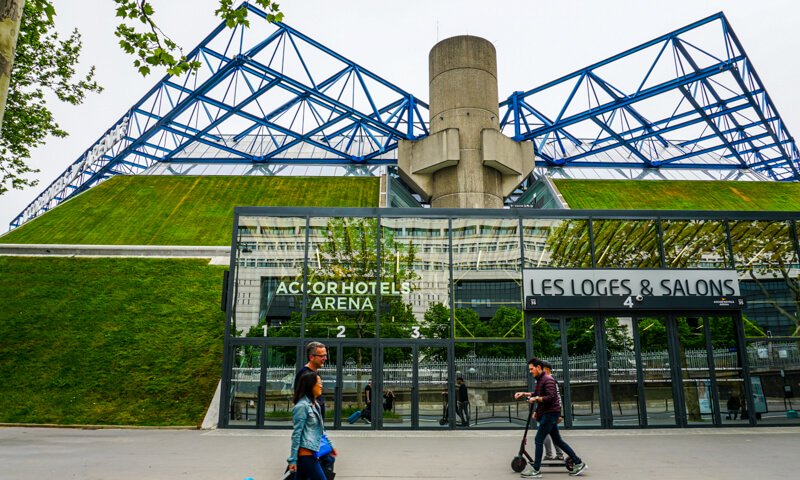 The Paris Grand Slam features the greatest athletes from the world of judo for two days at the Accorhotels Arena in the 12th arrondissement. Join 24,000+ other spectators at this highly-rated international tournament as professional judokas put on a spectacular show on the tatami mats.
Dates: February 8 and 9
Location: Accorhotels Arena, 8 Boulevard de Bercy, 12th arr; Metro: Bercy
Get Your Paris Grand Slam Tickets
Hotels near Accorhotels Arena:
- Mercure Paris Bercy Bibliothèque - 4-star hotel with air conditioning and affordable rates across from a metro station - 5 minute walk to the arena. Request a room with a terrace overlooking the Seine River
- Kyriad Hotel Paris Bercy Village - 3-star modern hotel with cheerful contemporary decor - 5 minute walk to the arena and Line 14 metro station.
Winter Sales on Designer Fashions - Final Days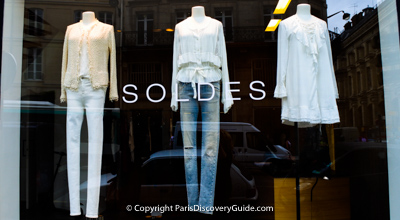 The famous Paris winter sales end on February 4.
By early February, Soldes signs in store windows all over the city will be announcing final reductions - as high as 70-80%, and occasionally even more. Savvy shoppers know that these last few days are when you'll find the biggest bargains.
Find out more about Paris Winter Sales 2020
Paris Tours for Fashionistas
Paris Exhibits - Must-See Shows during February 2020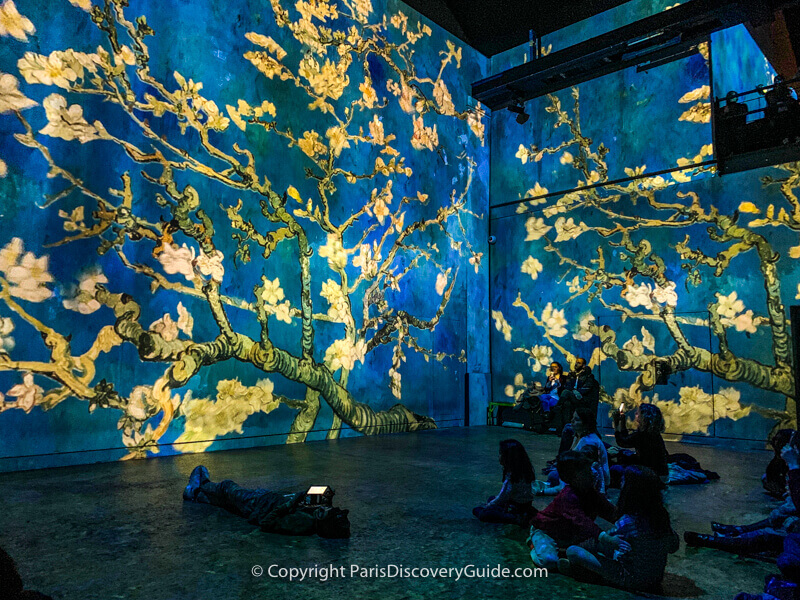 Monet, Renoir, Chagall - Journeys Around the Mediterranean
@ Atelier des Lumières - February 28 through Dec 31, 2020 - Immersive video/digitized exhibition of Monet's, Renoir's, and Chagalls's masterpieces accompanied by original music. Tickets must be purchased online on the L'Atelier website
Open: 7 days/week
Where: 38 Rue Saint Maur, 11th arrondissement
Metro: Saint-Maur

Leonardo da Vinci
@ Musée du Louvre, October 24 - February 24, 2020 - This blockbuster show marks the 500th anniversary of the painter's death and brings together 5 core works, includinging the Mona Lisa, plus many more of his paintings and drawings. The show is free with the cost of regular admission to the Louvre, but you must reserve a date and time-slot ticket in advance online. Book as far in advance as possible to get your preferred date/time.
Location: Rue de Rivoli, 1st arrondissement
Closed: Tuesdays, January 1, May 1, and December 25
Tickets: 17€ (purchased online); includes admission to permanent exhibits as well; free for under 26
Stay nearby: Hotels near the Louvre
Nearest Metro: Palais Royal/Musée du Louvre, Pyramides
More info: https://www.louvre.fr
Interested in a Louvre Museum guided tour? Find out how to choose one
Magic Paintings (Tableaux Magiques)
@ Picasso Museum, Through February 2020 - This special exhibit focuses on Picasso's paintings completed between 1926-1930, and explores his experimentation in the context of Surrealism, psychology, and his fascination with magic.
Admission: Exhibit included with museum admission. Get skip-the-line priority tickets online or with a Paris Museum Pass
Location: 5 rue de Thorigny, 3rd arrondissement; closed Mondays
Metro: Saint-Sébastien-Froissart
The Great Naive Masters
@ Musée Maillol, September 11 - February 23, 2020 - Maillol Museum brings together over 100 works created between the two world wars by Henri Rousseau, Séraphine Louis, and lesser-known "primitive" artists to examine their subversive statements against the modernism of that period.
Location: 61 rue de Grenelle, 7th arr
Tickets: 13.50€ (available online for timed entry)
Nearest Metro: Rue du Bac
More info: www.museemaillol.com
Golden Age of English Painting
@ Grand Palais, through February 16, 2020 - English masterpieces from the 1760s to 1820 - spectacular paintings by Reynolds, Turner, Gainsborough, and more.
Closed on Tuesdays. Tickets 14.50€
Location: Grand Palais, Avenue Winston-Churchill, 8th arr
Closed: Tuesdays
Nearest Metro: Champs-Élysées-Clemenceau
More info: https://www.grandpalais.fr
Our World is Burning
@ Palais de Tokyo, February 21-May 17 - Using fire as a sign of danger, this exhibition explores the connections among ecological catastrophes, wars, and explosive international relations in the early 21st century, and their impact on contemporary creation. Tickets 12€; open from noon to midnight every day except Tuesdays, January 1, May 1, and December 25
Location: 13, Avenue du Président Wilson, 16 arr
Nearest Metro: Iéna and Alma Marceau
More info: https://palaisdetokyo.com
Turner: Exposure
@ Musée Jacquemart-André, March 13-July 20, 2020 - Major retrospective of British landscape master Joseph Mallord William Turner with watercolors and oil paintings on loan from Tate Britain in London. Tickets 14.50€ (includes admission to the permanent collections plus this exhibition)
Location: 158 Boulevard Haussmann, 8th arr.
Nearest Metro : Saint Philippe du Roule
Magic Paintings (Tableaux Magiques)
@ Picasso Museum, Through February 2020 - This special exhibit focuses on Picasso's paintings completed between 1926-1930, and explores his experimentation in the context of Surrealism, psychology, and his fascination with magic.
Admission: Exhibit included with museum admission. Get skip-the-line priority tickets online or with a Paris Museum Pass
Location: 5 rue de Thorigny, 3rd arrondissement; closed Mondays
Metro: Saint-Sébastien-Froissart
---
Paris Museum and Attractions Passes
Get free admission and skip-the-line access to 60+ museums in and near Paris when you have a Paris Museum Pass for 2, 4, or 6 days. More info
More Top Paris Things to Do & See in February