Exciting Paris events during February include final Winter Sales (look for the biggest bargains this month!), a trio of Chinese New Year parades, a lively roster of concerts and museum shows, and believe it or not, the first signs of spring toward the end of the month.
Valentine's Day means you'll see lovely displays in bakery windows, and special menus in the city's romantic bistros. If you're visiting, don't miss the romantic dinners, shows, and cruises on this day.
With warmer temperature, longer days, and the first flowers appearing on early-blooming cherry trees, February is a wonderful time to explore Paris, visit museums, and enjoy hints of romance in the air.
Celebrate being in the "City of Love" by posing for a photo in front of the famous blue and white Wall of Love in Rictus Square in Montmartre where you'll see I Love You written 311 times and in 250 different languages.
Top photo: Le mur des je t'aime (the Wall of Love) in Rictus Square in Montmartre, (c) Paris Discovery Guide
---
Valentine's Day in Paris: Celebrate Your Love in the City of Love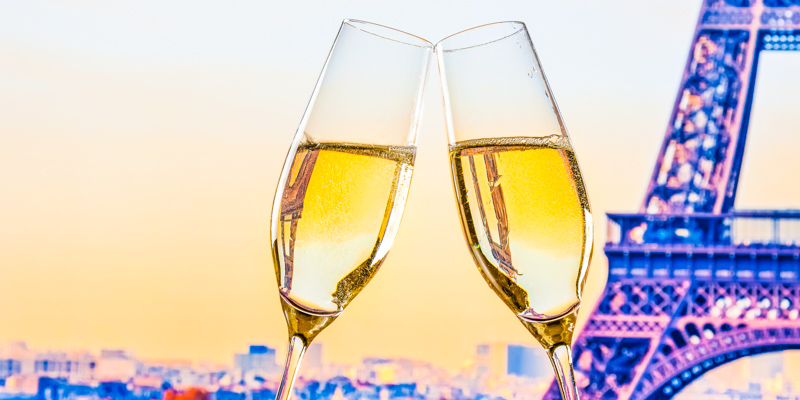 It's hard to imagine a more romantic city in the world than Paris - so what better destination with your love on Valentine's Day, especially if you might be planning to propose?
First, save by finding a cheap flight so that you can splurge once you get there by staying at a 5-star Palace hotel.
Spend the day enjoying some of these romantic and fun activities:
As night falls, head out to one of these romantic destinations - and the perfect place to propose:
---
February Concerts in Paris - 2023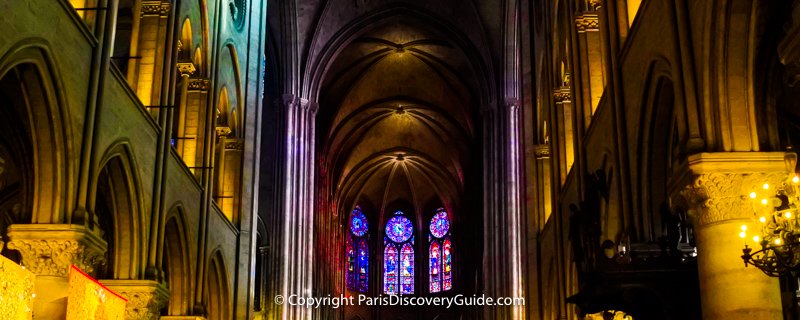 More Paris classical concerts, opera, & dance performances during February
More Paris rock, pop, jazz, rap, indie, & other concerts during February - In the search box, enter Paris February
Find Paris concerts for other months
---
La Chandeleur in Paris: Crêpe Day!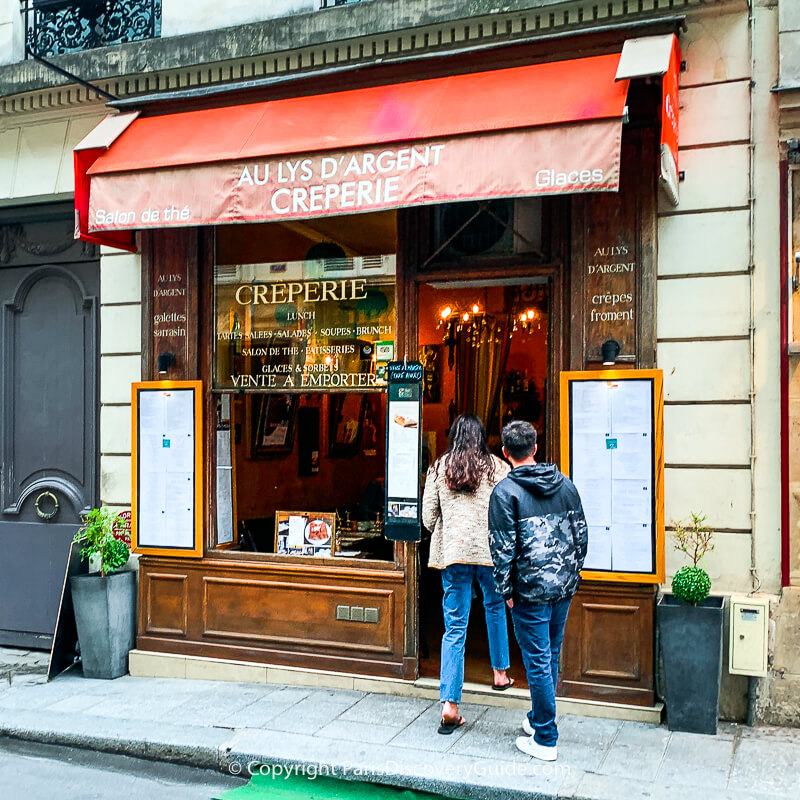 In case you've never heard of La Chandeleur, it takes place on February 2nd and is the day in France when everyone eats crepes. (In English, it's called "Candlemas" - or just "pancake day.")
Why? The date is based on a rather obscure Roman Catholic holiday that celebrated the presentation of Baby Jesus at a temple 40 days after Christmas, which is the 2nd of February. It's also associated with superstitions about prosperity (you'll lose it if you drop a gold coin held in your left hand while holding the crepe pan in your right hand and flipping the crepe) and the weather (rain on February 2nd predictions 40 more days of rain - similar to Groundhog Day in the U.S. and Canada).
Bottom line: If you're in Paris on February 2nd, head to the nearest creperie to observe this tasty French tradition.
---
Chinese New Year Parades in Paris - Dates & Locations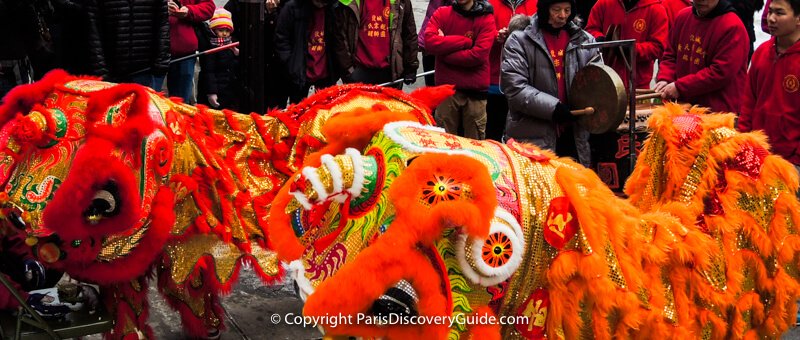 Chinese New Year parades, festivities, and other events span about two weeks during late January / early February in Paris, home to Europe's largest Asian community. Don't miss the chance to experience the big parades with Lion Dancers, colorful dragons, drums, firecrackers, food, and activities!
Chinese New Year falls on Sunday, January 22 in 2023, which marks the Year of the Rabbit. According to traditional beliefs, people born in the Year of the Tiger are believed to be kind, virtuous, popular, peaceful, and artistic.
Most Chinese New Year events in Paris take place this year in February. Here are dates and locations of the biggest New Year parades and other celebrations that happened last year to give you an idea about what to expect in 2023:
Find out more about Paris Chinese New Year Parades including routes, other activities and things to do, and nearby places to stay
Future Chinese New Year dates: February 10, 2024; January 29, 2025
---
Paris Exhibits - Must-See Shows during February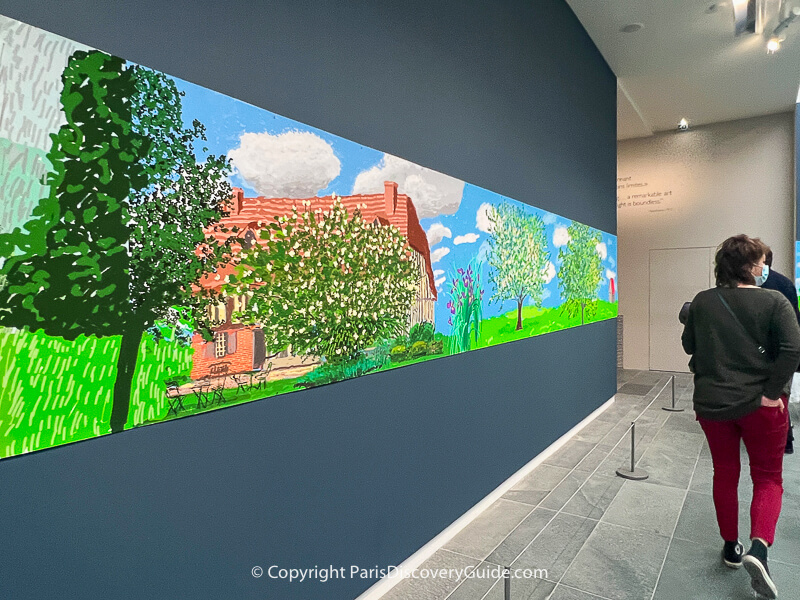 The Morozov Collection: Icons of Modern Art @ Louis Vuitton Foundation
The Morozov brothers' superb collection fills every gallery at LVF with French modern art (Picasso, Gauguin, Van Gogh, Matisse, Monet, Renoir, Degas, Cezanne) and Russian modern art (Malevich, Repin, Serof, Vrubel). This is a fantastic exhibit, so don't miss this chance to see it.
Dates: Extended through April 3, 2022
Tickets: 26€ adults; book in advance on website
Location: 8 Avenue du Mahatma Gandhi, Bois de Boulogne, Paris 16; Metro: Pont de Neuilly
David Hockney: A Year in Normandy @ Orangerie Museum
Inspired by a tapestry showing William, Duke of Normandy's 11th century conquest of England, Hockney created these luminous new works by using Impressionist techniques for capturing the effects of light and a year of seasonal change on his iPad, and then printing them.
Dates: Now through Feb 14, 2022
Tickets: 12.50€. Book your Musée de l'Orangerie ticket online (includes permanent collections and special exhibitions), save with a combo ticket to Musée de l'Orangerie and the Orsay Museum, or use your Paris Museum Pass for free entry
Location: Tuileries Garden (southwest corner), 75001; Metro: Concorde, Assemblée Nationale
Find more Paris museum exhibitions for February & future months
---
Paris Museum and Attractions Passes
Get free admission and skip-the-line access to 60+ museums in and near Paris when you have a Paris Museum Pass for 2, 4, or 6 days. More info
---
Mardi Gras (Carnaval) in Paris:

La Promenade du Boeuf Gras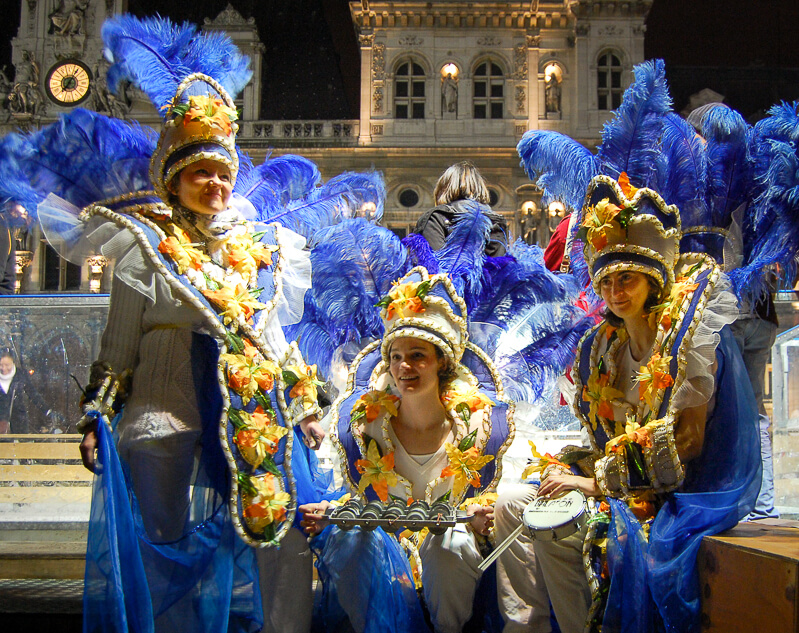 Paris celebrates Mardi Gras with a huge parade based on ancient cultural traditions called La Promenade du Boeuf Gras (literally, March of the Fat Beef Cow) featuring masks and processions. Led by Pimprenelle, a lovely French beef Limousin cow wearing a bright red dress, and her escort Pat the Clown, about 5,000 flamboyantly costumed paraders fill the streets of Paris with music and dancing, attracting massive crowds of spectators.
The Paris Mardi Gras parade takes place in the 20th arrondissement, always on the Sunday before the Tuesday when Mardi Gras occurs. The event is free, free-form, and definitely one of the most fun things to do in Paris in February. Want to march? Just join in. Want to watch? That's fine too.
Carnaval de Paris (Mardi Gras) Parade Route: Starts at Place Gambetta and goes down Avenue Gambetta past Père Lachaise Cemetery, turns right at Boulevard Ménilmontant and continues along Boulevard de Belleville, turns left on to Rue du Faubourg du Temple and ends at Place de la République. Like every parade in Paris, unanticipated route changes can occur - so check the Carnaval website for any last-minute updates.

When: February 27, 2022
Starts: 1pm
Ends: 5pm
Future dates: February 19, 2023; February 11, 2024
---
More about Paris in February
---
Winter Sales on Designer Fashions - Final Days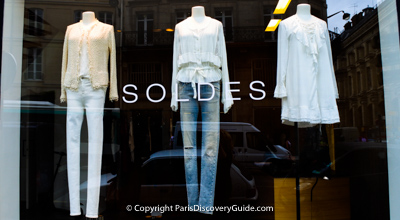 The famous Paris winter sales end on February 8.
By early February, Soldes signs in store windows all over the city will be announcing final reductions - as high as 70-80%, and occasionally even more. Savvy shoppers know that these last few days are when you'll find the biggest bargains.
Find out more about Paris Winter Sales 2022
Paris Tours for Fashionistas
---
Need a Paris Hotel or Apartment for Your Visit?
Planning a trip to Paris? Use this hotel booking map to find hotels and apartments during your travel dates:
Check out the newest Paris hotels
---
More Top Paris Things to Do & See in February
---
Pin Now, Read Again Later
---
More Articles about Things to Do & See in Paris in February