Planning a trip to Paris during January and wondering, "What's the weather in Paris, France like in January?"
First, the bad news. On average, January ranks as the coldest month of the year in Paris (although not by much - December and February almost tie for that "honor").
Now for the good news, especially if you live in the northern U.S., Canada, or Northern Europe, where typical January temperatures drop much lower. Paris winter weather in January may be much warmer than what you're used to, with daytime temperatures almost always well above freezing.
But that's not all on the "good news" front: averages are just, well, averages. In reality, you'll experience January days where the temperature rises well above average. A few days may feel almost balmy.
On the other hand, other days will be colder than average, some will be windy, and you may even encounter a little snow. But again, there's good news: the snow looks lovely, but melts quickly so it won't impede your walks around the city.
Find out about best places to stay in Paris in the winter
You'll find all the information you need about January weather in Paris, the wide range of temperatures you may experience, plus other weather events such as rain, wind, and snow.
We also include packing tips for January's unpredictable weather.
Article contents:
Top photo: View of La Conciergerie and the Seine River on a late afternoon in January, (c) Paris Discovery Guide
Paris Discovery Guide is a reader-supported publication. When you buy through our links, we may earn a commission at no additional cost for you. Learn more
---
What Is Paris Weather in January Really Like?
January claims the title for "Coldest Month of the Year" in Paris, although December and February rank as very close seconds. But with a monthly average high temperature of 46°F (8°C) and average lows of 35°F (2°C), you may consider it chilly, not cold.
Paris weather is also famously unpredictable - not just during January, but throughout the year. Don't be surprised if the weather forecast changes frequently throughout the day, and you have to dodge an unexpected shower by ducking into a cafe for a cup of hot chocolate.
Paris Temperature in January: Average Highs & Lows
Here's a quick summary of what January weather in Paris looks like on Fahrenheit (F) and Celsius (C) degree scales for average daily high and low temperatures, which have increased by 1-2 degrees Fahrenheit during the past decade:
Average high (maximum - usually during daytime hours) temperature: 46°F (8°C)
Average low (minimum - usually at night) temperature: 35°F (2°C)
Remember, these are just averages - useful for comparing one month with another, but they're not a weather forecast for Paris in January. To better understand what actual temperatures might be during your January visit, always check the January high and low temperature ranges below. (All temperature data in this
Weather Statistics for January in Paris: High & Low Temperature Ranges
The average temperatures for January shown above give you only part of the Paris weather story - and not the most important part if you're planning to visit and want to know what to pack and even what activities you should plan based on the weather conditions you'll encounter.
That's why looking at the range of high and low temperatures during recent years gives you a much better understanding of what January weather in Paris may actually be like.
When you look at the range of daily highs and lows throughout a typical Paris January, here's what you'll find:
Range of monthly high temperatures during January:   35°F to 62°F (2°C to 17°C)
Range of monthly low temperatures during January:  8°F to 50° F (-13°C to 10°C)
If you're thinking that's a big temperature variation from day to day throughout January in Paris, you are right.
Here are the record-breaking temperatures for the past three decades, and when they occurred:
Highest monthly January temperature (1991-present):   62°F (17°C) in 2003
Lowest monthly January temperature (1991-present):   8°F (-13°C) in 2010
As you can see, Paris weather is unpredictable from one year to the next as well as on a daily basis so you need to be prepared for a range of possibilities.
That's why planning your packing list to include layers to put on and take off is a good idea. More about what to pack in a moment!
Sun and Clouds during January: What to Expect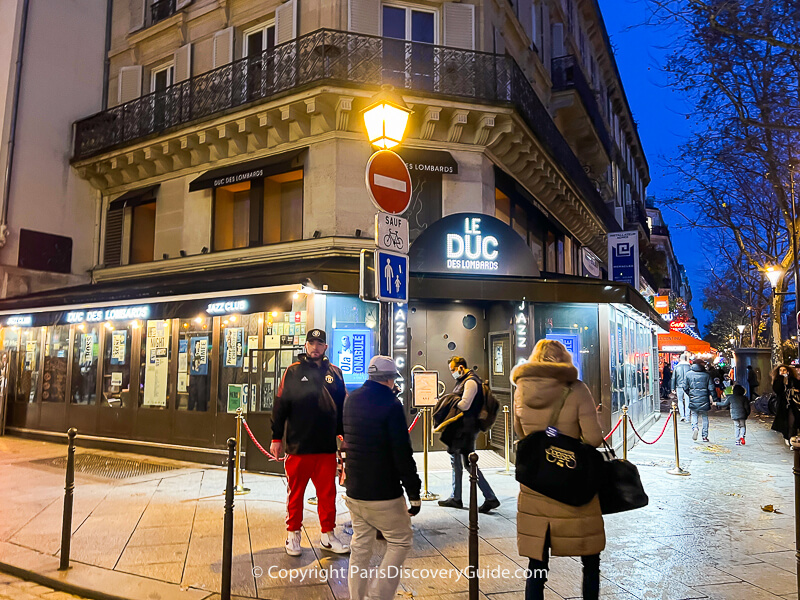 January tends to be a cloudy month in Paris, and daylight hours are short. You'll typically experience overcast conditions or partly cloudy skies almost 75% of the time during daylight hours.
Here's what that means:
Average hours of daylight:  8 hours, 50 minutes
Average hours of sunshine during January:  2 hours per day
Ironically, the sky is often clear at night and for a short period after daybreak.
On average, you can expect about 6-12 days to be totally or mostly sunny (which of course means that most days are not).
---
How Much Rain, Wind, & Snow does Paris Get in January?
On average, Paris records about 2 inches (about 51 cm) of precipitation during January. In a typical year, you can expect noticeable showers lasting more than a couple of minutes on about 7-8 days, including maybe one or two when steady rain falls, and brief showers or sprinkles on another 6-7 days.
There are, of course, exceptions. January of 2018 proved to be unusually, with weeks of unrelenting rain that actually started during the previous month.
As the weeks the level of water in the Seine continued to rise, finally peaking at just under 20 feet (6 m) as January ended. The Louvre Museum had to close the galleries on its lower level, the RER C train shut down for a week, and Seine River cruises came to a halt until water levels finally subsided.
Unusual? A flood of this magnitude has happened during January only three times in the last century. But rain during January is always a reality, and the 2018 flood is a reminder to always have a "Plan B" for your Paris activities in case the weather decides to surprise you.
On the low temperature days which you can expect to occur at some point during the month, the rain can feel icy, although actual ice is rare. During cold nights when the thermometer drops below freezing, Paris sometimes experiences what is called "ice fog" - frozen droplets of moisture suspended in the air. If you're outside walking around when this happens, you'll definitely notice it.
Sustained strong winds can also hit the city during January. Occasionally, there may be storms with gale winds and downpours of rain. Those are the days when you'll want to stay inside a museum, explore Paris's historic covered passages, or sip hot chocolate in Angelina's (226 Rue de Rivoli) or other tea rooms.
Snow is rare, but beautiful when it happens. You'll usually see only a small amount on the ground because Paris snowfall typically measures less than an inch (2.5 cm), and it melts quickly - so enjoy the lovely views before the snow disappears.
If you're planning day trips from Paris, you may be wondering about the weather at Disneyland Paris, Versailles Palace, and other popular destinations. The good news is that the temperature and other conditions will be virtually identical to Paris.
---
What to Pack for January Weather in Paris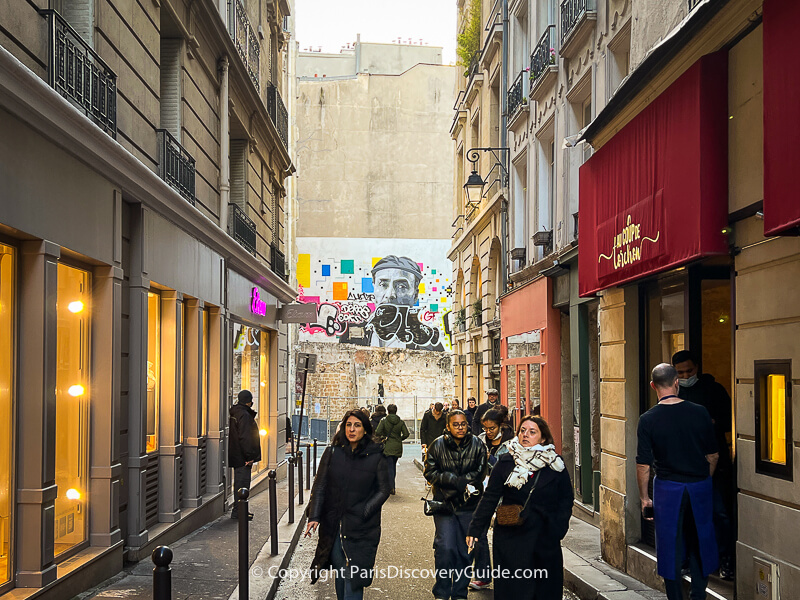 Unless you'll be in Paris for only a day or two and can check the weather forecast right before you leave, packing for the range of possible January temperatures is smart idea. Paris weather can change rapidly and forecasts for more than a day or two ahead are notoriously unreliable.
In addition to your core wardrobe of tops, bottoms, comfortable walking shoes, and of course, underwear, here are the essentials plus a few options to consider:
A well-insulated winter coat or jacket, ideally water-resistant. Bonus points if it has a hood - useful for when you get caught in sudden showers and even downpours without an umbrella. No hood? Consider bringing a rain hat.
One or two sweaters to wear alone or layered if temperatures soar to almost 60°, and under your coat for extra warmth on the coldest days and evenings, especially on a Seine River sightseeing cruise or open-top tour bus. Cashmere is the best natural fiber for keeping you toasty outside but not making you sweat when you go inside a heated store or museum.
Lightweight thermal underwear can add an extra layer of insulation without being bulky.
A pair of comfortable ankle boots and your favorite walking shoes, ideally with thick skid-proof soles because wet cobblestones can be cold and slippery. You'll also be thankful for warm socks.
A warm scarf (longer is better than shorter because you can double-wrap it around your neck and even your head), gloves, a warm hat, and even fleece-lined leggings, especially if you plan to do lots of walking or even ice skating. If you live somewhere like California or Texas and don't have these things as part of your regular wardrobe, no worries - you can easily buy what you need once you reach Paris. Go to Monoprix or Camaïeu for nice quality items at affordable prices.
You may need an umbrella if you don't have a hooded jacket or rain hat. Either bring one from home, or buy one in Paris - you'll find them everywhere from small convenience stores and souvenir shops where they cost 5-10 euros to posh boutiques and department stores where you'll pay much, much more. Regardless of how much you spend (or not), a Paris umbrella is a nice souvenir.
In case you're about to start packing for your trip, here is the 7-day Paris weather forecast in Fahrenheit and Celsius:
PARIS WEATHER
PARIS WEATHER
---
Is Visiting Paris in January Worth It Despite the Potentially Cold Weather?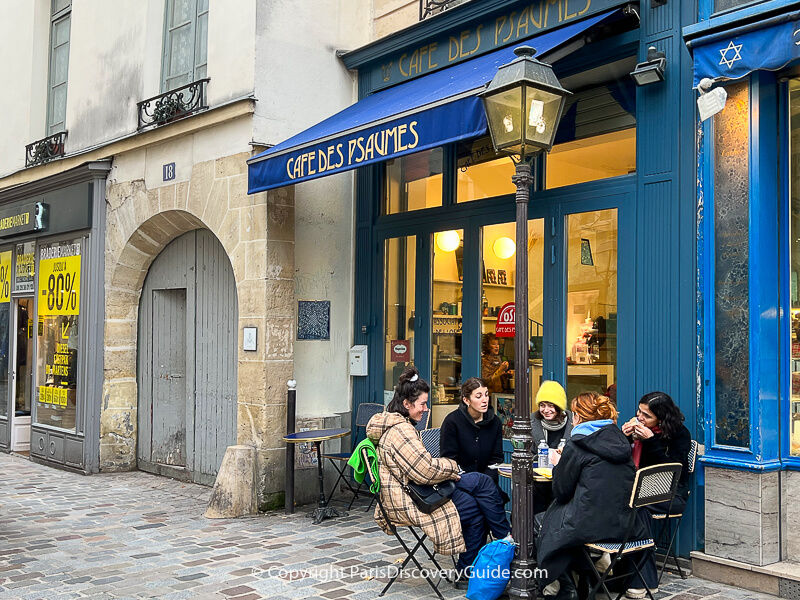 Absolutely! If you're lucky, you may experience one or more of the warmer days that January sometimes offers.
But even if you don't, just dress warmly. Paris is always a good idea. But there are special benefits to visiting Paris in January:
Cheap flights and low-season hotel rates
Much smaller crowds at popular attractions such as the Eiffel Tower and Louvre Museum
The famous January sales, with mark-downs up to 70-80% off
Fantastic exhibitions at many, if not most, Paris museums
The pleasure of savoring popular winter French foods such as raclette, pot au feu, and onion soup
---
Weather-Proof Things to Do in Paris in January
Recommended activities for seeing Paris while staying warm despite January weather:
---
More Fun Things to Do & See in Paris in January
---
Where to Stay in Paris during January
As you know by now, January weather in Paris can be cold so a smart strategy is to stay in central Paris neighborhoods close to top attractions, lots of restaurants, and convenient metro stations.
With these criteria in mind, we recommend staying in these top locations during January:
1st Arrondissement/Louvre & Ile de la Cite neighborhoods - Stay in the historical Paris 1 district next to the Seine, and you'll be just a short walk (depending on which hotel or apartment you choose) from the Louvre Museum, Tuileries Garden, Musée de l'Orangerie, Sainte Chapelle, and Palais Garnier (the Paris Opera House)
Saint Germain neighborhood - Choose the popular Saint Germain neighborhood on the Left Bank of the Seine River, and you'll be close to famous bistros such as Les Deux Magots and Cafe de Flore, fabulous shopping (Winter Sales!), the Orsay Museum, and evening concerts at the medieval Saint-Germain-des-Prés church
Champs Elysees neighborhood - If shopping the Winter Sales at the "Golden Triangle" designer showrooms and boutiques will be your main focus, this is where you'll want to stay - plus the Eiffel Tower is directly across the river
Use this hotel booking map to find more hotels and apartments for your travel dates:
Check out the newest Paris hotels
---
---
Paris Weather Resources
Want current Paris weather predictions? This is a good French source: Meteoblue
Historical weather data sources: The Weather Channel, Weather Spark, and Time and Date
---
More Information for Your Paris Visit in January