Celebrate Hanukkah in Paris by attending one (or more) of the public menorah lighting events held each evening at sundown at different sites around the city throughout the 8-day holiday, with a special ceremony at a different location each night.
For 2023, Hanukkah takes place from December 7 - 15, beginning and ending at sunset.
This year's first public menorah lighting celebration takes place at Place de la Republique in Paris's 10th arrondissement.
After the first candle on the giant menorah is lit, you can enjoy a Hassidique concert on the Champs de Mars.
One additional candle is lit on each following night until all candles on the public menorahs around Paris (and of course those in private homes of the Jewish community as well) are glowing.
Attending one or more of these public menorah lightings is a special way to participate in Hanukkah commemorations in Paris.
You'll find the schedule and locations below, plus more suggestions for things to do during Hanukkah, including where to find Jewish bakeries as well as Ashkenazi and Sephardic Paris synagogues.
Photo credit: Photos of the menorah in front of the Eiffel Tower on this page are courtesy of Chabad Lubavitch - Photo credit: Thierry Guez / Chabad.org
---
Menorah Lightings in Paris - Schedule & Locations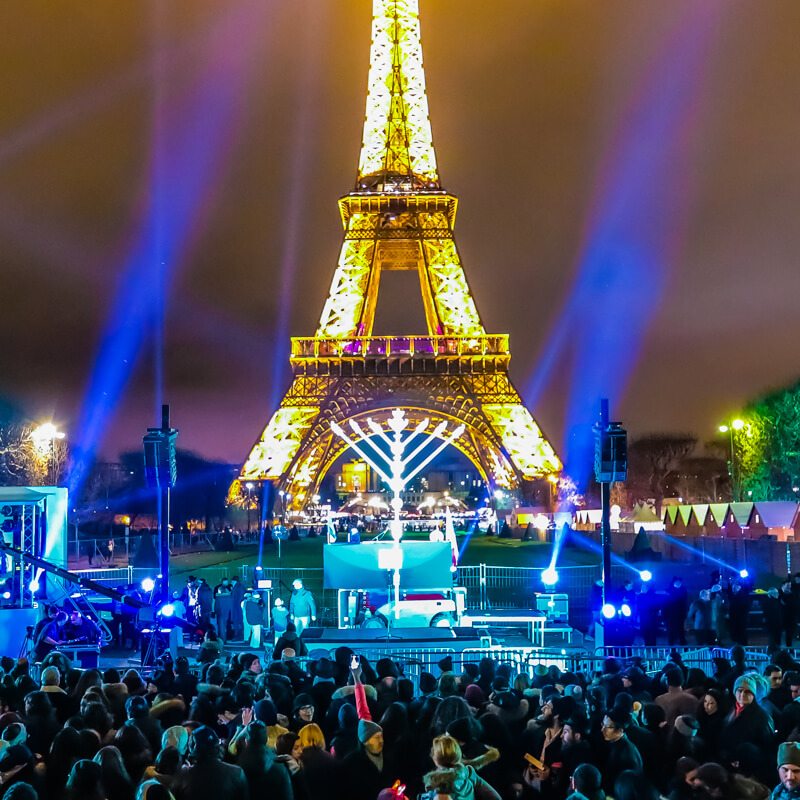 Here are some of the public squares and other Paris locations where you can see lighted menorahs during Hanukkah, including the schedule (dates and times) for special lighting ceremonies, which may include short blessings or prayers and perhaps a few songs:
1st Candle - Thursday, December 7, 7:30pm - Place de la République, 3rd/10th/11th arr
2nd Candle - December 8 - No public lighting ceremony
3rd Candle - December 9, 8pm - Place du Châtelet, 1st arr
4th Candle - December 10, 8pm - Champs de Mars, in front of the Eiffel Tower, 7th arrondissement
5th Candle - December 11, 7:30pm - Place de la Bastille, 4th/10th/11th arr
6th Candle - December 12, 7:30pm -Place des Fêtes, 19th arr
7th Candle - December 13, 7:30pm - Place du Maréchal Juin, 17th arr
8th Candle - December 14, 6pm - Place de l'Opera, 9th arr
More Paris Locations with Lighted Menorahs during Chanukah:
Place Vendôme (1st arr)
Place de la Bourse (2nd arr, in front of Palais Brongniart)
Monceau Park (8th arr, near the Malesherbes Boulevard entrance)
Place Étoile (8th arr, near the Champs Élysées/Friedland Avenue intersection)
Many of the public menorah lightings for Hanukkah in Paris are sponsored by Chabad, an Orthodox Jewish Hasidic movement. Check their website to confirm dates, times, and locations.
Why Is Hanukkah Celebrated?
Hanukkah, the Festival of Lights, dates back to the 2nd century BCE. After a small band of Jewish warriors called the Maccabee defeated Syrian Greeks who had occupied the Holy Land and banned Judaism, they lit a lamp in Jerusalem's Holy Temple.
Although they had enough pure oil for only one night, the oil miraculously burned for eight nights until they were able to get more, and that's what Hanukkah celebrates: the miracle of the light (which of course is also a metaphor for the restoration of Judaism).
The Hanukkah holiday commemorates the miraculous event during a period of eight days by lighting menorahs - 8-branch candelabras holding either candles or tiny cups of oil with floating wicks. (Or, for public safety reasons, light bulbs.)
A 9th "helper" candle or oil cup is used to light the others, starting with one flame on the first night and then adding one each night until all are lit. Traditionally, menorahs are displayed in windows of homes.
---
Where to Find Jewish Bakeries with Hanukkah Pastries in Paris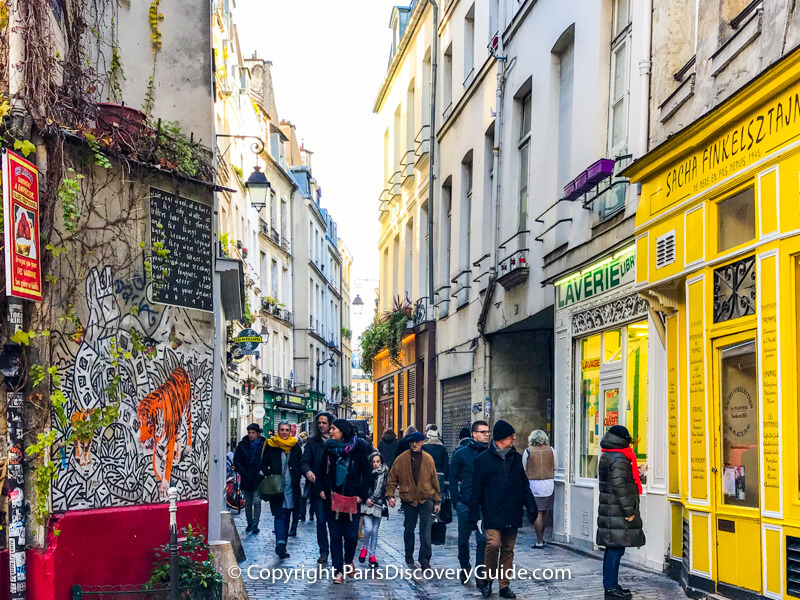 Paris's Jewish bakeries give you plenty of opportunity to sample special Hanukkah foods made with oil, such as potato latkes and sufganiyot (fried jelly-filled doughnuts).
For a large selection of latkes, doughnuts (look for the beignets signs), and other pastries such as almond cakes, head over to Rue des Rosiers in the Marais, the historic heart of the Jewish community in Paris.
Several renowned bakeries cluster within a few feet of each other along this narrow cobbled street dating back to the early 13th century.
Find out more about Paris's Jewish history, the "Pletzl," Pavée Synagogue, and other important sites by joining a private 2-hour guided walking tour of the Marais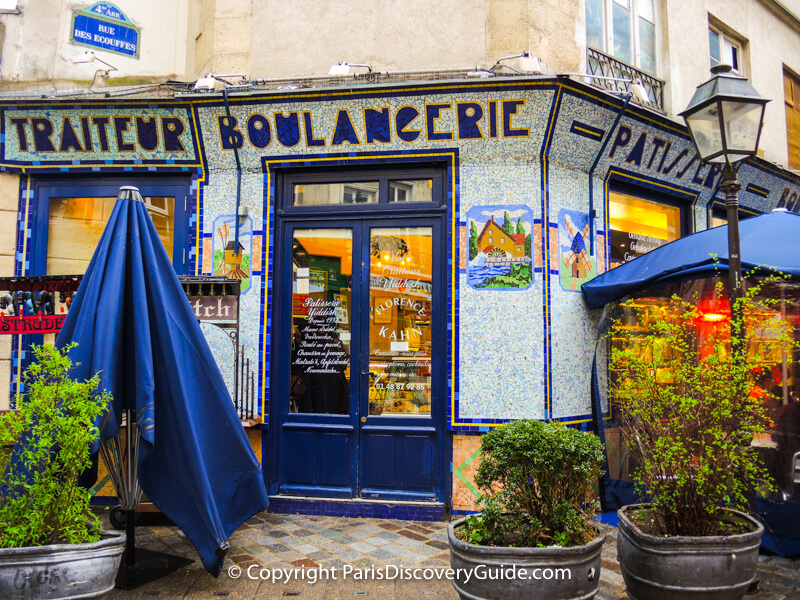 Although most of these bakeries originally featured Ashkenazi (Eastern European) cuisine, they now incorporate Sephardic (Mediterranean) specialties as well.
Each bakery has different selections and flavors, so conduct your own food tour and try them all - and don't miss the terrific falafel shops nearby:
Sacha Finkelsztajn - 27 Rue des Rosiers - you can't miss the bright yellow exterior
Murciano Patisserie-Boulangerie - 14 Rue des Rosiers - look for a bright blue storefront, and a menorah in the window surrounded by delicious pastries
Korcarz - 29 Rue des Rosiers - you'll see all the mouthwatering pastries through the large front windows
Florence Kahn - 24 Rue Ecouffes (at the corner with Rue des Rosiers - look for the appealing blue and white mosaic facade
More Ways to Visit Marais Bakeries, Jewish Delis, & Falafel Stands
---
Shabbat & Hanukkah Services: Paris Synagogue Locations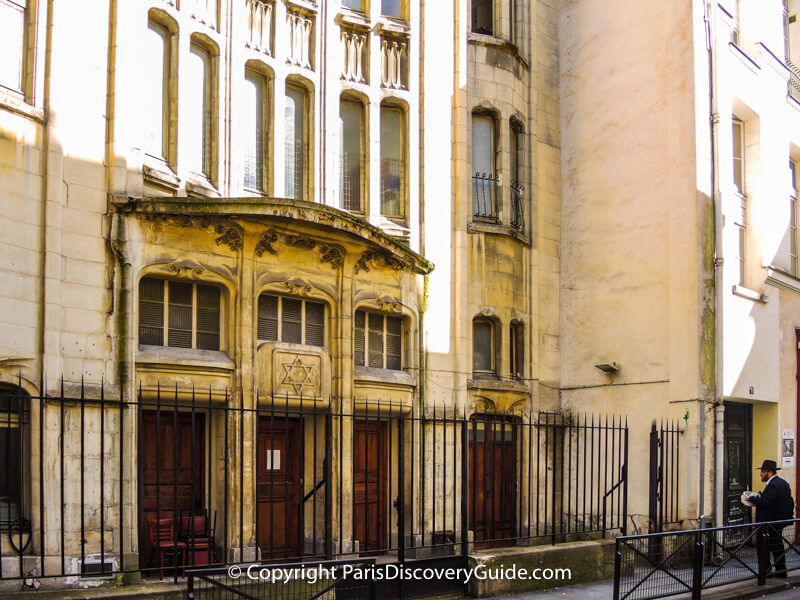 In case you would like to attend a religious service as part of your Hanukkah commemoration in Paris, here are several of the city's oldest, most historic, and best known Orthodox and Reformed synagogues to consider.
Please check their websites for service schedules plus any restrictions regarding visitors or security.
Although the Marais in the 3rd and 4th arrondissements are often associated with Paris's Jewish community, in reality synagogues can be found almost everywhere in the city.
For more choices, check out the comprehensive list of synagogues and cultural centers maintained by Kosher Delight.
---
Want to Book a Paris Hotel near Hanukkah Celebrations?
Use this Paris hotel map to find a hotel with great rates in your preferred location:
Check out the newest Paris hotels
---
More about Paris in December
---
More Articles about Visiting Paris