Just beyond Paris lies a whole other world for you to visit and explore: thrillingly beautiful chateaus, castles, and cathedrals, the Normandy Beaches where heroic D-Day invasions unfolded, fabulous vineyards where you can savor the best Champagne in the world, a medieval abbey almost surrounded by water, and for kids of all ages, Disneyland Paris.
Thanks to high-speed transportation, you can easily make day trips from Paris to Versailles, Giverny, Mont Saint Michel, and all of these other magical places.
You can even leave Paris in the morning and spend the day enjoying famous sights in London, sampling delicious wines and lunching at a château surrounded by vineyards near the city of Bordeaux in Southwestern France, or cruising down the picturesque canals of Bruges, Belgium - and still return to Paris in time for a late dinner.
Take a look at our suggestions for 13 best day trips from Paris and the best ways to explore them during a one day adventure:
1. Claude Monet's Garden & Pond at Giverny
2. Versailles Palace & Gardens
3. Normandy D-Day Beaches
4. Disneyland Paris
5. Mont Saint-Michel
6. Loire Valley for Champagne Tasting
7. Castles in the Loire Valley
8. Chartres Cathedral
9. Chateau de Vaux Le Vicomte
10. Chateau de Fontainebleau
11. Weekend Getaway to London
12. Bruges, Belgium
13. Wine Tasting in Bordeaux
Top photo: The King's Gate at Versailles, less than an hour outside of Paris, (c) Paris Discovery Guide
Paris Discovery Guide is a reader-supported publication. When you buy through our links, we may earn a commission at no additional cost for you. Learn more
---
1. Day Trip to Giverny: Monet's Home, Garden, & Water Lily Ponds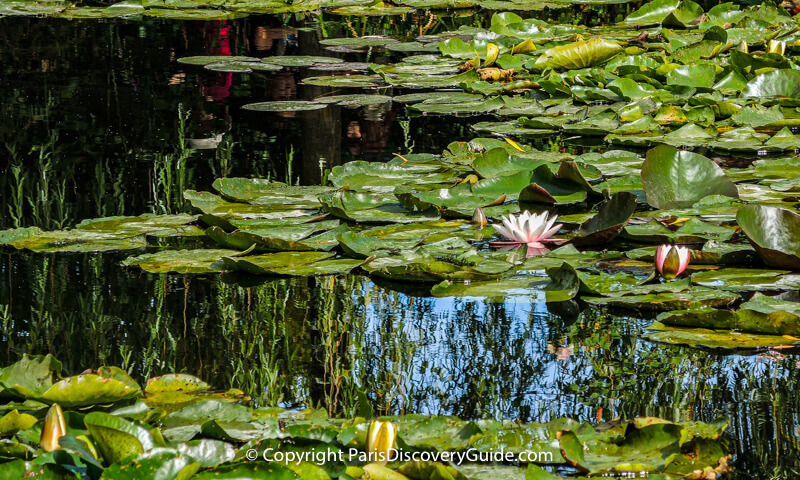 Impressionist artist Claude Monet spent the last half of his life in Giverny, a tiny village in Normandy about 45 miles (about 1 hour and 15-30 minutes) outside of Paris. Using his favorite Japanese wood block prints as inspiration, he created lush flower gardens and a pond filled with floating water lilies, where reflections of light inspired his famous Water Lilies paintings.
Visiting Giverny is a quick and easy day trip from Paris, and if you're a Monet fan, it's an experience you should put at the top of your bucket list. Thanks to a meticulous restoration after Monet's death, you will see his house, gardens, and water lily pond much as they were when he lived here and painted some of his finest masterpieces.
You'll stroll among the masses of flowers in the breathtaking gardens, explore the charming pink stucco house filled with mostly-original furnishings where Monet lived with his second wife and their six children, and perhaps best of all, immerse yourself in the tranquil Japanese-style water garden where the lilies fill the air with fragrance during July and August while other plants bloom from late March through early November.
Here are two of the best side trips from Paris:
Find out more about day trips to Giverny
Best ways to get to Giverny from Paris
---
2. Versailles Palace & Gardens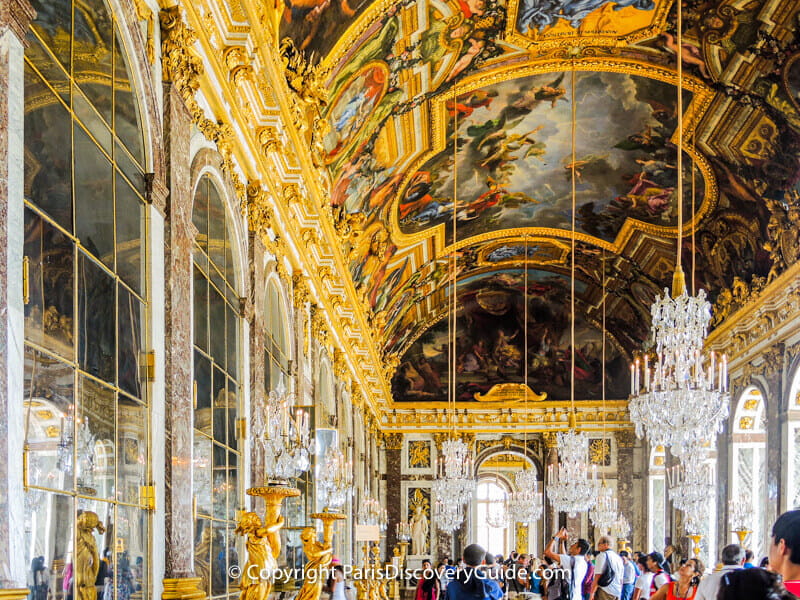 The Palace of Versailles' over-the-top opulence and famous former occupants including Louis XVI and Marie Antoinette attracts around 10 million visitors a year, and for good reason.
With its dazzling crystal chandeliers, priceless art and antiques, and masses of gleaming gold, mirrors, tapestries, and gilded ornaments everywhere you look, Versailles Palace packs a visual punch - and that's before you explore the vast 2,000 acre grounds filled with flower gardens, trees, statues, fountains, a mile-long Grand Canal, a couple of smaller palaces called the Grand and Petit Trianon, a lake, and Marie Antoinette's rustic Queen's Hamlet, a small village of thatched roof cottages.
There's no other place in the world that's quite as magnificent or fascinating - or that symbolizes extravagance, royal power, and decadence in quite the same way. You can easily spend an entire day here, and still wish you had longer.
Even better: Spend a night or two at one of the luxury resorts or cute apartments close to the Palace (or a budget-friendly 2- or 3-star hotel), and explore the Palace, gardens, and other attractions at the estate at your leisure. Did you know there's a new hotel inside the Palace?
Located 14 miles (23 km) and about 30-45 minutes travel time from the center of Paris, Versailles is quick and easy to reach by the RER C train plus a 10 minute walk to the palace - but there's a catch. Remember those 10 million visitors per year? During high season - April 1st through October 31st - you'll swear they're all there on the same day as you.
Forget all the tips you may have heard about how to beat the crowds during the high season. No matter how early you arrive in the morning and no matter which day of the week you visit, you'll almost always face a 2-hour or longer wait in line even when you have a so-called "skip-the-line" ticket.
Why? While those tickets let you avoid the ticket line, you still have to go through the very, very long security line. At other Paris attractions, skip-the-line tickets shorten your wait to almost nothing - but not here, due to the massive crowds.
Fortunately, there's an easy solution right at your fingertips: book a guided tour. Groups accompanied by a tour guide get to use a special "guided tours only" entrance where the security line moves much faster.
A wide variety of guided Versailles tours are available, so you can choose the combination of transportation (or not) from Paris, tour length, and other experiences you prefer. All include your admission ticket to the Palace and Garden and, of course, entrance to Versailles through the group tour gate. Here are 3 popular choices:
More Highly-Rated Versailles Tour Choices
---
3. Normandy D-Day Beaches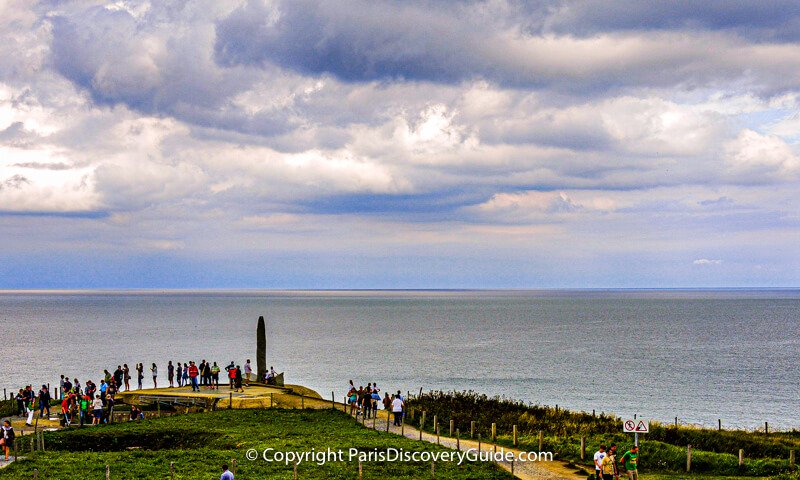 No matter how many times you may have seen photographs, videos, or movies of the Normandy beaches where American, Canadian, British, and other nations' troops landed during D-Day for a courageous and successful military operation leading to the end of World War II in Europe, there is nothing quite as moving or as fascinating as seeing this part of Northern France in person.
The easiest and most convenient way to see the D-Day beaches from Paris is to join a 1-day tour. Not only does a comfortable coach provide your transportation to and from Normandy, but it also makes getting from one site to another easy, and you don't have to deal with parking.
The tours last 12-14 hours and typically include visits to a couple of the landing beaches where you can also see the remains of Nazi bunkers, Pointe du Hoc where US Rangers scaled the 100-foot high cliffs as they dodged German fire, the American Cemetery overlooking Omaha Beach, and a museum dedicated to World War II history and the D-Day landings.
These two popular 1-day tours are similar, but their itineraries and lunch options may differ. Both are excellent - so check them both out and choose the one you like best:
Can You Get to the Normandy D-Day Beaches by Train from Paris?
No, but you can get close. Although you can take a train to Normandy from Gare Saint-Lazare train station in Paris, none of the trains go directly to the landing beaches.
Your best option is to take the train to Caen or Bayeux, and then rent a car to travel along the 50-mile swath of the Normandy coast where the five D-Day landing beaches, museums, cemeteries, bunkers, and other important sights are located.
To do this trip on your own as quickly as possible, plan on two days. For a more leisurely pace and/or in-depth exploration, plan on three days - or even more if you decide to visit Mont Saint-Michel while you're on the Normandy coast.
---
4. One Day (or More) in Disneyland Paris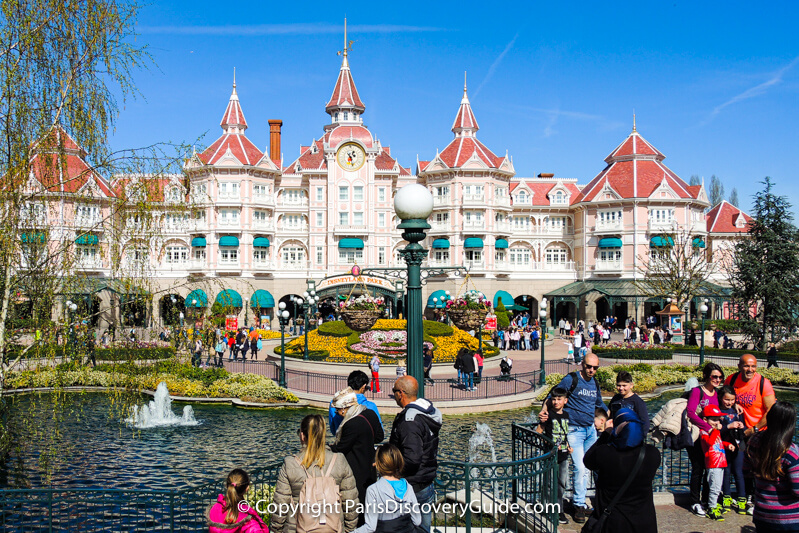 With the Magic Kingdom, a fantasy castle, and of course Mickey and all the other lovable Disney characters, parades, and evening fireworks, a day at Disneyland Paris offers loads of fun for kids of all ages.
The park offers you two exciting experiences: Disneyland Park with Big Thunder Mountain, Space Mountain Mission 2, and lots of other kid-friendly rides and adventures, and Walt Disney Studios Park with stunt demonstrations and other behind-the-scenes shows. Whether you choose one or both, you'll enjoy a day packed with entertainment and adventure.
Disneyland Paris is fast and easy to get to from the city: just hop on the RER A train to Marne-la-Vallée (tickets cost around $10 each way), get off 45 minutes later at the Marne-la-Vallée/Chessy station, and walk 2 minutes to reach the Disney entrance. Don't worry about finding it - you can see it from the station but even easier, just follow the crowd.
Disneyland Paris tends to be somewhat more relaxed and low-key than the parks in the US and other countries (and tickets are usually slightly less expensive). Even so, you should expect big crowds on weekends, during summer months, during French and European school vacations in the spring and fall (basically, late March-May and October-November), and of course at holidays when Disney puts on spectacular celebrations.
To save time at the entrance by skipping the ticket line, buy your Disneyland Paris 1-Day Ticket before you come.
If one day isn't long enough, get a Disneyland Paris Multi-Day Entrance Ticket and stay over at one of the Disney resorts or other hotels nearby.
Find the best places to stay at Disneyland Paris and make your reservations
---
5. Day Trip to Mont Saint Michel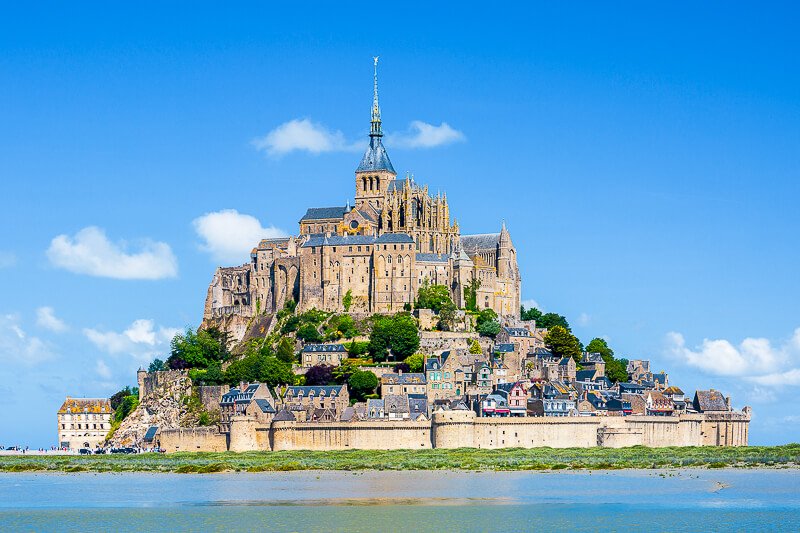 Rising from a tiny island just off the Atlantic Coast between Normandy and Brittany, Mont Saint Michel Abbey is an unforgettable sight. Inspired by a bishop's vision of the Archangel Michael, worship began here in 708 and the abbey's construction started in 966. The magnificent abbey has been the destination of pilgrimages since medieval times.
Comfortable transportation from Paris makes it possible to visit Mont Saint Michel in just one day, while seeing the beautiful French countryside along the way.
Here are two of the most popular day trip choices:
---
6. Champagne Tasting in the Loire Valley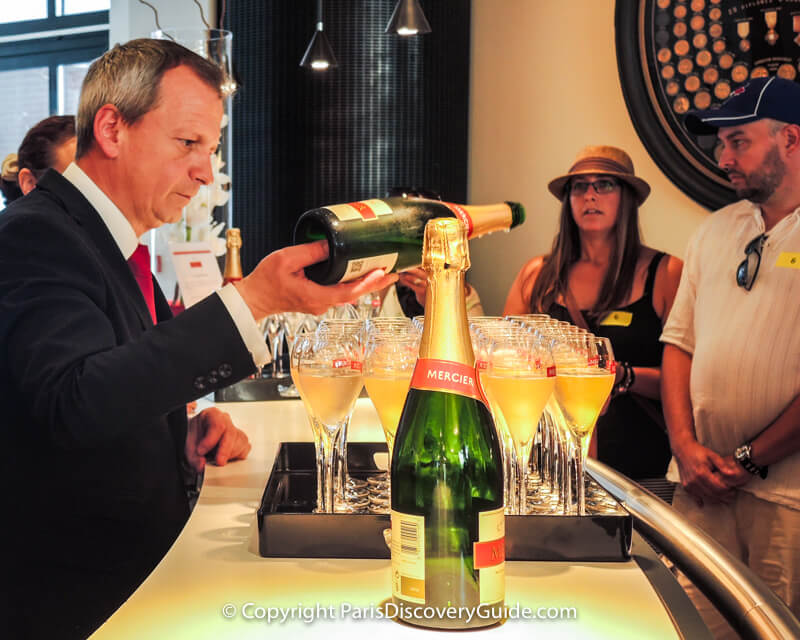 A day trip to France's beautiful Champagne region, located less than 100 miles east of Paris, gives you a memorable opportunity to sample the country's most famous beverage at champagne houses such as Mumm, Taittinger, Nicolas Feuillatte, Veuve Clicquot, and Moët & Chandon, and visit the renowned vineyards where the Chardonnay, Pinot Noir, and Pinot Meunier grapes used to make champagne grow.
Although you can travel by train from Paris's Gare de l'Est to Reims or Epernay, the major city and town along the Champagne route, you'll need a car (and a designated driver) or other transportation to get to the vineyards as well as to producers in smaller villages. A much easier and more efficient option is to go on a day trip to Campagne country from Paris.
Here are several of our favorites:
---
7. A Day (or Weekend) Trip to London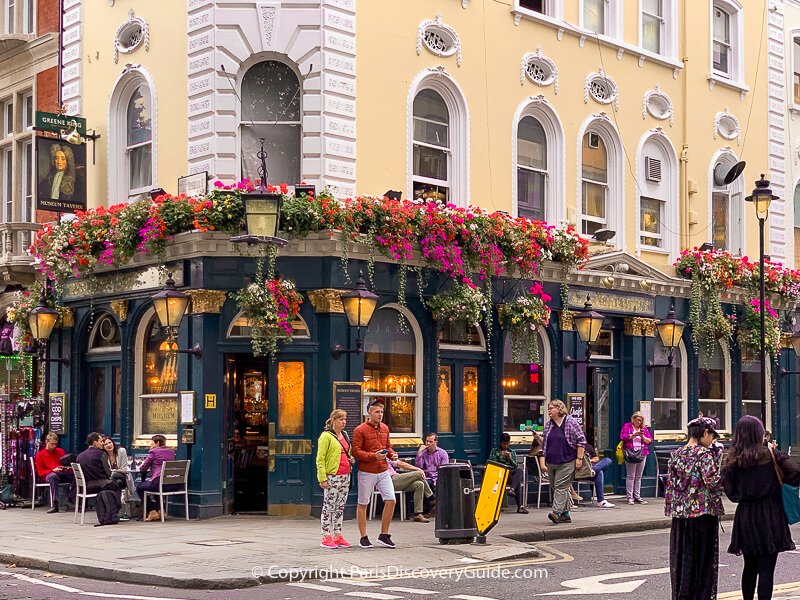 Hop on the high-speed Eurostar train to London at Paris's Gare du Nord train station and in just over two hours, you'll be in a different country - ready to begin your day of adventure exploring one of the world's great cities.
A fun and easy way to see London is on top of a double-decker Hop-On Hop-Off bus. The narrated tour route includes all of London's iconic sights: Tower of London, Big Ben, the London Eye, Westminster Abbey, Tower Bridge, and Buckingham Palace. Your ticket also includes a Thames River cruise and a free walking tour. Hop off to explore on foot, shop, or enjoy some tasty pub grub whenever you please, and then hop back on.
Save time by getting your tickets in advance for specialty tours or experiences such as a Harry Potter guided walking tour or thrilling ride on the London Eye.
Read our review of the Magical London: Harry Potter Guided Walking tour
If you want to visit lots of places in one day, consider a 1-day London Pass, which lets you choose from 80+ attractions.
You can book your Eurostar tickets online before you go. Prices vary based on how close to your travel dates you book your seats (book up to 3 months ahead for the cheapest seats) and whether you choose Standard, First Class, or Business seats. In case you're wondering: Standard seats are quite comfortable, but First Class and Business seats give you more amenities if you're planning to work on your laptop during the 2+ hour trip. Booking information: Eurostar website
---
8. Fabulous Loire Valley Castles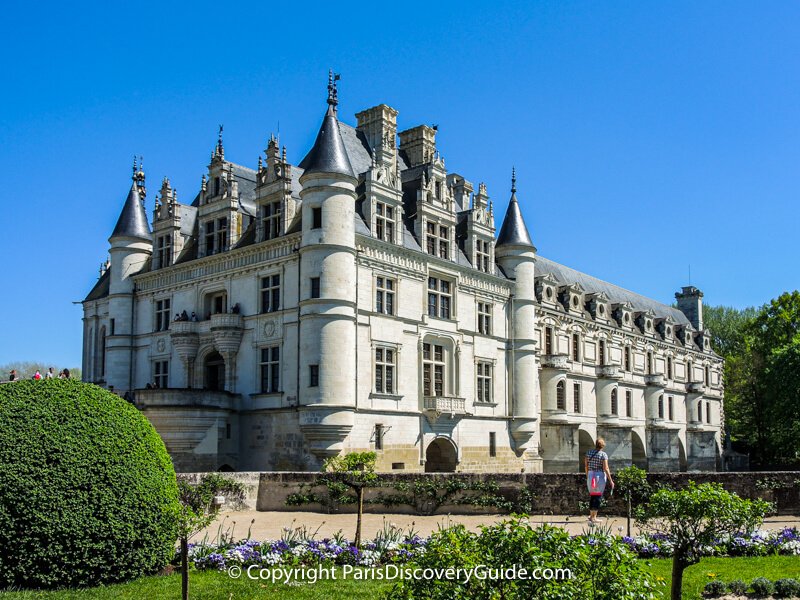 Over 300 castles built between the 10th and 15th centuries dot the beautiful Loire River Valley south of Paris and stretching west all the way to the Bay of Biscay. Some of the grandest and most beautiful of these historic châteaux from the Renaissance period have been authentically restored inside and out, and are open to the public to tours.
If you have only one day to spend seeing chateaus in the Loire Valley, choose one of the excellent day tours from Paris. You'll see the beautiful scenery and small villages of the Loire Valley, explore 2-3 of the most famous castles, and learn a lot about the region's history and nobility who lived here. Depending on which tour you choose, you may also get to combine this with good food and wine.
Our favorite is the small group (25 or fewer) Fairytale Loire Castles, Wine Tasting, and Lunch tour - a fantastic day packed with wonderful experiences, including tours of two very different but spectacular castles, Château de Chambord (fans of Disney's Beauty and the Beast will instantly recognize it!) and the magnificent Château de Chenonceau, built partly over the River Cher and filled with original furnishings and art. You also get to see visit a smaller family-owned castle, Château de Nitray, where you'll be served a tasty lunch featuring local products and wine from the castle's own vineyard/winery. The tour of Chenonceau is in the afternoon, where you'll be offered another wine tasting (alternately, you can spend time exploring the castle's gardens) - a nice end to a perfect day.
---
9. Chartres Cathedral - Medieval Perfection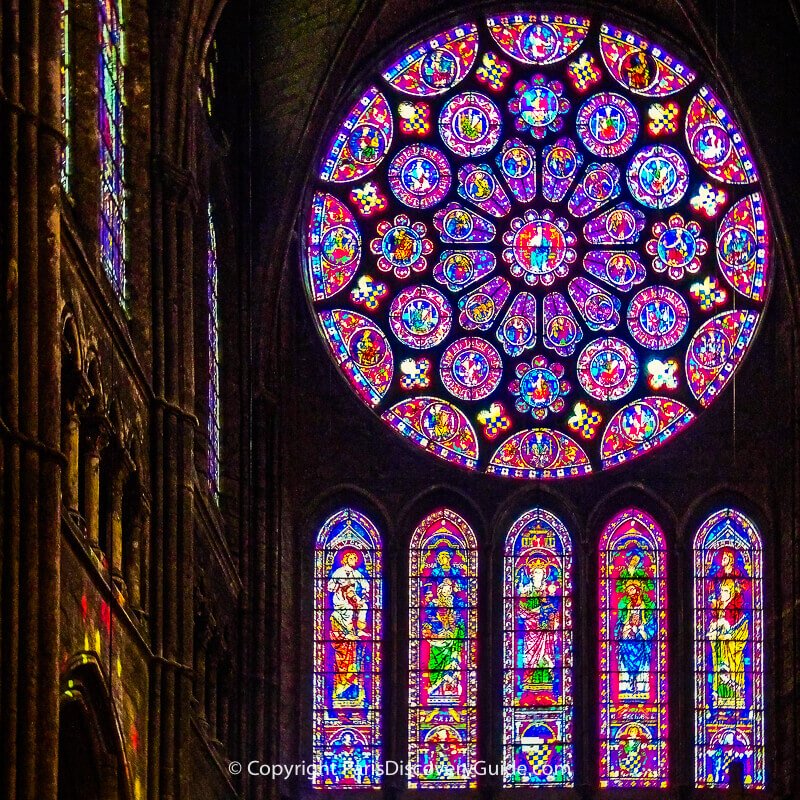 Twelfth century Chartres Cathedral, a soaring French Gothic masterpiece with incredible stained glass, lies just over an hour by train outside of Paris in the Loire Valley - an easy and rewarding day trip from Paris.
Catch the train to the medieval town of Chartres at Montparnasse Station in Paris. Buy your tickets in the station for around 25€ each way. Trains run about every hour the weekends, and even more frequently during the week - you can check the schedule on the SNCF website.
When you arrive in Chartres, you'll spot the spires of the Cathedral slightly to the left as you exit the train station - a 3-5 minute walk.
As you walk around the outside of the cathedral, look up to see flying buttresses and pointed arches, and massive expanses of intricate stone carvings - about 4,000 in all.
The only newish elements are the metal roof, put in place in 1837 after a massive fire - similar to the tragic fire at Notre Dame Cathedral in Paris - destroyed the original roof, and an early 16th century Flamboyant-style spire that contrasts with the plainer original spire.
Inside, be sure to notice the Gothic rib-and-panel vault, numerous statues, and of course, the stunningly beautiful mostly-original 12th and 13th century stained glass including three exquisite and enormous rose windows. You can also (usually) visit an 11th century crypt.
After you explore the cathedral, walk around the nearby narrow Medieval-period streets with half-timbered buildings. You'll find boutiques and many appealing bistros and cafes.
Next to the cathedral in the former bishops' palace is the Chartres Museum of Fine Arts (free admission). The museum buildings date from the 15th, 17th, and 18th centuries, and contain interesting collections from the Middle Ages to the mid-20th century.
If you prefer a guided tour, this VIP option that offers the luxury of a private driver and guide from Paris who will pick you up at your hotel and drive you to Chartres for a customized experience based on your personal interests and preferences. This 5-hour private tour can accommodate from 2 to 7 people. After the tour, you'll be driven back to Paris and dropped off at your hotel.
---
10. Château de Vaux Le Vicomte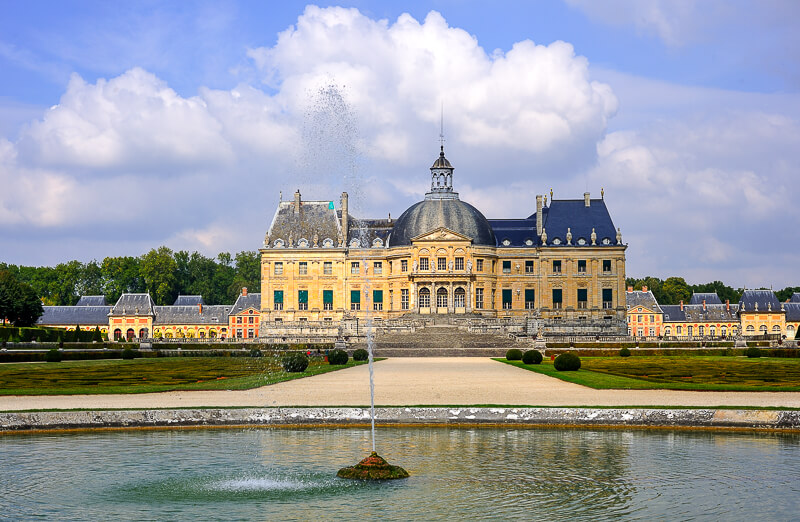 Built in the 1600s by a team including the top architect, top painter, and top landscape artist of the time, the magnificent Château de Vaux-le-Vicomte located in the small village of Maincy just 35 miles outside of Paris inspired King Louis XIV to hire the same team to transform a rustic hunting lodge into his splendid Château de Versailles.
Today, privately-owned Vaux le Vicomte rivals Versailles for its beautiful and harmonious design, fabulous gardens and fountains, and lavishly decorated rooms - but without the crowds. The castle has welcomed the public since 1968 and offers a variety of experiences including tours, a carriage museum, water and fountain shows on the 2nd and last Saturday afternoon of each month, and romantic candlelight evenings (and optional dinners) from May to October. At Christmas, Vaux le Vicomte's spectacular holiday decorations make the castle a popular winter designation from mid-November through early January. The castle then closes for the remainder of January through late March.
Here are several easy ways to visit Vaux le Vicomte:
---
11. Château de Fontainebleau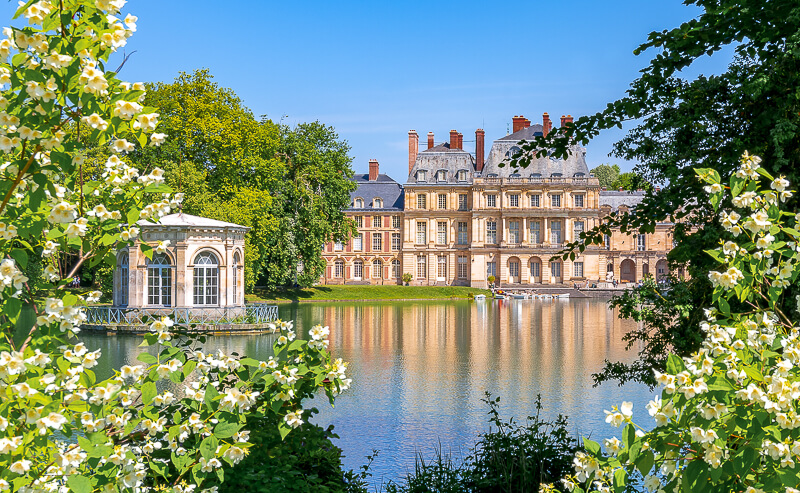 Fontainebleau, another magnificent palace with medieval roots as a hunting lodge, overlooks spectacular gardens including the largest formal garden in Europe. The castle itself has served as a residence for French rulers including 34 kings and two emperors from the 12th through the 19th century.
Located just 42 miles from Paris, Fontainebleau is a popular day trip destination from Paris.
You can explore numerous meticulously maintained rooms filled with beautiful antiques, art, wall coverings, and artifacts. With elaborately painting ceilings, paneled walls, door-top decorations, frescoes, and hand-carved moldings, Fontainebleau rivals Versailles for beauty and artistry, although it doesn't have nearly as much gold or as many mirrors (or as many crowds). Must-see rooms include Marie-Antoinette's boudoir, Napoleon's Throne Room, and the Pope's Apartment.
Fontainebleau, itself a UNESCO World Heritage site and museum, also contains four other museums: The Empress's Chinese Museum dedicated to East Asian treasures (some plundered by Napoleon, some given as gifts), the Napoleon 1 Museum, a Paintings Gallery, and a Furniture Gallery exhibiting collections of the castle's furniture from different time periods. In addition, Fontainebleau includes three exquisite chapels.
To visit on your own, buy an inexpensive priority entrance ticket online, and then take a train from the Gare de Lyon station in Paris to the Fontainebleau Avon station (three different train lines stop there - it's about 40 minutes from Paris). Walk to the nearby bus station, take the Aérial 1 bus toward Les Lilas, get off at the Château stop, and walk two minutes to the castle.
For greater convenience, choose one of these special combo tours with transportation from Paris:
---
12. A Day in Bruges, Belgium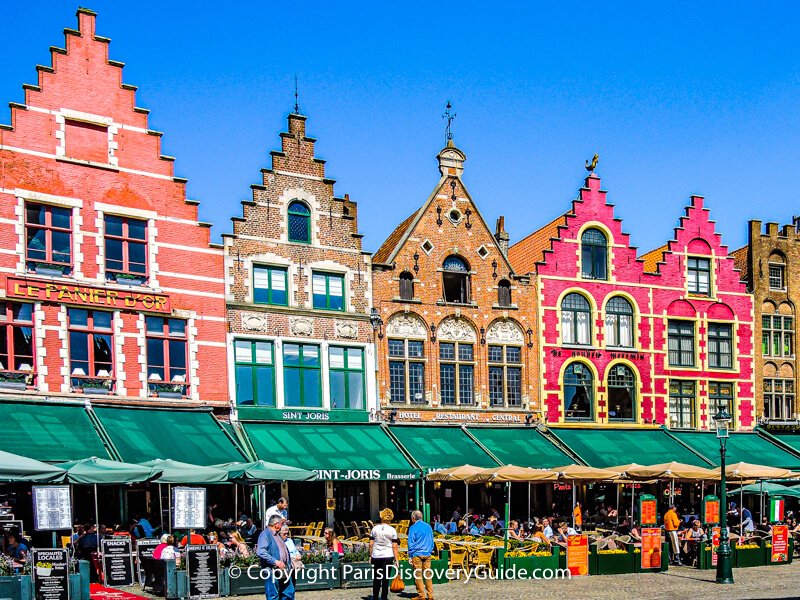 Sometimes called "the Venice of the North," Bruges looks like it stepped out of a movie set in the Middle Ages with its medieval Flemish architecture, quaint cobblestone streets, winding tree-shaded canals, and photo-worthy bridges.
Thanks to this comfortable coach tour from Paris, you can get there and back in one day and still have plenty of time to explore the compact city. A guide leads you on a walk through the city center and points out the famous cathedral, museums, and other important sites. Then you're free to take a boat cruise along the picturesque canals (the ticket is included with your tour), photograph the famous Grote Markt (market square) lined with colorful neo-Gothic buildings, admire the fabulous architecture of City Hall and other administrative buildings in the Burg, savor a bucket of steamed mussels with fries and a mug of Belgium beer for lunch, and buy some Belgium chocolates or other souvenirs offered by the many small shops before heading back to Paris. Reserve your place on this tour
---
13. Wine Tasting in Bordeaux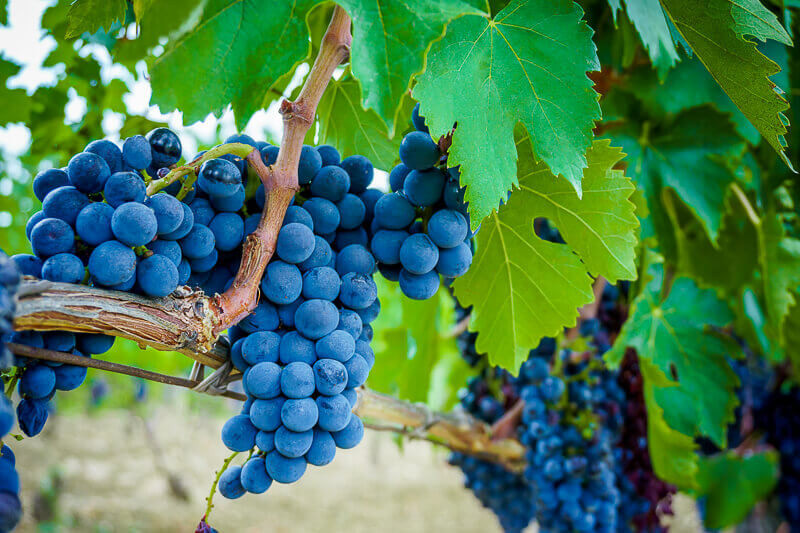 Imagine spending a day in Bordeaux in southwestern France, visiting vineyards and sampling a variety of world-famous Bordeaux wines, sightseeing, and savoring a gourmet lunch in a château.
Bordeaux is actually quite a distance from Paris, but thanks to high-speed SNCF trains up to almost 200 mph, you can get there in as little as 2 hours and 6 minutes. Trains leave Paris from the conveniently-located Montparnasse station on the Left Bank, and arrive at the Bordeaux-Saint Jean station. Getting your round-trip ticket is easy - book online on the official SNCF website. Tip: Book as early as possible for the best selection of cheap tickets.
To make the most of your time (translation: sample lots of great wines!), join a guided day tour such as this Small Group Wine Tasting Workshop and Vineyard Tour. Your guide will meet you in central Bordeaux for a wine-tasting workshop, and they you'll go by minibus will meet you to take you to two different grand chateaus in the Medoc region, where you'll sample wines while savoring cheeses and charcuterie.
A small-group day trip to a different famous wine-making region, the charming village of Saint Emilion, is also a wonderful option. In this slightly longer experience, your guide will bring you via minivan to three different chateaux for wine tastings, as well as on a guided tour of the hilltop village. You'll have time for lunch and more exploration on your own.
At the end of your tour, you'll return to Bordeaux by minibus, where you can enjoy a leisurely dinner before taking the train back to Paris.
---
More Articles about Things to See & Do in Paris
---
Want to Save on Your Paris Hotel?
Check our tips on how to find discounts, deals, and bargains for Paris hotels. Whether you're looking for cheap accommodations or want to pay less for luxury, we'll show you how to save on hotels in Paris.
Here are some shortcuts: