Although the weather in Paris in May can be punctuated with enough showers, chilly days, and even chillier nights, for the most part, it is fantastic.
Bright blue sky, plenty of sunshine, and lots of hours of daylight give you the perfect framework for enjoying the beauty of Paris this month.
And May weather in Paris truly is beautiful, with lots of flowers blooming in all the city's parks, gardens, and window boxes. This month epitomizes "spring." Some days will even give you a taste of summer - but without all the crowds of visitors who begin to arrive in June.
You will need to pack with weather extremes in mind (which is true for any month in Paris) in case you do happen to be there when the thermometer soars to almost 90°F (32°C) or plunges down to the mid-30s (2-3°C), but as layers will do the trick of keeping you comfortable - more about what to pack later.
Although having 1-2 rainy-day (or night) activities in mind is always a good idea, rain this month doesn't usually last long.
The only Paris weather condition in May to be aware of, in case you don't do well with it, is the humidity that can sometimes hit (invariably on gray, drizzly days). Save your visits to museums and shopping for those days, and for rainy evenings, combine a sightseeing bus tour with an on-board 5-course gourmet dinner for a truly unique experience.
Otherwise, plan to spend your free moments like the Parisians do: reclining in a chair while soaking up sun in a park, or relaxing over an apéro at an outdoor cafe table. May is the perfect month for a walking tour of the oldest part of Paris or perhaps exploring Versailles by bike.
So keep reading to find out everything you need to know about Paris weather in May, packing tips, top things to do in May, and even recommendations about where to stay this month.
Article contents:
Top photo: Arc de Triomphe du Carrousel near the Louvre Museum in May, (c) Paris Discovery Guide
Paris Discovery Guide is a reader-supported publication. When you buy through our links, we may earn a commission at no additional cost for you. Learn more
---
What Is Paris Weather in May Really Like?
What's the weather in Paris in May really like?
"Beautiful" and "changeable" are two good words to describe it. You could also add "rainy" to that - but even though May is Paris's rainiest month, the showers usually pass quickly. As long as you're prepared for occasional rain (or don't mind getting a little wet), all the beautiful flowers blooming everywhere more than make up for it.
What about Paris temperatures in May? You'll experience everything from balmy to chilly to hot - sometimes in the same day. Check out the photos in this article and you'll see people dressed in layers or carrying a jacket. That's the smart way to dress this month.
Check out the following temperature ranges for May to see highs, lows, and averages:
Paris Temperatures in May: Average Highs & Lows
Here's a quick look at what the average weather in Paris in May looks like on Fahrenheit (F) and Celsius (C) degree scales for daily high and low temperatures, which have increased by 1-2 degrees Fahrenheit during the past decade:
Average May high temperature: 69°F (20°C)
Average May low temperature: 49°F (10°C)
Remember, these are averages - useful for comparing the average daily temperature in Paris in May with average temperatures in other months, but they are definitely not a weather forecast for Paris in May. To better understand what actual temperatures might be during your May visit, always check the May high and low temperature ranges in the following section.
Weather Statistics for May in Paris: High & Low Temperature Ranges
If you want to find out what Paris in May weather might be like, temperature ranges for May will give you a better idea than the monthly averages. You'll also get a much better sense of what to pack - because Paris weather seldom hits the "average" mark for more than a day or two.
Here's the range of daily highs and lows for May weather in Paris based on the past 30 years:
Range of high temperatures during May: 51°F to 89°F (11°C to 32°C)
Range of low temperatures during May: 33°F to 57° F (1°C to 14°C)
As you can see, both of these record-breaking extreme temperatures for Paris in May occurred during the past few years:
Record May high temperature (1991-present): 89°F (32°C) in 2017
Record May low temperature (1991-present): 33°F (1°C) in 2019
Similar to April, daily temperatures in the upper 70s to low-to-mid 80s have become a routine part of Paris May weather during the past decade. Now, imagine those temperatures combined with the high humidity that often happens this month, and you'll see why short-sleeved shirts and layers are good ideas.
It's not unusual for May mornings to start out chilly in the 50s and then rise steeply during the afternoon, only to drop again in the evening. You need to prepare for this, especially if your plans will keep you away from your hotel or apartment for most of the day.
And in case you're wondering, Paris weather in late May does tend to be warmer than at the beginning of the month.
Sun and Clouds during May: What to Expect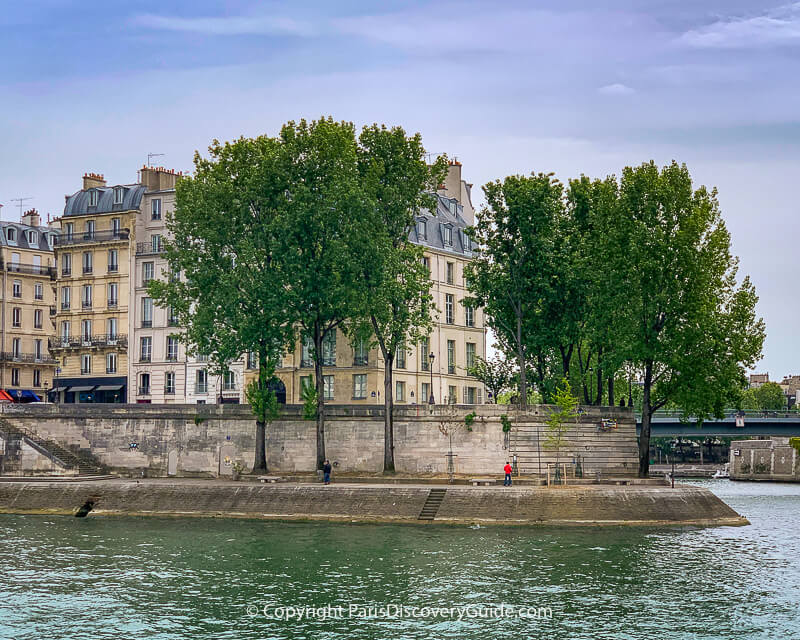 Like every other month throughout the year, May weather in Paris France offers a mix clear, partly cloudy, overcast, and mostly cloudy days, but the number of days with sunny or partly cloudy days increases this month. Most days will have at least some sun.
Equally important, the day length increases rapidly this month as the longest day of the year on June 21st approaches. By May 31st, you'll experience almost 16 full hours of daylight, with sunset not happening until 9:44 pm. That gives you a lot of hours for seeing Paris!
Here's what you can expect:
Average hours of daylight:  15 hours, 20 minutes
Average hours of sunshine during May:  6.6 hours per day
---
How Much Rain Does Paris Get in May?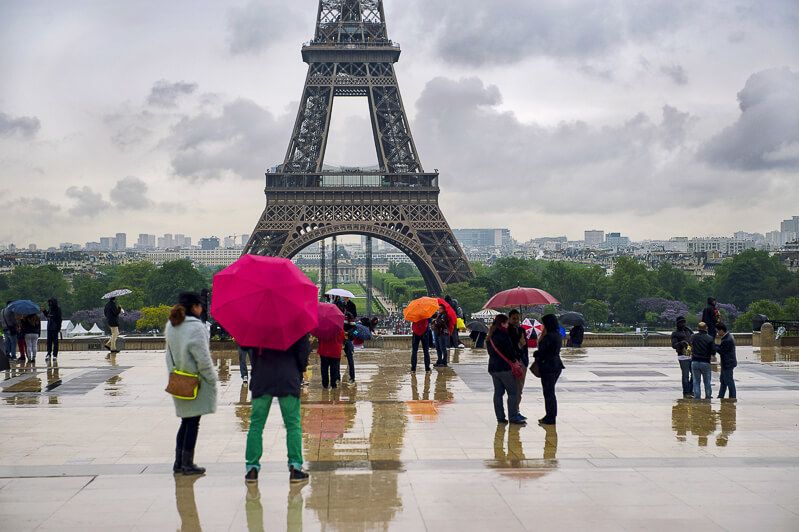 Paris records about 2.6 inches (about 66 mm) of precipitation on average during May, typically over the course of 10 days. That's the most precipitation of any month, although it tends to fall in brief showers during this month (often immediately followed by bright sunny skies), rather than day-long sustained rain or drizzle.
May also gets its fair share of muggy humid days as the weather begins to warm up, and those days tend to be overcast.
In a typical year, you can expect brief showers (or even just sprinkles) on 2-6 days, including maybe 1-2 days when steady rain falls for a longer period of time. You also might experience a brief downpour.
Scattered rain showers or sprinkles may occur on perhaps another 5-6 days. If you get caught in one, just duck into a doorway or under an overhanging balcony because they end quickly.
Technically, snow is possible if the temperature drops to the low 30s, but it will melt before hitting the warmer ground. If you happen to see any snowflakes falling, enjoy the view because they won't last long.
Paris can occasionally get breezy in May, but normally nothing to worry about unless the temperature happens to be unusually low. If that happens, you will feel cold if you're not wearing at least a couple of layers.
---
What about the Weather at Popular Day Trip Locations?
In case you are planning to take a day trip outside of the city during your visit, rest assured that May weather at nearby locations such as Versailles Palace, Disneyland Paris, and Giverny will be very similar to Paris, and sometimes even a degree or two warmer.
If you plan day trips to more distant locations such as Bruges or perhaps to the D-Day landing beaches in Normandy, check their local weather before you go.
---
What to Pack for Weather in Paris during May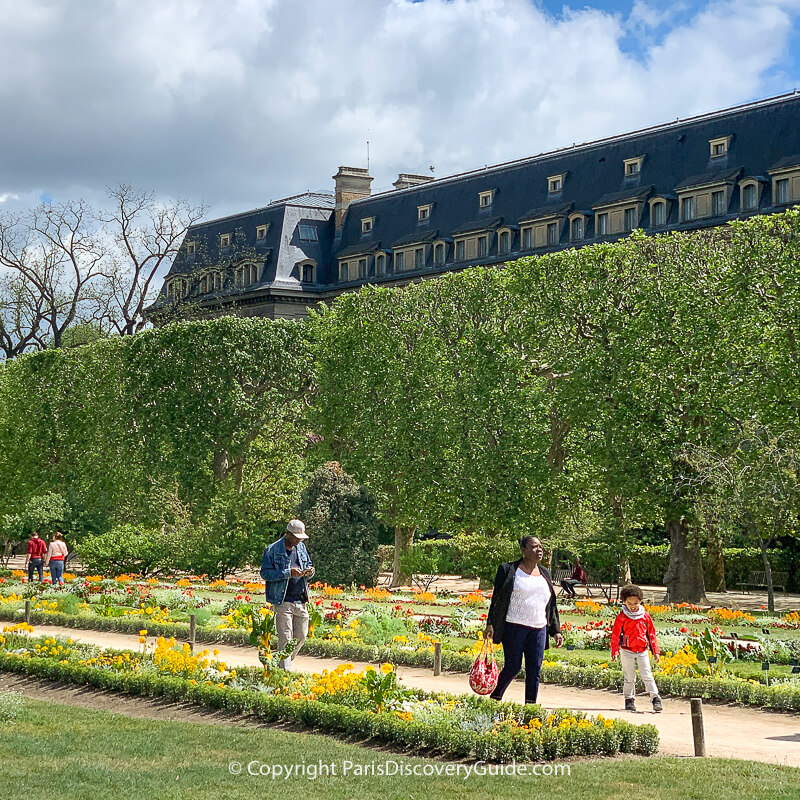 As mentioned earlier, Paris weather during May can swing from chilly to balmy to hot to chilly all in the same day, and night temperatures range from balmy to cold, with chilly being more typical.
In addition to your core wardrobe of tops, bottoms, comfortable walking shoes, and under garments, these are essentials and options to consider for packing and wearing in Paris during May:
A lightweight to mid-weight jacket or a trench coat - water-resistant is ideal. Light-weight puffer jackets such as these from Amazon (#ad) work well, but a mid-weight blazer or more casual jacket is also fine. Whatever you decide to wear, make sure you like it because you will probably be wearing and carrying it on most days.
One or two sweaters to wear on their own, pair together, or layer under your jacket or trench, especially during the evening. If you take a Seine River sightseeing cruise or ride on the upper level of a hop-on hop-off bus, the temperature will feel at least 10 degrees colder than on the ground.
A couple of pairs of comfortable walking shoes. and lighter-weight socks. What about sandals? They're not ideal for Paris because of the dog poop you're almost sure to encounter on sidewalks.
One or two lightweight scarves, but if you don't have one, don't buy one for the trip. You'll find many wonderful places ranging from street markets to fancy boutiques to get one (or more) once get here.
A rain hat or umbrella can be useful on rainy days. If you're a rain hat person, bring it with you because they're not easy to find in Paris. As for umbrellas, bring it from home, or buy one in Paris if you need it. You'll see them everywhere from small convenience stores and souvenir shops where they cost 5-10€ to pricey boutiques and department stores where you'll pay much more. The small, collapsible kind is the most convenient.
A mix of sleeveless, short-sleeved, and long-sleeved tops, and a pair of lightweight as well as medium-weight pants or skirts.
Pro Tip: Right before you start packing for your trip, check the 7-day Paris weather forecast for May in case of any surprises. Here's the forecast in both Fahrenheit and Celsius:
PARIS WEATHER
PARIS WEATHER
---
Is Visiting Paris in May Worth It Despite the Unpredictable Weather?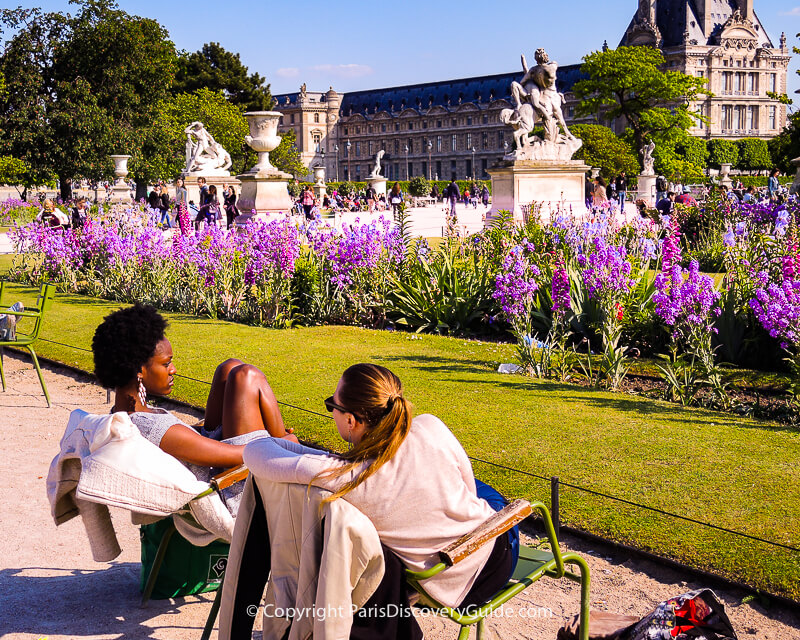 Absolutely yes! Rainy days are a small blip on the beauty of May weather in Paris.
In case you need more convincing, here are a few more benefits to visiting Paris in May:
Flights and hotel rates are no longer at their lowest level, but they'll be higher in June and July
Fantastic exhibitions at many Paris museums and a huge lineup of concerts, opera, and ballet
Sitting in the warm sunshine on your favorite terrace and sipping a glass of chilled Champagne
Gorgeous flowers everywhere
Fairly small crowds at popular attractions such as the Eiffel Tower, Louvre Museum, and Musée d'Orsay
Did we mention the euphoric feeling of being in Paris in May?
---
Best Things to Do in Paris in May on Sunny or Rainy Days
Here are some suggestions for sightseeing in Paris during May's beautiful (but sometimes rainy) weather:
---
More Fun Things to Do & See in Paris in May
---
Where to Stay in Paris during May
Beautiful May weather in Paris means you'll probably want to spend time outdoors in one of the city's parks. Here are some appealing neighborhoods close to some of the best outdoor spaces in Paris:
"Royal Paris" near the Louvre Museum and Tuileries Garden - These hotels in the heart of historic Paris close to the Louvre and gorgeous Palais Royal Garden, Jardin des Tuileries, as well as other top attractions, the Seine River, and too many wonderful restaurants and bistros to count!
Saint Germain neighborhood - Close Luxembourg Park, which many consider the most beautiful space in Paris, plus famous bistros such as Les Deux Magots and Cafe de Flore, the Orsay Museum, and evening concerts at the medieval Saint-Germain-des-Prés church
Hotels in Le Marais - The Marais is one of the favorite neighborhoods among Paris visitors, and filled with numerous small parks and gardens, including Place des Vosges, created in the early 1600s and surrounded with vaulted arcades lined with appealing restaurants and boutiques
Use this hotel booking map to find more hotels and apartments for your travel dates:
Check out the newest Paris hotels
---
---
Paris Weather Resources
Want current Paris weather predictions? This is a good French source: Meteoblue
Historical weather data sources: The Weather Channel, Weather Spark, and Time and Date
---
---
More Information for Your Paris Visit in May