Should you get skip-the-line tickets for the most popular Paris attractions?
Yes. With well over 20 million tourists coming to the City of Lights to see its famous attractions each year, ticket lines get long - very, very, long. Don't waste your time in Paris by standing in ticket lines when you don't have to.
Skip-the-line (also called "fast-track" or "priority" or "reserved entry") tickets that let you book a specific date/time slot are almost always worth getting and are easy to buy online before you travel.
Reserving your ticket in advance also ensures that you won't be shut out by daily entry limits. With the Louvre Museum now limiting daily admission to 30,000 visitors (down from 45,000/day pre-pandemic), not booking in advance means that even if you're willing to stand in line, you're still out of luck once the daily limit is reached. Similarly, the Eiffel Tower also limits visitors.
Which Paris attractions, museums, and monuments offer skip-the-line admission? All of the most popular places in Paris known for their long lines:
In addition to skip-the-line entrance tickets, you have two other ways to avoid waiting in long lines while getting a better touring experience:
1. Guided tours always include skip-the-line priority access; a few even give you access to private areas not available to most visitors. The expert guides who lead these tours will enrich your experience by telling and showing you things you might miss on your own.

Some skip-the-line guided tours for destinations outside of Paris such as Versailles, Giverny, and Disneyland even include transportation - another time and stress saver.

2. The Paris Museum Pass lets you skip the line at many top museums and monuments by reserving a specific date/time slot.
To be clear, none of these ticket and tour options let you skip security lines. They are mandatory, but the good news is that they normally move much more quickly than the ticket lines, which is what you do get to skip.
For the most popular destinations such as the Eiffel Tower, Versailles, and Disneyland Paris, order your skip-the-line tickets or book your tour as soon as you know your travel dates. The most popular tours and tickets sell out faster than you might expect, especially for peak travel periods. Don't be left standing in line!
Top photo: Ticket lines in front of Versailles Palace in July, (c) Paris Discovery Guide
Paris Discovery Guide is a reader-supported publication. When you buy through our links, we may earn a commission at no additional cost for you. Learn more
Skip the Line Tickets & Tours: Louvre | Eiffel Tower | Versailles | Catacombs | Disneyland | Orsay Museum | Notre Dame Towers | Arc de Triomphe Rooftop | Paris Opera House | More Attractions
More Ways to Skip the Line: Paris Museum Pass | Skip the Line FAQs
---
Louvre Museum Skip the Line Tickets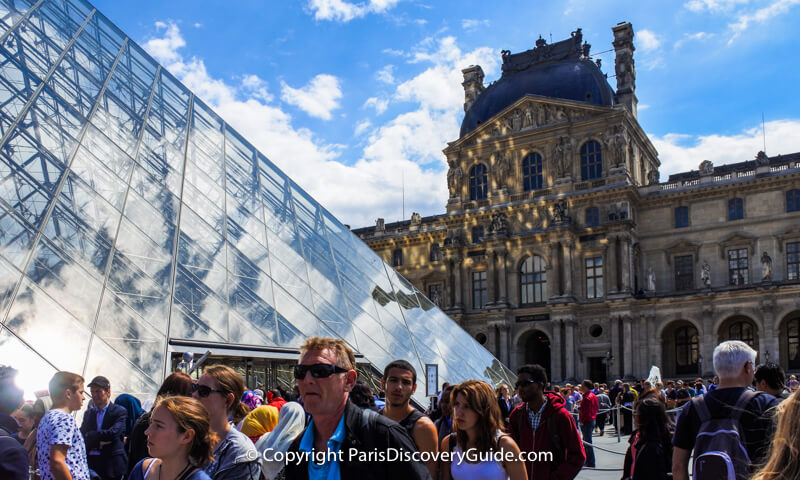 Home to the Mona Lisa - perhaps the most famous painting in the world - and countless other treasures filling its vast spaces, the Louvre Museum attracts massive crowds. During peak seasons, getting through the regular ticket line can take up to three hours or more. Don't risk being stuck in it: get a skip-the-line ticket for a reserved date/time slot in advance.
Even better: Booking a guided tour will give you skip-the-line priority entry, help you navigate the crowds, show you more of the Louvre's magnificent art than you might discover on your own, and share interesting insights about this palace-turned-museum. After the tour, spend as much time as you want to see even more on your own.
Paris Discovery Guide's Louvre Skip-the-Line Picks
More Skip-the-Line Tickets & Guided Tours for the Louvre
More about Louvre Museum guided tours
---
Eiffel Tower Skip the Line Tickets & Other Fast Entry Options
The Eiffel Tower is another top attraction where a skip-the-line ticket can save you as much as 3-4 hours waiting in line.
The Eiffel Tower's viewing platforms and elevators, especially those to the top of the tower, can only accommodate a fixed number of visitors at a time. That means everyone with a skip-the-line ticket gets priority over you, unless you have one too.
A huge range of Eiffel Tour ticket and tour choices are offered: go just to the 2nd floor or all the way up to the Summit for its sweeping views of Paris, benefit from the services of a guide, combine a visit with a meal in the Tower, or bundle your visit with a Champagne cruise down the nearby Seine River. Skip-the-line tickets or tours are well-worth getting for the Eiffel Tower if you want to make the best use of your time.
PDG's Skip-the-Line Picks for Eiffel Tower Tickets & Tours
---
More Eiffel Tower Skip-the-Line Experiences
More about all the ways to get Eiffel Tower tickets
---
Versailles Palace & Gardens Skip the Line Tickets - A Must!
Especially during spring, summer, and early fall, skip-the-line tickets for entrance to Château de Versailles, famous for its Hall of Mirrors and beautiful gardens, can save you up to 3-4 hours of wait time in the long, long ticket lines.
PDG's Versailles Palace Skip-the-Line Picks
More Versailles Skip-the-Line Tour Choices
***y-gyg-versailles-shtml***
---
Catacombs Skip the Line Tickets & Tours
Some Paris guide books describe the Catacombs, former quarries repurposed as a burial ground for millions of Parisians, as a little-known but cool Paris attraction.
But nothing could be farther than the truth, as you can attest if you get stuck for 2-3 hours or more in the slow-moving regular ticket line. Although you used to be able to shorten your wait by arriving before opening time or late in the day, that hack no long works because everybody tries it.
The Catacombs' tunnels can hold only 200 visitors at one time, which adds to the line's slowness. To avoid the long wait, you should always get your priority reserved date/time slot Catacombs tickets in advance.
Another option is to get tickets for a small-group guided tour (which always includes a reserved priority ticket) of the Catacombs. These also give you the benefit getting information, insights, and stories from your expert guide.
More Choices for Catacombs Tickets & Tours
---
Disneyland Paris Skip the Line Tickets & Transport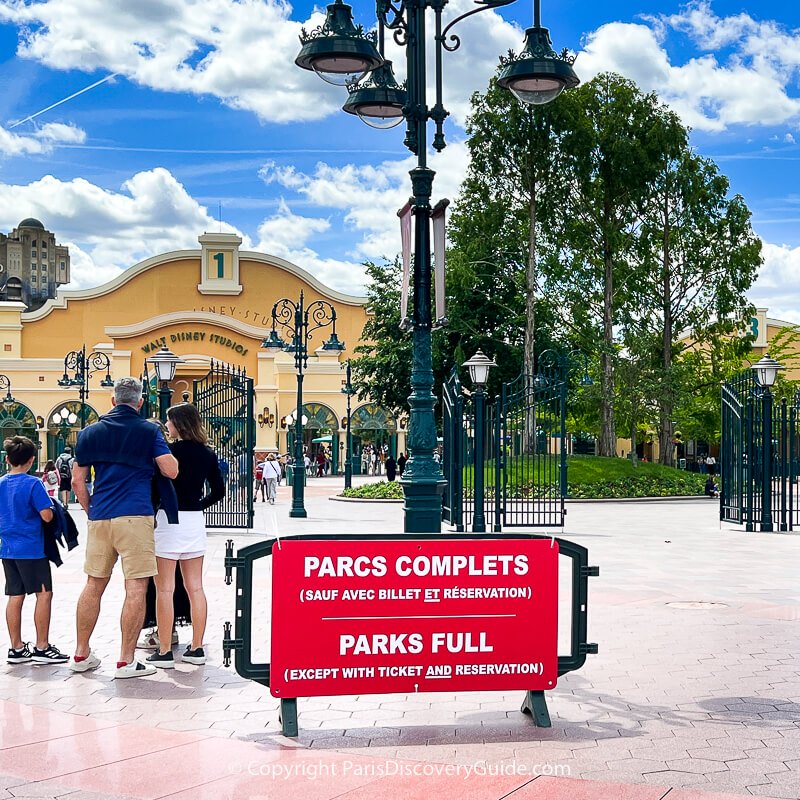 Disneyland Paris has almost no "slow" season other than a short period during January, as rolling school vacation weeks in France and elsewhere in Europe means happy kids and their families almost always fill the park. Disneyland Paris competes with the Eiffel Tower as the most popular tourist destination in the Paris region.
There are actually two parks: Disneyland and Walt Disney Studios. You can get tickets for a full-day pass to one or both (based on which option you choose), with round-trip transportation on a luxury express bus from central Paris included.
During the busiest seasons (May through mid-September, school vacation periods, every holiday including a few you may have never heard of), the park will often be closed to anyone who doesn't have a reserved ticket for a specific day.
More Disney Ticket and Transportation Choices
---
Musée d'Orsay Fast Access Tickets & Skip the Line Tours
Famous for its superb collection of Impressionist paintings, including Van Gogh's Starry Night, the Orsay Museum is not nearly as huge as the Louvre, but don't be fooled - it's crammed full of treasures, many of which can be easy to miss.
Admission lines can be long and slow - an hour or more in the queue is not unusual. To avoid this wait, get a reserved access skip-the-line ticket.
For a special experience, take a small-group Orsay Museum tour such as this one with an expert guide who can help you understand the context and history of the fabulous art you're seeing and appreciate it at a whole new level.
More about what to see & do at the Orsay Museum
---
Arc de Triomphe Rooftop Terrace Skip the Line Tickets
Go straight to the front of the admissions line at Arc de Triomphe with a skip-the-line ticket - for the same price you'd pay at the gate but no wasted time in line, it's a sure bet.
The views of Paris, Champs Elysées, and the Eiffel Tower from the terrace at the top of the Arc will thrill you.
More about visiting the Arc de Triomphe
---
Paris Opera House (Opéra Garnier) Skip the Line Tickets
Get a reserved-access ticket reserved access ticket and feel happy (and maybe slightly smug) as you stroll past the often long and slow-moving ticket purchase line and begin your exploration of the spectacular Paris Opera House, widely considered the most flamboyant opera house in Europe.
See all the magnificent art, costumes, and sculptures in this Baroque masterpiece, and be dazzled by the over-the top display of gold, mirrors, and sparkling crystal chandeliers.
---
More Paris Attractions Where Skip the Line Tickets Save You Time
At the following Paris attractions, you'll sometimes encounter slow-moving lines, and at other times, you can breeze right in. Although longer lines typically happen during prime tourist season, special exhibitions throughout the year can attract crowds and crush your hopes for a speedy entrance.
All of them offer online tickets giving you priority access for the same price as the tickets you'd stand in line for, so even if you save yourself only 5-10 minutes line time, the advance tickets are well worth getting.
Pompidou Center
Show your e-ticket at the priority entrance of Centre Pompidou to bypass the ticket line to this famous showcase of modern and contemporary art. Your ticket includes temporary as well as permanent collections (but usually not special "blockbuster" exhibits) and access to the rooftop terrace and reflecting pool.
Buy your Centre Pompidou ticket online
Another option for skipping the line at Pompidou - book a private tour with a guide who's an expert in art of this period.
Picasso Museum
"Priority" tickets give you a full day of access and let you go to the front of the line at the popular Picasso Museum, located in a gorgeous mansion in the Marais neighborhood. Only a limited number of these tickets are available each day due to the museum's smaller size, and they go fast.
Alternately, book a private tour with a Picasso expert as your guide.
Sainte Chapelle
Soaring stained glass windows make visiting the medieval Sainte Chapelle a memorable experience like no other.
Skip-the-line tickets with priority access are important to get in advance because the chapel can accommodate only a limited number of visitors at one time. Especially during peak travel months (May - September) and school vacation periods, the available slots fill up.
Money-saving combo skip-the-line tickets for Sainte Chapelle and the nearby Conciergerie, first a royal palace and then a prison where Marie Antoinette spent her final days during the French Revolution are also available. Get combo tickets
Another value-packed option is a 3-hour guided tour of Île de la Cité (the small island in the Seine River where Sainte Chapelle is located) that includes skip-the line-entry tickets and tours of Notre Dame Cathedral (free entry but sometimes long lines), the Conciergerie, and Sainte Chapelle.
More about Sainte Chapelle visits, tours, & concerts
Grevin Wax Museum
Paris's Grevin Wax Museum is considered one of the best in Europe, and truly delivers a fun experience as you enter through the fantastic Hindu temple and light show in the Hall of Mirrors and then wander through creatively staged rooms and pose next to 200 or so life-like wax figures and fascinating historical re-creations.
The line here can be long and very slow, so an advance ticket is always a good idea.
Get your skip the line tickets
Espace Dali
Espace Dali, located in the scenic Montmartre neighborhood in Paris, boasts the largest collection of surrealist artist Salvador Dali's work in France.
Skip-the-line tickets let you enter without waiting and cost about the same as those sold at the door. But in such a small venue which typically does not draw large crowds, do you even need a skip-the-line ticket?
Usually not - but if you do happen to arrive at a busy moment, you'll be happy if you have one.
---
Paris Museum Pass: Another Way to Skip the Lines
The Paris Museum Pass gives you free skip-the-line admission to 60+ top museums and monuments in Paris and the nearby suburbs for a fixed period of time - you choose 2 days, 4 days, or 6 days when you buy the card.
The Paris Museum Pass includes fast track skip-the-line access to most of the popular attractions mentioned above: Sainte Chapelle, the Louvre Museum, Conciergerie, Musée d'Orsay, Pompidou Center, the Arc de Triomphe, and Versailles Palace. It also covers plenty of others for which skip-the-line options are not normally available, such as the Branly Museum, Cluny Museum (Musée National du Moyen Âge), and the Air and Space Museum located north of the city.
Not every museum in the city is included in the Pass nor are attractions such as the Eiffel Tower, Disneyland Paris, Catacombs, or the Paris Opera House.
But if the Paris Museum Pass includes enough of the places you want to visit and if you can compress your visits into 2, 4, or 6 days, it can save you money - and of course also time, due to the skip the line feature.
---
Frequently Asked Questions: Skip the Line Tickets
Q: How soon before my trip should I get skip-the-line tickets?
A: For the most popular destinations such as the Eiffel Tower, you should order your skip-the-line tickets as soon as you know your travel dates. The tickets do sell out, especially for late spring and summer dates - sometimes as much as several weeks in advance.
Q: Do you pay more for skip-the-line entry tickets compared with regular tickets that you'd stand in line to get?
A: It depends. Museums such as the Louvre typically offer skip-the-line tickets purchased in advance at the same cost as regular tickets. Other attractions such as the Catacombs and Eiffel Tower sell skip the line tickets at a premium price, whether you buy them on the attraction's website (if available) or through a ticket booking website.
Q: I've heard you still have to go through a security line. True?
A: True - you cannot skip the security line. But many of the biggest attractions now have special expedited security lines for people with skip the line tickets, so they usually move fast. Typically, the longest wait in a security line might run about 5 minutes.
Q: Should I get skip-the-line tickets even if my trip to Paris isn't during the busy summer months?
A: During the pandemic, many attractions started requiring that you buy your tickets online and select a specific date/time slot. That turned out to be a good way to expedite entry and distribute visitors more evenly throughout the day, so the practice continues at many venues. You will benefit from this, because after all, why waste even 5-10 minutes of your time in Paris by standing in line when you don't have to?
Q: Why do you show skip-the-line tickets on Paris Discovery Guide from GetYourGuide and other ticket distributors instead of directly from the attractions?
A: GetYourGuide, Viator, and other ticket distributors offer secure ticket booking platforms, and offer tickets for many different attractions, tours, and experiences in one place - usually a much more convenient way to find out what's available, compare offers, and quickly book tickets, and, when necessary, reschedule or get refunds. Their websites are also easier to navigate.
Equally important, GetYourGuide lets you book in your own currency, which can save you conversion fees. They do not add booking or service fees of their own; on the rare occasions when an attraction charges an online booking fee, GetYourGuide tells you the amount up front. They also pass on small discounts to you when available. If you need to change a date, cancel a ticket, or get help with something else, they provide customer support in English and other languages.
Alternately, in many cases you can purchase tickets directly from the attractions' or tour guides' websites - just remember to convert Euros to your own currency to get an accurate idea of your ticket cost. If you have to book your tickets in Euros instead of your own currency, use a credit card that doesn't charge extra currency conversion fees (beyond the 1% international banking transaction fee that almost all cards pass on) if possible.
---
More Articles about Paris Attractions
---
Need a Paris Hotel or Apartment for Your Visit?
Looking for a place to stay during your Paris visit? Use this map from Booking.com to find accommodations and lowest rates in your chosen location:
Check out the newest Paris hotels
---