Paris celebrates Chinese New Year with colorful parades, lion and dragon dances, brightly lit red lanterns, firecrackers, martial arts, drums, and other festivities throughout the city's Chinese and Asian neighborhoods in January or February to welcome the Lunar New Year.
Featuring brilliantly costumed "lions," flamboyant "dragons," ribbon dancers wearing spectacular traditional dresses, drummers and cymbal players, acrobats, fun kids' activities, and fantastic Asian food, these special New Year events give you exciting opportunities to experience Chinese culture in Paris.
The Chinese New Year (or Spring Festival, as it's traditionally called in China) date for 2022 is February 1, with most parades usually taking place a week or two earlier or later. Festivities this year celebrate the Year of the Tiger.
Celebrations in Paris typically last about 2 weeks, although in China they may continue for a month.
Paris has the good fortune to include four Asian neighborhoods - three predominantly Chinese and South East Asian where the parades and biggest celebrations take place, plus a growing Japanese-Korean enclave known for its trendy restaurants. An additional CNY parade and a festive celebration take in a mostly non-Asian neighborhood along Rue du Faubourg Saint-Honoré.
Use our guide to find the biggest and best Parisian Chinese New Year parades, special events, dining, and shopping in these four fascinating city neighborhoods.
Top Photo: Chinese lanterns in front of Paris City Hall (Hotel de Ville) - photo credit: AdobeStock
---
Faubourg Saint-Honoré Parade (Paris 8)
Festive red lanterns and a colorful parade with lion dancers, dragons, and drummers along Rue du Faubourg Saint-Honoré create a center of festivities in this mostly non-Asian part of the 8th arrondissement.
Look for an animation to honor Asian traditions, the Lunar New Year, and folklore, plus a spectacular parade with lions, dragons, and drumming performances by 30 artists from the Paris Lion Sports group.
So far, with the CNY parade in the 13th now canceled and no announcements (at this point) about other events, this may be the only Lunar New Year parade in Paris for 2022 - so enjoy! See the February events calendar for the latest date and time information.
---
Quartier Asiatique (13th Arrondissement): The Biggest Chinese New Year Parade in Paris - CANCELLED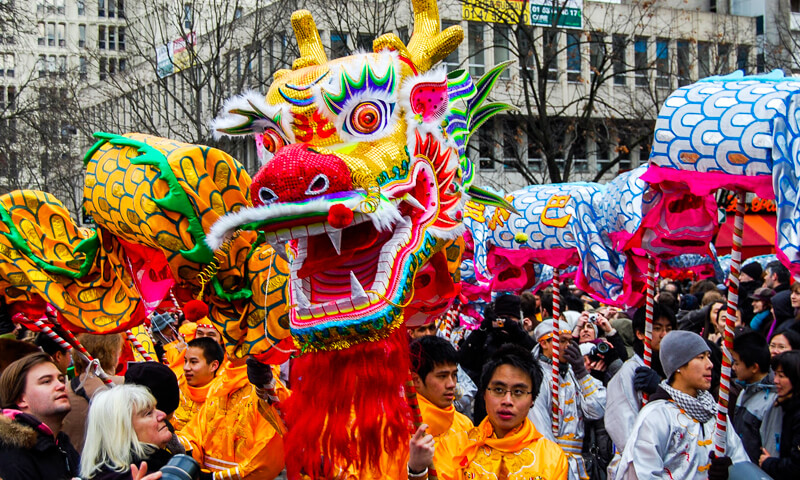 Please note: The mayor's office has just announced that the parade is canceled. Other activities during the next 12 days appear to still be happening. Please check the Paris 13 website for more details:13th Arrondissement's Town Hall website
The biggest Lunar New Year Parade in Paris takes place in the 13th arrondissement's Quartier Asiatique, home to the largest Asian residential and business community in the city.
The parade includes a particularly rich mixture of different styles and traditions reflecting the Chinese (mostly ethnic Chinese with family roots in French Indochina), Vietnamese, Cambodian, Laotian, and other Southeast Asian heritages present in the neighborhood.
Take a close look at the wide variety of Lion and Dragon costumes, and you'll begin to see some of the differences. You'll also see a wide variety of traditional Asian clothing worn by the huge number of parade participants.
Chinese New Year Parade Route - 13th Arrondissement, Paris
The 13th arrondissement's parade is the city's largest, with about 2,000 participants and 200,000+ spectators from Paris, other parts of France, and around the world. It kicks off by Tang Frères Asian Supermarket at 44 Avenue d'Ivry (closest Metro is Porte d'Ivry) and marches up Avenue d'Ivry to where it merges (at Rue de Tolbiac) with Avenue de Choisy, and then continues on to Place d'Italie.
After marching around the square, the parade goes down Avenue d'Italie, turns left onto Rue de Tolbiac, right onto Avenue Choisy, left on Boulevard Masséna, and left again on Avenue d'Ivry to the starting point.
For this year's date and start time, check our February events page.
More to See & Do for Chinese New Year in Paris's 13th Arrondissement's Quartier Asiatique
You can enjoy free Chinese New Year activities, performances, and entertainment in the 13th arrondissement during the weeks before and after the parade. Check the 13th Arrondissement's Town Hall website for details (usually updated close when the events take place).
Highlights this year include art exhibits, concerts, a conference on traditional Chinese medicine, and a Lion Dance in front of the 13th arrondissement's town hall (1, Place d'Italie). (dates and times to be confirmed)
For any Asian food you can imagine as well as many decorative and household items, shop at Tang Frères (44 Ave d'Ivry), the largest Asian store in Paris (and possibly Europe). Before or after the parade, enjoy a fantastic meal of Chinese cuisine at any of the numerous restaurants on or near the parade route.
---
Belleville Chinese New Year Parade (10th, 11, 19, & 20th Paris Arrondissements)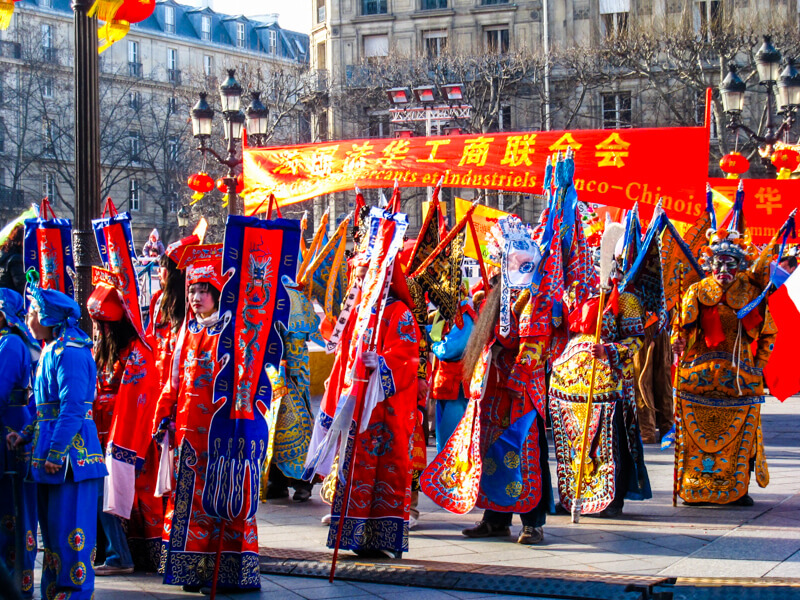 The large New Year Parade in Belleville is distinctly Chinese, with lots of lions, dragons, martial arts, and dancers.
The Belleville neighborhood, which spans parts of four Paris districts (10, 11, 19, 20), includes a large number of residents with roots in China, especially eastern and southern coastal provinces. With relatively few Vietnamese or other Southeast Asians living in this neighborhood, New Year celebrations focus on mostly Chinese customs.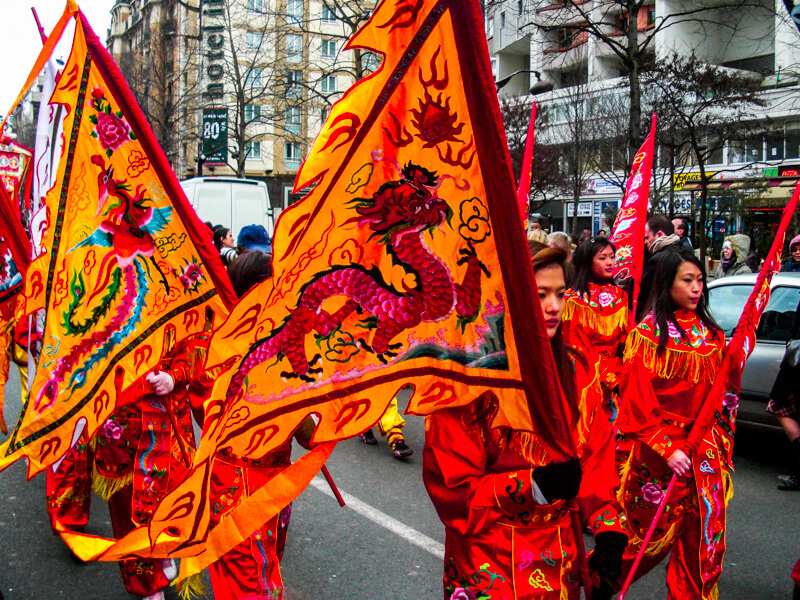 Chinese New Year Parade Route - Belleville Neighborhood in Paris
No updates for 2022 yet - but this is what usually happens: The large New Year Parade in Belleville is distinctly Chinese, with lots of lions, dragons, martial arts, and dancers.
Belleville's Chinese New Year parade begins at the Belleville Metro Station, marches up Boulevard de la Villette, turns right on Rue Rebeval, makes another right turn on Rue Jules Romains, and right again at Rue de Belleville. When the parade reaches the Belleville Metro Station, it heads down Rue Louis Bonnet, makes a sharp right turn onto Rue de la Présentation, and a final right turn on Rue du Faubourg du Temple to finish at Belleville Metro Station.
For date and start time, check our February events page.
More to See & Do for Chinese New Year in Belleville
Treat yourself to a delicious meal at one of the many Chinese restaurants and tea houses lining the main streets within 2-3 blocks of the Belleville Metro Station, especially along Rue Louis Bonnet.
---
Marais Chinese New Year Parade (3rd & 4th Paris Arrondissements)
The oldest and smallest Chinese community in Paris resides in a small neighborhood in the Upper Marais, just to the east of the Arts et Métiers Metro Station. The original settlers arrived from China in the early 1900s, and were joined by other Chinese immigrants in the following decades. Today, the neighborhood covers just a few square blocks along Rue au Maire and Rue Volta (below Rue Réaumur).
No updates for 2022 yet - but this is what usually happens: The Marais neighborhood's New Year Parade is not the largest in Paris, but it is perhaps the original as well as the most colorful, featuring lion and dragon dancers, a traditional "dragon island" with floats and costumes, drums and cymbals, marchers dressed in traditional Chinese ceremonial clothing, and of course music and firecrackers.
Prior to the parade, kids can get free makeup done from 10am to 12 noon at the Pierre Ducert French-Chinese Cultural Association at 29 Rue Michel le Comte (3rd arr).
The Marais parade begins at Place de la République, marching along Rue du Temple, Rue de Bretagne, Rue de Turbigo, and Rue de Beaubourg, crossing both the 3rd and 4th districts.
More to See & Do for Chinese New Year in the Marais
In addition to the parade, the 3rd arrondissement also hosts as week-long Chinese New Year festival filled with concerts, calligraphy, lion dancers, shows, sports, and Chinese-themed craft workshops for children. You can find details on the 3rd Arrondissement City Hall website (usually about 2 weeks before the events begin).
---
Celebrate Chinese New Year with Asian Food & Shopping in Paris's Japanese/Korean Quartier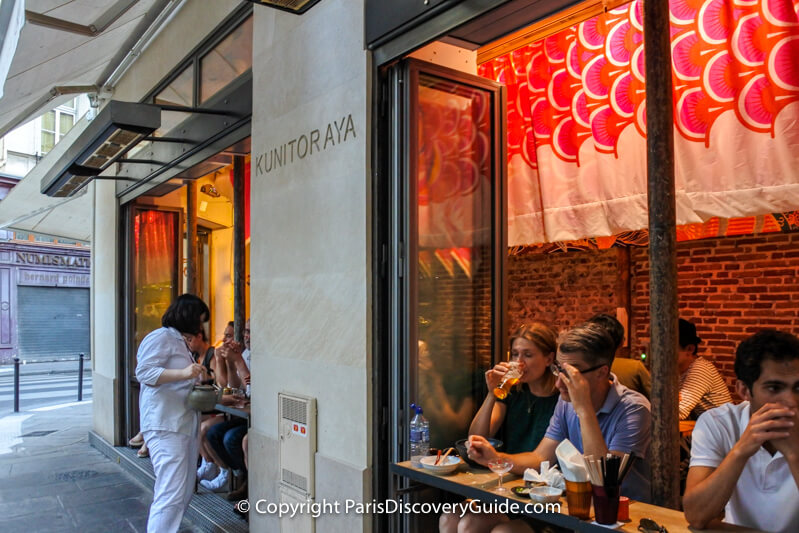 Paris's newest and fastest growing Asian neighborhood, sometimes called the Japanese/Korean Quartier, spans Rue Sainte-Anne (closest Metro: Pyramides) and nearby side streets in the 1st and 2nd arrondissements between Avenue de l'Opéra and Rue Saint-Augustine.
Numerous Japanese and Korean restaurants, markets, and specialty boutiques make this area a mecca for East Asian dining and shopping. At lunch time, you'll see business people from nearby offices heading to their favorites, and during the evenings and weekends, fans from all over the city form long lines outside the trendiest places. Most are tiny, good-to-excellent, and relatively inexpensive - and worth the wait.
During the weeks before and after the holiday, look for special celebratory Lunar New Year dishes in the restaurants and decorations in the windows. As in much of the rest of the world, Chinese New Year in France means lots of delicious food - and Rue Sainte-Anne neighborhood offers a huge variety of places to enjoy it.
For red envelopes, decorative items, clothing, and jewelry, explore the many Korean, Japanese, and Chinese boutiques in Passage Choiseul (Rue des Petits Champs, between Avenue de l'Opéra and Rue Saint-Anne).
Explore more historic shopping arcades and passages on this guided small-group tour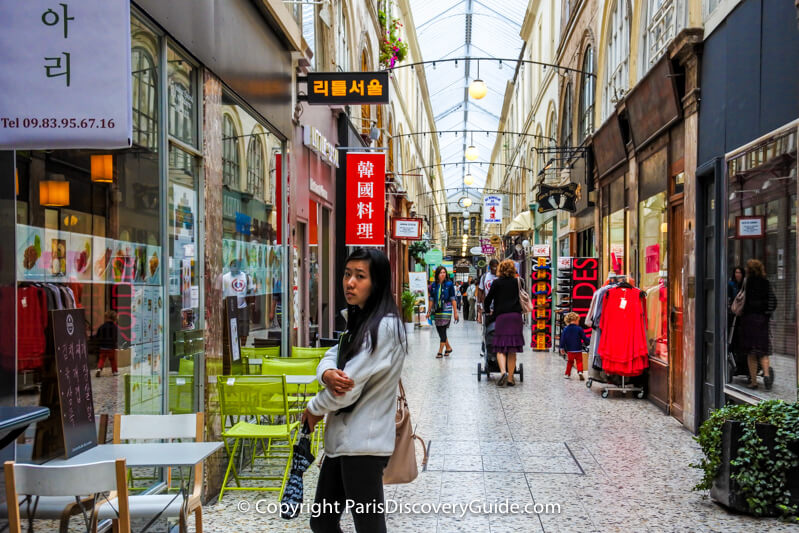 ---
Want to Save on Your Paris Hotel or Apartment?
Use this Paris hotel map to find discounted rates on hotels and apartments from Booking.com. Enter your travel dates to find low rates in your preferred Paris neighborhood:
Check out the newest Paris hotels
---
Why Is Chinese New Year on a Different Date Each Year?
Chinese New Year takes place on a different date each year because it is based on the Chinese Lunar Calendar, which varies each year based on the phases of the moon and the sun's position.
In the lunar calendar, the New Year usually starts on the date of the second new full moon (or occasionally the third) after winter solstice. As a result, Chinese New Year always falls between January 21 and February 20.
In addition to China, number of other Asian countries such as Japan, Korea, Taiwan, Vietnam, Cambodia, Laos, and the Philippines also celebrate Lunar New Year as a major holiday.
In Paris, most celebrations take place a week or two before or after CNY. You can find dates for this year's Chinese New Year, parades, and activities plus future CNY dates on our February Paris Events page.
---
What Does Chinese New Year Celebrate?
Chinese New Year has been celebrated for so many centuries in China that festivities now merge numerous myths, customs, and traditions. Sometimes called the Spring Festival because the new year symbolizes birth and the beginning of the annual seasonal cycle, New Year is China's biggest celebration. Most people in China take at least a one-week vacation to travel home for big dinners and celebrations with family and friends.
Here are some of the traditional Chinese New Year symbols you'll see in Paris, and what they mean:
Red lanterns and other bright-colored decorations - In Chinese culture, red is considered a lucky color - and traditionally was believed to play a role, along with firecrackers, in scaring away evil monsters. Today, red lanterns and other decorations are a symbol of good luck, and you'll likely see something red in the window of every Chinese business in Paris.
Lion dances - Elaborate lion costumes are donned by dancers or martial arts experts who perform lion dances, believed to bring great fortune The dances are therefore performed in almost every Chinese New Year parade as well as other celebrations. You may see businesses offer the "lions" a platter of auspicious foods, such as green cabbages and oranges, along with a red envelope containing money. The lions sample the offerings and perhaps toss a cabbage into the air to express their satisfaction, accept the envelope, and then perform an elaborate dance to bring the business owner good luck and drive away evil spirits during the coming year. If the lion tries to bite you on the head, don't duck - the gesture supposedly blesses you with good fortune.
Dragon dances - Another way to bring good luck. The longer the "dragon" (usually made up of a team of dancers), the better the fortune.
Firecrackers, drums, and cymbols - Loud noises are believed to drive away evil spirits. Drums and cymbals add to the effect - expect to hear a lot of them!
Food - Although food plays a huge role in every Chinese holiday celebration, Chinese New Year feasts out do all others - so head to practically any Asian restaurant in Paris to indulge. Eat fish for prosperity, dumplings for wealth, and noodles for long life. Lots of restaurants offer special dishes for the New Year holiday. You should expect most Asian restaurants to be packed during this period, especially a few days before and a few days after the Chinese New Year date (check our February calendar to find the exact date for this year and future years).
Red envelopes (hongbao, lai see) - Parents and older family put money in small red envelopes, often embellished with gold characters or designs, and give them to younger family members to bring good luck. You'll see packets of red envelopes for sale in Asian boutique windows.
---
Pin Now, Read Again Later: Chinese New Year in Paris
---
More Articles about Thing to Do in Paris in January & February