Paris is always a magical city - but even more so during the Christmas holiday season when sparkling decorations light up the city, hot mulled wine and roasting chestnuts warm you as you browse through the Christmas markets, and Bûche de Noël and other seasonal treats fill the windows of every patisserie you pass by.
lights markets special foods,
Dazzling Paris Christmas lights begin to appear all over the city in November and continue to fill the City of Lights through early January.
The Paris Illuminations, as they are called, take many forms: lavish displays on Champs Élysées and other famous avenues, sparkling decorations on 150+ more streets throughout the city, elaborate creations in department store windows, spectacular over-the-top light shows at Disneyland Paris, and cheerful strings of lights at the famous Paris Christmas markets.
You'll see some of the loveliest, although more subdued, Christmas decorations and lights inside Notre Dame and other Paris churches. Or, for a completely different type of experience, take one of the evening cruises and see the Illuminations as you perhaps enjoy a gourmet dinner or Champagne as you float down the Seine River.
In addition to being beautiful, Paris Christmas lights are environmentally "green."
A combination of LED bulbs and solar power generation means the energy usage and cost for the spectacular display is almost zero - so look for even more streets to display holiday lights in future years.
1. See Christmas Lights Sparkle across Paris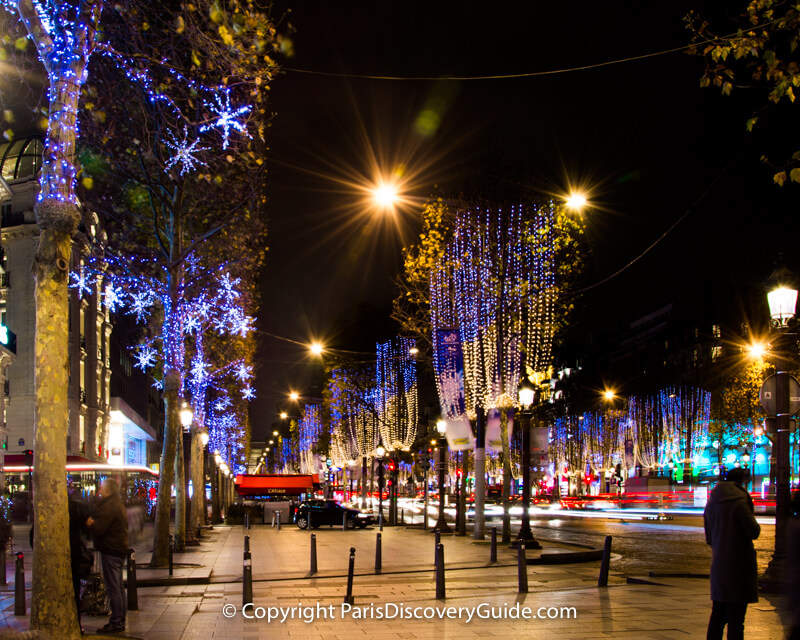 To see the most lavish display of Christmas lights and decorations in Paris, head straight to Champs Élysées, where a million (yes, literally!) sparkling blue and white lights cover street trees between Place de la Concorde and the Arc de Triomphe.
As you walk along the sidewalk, you'll also see festive decorations and even more lights in most of the stores lining this famous avenue.
Although the Christmas lights usually stay on from 5pm to 2am, they will be on all night for Christmas Eve and New Year's Eve.
Location: Champs Élysées, 8th arrondissement
Metros: Charles de Gaulle/Étoile, Georges V, Franklin Roosevelt, Champs Élysées/Clemenceau
Stay nearby: Hotels near Arc de Triomphe
More to enjoy along Champs Élysées in December: Christmas Market - look for it to return in 2018 featuring upscale Made in France products)
2. Drink Hot Mulled Wine in Paris Christmas Markets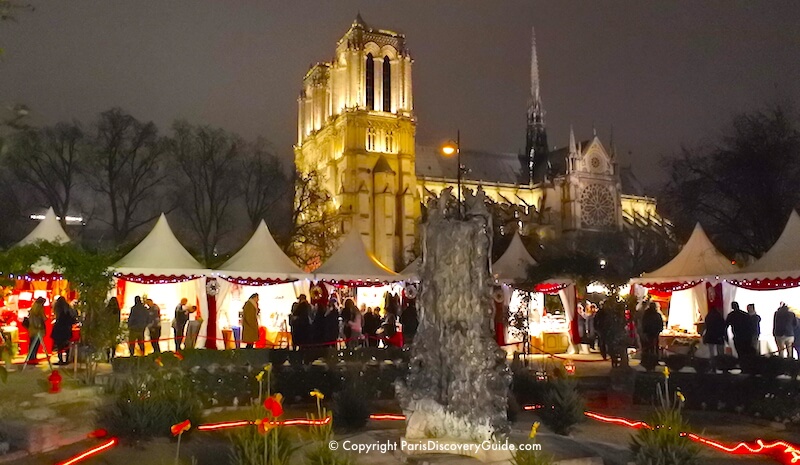 Starting in November, Christmas Markets pop up all over Paris, offering a wide variety of arts and crafts , regional food specialties, and other gifts.
With sparkling lights, brightly decorated Christmas trees, and visits from Saint Nicolas - or Père Noël, as Parisian children call him - these festive street markets attract crowds of shoppers until well into the night.
So copy the Parisians - sip hot mulled wine, munch on roasted chestnuts, and sample delicious sausages and cheese while exploring all these markets have to offer - a tradition that's been around since the Middle Ages.
Check out our recommendations for the best Christmas Markets in Paris
---
More about Christmas in Paris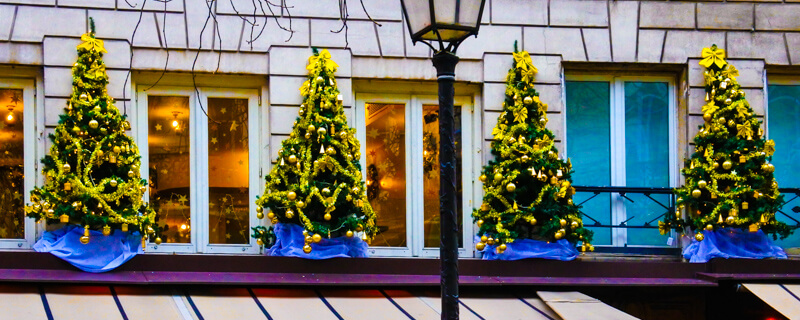 3. Get Awestruck by Christmas Windows & Displays in Paris Department Stores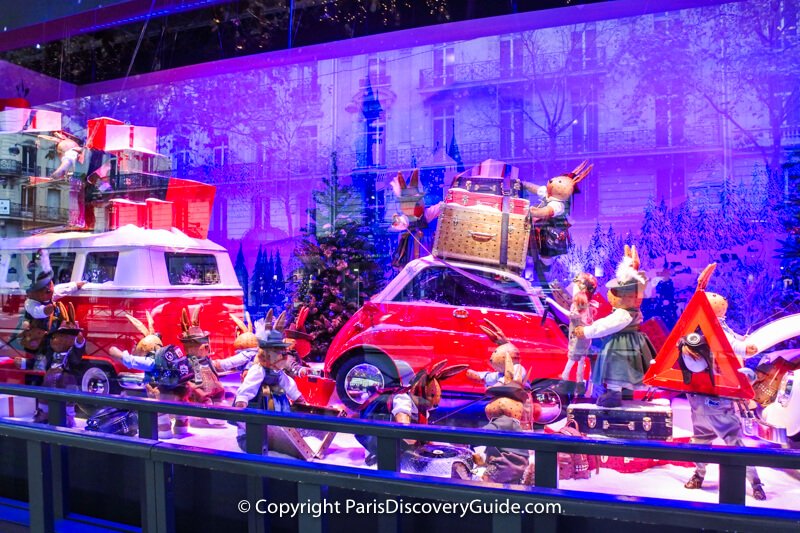 Dozens of Christmas trees shaped like perfect cones and covered with white and blue lights dot Place Vendôme's huge central court.
Surrounded by the façades of palatial 18th century mansions (the Ritz occupies Number 15), the lighted trees make the whole space seem ethereal.
Location: 1st arrondissement
Metros: Concorde, Madeleine, Pyramides, Tuileries
Stay nearby: The Ritz - check reviews and rates
More to enjoy nearby: Christmas lights and decorations along nearby Faubourg Saint-Honoré
4. Hear Fabulous Christmas Music in Historic Churches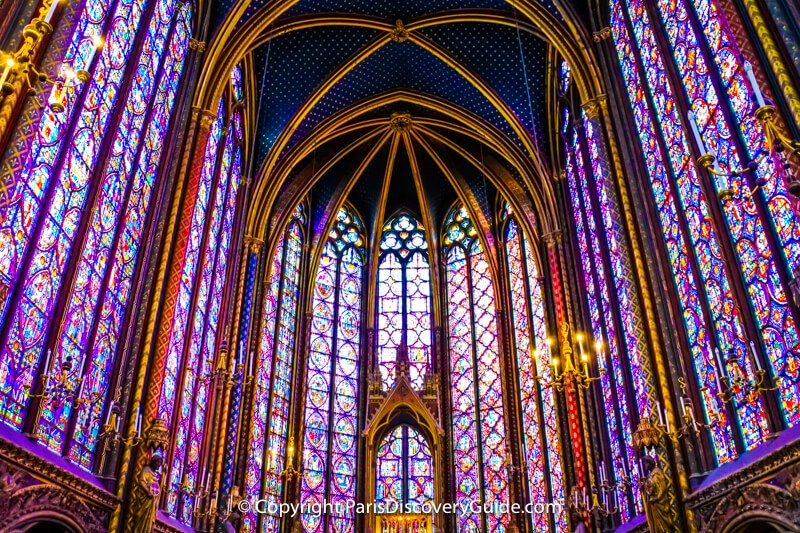 Christmas & Christmas Eve Concerts in Paris:
New Year's Eve Concerts in Paris:
5. Plan Where to Eat Your Christmas Eve & Christmas Day Dinners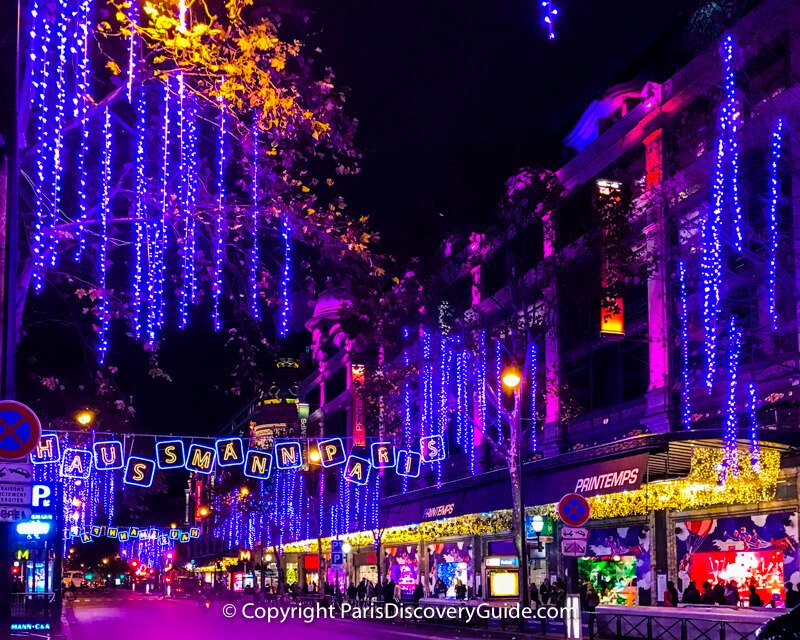 Parisians typically celebrate Christmas Eve and Christmas Day at home with family and friends over sumptuous feasts featuring traditional French holiday specialties - raw oysters, foie gras, bûche de noël, and much more!
If you're visiting Paris during this special holiday season, you can enjoy the same type of meal - but you'll need to do some preplanning and make reservations. Although many family-owned restaurants, cafes, and even brasseries will be closed for the holiday, you can still find plenty of excellent choices among the city's 4- and 5-star hotels. Expect to pay in the range of 100€-200€ per person, depending on the number of courses, Champagne, and wine, or even more if Michelin stars are involved - but it will be a meal to remember!
For something less elaborate, less traditional, and less pricy, head to the Marais where plenty of Jewish delis will be open or to the 13th arrondissement's Quartier Asiatique (Chinatown) around Place d'Italie.
6. Sample Bûche de Noël & Other Special Christmas Foods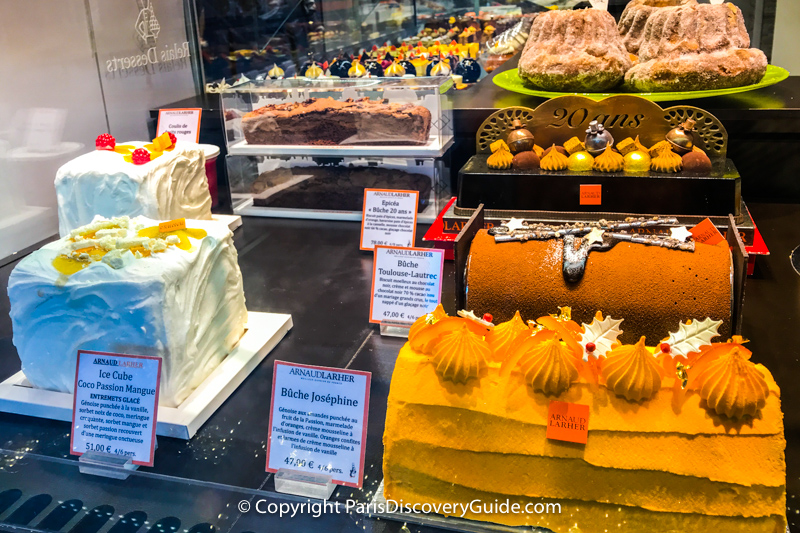 By early December, every pâtissier in Paris has filled its windows to overflowing with creative versions of bûche de noël, the traditional French Christmas log cake.
Although Parisians buy an entire cake to take home and serve to family and friends for Christmas dinner, you can easily experience this delicious concoction in many Paris tea rooms and restaurants.
Some suggestions:
Angelina, 226 Rue de Rivoli, 1st arrondissement
Cafe de la Paix, 5 Place de l'Opéra, 9th arrondissement
La Cuisine de l'E7 Restaurant at Hotel Edouard VII, 39 Avenue de l'Opéra, 2nd arrondissement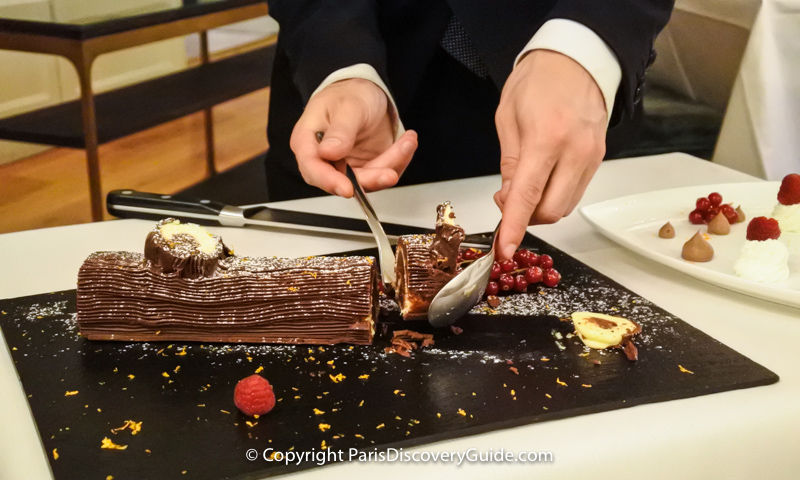 Paris Department Stores
Galeries Lafayette: 40 Boulevard Haussmann, 9th arr
Au Printemps: 64 Boulevard Haussmann, 9th arr
BHV: 14 Rue du Temple, 4th arr
Bon Marché: 24 Rue de Sèvres, 7th arr
7. Take a Holiday Cruise on the Seine River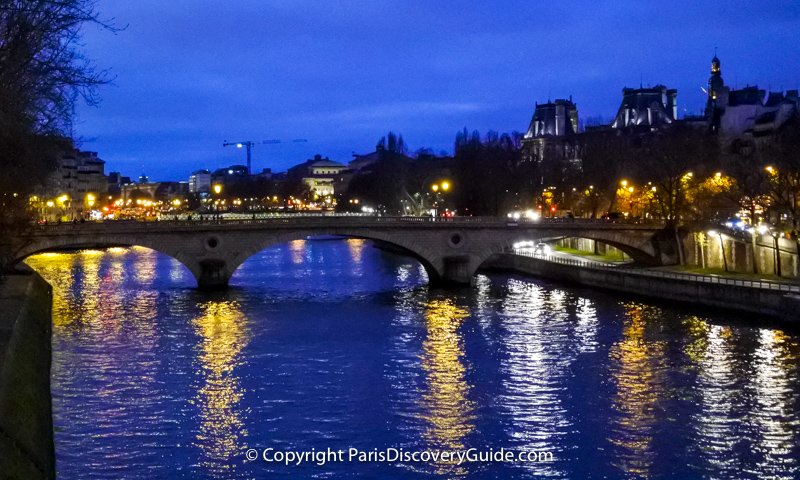 To see famous Paris lighted attractions, sparkling Christmas lights, and even the Eiffel Tower light show, take one of these popular Paris Illuminations cruises:
More Paris Christmas Tours & Cruises:
8. View Nativity Scenes in Paris Churches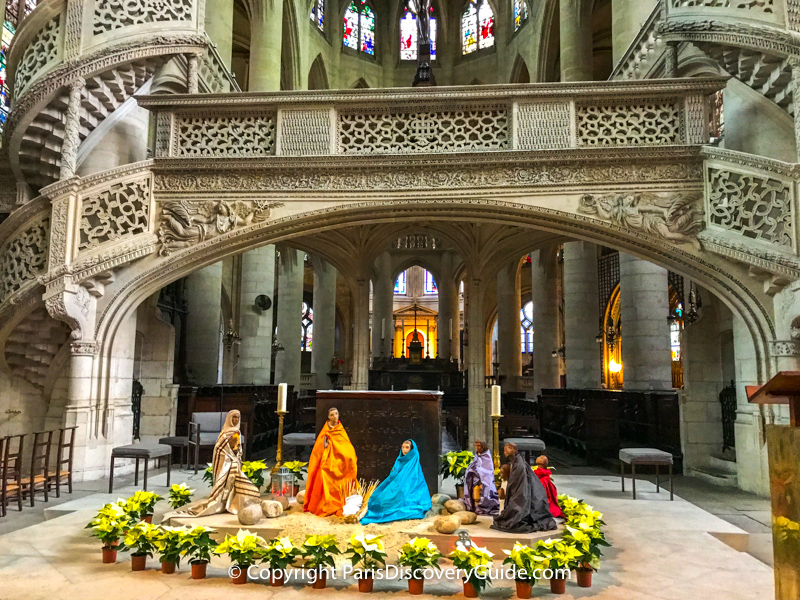 Paris churches also get into the spirit of the Christmas season. Look for special Advent calendars and displays, nativity scenes, garlands and flowers, and even the occasional Christmas tree.
For an especially memorable experience, attend a candlelight concert during December. More about Paris church concerts
9. Attend Christmas Eve Mass or Church Services in Paris Churches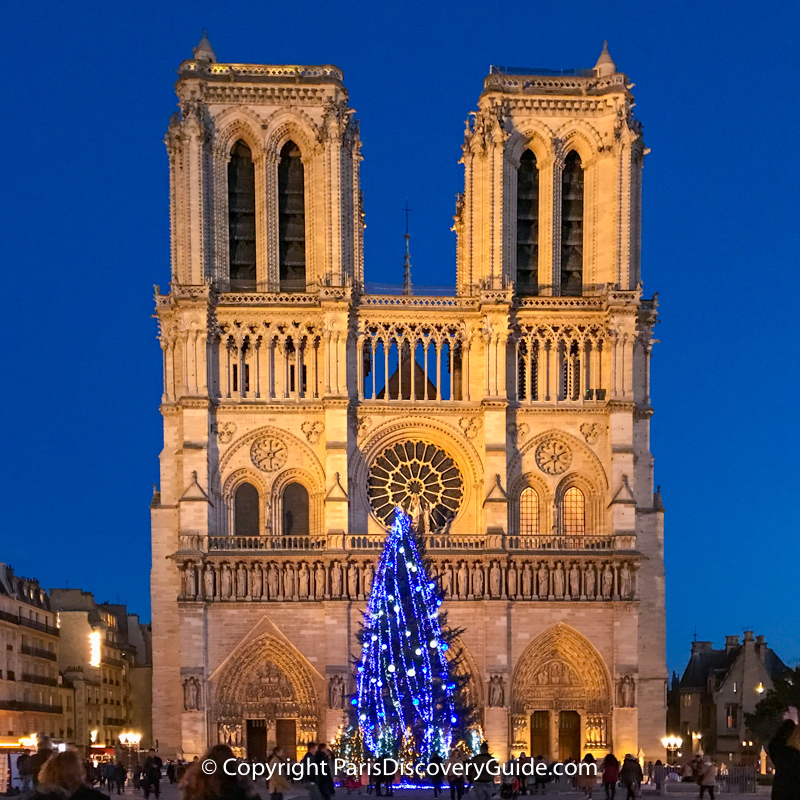 Want to attend special Christmas Eve Mass or church services in Paris?
You'll find lots of wonderful options throughout the city, from the city's grandest historic churches where you can view nativity scenes and hear spectacular organ and choral music to six smaller places of worship offering services in English.
More about where to attend Christmas Eve services, and what to expect
10. Experience Christmas at Disneyland Paris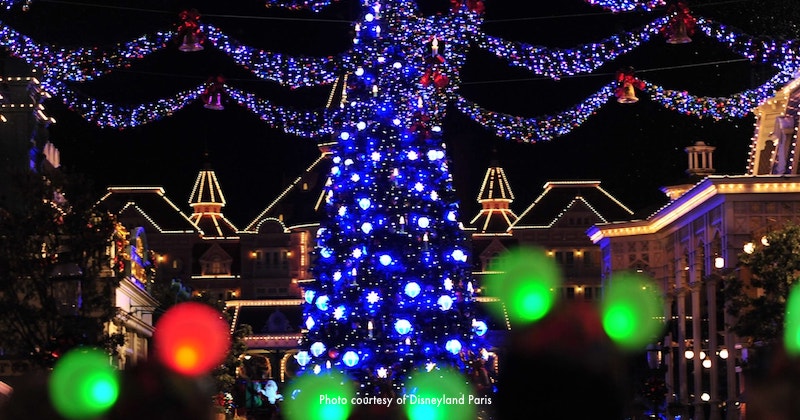 Christmas celebrations begin at Disneyland Paris in early November with plenty of entertainment and fun for everyone.
You'll find a spectacular giant tree, entertaining shows, festive Christmas parades, and dazzling holiday decorations everywhere. Don't miss two brand-new holiday shows at Walt Disney Studios® Park this year, a new immersive nighttime extravaganza, and singing carols with Santa, Mickey, and Minnie for a magical experience you won't forget!
When: Early November through early January

Disneyland Paris and Transportation
Take RER A to the Marne-la-Valee station, walk across a small plaza to Disneyland Paris, and buy your tickets at the gate - or check out these advance ticket options to make your trip faster and easier:
11. Ice Skate in Iconic Paris Locations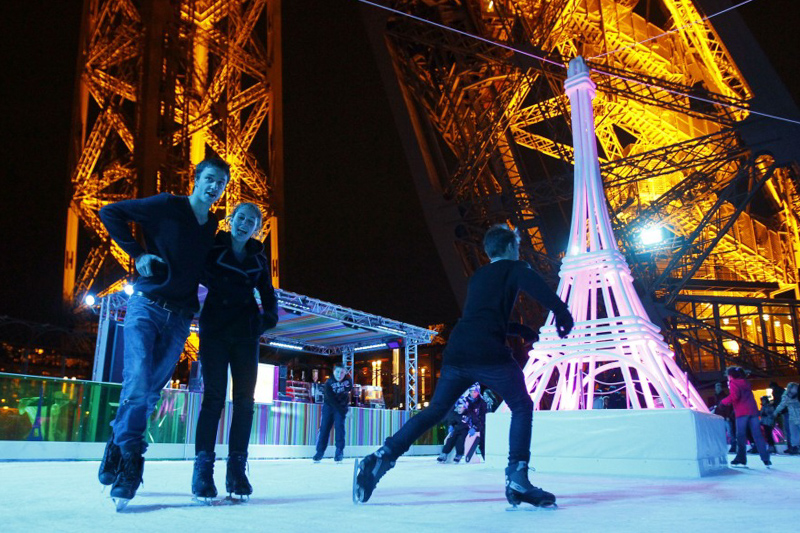 Ice rinks pop up in a variety of locations - the Eiffel Tower, Hotel de Ville, top of the Arc de Triomphe, and more by mid-December. Check back soon for 2018 locations!
12. Shop for Gifts at Pre-Christmas Sales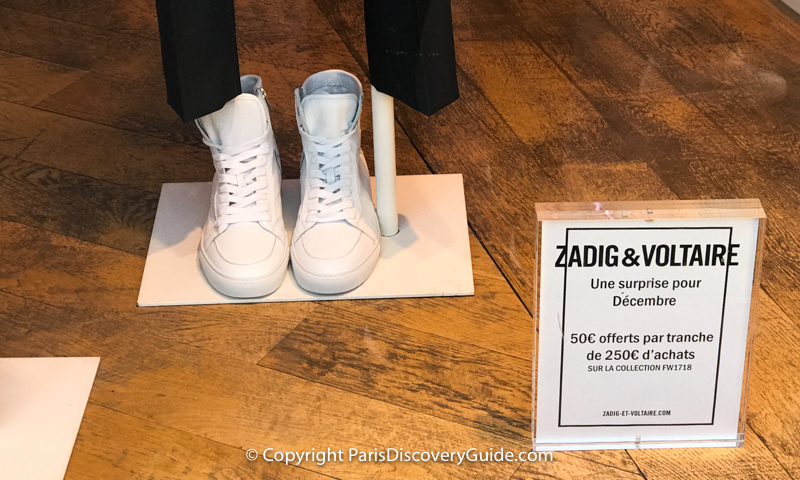 Although the famous January sales don't begin until a week or so after New Year's Day, pre-Christmas sales during December are a "Paris insider's secret" that can save you significant money on your holiday gift shopping.
How much? Clothing by well-known designers and brands usually runs around 20% off, but home decor and gift items may be reduced as much as 50%. You have to look around because by no means does every store do this - but if you happen to spot something you want, you'll be thrilled!
Stores along and around the Grands Boulevards and Champs-Elysees, as well as boutiques in the Marais are a good place to start looking - but be alert as you're walking around, because you'll see these discrete "offerts" or "reduction" signs all over the city.
13. See Paris at Night on the "Big Wheel"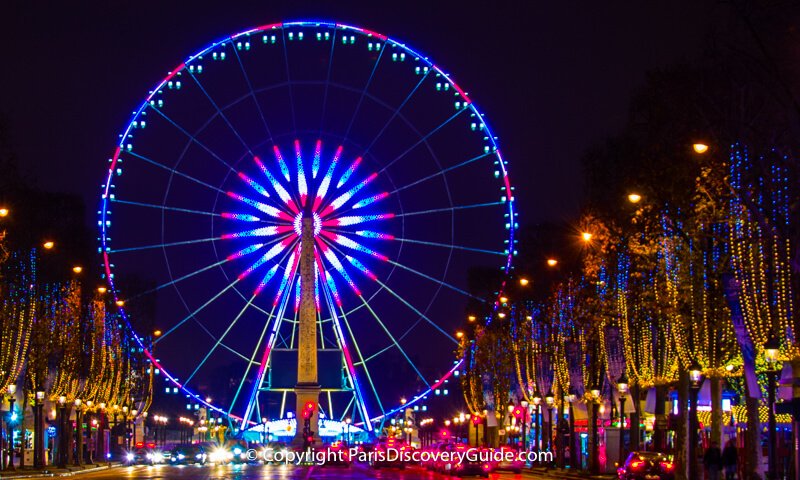 Take a ride on the "Big Wheel" ferris wheel at Place de la Concorde and get a panoramic view of holiday lights across Paris.
14. Sing Handel's Messiah in the American Cathedral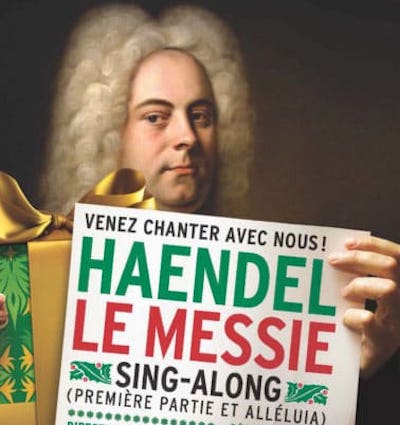 Celebrate the holiday season in Paris by joining the Paris Choral Society and a group of other Messiah enthusiasts in their annual sing-along of Handel's Messiah Part 1 plus the famous Hallelujah Chorus at the American Cathedral (23 Avenue George V, 8th arr).
If you don't already know the words or have a score, no worries - you can rent or buy one at the door.
See our December Events page for date and ticket information.
More Things to Do for Christmas in Paris