Christmas in Paris is a magical season, with so many fantastic things to do to celebrate. Sparkling decorations light up the city, hot mulled wine and roasting chestnuts warm you as you browse through the Christmas markets, and Bûche de Noël cakes and other seasonal treats fill the windows of every patisserie you pass by.
With dazzling holiday window displays at all the city's biggest department stores, fun Christmas markets to explore throughout the city, spectacular Christmas and New Year concerts in historic churches (plus a don't-miss Handel's Messiah sing-along), and tempting sales to make your holiday shopping even more exciting, you'll discover lots of wonderful things to do and see during the holiday season in Paris.
Here are our recommendations for 20 special ways to enjoy Paris during the winter holidays, including the best places to enjoy the Christmas lights and decorations, wonderful holiday tours and cruises, the best seasonal Christmas markets, churches where you can see nativity scenes and attend Christmas mass and church services, tips for where to enjoy Christmas dinner in Paris, and everything else you need to know to experience the spirit of the Christmas season in Paris.
Top photo: Christmas tree in Galeries Lafayette department store in Paris
---
1. Feel Dazzled by Christmas Lights Sparkling across Paris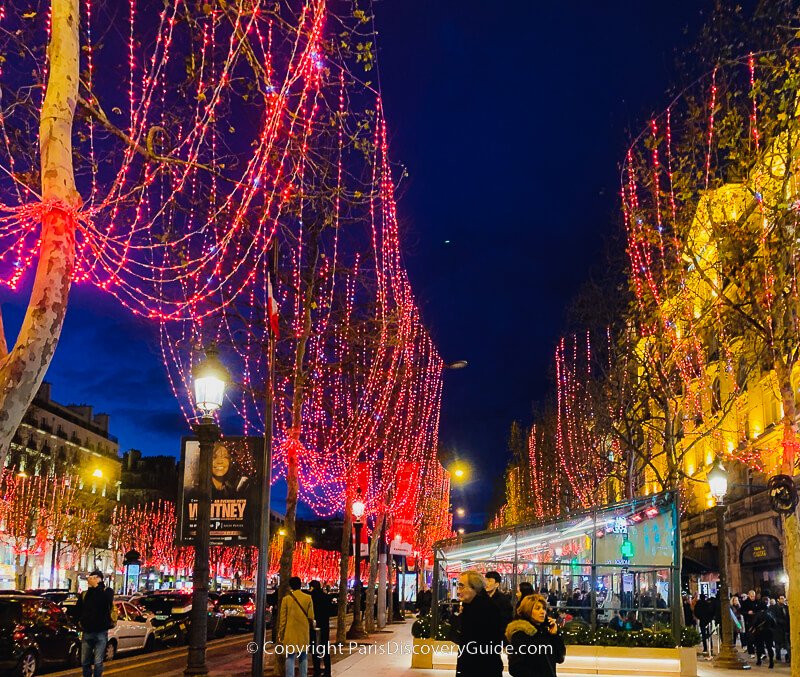 To see the most lavish display of Christmas lights and decorations in Paris, head straight to Champs Élysées, where over a million (yes, literally!) sparkling lights cover the 400 street trees between Place de la Concorde and the Arc de Triomphe.
As you walk along the sidewalk, you'll also see festive decorations and even more lights in most of the stores lining this famous avenue.
Although the Christmas lights usually stay on from 5pm to 2am, they will shine all night for Christmas Eve and New Year's Eve.
Stay nearby: Hotels near Arc de Triomphe
More fantastic places to see Christmas lights in Paris
---
Paris Christmas Illuminations Tours & Cruises
Want to get the best views of Christmas lights in Paris? These four tours let you experience unforgettable close-up looks at the city's most spectacular holiday lights:
---
2. Sip Hot Mulled Wine As You Shop at Paris Christmas Markets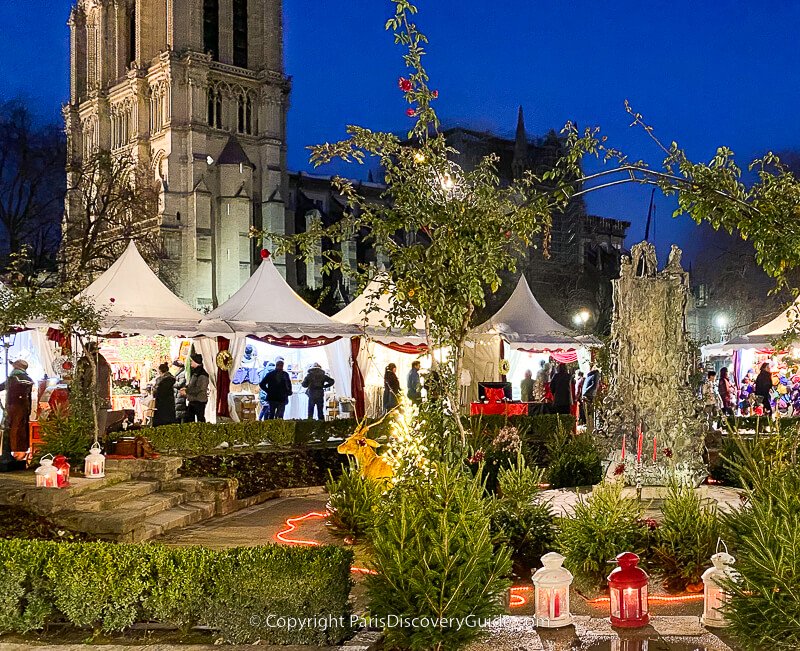 Starting in November, Christmas Markets pop up all over Paris, offering a wide variety of arts and crafts, regional food specialties, and other gifts.
Each market has its own special ambiance, activities, and seasonal foods and beverages to enjoy. Here are just a few to consider:
Find details for all the Paris Christmas Markets
With sparkling lights, brightly decorated Christmas trees, and visits from Saint Nicolas - or Père Noël, as Parisian children call him - these festive street markets attract crowds of shoppers until well into the night.
So copy the Parisians - sip hot mulled wine, munch on roasted chestnuts, and sample delicious sausages and cheese while exploring all these markets have to offer (and getting your Christmas shopping done) - a tradition that's been around since the Middle Ages.
---
More about Paris in December
---
3. Treat Yourself to a Christmas-Time Dinner & Show at Moulin Rouge Cabaret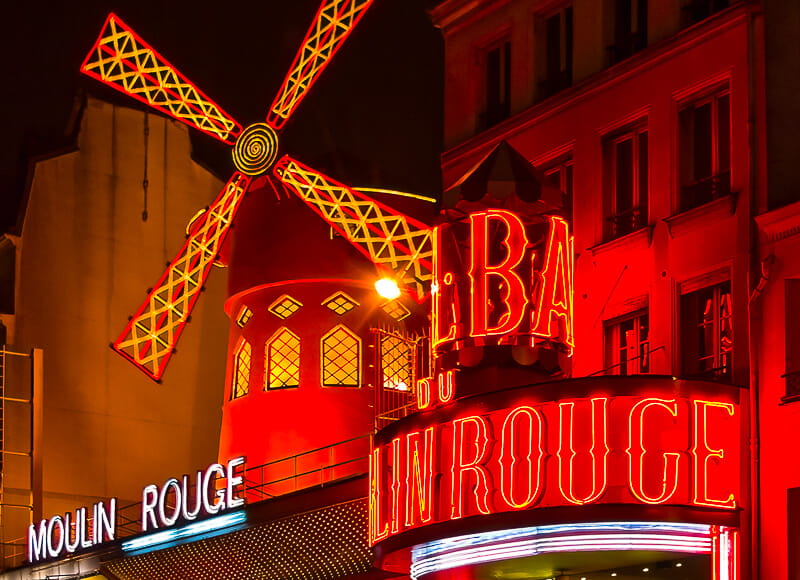 Celebrate the best of the holiday season while savoring a special Christmas season dinner of traditional French cuisine and Champagne at Moulin Rouge as you experience their spectacular Féerie show performed by 100 artists, 80 musicians, and 60 choral singers.
Get ready to be dazzled by the gorgeous costumes, set designs, and music at this famous cabaret!
Tickets for the Christmas show always sell out well in advance, so book now!
---
4. See the Best Christmas Windows & Displays in Paris Department Stores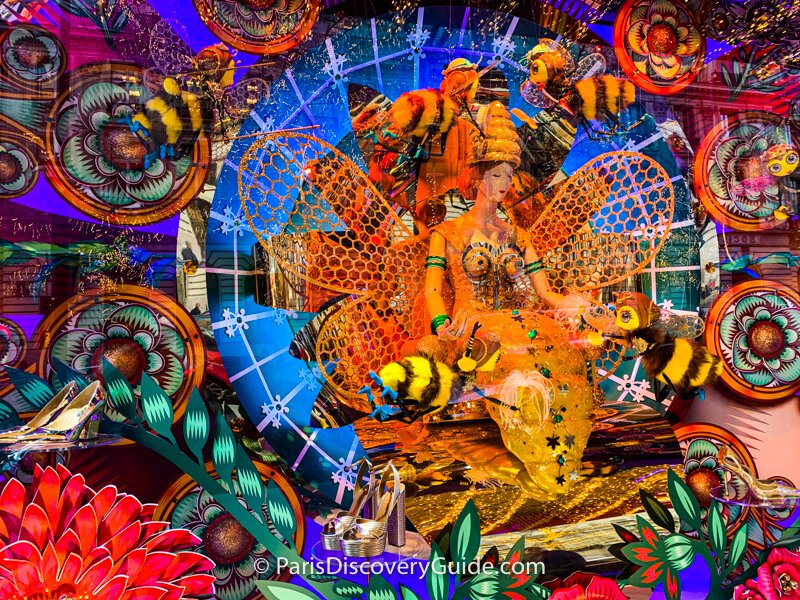 Starting in late October, the five biggest Paris department stores - the grands magasins - dazzle children and adults alike with imaginative Christmas window displays featuring elaborate animated scenes complete with sparkling lights, holiday music, and plenty of jolly Santas, festive Christmas trees, teddy bears, and beautifully wrapped gifts.
This year, Bon Marché unveils their windows first, and usually has a nostalgic Santa theme. Galeries Lafayette usually boasts the most elaborate - and most anticipated - windows, showing a holiday adventure along with lots of animations and music.
BHV Marais features a journey to a different country each year, while Printemps's windows are fanciful and whimsical. As for Samaritaine, they haven't been open long enough to show a trend, but so far, their windows have been elegant and arty.
Find out more about the Paris department stores' holiday windows, including locations & map
Find dates for when each store reveals its holiday windows
---
5. Hear Fabulous Christmas Music in Historic Churches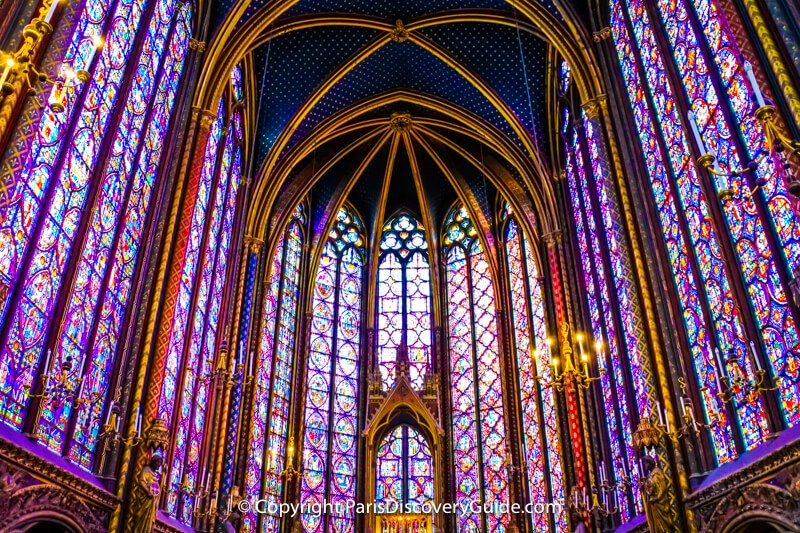 Each year, special holiday concerts featuring Christmas and classical music take place in several of Paris's spectacular historical churches and other venues - Sainte-Chapelle, Eglise Saint-Germain-des-Prés, Eglise de la Madeleine, Saint-Sulpice, Saint-Eustache, and even the Eiffel Tower.
Especially popular are those on Christmas Eve, Christmas Day, and New Year's Eve, which sell out far in advance - so book your tickets now to avoid disappointment!
Christmas & Christmas Eve Concerts in Paris
Attending a concert or opera during December, especially around the holidays, is a popular tradition in Paris. Tickets tend to sell out quickly, so don't wait too long to book!
Christmas & Christmas Eve Concerts in Paris
Looking for non-holiday music? Skip down to the regular December Concerts section
More Christmas Eve & Christmas Day Performances
New Year's Concerts & Opera in Paris
Looking for non-holiday music? See all concerts for December
More Paris classical concerts, opera, & dance performances during December
More rock, pop, jazz, rap, indie, & other concerts during December
Find Paris concerts for other months
---
6. Plan in Advance Where to Eat Your Christmas Eve & Christmas Day Dinners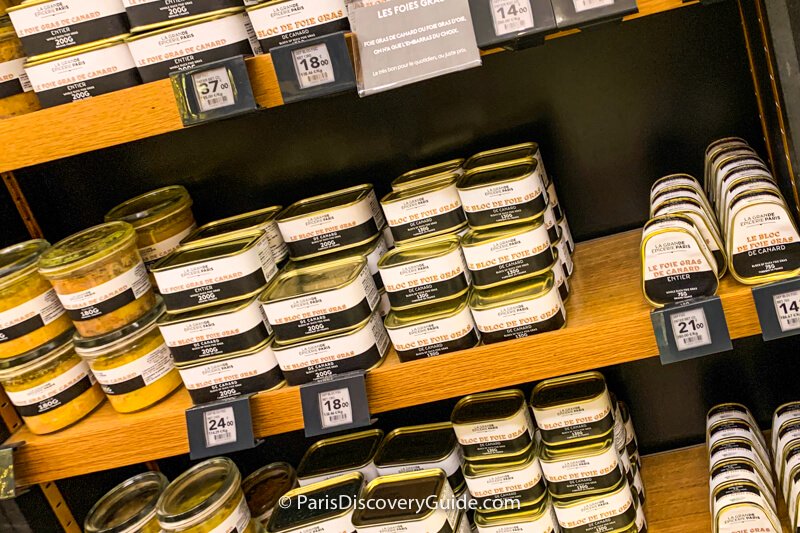 Parisians typically celebrate Christmas Eve and Christmas Day at home with family and friends over sumptuous feasts featuring traditional French holiday specialties - raw oysters, foie gras, Bûche de Noël, and much more!
If you're visiting Paris during this special holiday season, you can enjoy the same type of meal - but you'll need to do some pre-planning and make reservations - or shop.
Although many restaurants, cafes, and even brasseries will be closed for the holiday, you can still discover a few places open in most neighborhoods, especially those known to be popular with tourists. In Saint-Germain, for example, Les Deux Magots and Cafe de Flore stay open and do a brisk business all day.
You'll also find plenty of excellent choices among the city's larger brasseries and restaurants, especially those in 4- and 5-star hotels. For a fancy dinner, expect to pay in the range of 100€-250€ per person, depending on the number of courses, Champagne, and wine. Be prepared to spend even more if Michelin stars are involved - but you can expect a meal to remember!
For something less elaborate, less traditional, and considerably less pricey, head to the Marais where plenty of Jewish delis will be open or to the 13th arrondissement's Quartier Asiatique (Chinatown) around Place d'Italie for tasty Chinese and Vietnamese food.
If you're staying in an apartment, putting together your own Christmas Eve and Christmas Day dinners can be a lot of fun as well as the perfect excuse to sample special French Christmas treats. Seek out specialties in your neighborhood shops, or head over to Bon Marche's La Grande Épicerie de Paris (38, rue de Sèvres, 7th arr, or 80, rue de Passy, 16th arr) where you'll be surrounded by tempting displays of foie gras and caviar, glistening sides of salmon, and the world's finest Champagnes.
Don't want to cook? Head to the prepared food section and buy a rotisserie chicken or duck, roasted potatoes, already-cooked veggies, microwave-ready hors d'oeuvres, and everything else you need for a gourmet meal. Or go to the nearest Picard, where everything is flash-frozen and all you'll need to do is heat and serve. Most stores stay open until 7pm on Christmas Eve (verify before you go in case of last minute changes) but are closed on Christmas Day.
If you wait to shop until Christmas Day itself, you still won't starve. A few bakeries in each area will be open until early afternoon, and the tiny epiceries crammed with basics such as cheese, fruit, and wine found in most neighborhoods may stay open all day. In the 6th arrondissement, you can buy wonderful breads, gourmet prepared foods, and superb pastries including Bûche de Noël at Maison Mulot (76 Rue de Seine) until 6pm.
And for Christmas dinner dessert, a traditional (and delicious) Bûche de Noël cake is a must!
Learn how to cook an authentic French Christmas dinner from a Parisian chef
---
7. Sample Bûche de Noël & Other Special Christmas Foods
By early December, every pâtissier in Paris has filled its windows to overflowing with creative versions of Bûche de Noël, the traditional French Christmas log cake.
The city's top chefs compete to see who can create the most creative, most beautiful, and most precious cake. Needless to say, these bûches de Noël can cost small fortunes.
However, most Parisians buy their Christmas cake (often ordered a couple of weeks in advance) from their favorite local pastry shop to take home and serve to family and friends for Christmas dinner. If you haven't ordered in advance, don't worry - most neighborhood patisseries will still have bûches for sale on Christmas Eve and Christmas Day, although selections may be somewhat limited.
If you are visiting Paris, you can easily experience this seasonal treat in many Paris tea rooms and restaurants.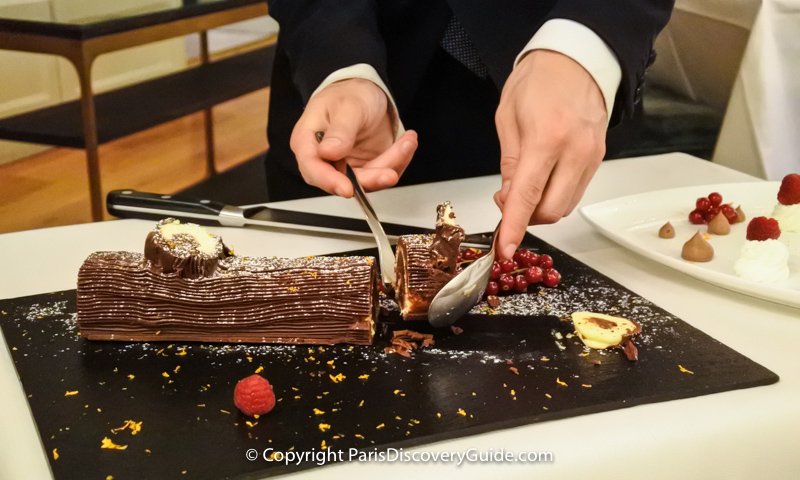 Some suggestions: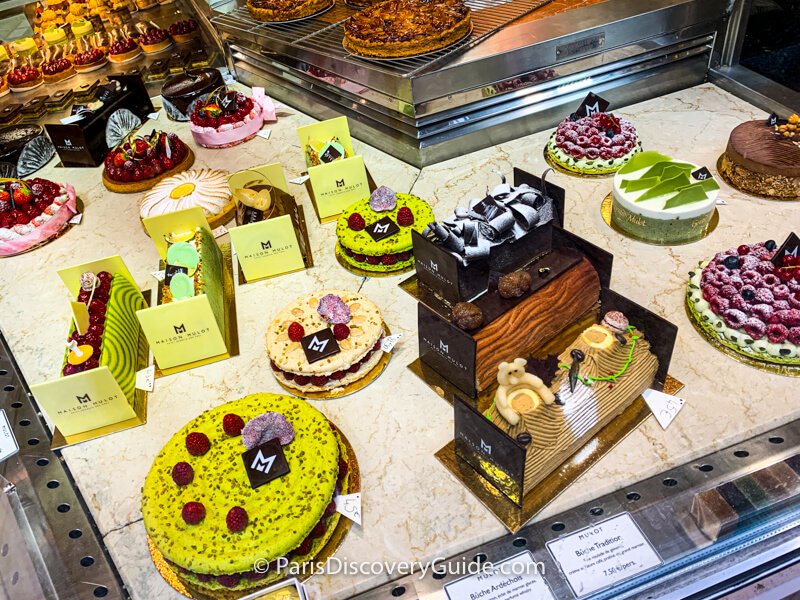 More Bûche de Noël ideas: Some pastry shops sell Bûche de Noël by the slice (look for a "per person" price, usually about 5-10€) - a more affordable option than a restaurant or tea room.
Other patisseries sell les bûches in multiple sizes - small, medium, and large. The small size is perfect for four people (or for two, if you'd like seconds or left-overs). A few bakeries even have tiny 1-person bûches.
---
More Ways to Celebrate Christmas in Paris
---
8. Take a Holiday Cruise on the Seine River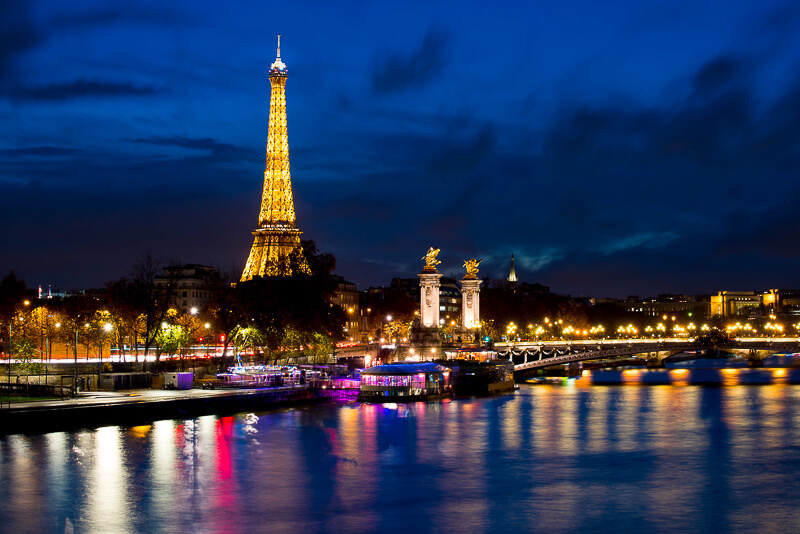 To see famous Paris lighted attractions, sparkling Christmas lights, and even the Eiffel Tower light show, take one of these popular Paris Illuminations cruises:
More Paris Christmas & New Year Cruises:
---
9. View Nativity Scenes in Paris Churches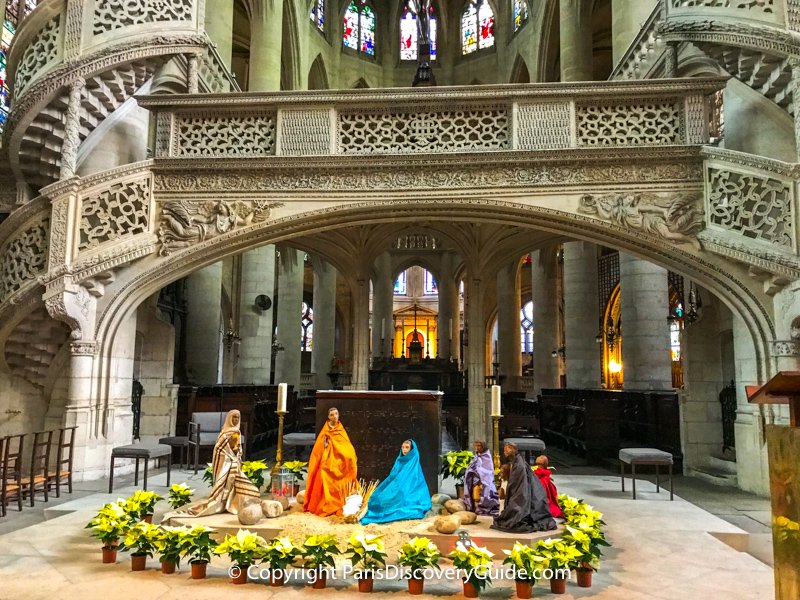 Paris churches also get into the spirit of the Christmas season. Look for special Advent calendars and displays, nativity scenes, garlands and flowers, and even the occasional Christmas tree.
For an especially memorable experience, attend a candlelight concert in a church during December.
More about Paris church concerts
---
10. Attend Christmas Eve Mass or Church Services in Paris Churches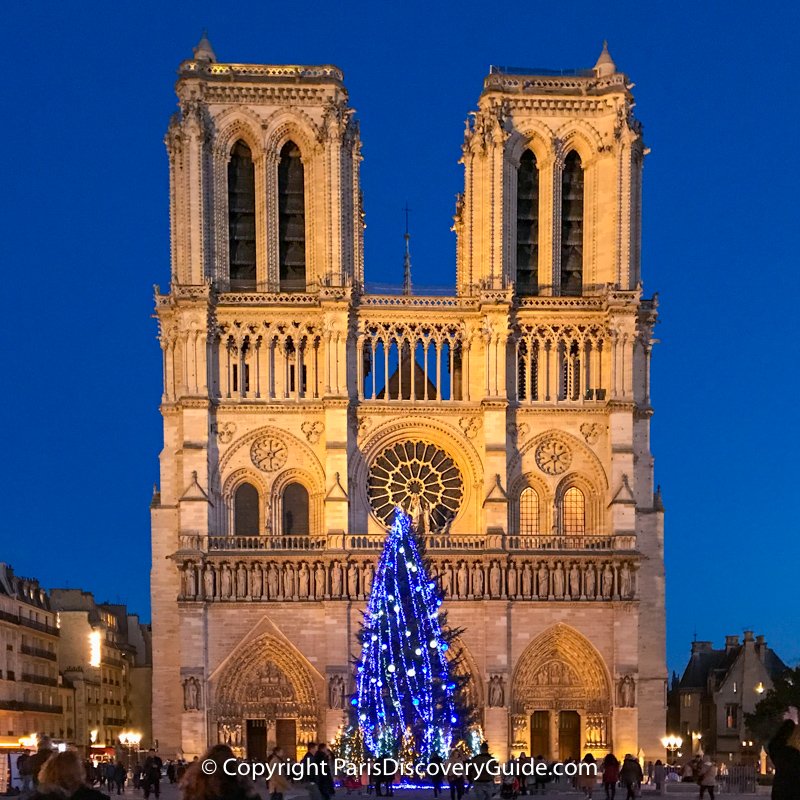 Want to attend special Christmas Eve Mass or church services in Paris?
You'll find lots of wonderful options throughout the city, from the city's grandest historic churches where you can view nativity scenes and hear spectacular organ and choral music to six smaller places of worship offering services in English.
More about where to attend Christmas Eve services, and what to expect
---
11. Visit Disneyland Paris at Christmas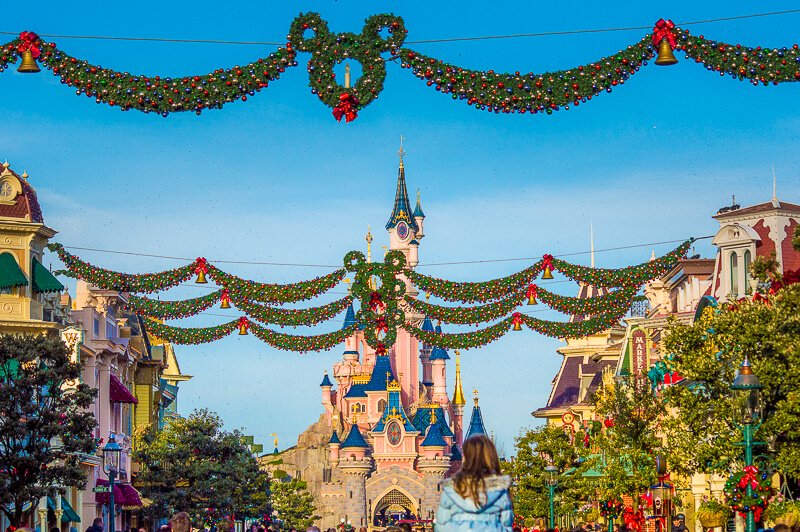 Christmas celebrations begin at Disneyland Paris in early November with plenty of entertainment and fun for everyone.
You'll find a spectacular giant tree, entertaining shows, festive Christmas parades, and dazzling holiday decorations everywhere. Don't miss two brand-new holiday shows at Walt Disney Studios® Park this year, a new immersive nighttime extravaganza, and singing carols with Santa, Mickey, and Minnie for a magical experience you won't forget!
When: Early November through early January

Disneyland Paris and Transportation
Take RER A to the Marne-la-Valee station, walk across a small plaza to Disneyland Paris, and buy your tickets at the gate - or check out these advance ticket options to make your trip faster and easier:
---
12. Ice Skate in Iconic Paris Locations 2022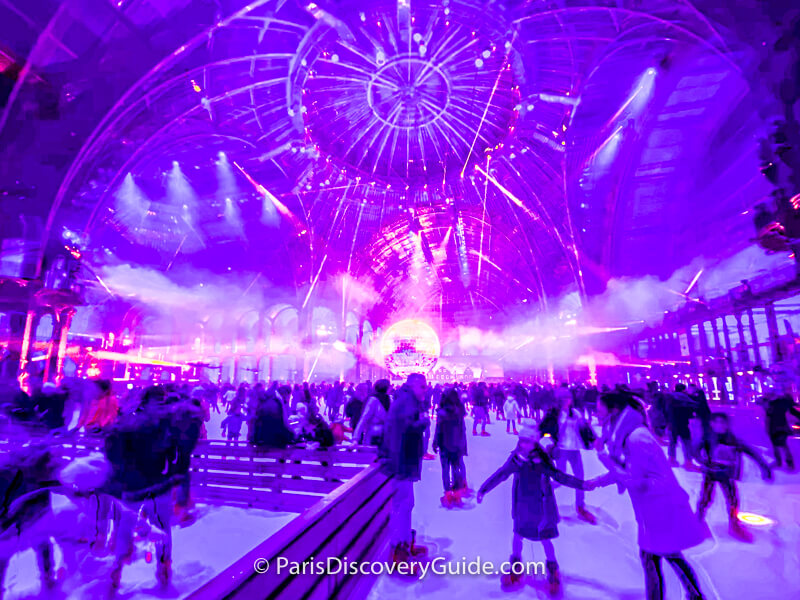 Ice skating rinks (les patinoires, in French) pop up in a few Paris locations just for the holidays - so don't miss this wonderful chance to skate in iconic sites (and of course take memorable selfies).
Locations vary each year - here is where you may be able to ice skate during 2022 (most are still to be confirmed: watch here for updates, and check our December Events guide for opening dates):
---
13. Shop for Gifts at Pre-Christmas (& Black Friday) Sales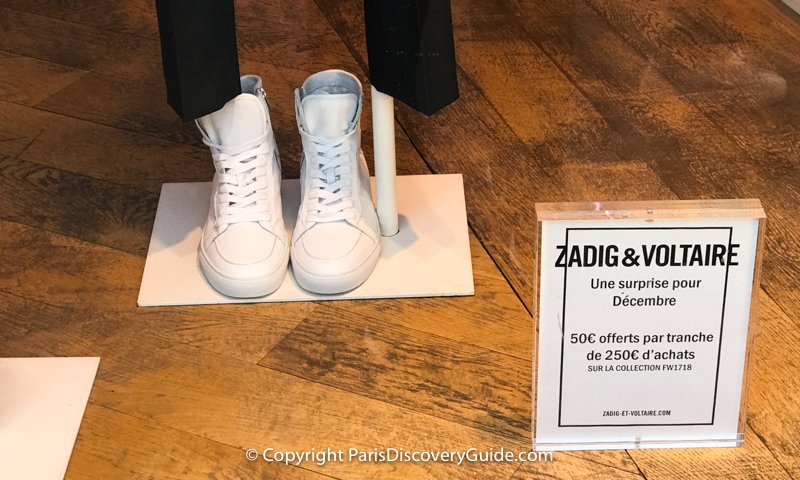 Although the famous January sales don't begin until a week or so after New Year's Day, pre-Christmas sales during December are a "Paris insider's secret" that can save you significant money on your holiday gift shopping.
How much? Clothing by well-known designers and brands usually runs around 20% off, but home decor and gift items may be reduced as much as 50%. You have to look around because by no means does every store do this - but if you happen to spot something you want, you'll be thrilled!
Stores along and around the Grands Boulevards and Champs-Elysees, as well as boutiques in the Marais are a good place to start looking - but be alert as you're walking around, because you'll see these discrete "offerts" or "reduction" signs all over the city.
And in late November/early December, don't forget about Black Friday. This American post-Thanksgiving sales tradition has slowly crept across the Atlantic and into even some of the most posh Parisian boutiques.
---
14. See Paris at Night on the "Big Wheel"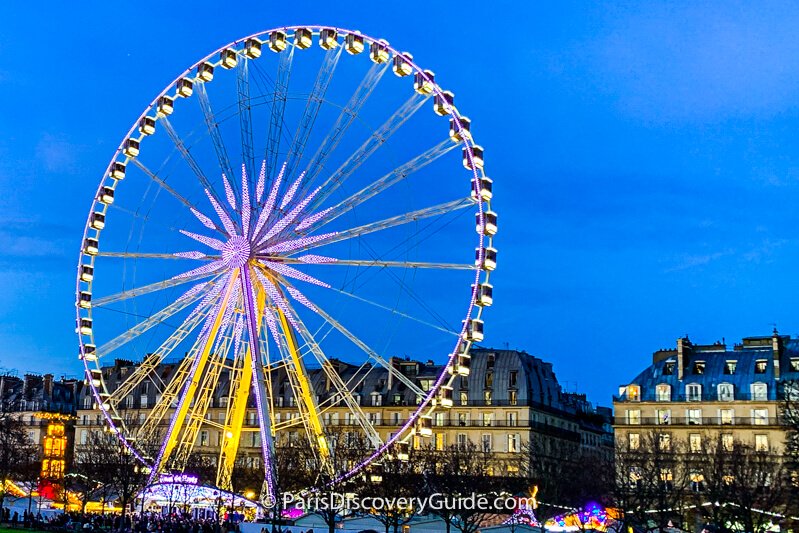 Take a ride on the "Big Wheel" Ferris wheel at the Tuileries Garden Christmas Market and get a panoramic view of holiday lights across Paris.
You'll find lots of other fun things to do, yummy snacks and beverages, and even a nice assortment of artisan gifts in this popular Christmas Market. The biggest draw, though, are the carnival-like amusement rides (in fact, many are the same ones that set up here for the summer festival, now decked out with Christmas decorations).
Find out more about the Tuileries Garden Christmas Market
---
15. Sing Handel's The Messiah in the American Cathedral
Celebrate the holiday season in Paris by joining the Paris Choral Society and a group of other Messiah enthusiasts in their annual sing-along of Handel's Messiah Part 1 plus the famous Hallelujah Chorus at the American Cathedral (23 Avenue George V, 8th arr).
If you don't already know the words or have a score, no worries - you can rent or buy one at the door.
See our December Events page for date and ticket information.
---
17. Buy Yourself (or Someone Else) Some Christmas Flowers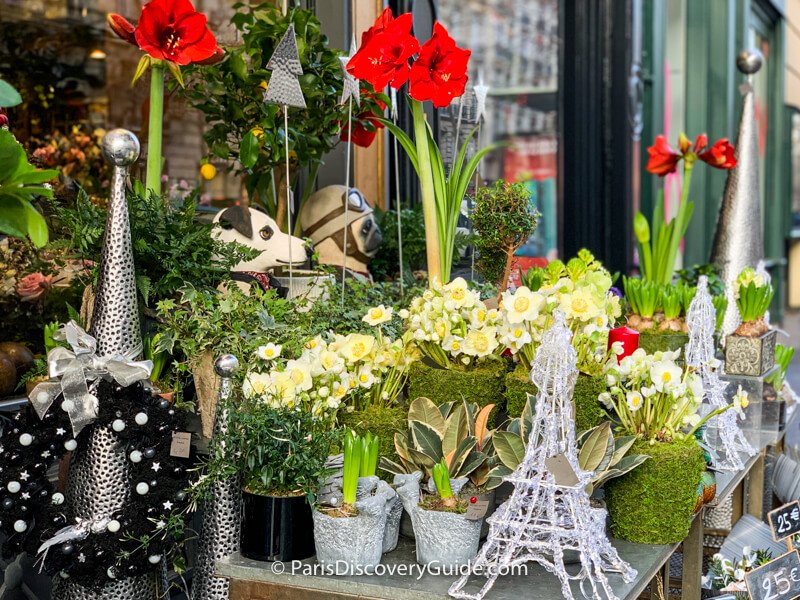 You'll see Christmas flowers everywhere throughout the city - exquisite displays of crimson amaryllis, hellebores (especially the December-blooming variety sometimes called the "Christmas Rose"), and even sweet-scented hyacinths spilling onto the sidewalks, along with lots of evergreens, holiday wreaths, and perhaps a decorated Christmas tree or two. Bonus points for spotting sparkling Eiffel Towers.
So don't resist - buy yourself a bouquet or a small pot of your favorite blooms. They also make lovely gifts if you're visiting friends or family for the holidays.
---
18. Be Dazzled at the Jardin des Plantes Winter Festival of Lights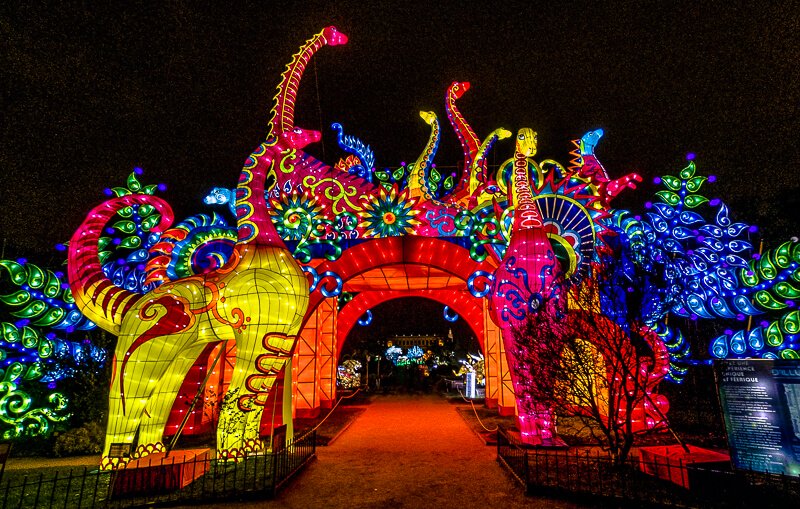 Spend a magical evening in the Jardin des Plantes (Botanical Garden) in Paris's 5th arrondissement for the annual winter Festival of Lights where giant illuminated statues of animals and their habitats let you experience a phase in evolution in a bow to the famous Museum of Natural History located nearby.
Each year's exhibition illuminates a different period or type of species. The exhibition spans a 2-month period from mid-November through mid-January and attracts almost 400,000 visitors each year. Find exact dates, hours, and ticket information on our November events calendar.
---
19. Hear the Bells at Midnight on Christmas Eve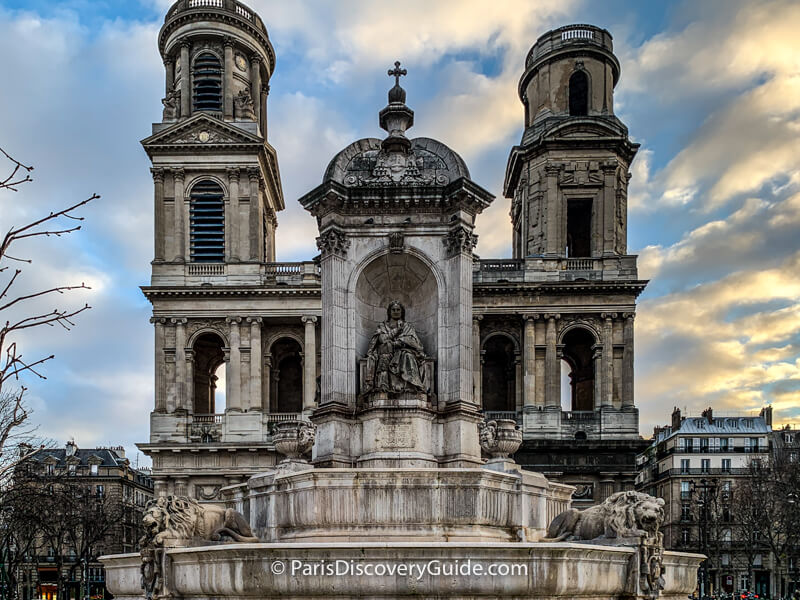 Walk outside at midnight on Christmas Eve. You'll hear church bells ringing all over Paris as Christmas Day begins.
---
20. Salut the Season with Vin Chaud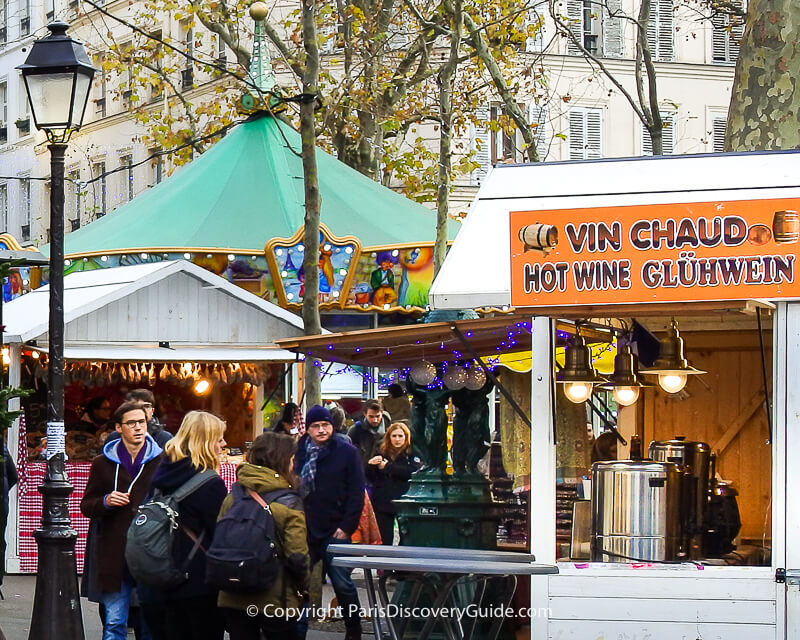 As soon as the first hint of chilly weather hits Paris around mid-November, vats filled vin chaud - hot mulled wine - start steaming in the Christmas markets and many of the city's bars, cafes, and even a few bakeries.
What exactly is vin chaud? It's a festive seasonal beverage made from red wine mixed with a little sugar, bits of orange peel, cinnamon, a hint of cloves, and perhaps a few other spices or ingredients and then heated to blend and mellow the flavors.
Of course, another way to toast the season is with Champagne, also offered by the glass or cup many Christmas markets as well as virtually every bar and restaurant in Paris. Cheers and santé!
---
More Things to Do for Christmas in Paris
---
Need to Book a Paris Hotel for Your Christmas Visit?
Planning a trip to Paris during the holiday season? Use this hotel map to find hotels near your favorite Christmas events and Paris attractions:
Check out the newest Paris hotels
---
More Articles about Christmas Events in the City of Light