DRAFT - Christmas in Paris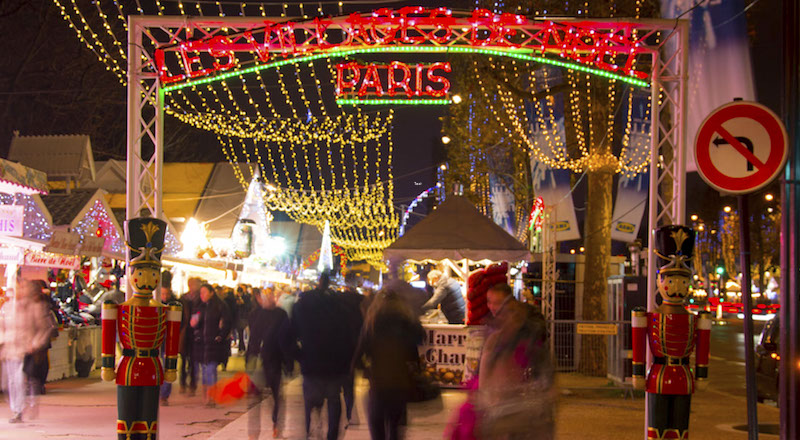 Christmas in Paris transforms the city into a sparkling wonderland of holiday lights, exquisite decorations, concerts and other special events, and good cheer everywhere.
Stroll down Champs Elysees
With sparkling lights, bright decorations, and even occasional visits from Saint Nicolas - or Père Noël, as Parisian children call him, these festive street markets filled with Swiss-style chalets carry on a tradition begun in the Middle Ages in Germany.
Copy the Parisians - sip warm mulled wine, munch on hot roasted chestnuts, and sample delicious sausages and cheese while shopping until well into the night.
During a typical year, about 15-20 Christmas Markets appear across Paris, joined by occasional "pop-up" weekend markets.
Traditionally, these picturesque markets span the Advent season beginning four Sundays before Christmas. In reality, look for opening dates from late November to mid December. Check the December Events Calendar for exact dates, as they vary each year.
Here are Paris Discovery Guide's recommendations for outstanding Paris Christmas Markets, plus other market locations around the city.
Paris Notre-Dame Christmas Market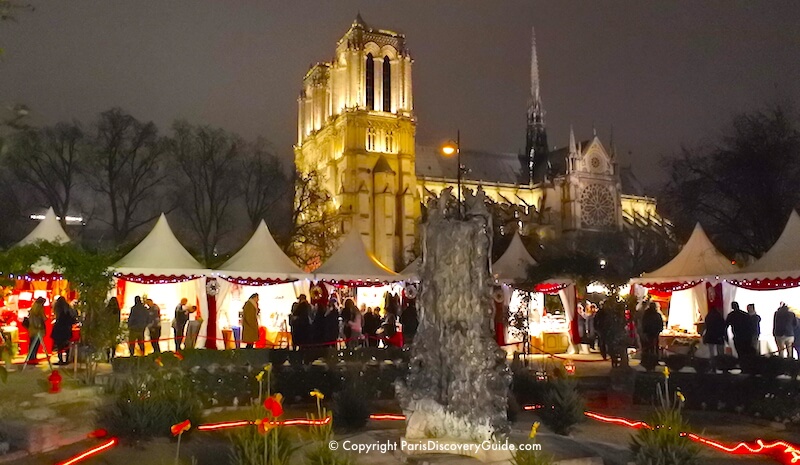 Perhaps the most picturesque of the Paris Christmas Markets is the Marché de Noel Notre Dame, located on the Left Bank just across the Seine from the famous cathedral.
With Notre Dame's soaring medieval towers and spires as a backdrop, this cheerful market offers the usual warm mulled wine and hot roasted chestnuts.
However, its specialty is high-quality arts and artisan crafts made in France. You can usually find an especially nice selection of clothing and accessories here.
Best of all, Santa makes frequent appearances - sometimes with a glass of vin chaud in hand.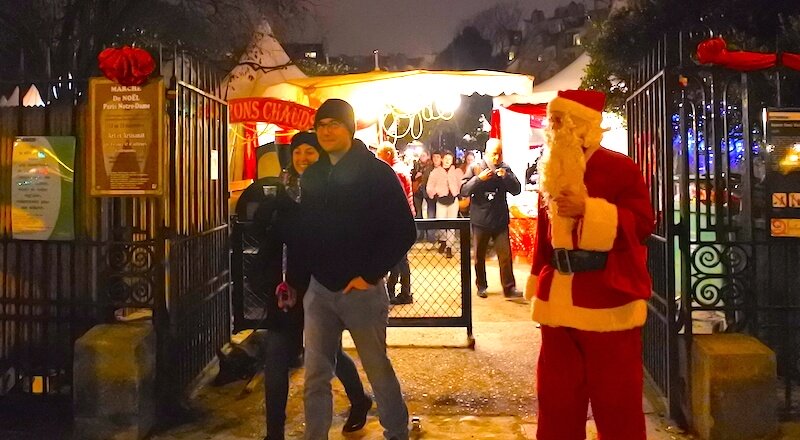 When Does the Christmas Season Start in Paris?
With the Champs-Elysées Christmas Market closed this year, the biggest Christmas Market in Paris will be this new one at Les Halles.
The Christmas season in Paris (and the rest of France) traditionally kicks off on Saint Catherine's Day, always on November 25, continues through four weeks of Advent culminating with Christmas, and ends with the Feast of the Epiphany on January 6.
Traditional Christmas Foods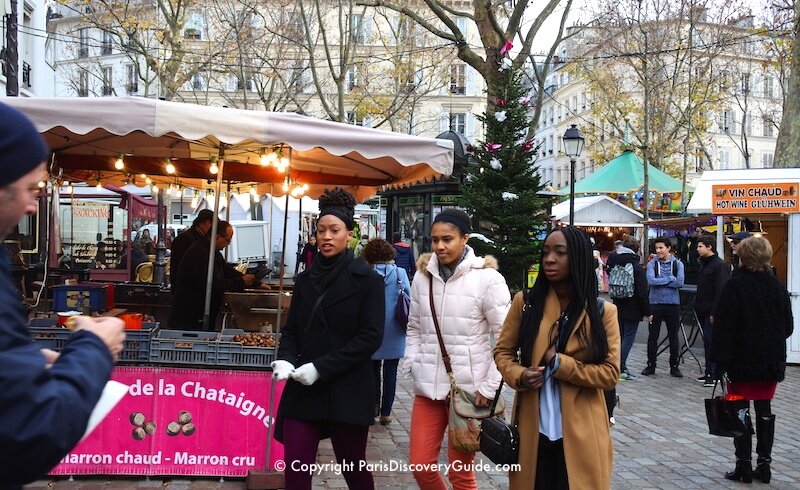 Sumptuous seasonal delicacies shape holiday meals: platters of plump Brittany oysters and other seafood, fois gras on lightly toasted slices of broiche, stuffed pheasants and Christmas goose, chocolate and praline bûche de Noëls, and fancy pastries.
bakery windows
oysters in restaurants
restaurants offessring holiday meals
holiday dinner cruises/meals
cooking classes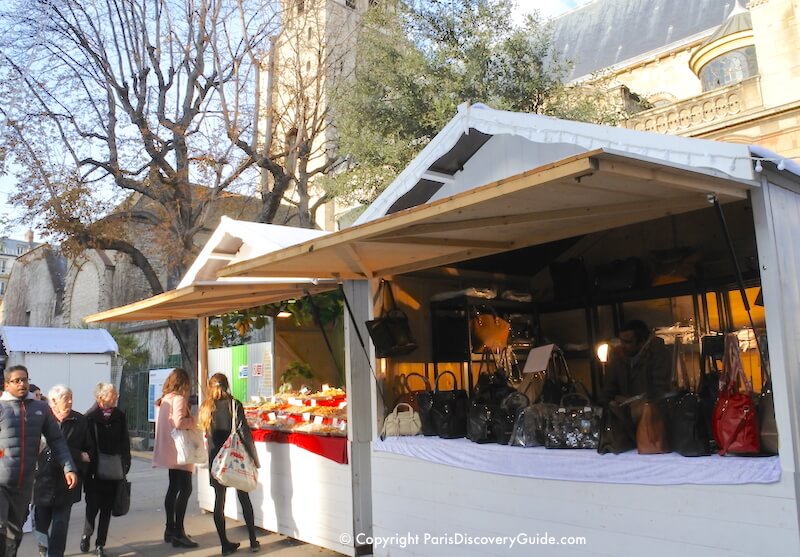 The 25 or so chalets of this Christmas Market border Boulevard St-Germain next to the famous St-Germain-des-Près Church.
This is one of the smaller markets in the city, and specializes in luxury items, such as fine leather pocketbooks, lovely jewelry, and handcrafted items. This is a good place to buy scented candles, notebooks made in France, and fine chocolates.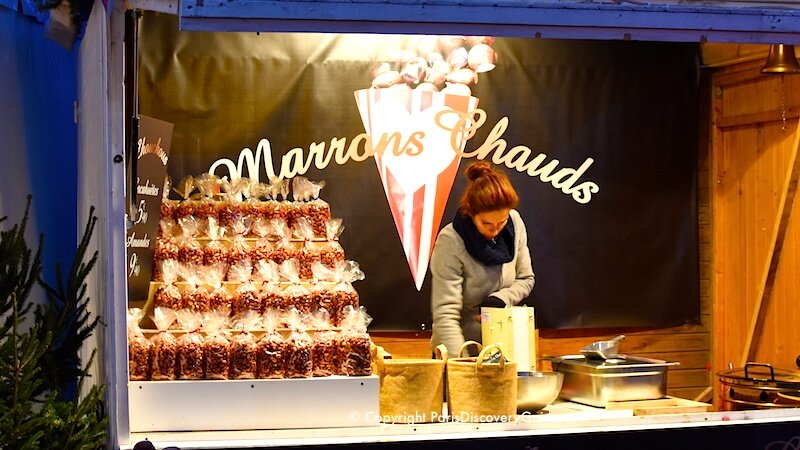 You'll find the usual hot wine and roasted chestnuts, along with mouth-watering displays of macaroons, marrons glacés (candied chestnuts) from Southern France, and jewel-like jars of fruit jams.
For even more variety, walk a couple of blocks to the Saint-Sulpice Christmas Market, where you'll find delicious prepared food to eat on the spot from various regions of France.
Location: Blvd Saint-Germain, next to Saint-Germain-des-Prés Church, 6th Arrondissement
Métro: Saint-Germain
Bus: 39, 63, 70, 86, 96
Open: Mid-December until early January
More to Do Nearby: Walk over to the Christmas Market at Saint-Sulpice Church (Place Saint-Sulpice on Rue Bonaparte) - and explore all the tempting boutiques along the way. Continue walking for another block and you'll be at Luxembourg Garde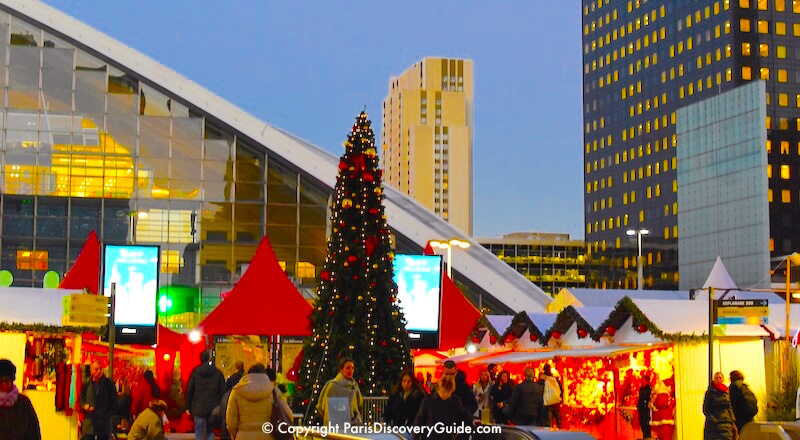 The huge Christmas Market along the Esplanade at La Défense boasts over 250 chalets, making it the largest in the Paris region.
The market's spectacular setting in this glittering business district make the 9-minute ride from the Étoile metro station well worth the time - plus you'll find a vast selection of gifts ranging from trinkets to high-quality jewelry and leather goods, and well-equipped kitchens and restaurants turning out steaming plates of delicious Alsatian fare.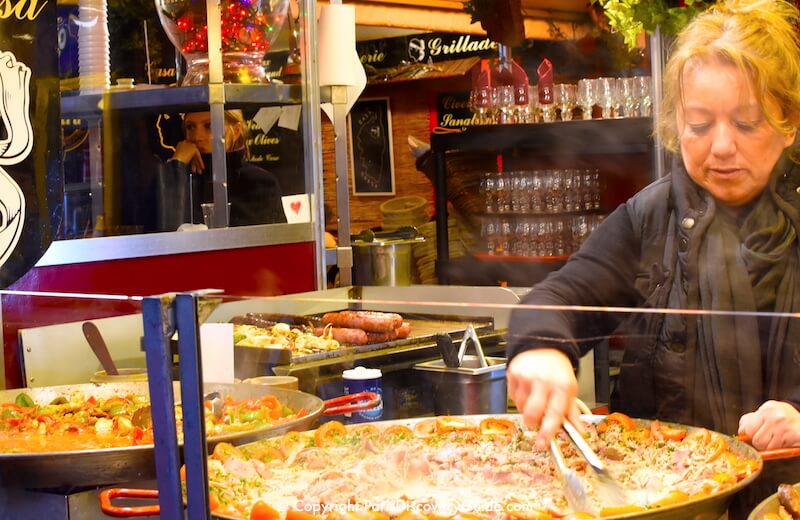 You'll find lots of specialty items not seen in smaller markets - Santa costumes, stuffed animals, huge bins brimming over with clementines and other seasonal fruits, candies from the South of France, freshly baked gingerbread, antique books and fine paintings, and large pop-up stores filled with Christmas decorations.
One stall features many different varieties of exquisite nativity figures at surprisingly affordable prices - you may be tempted to fill your suitcase!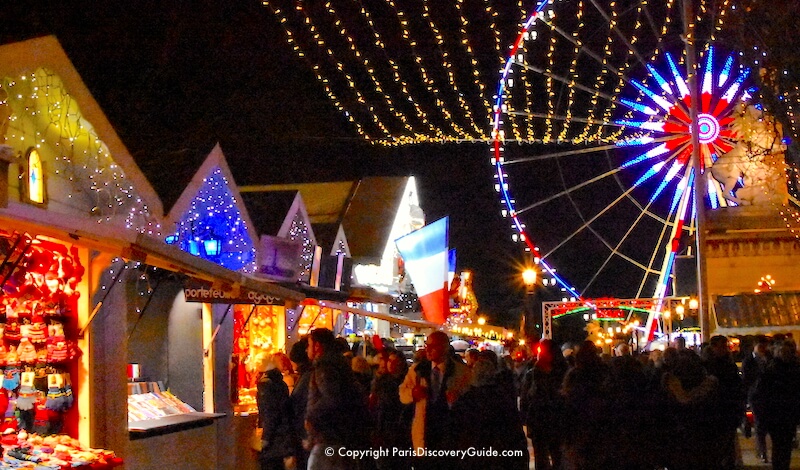 The largest and most famous Marché de Noël in Paris lines both sides of brightly-lit Avenue des Champs-Élysées between Place de la Concorde and Avenue Montaigne.
If you have time to visit only one Christmas Market while you are in Paris, love the excitement of glittering holiday lights and festive crowds, and perhaps want a ride on the huge carousel at Concorde, this is the one to choose.
Fortify yourself with a cup of warm spiced wine and a small packet of hot roasted chestnuts, straight off the grill - look for Vin Chaud and Marrons Chaud signs, or just follow your nose.
You'll find plenty of other opportunities for dining here - everything from freshly cooked crepes with Nutella to local specialties to magnificent displays of regional sausages and cheeses.
However, most of the 200 or so chalets at this market feature gift items - clothing, leather goods, jewelry, sparkling glass ornaments, nativity scenes, imported teas, and books. One area highlights craftsmen and artisans, another offers larger-than-life-size plastic Santas where children can pose for photos. There is even a small neon-lit amusement park.
You can easily spend an entire evening at this market.
Attending a Christmas concert in a beautiful historic church is a favorite Paris holiday tradition, and you'll find wonderful choices. Tickets sell out quickly - so don't wait to book yours!
Christmas & Christmas Eve Concerts in Paris:
List a few - emphasize great rates
Paris Attractions on Christmas Day - Open or Closed?
Mostly closed. What's open? Parks, some restaurants (make reservations), churches