Les Puces - Paris's famous flea market at Saint-Ouen or to be more formal, Le Marché aux Puces de Saint-Ouen at Clignancourt - attracts visitors from all over the world as well as Parisians in search of bargains, treasures, or just a fascinating way to spend a weekend afternoon.
With over 3,000 vendor boutiques, stalls, and showrooms packed along a maze of lanes and alleys plus cafes, bars, and sidewalk vendors, Les Puces covers close to 20 acres and is the world's largest antiques market and the best flea markets in Paris if you're looking for high quality and the biggest variety of, well, basically everything.
If you know where to look, you can find everything from museum-quality 17th century furniture and 18th century crystal chandeliers and gilded mirrors to vintage Chanel shoes, from Hermès' Berkin bags and rare Patek Philippe gold pocket watches to Art Deco objects from the 1930s and American leather jackets from the 1960s.
Explore Les Puces with an Expert Guide
Due to the immense size of the Marché aux Puces, let an expert guide save you time and money by showing you the best vendors and giving you tips for bargaining. Here are several top-rated tours:
Will you find bargains at Les Puces?
Maybe... maybe not. Most items sold at Les Puces tend to be fairly priced by savvy dealers, with prices ranging from sky-high to affordable. But sometimes you can score a real bargain.
We'll share our 10 favorite tips for getting the best shopping experience at Les Puces, including a negotiating ploy or two - but remember, when you spot something you love, your passion may overrule your wallet.
And that's ok, because the real reason to shop at the Paris Flea Market is simple: You go to Les Puces to find the treasure of your dreams: something spectacular, unique, and wonderful.
Whether you spend just a little or indulge in a high-end splurge, you'll bring home something you'll cherish - something that makes you smile every single time you look at it.
Top photo: Browsing at Les Puces, the biggest and best flea market in Paris, (c) Paris Discovery Guide
Paris Discovery Guide is a reader-supported publication. When you buy through our links, we may earn a commission at no additional cost for you. Learn more
---
Tip 1: Know What to Expect at Marché aux Puces, the Biggest & Best Paris Flea Market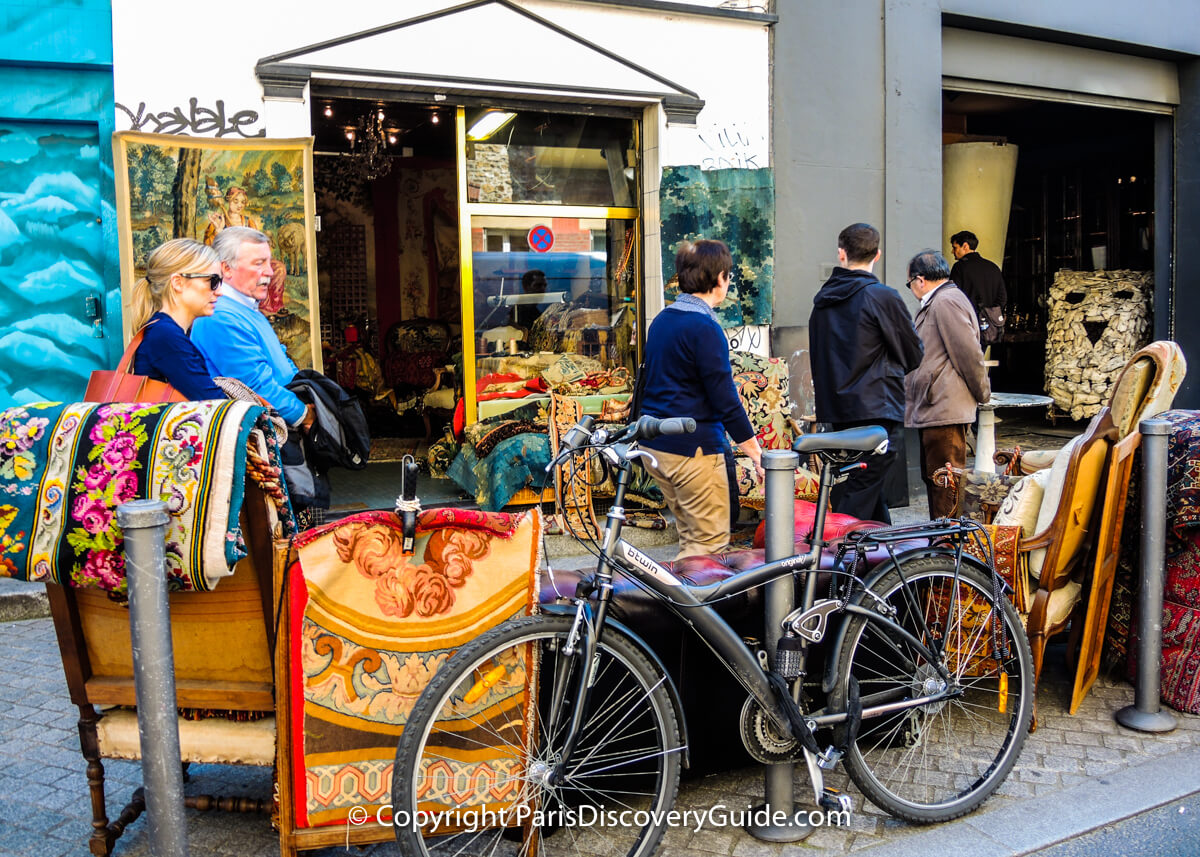 Prepare yourself - the Paris Flea Market may NOT be what you expect - especially if you're used to shopping at more traditional flea markets where junk far exceeds quality and genuine treasures run scarce.
As soon as you enter the Marché aux Puces, you'll realize it's not a single market - it's a community of 14 antique and flea market emporiums sharing the same location, plus hundreds of independent dealers who work on their own.
Think of Les Puces as a small city filled with shops crammed along the main street, Rue des Rosiers, and a maze of small lanes and alleys branching off of it.
To get a sense of the market's scale, consider this: over half of these 14 markets each contain hundreds of individual shops and stalls.
Two markets are for large-volume professional dealers only, and two sell mainly new clothing - but that still leaves 10 markets with shops, stalls, and showrooms overflowing with vintage and antique treasures waiting for your discovery..
Some markets occupy stand-alone buildings and stalls, as in the photo above showing a tiny section of the charming country village-like Marché Vernaison.
Others such as Marché Antica offer store fronts along buildings stretching down entire blocks, while still others such as Marché Dauphine provide fancy multi-level market buildings designed to showcase each merchant's items, sometimes with sections devoted to specialties such as art, antiques, fashion, or music.
The Paul Bert-Serpette marché, due to its size and its exquisite displays of precious antiques, resembles a carefully curated gallery or museum.
Each market has its own ambiance and specialties, and if you visit often enough, you're likely to develop favorites.
When to Visit Les Puces
Saturday, Sunday, Monday: 10am until about 6pm. Be aware that hours may vary by market and by dealer; a few may open earlier than 10am, and some close before 6pm on Mondays.
Many dealers typically go on vacation for all or part of August, especially during the first two weeks of the month, and may also be closed between Christmas and early January.
---
Tip 2: Choose a Paris Flea Market Tour . . . Or a Custom Guide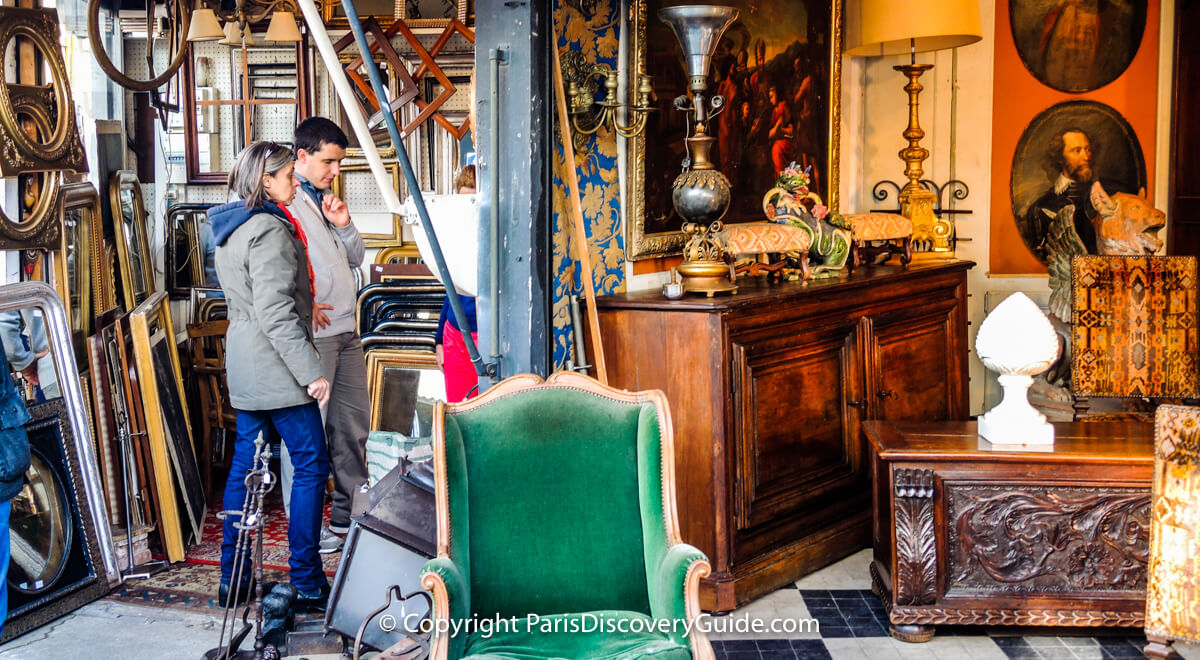 Even for frequent visitors, navigating through the crowds at the Paris Flea Market can feel overwhelming, especially on warm sunny afternoons when you'll feel squeezed like a sardine among hoards of other shoppers and can barely see where you're going. On super-crowded days, you may not be sure where the crowds of street vendors end and the "real" market begins.
Visiting Les Puces with a Paris Flea Market tour or letting a personal guide customize your experience can save you time, money, and stress, especially if:
Here are several popular choices to fit your needs and budget:
---
Tip 3: Understand Les Puces Markets & Their Specialties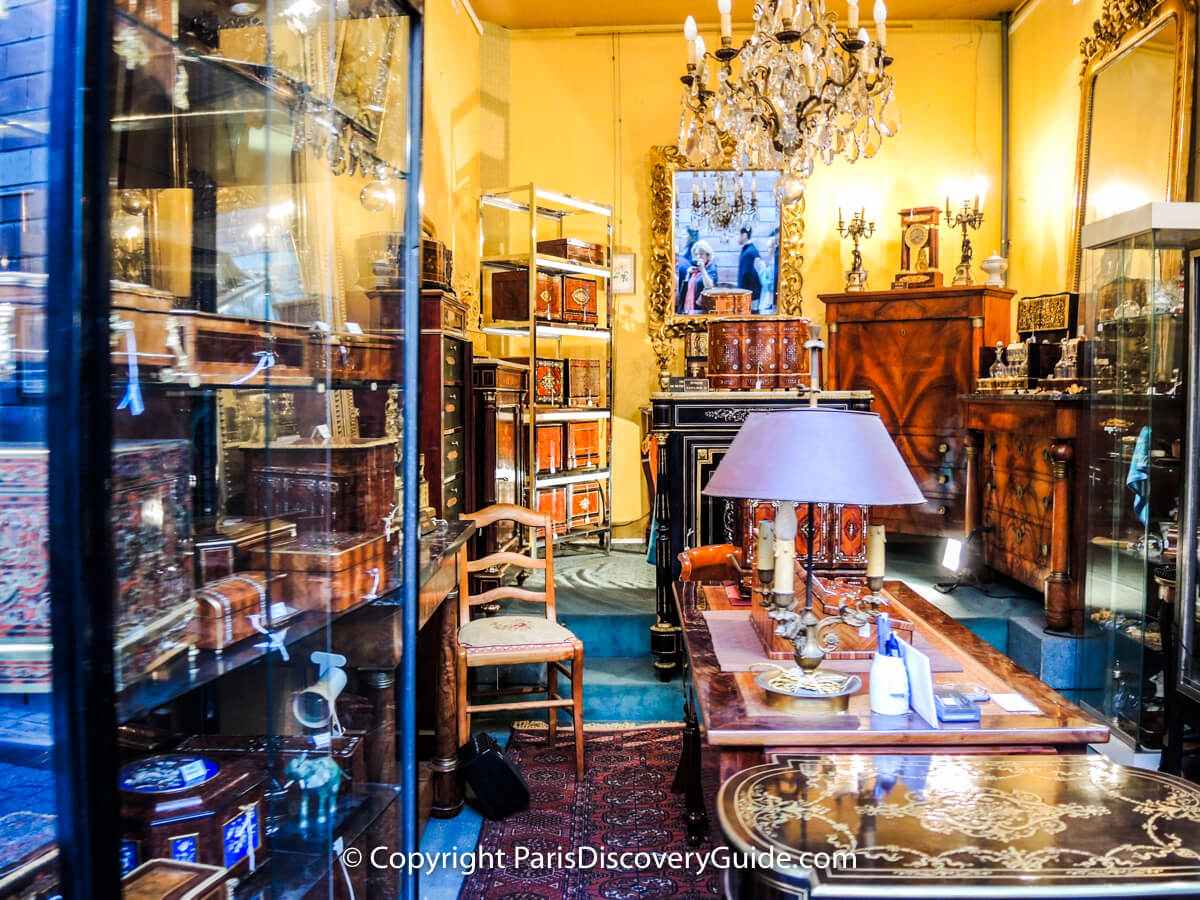 Here's a quick snapshot of what you might find at each market:
Antica - Perhaps the smallest of the markets with about a dozen stalls offering small furnishings, jewelry, art, rugs, many from the 18th and 19th centuries.
Biron - About 220 antique and art dealers specializing 17th century antique furniture in various categories (Parisian, French Provincial), jewelry, art, decorative objects; you'll also find specialists in 18th, 19th, and 20th century (especially Art Deco) furnishings and art. You should expect prices not so different from those in Parisian antique stores. The advantage you get by coming here is in finding so many high-quality pieces in one convenient location.
Cambo - Twenty dealers spread over two floors in a spacious former furniture store in what is much more than a furniture flea market - look for high-quality furniture, objects, art, musical instruments, decor from the 17th century through the 20th century.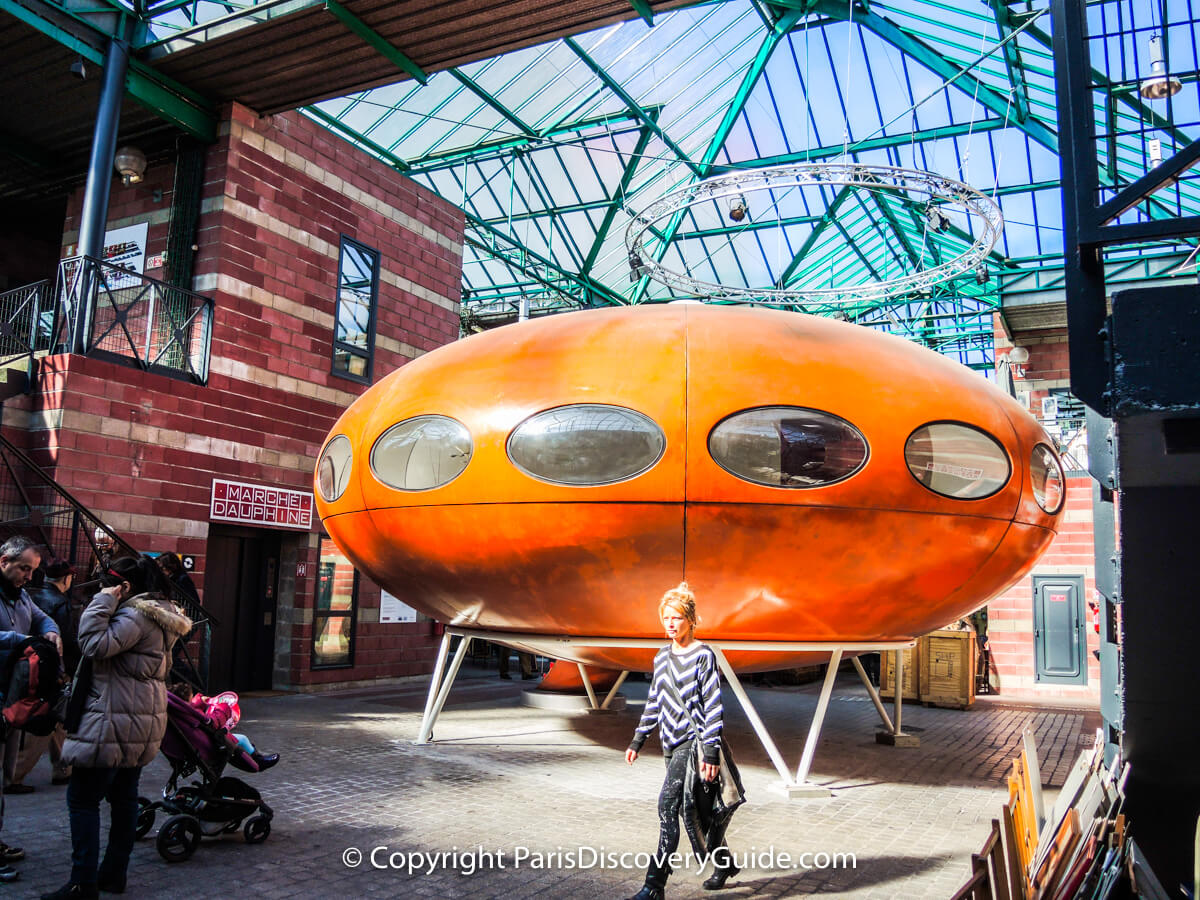 Dauphine - Over 150 dealers occupy Marché Dauphin's gorgeous new glass-roofed building and offer a wide variety of antiques, collectibles, and second-hand goods organized by specialty: furnishings (17th -20th century) art (19th and 20th century), antique books, old toys, and even 20th century industrial art and vintage clothing and corsets.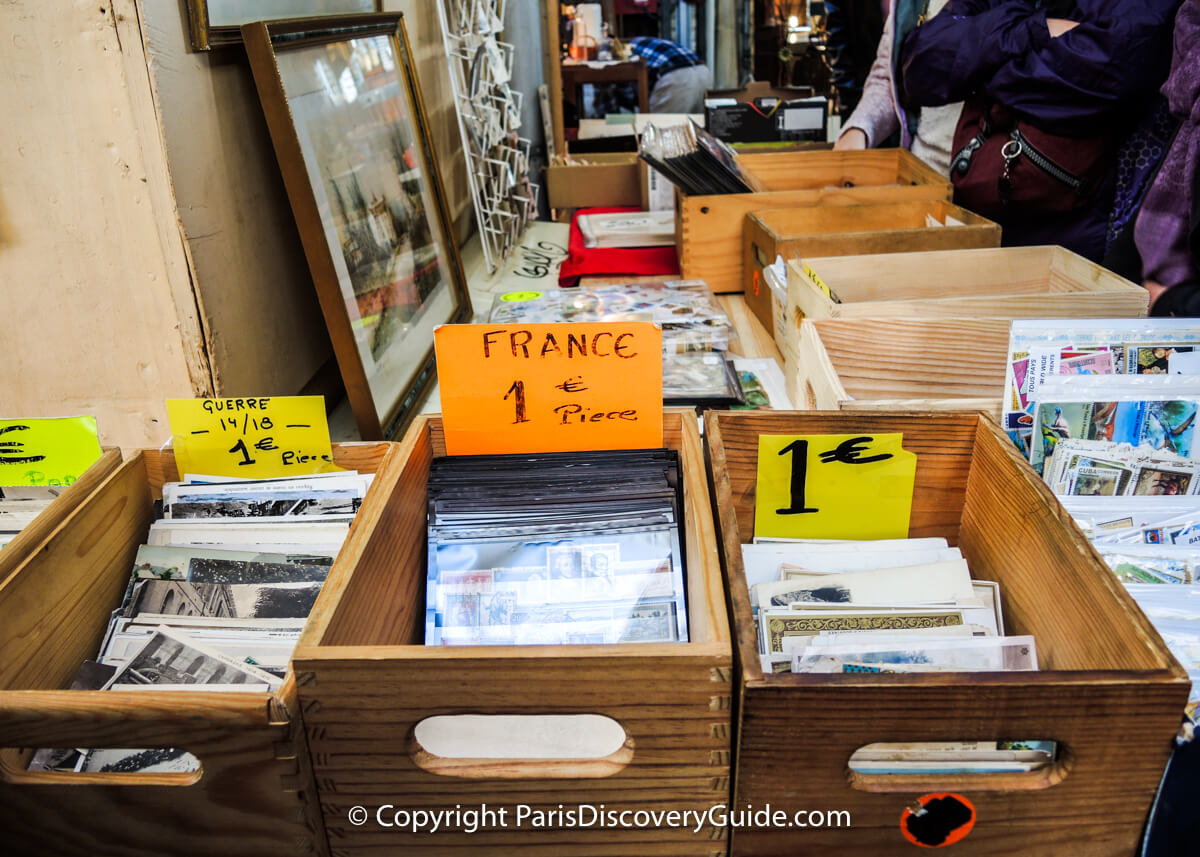 Jules Vallès - Closer to a traditional flea market, with 120 stalls offering with unusual items, collectibles, old uniforms and weapons, military memorabilia, posters, books, and the types of things you might find in a forgotten corner of your grandmother's attic. Few precious antiques, and more affordable bargains.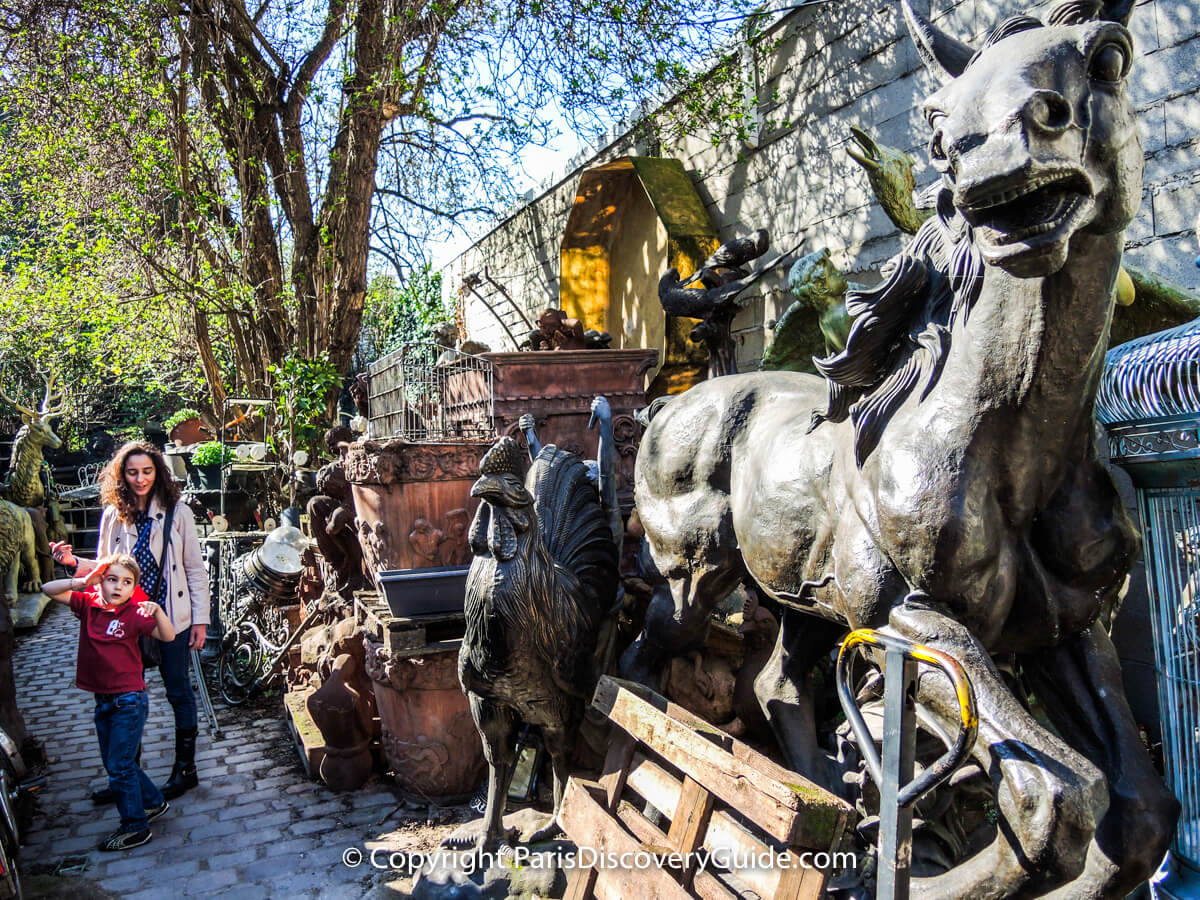 L'Entrepôt - Specializes in large architectural pieces such as staircases, gates, mantles, and gazebos. If you want to transport an entire paneled library across the Atlantic to the new home you're building, this is where to get it.
Le Passage - One of the newer Saint-Ouen markets, with mostly 20th century decorative items, furniture, and paintings priced to appeal to bargain hunters.
Malassis - Several hundred merchants and artisans with items ranging from 18th century to modern, including lots of restored furniture, Asian collectibles, tableware, art, affordable jewelry, maritime items - especially strong in 20th century items.
Malik and Le Plateau-Marché Django Reinhardt - Over 200 vendors selling new and mostly trendy clothing, costume jewelry, and shoes.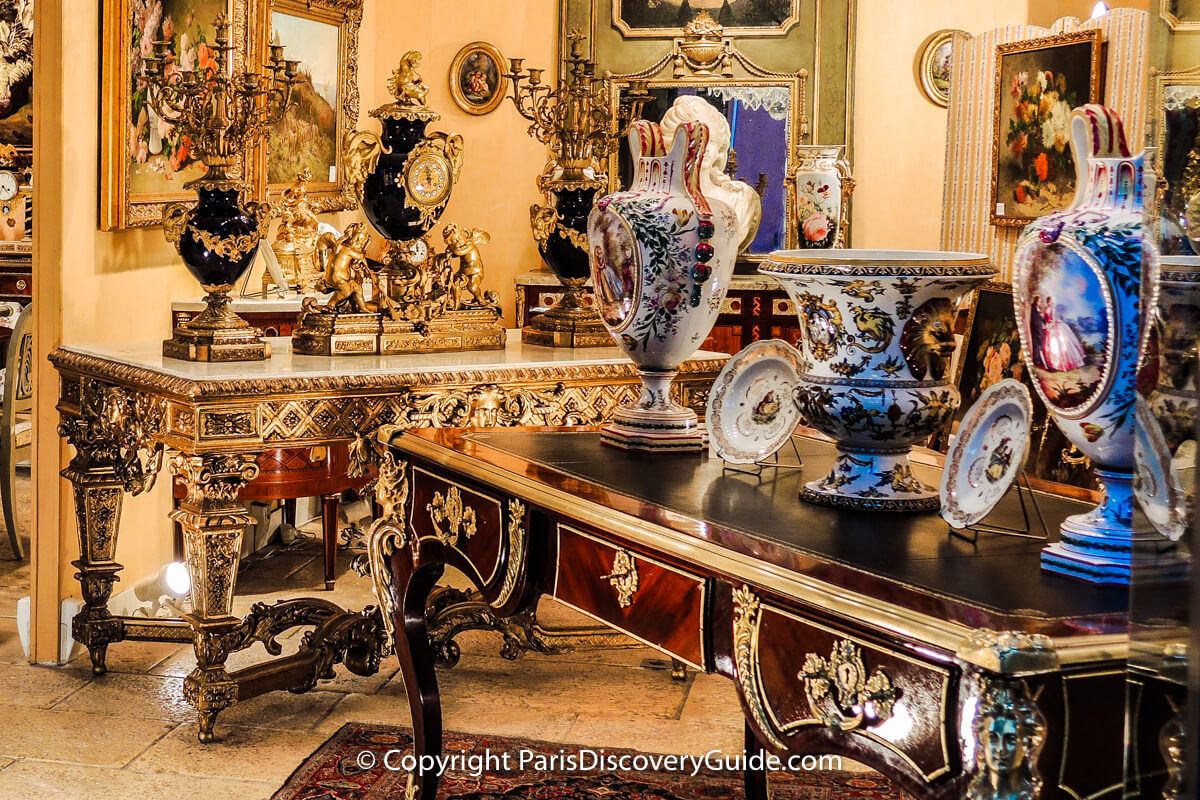 Paul Bert-Serpette - Occupying a large space, Paul Bert-Serpette is the largest antique market at Saint Ouen and in the world, with 350 dealers specializing in furniture from all periods, art, gold, tapestries and rugs, paintings, graphic arts and maps, chandeliers, jewelry, mirrors, silver and crystal, vintage clothing, militaria, design, and precious antiquities. You'll even see examples of high-end design through the 1990s. If you want something extraordinary, rare, and beautiful - and if you're able and willing to spend to get it - this may be the only Paris Flea Market area at Les Puces you need to visit.
Usine and Lécuyer - For professionals only who buy and sell in large volumes and export to foreign markets. They open from Tuesday through Friday, when Les Puces is closed to everyone else - so unless you're a professional buyer, you won't even be aware they're here.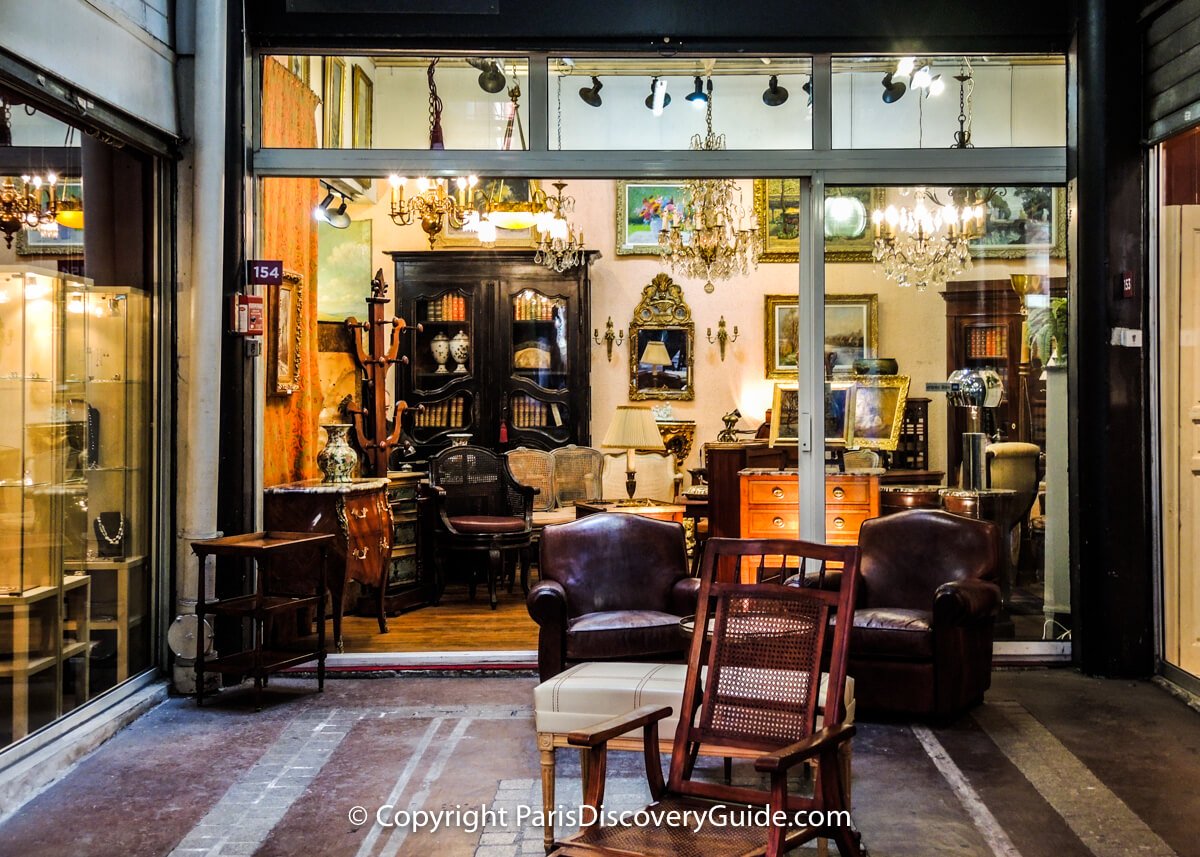 Vernaison - With over 300 stalls and shops scattered along its labyrinthine alleys, Marché Vernaison dates back to Les Puces' early beginnings. You can find literally everything here (except for the most precious antiques) - furniture, tableware, crystal, picture frames, vintage clothing, gilded mirrors, vintage posters, lighting fixtures, art, costume jewelry, buttons, beads, garden statues and ornaments, ceramics, toys, art, dolls, clocks, watches, - well, you get the idea. With so many wonderful choices, you always have a good chance of finding the perfect piece here, and sometimes even the possibility of a bargain.
"Marché des Rues" - This is the term (you won't see it on the map below) for the collection of the street market vendors and hawkers who line the lanes and alleys beyond the official Les Puces markets offering all kinds of new and second-hand items.
You never know what you'll find here but if you're excited about uncovering a real bargain at the Paris flea market and have time and patience to spare, this is where you should search. On the other hand, if you're looking for something specific, you'll make better use of your time in other parts of the market.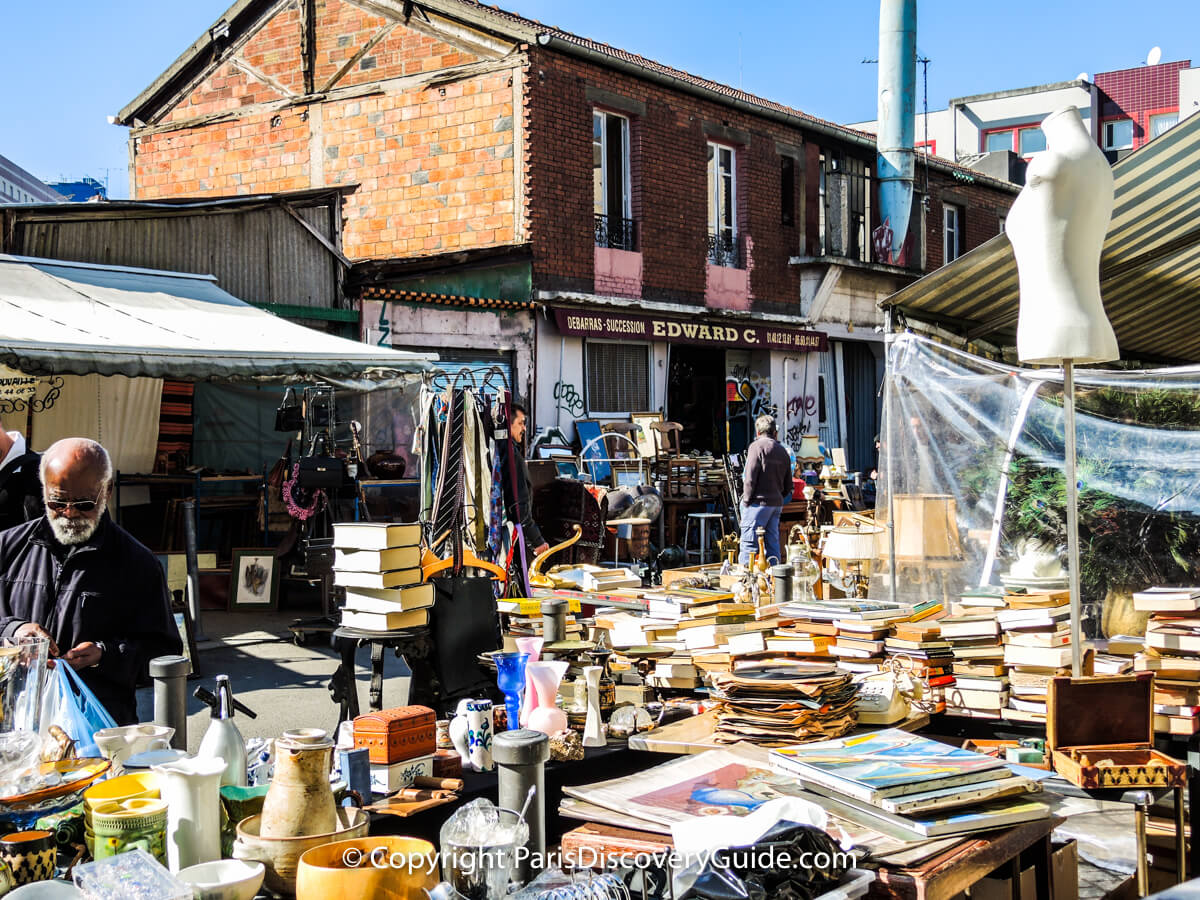 ---
Tip 4: Confused? This Saint-Ouen Flea Market Map May Help!
This map shows most of the current 14 markets as well as main streets and lanes within Les Puces. Printed maps are sometimes available onsite, especially right after the markets open.
Please note: Habitat Vintage has closed. Paul Bert and Serpette, formerly separate enterprises, now operate as one unit. Individual street vendors are mostly on the outskirts, including alleys and paths not shown on the map.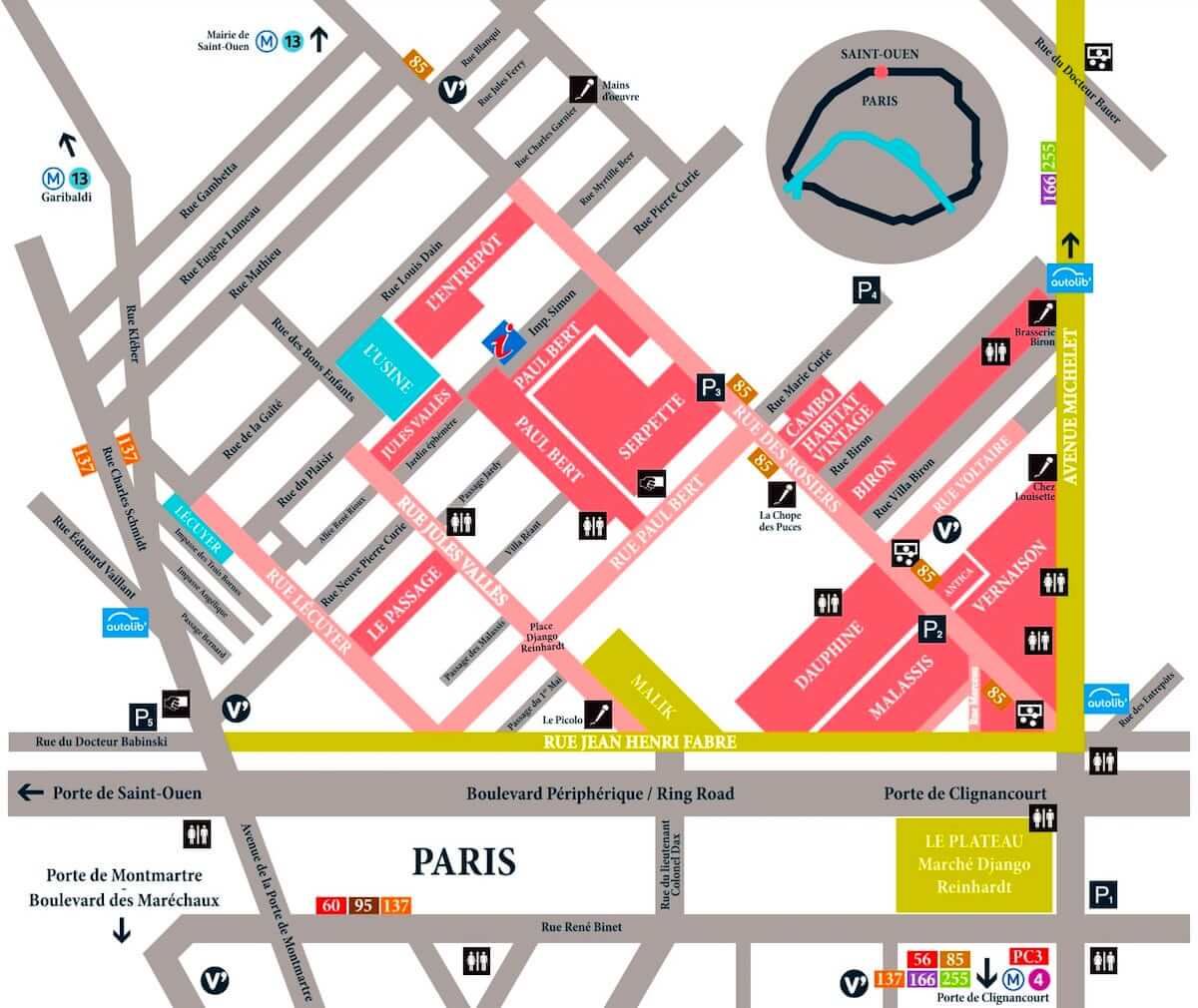 ---
Tip 5: Can You Negotiate at the Paris Flea Market?
Yes, you can certainly negotiate. Some buyers do, while others do not. On inexpensive items, spending too much effort on bargaining to save a few Euros may waste time you'd rather spend shopping.
If you're buying something large such as furniture that must be shipped, ask the vendor about the estimated cost of shipping before you decide how much to offer.
You're likely to get the best deals when you buy more than two items from a vendor, or you buy something relatively expensive.
How much discount can you get? Maybe as much as 20% off. For one or two inexpensive or moderately-priced items, a 10%-15% discount is good. Being polite and smiling will help your chances; being rude and unpleasant most definitely will not.
Enlisting the help of one of the small-group or custom tour guides (see Tip 2) can often get you better prices than you can get on your own, especially if you're not fluent in French.
As with any negotiations, know your spending limit before you start bargaining and be willing to walk away if the vendor doesn't meet your price.
Most sellers in the indoor markets speak at least some English; among the street vendors, English skills vary. If you can muster even a few words of French, do so in order to be polite, and simply write your proposed price (in Euros) on a piece of paper.
The real value in shopping at Les Puces Flea Market comes when you find something unique, beautiful, and irresistible that you'd never find anywhere else. In those cases, negotiate to the best of your (or your Guide's) ability - but don't walk away from something you love. Regrets cost more than the Euros you might save.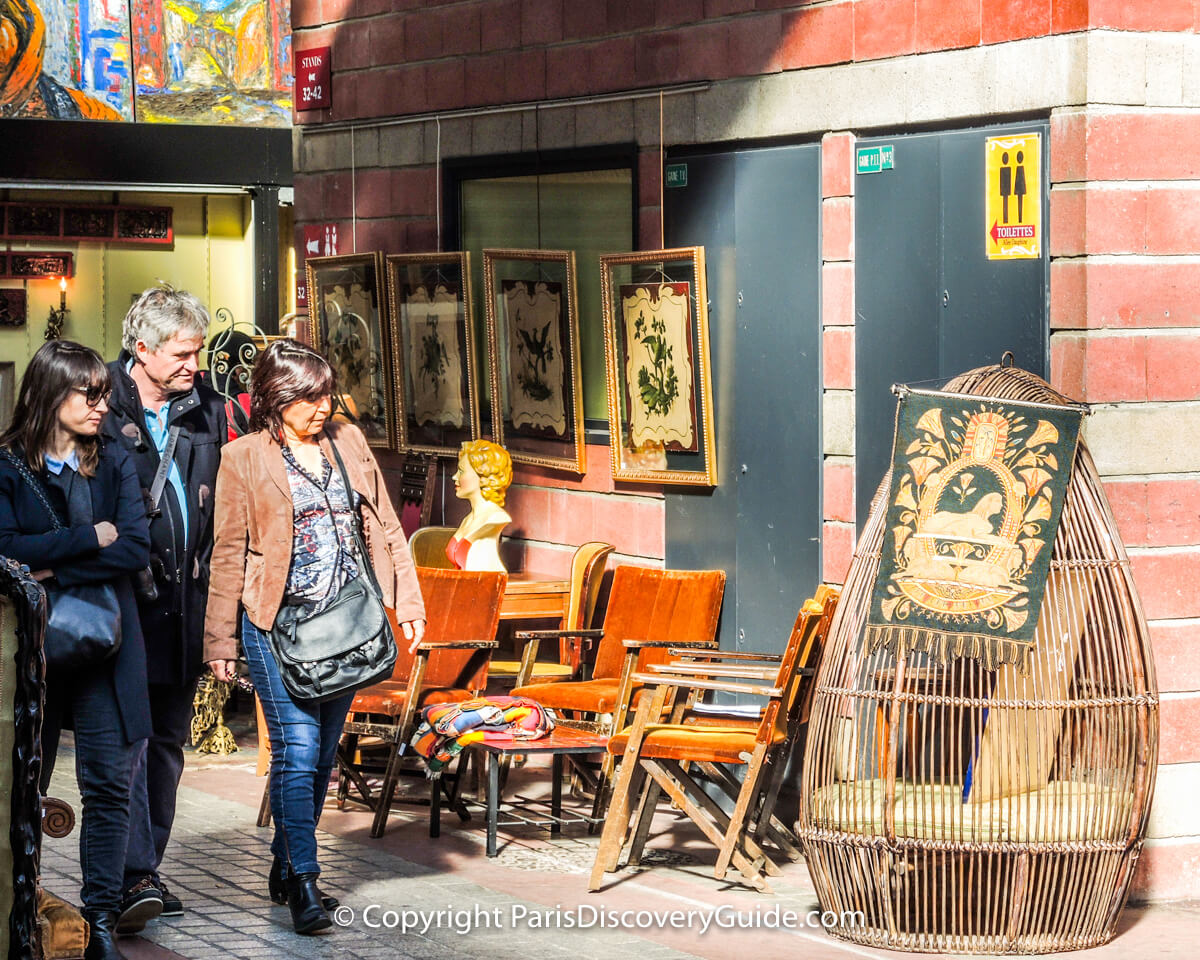 ---
Tip 6: Need More Time at Les Puces? Where to Stay Nearby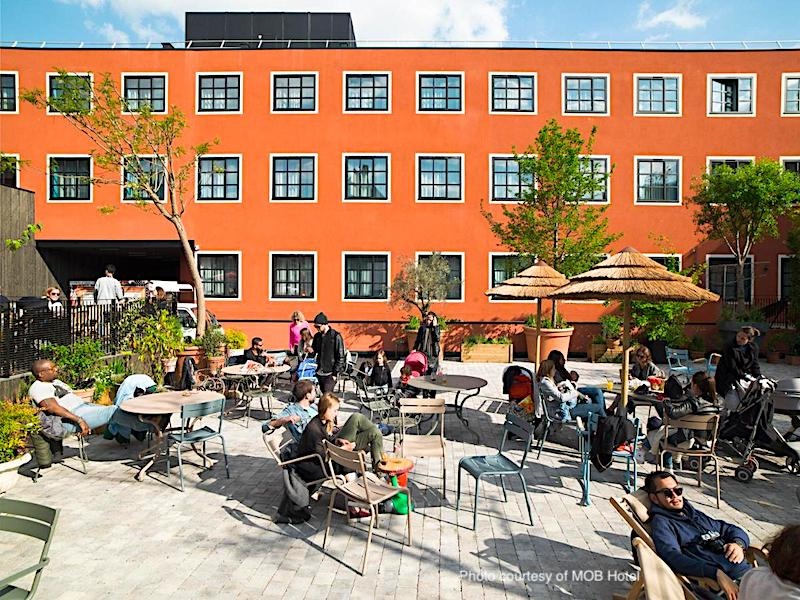 Need more than one day at the Paris Flea Market in Saint-Ouen? Stay overnight at the trendy MOB Hotel (4-6 Rue Gambetta, Saint-Ouen), just off of Rue des Rosiers and about a 3-minute walk to the market.
With a hip vibe, a popular restaurant featuring mostly organic and many vegan ingredients, terraces off some of the rooms, free wifi, and live music on many nights, MOB Hotel offers lower rates than you're likely to find in Paris - so use the money you save to pay for treasures you can't resist at the flea market. In case you're wondering, MOB Hotel's provenance of cool is genuine - its creator, French philosopher Cyril Aouizerate, co-founded the super-chic MAMA Shelter Hotel next to Père-Lachaise Cemetery in Paris along with designer Philippe Starck.
More hotels close to the Paris Flea Market:
---
Tip 7: How to Get to the Paris Flea Market at Clignancourt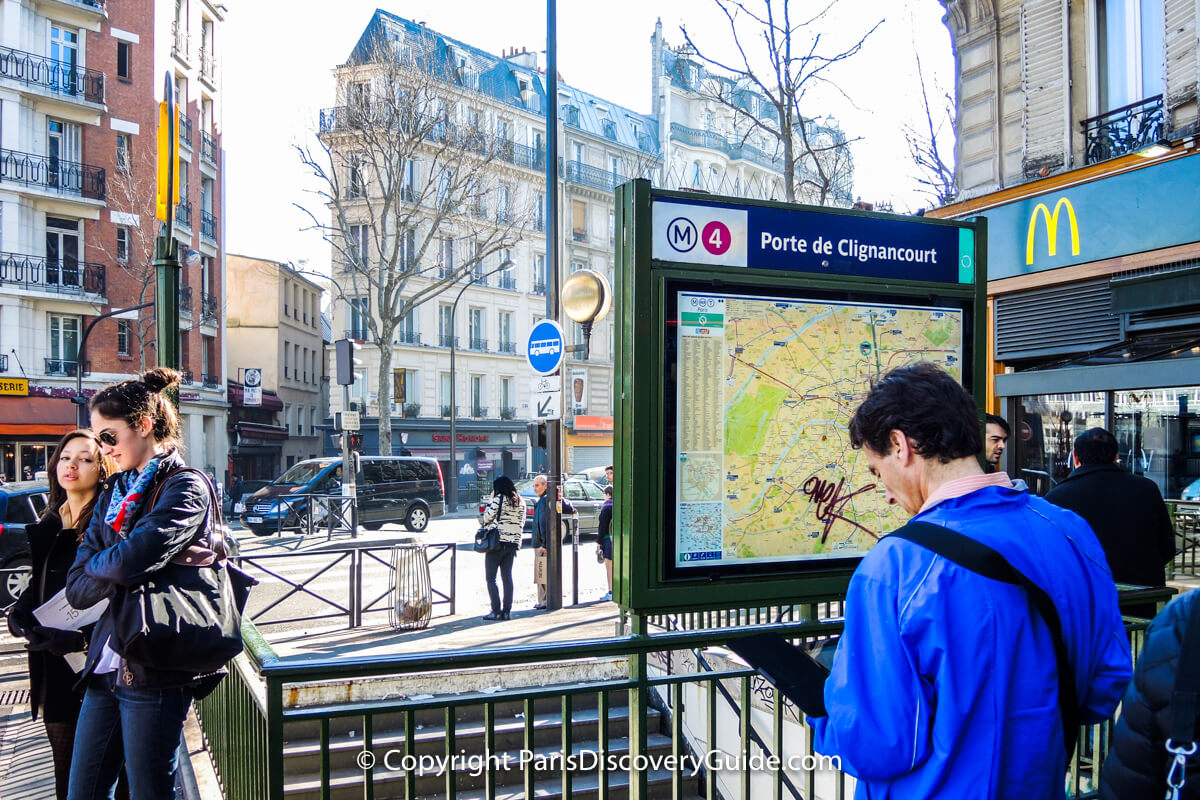 Two different Metro lines take you within a 5-10 minute walk of Les Puces. If you're making your first visit, the most straight forward choice is Line 4 to Porte de Clignancourt.
Take the Metro stairs up to the street level, which places you at the edge of a huge intersection where 7-9, depending on how you count, streets converge. You may be able to see the large overpass for the Périphérique overpass two blocks away; if so, walk toward it. If not, walk over to the Metro exit next to McDonald's (assuming you exited at one of the others), and with the Golden Arch on your right, walk left. The street is named Boulevard Ornano on this block, but as soon as you cross the large divided Boulevards des Maréchaux, it becomes Avenue de la Porte de Clignancourt.
At this point, you should have a clear view of the Périphérique overpass. Street vendors will try to divert your attention from your real goal, Les Puces, as you walk by but unless you're interested in new clothing and trinkets, keep going because more interesting things await you.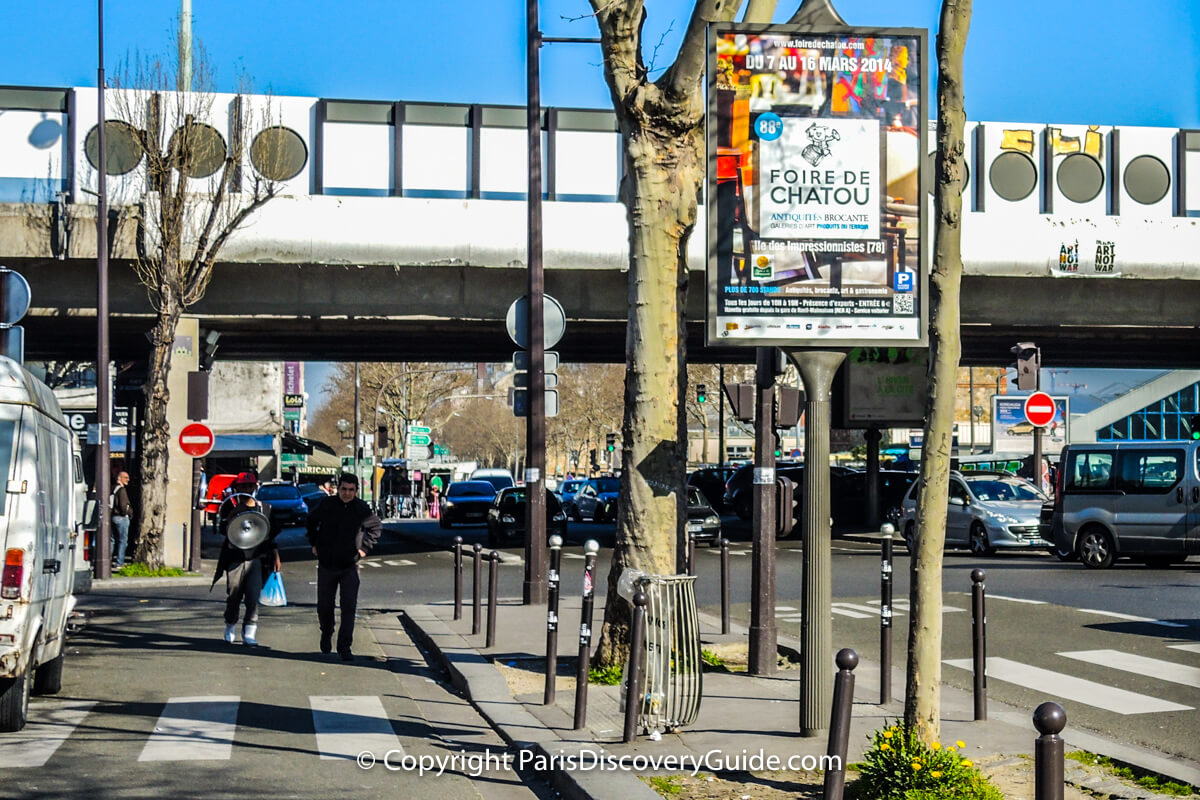 As soon as you walk under the underpass, turn left onto Rue des Rosiers.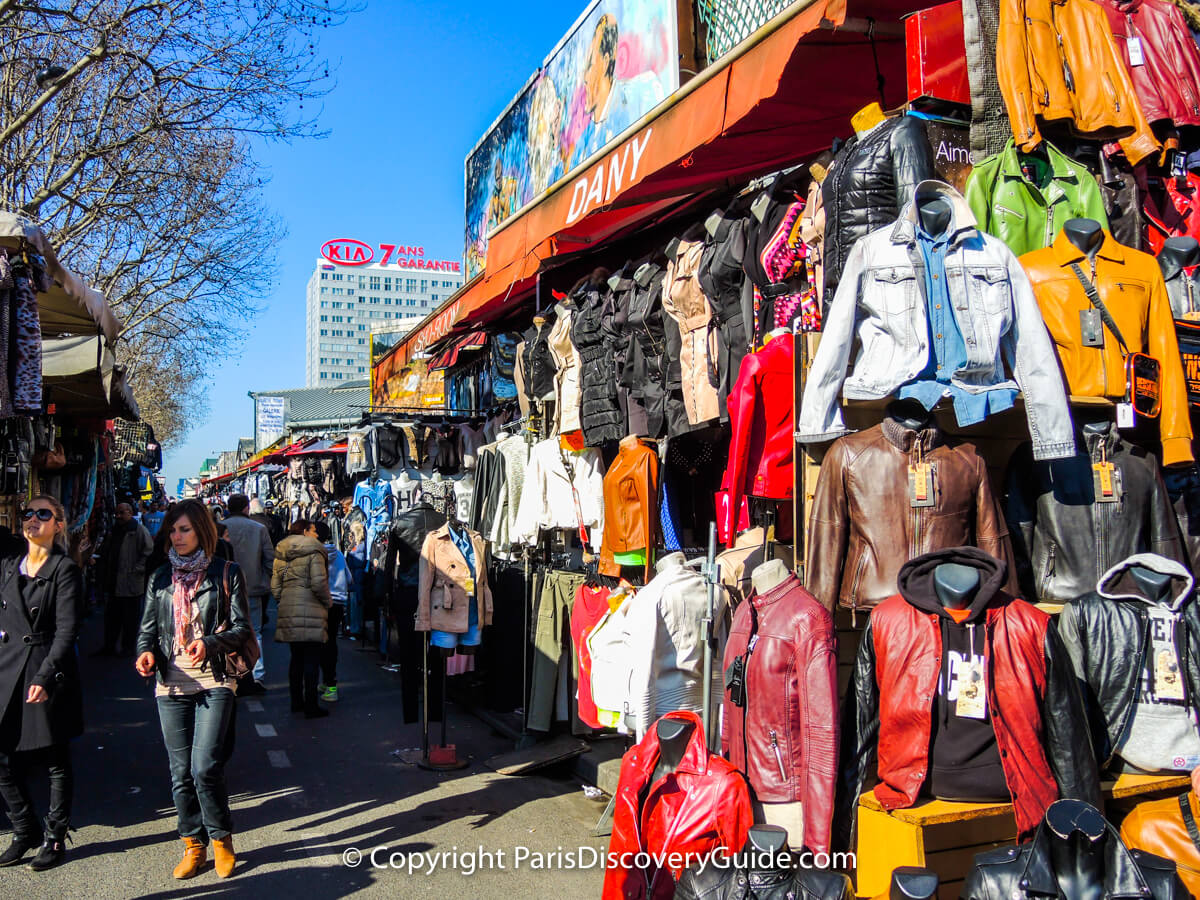 You'll immediately see a bunch of stalls and street vendors selling mostly new clothing, bags, jewelry, toys, and souvenirs.
Can you find some appealing styles and bargains here? Yes, probably. In fact, a lot of Parisian teens flock here for the trendy but cheap faux leather jackets, cute tops, and boots.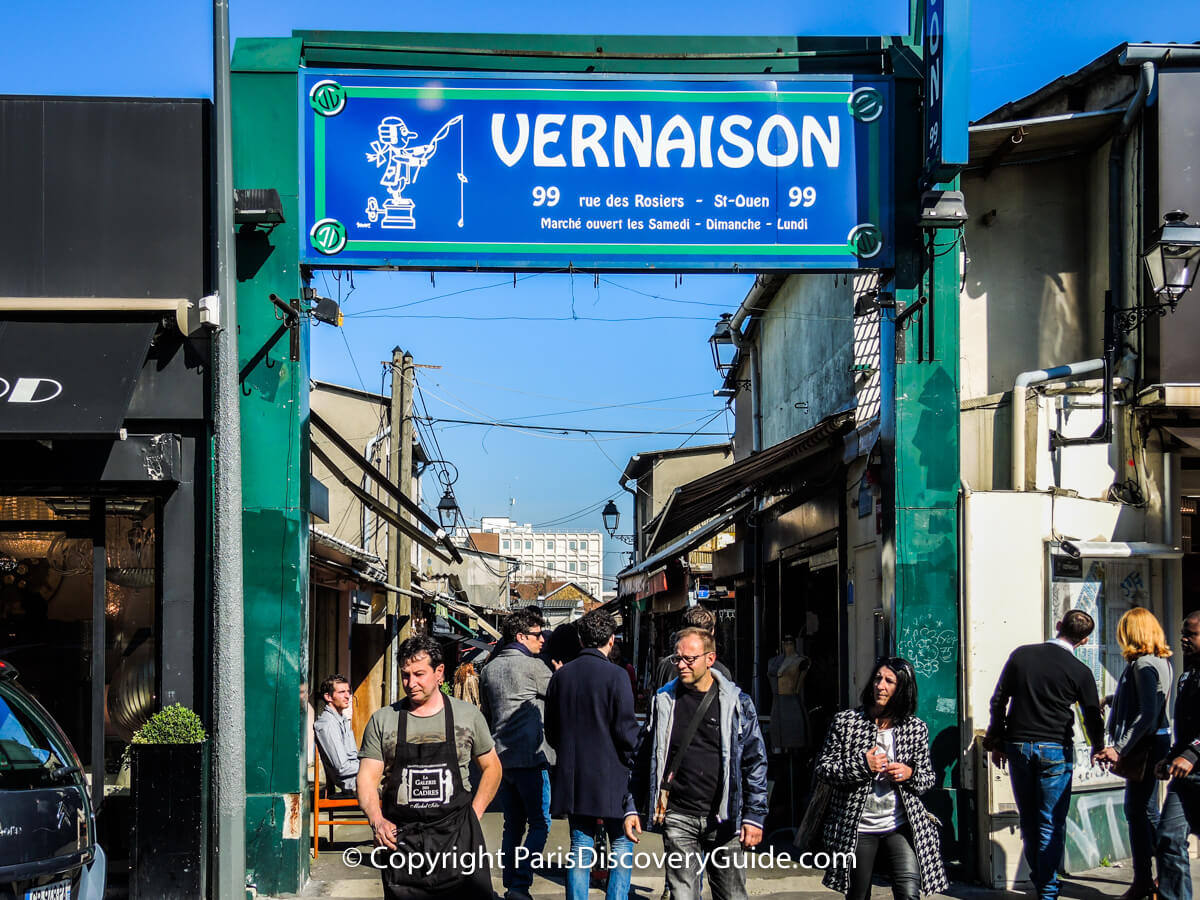 But unless this is what you're interested in, maximize your time at Les Puces and its acres of appealing treasures by continuing to walk until you the first two Les Puces markets: Malassis on your left, and Vernaison on your right. You've now arrived!
Alternately, take Metro line 13 to the Garibaldi station. When you exit the station, face north and on your right, you'll see Rue Kléber. Walk down Kléber for a block, and turn left onto Rue Edgar Quinet, walk for a couple more minutes, and turn left onto Rue Des Rosiers. You'll pass MOB Hotel on your right. As soon as you spot L'Entrepôt and Paul Bert-Serpette markets on your right, you'll know you've arrived at Les Puces.
Les Puces Savvy Shopper Tips: Especially in some of the streets and alleys outside the permanent Les Puces markets, be aware of the possibility of pickpockets, especially in dense crowds. Bring only 1-2 credit cards and a small amount of cash (maybe not necessary unless you need an emergency cup of coffee) and keep them in a zippered inside pocket. NEVER bring your passport. Do not dress up or wear expensive jewelry or watches, or anything that screams "Tourist!" Don't flash your expensive iPhone - it should also go in the zippered inside pocket. To avoid the biggest crowds, come in the morning.
---
Tip 8: Where to Eat & Drink at the Paris Flea Market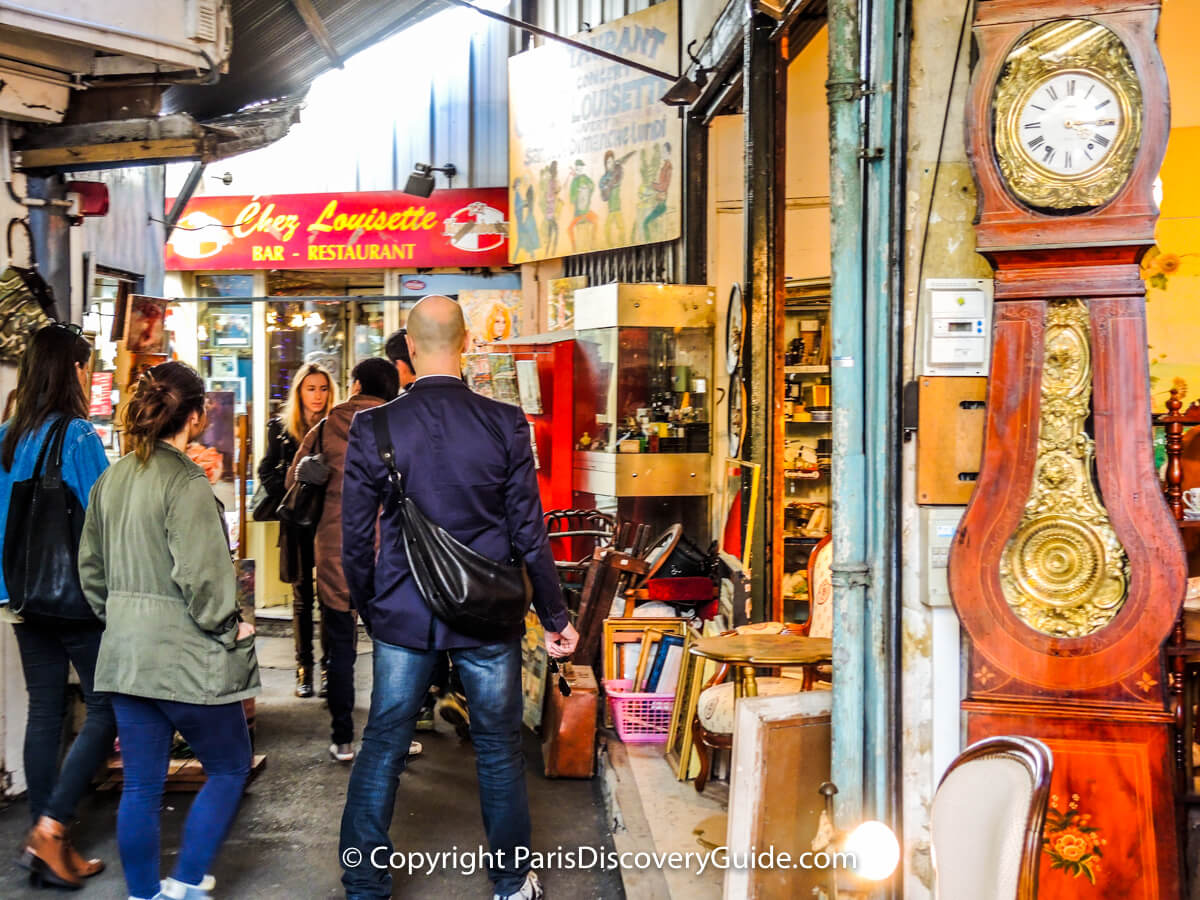 Chez Louisette - Tucked away in a far back corner of Marché Vernaison (the map in Tip 4 shows the location), Chez Louisette is a guinguette-style bistro serving traditional French cuisine such as beef bourguignon. Around lunchtime, you can hear accordion music and a singer with a repertoire of Edith Piaf songs. Stop by for a meal or perhaps just a glass of wine.
Café Le Paul Bert - Near the entrance of the Paul Bert-Serpette market. Go early to snag a seat on the sunny terrace, and relax over wine and bistro food.
Couscous, sausisson, & more - You can follow your nose to find the many small cafes and bistros serving up tasty flea market fare scattered throughout the market and along Rue des Rosiers. North African couscous and sausages from the South of France and Spain are favorites, along with a glass or two or vin rouge.
MOB Hotel Terrace Cafe - Wide range of casual food choices such as pizza and salads, with plenty of options for vegans and vegetarians. Relax on the terrace while you plan your next purchases. See Tip 6 for location.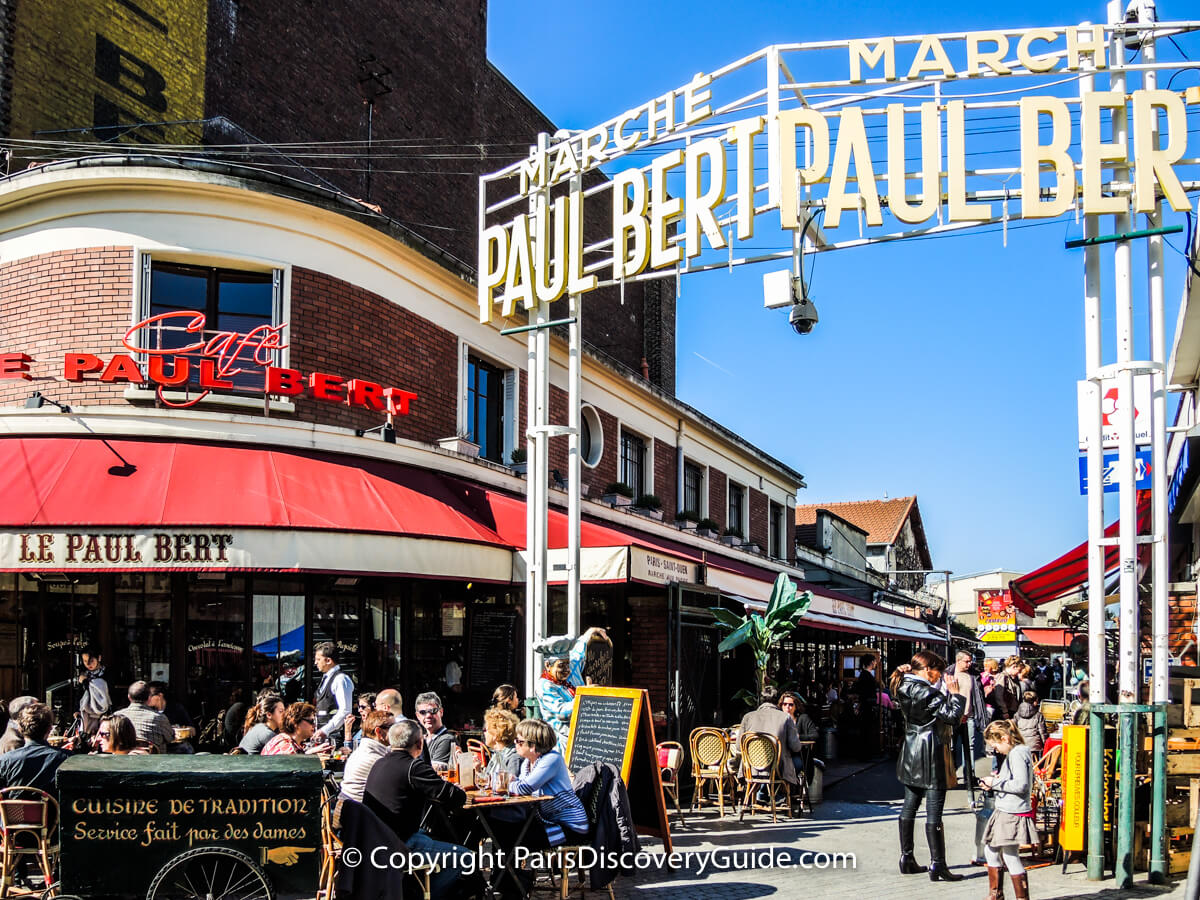 ---
Tip 9: How to Ship Your Paris Flea Market Purchase to Your Home
Shipping your Paris Flea Market purchases is actually much easier than you might expect.
Ask the dealer from whom you're purchasing for recommendations. Several professional shippers have offices at Les Puces, and Les Puces dealers have lots of experience with recommending the shippers best suited for what you're buying and where you live.
If you are on a private Flea Market tour, your guide may help you make arrangements with the shippers.
---
Tip 10: Where to Find Bargains at the Paris Flea Market
When you discover something you love and you're comfortable with the price, it's a bargain. The pleasure you get from it once you bring it home will far outweigh whatever you paid for it. Les Puces vast markets give you plenty of opportunities to find that kind of treasure.
However, if you're hoping for dirt-cheap prices or want to snag an unrecognized gem for a few Euros, Les Puces may not be your best option even if you're willing to dig through piles of mostly-uninteresting items offered by street vendors.
For a better chance at that kind of deal, try some of the smaller flea markets in Paris such as Vanves, Montreuil, or Rue d'Aligre.
---
More Paris Shopping Tours
These fun tours make shopping in Paris easy - and will give you great ideas about even more places to explore on your own:
---
Paris Hotel Map
Planning to visit Paris? Use this Paris hotel map to find accommodations and make your reservations:
Check out the newest Paris hotels
---
More Paris Shopping Articles