Trying to choose a hotel for the Paris Marathon?
Thanks to Paris's convenient metro system, you can select almost any hotel that fits your budget and easily get to the Marathon's starting point near Arc de Triomphe before your assigned departure time (8:20am for Elite runners and as late as 9:50am for others).
Whether your strategy is to book a hotel close to the start/finish line or the Paris Marathon Expo and bib pick up at Porte de Versailles, choose a hotel near top Paris attractions for sightseeing before or after the race, or find an affordable hotel in a cool non-tourist neighborhood, take a look at our guide to the best places to stay.
We also share tips about how to find Paris hotel deals, discounts, and bargains, when to book your hotel reservations to get the best rates and selectdion, and how to de-code the French hotel star rating system in case you're not already familiar with Paris hotels.
Paris is a breathtaking city at any time of the year, and especially in April when the Marathon takes place just as the cherry and magnolia trees are blooming and spring is in the air. You'll have a wonderful time during your visit, wherever you stay!
See our tips for getting the most from your Paris Marathon experience
Top photo: Paris Marriott Champs Elysées Hotel near the Marathon start line, (c) Paris Discovery Guide
Paris Discovery Guide is a reader-supported publication. When you buy through our links, we may earn a commission at no additional cost for you. Learn more
---
How to Decide Where to Stay for the Paris Marathon: Strategies, Tips, & Recommended Hotels
Sure, you could randomly pick a hotel for your Paris Marathon stay - but you may be happier if you select your accommodations based on what's most convenient or important to you.
Here are five strategies for you to consider, plus a few related tips. Choose the one you like the best, and then take a look at our hotel recommendations.
---
1. Pick a Paris Hotel Close to the Marathon Start Line & Finish Line
Your Strategy: You stay within easy walking distance of the Paris Marathon start and finish lines at the Arc de Triomphe - no need to rely on the Metro or other public transportation. As you're heading back to your hotel after the race without having to navigate steep Metro stairs on crampy legs, give yourself a pat on the back.
Our Tips: You'll get to choose from well over 100 hotels within about a half-mile radius of the Arc de Triomphe. But fair warning: Due to their convenient location, these hotels book up quickly for the Marathon, so don't wait to make your reservations if you want to stay near the Arc.
Our Hotel Recommendations:
Paris's 8th, 16th, and 17th arrondissements (districts) converge at the Arc de Triomphe.
Hotels to the east of the Arc in the 8th arrondissement have the most expensive rates and you'll find some of the top Paris hotels here. To pamper yourself after your Marathon exertions, splurge on a stay at Le Royal Monceau where you can relax sore muscles in the longest and one of the most gorgeous swimming pools in Paris, indulge in their famous onsite spa, and luxuriate in all the other top-end amenities and services at this posh 5-star Palace Hotel.
Find out more about Paris's 5-star Palace Hotels
Or consider the posh 5-star Paris Marriott Champs Elysees Hotel (shown at the top of this article) practically overlooking the Marathon start line. Request a room overlooking the famous avenue, limber up in the hotel's fitness room, and celebrate your run with a glass (or two) of Champagne in the sky lit Bar Atrium.
The 17th arrondissement to the north and west of the Arc is a generally quiet, lovely neighborhood where you'll find some surprisingly good bargains just a short distance from the start and finish lines:
Hotel Regénce Étoile - A wonderful location near the Arc de Triomphe and stylish contemporary decor make this a fun place to stay
Find Lowest Rates
Arc de Triomphe Étoile - This attractive 3-star designer hotel offers contemporary furnishings, art, and (usually) excellent rates
Find Best Rates
Hotel Tivoli Étoile - Bright colors and creative designs make this 3-star hotel a fun place to stay
Compare Rates
Find more 17th arrondissement hotels near the Arc de Triomphe
Find more budget hotels near the Arc de Triomphe
The 16th arrondissement to the south of the Arc offers plenty of luxury hotels from luxury but also affordable choices such as these:
Elysees Bassano Hotel - Sleek 4-star hotel with appealing modern decor and an onsite Cambodian restaurant featuring organic ingredients
Find Discount Rates
Hotel Marceau Champs-Elysees - This 3-star design hotel features modern decor and comfortable furnishings
Compare All Rates
Elysées Regencia - Located near plenty of restaurants, this 4-star hotel offers modern decor and bright, cheerful colors
Find Discount Rates
Check out more 4-star hotels near the Arc de Triomphe
---
Paris Hotel Map
Paris accommodations map can help you find hotels and apartments near the Marathon route. Enter your travel dates to see what's available and find the best rates:
Check out the newest Paris hotels
---
2. Stay near the Paris Marathon Expo & Bib Pick-Up at Porte de Versailles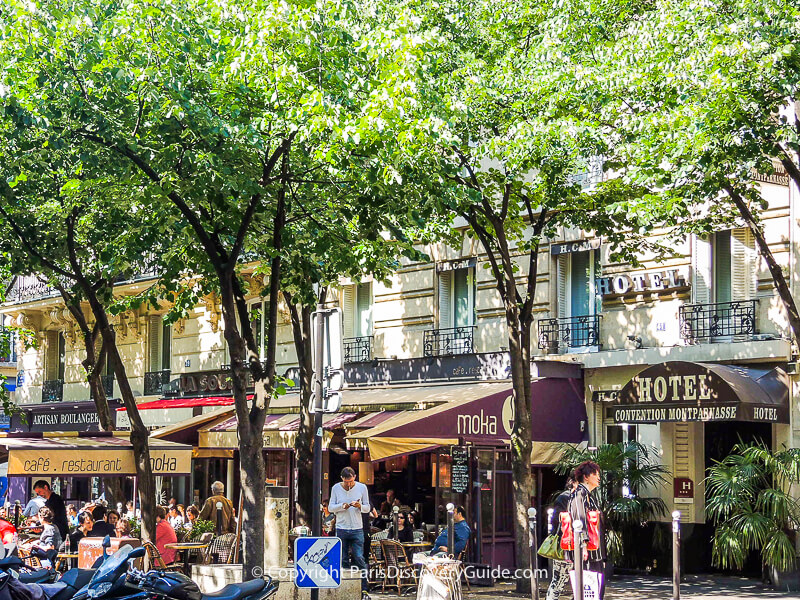 Your Strategy: You save money by choosing a hotel in the 15th arrondissement close to the 3-day Paris Marathon Expo at Porte de Versailles. Walk over to the Exposition Hall to pick up your bib and check out all the sporting goods displays. On Marathon Day, you hop on the Metro's Line 12 at Convention station and get off about 12-13 minutes later at Concorde. Warm up by running up to the Arc de Triomphe - not quite a mile (after the race, hop on the Metro's Line 1 at the Arc and transfer to Line 12 at Concorde). Look forward to using the Convention Station's escalator up to street level when you reach your destination.
Our Tip: Numerous small bistros, cafes, and specialty food shops line the streets around Convention station where these hotels are located. This friendly mostly-residential neighborhood makes a relaxing change from the more touristy parts of Paris, but you're just a short metro ride away from top attractions.
Our Hotel Recommendations:
Mama Shelter West Paris - About a 2-minute walk from the Expo - Book Now
Quality Hotel Abaca Messidor - Book Now
Chouette Hotel - Book Now
Hotel Convention Montparnasse - Book Now
Mercure Paris Vaugirard Porte de Versailles - Book Now
La Bellune Paris (35 Boulevard Victor) - New 4-star hotel (opens November 21, 2022; booking now available) with 101 guestrooms, a swimming pool, fitness center, hammam, and sauna just a few steps from Porte de Versailles Expo Center, the AquaBoulevard water park, and Parc Andre Citroen - Book Now
Find more hotels in the 15th arrondissement
---
3. Choose a Hotel Convenient to Top Paris Attractions
Your Strategy: You are going to spend a few days before or after the Marathon exploring Paris, so you choose a hotel convenient to top attractions such as the Eiffel Tower, Notre Dame, or the Louvre.
Our Tip: You'll find lots to love near each of these attractions. As a bonus, they're slightly off the radar screen for Marathon visitors focused on just the race, so you may find less demand/better rates for hotel rooms.
Our Location (& Hotel) Recommendations:
---
4. Find an Affordable Hotel in a Cool (& Less Touristy) Neighborhood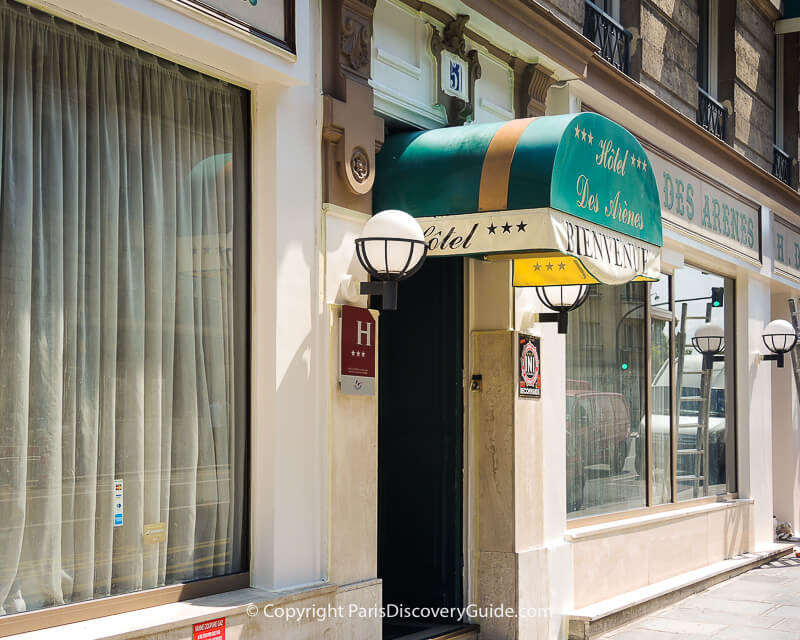 Your Strategy: You want to experience the "real" Paris, so you choose a neighborhood away from the usual tourist destinations where hotel rates are (usually) lower.
Our Tip: Focus on areas such as Canal Saint Martin/République area, the Jardin des Plantes neighborhood in the Latin Quarter, and the Upper Marais.
Our Hotel Recommendations:
Canal Saint Martin/République - Lots of hip cafes and bars, nightlife, street art.
Jardin des Plantes - Close to Arènes de Lutèce, the Jardin des Plantes botanical garden and zoo, and lots of small bistros and bakeries.
Upper Marais (3rd Arrondissement) - Near parks, designer boutiques, trendy restaurants and nightlife
---
5. Score a Paris Budget Hotel
Your Strategy: You want a place to sleep but care more about your budget than fancy linens or frills.
Our Tips: Choose a Paris budget hotel brand such as Ibis or Timhotel that delivers good quality for a relatively low price point, and avoid the most popular neighborhoods where top attractions drive rates higher. Expect fairly strong competition to book a room at these budget hotels - so do it early to get best deals.
Our Hotel Recommendations:
---
More Tips for Finding Paris Hotel Deals, Discounts, & Bargains
You can almost always find affordable places to stay in Paris, even during big events such as the Marathon - if you know where to look.
Check out our tips on easy and fast ways to find deals, discounts, and bargains on Paris hotels.
Want to Save on Your Paris Hotel?
Check our tips on how to find discounts, deals, and bargains for Paris hotels. Whether you're looking for cheap accommodations or want to pay less for luxury, we'll show you how to save on hotels in Paris.
Here are some shortcuts:
Booking.com: Need last minute reservations? Check out Today Deals on their website
Trip Advisor: Use their Best Value Deals & save BIG on your Paris hotel
Priceline: Find the lowest prices on Paris hotels with their Express Deals
---
Understanding the Paris Hotel Star Rating System
If you're from a country that doesn't use an official star rating system for hotels (as, for example, the US does not), figuring out what stars mean and don't mean in Paris can be confusing.
Here are the 3 most important things that the Paris hotel star rating system does NOT tell you:
Quality - The number of stars does NOT measure quality - even though about 300 other things go into determining the number of stars
Price - Do more stars mean higher prices? In general, yes. But not always. You'll find plenty of 3 star hotels with higher rates than some 4-stars, and some 4-stars with higher rates than a few 5-stars
Comfort - Concerned about hearing street noise, sleeping in a comfortable bed, or not having to climb over a bathtub to reach the shower? You can't figure this out from the stars.
Want to know more, including where to find bargains in each star level?
Read our article on what Paris hotel star ratings really mean
---
Best Time to Make Hotel Reservations for the Paris Marathon
Almost two thirds of Marathon participants come from outside the Île de France region around Paris or from other countries - which means that almost 40,000 runners plus their friends and families pour into the city in early April and compete for convenient hotel rooms.
To find the best hotel rates and the biggest selection of available rooms, make your hotel reservations for your Paris Marathon trip as soon as you know your travel dates. This could be as early as the prior September if you sign up for the April race as soon as registration opens.
If you want to score the best rates for a hotel very close to the Arc de Triomphe, reserving in September gives you the best chance of getting what you want.
---
More To Do in Paris Before & After the Marathon
Find out about what to do on your first day in Paris, especially if you're jet lagged from a transatlantic flight
---
More Tips for Paris Marathon Visitors
Planning to take the metro (subway) to the Marathon Start Line? You'll encounter massive crowds around the ticket machines on the day of the race - so on the day before, go to any station and buy two tickets - one to get there, and one for your return trip. Better yet, if you're planning to take additional metro rides while you're in the city, buy a carnet (10 tickets) to save yourself money and time.
To make finding the nearest metro station or bus stop easy, download the RATP app onto your phone: https://www.ratp.fr/en/apps/ratp-app. If this link doesn't work, go to RATP's website and search for "app". (RATP is the agency that oversees the Paris metro, bus services, and other public transportation.)
If you need to buy any sort of running or other athletic gear while you're in Paris, try huge sporting goods store Decathlon. Closest store locations near Arc de Triomphe include Wagram (26 Wagram Avenue, 8th arrondissement, Metro: Ternes) and La Madeleine (23 Blvd de la Madeleine, 1st arrondissement, Metro: Madeleine), but they also have about 8 other Paris locations including a massive store in La Défense (easy to spot as soon as you emerge from the metro station - just look to the left.
---
Pin Now, Read Again Later
---
More Articles about Paris Hotels & the Paris Marathon