"Gorgeous" and "erratic" define April weather in Paris.
Thanks to the month's longer days, higher temperatures, and more hours of sunshine, every flowering tree in the city seems to bloom at once, and colorful spring flowers fill Paris's parks and gardens from the beginning of the month. Tree buds turn into full-size leaves almost right in front of your eyes.
Of course, you might also add "hot" and "cold" to the list of what April weather in Paris brings. Daily highs can reach the 80s - or hover in the low 50s, or even lower, usually accompanied by bone-chilling rain. How low? Well, on rare occasions, the maximum temperature during a day can stay down in the low 30s.
During this mid-spring month, temperature swings can (and do) happen from one day to the next, so if you're packing for a visit, you'll want to take a close look at the high and low temperature ranges below, and include plenty of options for layers.
In fairness, most weather in Paris in April stays firmly in the moderate zone, with beautiful sunny days, clear blue skies, and comfortable temperatures perfect for sightseeing, touring, cruising down the Seine River, or just lingering over a café crème or apéritif at a table outside your favorite restaurant.
This is the month to plan plenty of outdoor activities, such as a food tour involving your favorite cuisine, a sightseeing bike ride around the city, or even a day trip to Versailles, where you can add a Musical Gardens or Musical Fountains show since they restart for the season in April. Have a few museums in mind in case of cold or rainy days. To stay warm on chilly nights, get tickets for a show and dinner at Moulin Rouge or for a classical concert in one of Paris's lovely historic churches.
In this article, you'll everything you want to know about April weather in Paris, packing tips, some fun things to do during your April visit, and even a few ideas about great neighborhoods to stay in this month.
Article contents:
Top photo: Notre Dame Cathedral, about a week after the tragic fire on April 15, 2019, (c) Paris Discovery Guide
Paris Discovery Guide is a reader-supported publication. When you buy through our links, we may earn a commission at no additional cost for you. Learn more
---
What Is Paris Weather in April Really Like?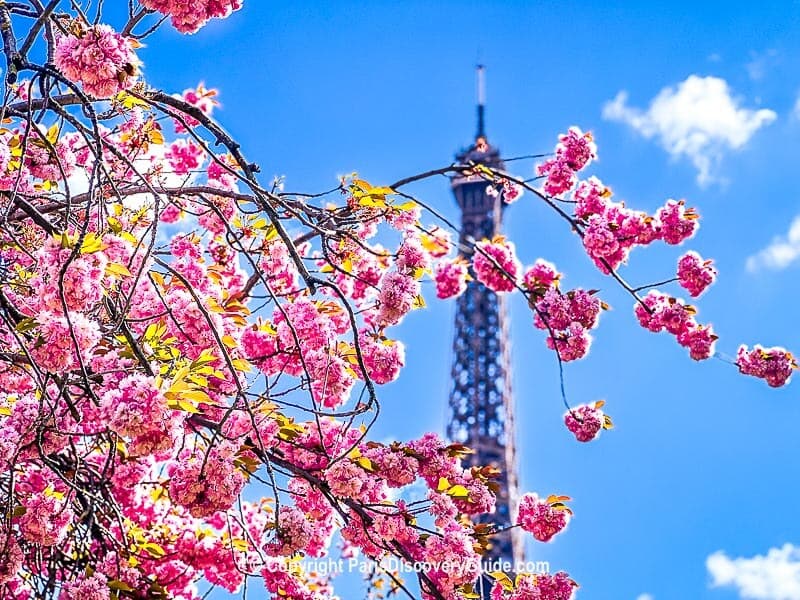 What is the weather in Paris in April really like?
Check out the following temperature ranges for April to see highs, lows, and averages.
Paris Temperatures in April: Average Highs & Lows
Here's a quick look at what April weather in Paris looks like on Fahrenheit (F) and Celsius (C) degree scales for average daily high and low temperatures, which have increased by 1-2 degrees Fahrenheit during the past decade:
Average April high temperature: 62°F (17°C)
Average April low temperature: 43°F (6°C)
Remember, these are averages - useful for comparing one month with another, but they are definitely not a forecast for Paris weather in April.
Neither are the temperature ranges in the following section - but they will give you an idea of the April weather you may encounter during your visit.
During April, you should consider planning for the extremes on both the high and low ends of the temperature range, because you can easily experience both during the course of a week or even just a few days.
Weather Statistics for April in Paris: High & Low Temperature Ranges
These temperature ranges for highs and lows in Paris in April will give you a better idea than the monthly averages about what you might experience. Keep these ranges in mind when you make your Paris packing list.
Here's the range of daily highs and lows throughout a typical Paris April:
Range of daily maximum temperatures during April: 49°F to 84°F (9°C to 29°C)
Range of daily minimum temperatures during April: 30°F to 53° F (-2°C to 12°C)
An interesting thing about April weather in Paris is that often the minimum temperature occurs not at night, when you might expect it, but during morning hours - for example, between 8am - 10 am. Then aftenoon and evenings warm up to the maximum temperature.
In practical terms, that means you need to dress warmly for the first part of the day but be prepared to shed layers during the afternoon and early evening.
These record-breaking extreme temperatures occurred during the past three decades:
Highest April temperature (1991-present): 84°F (29°C) in 2018
Lowest April temperature (1991-present): 28°F (-2°C) in 1991
Daily temperatures in the upper 70s to low 80s have become a routine part of Paris April weather during the past decade. If steamy humidity accompanies the heat (which often seems to be the case), you'll be sweating if you haven't packed a light-weight short sleeved or sleeveless top. Dressing in layers is a "must" in April.
Although daytime temperatures in the low 50s or even dipping into the upper 40s don't happen every year, when they do occur, a cold rain often accompanies them. For these conditions, a lightweight and water-resistant puffer jacket with a sweater or two underneath will help you stay comfortable.
More about what to pack in a moment...
Sun and Clouds during April: What to Expect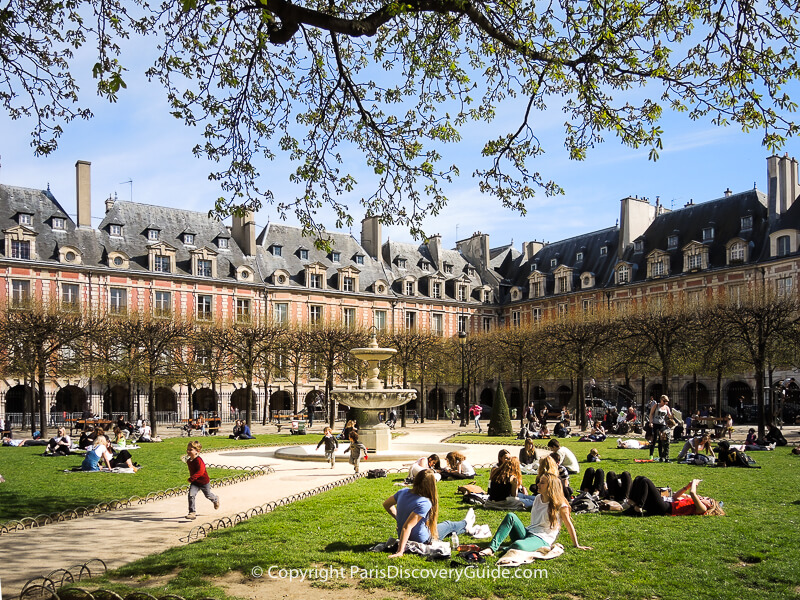 Although April weather includes the same gray, overcast skies and mostly cloudy days that happen year-round in Paris, they occur less frequently this month than in March.
Many days feature plenty of sunshine with clear or partly skies. These are the picture-perfect days you'll mostly likely remember long after your trip is over.
The number of daylight hours and hours of sunshine continue to lengthen during April:
Average hours of daylight:  13 hours, 50 minutes
Average hours of sunshine during April:  5.5 hours per day

---
How Much Rain, Snow, & Wind does Paris Get in April?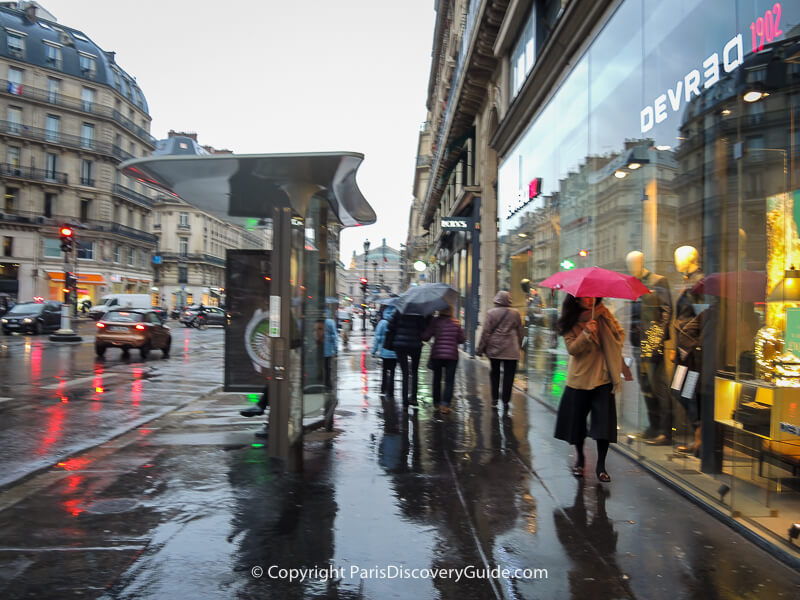 On average, Paris records about 2 inches (about 51 mm) of precipitation during April, spread over 9 days. That works out to less than a quarter inch of rain each day on average and on many days the precipitation measures in the one-tenth of an inch range - although of some years are wetter and others are dryer.
During a typical year, you can expect brief showers on most or all of the rainy days, including maybe 1-3 days when steadier rain falls for a longer period of time. At other times, the "rain" may last all day without ever becoming more intense than a faint drizzle.
What about snow? Well, it's possible this month and not even unusual - but when it happens, the temperature usually hovers just over the freezing point so the snow doesn't stick to the ground. With cherry trees, daffodils, and other flowers in bloom this month, the sight of snow falling is rather shocking - but also sort of special.
April is usually not an especially windy month, other than during short periods when weather fronts cross over the city.
---
What about the Weather at Popular Day Trip Locations?
In case you are planning to take a day trip outside of the city during your visit, rest assured that April weather at nearby locations such as Versailles Palace, Disneyland Paris, and Giverny will be very similar to Paris.
If you plan day trips to more distant locations such as Bruges or perhaps to the Loire Valley to visit castles, check their local weather before you go.
---
What to Pack for April Weather in Paris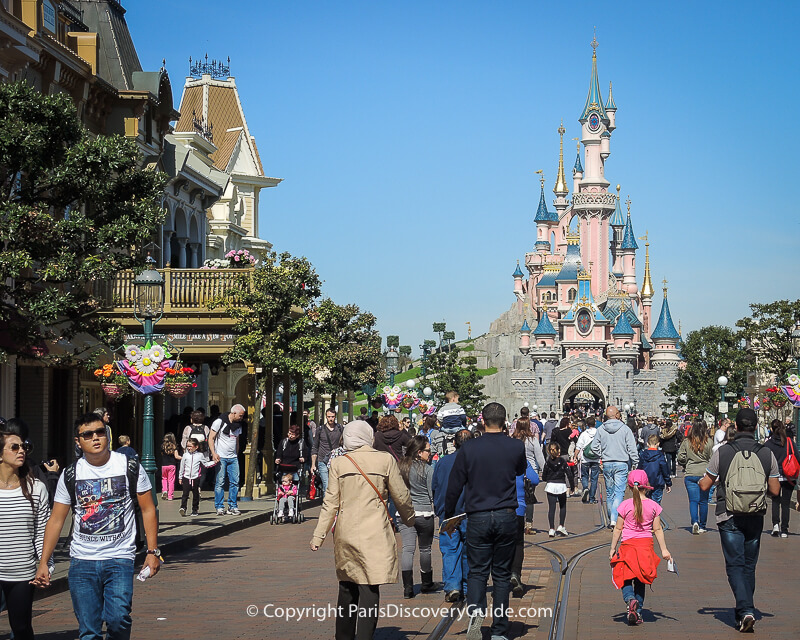 The best advice about packing for an April trip to Paris can be summed up in one word: "Layers."
In addition to your core wardrobe of tops, bottoms, comfortable walking shoes, and under garments, these are the essentials and options to consider for April:
A warm jacket or a trench coat will keep you from freezing during the day if the temperature drops to the low 50s, especially if accompanied by rain. You'll need it for most evenings as well. Light-weight puffer jackets such as these from Amazon (#ad) work well because they compress easily and take up little space in your luggage.
One or two sweaters to wear alone on warmer days and layer under a jacket or trench when the temperatures turn chilly. Remember, Seine River sightseeing cruises and the upper level hop-on hop-off buses will feel at least 10 degrees colder than the actual temperature.
A couple of pairs of comfortable walking shoes. Will you need boots? You'll be fine without them but if you have a pair of comfortable ankle boots and want to bring them, you'll fit right in as you'll see lots of Parisians wearing them. Bring both warm and lighter-weight socks.
A warm scarf and a lighter weight scarf.
A rain hat or umbrella for rainy days - or buy an umbrella once you get there if you need it. Small convenience stores and souvenir shops sell them for 5-10€, or you can get a pricier one at boutiques and department stores.
A mix of sleeveless, short-sleeved, and long-sleeved tops, and a pair of lightweight as well as medium-weight pants and/or skirts.
Pro Tip #1, learned the hard way: In case you're thinking you probably won't need a warm jacket, an extra sweater, and a warm scarf but can buy them in Paris if you do, you can't. By April, Paris stores are showing their late spring/early summer collections; winter clothing has disappeared from every shop in the city. If you look at the photos in this article, most show people wearing warm clothing - but they didn't buy these clothes in Paris in April. So come prepared to experience chillier days and nights than you might expect.
Pro Tip #2: Right before you start packing for your trip, check the 7-day Paris weather forecast in case of any surprises. Here's the forecast in both Fahrenheit and Celsius:
PARIS WEATHER
PARIS WEATHER
---
Is Visiting Paris in April Worth It Despite the Changeable Weather?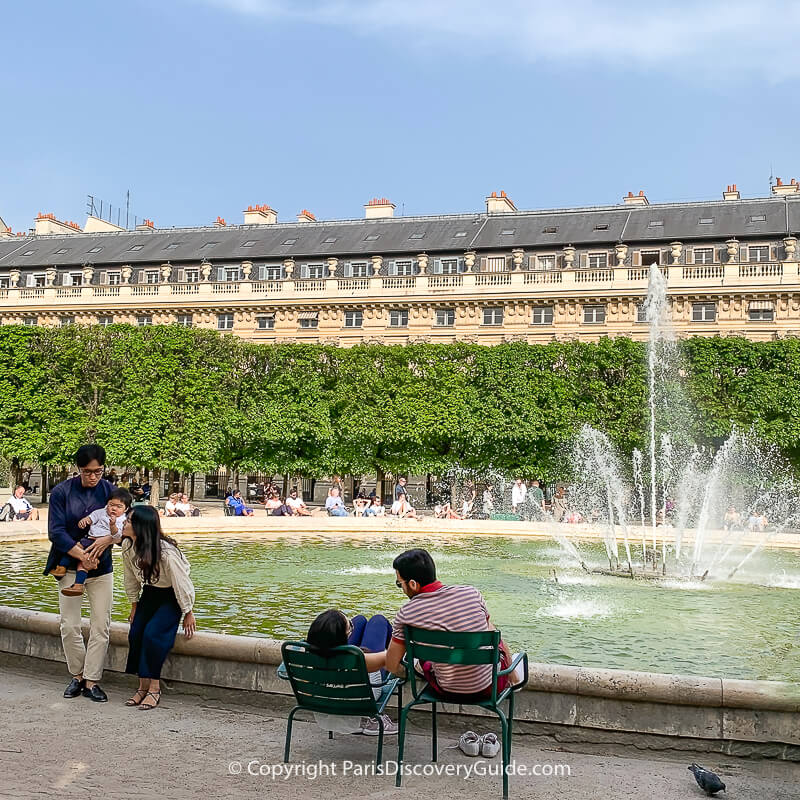 Yes, definitely. Despite the chance of showers and chilly temperatures, the April weather in Paris you'll enjoy the most and remember best once your trip is over are the brilliant sunny, blue-sky days.
In fact, the combination of temperate weather in Paris in April and gorgeous blooming trees and flowers is part of why April (along with October) is considered one of the very best months to visit Paris.
Here are more benefits to visiting Paris in April:
Money-saving "shoulder season" flights and hotel rates continue through most of the month
Much of the time, the weather is not too hot and not too cold - so just right (more or less)
Wonderful exhibitions at many Paris museums and a huge lineup of concerts, opera, and ballet
Lovely flowers and fresh green leaves in city parks such as Tuileries Garden, Luxembourg Garden, and the Palais Royal Garden
Chocolate Easter eggs in the windows of Paris's best chocolatiers will tempt you to go inside (don't resist!)
Although you'll encounter more visitors at popular attractions such as the Eiffel Tower, Louvre Museum, and Musée d'Orsay than in March or winter months, you'll avoid the large summer crowds
---
Things to Do in Paris While Enjoying April's Lovely Weather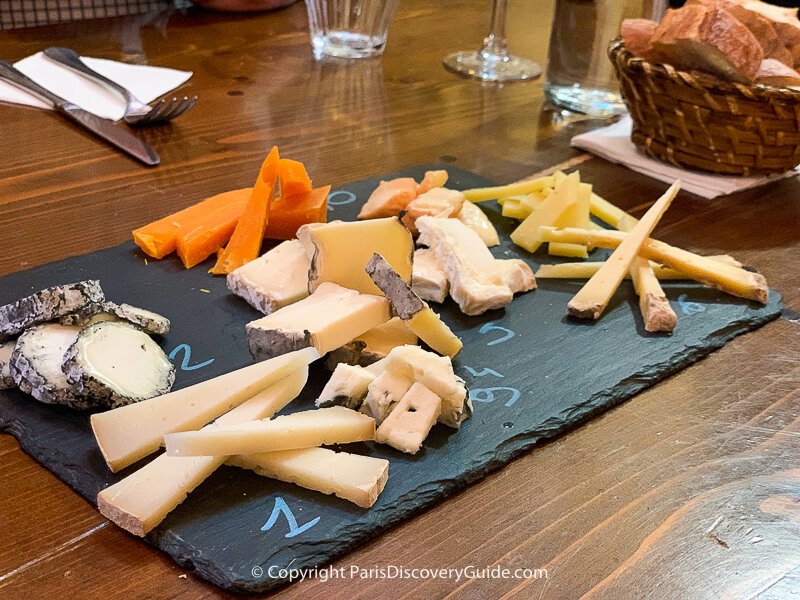 Recommended activities for soaking up April sunshine while sightseeing in Paris:
---
More Fun Things to Do & See in Paris in April
---
Where to Stay in Paris during April
As you know by now, April weather in Paris can be chilly and rainy so a smart strategy is to stay in central Paris neighborhoods close to top attractions, lots of restaurants, and convenient metro stations. On warmer days, stroll by the Seine River and the outdoor markets.
With these criteria in mind, we recommend staying in these top locations during April:
Paris Opera House neighborhood - When you stay in the lively neighborhood surrounding the Paris Opera House, you'll also be close to the famous Galeries Lafayette and Au Printemps department stores, the Grevin Wax Museum, and Madeleine Church, home to classical concerts. Find concert schedules for the Opera House and Madeleine Church
Saint Germain neighborhood - Choose the popular Saint Germain neighborhood on the Left Bank of the Seine River, and you'll be close to famous bistros such as Les Deux Magots and Cafe de Flore, fabulous shopping (Winter Sales!), the Orsay Museum, and evening concerts at the medieval Saint-Germain-des-Prés church
1st Arrondissement/Louvre & Île de la Cite neighborhoods - Stay in the historical Paris 1 district next to the Seine to be just a short walk from the Louvre Museum, Tuileries Garden, Musée de l'Orangerie, Sainte Chapelle, and Palais Garnier (the Paris Opera House)
Use this hotel booking map to find more hotels and apartments for your travel dates:
Check out the newest Paris hotels
---
More about Paris in April
---
Paris Weather Resources
Want current Paris weather predictions? This is a good French source: Meteoblue
Historical weather data sources: The Weather Channel, Weather Spark, and Time and Date
---
---
More Information for Your Paris Visit in April