To discover the best things to do Paris in April, all you need to do is step outdoors and enjoy the city's legendary beauty as magnolias, cherry trees, and daffodils burst into bloom.
Sidewalk seating at cafes and brasseries fill up with locals on balmy days, and you'll want to claim your own table in a sunny spot and linger over a café crème or glass of wine. Or buy perfectly ripe strawberries, bread, and cheese at an outdoor market and head to a nearby park or the Seine River banks for an impromptu picnic.
If you're a Paris visitor, you'll want to pack in plenty of sightseeing. April is an ideal time to explore Paris by bike, take a leisurely cruise down the Seine River, and gaze at the city's skyline from a rooftop terrace or observation deck. Caught in an April shower and wondering what to do? Head to a historic covered passage lined with boutiques and bistros, join a wine tasting group, or explore one of the city's smaller museums.
Visiting Paris in April lets you benefit from budget-friendly "shoulder season" hotel rates and apartment rentals and visit famous attractions such as the Eiffel Tower, Louvre Museum, and Monet's home and garden at Giverny without vying for space with the masses of tourists who start to arrive as the busy summer season approaches.
The Paris weather in April can be ideal - but it's often unpredictable, with sudden showers followed by bright sunshine and temperatures typically ranging from balmy to chilly. You'll want to pack clothes to wear - or shed - in layers, and carry a small folding umbrella.
Is April a good time to visit Paris? In a word, yes - especially if you want to avoid crowds of tourists during the summer months, find plenty of things to do outdoors as well as inside, and experience the intoxicating beauty of Paris in the spring.
Quick links to topics in this article: - Fun Things to Do in April - Weather & Packing Tips for April - Where to Stay in April
Find top April events in Paris
Top photo: Cherry trees in bloom near Parc Georges Brassens in the 15th arrondissement of Paris, (c) Paris Discovery Guide
Paris Discovery Guide is a reader-supported publication. When you buy through our links, we may earn a commission at no additional cost for you. Learn more
---
What to Do & See in Paris in April
1. Explore Paris on Wheels during April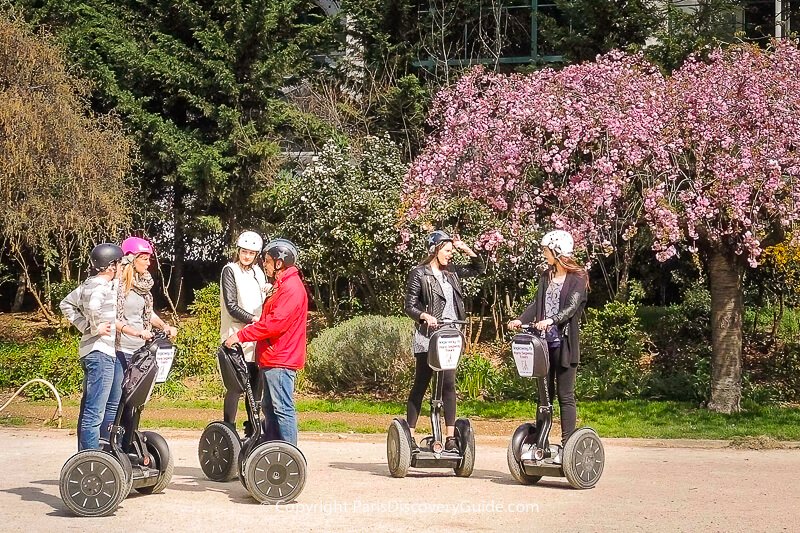 If you're visiting Paris in April, a perfect way to see the city's best attractions and lesser-known treasures while enjoying the spring weather is on a 1-hour Segway tour. You'll glide past famous monuments including the Eiffel Tower, down the Champs Elysees, and past the Seine River as your guide entertains you with insider tips about Paris.
To stay dry while seeing Paris during April showers, choose a guided excursion in a classic vintage Mercedes. In addition to the famous sights like Notre Dame and the Grand Palais, you'll see picturesque neighborhoods like Saint Germain des Prés as well as lesser known places such as the magnificent Saint Sulpice church. Finish your tour in style with wine tasting in the Latin Quarter.
2. Relax as You Admire April Flowers in a Paris Park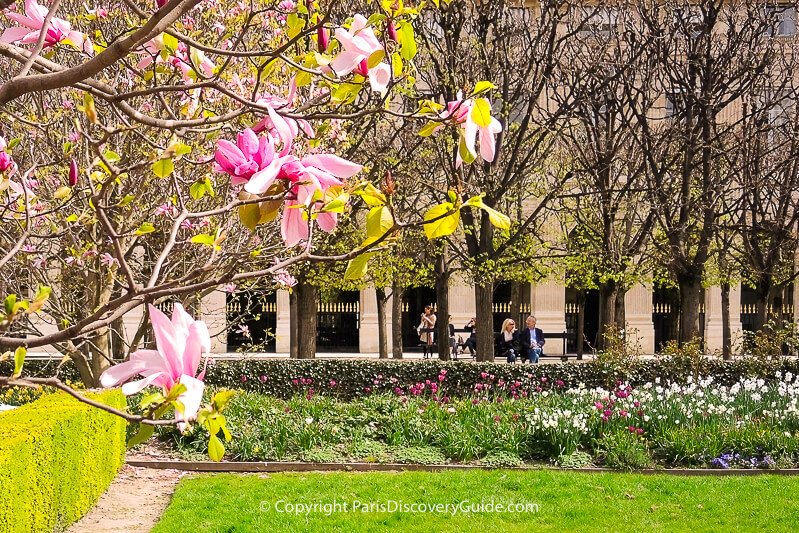 With almost 500 professionally tended public parks and gardens scattered across the city, you'll have no difficulty finding beautiful spring flowers to admire during Aprilui.
In central Paris, some of the best spots to find the biggest displays of magnolias, cherry trees, daffodils, and tulips blooming in April include Palais Royal Garden (shown in photo) and Tuileries Garden near the Louvre, Parc Monceau in the 8th arrondissement, Luxembourg Garden in the 6th, and the Jardin des Plantes (Botanical Garden) in the 5th.
No matter how packed your schedule is, do what Parisians do: pick a favorite park, find a bench, and spend just a few minutes each day enjoying the beauty of the season.
For an unforgettable experience, visit Monet's spectacular garden at Giverny which opens in April for the season with an exuberant display of flower bulbs, cherry and crab apple tree, forget-me-nots, and other spring flowers.
3. Visit Famous Paris Attractions in April Before Summer Crowds Arrive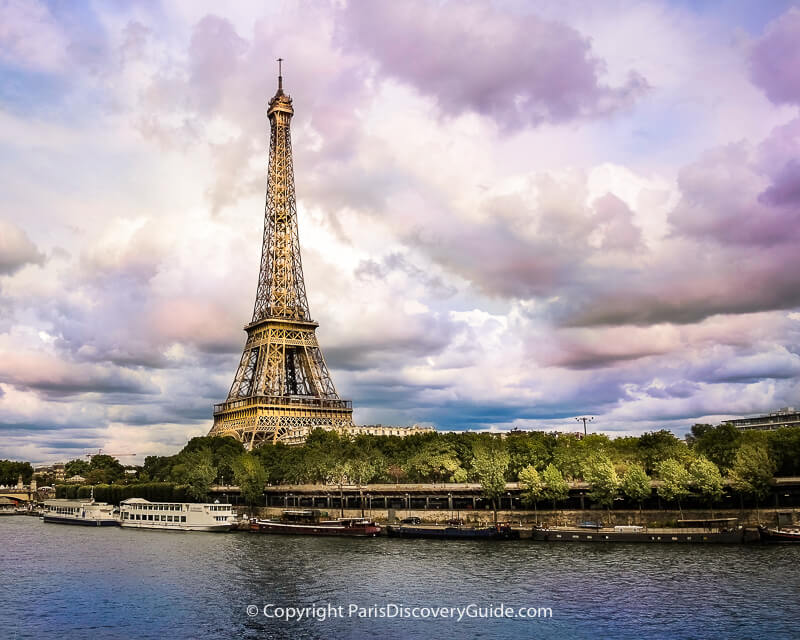 With relatively few tourists in Paris during April, this is the perfect month to visit the city's most famous sights. Choose a skip-the-line guided tour by elevator up to the second floor and summit of the Eiffel Tower, where you'll see the city from a different perspective.
Tour the Louvre Museum with an expert guide who will show you famous masterpieces, including the Mona Lisa, and then explore on your own for as long as you'd like.
Or perhaps explore the flamboyant gold and mirrored Opera Garnier (Paris Opera House), the largest opera hall in Europe.
4. Picnic in a Paris Park during April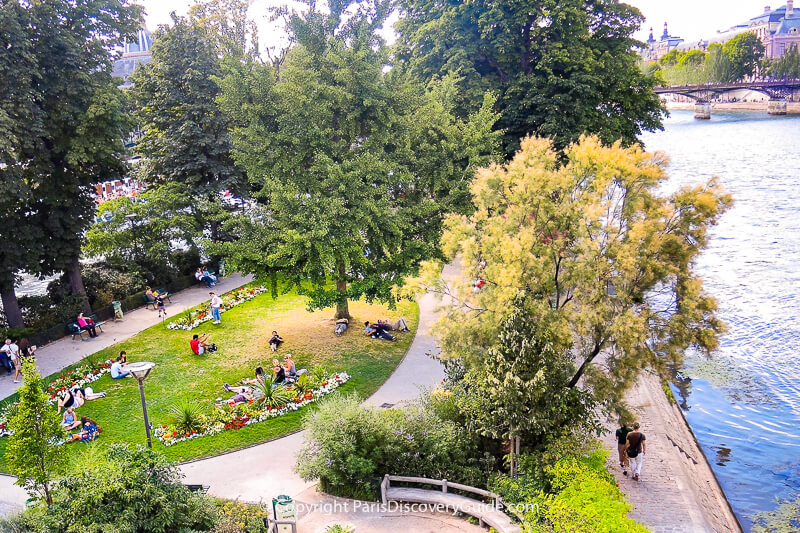 What's the perfect Paris activity when the sun is shining overhead and the air is balmy? A picnic in the park, where you'll be surrounded by plenty of Parisians doing the same thing.
First, gather your supplies: buy a baguette at a neighborhood bakery, cheese from a fromagerie (cheese shop), fruit at a produce market (fresh strawberries are fantastically good in April), and a bottle of your favorite Chablis or Beaujolais from a wine shop.
Not sure which wine to choose? Just point to your bread and cheese, and ask for suggestions; also get the wine uncorked unless you have a corkscrew. Don't forget to bring a knife to cut the cheese and a small plastic glass for your wine (although if you're under 30 or so, you can drink straight from the bottle without being conspicuous).
Now, head to a park to savor your feast. Square du Vert-Gallant at the western tip of Île de la Cité is a local favorite, as are the parks along each side of the Seine River and Canal Saint-Martin. But you can find excellent spots at almost any other city park - just avoid Champ de Mars, as public consumption of alcohol is sometimes forbidden there.
5. Cruise the Seine River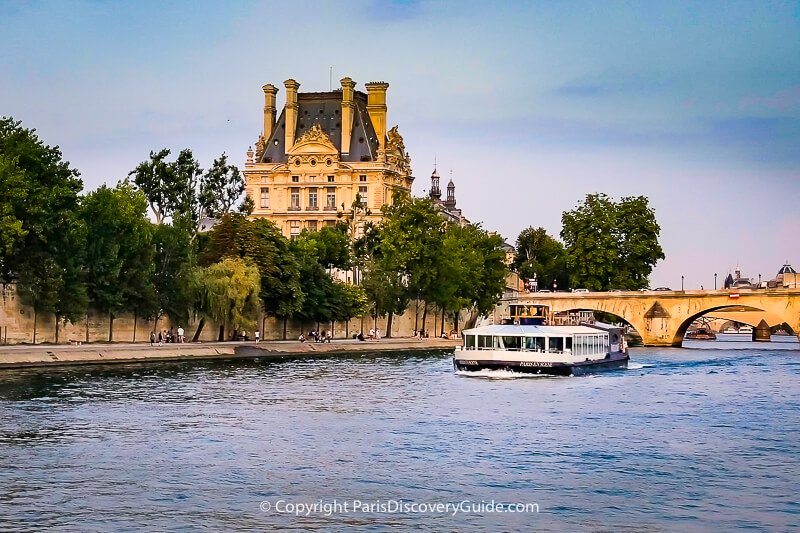 A Seine River cruise lets you see Paris from a different perspective during April. You'll glide under the famous centuries-old bridges and see their ornate carvings up close, you'll pass famous attractions, get fantastic views of the Eiffel Tower and Notre Dame, and feel the joie de vivre of relaxing as you watch the ever-changing shoreline drift by.
So many different "flavors" of river cruises are on offer that you can choose the experience you want: a midday cruise to soak up sun on the open-air top deck, a fancy gourmet dinner cruise in a climate-controlled glass cabin, an "illuminations" night cruise. Book your favorite Seine River cruise
6. Experience Live Classical Music in Paris's Most Beautiful Churches in April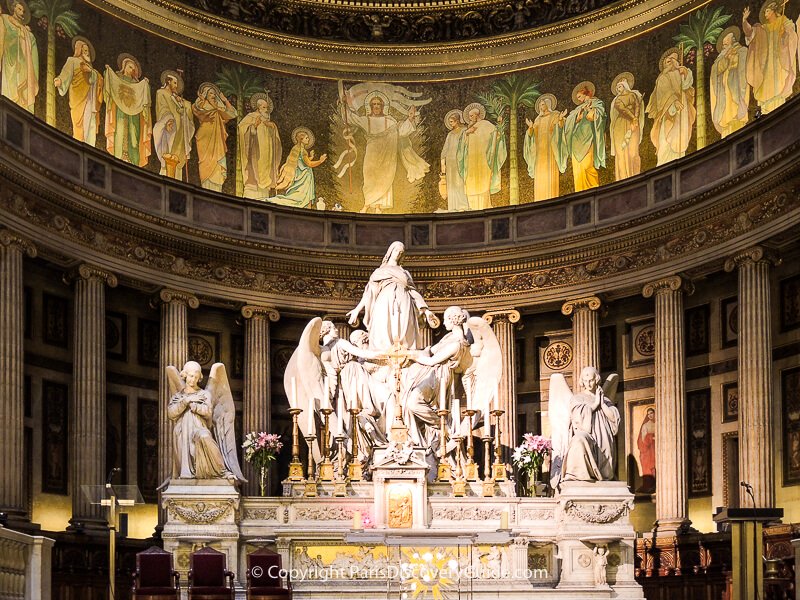 Paris's centuries-old historic churches make the perfect setting for some of the city's finest classical music performances. From lovely intimate chapels such as Église Saint Ephrem to the soaring vaulted heights of Saint Germain des Prés to the breath-taking stained glass of Saint Chapelle, each of these special places frame the music in an unforgettable way.
What will you hear? Everything from classical compositions to baroque, choral music to Gregorian chants, and occasionally even jazz and American spirituals. Tickets are affordably priced. Find out what's on during April
April Concert Schedule & Tickets
April Concerts
Palm Sunday & Easter Weekend Concerts
Paris concerts - other months: January | February | March | May | June | July | August | September | October | November | December
7. Is Visiting Disneyland Paris during School Vacation Weeks in April a Good Idea?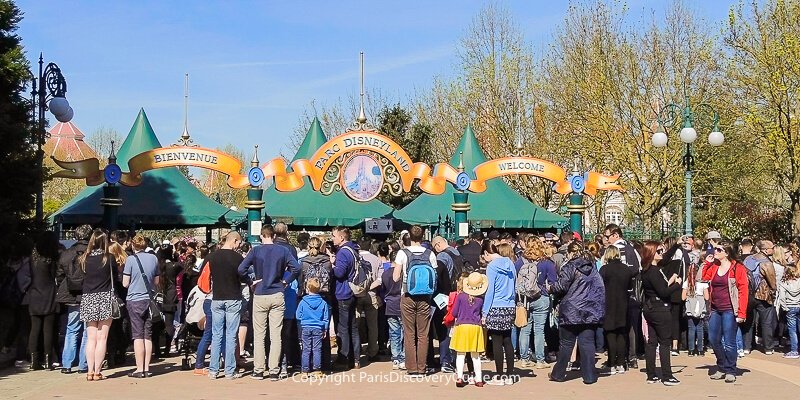 Disneyland Paris attracts many visitors during the last three weeks in April and the first week in May, when French and other European schools release their students for spring holidays.
So should you visit Disneyland Paris during April? Or will it be too crowded?
The entrance gates are usually the only place where you may experience crowds. Once you're inside, the park does not feel crowded and lines at the rides move quickly. To reduce your wait at the gates, get an express entry ticket in advance - which is always a good idea, whenever you go.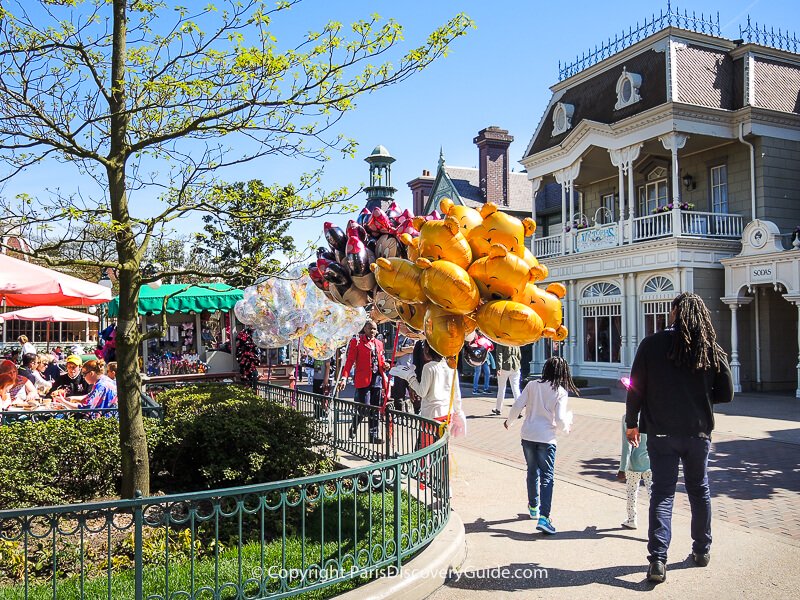 8. See the Best Cherry Blossoms in Paris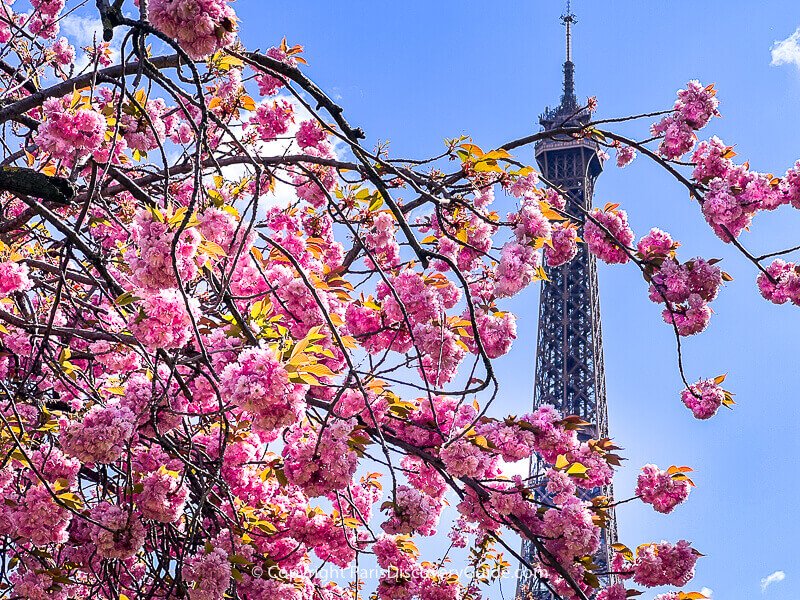 Cherry blossoms reach their peak during April all over Paris, especially when the gorgeous deep-pink Kwanzan cherries open up their fluffy blooms.
Find the best 27 locations (with addresses & directions) to see gorgeous cherry blossoms in Paris
9. Soak up April Sun at a Sidewalk Cafe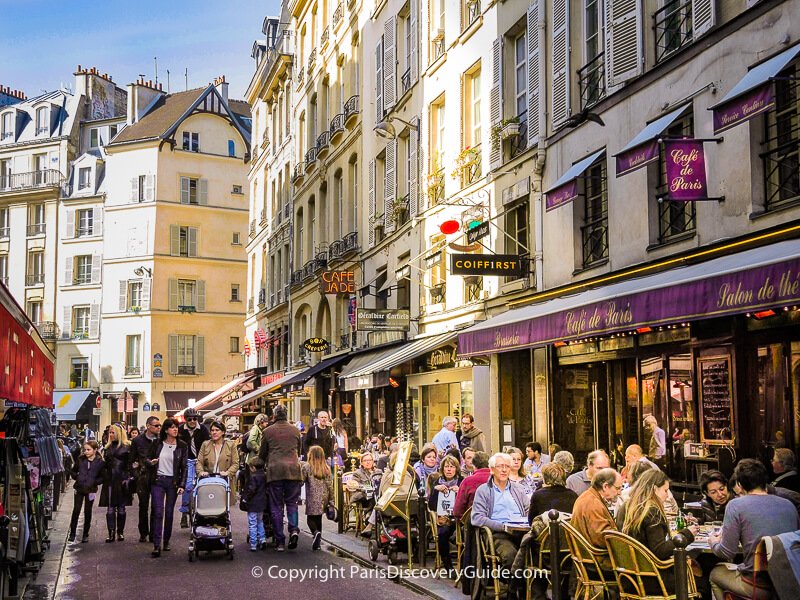 To truly experience the Parisian life, find a table outside a Paris bistro, brasserie, or cafe. Whether you're savoring a café crème and croissant for breakfast, enjoying steak-frites for lunch, or lingering over a glass of pastis or kir apéritif and slices of tasty saucisson, smoked almonds, and olives during apéro hour in the early evening, the most important thing is to relax and enjoy the good life.
You'll find outdoor dining in every neighborhood, practically every street - but to find lots of choices clustered together, head to any of Paris's (mostly) pedestrian-only market streets: Rue Cler near the Eiffel Tower in the 7th arrondissement, Rue Montorgueil near Les Halles in the 1st and 2nd, Rue de Buci in the 6th near Place Saint Michel, and Place du Marché Saint-Honoré in the 1st near Place Vendome and Rue Saint-Honoré.
10. Visit Mont Saint-Michel in April (Without Masses of Tourists)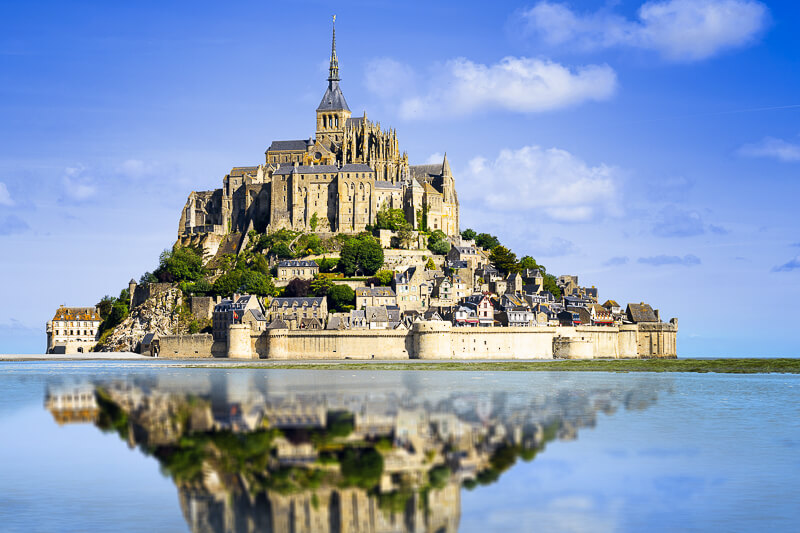 Perched high on a rocky tidal island off the coast of Normandy in northern France, the stunningly majestic Mont Saint-Michel (a UNESCO World Heritage Site) is unlike any other place in the world. In addition to exploring the 11th century Gothic abbey built by Benedictine monks, you'll want to spend some time wandering through the surrounding village's narrow lanes lined with medieval cross-timber style buildings barely changed since the Middle Ages, and perhaps have lunch in one of the town's small cafes and bistros.
Day trips from Paris not only make the 3+ hour journey to reach Mont Saint-Michel easy, but also give you the chance to experience the beauty of the Normandy countryside and coast along the way. On this popular Mont Saint-Michel trip, for example, you'll stop to sample Cider Pommeau and Calvados, two of the specialties of the apple orchards in this part of France.
Is April a good time to visit Mont Saint-Michel? Absolutely! You'll miss the crowds to tourists crowding the abbey and small village later in the spring and summer, plus you'll get to see Normandy at a gorgeous time in the spring.
Find more day trips from Paris
Should You Plan Rainy Day Activities for Paris in April?
Most definitely yes! Paris gets rain during every month of the year and April is no exception.
For quick showers, just duck into a cafe or bar for a quick espresso until the skies clear. But for longer stretches of wetness, try the next 4 suggestions.
11. Explore a Covered Passage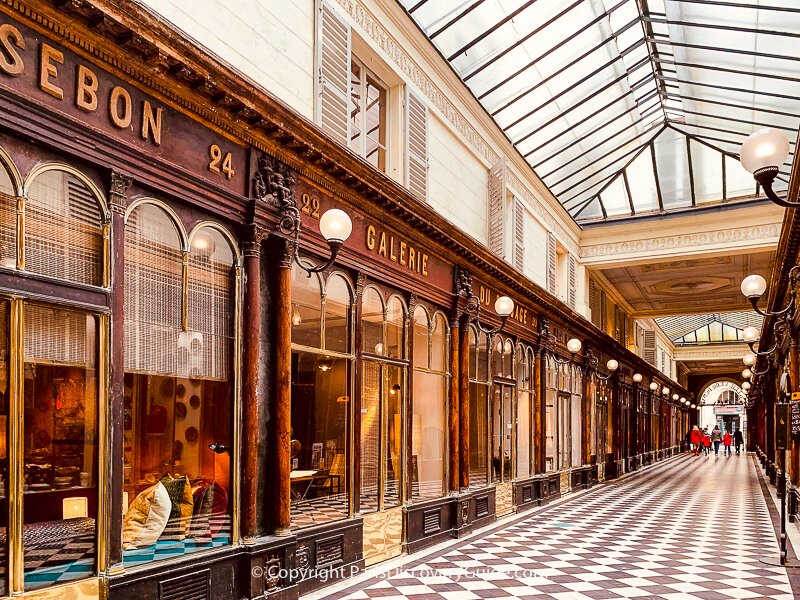 Built in the 19th century to keep wealthy Parisians dry and mud-free while they shopped, these beautiful historic glass-roofed arcades today are lined with shops, cafes, and wine bars. Each has its own character, and some are more restored and upscale than others.
One of the best is Galerie Vero-Dodat, close to the Louvre Museum and Palais Royal Garden in the 1st arrondissement. Built in Neoclassical style in 1826 by two butchers, it features swoon-worthy posh antique shops, luxury boutiques including two Christian Louboutin showrooms, and a couple of popular bistros with patio seating that's always in high demand.
Look for Galerie Vero-Dodat between Rue Bouloi and Rue de Jean-Jacques Rousseau.
12. See a Special Exhibition
Most of Paris's museums and exhibition halls host special exhibits during the spring. Depending on the focus of the museum or other venue, they can be on art, history, science, technology, or just about any other topic - there's always something of interest going on.
Find an up-to-date exhibition schedule here.
13. Visit a Specialty Museum
Located in the Marais neighborhood in a beautifully restored 17th century mansion, the Picasso Museum is the perfect place to spend an hour or two admiring special exhibits and art by famous Spanish artist Pablo Picasso as well as from his personal collection of African art and works by others including Renoir, Degas, Rousseau, and Matisse. Get your priority entrance ticket online to avoid the often lengthy (and slow) regular line.
When the rain clears up, head around the corner to Rue Payenne and check out spring flowers blooming in its small parks and gardens.
14. Savor Wine, Cheese, & Pastries in Montmartre
Rain or shine, you'll have a lot of fun on this unique food and wine tasting tour through the storied Montmartre neighborhood, once home to starving artists and musicians and today, a favorite of foodies. As you explore the cobblestone lanes and small shops, you'll sample pastries, artisan chocolates, cheese, charcouterie, and wine! Reserve your spot now
Check out these walking tours of Paris with food tastings:
More Paris food tours & experiences
15. Check Out Top Paris Events for April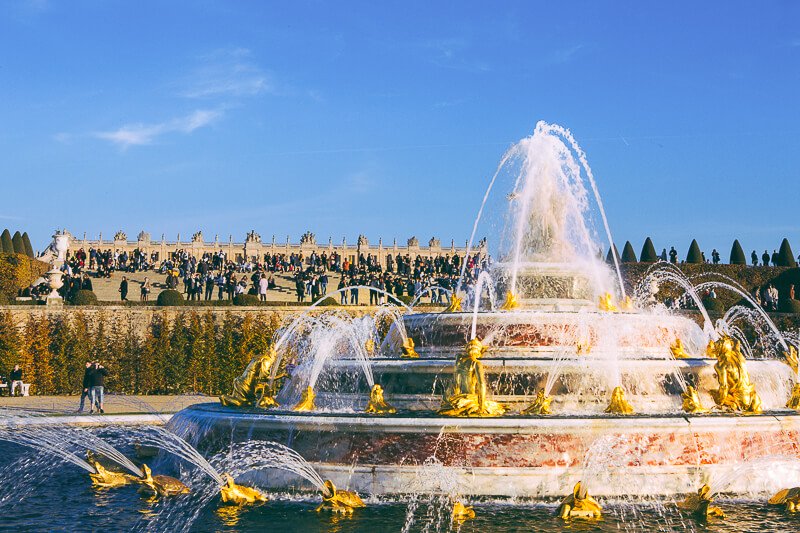 Some of the best things to do in Paris in April include top events such as the Paris Marathon, a huge "fun fair" dating back to the early Middle Ages, the seasonal beginning of Musical Gardens Shows at the Palace of Versailles, and exciting exhibitions in all the museums.
Find out more about April events in Paris
16. More Fun Things to Do & See in Paris in April
---
More about Paris in April
---
Prepare for Your April Visit: Weather & Packing Tips
Weather in Paris in April: What to Expect
What's the best word to describe Paris weather in April? "Unpredictable."
With sunny blue skies one minute and showers the next, the weather will keep you guessing.
Although the average high temperature in Paris in April is 62°F (17°C) and the average low is 45°F (7°C), keep in mind that those are averages. When planning your activities and packing (more about what to pack for Paris in April in a moment), consider that you might encounter more extreme temperatures - perhaps as high as 72°F (22°C) or as low as 35°F (2°C). If the thermometer hits those extremes, Paris can be cold in April - or hot.
Find out more about the weather in Paris during April
Packing Tips for Visiting Paris in April: What to Bring
Wondering how to dress in Paris in April? The one-word answer is: layers - a must because April weather can change in a heartbeat.
Pack a couple of lightweight tops to wear alone in case of a mini-heat wave or use as extra layers, along with long-sleeved tops, a warm sweater (cashmere works well), and a lined jacket or coat such as a trench, always in fashion in Paris, or a compressible lightweight water-resistant puffer jacket that will take up almost no room in your suitcase.
Tuck a warm scarf and perhaps gloves into your bag. And don't forget to take a pair or two of warm socks, plus a small folding umbrella.
Choosing the right shoes to bring is important: include a pair or two that are waterproof or at least water-resistant, and also comfortable for walking. Should you bring rain boots? That's probably overkill, unless you have a lightweight pair of comfortable ankle boots.
Will you be able to shop in Paris for anything you should have packed, but didn't? Absolutely, if you need more lightweight spring clothing because summer collections will be featured in the stores. But if you want cold-weather clothing - a wool sweater, fleece jacket, warm scarf - you'll be out of luck. So carefully choose what to pack and make sure each item can do double-duty during the changeable April weather.
Find out more about the weather in Paris during April and packing suggestions
---
Where to Stay during April in Paris
To fully immerse yourself in the beauty of Paris this month, stay in a hotel or apartment near one of the city's magnificent flower-filled parks such as Palais Royal Garden, Luxembourg Garden, Parc Monceau, and Tuileries Garden and carve out a few minutes every day to spend in "your" garden. Go for a stroll, listening to the water in the fountains, or just lean back in a chair and soak up some sun.
Bonus: These parks and gardens are also close to other top Paris attractions.
Featured Hotel for April: Canopy Paris Trocadero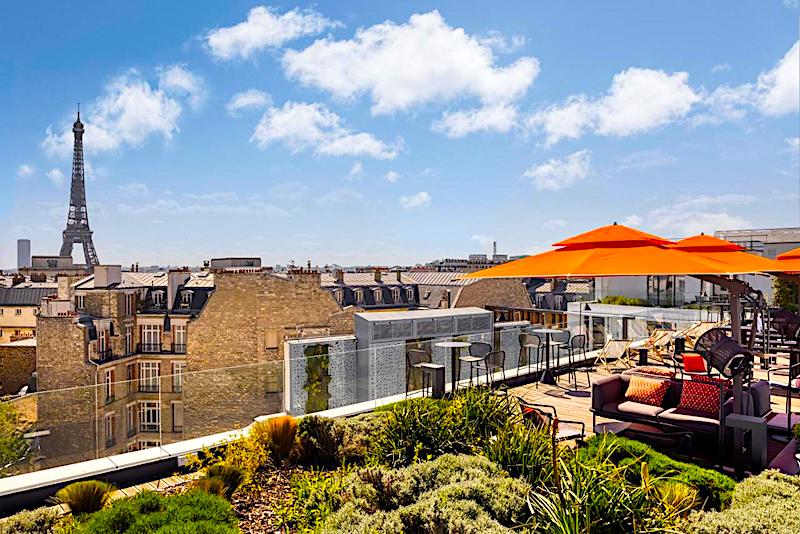 Why: By April, the weather will be warm enough to enjoy the superb Eiffel Tower views as you sip a glass of champagne on Canopy Paris Trocadero Hilton's expansive rooftop terrace.
What else: There's a lot more to love at the Art Deco-inspired 4-star hotel - although if you book yourself into one of the rooms or suites with its own private balcony overlooking the iconic Tower, you may never get around to exploring the rest of the property.
---
Find a Paris Hotel or Apartment for Your April Visit
Want to look at other accommodations? Use this hotel booking map to find hotels and apartments during your travel dates:
Check out the newest Paris hotels
---
More Articles about Fun Things to Do in Paris in April