Most of the time, the weather in Paris in July gives you the perfect summer experience in the City of Light: long sunny days when the sky stays light until after 10pm, warm-to-hot temperatures, and only a few rainy days.
This combination means July is the perfect month for you to explore the city and all its attractions, take a couple of side trips, and maximize your time in Paris.
But, you may be wondering, what about heat waves? While they don't hit Paris every year, it's true that July is, in fact, the month when extreme heat is most likely to happen. And when it does, you'll feel it. In the past, the temperature has soared as high as a searing 109°F (43°C).
Because of its heat wave potential, July is a month when you might want to strongly consider booking accommodations with air conditioning. Although only hotels with four stars must have air conditioning, in reality almost all 3-star hotels do as well, along with some 2-star budget hotels. However, relatively few Paris apartments boast a/c, so check carefully when booking.
July is a fantastic time to schedule outdoor activities such as a bike tour of the city's iconic sites and a Seine River hop on hop off cruise where you'll enjoy cooling breezes, or a tour of Paris's biggest flea market, Les Puces.
So keep reading to find out everything you need to know about July weather in Paris, packing tips, top things to do in July, and even recommendations about where to stay this month.
Article contents:
Top photo: Eiffel Tower and a nearby carousel during beautiful July weather - Photo: AdobeStock
Paris Discovery Guide is a reader-supported publication. When you buy through our links, we may earn a commission at no additional cost for you. Learn more
---
---
What Is Paris Weather in July Really Like?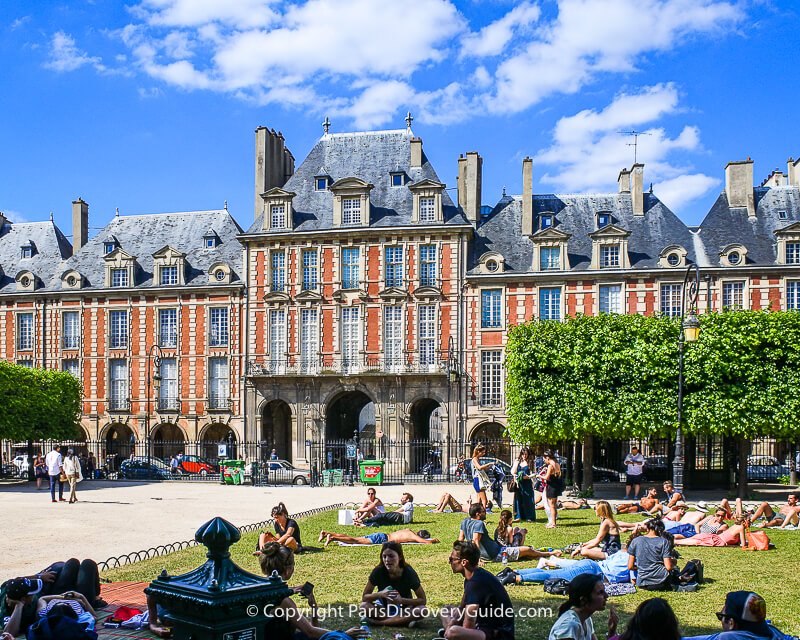 In general, Paris weather during July is gorgeous. Take a look at the photos in this article, and you'll get a good idea of what July looks like and what people wear (and what you, therefore, need to pack).
What's missing: photos taken during extreme heat waves when the temperature soars to over 100°F (38°C) for a few days and everyone either stays in air conditioned spaces or wears as little as possible while constantly drinking from water bottles.
Paris Temperatures in July: Average Highs & Lows
Here's a quick look at what July weather in Paris looks like on Fahrenheit (F) and Celsius (C) degree scales for average daily high and low temperatures, which have increased by 1-2 degrees Fahrenheit during the past decade:
Average July high temperature: 79°F (26°C)
Average July low temperature: 59°F (15°C)
If you're thinking these temperatures look idyllic, remember that they are averages - useful for comparing one month with another, but they do not count as a weather forecast for Paris in July. To better understand what actual temperatures might be during your July visit, always check the July high and low temperature ranges in the following section.
Weather Statistics for July in Paris: High & Low Temperature Ranges
Want to find out what July weather in Paris might be like? Look at the average temperature ranges below to get a better idea than the monthly averages will give you. You'll also get a much better sense of what to pack - because Paris weather seldom hits the "average" mark for more than a day or two.
Here's the range of daily highs and lows throughout a typical Paris July:
Range of highest daily temperatures during July: 68°F to 109°F (20°C to 43°C)
Range of lowest daily temperatures during July: 45°F to 66° F (7°C to 19°C)
Notice the huge daytime temperature variation of over 40 degrees (over 20°C).
Now look at the record-breaking temperatures for the past three decades, and when they occurred:
Highest monthly July temperature (1991-present): 109°F (43°C) in 2019
Lowest monthly July temperature (1991-present): 45°F (7°C) in 1993
The lowest temperature (which would have likely been at night) isn't an issue - you can always throw on an extra sweater.
The high end of the range is what you need to pay attention to and prepare for: think about choosing a hotel or apartment with air conditioning and packing lightweight clothing made from breathable fabrics such as 100% cotton.
Because here's what you should know about that kind of heat in Paris: when the temperature reaches 100°F (38°C) or more, it usually lasts for several days - long enough to be considered a heat wave.
These heat waves usually happen when sirocco winds, as they are called, blow masses of hot air up from the Maghreb in North Africa. They don't usually reach as far as northern France, so they don't impact Paris every year, but they seem to be more frequent in recent years.
Find out how to stay cool during Paris heat waves
Sun and Clouds during July: What to Expect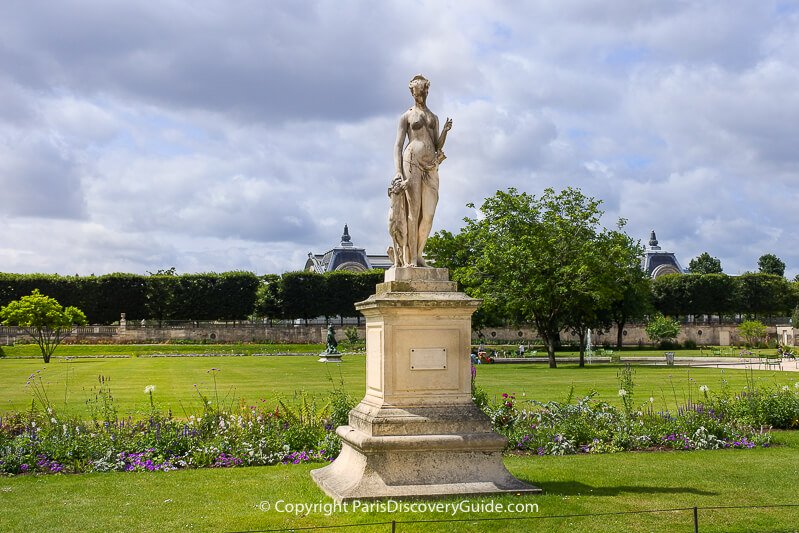 Paris experiences relatively few cloudy days during July - maybe a total of 6-8 days during a typical year. They can be a mix of the kind of puffy clouds in the above photo (look closely, and you'll even see bits of blue peaking through) that can suddenly produce a quick shower or even thunderstorm.
Or, worst case, the whole sky may be overcast (check out the photo of Rue de la Madeleine below), which often means a damp chilly feeling in the morning followed by sticky humidity later along with possible drizzle.
But most July days in Paris will be sunny, with photo-worthy blue sky and maybe a few fluffy white clouds.
Here's what you can expect:
Average hours of daylight:  15 hours, 40 minutes
Average hours of sunshine during July:  7 hours per day
You'll still enjoy many hours of daylight during July, with the sun not setting until around 9:30.
Night temperatures seldom feel chilly, and are more likely to be on the other end of the spectrum - warm or even hot if a heat wave hits.
---
How Much Rain Does Paris Get in July? Will It Impact Your Trip?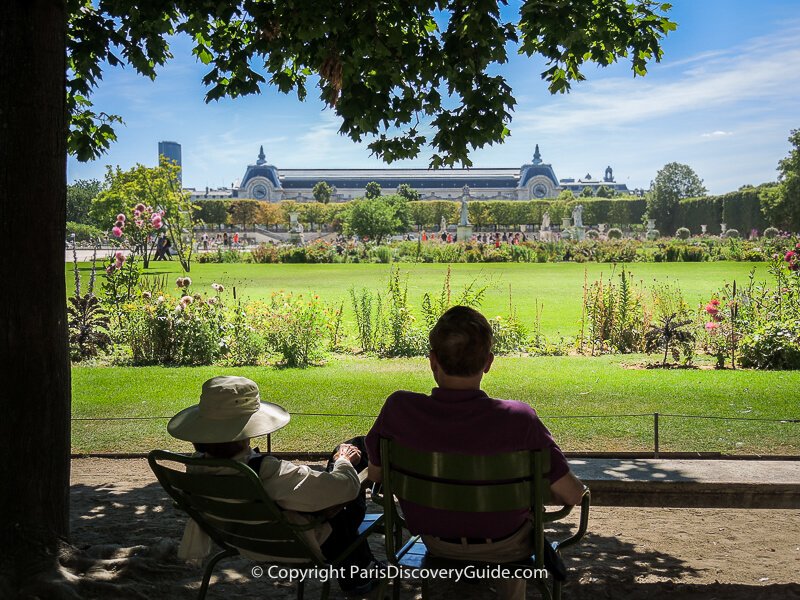 Paris records about 2.4 inches (about 61 mm) of precipitation on an average of 8 days during July.
Rainfall during July typically comes in the form of brief showers that stop almost as soon as they begin. Because of the heat, puddles of water on the sidewalks dry up almost immediately.
Also because of the relatively high temperatures, July tends to be less steamy or humid than June, although you may experience a few days of humidity, especially near the beginning of the month.
---
What about the Weather at Popular Day Trip Locations?
July is a wonderful time to make a day trips outside of the city. For popular locations near Paris such as Versailles Palace, Disneyland Paris, Chartres, the Champagne region, and Giverny, July weather will be almost identical to conditions in Paris.
If you plan day trips to more distant spots such as Mont Saint Michel, the D-Day landing beaches in Normandy, or perhaps to the Loire Valley to visit castles, check their local weather before you go. At this time of the year, they're usually very similar to Paris, although coastal areas may be slightly cooler and offer some welcome breezes that you won't get in the city.
---
What to Pack for July Weather in Paris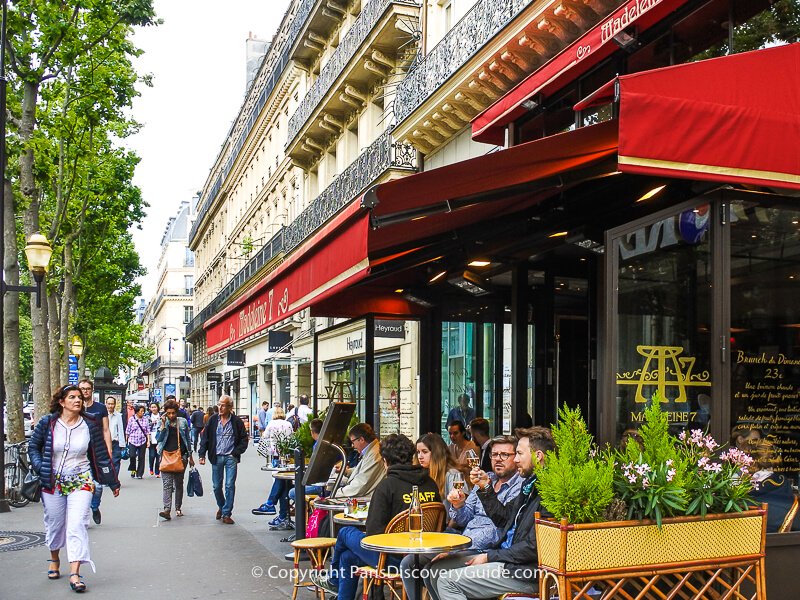 Even during July, Paris weather can be full of surprises, so pack for temperatures raining from somewhat cool to (possibly) extremely hot.
Can you safely bring only hot-weather clothing along with perhaps one light-weight sweater?
The answer to that question depends on what activities you're planning. Temperatures in wine cellars and Champagne caves must stay at around 45°F (7°C) and usually feel cold and damp, so if you're joining a wine or Champagne-tasting tour, you'll feel more comfortable in a heavier sweater or even light-weight jacket. If a visit to the Catacombs is on your agenda, you'll encounter similar temperatures.
Temperatures on Seine River cruises and even at the top of open-air tour buses feel about 10° cooler than on land. The same is true if you're visiting coastal areas such as the Normandy D-Day landing beaches, where coastal winds can make the air feel even chillier.
On the other hand, if you're planning walking tours and other outdoor activities, be prepared for intense sun and possibly very high temperatures.
In addition to your core wardrobe of tops, bottoms, comfortable walking shoes, and under garments, these are essentials and options to consider for July:
Sun screen and perhaps a sun hat. You can also buy high-quality sun screen (look for La Roche Posay and Vichy brands) in any Paris pharmacie (look for a green fluorescent cross outside the building).
A light or medium sweater or even a light-weight jacket, depending on what activities you have planned. If you arrive and discover you don't have what you need, you can easily buy a light-weight sweater or jacket. For anything heavier, you're probably out of luck, as stores will be showing only their summer collections. (And don't forget, the summer sales will be underway.)
A mix of sleeveless and short-sleeved tops plus lightweight pants and/or skirts and possibly a sundress.
Sandals - Should you bring a pair? Paris sidewalks tend to have more dog poop than you may be used to - so wear sandals at your own risk. You will see plenty of tourists wearing flip-flops, but they're not the best choice for navigating cobblestones.
An umbrella might be useful if you experience rainy days, although July showers don't usually last long. You can always buy one in Paris if you need it - most small convenience stores and souvenir shops sell them for 5-10€.
Pro Tip: Right before you start packing for your trip, check the 7-day Paris weather forecast in case of any surprises. Here's the forecast in both Fahrenheit and Celsius:
PARIS WEATHER
PARIS WEATHER
---
Is Visiting Paris in July Worth It Despite the Heat?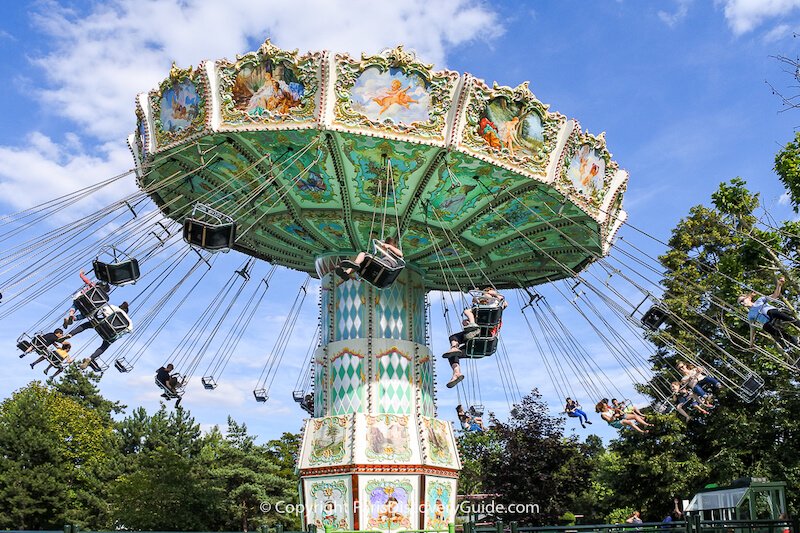 Yes, definitely. The long sunny days of July are fantastic. Dress for the heat, slather yourself with sunscreen, and consider staying in a place with air conditioning, and you'll have a wonderful time.
Here are more benefits to visiting Paris in July:
Plenty of gorgeous sunny days
Lots of guided tours, cruises, outdoor festivals, and other activities
Relaxing in Paris parks and gardens
An excellent lineup of concerts
Strolling along the Seine in the evening, stopping at one or more of the riverside bars and guinguettes for a drink and perhaps live music - or seeing the city from the water on one of the nighttime "illuminations" cruises (book the last time slot, since the sun sets so late during July)
Ice cream!
By taking advantage of small group tours and reserving time slots in advance, you can avoid being impacted by the crowds at the Eiffel Tower, Louvre Museum, Musée d'Orsay, and Versailles
---
Weather-Proof Things to Do in Paris in July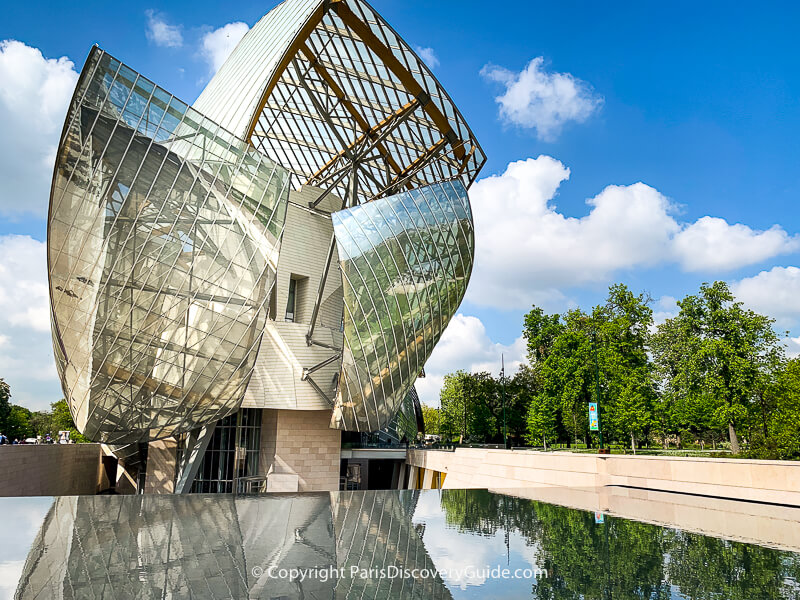 Recommended activities for staying cool and dry while sightseeing in Paris during July weather:
---
More Fun Things to Do & See in Paris in July
---
Where to Stay in Paris during July
Sunny July weather in Paris means you'll enjoy having easy access to the city's parks, the banks of the Seine River, and the wonderful open-air markets overflowing with produce and other products.
With these criteria in mind, we recommend staying in these top locations during July:
Hotel and apartment rates in these popular central neighborhoods can get pricey during July, so a good alternative is to stay in the 12th arrondissement, home to the trendy Bastille neighborhood as well as Bercy Village, the elevated Promenade Plantée gardens, and Marché d'Aligré. You'll be a bit away from the most crowded tourist areas but will have fast access by metro or on foot to famous sights such as the Louvre Museum, Arc de Triomphe, Notre Dame, and Eiffel Tower.
Use this hotel booking map to find more hotels and apartments for your travel dates:
Check out the newest Paris hotels
---
---
Paris Weather Resources
Want current Paris weather predictions? This is a good French source: Meteoblue
Historical weather data sources: The Weather Channel, Weather Spark, and Time and Date
---
---
More Information for Your Paris Visit in July