Choosing to stay in a 6th Arrondissement Paris hotel or apartment gives you easy access to all the wonderful attractions and things to do in this posh and über-popular neighborhood.
You'll be close to the lush Luxembourg Garden, the magnificent Saint-Sulpice Church of Da Vinci Code fame, and all the wonderful designer boutiques and antique stores in the Saint-Germain neighborhood.
You can sip a drink on the terrace in front of Les Deux Magots, made famous by Hemingway, Sartre, and Camus, admire the fresh produce and cheeses in the neighborhood markets, and dine at a different bistro or restaurant every evening. Or just walk around and admire the gorgeous architecture, explore the vibrant Rue Buci market street, and discover the 6th district's hidden treasures such as Cour de Commerce Saint-André.
Keep in mind, the 6th arrondissement borders the Seine River. Walk across the Pont Neuf bridge to see Sainte-Chapelle, the Conciergerie, and Notre Dame on Île de la Cité or continue across to the Right Bank, where the Louvre Museum is just a 2-minute walk away.
Or stay on the Left Bank and explore the nearby Orsay Museum, Army Museum, and Latin Quarter. Numerous metro stations give you easy access to everywhere else in Paris.
Our recommendations for the best hotels and places to stay in the 6th arrondissement Paris include a variety of 3 star, 4 star, and 5 star hotels and apartments featuring wonderful terraces, views, and other special amenities.
We also include a top-value 2 star hotel in the 6th district.
You're sure to find the perfect place in the 6th for your stay in Paris!
Top photo: Saint-Germain-des-Prés Church from Hotel Madison in Paris's 6th arrondissement
Paris Discovery Guide is a reader-supported publication. When you buy through our links, we may earn a commission at no additional cost for you. Learn more
---
Where to Stay in Paris 6th District
Hôtel Madison
★★★★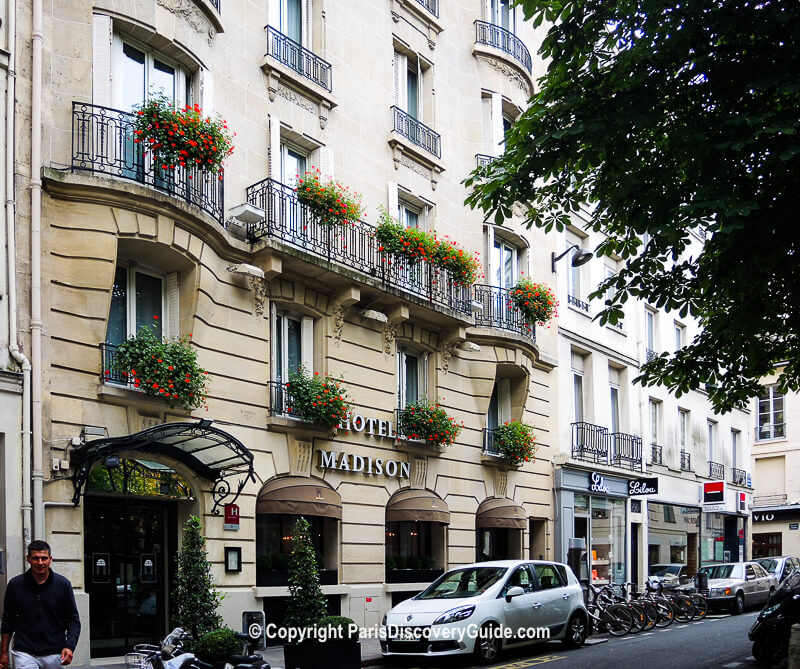 143 Boulevard Saint-Germain, Saint Germain neighborhood
Hotel Madison offers a wonderful location across the street from Église Saint-Germain-des-Prés, a lovely church with a tower built in the year 1000 where you can attend classical concerts throughout the year and visit a wonderful pop-up Christmas market starting in mid-November.
You're also conveniently close (ie, a 10-minute walk or less) to Notre Dame, the Orsay Museum, and Sainte-Chapelle.
The famous Les Deux Magots cafe frequented by Hemingway, Sartre, and Camus is on the opposite corner, and you'll find literally hundreds of other excellent bistros and restaurants within a 5-minute walk of the hotel - so have fun choosing!
This 50-room boutique hotel in the 6th arrondissement Paris features modern furnishings, luxurious fabrics, and serene decor, with balconies in some guestrooms overlooking the church.
Fun fact: Each bathroom has artisan-made basins, each a unique color and shape.
Find out more about the Saint-Germain Christmas market
---
Hôtel Lutecia
★★★★

★

Palace Hotel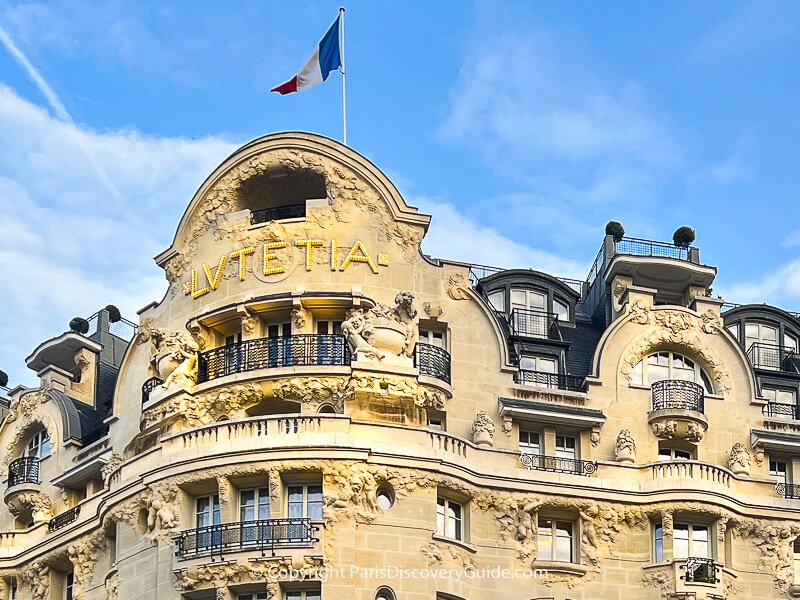 45 Boulevard Raspail, 6th Arrondissement
After a massive top-to-bottom renovation, 5-star Hôtel Lutecia - the Left Bank's only luxury "Palace" hotel - is more spectacular than ever with 184 large guestrooms and suites featuring posh blue and gray decor, comfortable furnishings, and marble baths with deep tubs and huge windows overlooking iconic Paris vistas.
Equally fabulous are the new public spaces - a luxurious all-marble spa with a hammam, sauna, and sun-lit indoor swimming pool, and a welcoming Jazz Bar.
A Michelin-starred chef now heads the hotel's brasserie, once a favorite Saint-Germain-des-Prés hang-out for Hemingway, Matisse, Camus, and Josephine Baker.
One of the biggest show-stoppers: original Romanesque frescoes discovered under layers of paint in the 100+ year old hotel and now meticulously restored for all to enjoy in Bar Joséphine.
---
"Poodle & Blonde" Apartment near Luxembourg Garden in Paris 6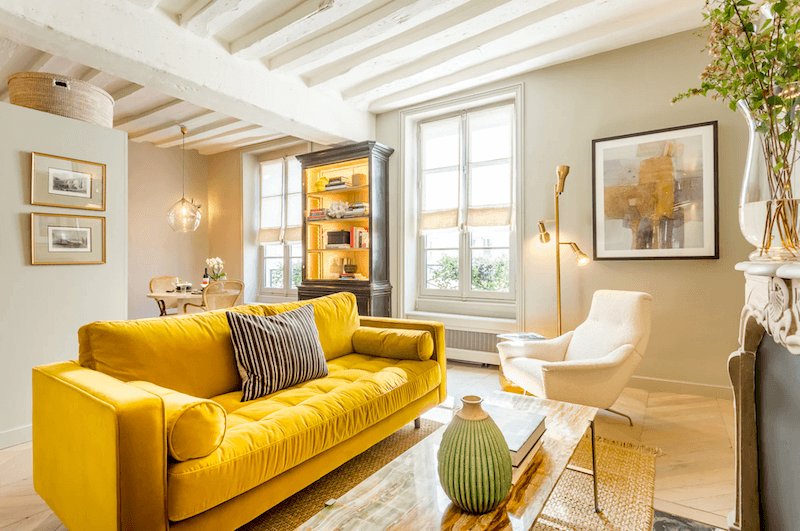 Book a stay in the chic "Poodle & Blonde" apartment and you'll be be right in the middle of the coveted Saint Germain des Prés neighborhood near the romantic Luxembourg Garden, luxury shopping at nearby designer boutiques and art galleries, and all the iconic cafes and bistros from the neighborhood's bohemian past.
Sip a glass of wine at Les Deux Magots where Hemingway, Sartre, and Baldwin hung out, explore the bookstores and trendy nightspots in the Latin Quarter, and then return here at the end of the day to relax in your own comfortable "pied à terre."
This spacious 1-bedroom apartment sleeps up to 2 people, and features a comfortable US queen (French king) bed, beautiful chevron wood floors, beamed ceilings, a sleek modern kitchen, and a washer/drier.
More Paris 6th District Apartments
"Copper Courtyard" - Bright and comfy ground floor 1-bedroom apartment close to the famous Bon Marché department store
"The Swan & Phoenix" - Vintage charm mixes with modern comfort in this Saint-Germain apartment with state-of-the-art kitchen, air conditioning in the main living space, and 2 bedrooms overlooking a private courtyard
Find More Paris Apartments in Other Districts
---
Relais Christine
★★
★
★
★
3 Rue Christine, 6th arrondissement
Relais Christine, one of the very best 5-star luxury hotels in the 6th arrondissement of Paris, is built on foundations of a 13th century abbey with a gated courtyard in a top location near the Seine.
It features 48 charming high-ceilinged guest rooms and suites with French country decor plus a fabulous spa with Guerlain products and fragrances.
You'll love the hotel's private flower-filled garden - you will feel like you're in the French countryside rather than a bustling city.
The hotel's superb location on a quiet street only 1-block long is in an area filled with art galleries, boutiques, and bistros at the edge of the Latin Quarter near the Seine River.
The famous specialty tea store, Mariage Frères Rive Gauche, is at the end of the block - refreshments in their tea room or a meal in their restaurant is always a wonderful experience, so put it on your calendar.
Of course, you're also close to other top attractions: Notre Dame, Sainte-Chapelle, the Conciergerie, Musée Cluny, and one of the 6th arrondissement's best-kept secrets - Cour de Commerce Saint-André, an almost hidden passage where some of France's top philosophers, artists, writers, and revolutionaries once hung out.
---
Hotel Clément
★★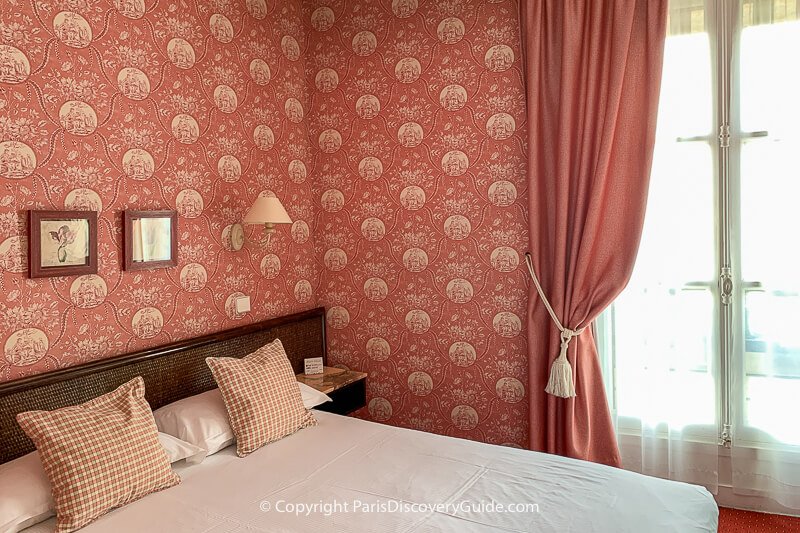 6 Rue Clément, Saint Germain neighborhood
With a wonderful location on a quiet side street in the heart of Saint-Germain near Saint-Sulpice Church, boutique Hôtel Clément features 28 mostly small but nicely furnished guest rooms and suites perfect for families with comfortable beds, air conditioning, an elevator, in-room safes, and a concierge at the front desk - far more than you might normally expect in a 2-star Paris hotel.
The hotel serves a lavish breakfast with many choices and gourmet products. You'll also find plenty of other breakfast choices in the neighborhood, including the Marché Saint-Germain covered market across the street and a variety of bakeries if you just want to grab a croissant and coffee. And of course for other meals, this neighborhood has seemingly endless choices of wonderful bistros and restaurants.
Hotel Clément is a true gem, and sister hotel to the excellent and much fancier 4 star Hotel Molière across the river in the 1st arrondissement near the Louvre Museum. Although no 2 star Paris hotels (that you'd actually want to stay in) in Paris are cheap, this boutique property in the top-rated 6th arrondissement gives you top value for your money.
---
Hôtel Baume
★★★
★
7 Rue Casimir Delavigne, 6th arrondissement
Look for a romantic Art Deco 1930s vibe thanks to the lush fabrics and glamourous touches of gold in the 35 rooms and suites at 4-star Hotel Baume. For a special treat, pamper yourself by reserving a suite with a spacious private balcony overlooking the nearby historic Odeon Theatre and the hotel's own garden patio.
Located in the Latin Quarter neighborhood less than two blocks from Luxembourg Garden, this hotel puts you in the perfect spot to explore the nearby Cluny Museum, stroll along the Seine River, and savor the neighborhood's many wonderful restaurants.
Find more hotels in Paris's Latin Quarter spanning Paris's 5th and 6th districts
---
More Places to Stay in the 6th Arrondissement
---
Popular Things to Do near Paris 6th Arrondissement
---
Find More Hotels & Apartments in the 6th Arrondissement
More Paris Hotels from Booking.com
Enter your check-in date below to see hotels and rates available for your visit.
Tip: If you enter just your check-in date, the map will display rates for one night for the cheapest available room. If you plan to stay more than one night, enter your check-in and check-out dates to see the total cost for your visit.
More Paris Apartments from Plum Guide
Check out more Paris apartments vetted by Plum Guide
---
More Articles about Where to Stay in Paris