With thousands of established Paris hotels available for you to choose, new hotels in Paris have to offer outstanding designs, appealing amenities, and top value at every price point in order to compete successfully for your reservations.
And as you'll see from our picks of the best new Paris hotels, they deliver.
Look for exciting combos of contemporary decor mixed with elegant French style, public spaces with the feel of hip private clubs, chic rooftop terrace bars and excellent restaurants, and amenities ranging from indoor pools (still a rarity in Paris) to free bikes to use during your stay.
Whether you want to splurge on a new 5-star luxury hotel where you can savor a flute of Champagne and Eiffel Tower views from your private terrace or save with budget-friendly boutique accommodations in a cool, less tourist-centric part of the city, you'll find lots of exciting choices among the newest hotels in Paris.
Enjoy!
Article Contents: New Hotels Now Open | Map Showing New Paris Hotels | More Paris Hotels Opening Soon | Paris Hotel Booking Map
Top photo: Guestroom at The Hoxton
New Paris Hotels
La Clef Champs Élysées Paris
★★★★
★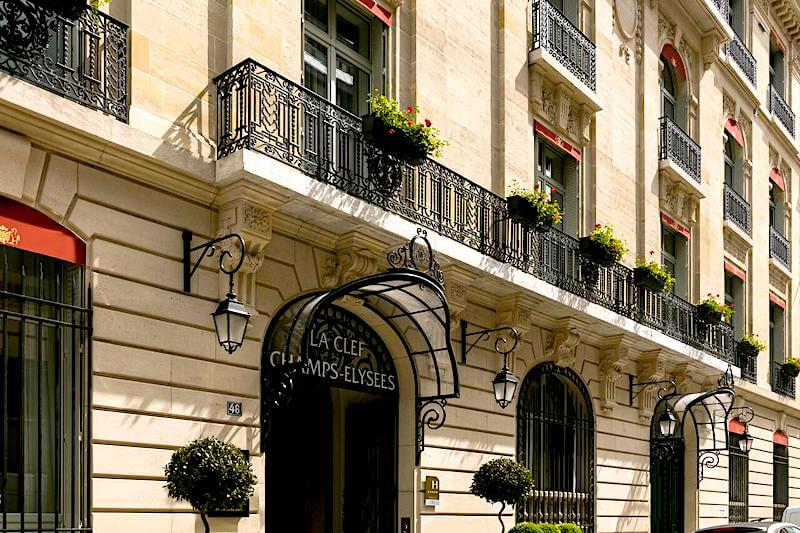 46 Rue de Bassano, 8th arrondissement,
Located in a grand Haussmannian building on a quiet side street close to Arc de Triomphe and just 2 short blocks from Champs Elysées, the new La Clef Champs Elysées Paris offers 63 rooms and suites as well as 7 apartments. Studios and apartments include fully equipped kitchens and tables for dining, ideal for family trips. Apartments also feature terraces overlooking views of the Eiffel Tower, Sacre Coeur, and other Paris cityscapes.
You'll also find plenty of other amenities: a perfume bar, fitness room, laundry room, a lavish breakfast buffet, an excellent restaurant and bar, and hidden behind the building, a wonderful private terrace. You can also experience the top-notch individualized service you would expect in a 5-star property.
---
Grand Powers Paris
★★★★
★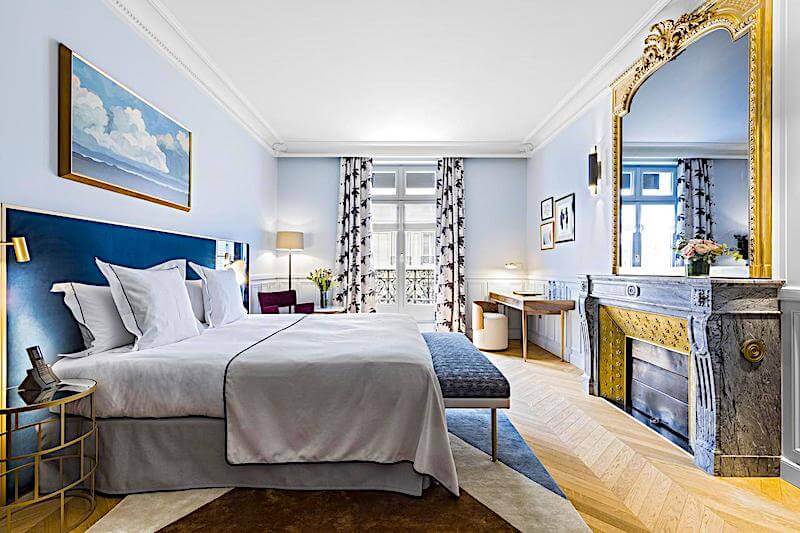 52 Rue François, 8th arrondissement
Although the Grand Powers Paris is not a new hotel, a recent top-to-bottom renovation makes this 50-room 5-star boutique hotel occupying a prime Golden Triangle location feel totally new, fresh, and dazzling. Luxurious furnishings, period details, chevron floors, and tranquil colors make the Powers an oasis amid in Paris's buzzy top location for haute-couture designer showrooms.
Relax in the onsite spa, work out in the fitness room, dine in the hotel's restaurant. For a special treat, request a room with a balcony and Eiffel Tower view. Traveling with your family? Book adjoining guest rooms or suites. There's a lot to love here, but your fondest memory after you return home may be the superb service.
---
Mama Shelter Paris West
★★★
20 Avenue de la Porte de la Plaine, 15th Arrondissement
Stay in Mama Shelter West Paris and you'll get to experience the friendly, upscale 15th arrondissement, an "off-the-beaten-track" location little known to most visitors but offering plenty of interesting things to do: check out the huge weekend book market at Parc Georges Brassens (if you're visiting with children, they'll love the park's pony rides and puppet theater), linger over a drink or lunch at Café Arthur et Juliette by the park, or explore the newly accessible green space along the Petite Ceinture railroad tracks. Best of all, Mama Shelter West's location puts you less than 5 minutes from the Palais des Sports and Porte de Versailles, site of many expositions including the Paris Marathon Expo.
You'll also love the comfortable beds, fun ambiance and amenities, and attractive rates that Mama Shelter hotels are known for. What's special here: the onsite pizzeria and rotisserie, and a rooftop terrace restaurant/bar where you can enjoy wonderful views of the Paris skyline. Want to explore the city's top attractions? Hop on the metro at Porte de Versailles, and you'll be in central Paris in less than 10 minutes.
CHECK RATES
---
HOY Hôtel
★★★★
68 Rue des Martyrs, 9th Arrondissement
HOY Hotel's 22 feng-shui inspired rooms feature calming blue and cream tones, super-comfortable beds, and natural hardwood floors. What sets this boutique property apart, though, is its focus on wellness and a healthy lifestyle: a yoga studio, onsite vegan restaurant, and an onsite florist. You'll even find a yoga stretching bar in your room instead of a television.
You'll also love HOY Hotel's location on the famous Rue des Martyrs. Explore the neighborhood bookstores, bakeries, cheese shops, florists, hardware stores, wine sellers, produce markets, little epiceries offering all kinds of groceries, and delis with mouthwatering carryout. The hotel is also just a quick walk from the celebrated Le Trianon and La Cigale concert halls, Moulin Rouge, the Paris Opera House, and Montmartre.
CHECK RATES
More places to stay in the 9th arrondissement
---
TRIBE Paris Batignolles
★★★★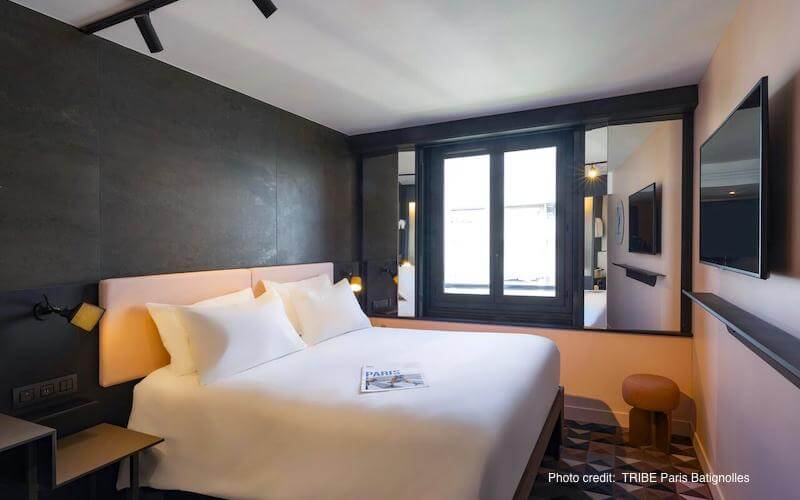 176 Rue Cardinet, 17th arrondissement
With a location across the street from Clichy-Batignolles Martin Luther King Park in the 17th arrondissement, 4-star TRIBE Paris Batignolles offers affordable rates and a mix of contemporary minimalist decor in its 79 guestrooms and lively public areas in the hip Batignolles neighborhood. There is air conditioning, an onsite fitness area, and parking available.
Explore the wonderful Batignolles covered market, the open air organic market, and the interesting neighborhood vintage shops. The neighborhood also offers lots of fun places to eat. To see more of the city, a nearby metro station gives you easy access to other parts of Paris.
Book Now
---
Monsieur George Hotel & Spa
★★★★
★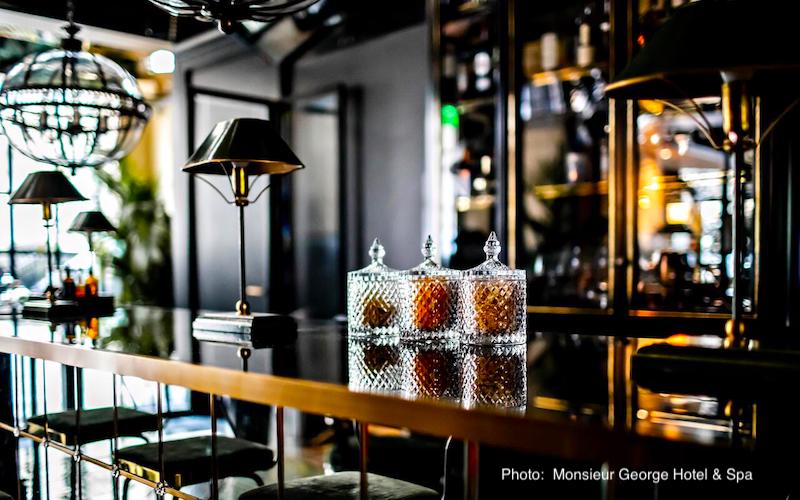 17 Rue de Rivoli, 8th arrondissement
Each of the 46 rooms and three suites at the super-chic 5-star Monsieur George Hotel & Spa offers a unique experience with designs ranging from Art Deco to Asian design, unified by luxurious fabrics, furnishings, and a deep sense of cocoon-like comfort.
Eiffel Tower views from some rooms, an onsite restaurant and bar, a wellness area with a hamman, spa, and fitness room, and a concierge service and tour desk give you everything you need at your fingertips, yet you're just a few steps away from Champs-Elysées and close to all the Arc de Triomphe, numerous museums and parks, and other top Paris attractions.
Book Now
More places to stay in the 8th arrondissement
---
J.K. Place Paris
★★★★★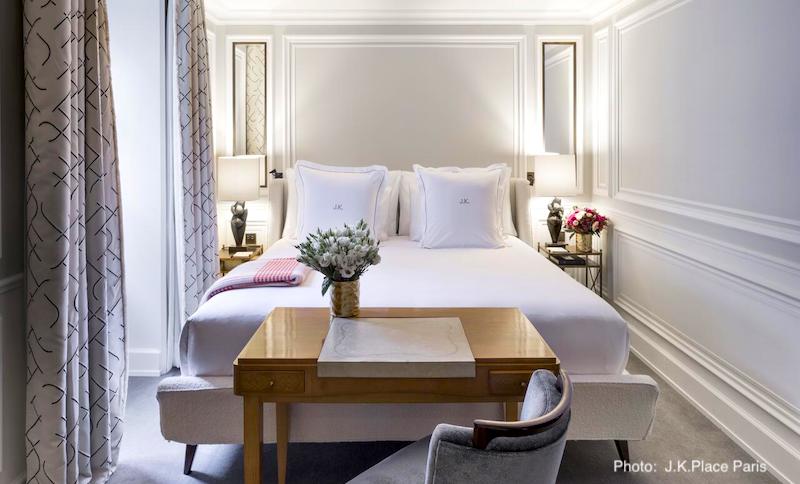 82 Rue de Lille, 7th arrondissement
Sumptuous fabrics, custom Italian furniture, and one-of-a-kind antiques and art make the 29-guestroom J.K. Place Paris an opulent 5-star retreat in a desirable 7th arrondissement location just steps from the Musée d'Orsay and the Seine River. Each room features a different look, so you'll get a fresh aesthetic experience each time you stay while continuing to enjoy the luxury retreat's top amenities and service.
The hotel's serene indoor swimming pool, a fully-equipped gym featuring high-end equipment, and a Sisley spa give you plenty of reasons not leave this former embassy during your stay in Paris - but with the Louvre, Orangerie Museum, and Tuileries Garden just on the other side of the Seine, the designer boutiques in the Saint-Germain des Prés neighborhood a short walk away, and many other top Paris sights almost at your doorstep, you're in an ideal location to enjoy the City of Light.
Book Now
---
Hôtel du Louvre
★★★★
★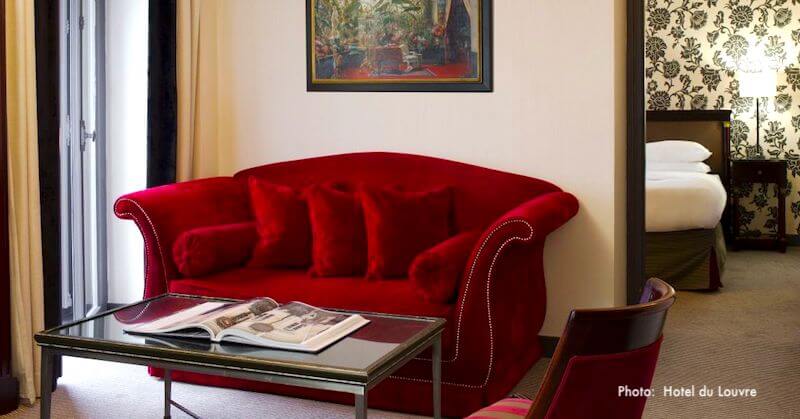 172 Rue de Rivoli, 1st arrondissement; a Hyatt property
The luxurious 5-star Hotel du Louvre received a spectacular makeover of its 164 guestrooms, including 58 suites and other public spaces including the elegant bar with its beautifully-restored 19th century glass roof.
Situated in an ideal location directly across the street from the Louvre Museum, Hotel du Louvre's superb 1st arrondissement location also puts you close to the Paris Opera House (Opéra Garnier), Tuileries Garden, Palais Royal, and the Seine River.
Book Now
---
Le Damantin Hotel & Spa
★★★★★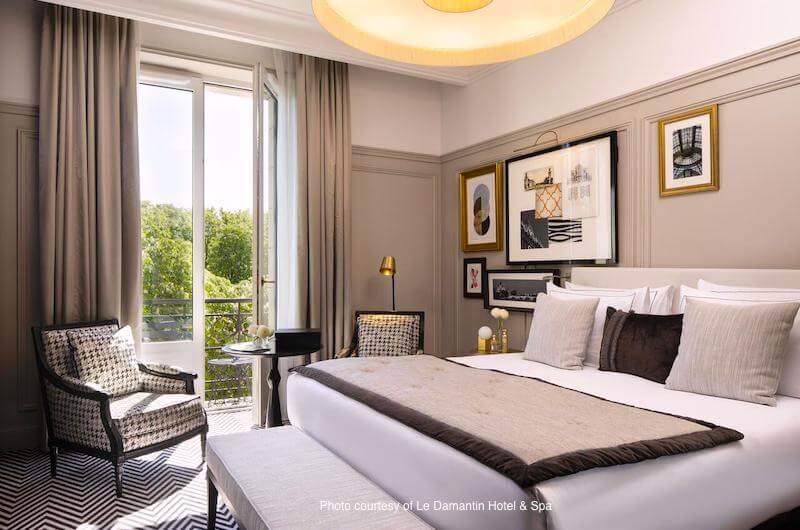 1 Rue Bayard, 8th arrondissement
Housed in a gorgeous newly renovated 19th century red-brick mansion overlooking the Seine River and Eiffel Tower, the family-owned Le Damantin Hotel & Spa offers every luxury in its 44 guestrooms and suites: luxuriously comfortable beds and seating, elegant decor, impeccable service, an ideal location within walking distance of Paris's top attractions, and a fantastic indoor pool, spa, wellness center, and sauna.
You'll also love the fantastic marble bathrooms with huge tubs and separate showers. And as a bonus, the guestrooms are large by Paris standards. Book a room with a terrace, order a bottle of champagne, and you may never want to leave.
Book Now
---
9Hôtel Confidentiel Paris
★★★★★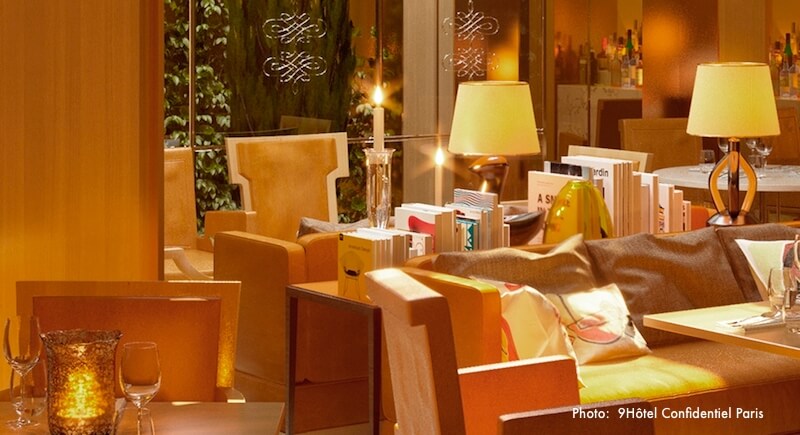 58 Rue du Roi de Sicile, 4th arrondissement
Vintage candy jars inspired Philippe Starck's Deco designs for 9Hôtel Confidentiel's 26 guest rooms and 3 luxurious suites - perfect motif for the glamorous 1920s moderne vibe that greets you as soon as you enter the plush lobby of this new and glitzy 5-star boutique hotel in Paris's chic but historic Marais neighborhood.
You'll also love the excellent service, super-comfortable beds, big-screen televisions, and wonderful location.
Book Now
---
La Planque Hotel
★★★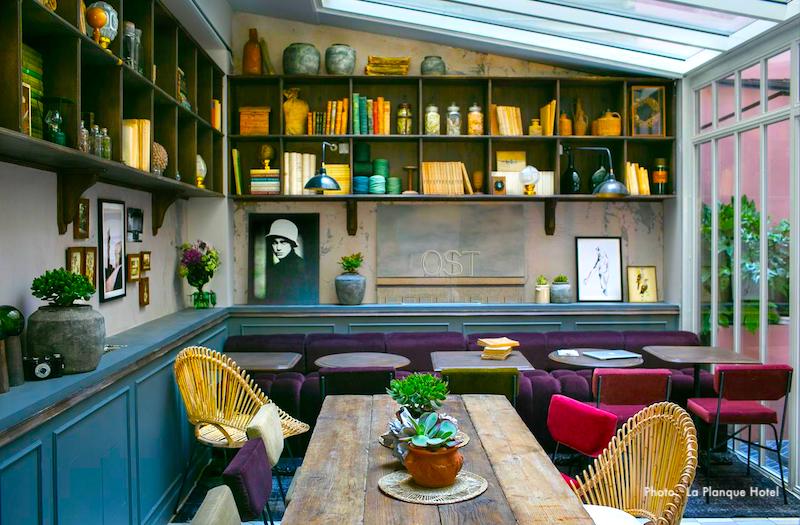 3 Rue Arthur Groussier, 10th arrondissement
Located in the trendiest part of Belleville near the picturesque Saint Martin Canal, La Planque Hotel combines a cool retro-chic style with affordable rates.
The 36-guestroom boutique hotel, formerly an apartment building, features a charming collection of vintage and flea market treasures with jewel-like colors, velvet-upholstered headboards and cushions, small public spaces such as a library/lounge area and even a small pink-walled terrace filled with plants and a small seating area.
Most guestrooms are on the small side - meaning they're typical for Paris - but feature quiet air conditioning/heating, desks, and minimalist but charming decor.
Book Now
---
Brach Paris Hôtel
★★★★★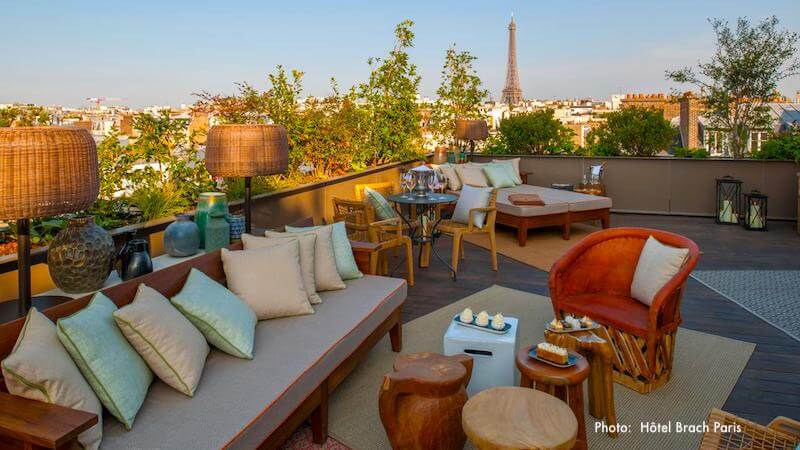 1-7 Rue Jean Richepin, 37-39 Rue de la Pompe, 16th arrondissement
Located in the upscale 16th arrondissement close to the Marmottan Monet Museum, Fondation Louis Vuitton in the Bois de Bologne, and numerous other museums, the 5-star Hotel Brach Paris features 59 luxurious guestrooms and suites with 14 foot ceilings, eclectic but elegant 1930s furnishings and decor by famed designer Philippe Starck, a rooftop garden complete with the hotel's mascot hens and a Jacuzzi, and huge terraces (some with Eiffel Tower views) from some of the rooms and suites.
You'll find lots more to love here: a fabulous onsite pastry shop and restaurant, two pools, a great fitness center, private limousine service, and the superb service you would expect from a 5-star luxury hotel.
CHECK RATES
---
Hôtel Fauchon
★★★
★★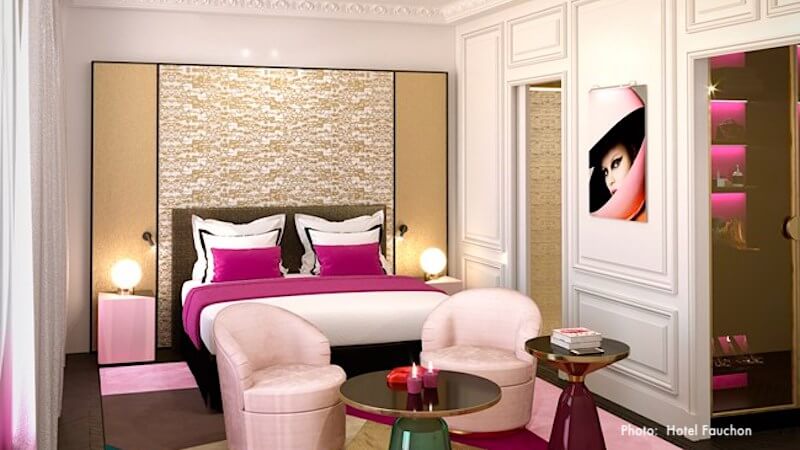 4 Boulevard Malesherbes, 8th Arrondissement, Paris
Fashion, style, and fabulous food by famed gourmet French food purveyor Fauchon converge in the new 5-star Hôtel Fauchon in a magnificent Haussmann building across from elegant Place de la Madeleine that once housed Fauchon's original 1886 headquarters.
In addition to the luxurious comfort, sweeping city views, and joyful splashes of hot pink offered by the boutique hotel's 20 guestrooms and 17 suites, you will love the many food and drink offerings on the hotel's ground floor as well as the superb location near the Paris Opera House, Champs Elysées, and some of the best shopping streets in Paris.
CHECK RATES
---
Hôtel Lutecia
★★★★

★

Palace Hotel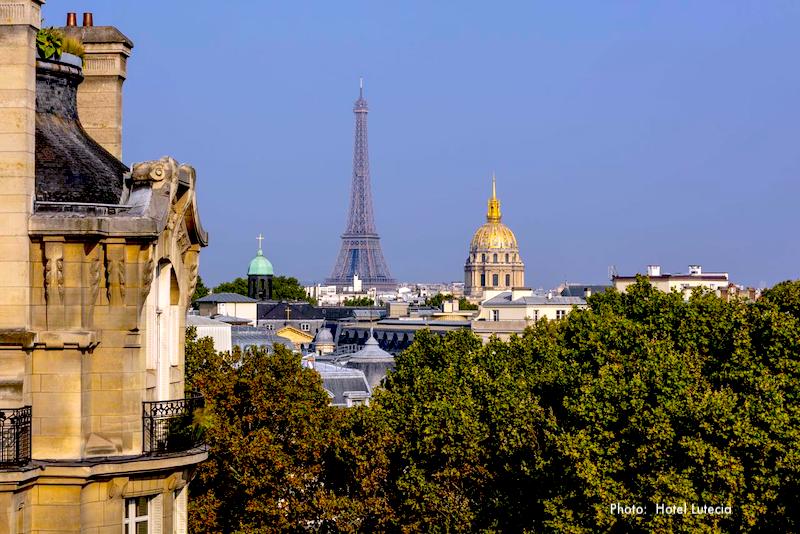 45 Boulevard Raspail, 6th Arrondissement
After being closed for four years during a massive top-to-bottom renovation, 5-star Hôtel Lutecia - the Left Bank's only luxury grand hotel - has finally reopened with 184 large guestrooms and suites featuring posh blue and gray decor, comfortable furnishings, and marble baths with deep tubs and huge windows overlooking iconic Paris vistas.
Equally fabulous are the new public spaces - a luxurious all-marble spa with a hammam, sauna, and sun-lit indoor swimming pool, and a welcoming Jazz Bar. A Michelin-starred chef now heads the much-updated brasserie, once a favorite Saint-Germain-des-Prés hang-out for Hemingway, Matisse, Camus, and Josephine Baker. One of the biggest show-stoppers: original Romanesque frescoes discovered under layers of paint in the 100+ year old hotel and meticulously restored for all to enjoy in Bar Joséphine.
CHECK RATES
---
Hôtel de Berri
★★★★
★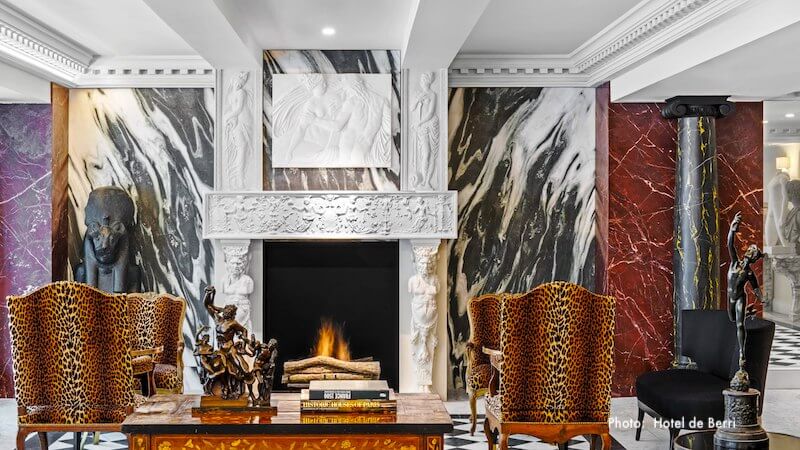 18-22 Rue de Berri, 8th Arrondissement
Located close to Champs Elysées and Arc de Triomphe in a former office building now transformed into a luxury hotel with 76 guestrooms (including 37 suites), Hôtel de Berri combines vibrant colors with Parisian chic including style elements borrowed from Art Deco, the French decorative arts period, and 20th century moderne.
You'll find lots to enjoy: the hotel's art collection, a spa with two Turkish hammams, an excellent onsite restaurant, and a private garden encompassing almost three-quarters of an acre.
CHECK RATES
---
Renaissance Paris Vendôme Hôtel
★★★★★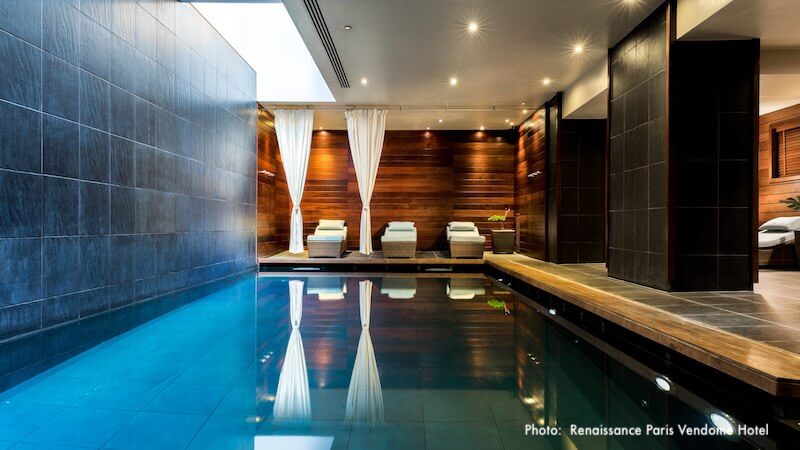 4 Rue du Mont Thabor, 1st Arrondissement
Located only one block from Place Vendôme, Tuileries Garden, and Matisse-filled Musée de l'Orangerie, 5-star Hôtel Renaissance Paris Vendôme offers its guests 77 rooms and 20 suites plus an ideal location for exploring all the famous attractions - the Louvre, Champs Elysées, Rue Saint-Honoré boutiques, the Paris Opera House - in this historic heart of the city.
After a multi-million dollar renovation, the hotel with inimitable French style. You're also sure to love the luxurious indoor pool and spa as well as the well-equipped fitness center.
CHECK RATES
More hotels in the 1st Arrondissement in Paris
---
Hôtel Rose Bourbon
★★★★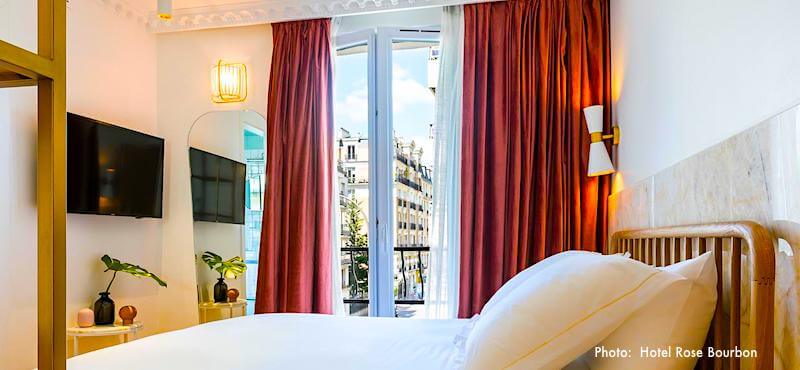 53 Rue de l'Église, 15th Arrondissement
Hôtel Rose Bourbon is the latest and by far the most stylish hotel in its location in a lovely residential part of the 15th arrondissement's popular Grenelle neighborhood. Inspired by the Art Deco bourbon rose motif, it features 39 serene guest rooms with comfortable modern furnishings and splashes of jewel-like colors, and appealing public areas.
Although the hotel is only 10 minutes by metro to the more touristy part of Paris and is an easy walk to the Eiffel Tower, Branly Museum, Seine River, and the André Citreon Park, home to Paris's tethered hot air balloon, it also lets you experience what living in Paris might be like. Explore the neighborhood's weekly street markets, dine in the local bistros (one of the best is on the hotel's ground floor), and get to know a part of Paris that's outside of the regular tourist district - and enjoy bargain hotel rates for a 4-star hotel.
CHECK RATES
---
Hôtel Alfred Sommier
★★★★
★
20 Rue de l'Arcade, 8th Arrondissement
Built as a private mansion near fashionable Place de la Madeleine in 1860 by wealthy sugar refiner Alfred Sommier and now transformed by his descendant into a luxury hotel with 60 guestrooms and 20 fabulous suites, Hôtel Alfred Sommier gives you a unique opportunity to experience the gilded era of the Second French Empire.
You'll find all the stunning original architectural details still in place: gorgeous parquet floors, high ceilings and lots of gilded moldings, painted wall frescoes, a huge staircase - but plush beds, new marble baths, carefully selected modern furnishings, and up to date technology for all your electronic devices keep the ambiance fun and 21st century convenience. For a special treat, request a room with a balcony or the top suite with Eiffel Tower and Montmartre views.
CHECK RATES
---
Royal Madeleine Hôtel & Spa
★★★★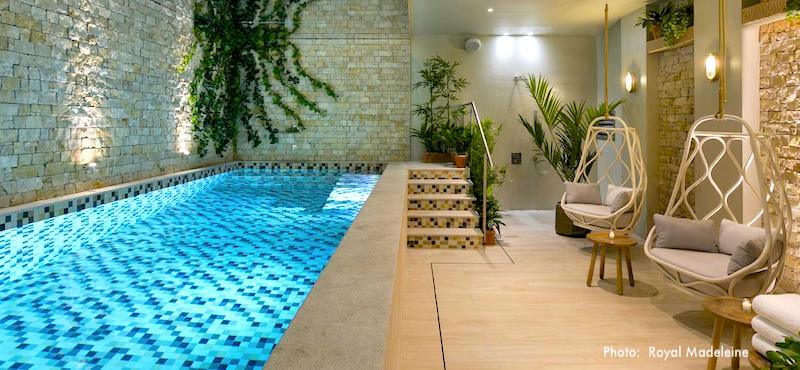 29 Rue de l'Arcade, 8th arrondissement
After a complete redesign, Le Royal Madeleine has reopened as a 4-star hotel with 59 guestrooms and suites with comfortable modern furnishings plus an onsite restaurant and bar close to Place de la Madeleine.
After a day of enjoying Paris, you can relax in the hotel's private heated pool, the spa with sauna, and the relaxing herbal tea room - or work off calories in the well-equipped fitness room.
CHECK RATES
---
The Hoxton
★★★★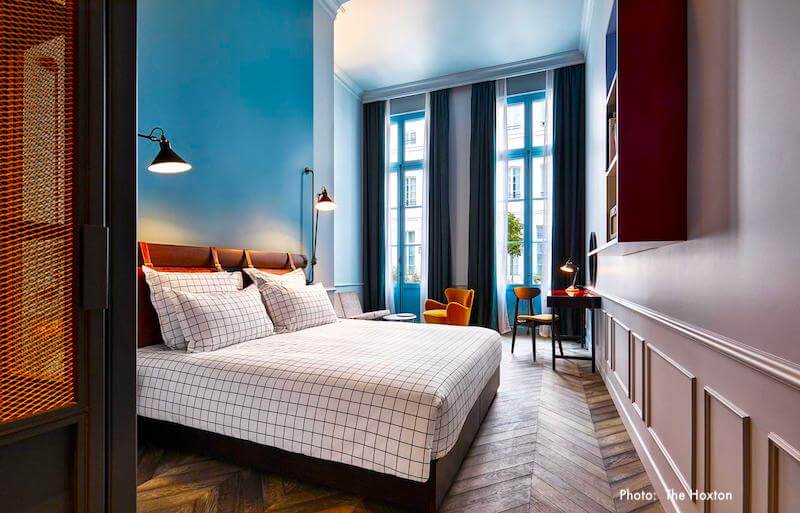 30-32 Rue du Sentier, 2nd Arrondissement
The Hoxton, situated in a lovely 18th century hôtel particulier (a private mansion) in the trendy Sentier neighborhood, features 172 rooms in a variety of sizes, shapes, and configurations. The building's original spiral staircases and beautiful old mosaic marble floors are stunning in public spaces, while the guestrooms feature chevron timber floors, wood paneling, high ceilings, and drop-dead gorgeous windows.
You'll find lots more to love here as well - a lovely outdoor dining courtyard, an on-site restaurant offering French-style food made from locally-sourced ingredients, and a cozy bar. You're also ideally situated when you stay here to walk to the Picasso Museum, the Louvre, the newly-glamorous Les Halles, Centre Pompidou, the Louvre, and so much more!
CHECK RATES
---
Hôtel des Grands Boulevards
★★★★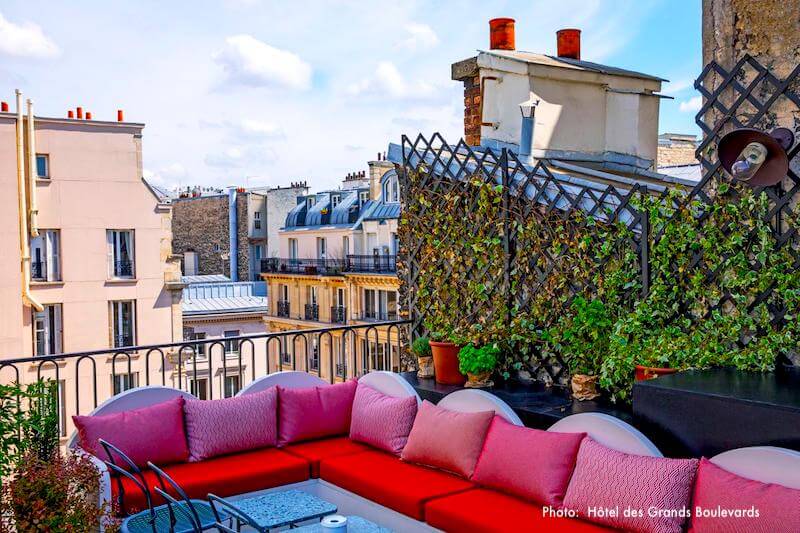 17 Boulevard Poisonniere, 2nd Arrondissement
You're sure to love the stunning views from Hôtel des Grands Boulevards' leafy rooftop terrace bar, but there's plenty more to enjoy here as well: the lighthearted mix of Louis XVI-meets-21st-century-chic in the 50 guestrooms and public spaces, the excellent onsite restaurant, and even a secret garden along the passageway leading to the hotel's elegant 18th century building.
The hotel's Sentier location puts you close to all the lively restaurants and night spots in this newly hip 2nd arrondissement neighborhood. Just a short walk takes you to the Paris Opera House (Opéra Garnier), Musée Grévin (wax museum), and the famous department stores and smaller boutiques lining the "grand boulevards" created after Emperor Napoleon III ordered urban planner Baron Haussmann to modernize the city in the mid-1800s.
CHECK RATES
---
Hôtel National des Arts et Métiers
★★★★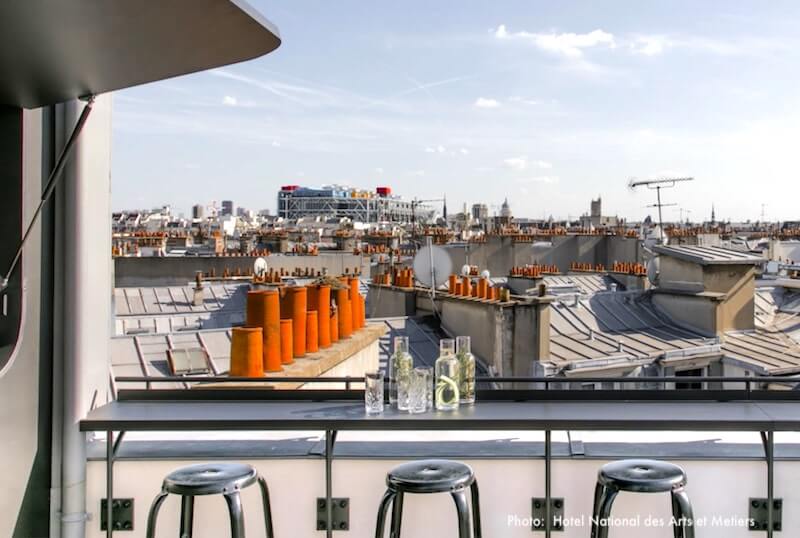 243 Rue Saint Martin, 3rd Arrondissement
Hôtel National Arts et Métiers boasts one of the coolest hotel bars in the city - but that's far from being the only cool thing in this meticulously designed new 66-guestroom hotel with a classic Haussmannian façade across from Musée des Arts et Métiers, a fascinating museum devoted to science, technology, and invention housed in a former church.
Gorgeous black marble, oxidized copper, herringbone wooden floors, custom furnishings, and original art grace the 66 guestrooms, which come in all sizes and configurations. Request one with a balcony on a high floor to enjoy the amazing views. You'll also love the Arts et Métiers neighborhood, a quiet corner of the Upper Marais filled with boutiques, small bistros, and friendly bars.
CHECK RATES
---
Citizen M Gare de Lyon
★★★★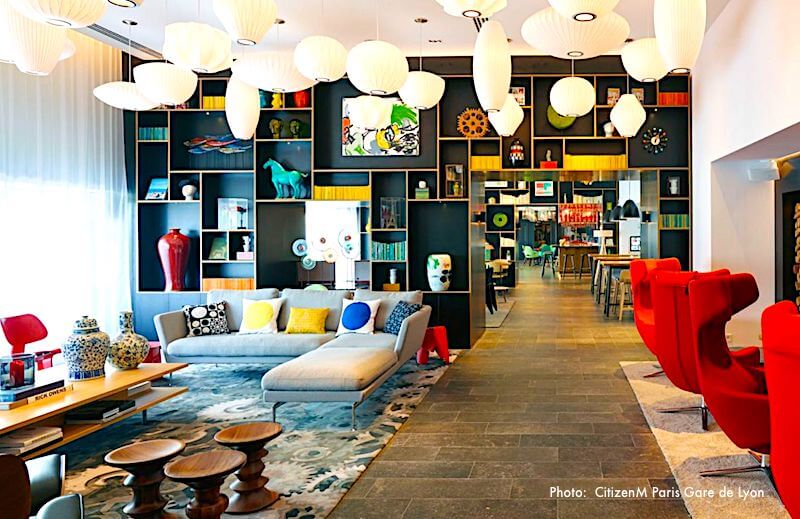 8 Rue Van Gogh, 12th Arrondissement
CitizenM Paris Gare de Lyon, located conveniently close to Gare de Lyon rail/metro station, takes a decidedly different approach to defining hotel space.
What you'll find: large public spaces with comfortable, put-your-feet up furniture and colorful art, welcoming bars and dining spaces plus a canteen with food and drink available 24x7, and 338 compact guest rooms with a huge extra long king size bed that folds up into a sofa by day, Italian linens, mood lighting, designer furniture, and a powerful rain shower. You'll also find some of the lowest 4-star hotel rates in the city.
CitizenM's Bercy location in the 12th arrondissement is ideal if you're heading to a concert or other event at AccorHotels Arena, a ballet at Opéra Bastille, or just want to hang out in Bercy Village or explore Plantée Promenade. Be sure to also check out the Seine River views from the hotel's 16th floor rooftop bar.
CHECK RATES
---
Map of New Hotels in Paris
---
More New Hotels in Paris Opening Soon
Cheval Blanc
Once the iconic Art Deco La Samaritaine department store, Cheval Blanc opens in 2021 as a luxury hotel filled with finely crafted French furniture and an onsite restaurant headed by 3-star Michelin chef Arnaud Donckele
Bvlgari Hôtel
30 Avenue Geroge V in the Golden Triangle, 8th arrondissement
Look for 76 guest rooms and suites plus a full range of luxury facilities includeing a spa with swimming pool, a Bvlgari restaurant and bar, and a charming courtyard garden.
Expected opening in 2021
---
Paris Hotel Map - All Accommodations in Paris
Want to see more Paris hotels? Use this hotel map from Booking.com to find available accommodations and lowest rates for your travel dates, and make your reservations:
Check out the newest Paris hotels
---
More Articles about Paris Hotels
---
Fun Ways to See Paris