With thousands of established Paris hotels available for you to choose, new hotels in Paris have to offer outstanding designs, appealing amenities, and top value at every price point in order to compete successfully for your reservations.
And as you'll see from our picks of the best new Paris hotels, they deliver.
Look for exciting combos of contemporary decor mixed with elegant French style, public spaces with the feel of hip private clubs, chic rooftop terrace bars and excellent restaurants, and amenities ranging from indoor pools (still a rarity in Paris) to free bikes to use during your stay.
Whether you want to splurge on a new 5-star luxury hotel where you can savor a flute of Champagne and Eiffel Tower views from your private terrace or save with budget-friendly boutique accommodations in a cool, less tourist-centric part of the city, you'll find lots of exciting choices among the newest hotels in Paris.
Enjoy!
Article Contents: New Hotels Now Open | Map Showing New Paris Hotels | More Paris Hotels Opening Soon | Paris Hotel Booking Map
Top photo: Eiffel Tower view from guest room balcony at Canopy Trocadero Hotel (Paris 16)
Paris Discovery Guide is a reader-supported publication. When you buy through our links, we may earn a commission at no additional cost for you. Learn more
---
New Paris Hotels
Novotel Paris 20 Belleville
★★★
★
64 Boulevard de Belleville, 20th arrondissement
With a cool industrial-chic vibe in the lobby and guest rooms, the onsite bistronomic restaurant, and many other appealing restaurant options nearby, the 4-star Novotel Paris 20 Belleville has quickly become popular with both with business and leisure visitors who appreciate the laid-back but trendy multicultural Belleville neighborhood and the fast access to central Paris, thanks to the metro station across the street.
The hotel's bargain rates (for a 4-star Paris propertyd) are well-known to savvy travelers - so book well in advance of your dates, especially if you want one of the rooms with a balcony.
Pro Tip: Take time to explore all of the nearby attractions: Pere Lachaise Cemetery, Canal Saint-Martin, the immersive art shows at Atelier des Lumieres, street art, the large and vibrant Marché de Belleville open air market along Boulevard de Belleville (Tuesdays and Fridays, about 8am-2:30pm), and the neighborhood's two great parks, Parc des Buttes Chamont, and Parc de Belleville.
---
Hotel La Canopée
★★★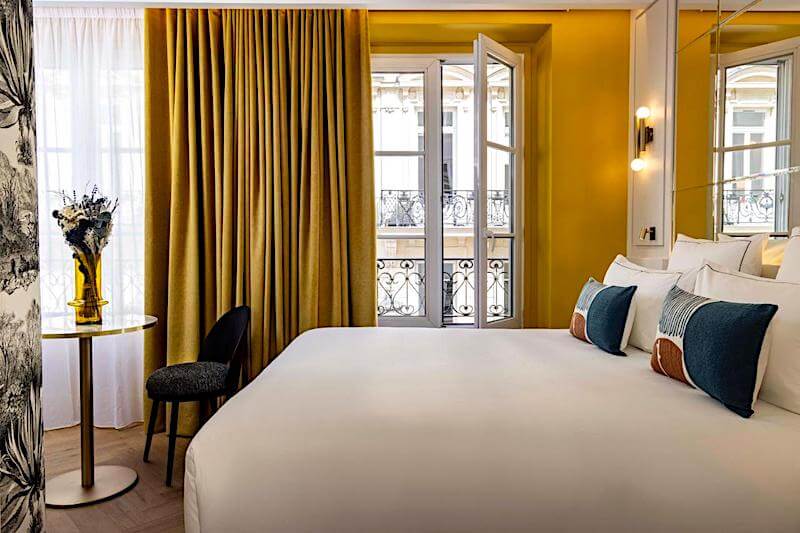 15 Rue de Penthièvre, 8th arrondissement
Chic and modern with 25 well-appointed guest rooms, 3-star Hotel La Canopée offers lovely parquet floors, air conditioning, in-room safes, and super-comfy beds. As a bonus, there's a small fitness room on the lower level - rare in a 3-star hotel, and not common even in 4-stars. You can enjoy breakfast and your morning coffee on a terrace offering tranquil garden views.
Another plus: affordable rates, especially considering the hotel's excellent 8th arrondissement location close to Champs-Élysées, Jacquemart-André Museum, Madeleine Church, and all of the wonderful designer boutiques along Rue du Faubourt Saint-Honoré. You'll also find lots of excellent restaurants and bars nearby.
---
Hotel Madame Rêve
★★★
★
★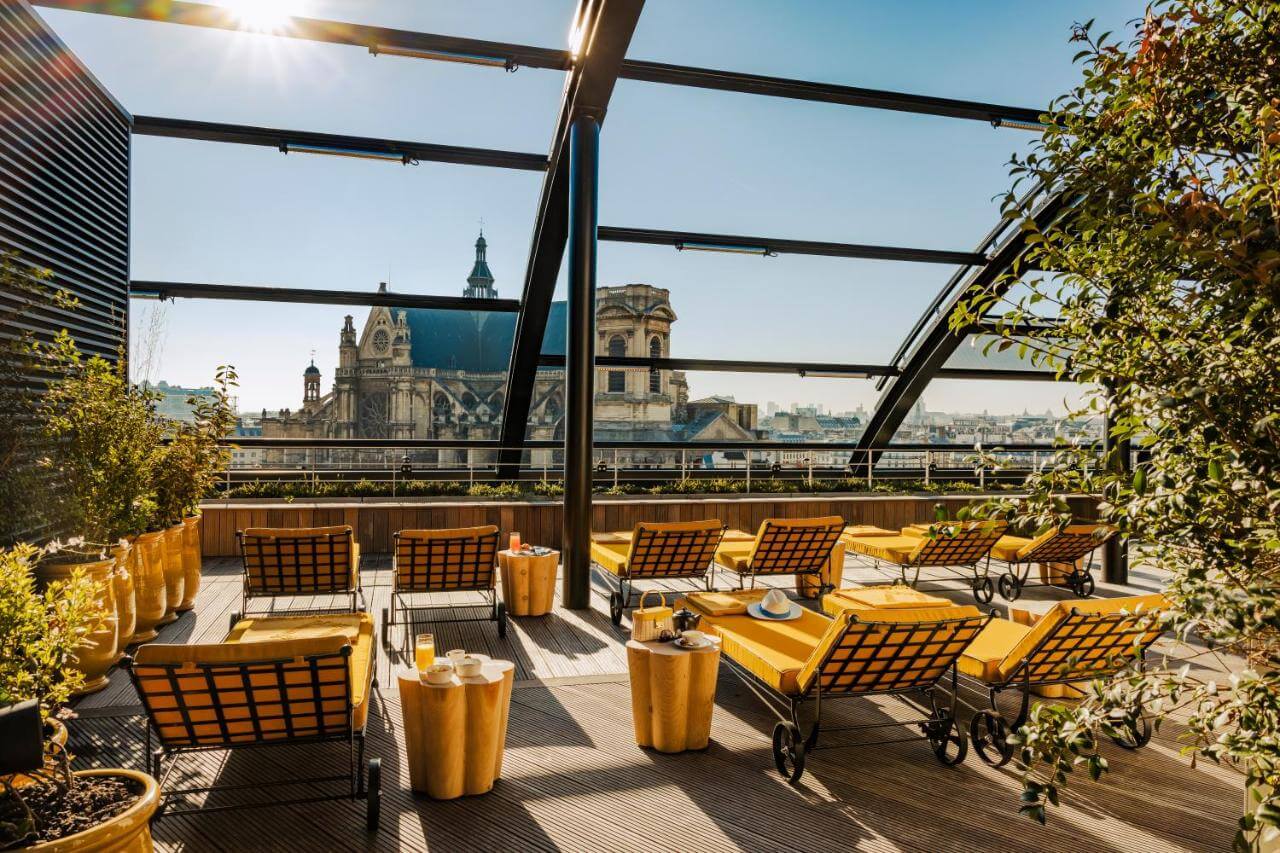 48 Rue du Louvre, 1st arrondissement
Even if 5-star Hotel Madame Rêve weren't in an ideal location - which it is - you'd still want it on your "best place to stay in Paris" bucket list because of its exceptional views, breath-taking public spaces, 82 luxurious guestrooms and suites, excellent service, and rooftop garden terrace. Whether you're visiting Paris for a romantic weekend, treating yourself to a solo get-away with lots of quality time in the onsite spa, or staying with your family in one of the suites that sleep four, you'll find so much to love here.
Once you step outside the hotel, you'll quickly appreciate Madame Rêve's superb location in the 1st arrondissement. The Louvre Museum, Tuileries Garden, Saint-Eustache Church, and the Pinault Collection featuring contemporary art are just steps away, and the dazzling newly-opened La Samaritaine department store is just around the corner. Île de la Cité, with Notre Dame and Sainte-Chapelle, is a 2-minute walk across the Pont Neuf bridge. And on the other side is the arty part of the Saint-Germain neighborhood where you can spend hours exploring the art galleries and design studios.
Pro tip: Almost all guestrooms and suites feature wonderful balconies and terraces - be sure to request one!
More places to stay in the 1st district
---
Hotel La Belle Ville
★★★
★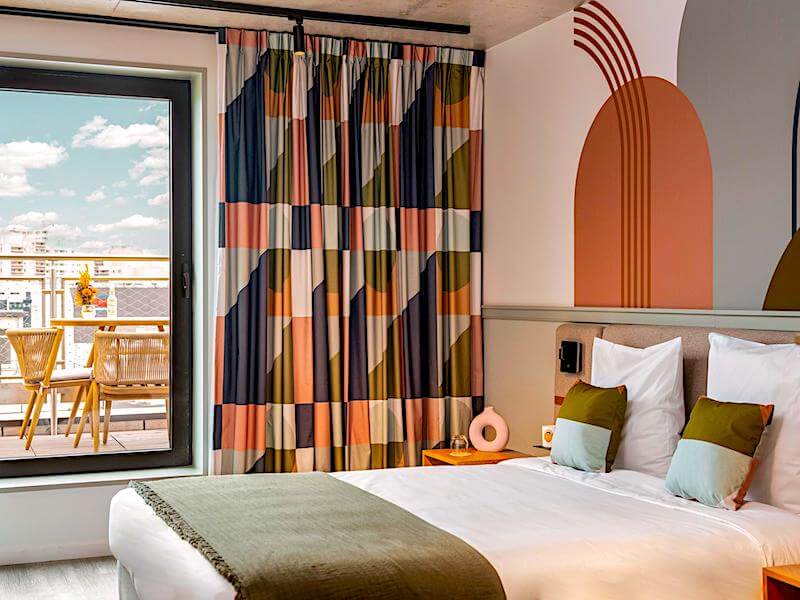 349 Rue de Belleville, 19th arrondissement
La Belle Ville's 59 eco-friendly guest rooms and public spaces offer a light, bright, and airy haven in a tranquil mostly-residential part of Paris's hip 19th arrondissement - a perfect spot if you want to experience an authentic, non-touristy part of the city. The hotel's attractive exterior has been transformed into a vertical garden covered with green plants, and guestrooms have been designed to provide an allergy-free environment. With attractively low rates, 4-star La Belle Ville offers fantastic value in a little-known corner of the city.
In case you're wondering if La Belle Ville's location in the 19th might be far from top attractions, rest assured that a metro station about a 1-minute walk away makes reaching other areas such as the Marais fast and easy. There's also a lot to explore nearby, including the Buttes-Chaumont and Belleville Parks and Pere Lachaise Cemetery. You'll also enjoy the hotel's onsite pizzeria (as well as other neighborhood bistros, cafes, and bars).
---
Hotel Moderniste
★★★
★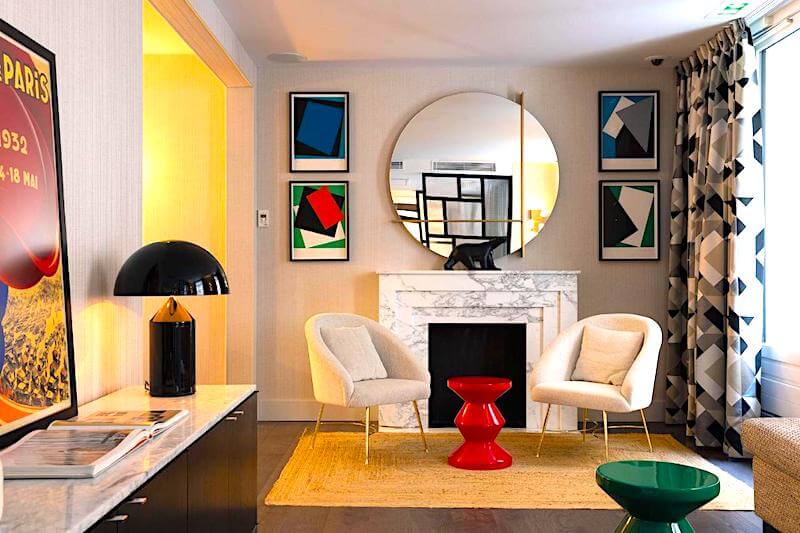 5 Rue de Langeac, 15th arrondissement
Hotel Moderniste, located in Paris's village-like Convention neighborhood about halfway between the Porte de Versailles exhibition center and the Convention Metro station where Line 12 whisks to you central Paris and Montmartre, offers 40 guestrooms (including family rooms that can sleep up to 5) and a clean, modern vibe enhanced by Art Deco/Moderne decor. A spacious breakfast room doubles as a lounge area where you can enjoy complimentary coffee, tea, and madeleines during the afternoon and evening, and also offers an honesty bar.
Like its sister hotel, Hotel Fabric in Oberkampf, the 4-star Hotel Moderniste provides excellent soundproofing and super-comfy bedding - the two most important things for a good night's sleep. Although room sizes are a bit small, like most Paris hotels, the very affordable rates mean you get great value for your money.
You'll find plenty of small but good places to eat and shop in the Convention neighborhood. An open-air market along Rue de la Convention on Tuesdays, Thursdays, and Sundays offers produce, prepared food, clothing (including a vendor selling lovely leather bags and linen clothing made in Italy), and other articles. Also, don't miss the weekend used and antique book market at nearby Parc George Brassens, which also offers seasonal pony rides and a puppet theater for kids, and even has its own small vineyard.
More places to stay in the 15th arrondissement
---
Manolita Paris Hotel
★★★
★★
1 Rue Lepic, 18th arrondissement
Located almost next to the famous Moulin Rouge cabaret and close to La Cigale music hall and Sacre Coeur Basilica, 5-star Manolita Paris gives you the perfect spot for exploring all of Montmartre's charming nooks and crannies. It's also just steps away from the Blanche metro station, which gives you easy access to the rest of the city.
With only 10 guestrooms and suites, the hotel offers personalized service and a glamorous ambiance with a Belle Epoque/Art Deco vibe. Even the smallest guestrooms are large by Paris standards, and the hotel's gorgeous gold and black bar gives you a comfortable spot to savor a drink (or two) after a day of sightseeing or an evening enjoying the neighborhood's many entertainment venues.
Pro tip: Book a suite with a balcony.
---
Babel Belleville Hotel
★★★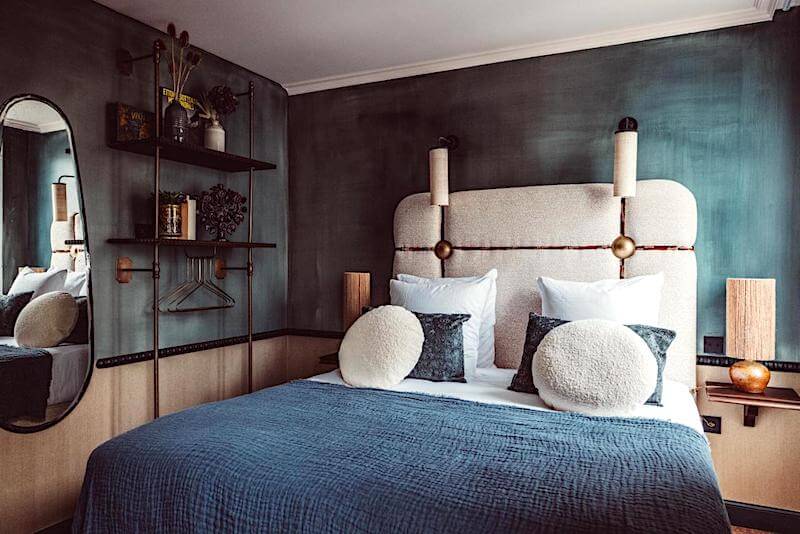 3 Rue Lemon, 20th arrondissement
If you're looking for an affordable but chic hotel in a non-touristy but cool part of Paris, 3-star Babel Belleville Hotel may be the perfect fit. Located on a quiet lane in the heart of the arty Belleville neighborhood almost at the point where the 10th, 11th, 19th, and 20th arrondissements intersect, the hotel is just a few steps away from Rue Denoyez, known for its street art. Surrounding streets are home to numerous artists studios (if you're visiting May, be sure to check out Belleville Artists' Open Studios). You'll also find lots of excellent small bistros, cafes, and bars nearby, as well as the big Marché Belleville-Ménilmontant outdoor street market (open Tuesdays and Fridays), Parc de Belleville, and slightly farther away, Parc des Buttes-Chaumont and Pere Lachaise Cemetery.
Although the 35 guestrooms are on the smaller size, furnishings and bedding are high quality, and again, you'll enjoy the low rates and great location! An onsite restaurant offers delicious Lebanese food and terrace seating (you should make reservations, as it's a popular neighborhood spot). The Belleville Metro is around the corner; take Line 2 to reach Montmartre and the Arc de Triomphe, or Line 11 to get to the Marais and Hotel de Ville on the edge of the Seine River.
Pro tip: Book a Superior room for more space, or the Family room if you need accommodations for up to four.
---
Hotel Le Milie Rose
★★★
★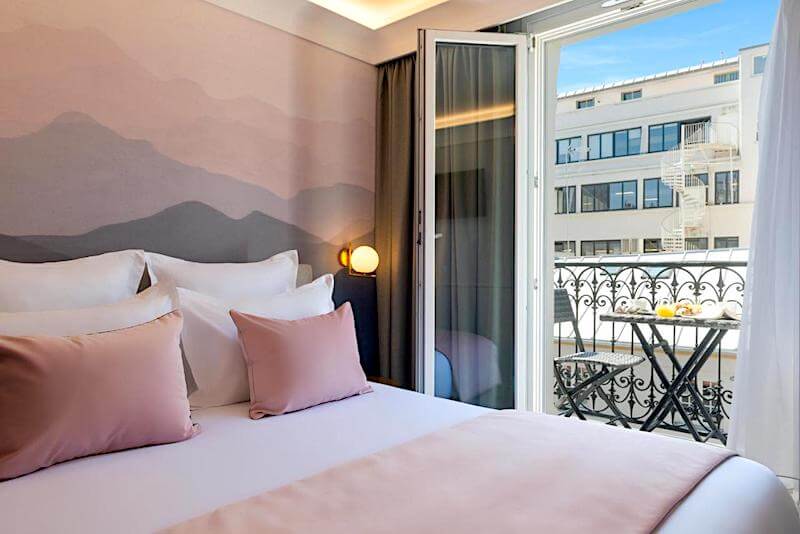 22 Rue des Petits Écuries, Paris 10
The highly-rated Hotel Le Milie Rose is the perfect choice when you want a luxurious cocoon in the heart of Paris's Right Bank. With a location in a lively part of the city close to Paris's two big rail stations, Gare du Nord and Gare de l'Est, as well as the Musée Grevin Wax Museum, several of the city's historic covered passages, and the trendy restaurants in the Canal Saint-Martin area, the hotel also puts you within an easy 20-minute (or less walk) to the Louvre, Centre Pompidou, the Marais, and other top attractions.
In the 38 guest rooms, you'll enjoy relaxing colors, luxurious natural fabrics, and in the summer, superbly comfortable air conditioning. In the public areas, you can relax in front of the fireplace or on the outdoor patio as you enjoy breakfast or a drink from the bar at the hotel - plus you'll find lots of wonderful food options among the nearby bistros, cafes (including organic and vegan), and wine bars. In the evening, relax at the nearby New Morning jazz club.
Pro tip: Treat yourself by booking a Superior Room with Balcony.
---
Paris j'Adore Hotel & Spa
★★★
★
★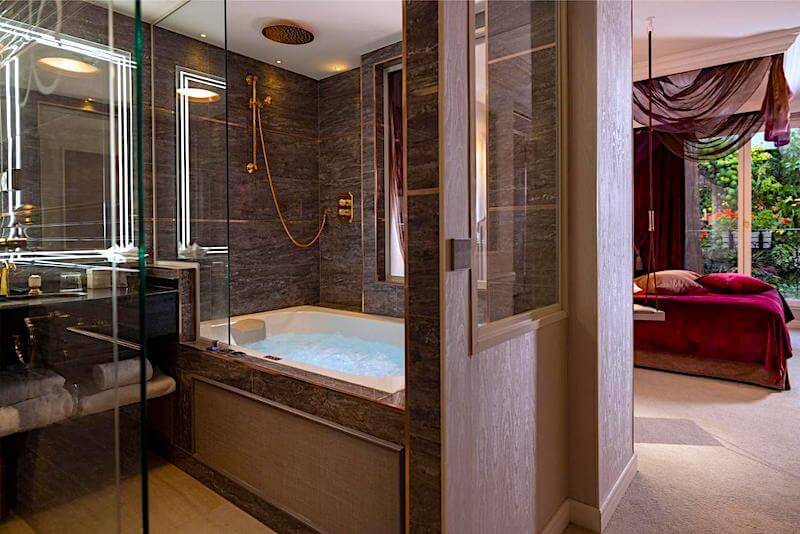 7 Rue Beudant, 17th arrondissement
For the perfect romantic Paris get-away and perhaps some serious pampering, choose the chic Paris j'Adore Hotel & Spa, a gorgeous new adults-only 5-star luxury boutique hotel nestled in the 17th arrondisssement not far from Parc Monceau, Musée Jacquemart-André, and Montmartre.
In the 28 guest rooms, you'll find luxurious decor, an iPad to control the mood lighting and intoxicating scent options, and plush robes, but that's just the beginning of what you'll enjoy here. Spend time in the hotel's spa, complete with hamman and swimming pool, sample the international cuisine at the onsite restaurant, relax in the whirlpool bath and salt cave, and book yourself a relaxing massage and facial.
Pro tip: Book the "Prestige" double room with a jacuzzi and terrace to enjoy rooftop views of Paris while you relax.
---
Maison Mère
★★★
★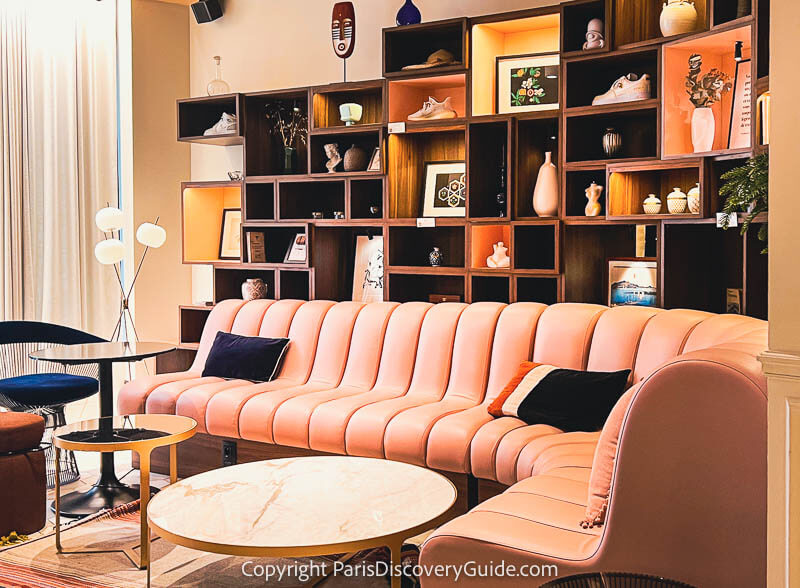 7 Rue Mayran, 9th arrondissement
You'll feel the friendly, upbeat vibe as soon as you enter the new and warmly contemporary 4-star Maison Mère hotel located on a tranquil side street next to Square Montholon, a charming leafy oasis in the buzzy SoPi (South of Pigalle) neighborhood, perhaps best known for the truly fantastic Rue des Martyrs market street where you'll find a tantalizing mix of fruit and vegetable vendors, florists, boutiques, mouth-watering bakeries, fromageries (cheese shops), vintage jewelers, bistros, and coffee bars. Follow the street's gradual upward slope, and soon you'll be in Montmartre, just steps away from Moulin Rouge, La Cigale music hall, and Sacre Coeur.
Walk 5-10 minutes in other directions from Maison Mère, and you'll reach the Paris Opera House (Palais Garnier), the Galeries Lafayette and Printemps department stores, Folies Bergère, the Grevin Wax Museum, and fascinating 19th century covered arcades: Passage Jouffroy, Passage Verdeau, and Passage des Panoramas.
Maison Mère combines the best of this authentic part of Paris with locally-sourced products and art throughout the hotel. You'll love the super-comfortable beds, excellent lighting, spacious rainfall showers, and multiple outlets including USB ports for recharging your phone and laptop in the 51 guestrooms. Want a place to hang out and perhaps squeeze in a bit of work without leaving the hotel? You can choose from a comfortable co-working space, several seating areas, or Hey Honey, the hotel's onsite restaurant which doubles a coffee bar. And no need to miss your regular workouts just because you're traveling: Maison Mère provides free passes to a fully equipped gym nearby.
Pro tip: Traveling with your family? Book a "triple superior" room or one of the spacious suites.
More places to stay in the 9th district
---
Hotel Jardin de Cluny
★★★
★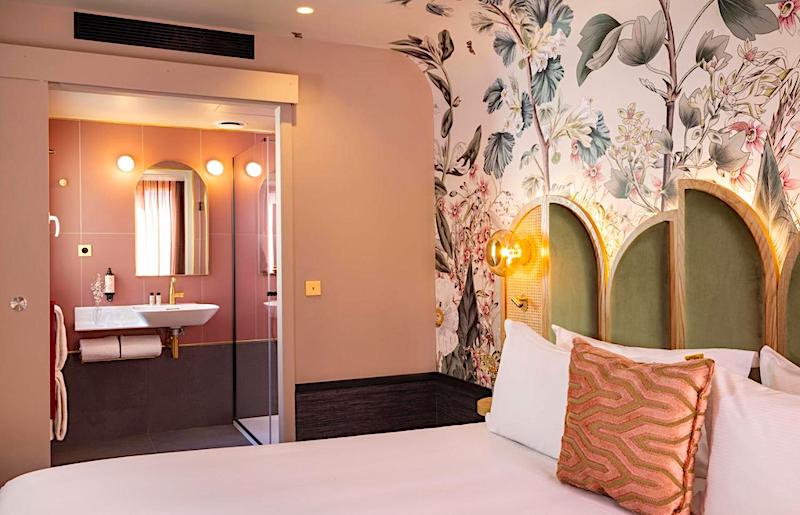 9 Rue du Sommerard, 5th arrondissement
Although technically not a new hotel, a total top-to-bottom, down-to-the-studs makover has transformed the recently-reopened, like-new Hotel Jardin de Cluny into a gorgeous 4-star oasis with lush floral touches and Art Deco-inspired furnishings. Super-comfortable beds, sleekly modern bathrooms, and excellent lighting add to your comfort.
You'll also love the hotel's superb Latin Quarter location near Cluny Museum and just a short 5-minute walk to the Seine River and Notre Dame Cathedral. Stroll through the nearby Maubert open-air food market, pay your respects to French heroes (including American-born singer Josephine Baker, honored for her work with the French Resistence) at the Pantheon, and of course see the famous "Lady and the Unicorn" tapestries, other medieval treasures, and Roman baths at the recently reopened Musée de Cluny.
Bonus for families: Book the spacious Junior Suite, which sleeps four.
More places to stay in the Latin Quarter
---
Bvlgari Hôtel
★★★
★
★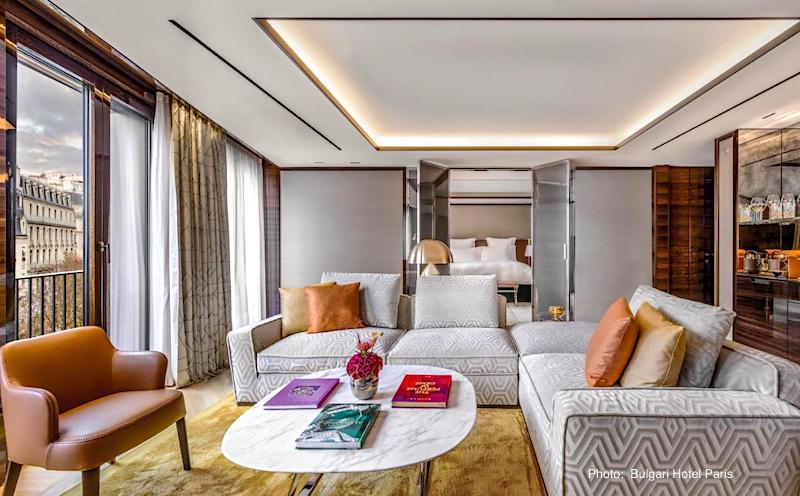 30 Avenue George V in the Golden Triangle, 8th arrondissement
Featuring the expertise of Italian craftsmen and French artisans, sumptuous interiors and opulent fabrics in its 76 guest rooms and suites, and an epic resort-like spa with a large swimming pool, the new 5-star Bvlgari Hotel Paris gives you a cocoon in Paris's top Fashion District known as the Golden Triangle. This is the famous jeweler's 7th hotel property in Paris, and perhaps its most ambitious in its combination of jaw-dropping luxury and impeccable, individualized service.
For a totally amazing experience, book the Penthouse. From its lushiously landscaped private garden complete with fruit trees, flowers, and stone paths, you'll have a panoramic view of the entire city and all its famous landmarks. To complete your experience, you can enjoy fantastic Italian cuisine in the hotel's onsite restaurant headed by a Michelin-starred chef, relax in the glamorous lounge, and celebrate your good fortune in the lively bar.
More places to stay in the 8th district
---
Kimpton - Saint Honoré Paris
★★★
★
★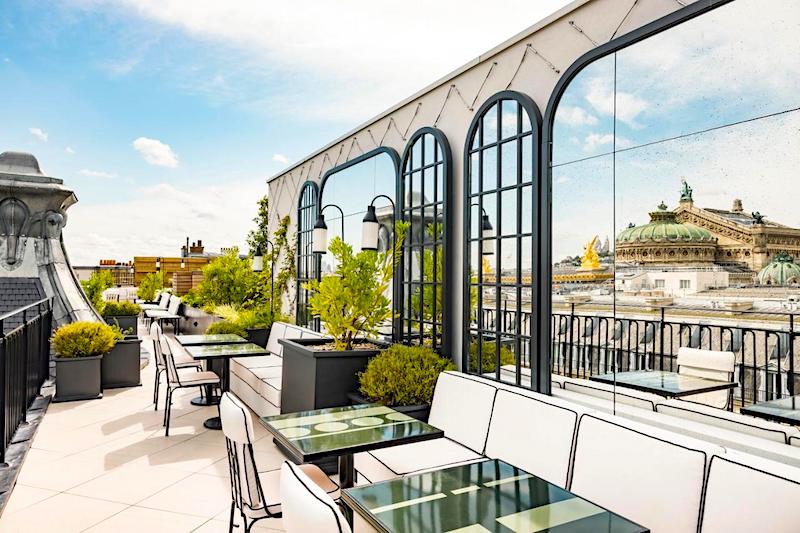 27 Boulevard des Capucines, 2nd Arrondissement
Behind the Art Nouveau façade of its 1917 building, the new and luxurious 5-star Kimpton St Honoré Paris offers everything you could want for your stay in Paris: a superb location about a 2-minute walk from the Palais Garnier Opera House and famous fashion designer showrooms, chic Art Deco-inspired decor by acclaimed Paris-based designer Charles Zana in its 123 guest rooms and 26 suites, a gorgeous sun-lit patio outside its onsite restaurant, and a full-service spa with a heated indoor swimming pool and gym.
But perhaps best of all, the hotel's rooftop garden and bar offer spectacular 360-degree views of the city's most famous monuments and attractions. There's nothing else like it in Paris.
---
Canopy Paris Trocadero
★★★
★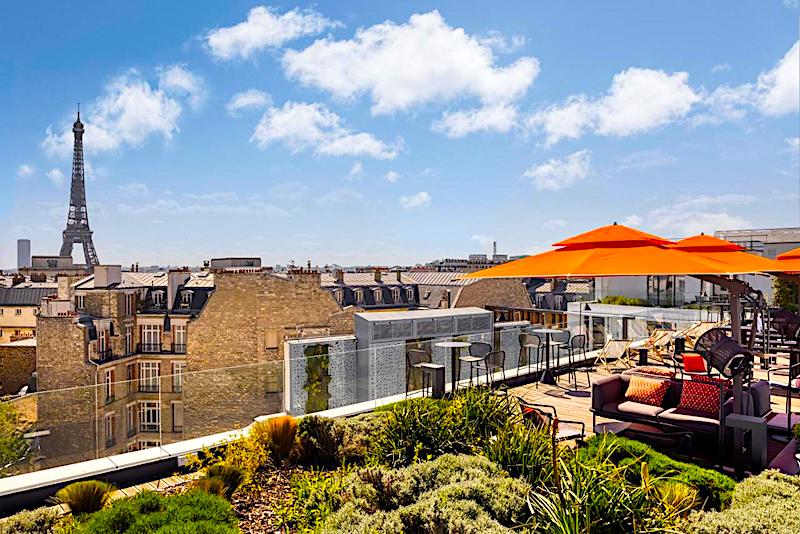 16 Avenue d'Eylau, 16th arrondissement
Thanks to its wonderful location close to Trocadero and its viewing platform offering superb views of the Eiffel Tower, the 4-star Canopy Paris Trocadero Hotel by Hilton offers a similar vista from many of its 123 elegant and spacious guest rooms and suites. However, for the best views of the iconic landmark, head up to the hotel's large rooftop terrace bar in the evening, where you can sip a glass of champagne or Parisian craft beer as a DJ plays music while city lights sparkle all around you.
You'll find a lot more to love at the Canopy Paris Trocadero - the fun Art Deco vibe, expansive public spaces for dining, relaxing, and even working on your laptop, a well-equipped fitness room, and easy access to all of the city's other iconic attractions. Plus, you can use your Hilton points to book.
Find more places to stay in the 16th arrondissement
---
Hotel Rochechouart
★★★
★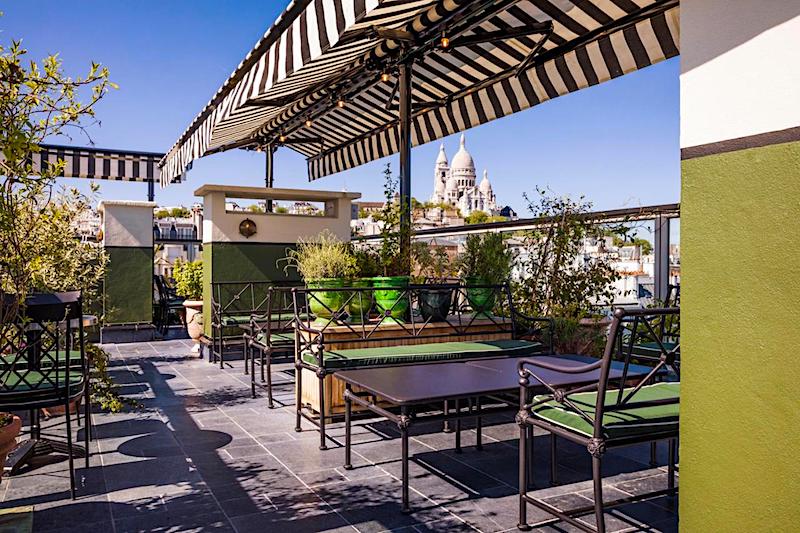 55 Boulevard de Rochechouart, 9th arrondissement
After closing down for a complete top-to-bottom renovation, the 4-star Hotel Rochechouart has emerged with a poshly elegant Art Deco vibe in its public spaces and 106 guestrooms and suites. The real show-stopper, though, is the fabulous rooftop terrace/bar offering sweeping views of Paris. Pro tip: Book a room on an upper floor with an Eiffel Tower view.
The hotel's location puts it at the edge of the Pigalle neighborhood, once known for its sex shows (only a few remain) and now home to an increasing number of trendy bars and bistros. Famed Montmartre music halls La Cigale and La Trianon are almost directly across the street, and a leisurely 5-minute walk will bring you to the Moulin Rouge caberet, while you can reach Sacre Coeur in less than 10 minutes - if you take the funicular up the hill!
More places to stay in the 9th district
---
Chouchou
★★★
★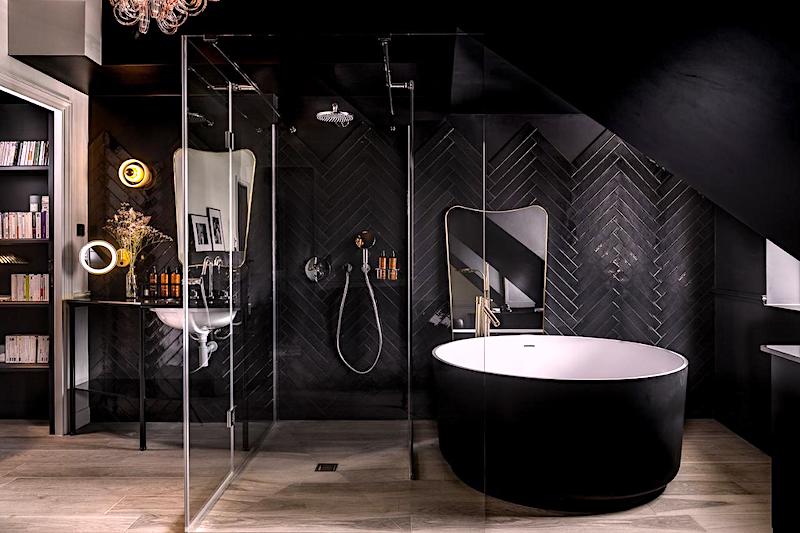 11 Rue du Helder, 9th arrondissement
Similar to a "concept store" that combines retail with culture, the 4-star Chouchou might be considered a "concept hotel" due to the way it combines accommodations in its 63 sleekly sophisticated guestrooms and suites with entertainment: a guinguette-style bar complete with dance floor, a concert and live performance space called La Scène, a mini-food hall occupied by multiple vendors, and even a bath house of sorts with spa-like private tubs large enough for two available for rent by the hour, complete with champagne, a tasting menu, and music.
Book a stay at Chouchou (chouchou, in case you're wondering, is a term of endearment in French based on the word for, of all things, a cabbage), and you may have so much fun that you won't want to venture from the hotel - but if you do, you can walk to Palais Garnier - aka the Paris Opera House - and Galeries Lafayette in less than 5 minutes, and easily explore the rest of Paris and its top attractions from the hotel's location on a quiet side street in the lively 9th arrondissement.
More places to stay in the 9th district
---
Le Cheval Blanc
★★★
★★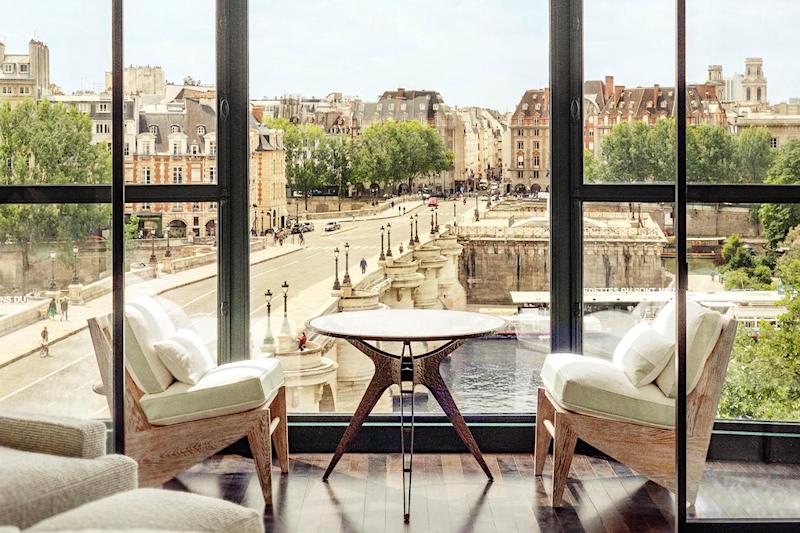 8 Quai du Louvre, 1st arrondissement
The newly opened 5-star Cheval Blanc Paris, an ultra-luxury hotel featuring the work of 600+ painters, furniture makers, textile designers, and other artisans in the Art Deco building formerly home to the storied La Samaritaine department store, is rumored to be a top candidate for a future coveted "Palace" hotel designation, and for good reason.
Owned by luxury brand LVMH headed by contemporary art patron Bernard Arnault, the hotel's 72 guest rooms and suites showcase the work of French designers and craftsmen who have combined luxurious materials with beautiful design and comfort. Located in the historic heart of Paris almost adjacent to the Louvre Museum, the hotel's private balconies give you sweeping views of the Seine River, the Ile de la Cité, and even the Eiffel Tower. You can relax in the hotel's Dior Spa, and dine on exquisite cuisine in the onsite restaurants.
If you're considering hotels where the cheapest rates start well above $1,000/night, you'll want Chevel Blanc on your short list.
More Paris hotels in the 1st district
---
Hotel Ami
★★★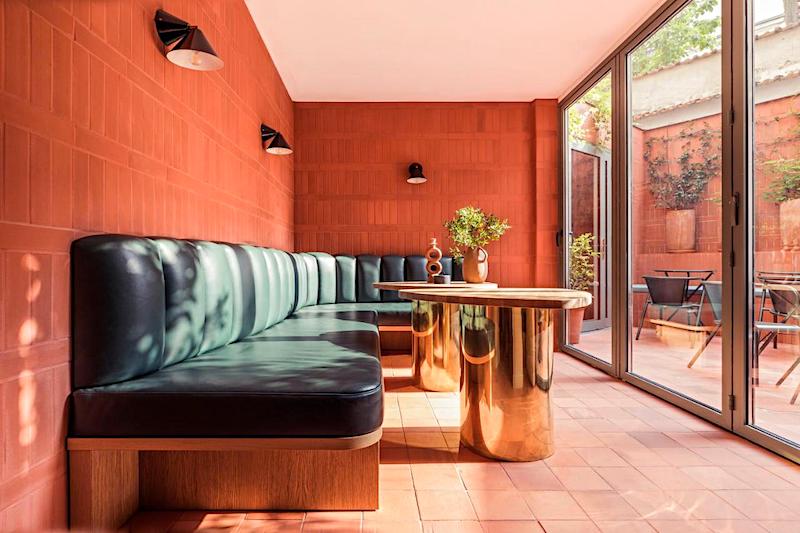 7 Rue du General Beuret, 15th arrondissement
If you're looking for an affordable Paris hotel in an appealing neighborhood close to the Eiffel Tower, take a close look at the 3-star Hotel Ami featuring glimpses of the famous attraction from a few upper-floor rooms (like #67) and just a 10-minute walk to Champ de Mars. Although the boutique property located in a former post office has been operating here since 1925, a complete top-to-bottom renovation makes it feel like new with a dazzling Nordic-minimalist design that makes the most of the compact 41 guest room spaces, including a family room.
Need more space? Head down to the appealing bar/lounge or charming walled terrace where you can sip a glass of wine or a cup of coffee made from freshly roasted organic beans sourced from local Paris roaster, Lomi. The surrounding Saint-Lambert neighborhood, a popular residential area, is also home to artisan workshops as well as numerous small restaurants, brasseries, and shops. Hop on the Metro at the Vaugirard station (Line 12) around the corner, and you'll be at the Orsay Museum in less than 10 minutes, and in Montmartre in another 7-8 minutes.
More places to stay in the 15th arrondissement
---
Hotel du Sentier
★★★★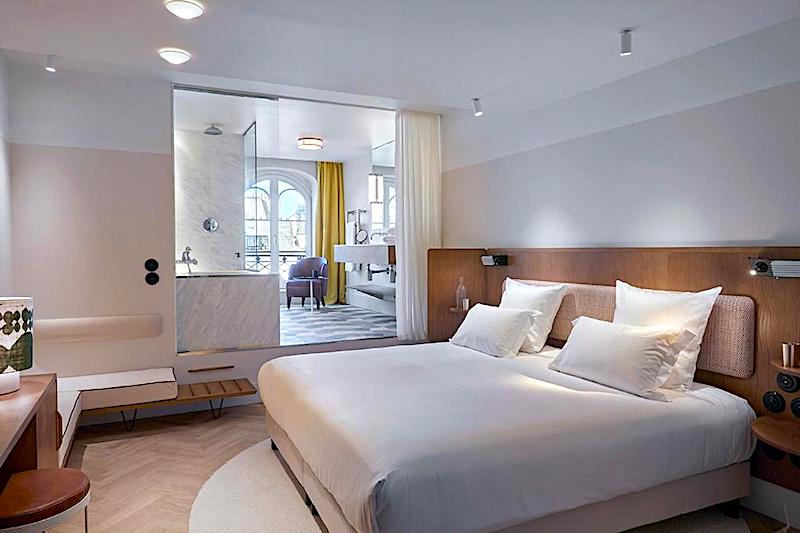 2 Place du Caire, 2nd arrondissement
Located at the entrance to Paris's oldest covered arcade, Passage du Caire, the new 4-star Hotel du Sentier features 30 beautifully designed guest rooms including some on upper floors overlooking the glass-roofed passage. For a special treat, book one of the spacious top-floor rooms with rooftop terraces overlooking Paris rooftops. All guest rooms feature beautiful wooden floors, marble bath rooms, fast wifi, air conditioning, and plush beds.
A small onsite brasserie serves bistro-type fare throughout the day, plus the surrounding neighborhood is considered a foodie paradise, with the famous food streets Rue de Nil and Rue Montorgueil about a 1-minute walk away. A 5-10 minute walk will get you to the Grand Rex movie theater (the largest in Europe!), Les Halles, the Musée des Arts et Métiers, and the Grevin Wax Museum, and a 15-minute walk will get you to the Louvre Museum, Centre Pompidou, and Palais Garnier (Paris Opera House).
---
Hotel Sookie
★★★★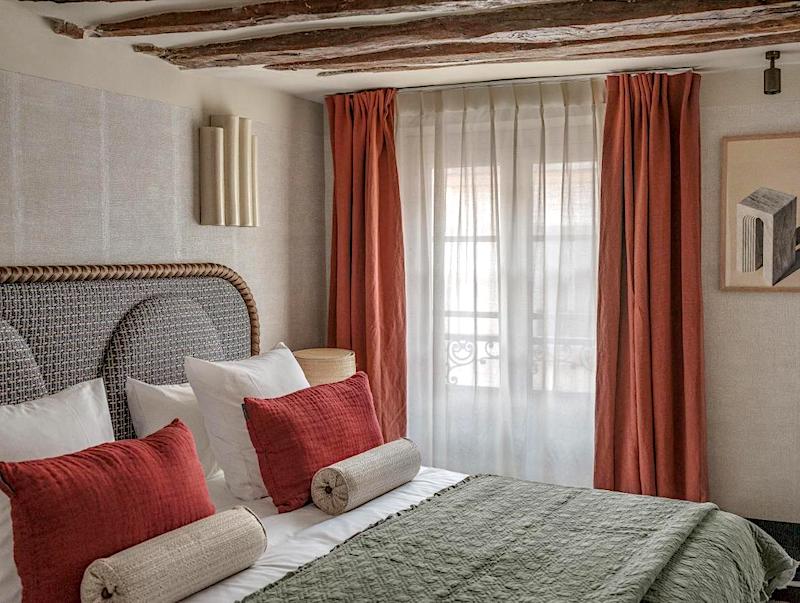 2 bis Rue Commines, 3rd arrondissement
Stone walls, wooden beams, interesting eco-friendly fabrics, and vintage finds give the 4-star Hotel Sookie's 31 rooms and suites a "home away from home" vibe while still feeling chic and fresh. The hotel's all-day coffee shop, also open to the public, extends the warm feeling and gives you a perfect people-watching spot. Come in for a croissant and café crème, and relax to jazz, funk, and soul tunes from the cafe's vintage vinyl collection and turntable including American jazz guitarist Grant Green's 1970 hit, "Sookie, Sookie," inspiration for the hotel's name.
The hotel's location on a quiet street in the Upper Marais puts you within easy reach of some of the neighborhoods best galleries and acclaimed bistros, plus you're just a short walk from the city's oldest covered market, Marché des Enfants Rouge, the Picasso Museum, other buzzy Marais destinations, and the nightlife in the trendy Oberkampf district.
More places to stay in the 3rd arrondissement
---
Hotel les Deux Gares
★★★★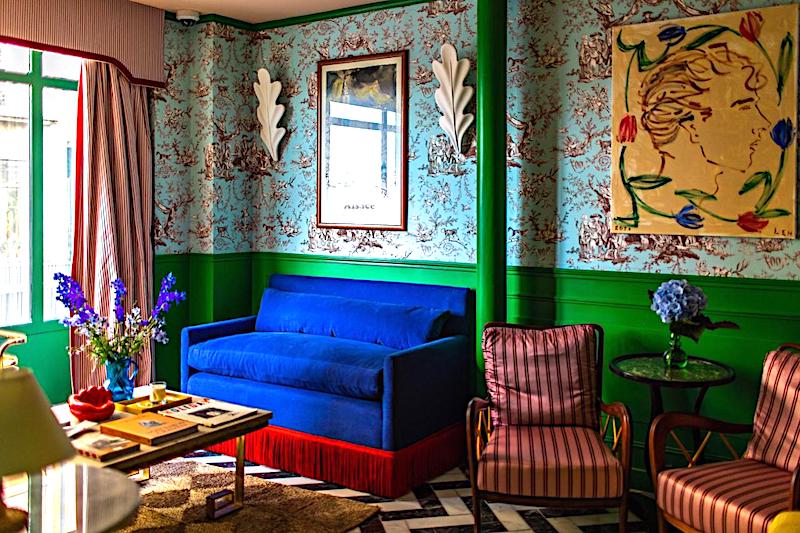 2 Rue de Deux Gares, 10th arrondissement
Located in a lovely Haussmannian building in a lively neighborhood filled with Indian restaurants and small shops roughly between Paris's Gare du Nord and Gare de l'Est train stations, the new 4-star Hotel les Deux Gares offers 40 air conditioned guest rooms decorated in fun vibrant colors by British designer Luke Edward Hall. Some rooms interconnect, if you need a family room. Even the decor in the onsite Café les Deux Gares French bistro (which you should check out for its excellent yet affordable 3-course prix-fixe lunch menu, even if you don't stay in the hotel), comfortable front lobby, and fitness room mirrors the hotel's high-energy theme.
Rates at the hotel are also usually very affordable, as it is location a bit outside of the usual tourist districts.
The hotel's location is convenient, of course, if you're arriving or departing from one of the nearby train stations, but it also puts you close to all the foodie-favorite bistros and bars in the nearby Canal Saint-Martin neighborhood, Place de la République, and the quiet streets of the Upper Marais. Walk a bit to the west, and you'll be in the trendy SoPi (South of Pigalle) neighborhood.
---
Hotel Paradiso
★★★★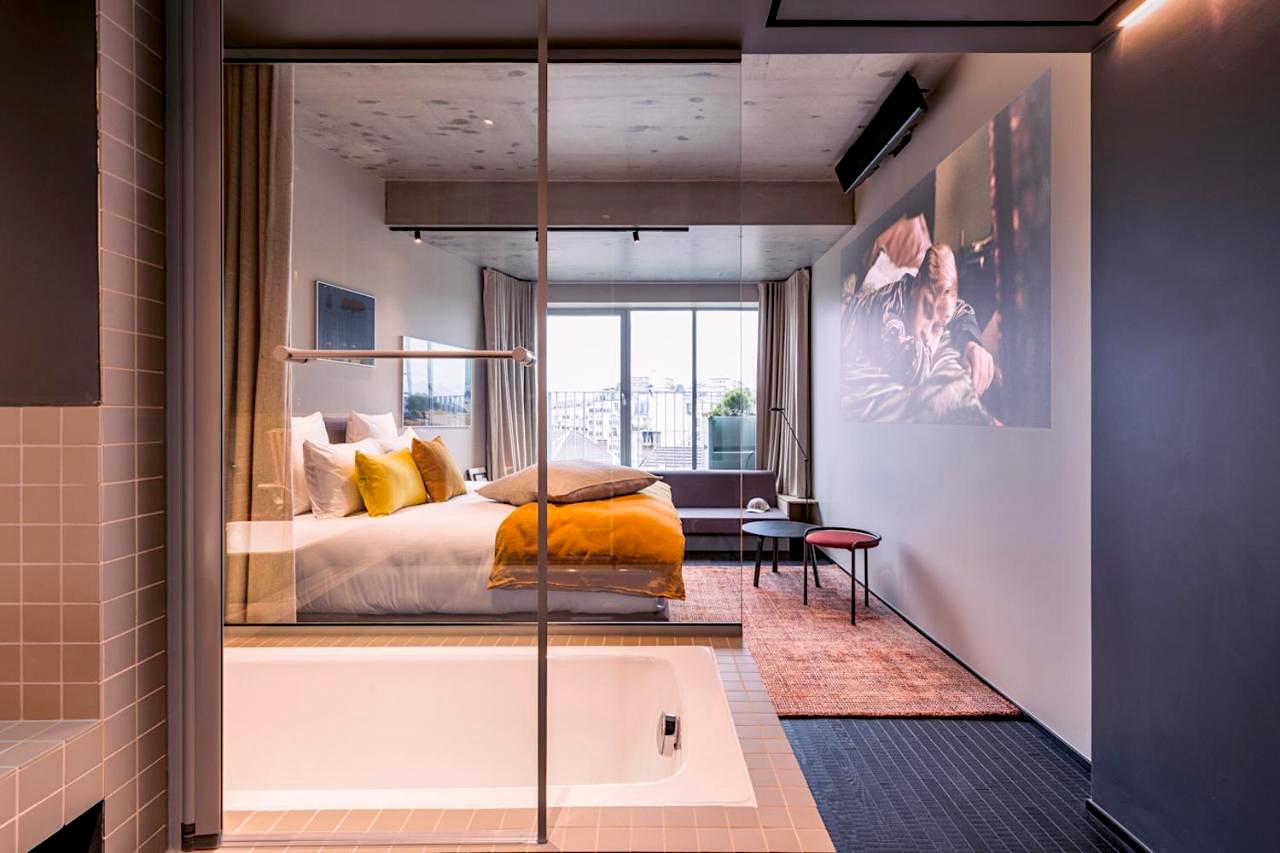 125 Boulevard Diderot, 12th arrondissement
With big 9-foot-wide projection screens in each of its 36 guestrooms (including two suites), 4-star Hotel Paradiso offers thousands of on-demand movies for your watching pleasure along with lots of comfy pillows to recline on. Depending on the room you choose, you can even watch from the tub, perhaps with a glass of wine in hand.
That's not all. When the weather is good, you can also head up to the hotel's rooftop cinema to watch more movies on a large screen. When the weather is bad? No problem - go next door where the hotel owner, France's MK2 art house group run by two movie-loving brothers, has a 6-screen theater plus a 17-seat cinema for the private use of guests where from dusk until dawn, you can watch whatever is playing in the other theaters.
There's a lot more to love here, including the onsite café, karaoke room, and nearby Promenade Plantée - but the in-room movies steal the show.
More places to stay in the 12th arrondissement
---
La Clef Champs Élysées Paris
★★★★
★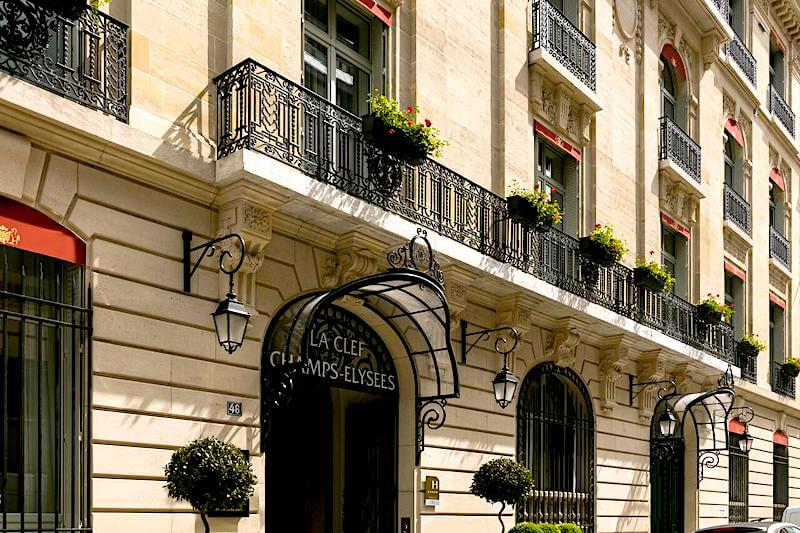 46 Rue de Bassano, 8th arrondissement
Located in a grand Haussmannian building on a quiet side street close to Arc de Triomphe and just 2 short blocks from Champs Elysées, the new La Clef Champs Elysées Paris offers 63 rooms and suites as well as 7 apartments. Studios and apartments include fully equipped kitchens and tables for dining, ideal for family trips. Apartments also feature terraces overlooking views of the Eiffel Tower, Sacre Coeur, and other Paris cityscapes.
You'll also find plenty of other amenities: a perfume bar, fitness room, laundry room, a lavish breakfast buffet, an excellent restaurant and bar, and hidden behind the building, a wonderful private terrace. You can also experience the top-notch individualized service you would expect in a 5-star property.
More places to stay in the 8th arrondissement
---
Grand Powers Paris
★★★★
★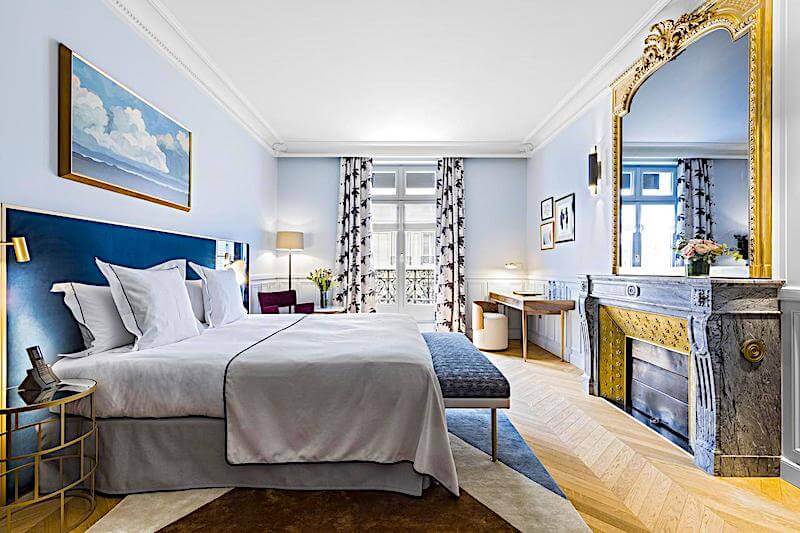 52 Rue François, 8th arrondissement
Although the Grand Powers Paris is not a new hotel, a recent top-to-bottom renovation makes this 50-room 5-star boutique hotel occupying a prime Golden Triangle location feel totally new, fresh, and dazzling. Luxurious furnishings, period details, chevron floors, and tranquil colors make the Powers an oasis amid in Paris's buzzy top location for haute-couture designer showrooms.
Relax in the onsite spa, work out in the fitness room, dine in the hotel's restaurant. For a special treat, request a room with a balcony and Eiffel Tower view. Traveling with your family? Book adjoining guest rooms or suites. There's a lot to love here, but your fondest memory after you return home may be the superb service.
---
HOY Hôtel
★★★★
68 Rue des Martyrs, 9th Arrondissement
HOY Hotel's 22 feng-shui inspired rooms feature calming blue and cream tones, super-comfortable beds, and natural hardwood floors. What sets this boutique property apart, though, is its focus on wellness and a healthy lifestyle: a yoga studio, onsite vegan restaurant, and an onsite florist. You'll even find a yoga stretching bar in your room instead of a television.
You'll also love HOY Hotel's location on the famous Rue des Martyrs. Explore the neighborhood bookstores, bakeries, cheese shops, florists, hardware stores, wine sellers, produce markets, little epiceries offering all kinds of groceries, and delis with mouthwatering carryout. The hotel is also just a quick walk from the celebrated Le Trianon and La Cigale concert halls, Moulin Rouge, the Paris Opera House, and Montmartre.
More places to stay in the 9th arrondissement
---
TRIBE Paris Batignolles
★★★★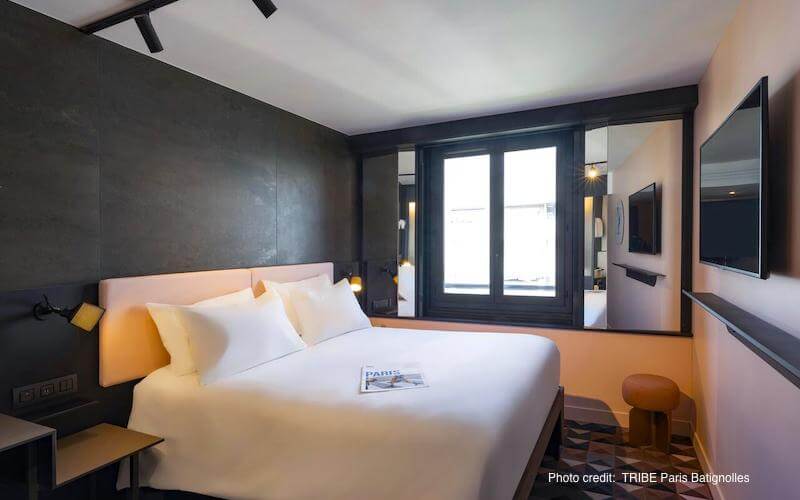 176 Rue Cardinet, 17th arrondissement
With a location across the street from Clichy-Batignolles Martin Luther King Park in the 17th arrondissement, 4-star TRIBE Paris Batignolles offers affordable rates and a mix of contemporary minimalist decor in its 79 guestrooms and lively public areas in the hip Batignolles neighborhood. There is air conditioning, an onsite fitness area, and parking available.
Explore the wonderful Batignolles covered market, the open air organic market, and the interesting neighborhood vintage shops. The neighborhood also offers lots of fun places to eat. To see more of the city, a nearby metro station gives you easy access to other parts of Paris.
---
Monsieur George Hotel & Spa
★★★★
★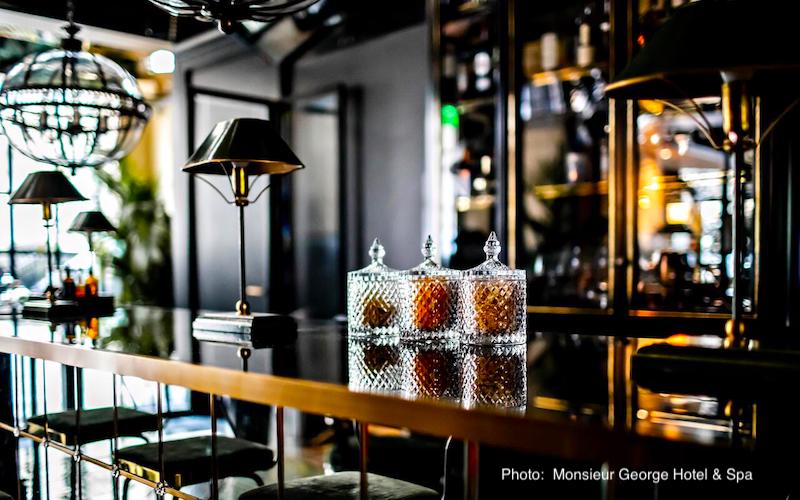 17 Rue de Rivoli, 8th arrondissement
Each of the 46 rooms and three suites at the super-chic 5-star Monsieur George Hotel & Spa offers a unique experience with designs ranging from Art Deco to Asian design, unified by luxurious fabrics, furnishings, and a deep sense of cocoon-like comfort.
Eiffel Tower views from some rooms, an onsite restaurant and bar, a wellness area with a hamman, spa, and fitness room, and a concierge service and tour desk give you everything you need at your fingertips, yet you're just a few steps away from Champs-Elysées and close to all the Arc de Triomphe, numerous museums and parks, and other top Paris attractions.
More places to stay in the 8th arrondissement
---
J.K. Place Paris
★★★★★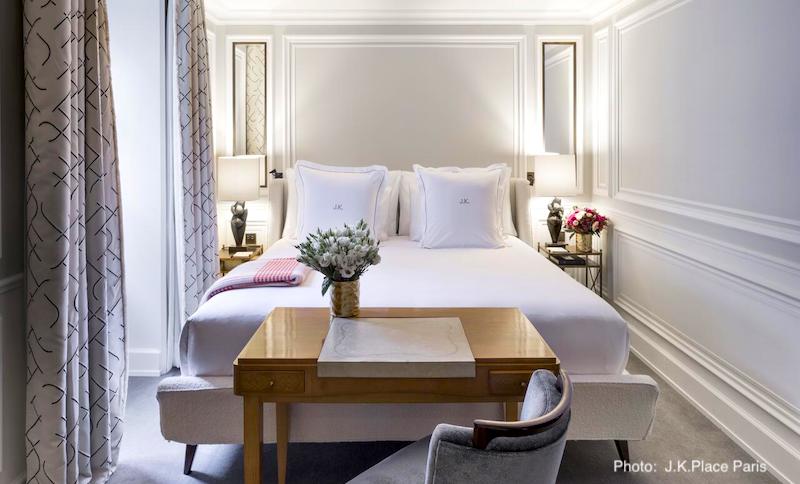 82 Rue de Lille, 7th arrondissement
Sumptuous fabrics, custom Italian furniture, and one-of-a-kind antiques and art make the 29-guestroom J.K. Place Paris an opulent 5-star retreat in a desirable 7th arrondissement location just steps from the Musée d'Orsay and the Seine River. Each room features a different look, so you'll get a fresh aesthetic experience each time you stay while continuing to enjoy the luxury retreat's top amenities and service.
The hotel's serene indoor swimming pool, a fully-equipped gym featuring high-end equipment, and a Sisley spa give you plenty of reasons not leave this former embassy during your stay in Paris - but with the Louvre, Orangerie Museum, and Tuileries Garden just on the other side of the Seine, the designer boutiques in the Saint-Germain des Prés neighborhood a short walk away, and many other top Paris sights almost at your doorstep, you're in an ideal location to enjoy the City of Light.
---
Hôtel du Louvre
★★★★
★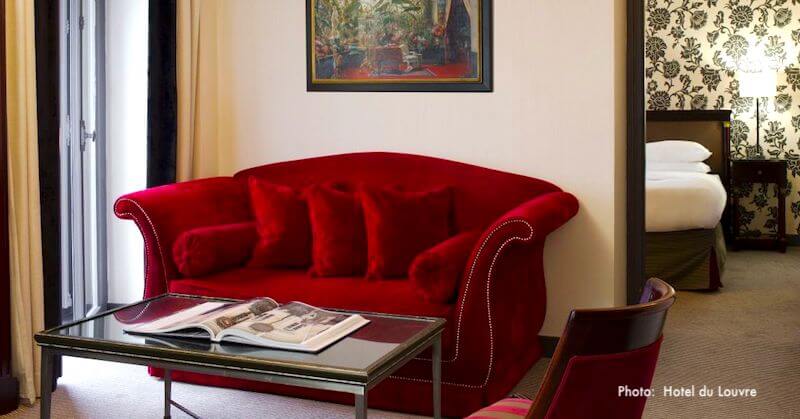 172 Rue de Rivoli, 1st arrondissement; a Hyatt property
The luxurious 5-star Hotel du Louvre received a spectacular makeover of its 164 guestrooms, including 58 suites and other public spaces including the elegant bar with its beautifully-restored 19th century glass roof.
Situated in an ideal location directly across the street from the Louvre Museum, Hotel du Louvre's superb 1st arrondissement location also puts you close to the Paris Opera House (Opéra Garnier), Tuileries Garden, Palais Royal, and the Seine River.
More places to stay in the 1st arrondissement
---
Le Damantin Hotel & Spa
★★★★★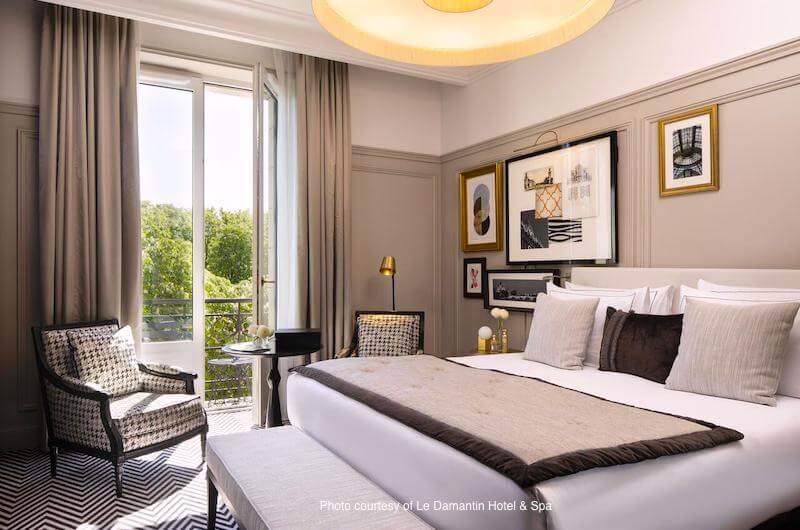 1 Rue Bayard, 8th arrondissement
Housed in a gorgeous newly renovated 19th century red-brick mansion overlooking the Seine River and Eiffel Tower, the family-owned Le Damantin Hotel & Spa offers every luxury in its 44 guestrooms and suites: luxuriously comfortable beds and seating, elegant decor, impeccable service, an ideal location within walking distance of Paris's top attractions, and a fantastic indoor pool, spa, wellness center, and sauna.
You'll also love the fantastic marble bathrooms with huge tubs and separate showers. And as a bonus, the guestrooms are large by Paris standards. Book a room with a terrace, order a bottle of champagne, and you may never want to leave.
More places to stay in the 8th arrondissement
---
Hôtel 9Confidentiel Paris
★★★★★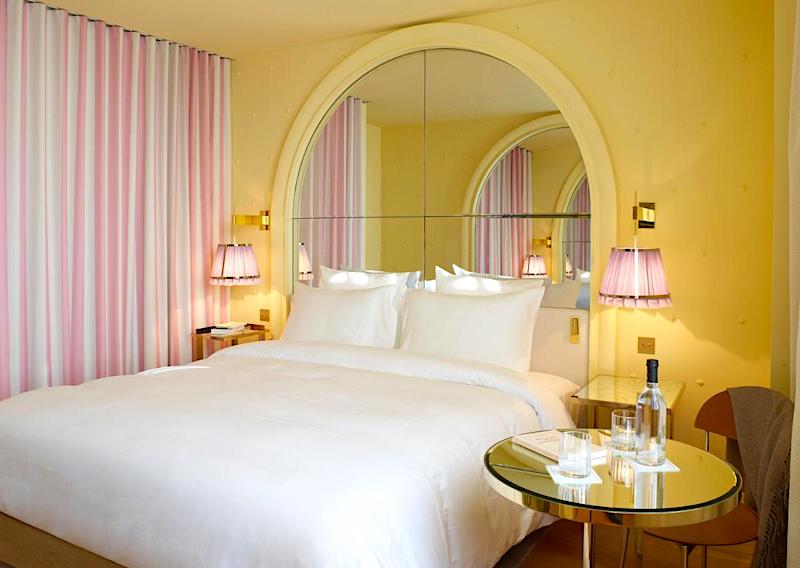 58 Rue du Roi de Sicile, 4th arrondissement
Vintage candy jars inspired Philippe Starck's Deco designs for Hôtel 9Confidentiel's 26 guest rooms and 3 luxurious suites - perfect motif for the glamorous 1920s moderne vibe that greets you as soon as you enter the plush lobby of this new and glitzy 5-star boutique hotel in Paris's chic but historic Marais neighborhood.
You'll also love the excellent service, super-comfortable beds, big-screen televisions, and wonderful location.
---
La Planque Hotel
★★★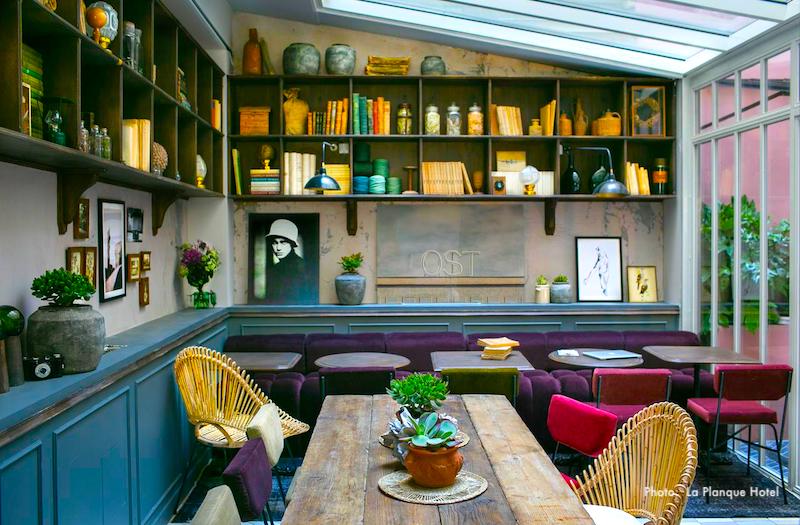 3 Rue Arthur Groussier, 10th arrondissement
Located in the trendiest part of Belleville near the picturesque Saint Martin Canal, La Planque Hotel combines a cool retro-chic style with affordable rates.
The 36-guestroom boutique hotel, formerly an apartment building, features a charming collection of vintage and flea market treasures with jewel-like colors, velvet-upholstered headboards and cushions, small public spaces such as a library/lounge area and even a small pink-walled terrace filled with plants surrounding a seating area.
Most guestrooms are on the small side - meaning they're typical for Paris - but feature quiet air conditioning/heating, desks, and minimalist but charming decor.
---
More New Hotels in Paris Opening Soon
Accor's Luxury SO Hotel in the New Morland Complex on the Seine
Voie Georges Pompidou, 4th arrondissement
Situated in an enviable location overlooking the Seine River at the edge of the trendy Marais neighborhood, Acco's luxury brand SO Hotel will include 140 guestrooms and 22 suites of floors 7-14 in a newly renovated space offering sweeping views of Paris rooftops and famous landmarks.
With a club, bar, and restaurant featuring an immersive mirror, glass, and kaleidoscope installation by Icelandic-Danish artist Olafur Eliasson on the 15th and 16th floors, a luxury spa highlighting works by contemporary French artists, and a fitness center and swimming pool on a lower floor, this new hotel is already creating lots of excitement. Look for a grand opening later this year.
---
Paris Hotel Map - All Accommodations in Paris
Want to see more Paris hotels? Use this hotel map from Booking.com to find available accommodations and lowest rates for your travel dates, and make your reservations:
Check out the newest Paris hotels
---
More Articles about Paris Hotels
---
Fun Ways to See Paris