Paris events in December focus on the holidays as lavish Christmas and New Year's decorations transform the city into a real City of Light as days grow shorter.
Do your holiday shopping and sip hot mulled wine at the traditional Christmas Markets that pop up all over Paris, admire the lavish Christmas windows at the grand department stores, and enjoy a classical music concert in a magnificent Paris church or cathedral.
And if you're lucky enough to be here for New Year's Eve, get ready for a celebration to remember!
Christmas Markets in Paris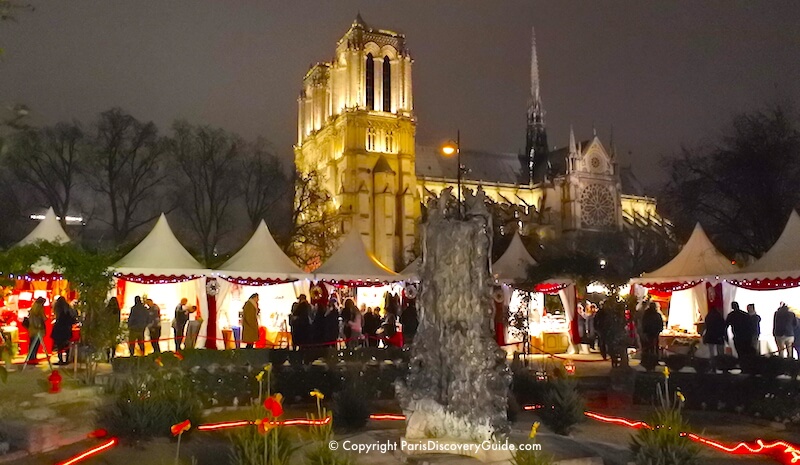 Sparkling lights and decorations, the smell of roasting chestnuts, cups of hot mulled wine, and Swiss-style chalets overflowing with special holiday foods, gifts, and decorations . . . Christmas Markets, a tradition since Medieval times, pop up all over Paris starting in late November.
Paris Christmas Market Schedule
Christmas Market at Notre Dame Cathedral - December 15-24
Christmas Village at La Défense -November 23-December 28
Les Halles Christmas Village - November 27-December 31
Champs de Mars (under the Eiffel Tower) - November 19-January 7, 2019
Abbesses Christmas Market - December 1-January 1, 2019
St Germain des Près Christmas Market - December 1-January 1, 2019
15th Arrondissement Christmas Market - Dec 15-24
Christmas Market at Invalides - December 14-31 (to be confirmed for 2018)
Champs-Élysées Christmas Market - No information yet for 2018
Selected Pop-Up Christmas Markets for 2018
Japanese Christmas Market - Passage Choiseul (40 Rue des Petits Champs, 2nd arr) - Dec 6-9
More about Paris Christmas Markets: Details, locations, and directions
Christmas Lights & Holiday Decorations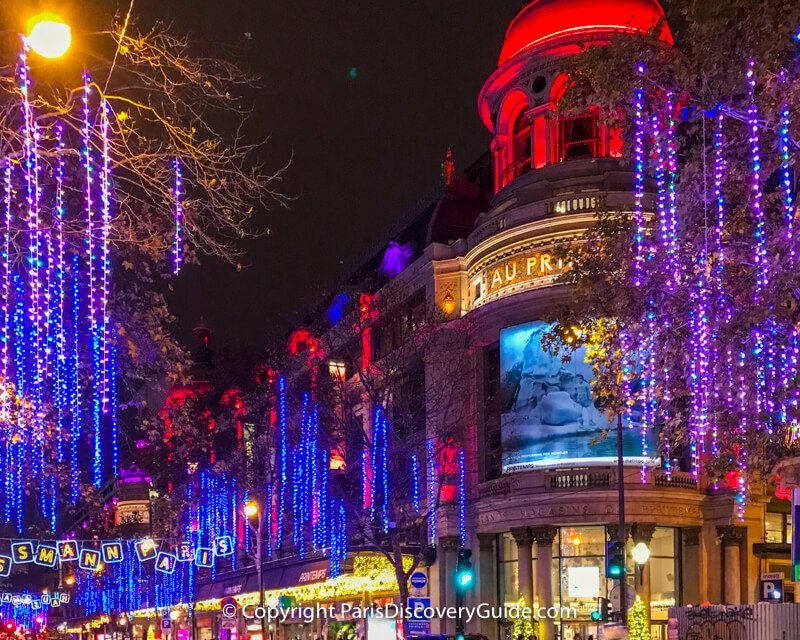 Christmas lights and decorations start to appear in Paris starting in mid-November and continue through early January (until just before the January sales begin).
By December, you can see festive lights, decorations, and Christmas trees in all the city's key shopping districts. Don't miss the spectacular store window displays at Paris's four grand department stores!
Find the best places to see Christmas lights in Paris
December Concerts in Paris - 2018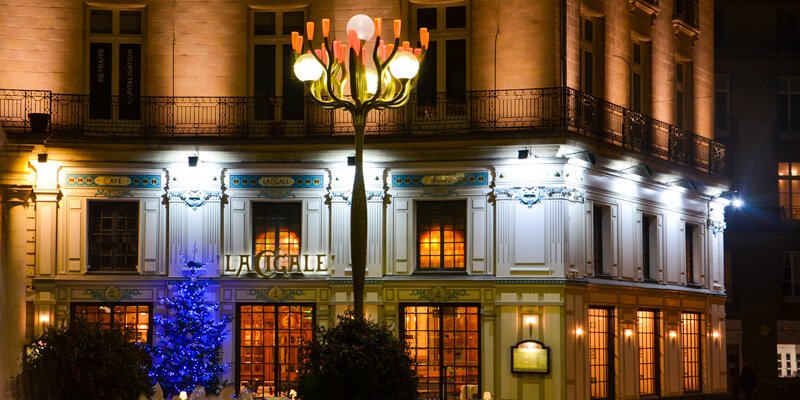 Christmas & Christmas Eve Concerts in Paris:
New Year's Eve Concerts in Paris:
More December Concerts:
More Paris concerts in December
Christmas at Disneyland Paris in December, 2018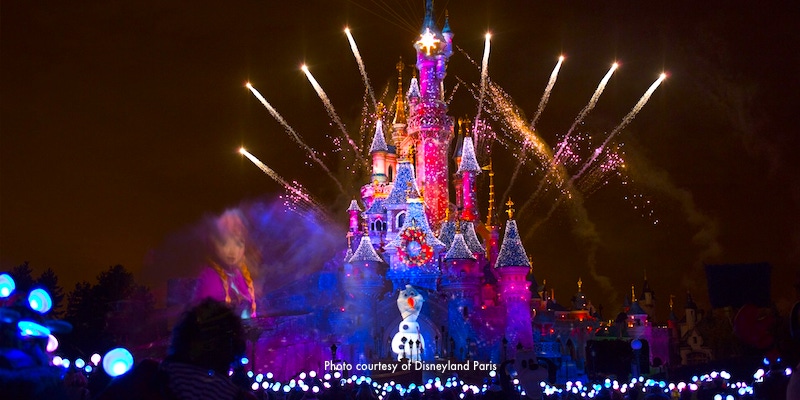 Christmas celebrations begin at Disneyland Paris with plenty of entertainment and fun for everyone.
You'll find a spectacular giant tree, entertaining shows, festive Christmas parades, and holiday decorations everywhere. Don't miss two brand-new holiday shows at Walt Disney Studios® Park, a new immersive nighttime extravaganza, and singing carols with Santa, Mickey, and Minnie for a magical experience you won't forget!
When: Through January 7, 2018

Disneyland Paris and Transportation
Take the RER A to the Marne-la-Valée station across a small plaza from Disneyland Paris, and buy your tickets at the gate - or check out these options to make your trip faster and easier:
Paris Exhibits - Shows to See during December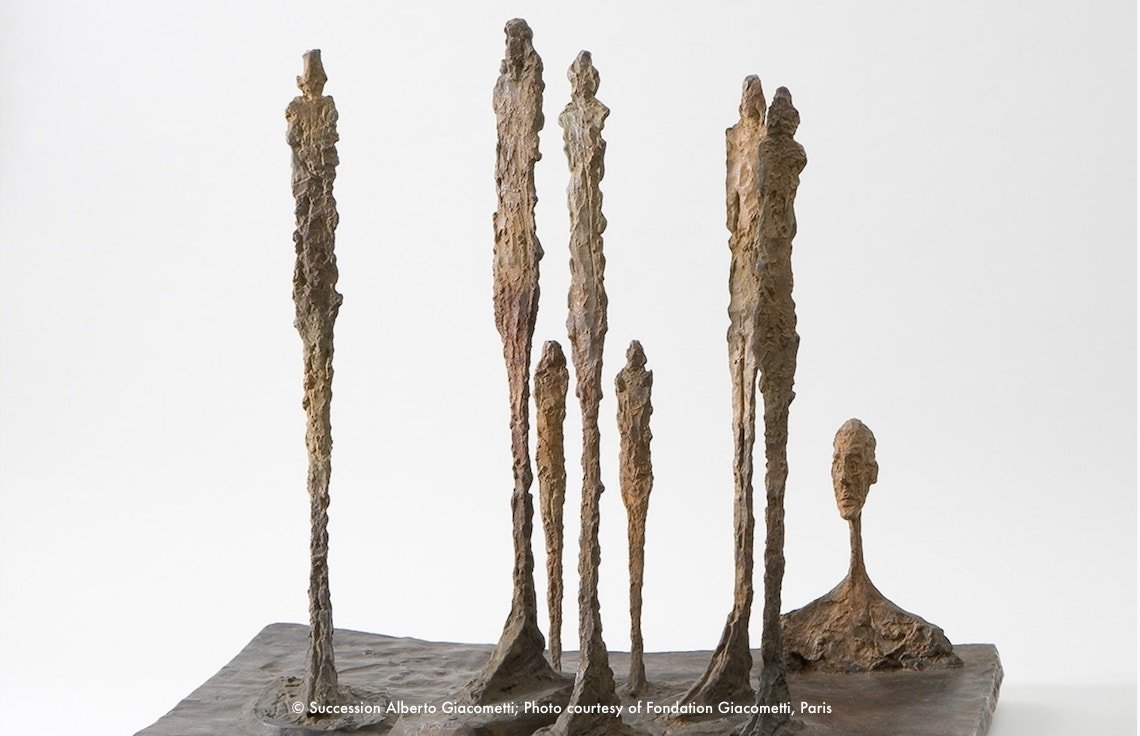 Giacometti
@ Musée Maillol, September 14 - January 20, 2019 - Over 0 pieces of art by Swiss artist Alberto Giacometti are complemented by 25 works from other major artists such as Rodin, Bourdelle, Brancusi, Lipchitz, and Zadkine in this exhibit devoted to the Swiss artist's early works as he transitioned from classical modernism to avant-garde surrealism and abstraction. Tickets: 13€
Location: 61 rue de Grenelle, 7th arr
Nearest Metro: Rue du Bac
More info: www.museemaillol.com
Private Collections: A Journey of Impressionists to the Fauves
@ Musée Marmottan Monet, September 13 through February 10, 2019 - On display will be 60 seldom-shown pieces from private collection by monet, Degas, Renoir, Rodin, Claudel, Seurat, Bonnard, Derain, Matisse, Gauguin, and other important artists from Impressionism to Fauvism. Open Wednesday - Monday; 10am-6pm and until 9pm on Thursdays. General admission 11€; includes this exhibit
Location: 2 rue Louis Boilly, 16e
Nearest Metro: La Muette
More info: www.marmottan.fr
Caravaggio's Roman Period - 2018
@ Musée Jacquemart-André, September 21-January 28, 2019 - Extraordinary masterpieces gathered from major Italian museums and the Hermitage Museum of St Petersburg showcase Caravaggio's late 16th century-early 17th century Roman period and explore his revolutionary impact on art as well as his links with the collectors, other artists, poets, and scholars of his time. Tickets 13.50€
Location: 158 Boulevard Haussmann, 8th arr.
Nearest Metro: Saint Philippe du Roule
Dazzling Venice! 2018
@ Grand Palais, September 26, 2018-January 21, 2019 - This live show immerses you in dazzling 18th century Venice during its most prosperous period of great theater, entainment, music, and art. Closed on Tuesdays. Tickets 15€
Location: Grand Palais, Avenue Winston-Churchill, 8th arr
Nearest Metro: Champs-Élysées-Clemenceau
More info: https://www.grandpalais.fr
More Top Paris Things to Do & See in December