Paris events in December focus on the holidays as lavish Christmas and New Year's decorations transform the city into a real City of Light.
Paris in December brings festive Christmas Markets overflowing with unique gifts and regional specialties, sparkling lights and decorations throughout the city's neighborhoods, and plenty of good cheer.
Sip a cup of vin chaud - hot mulled wine - as you do your holiday shopping, gaze at the magical holiday windows at the famous Paris department stores, and relax at special Christmas concerts in the city's magnificent churches.
And if you're lucky enough to be here for New Year's Eve, get ready for a spectacular celebration you'll always remember.
Top photo: Holiday lights along Champs Elysées leading up to the Arc de Triomphe
---
December Concerts in Paris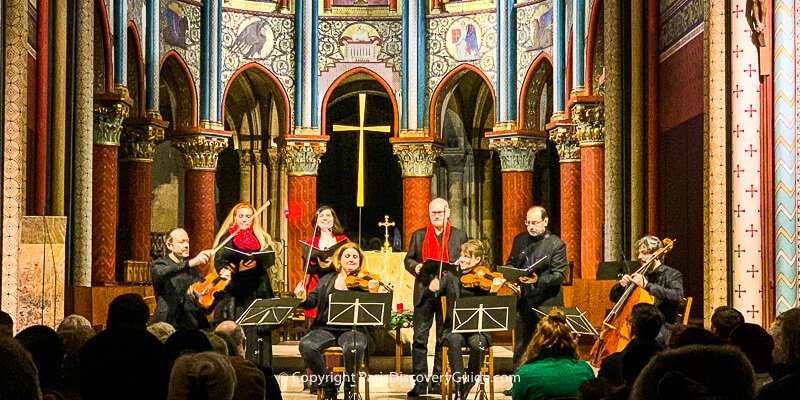 Christmas concerts take center stage in Paris during December 2022, although you'll also find plenty of classical concerts in the city's most beautiful old churches as well as opera and ballet at Palais Garnier and rock, indie, jazz, pop, and "spectacles" at AccorHotels Arena, the Olympia, Palais des Congres, and other concert venues.
Don't miss candlelight concerts, New Year's Eve concerts, and the special Eiffel Tower concert on Christmas Day! Tickets for all of these concerts start to sell fast and even sell out in November - so don't wait to get yours.
Check the lineup to find classical, rock, and Christmas concerts, opera, ballet, and other music shows happening throughout December, and get your tickets now:
Attending a concert or opera during December, especially around the holidays, is a popular tradition in Paris. Tickets tend to sell out quickly, so don't wait too long to book!
Christmas & Christmas Eve Concerts in Paris
Looking for non-holiday music? Skip down to the regular December Concerts section
More Christmas Eve & Christmas Day Performances
New Year's Concerts & Opera in Paris
More December Concerts, Operas, & Ballets
More Paris classical concerts, opera, & dance performances during December
More rock, pop, jazz, rap, indie, & other concerts during December - In the search box, enter: Paris December
Find Paris concerts for other months
---
Enjoy the Best Christmas Markets in Paris - Opening Dates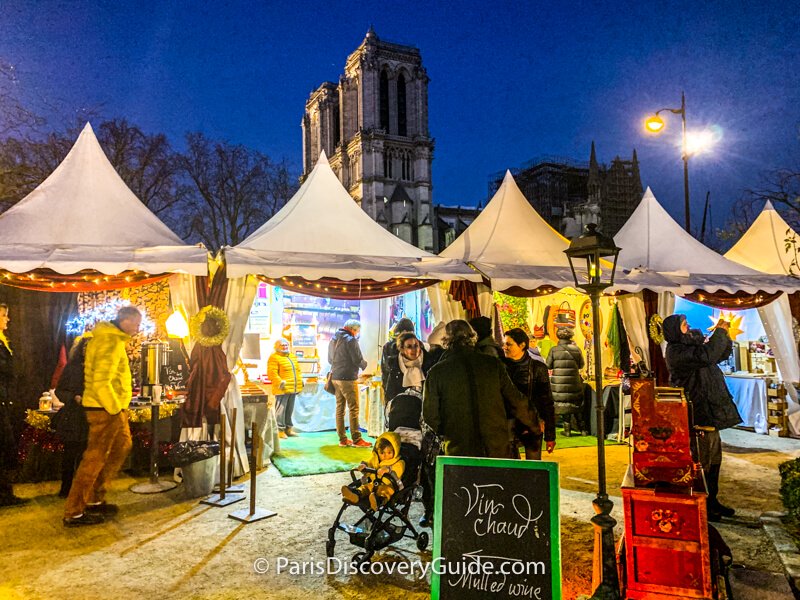 Sparkling lights and decorations, the smell of roasting chestnuts, cups of hot wine infused with cinnamon, and Swiss-style chalets overflowing with special holiday foods, hand-crafted gifts, and decorations.... Christmas Markets, a tradition since Medieval times, pop up all over Paris starting in late November.
Paris Christmas Market Schedule - 2022-2023
Tuileries Christmas Market: La Magie de Noël (The Magic of Christmas) - (formerly Champs-Élysées Christmas Market) - November 19, 2022 - January 8, 2023; 1st arr
St Germain des Prés Christmas Market - November 26 - January 1, 2023; 6th arr
La Défense Christmas Village (along the Esplanade at the Arche de La Défense - November 28 - December 24 for 2022; take the Metro Line 1 to La Defense station - about 10 minutes from Etoile/CDG)
Eiffel Tower Christmas Village on Quai Branly - November 30, 2022 - January 1, 2023 (to be confirmed); 7th arr
Alsatian Christmas Market at Gare de l'Est - November 30 - December 16, 10th arr
Christmas Market at Hôtel de Ville (Paris City Hall, Rue de Rivoli, next to Hotel de Ville metro station, 4th arr) - December 1 - January 1, 2023; 4th arr
Bastille Christmas Market at Place de las Bastille - December 3 - 26, 11th arr
Christmas Market at the Feeries d'Anteuil (Rue Jean de la Fontaine, Paris 16) - December 3-11
Notre Dame Christmas Market at Square Viviani - December 9 - 26, 10am-8pm (9pm on Friday, Saturday, Sunday); 5th arr
Abbesses Christmas Market in Montmartre near Sacre Coeur - December 10 - 31, 18th arr
15th Arrondissement Christmas Market - In front of the 15th's Town Hall - December 15-31
Find details about what each market offers, which ones are best, lots of photos, and addresses
Selected Pop-Up & Short-Term Christmas Markets
Now confirmed for 2022:
Japanese Christmas Market - Espace Cinko, 12-18 Passage Choiseul, Paris 2 - 11am-7pm, November 17-19
English Christmas - St George's Anglican Church (7 Rue Auguste Vacquerie, 16th arr) - November 26
Christmas Markets at the Pavillon des Canaux ("Les Canaux") (39 Quai de la Loire, on Canal d'Ourcq (close to Parc de la Villette), Paris 19) - Look for themed markets on these weekends: Nov 26- 27; Dec 5-6; Dec 11-12; and Dec 17-18
Christmas Eco-Villages on three weekends at La REcyclerie (83 Blvd Ornano, Paris 18): Nov 26-27, Dec 3-4, and Dec 10-11
Specialty Christmas Markets on 3 Sundays with 3 themes and numerous creators in front of Le Hasard Ludique ("Playful Hazard"), the former Saint-Ouen rail station on the Petit Cienture and now a cultural venue (128 Avenue de Saint-Ouen, 18th arr; nearest Metro: Porte de St Ouen / Guy Moquet) - Ubuntu Christmas Market on Dec 3, 4; Made in the 18th Arrondisement Market on Dec 11; Big Christmas Market Market on Dec 17 - plus Christmas treats, mulled wine, specialty beers, and hot drinks all day. Free admission. More about Le Hasard Ludique: https://www.lehasardludique.
Marché de Noel at Hotel Maison Mère (7 Rue Mayran, near Rue des Martyrs , 9th arr) - Small Christmas market featuring jewelry, decorative objects, and art by local artisans - Nov 27, starts at 11:30am - more information
Swedish Christmas Market - The Swedish Church (9 Rue Médéric, 17th arr, Metro: Courcelles) - Swedish specialites such as glasswear, candles, cakes, lingonberry jam, chocolates, and Swedish herring and salmon - Dec 2-4, 2022
Féeries d'Auteuil Christmas Market - Les Apprentis d'Auteuil (40 Rue Jean de la Fontaine, Paris 16) - Dec 3-11
Still to be confirmed for 2022
If we find these markets this year, we'll update the following information:
Marché de Noël de Rock My Bergamote - Young French Designers at Le Pavillion des Canaux coffeeshop/restaurant (39 Quai de la Loire), Bassin de la Villette, 19th arr - 11am-8pm, early December
Klin d'Oeil d'Hiver Christmas Market featuring 70 designers - Carreau du Temple (4 Eugene Spuller - 3rd arr) - Early December
Saint Laz' Christmas Market in front of the Saint-Lazare train station, 9th arr - TBD
Marché de Noël Paris Beaubourg - Christmas Market at Pompidou Center, 4th arr - November - January - TBD
Bir Hakeim Christmas Market (not far from the Eiffel Tower) - December 9 -January 1 - TBD
Christmas Market at Invalides - December 11-27 - TBD
Sacre Coeur Christmas Market in front of Sacre Coeur - Mid-Dec - TBD
More about Paris Christmas Markets: Details, locations, and directions
---
Christmas Lights & Holiday Decorations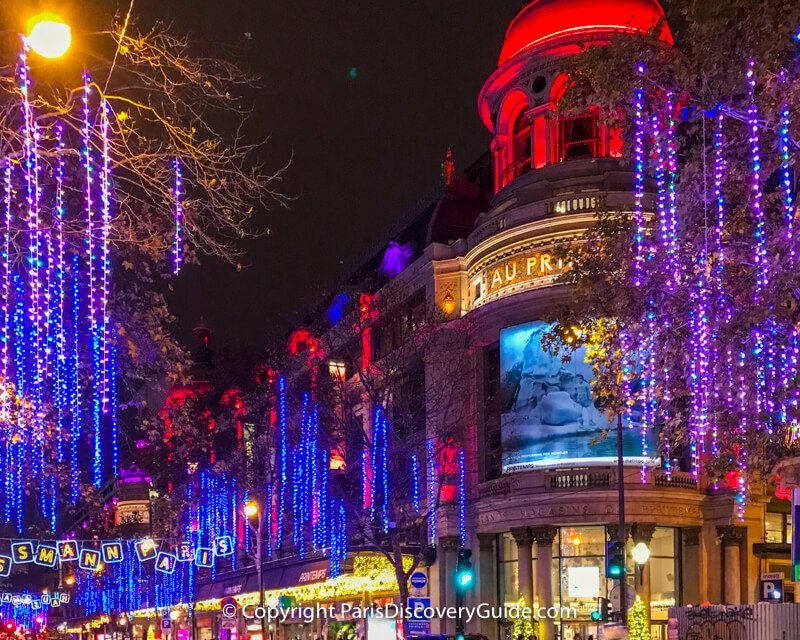 Christmas lights ("Illuminations") and decorations start to appear in Paris starting in early November and continue through early January (until just before the January sales begin).
This year, Bon Marché will again be the first to reveal their window at 5pm on Friday, October 28. The theme this year is a giant Santa's workshop with cute elves working to make enough colorful Christmas tree bulbs fo light up all the trees on Christmas Day.
Printemps Haussmann unveils their fabulous Christmas windows on November 9 at 5:30pm. American super-model Cindy Crawford and her daughter Kaia Gerber will cut the ribbons to the reveal the windows and launch the seasonal festivities. This year's theme is the circus, with trapeze artists, clowns, magicians, Christmas circus balloons, and Santa as ringmaster.
By December, you can see festive lights, decorations, and Christmas trees in all the city's key shopping districts. But don't miss the spectacular store window displays at Paris's five grand department stores!
Find the best places to see Christmas lights in Paris
Go on a Paris Christmas Lights Tour
Find out more about holiday window displays in Paris department stores
---
Christmas at Disneyland Paris in December 2022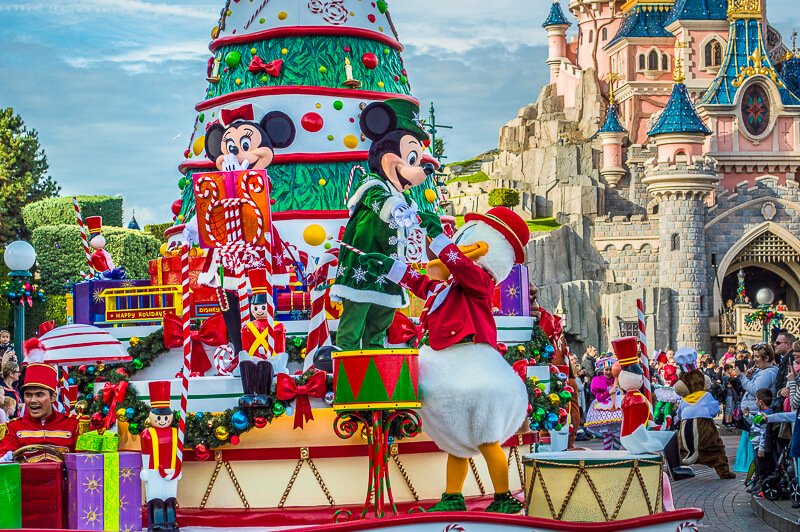 Enchanted Christmas celebrations start at Disneyland Paris in early November and continue into January with plenty of entertainment and holiday spirit for everyone.
You'll find a spectacular giant tree, entertaining shows, festive Christmas parades, and sparkling holiday decorations everywhere, plus special events such as the nightly "magical" Christmas tree lighting. Each year brings new holiday features, lights, and shows at both Disney Parks, an immersive nighttime extravaganza, and singing carols with Santa, Mickey, and Minnie for a magical experience you won't forget. You can even expect snowflakes to fall a few times each day!
When: November 12 - January 8
Disneyland Paris and Transportation
Take the RER A to the Marne-la-Valée station across a small plaza from Disneyland Paris, and buy your tickets at the gate - or check out these options to make your trip faster and easier:
---
More about Paris in December
---
Hanukkah Celebrations & Menorah Lightings in Paris 2022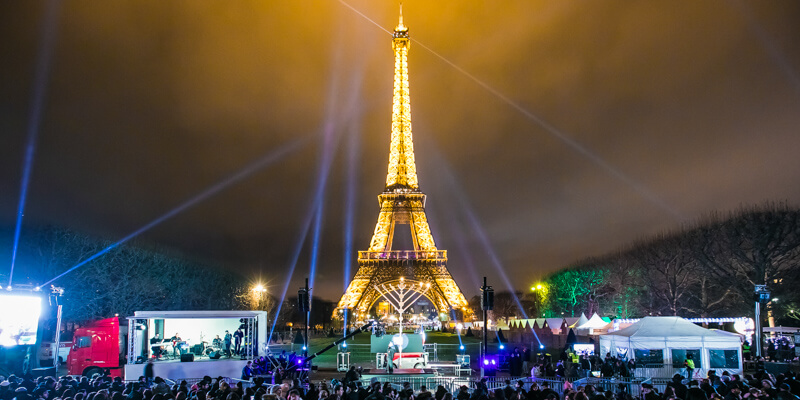 Hanukkah, the Jewish Festival of Lights, begins at sundown on December 18 this year, and lasts for eight days until sundown on December 26.
All over the City of Light, giant menorahs in public spaces (as well as normal size menorahs in private homes) will be lit in honor of the occasion, starting with just one candle on the first night plus one additional candle on each following night until all are glowing.
This year, Paris begins its public menorah lighting ceremony for Hanukkah at the Eiffel Tower at 8pm, followed by a "Hassidique" concert. (to be confirmed)
Find locations for the menorah lighting ceremony each night, plus more ways to celebrate Hanukkah in Paris
---
Things to Do in Paris in December
Visiting Paris in December? Here's a mix of fun indoor and outdoor activities to enjoy this month:
---
Paris Exhibits - Shows to See during December 2022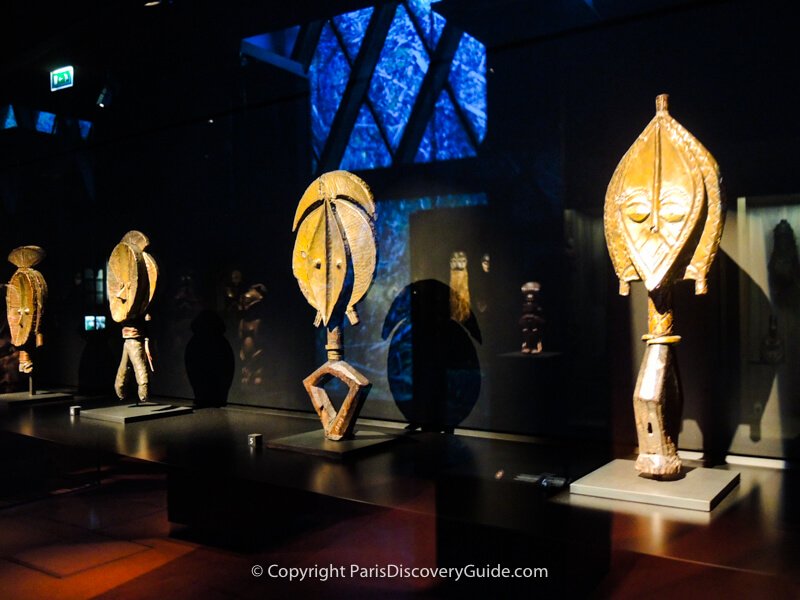 Cezanne, the Lights of Provence, and Kandinsky, the Odyssey of Abstraction at Atelier des Lumières
Immersive digital show accompanied by original music explores the works of Cezanne and Kandinsky. Both shows are sure to be fantastic - don't miss them!
Dates: Through January 2, 2023; open daily
Tickets: 16€ adults, plus reduced rates for families, youth, seniors; purchase online on the L'Atelier website; you can also purchase at the door (for 2€ more per ticket) but there's no guarantee you'll get in as timeslots are often fully booked
Getting there: 38 Rue Saint Maur, 11th arrondissement; Metro: Saint-Maur
Rosa Bonheur at Musee d'Orsay
This major retrospective of French artist Rosa Bonheur on the bicentenary of her birth takes a close look at 200 of her paintings and other works, especially in her portraits of animals.
Dates: October 18, 2022 - February 15, 2023
Musée d'Orsay Tickets: 16€ adults. Book a reserved-access ticket for skip-the-line access, save with a combo ticket to Musée de l'Orangerie and the Orsay Museum, or use your Paris Museum Pass for free entry
Location: 1 Rue de la Légion d'Honneur, Paris 7; Metro: Pont de l'Alma; Invalides
Find more Paris museum exhibitions for December & future months
---
Paris Museum and Attractions Passes
Get free admission and skip-the-line access to 60+ museums in and near Paris when you have a Paris Museum Pass for 2, 4, or 6 days. More info
---
Paris Christmas Illuminations Tours & Cruises
Want to get the best views of Christmas lights in Paris? These four tours let you experience unforgettable close-up looks at the city's most spectacular holiday lights:
---
Handel's Messiah Sing-Along 2022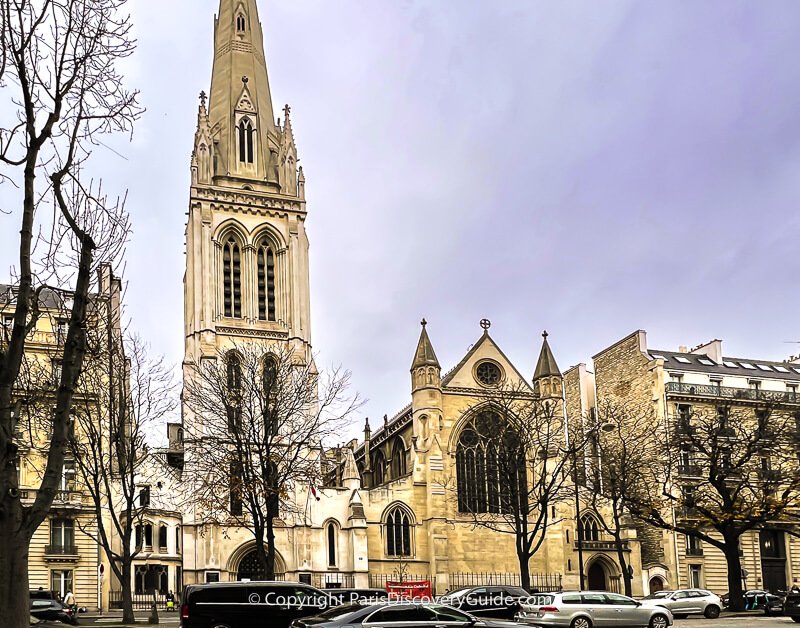 Have you ever wanted to celebrate the holiday season by singing Handel's Messiah as part of a large group of enthusiastic singers?
You can do this on Sunday, December 11 at 3pm as the Paris Choral Society leads their annual Messiah Sing-Along of Part 1 and the famous Hallelujah Chorus at the American Cathedral (23 Avenue George V, 8th arr) - or, if you prefer, just listen. Don't know the words? No worries. You can rent or buy a copy of the score at the door.
You can also join the Paris Choral Society at the Cathedral on December 1 and December 3 for a Christmas Concert.
See the Paris Choral Society website for details and ticket information.
---
More Top Paris Things to Do & See in December
---
Festival of Lights at Paris's Jardin des Plantes - 2022-2022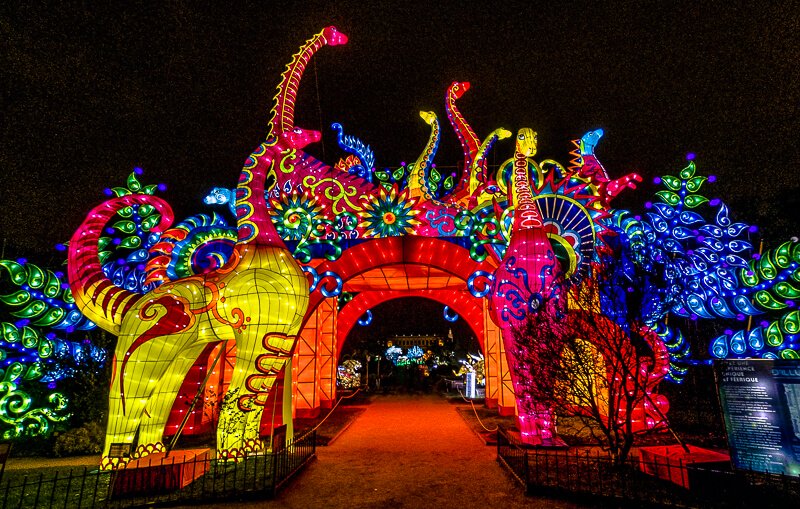 The annual winter Festival of Lights returns to the Jardin des Plantes (Botanical Garden) in Paris's 5th arrondissement, with giant illuminated statues of animals creating a magical experience during the evening. Each year, the animals represent a different phase of evolution, and this year you'll see butterflies, dragonflies, frogs, snails, spiders, and other insects as you stroll through the garden's enchanting imaginary universe filled with lights and colors.
Although the exhibition attracts almost 400,000 visitors each year, the garden never seems crowded.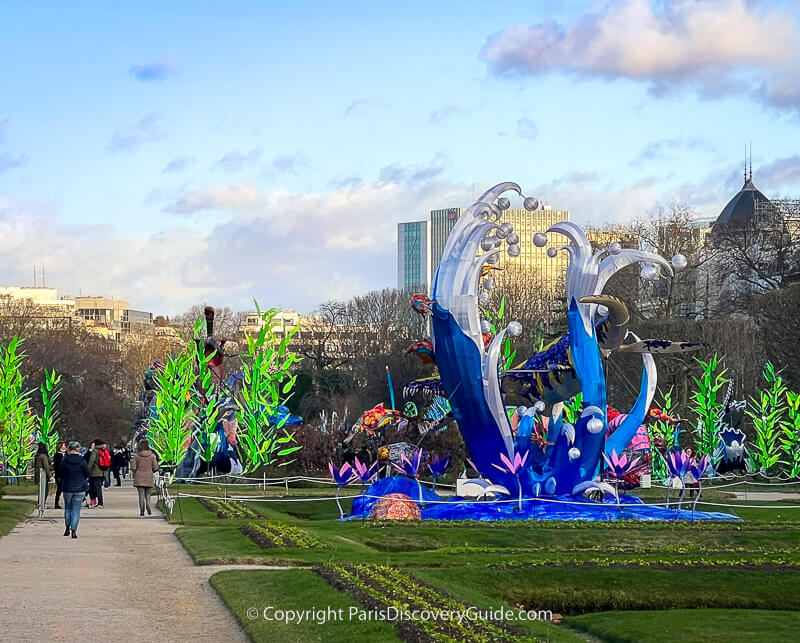 You can see the creatures unilluminated during daytime hours without a ticket (in other words, for free), but the ticketed event which begins after dark is more spectacular.
Dates: November 14, 2022 - January 15, 2023, except for Dec. 24 & 31, 6pm l- 9:30pm, with last entry at 8:30pm, and until 11pm (last entry at 10) on Friday, Saturday, & school holidays
Location: Jardin des Plantes, 57 Rue Cuvier, 5th arr
Tickets for evening strolls: 15€-17€, with reduced prices for children and families; tickets must be bought online (and get yours early, as they will sell out on many nights, especially during the holidays)
---
More about Paris in December
---
Need to Book a Paris Hotel or Apartment for Your December Visit?
Planning a trip to Paris during the holiday season? Use this hotel map to find hotels and apartments near your favorite events and Paris attractions:
Check out the newest Paris hotels
---
More Articles about Things to Do in Paris in December
---
More Fun Things to Do in Paris at Christmas
---
More about Paris in December