Staying at a 4-star Paris hotel near the Arc de Triomphe gives you comfort, luxury, and terrific service in a super-convenient location.
Our recommended hotels cluster in the three arrondissements that converge at the Arc - the 17th, the 8th, and the 16th.
Each hotel has a distinct "personality" ranging from super-contemporary to traditional - so have fun choosing which one best matches your own style!
Although all of these 4-star hotels enjoy locations in the three up-scale neighborhoods near the Arc de Triomphe and other major attractions, you may be surprised by how much their rates vary.
What's the reason? Views. In general, you'll find higher rates at the hotels where some guestrooms offer full or partial views of the famous monument.
So splurge on a view (tip: be sure to request it when you book) and luxurious amenities... or walk a couple of blocks to see the Arc while enjoying your hotel's convenient location and luxurious amenities at budget rates. Your choice!
Regardless of which hotel you choose, you'll be in a wonderful part of Paris!
Find out more about visiting the Arc de Triomphe
Top photo: The Arc de Triomphe, (c) Paris Discovery Guide
Paris Discovery Guide is a reader-supported publication. When you buy through our links, we may earn a commission at no additional cost for you. Learn more
---
Splendid Étoile Hôtel
★★★★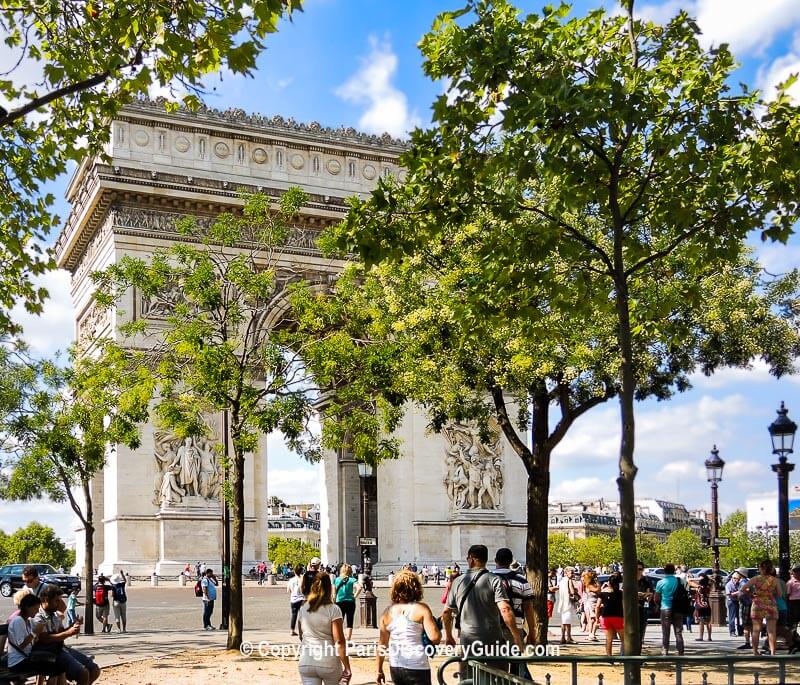 1 Avenue Carnot, 17th arrondissement; nearest metro: Charles de Gaulle/Etoile
You may feel like you can reach out and touch the Arc de Triomphe from your balcony when you stay at the 4-star Splendid Étoile Hôtel - and in fact, you almost can. (Be sure to request a room with a view when you make your reservations.)
Inside a stately 19th century Haussmannian building, the hotel's 57 guestrooms and suites feature restful tones of gray and cream with jewel-like pops of color. You'll love the onsite gourmet restaurant, where you can experience classic French cuisine.
Of course you'll enjoy the wonderful sights and stores along Champs Élysées, but the hotel's 17th Arrondissement location also gives you easy access if you want to attend an event at the Palais des Congrès, visit the modern Grande Arche at La Défense, or explore the Fondation Louis Vuitton in the Bois du Bologne.
Find more top hotels in Paris's 17th arrondissement
---
"Ash & Timber" Apartment near Arc de Triomphe & the Golden Triangle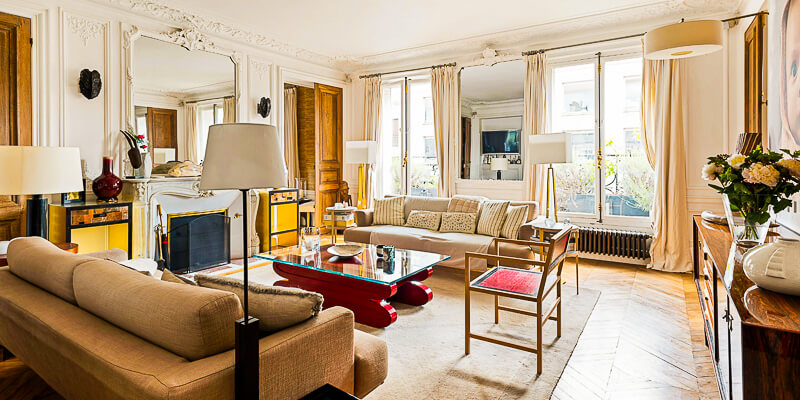 Prefer more space for your money than a hotel typically offers? The posh but homey "Ash & Timber" apartment near Arc de Triomphe, Champs Elysées, and the Golden Triangle luxury shopping area offers two bedrooms, two baths, and at over 1,500 square feet, a huge amount of space in Paris's most exclusive neighborhood.
The apartment features a mix of unique historic details with an eclectic mix of contemporary and vintage furnishings to give a fun vibe.
A fantastic modern chef's kitchen, gorgeous marble bathrooms, and a long balcony give you plenty to enjoy.
Don't want to cook? Your host can arrange for a chef - or a baby sitter, if you prefer to go out.
---
Royal Hôtel Paris Champs Élysées
★★★
★
33 Avenue de Friedland, 8th arrondissement
With a superb location in a 19th century Haussmannian building close to the Arc de Triomphe, Royal Hôtel Paris Champs Élysées, offers an elegant mix of luxurious traditional and modern decor.
The hotel's 56 guestrooms feature regal colors and warm wood tones. Room sizes range from fairly tiny singles (for 1 person only - perfect if you're traveling alone, don't need much space, and dream about scoring bargain rates in a swanky hotel) to quite spacious larger rooms, including family rooms for up to 3 or 4 people
Rates, even for the largest rooms, are usually surprisingly affordable, considering the location on Avenue Friedland.
More to do near the hotel: Shop along Champs-Elysees, enjoy a meal at one of the many cafes and restaurants along Avenue Friedland, and of course get tickets to go to the top of the Arc de Triomphe for sweeping views of the city skyline, including the Eiffel Tower across the Seine River.
---
Cristal Champs Élysées
★★★★
9 Rue Washington, Paris 8; nearest metro: Georges V
Get ready to love or hate the eye-popping colors and innovative decor at Cristal Champs Élysées Hôtel, located in the swanky 8th Arrondissement, a five-minute walk from the Arc de Triomphe and less than 50 yards from Champs Élysées.
Each of the 26 guestrooms and suites sports a unique graphic design and color scheme almost guaranteed to put a smile on your face. But don't let the mixture of fun and glamour fool you - the Cristal also delivers plenty of luxurious amenities for your enjoyment!
In addition to shopping along Champs Élysées and the Golden Triangle, be sure to check out some of the many nearby museums - Palais de Tokyo, Petit Palais, and the Musee d'Art Moderne de la Ville de Paris are all within easy reach.
More places to stay in the 8th arrondissement near the Arc de Triomphe
---
Sonder Atala Champs Élysées
★★★★
10 Rue Chateaubriand, 8th arrondissement; nearest metro: Georges V
A collection of contemporary art mingles with Picasso lithographs at Atala Champs Élysées, an art-inspired hotel located on a quiet street just 2 minutes away from lively Champs Élysées and perhaps a 5-minute walk from the Arc de Triomphe.
You'll love the Art Deco touches in the spacious 48 guestrooms and suites, as well as the luxurious fabrics and linens. Even better: Eiffel Tower views from some of the balconies. A lovely art-filled garden in the hotel's courtyard gives you the perfect place to relax in the morning over coffee and croissants, or in the evening with a drink from the bar. You'll also enjoy the well-equipped fitness room.
And of course, you'll find plenty to do nearby - but you can also easily hop on the Métro and be at the Louvre and other top Paris attractions within minutes!
---
Hôtel du Romancier (also called Hôtel Chateaubriand)
★★★★
Located less than a 10-minute walk from the Arc de Triomphe in the 8th Arrondissement, Hôtel du Romancier is located in an elegant 19th century building on a quiet side street just a block from lively Champs Élysées.
Featuring a mix of antiques and luxury fabrics, each of the 28 guestrooms is individually decorated and their adjoining bathrooms feature gorgeous Italian marble. If you're traveling with your family, the triple rooms are a nice option.
The hotel's location means you're close to all the top attractions along Champs Élysées. In addition, be sure to explore the lovely gardens, statues, and lake at nearby Parc Monceau.
---
Find More Paris Hotels & Apartments near Arc de Triomphe
More Paris Hotels from Booking.com
Use this Paris hotel map to find more accommodations near the Arc de Triomphe. Add your travel dates to see availability and best rates:
More Paris Apartments from Plum Guide
Check out more Paris apartments vetted by Plum Guide
---
How Far in Advance Should You Make Reservations at Paris Hotels near the Arc de Triomphe?
The upscale neighborhoods surrounding the Arc de Triomphe and nearby Champs Elysees are aways popular with Paris visitors due to nearby designer boutiques, excellent restaurants, and closeness to the Eiffel Tower and other top attractions, so you always need to make hotel reservations as early as possible to make sure you get the best choice.
When special events such as the Paris Marathon, Grand Finale of the Tour de France, and Bastille Day Parade take place on Champs Elysees, book even sooner, especially if you want accommodations with a view!
Pin Now, Read Again Later
---
---
Fun Ways to See the Arc de Triomphe
Find out more about visiting the Arc de Triomphe
---
More Articles about Hotel Accommodations in Paris