Paris Palace hotels cocoon you in luxury, surround you with beauty, and pamper you in every way possible.
Whether you want to celebrate a special occasion or just reward yourself with a few days and nights of bliss in the City of Lights, the Parisian Palace hotels give you the best of the best.
Each hotel offers you a unique ambiance and experience, ranging from traditional 18th century French royal grandeur to luxuriously modern serenity, with spectacular city views, impeccable service, and every amenity you can imagine.
Yes, a stay in one of these dazzling palaces will be a splurge - but your memories will be priceless.
Four Seasons Hôtel George V
★★★★★

Palace Hotel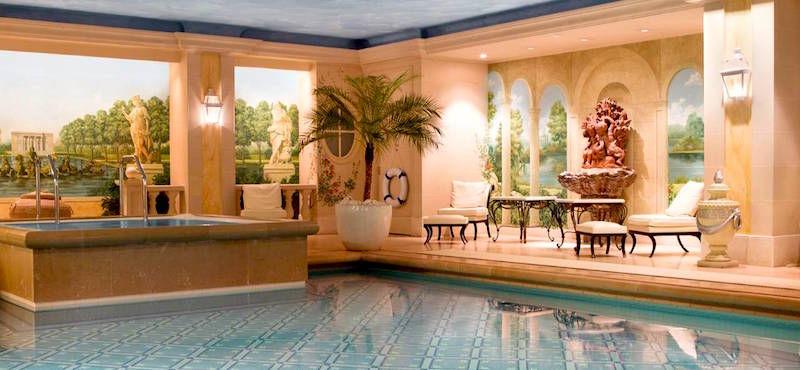 With 244 spacious guestrooms and suites, Four Seasons George V is the largest of the Paris Palace hotels, and commands a regal position on Avenue George V in the 8th Arrondissement's Golden Triangle designer boutique shopper's paradise.
Decor ranges from traditional Louis XV and Louis XVI to modern, and the luxury of the furnishings is rivaled only by the spectacular city views.
All suites include huge dressing rooms, and the largest have kitchens and offices in addition to dining rooms, living rooms, and bedrooms.
With a lovely swimming pool, great spa, and excellent restaurants, the Four Seasons George V has a lot to love.
CHECK RATES
Le Royal Monceau Raffles
★★★★★

Palace Hotel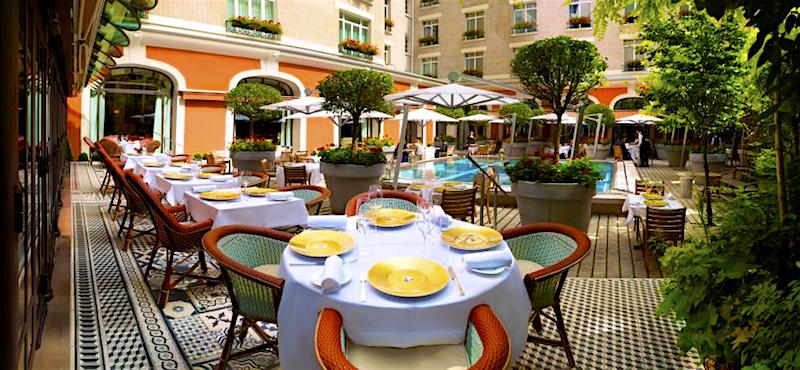 Boasting a wonderful spa and the largest hotel swimming pool in Paris (as well as one of the loveliest terraces), Le Royal Monceau Rafflesdelivers a blend of luxury, art, and fun in an upscale location halfway between the Arc de Triomphe and beautiful Parc Monceau.
The hotel's 149 rooms and suites combine soothing neutral tones with a plushy modern design overseen by Philippe Starck, wrapping you in a cocoon of comfortable luxury.
With lots of options for connecting rooms and suites, Le Royal Monceau welcomes families. If you've planning a visit with your kids, check out the children's cooking classes!
CHECK RATES
Le Plaza Athénée
★★★★★

Palace Hotel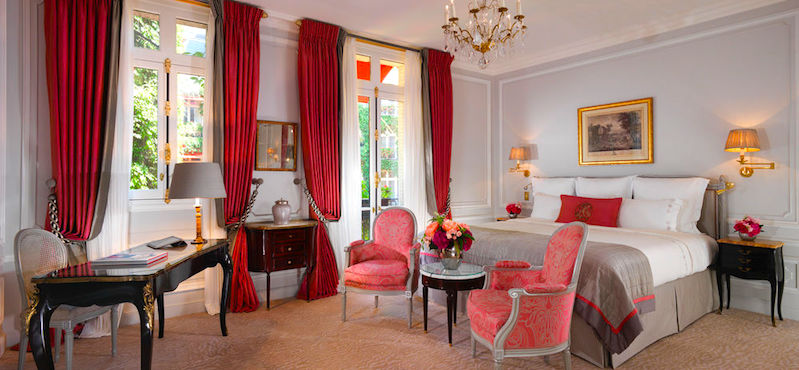 From the glitzy chrome-and-crystal lobby to its 208 opulent guestrooms, suites, and apartments, Le Plaza Athénée oozes sophisticated glamor in step with Dior, Chanel, Vuitton, and Armani and its other haute couture neighbors along Avenue Montaigne in the Paris's famed Golden Triangle.
In the summer, you'll love al fresco dining on the secluded terrace, which transforms in the winter into a private skating rink for hotel guests. With 5 onsite restaurants headed by Michelin-starred chef Alain Ducasse, you may never leave the hotel - but if you do, the hotel's chauffeur-driven limousines will take you to see all the top Paris attractions.
CHECK RATES
Park Hyatt Paris Vendôme
★★★★★

Palace Hotel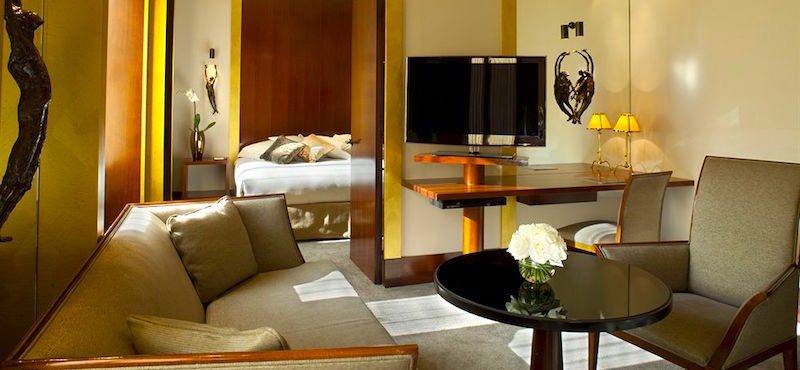 A distinctly Asian vibe sets the stage at Park Hyatt Paris Vendôme for a tranquil, soothing experience of understated luxury and personalized service.
The hotel occupies two classic Haussmannian buildings to the north of Place Vendôme, surrounded by designer boutiques.
In the 153 guestrooms and suites, neutral tones combined with rich woods and touches of gold creating a sophisticated but soothing environment.
With a Michelin-starred restaurant and other top-notch dining options including an all-season terrace, an onsite spa, and plenty of modern art throughout the hotel, the Park Hyatt offers an appealing combination of luxury and simplicity.
CHECK RATES
Le Meurice
★★★★★

Palace Hotel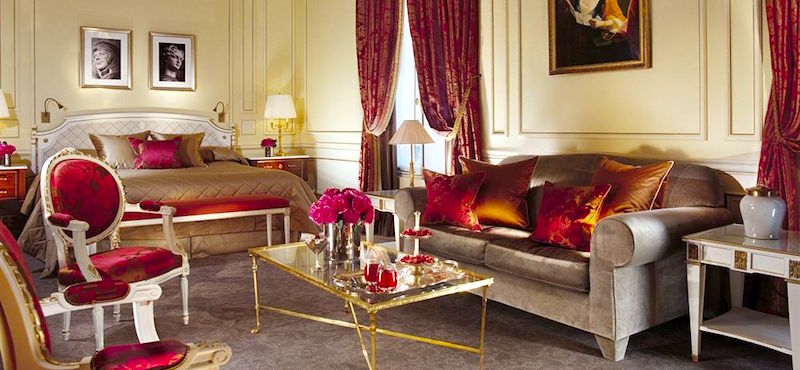 A heady mix of Louis XVI style furnishings, gold and crystal chandeliers, lavish murals, and luxury jewel-tone fabrics give you an unforgettable experience at
Le Meurice,
where many of the 160 guestrooms, suites, and penthouse overlook beautiful Tuileries Gardens next to that other (former) palace, the Louvre.
With wonderful dining and drinking options, special programs and services for kids, and a superb spa, you may not want or need to leave the hotel - but if you do, the hotel's prime location on Rue de Rivoli means you're just 2 very short blocks from all the fabulous designer shops, showrooms, and boutiques along Rue Saint-Honoré and Place Vendôme.
CHECK RATES
Le Bristol
★★★★★

Palace Hotel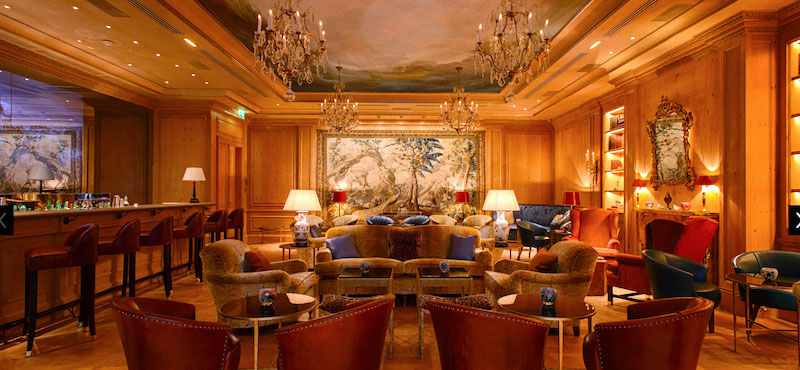 Tradition and personalized service reign at Le Bristol, where acres of pink and white marble, 18th century Regency style furnishings and antiques, crystal chandeliers, and magnificent fresh flower arrangements combine luxury and comfort.
Many of the 188 guestrooms and suites feature floral prints in the hotel's signature pink and green combination. Lavish marble bathrooms could double as spas - but the hotel also has an exceptionally good spa, as well as a wonderful rooftop indooor pool.
A robust children's program and facilities make Le Bristol a longtime favorite for families, and the exclusive Rue du Faubourg Saint-Honoré location puts you at the epicenter of exclusive fashion showrooms and art galleries.
CHECK RATES
Shangri-La Hôtel
★★★★★

Palace Hotel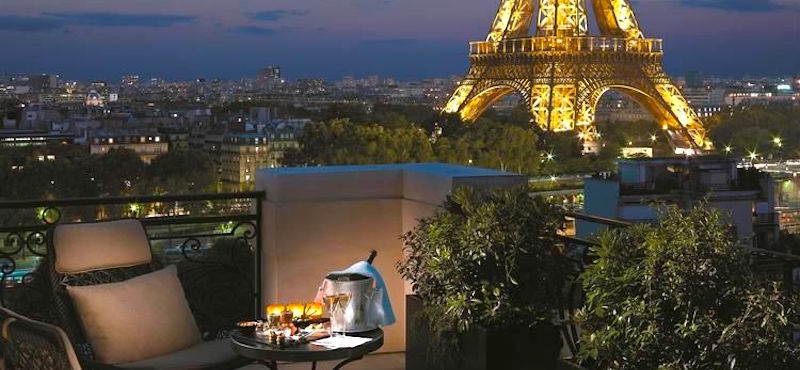 Perched in a spectacular location overlooking the Seine River and Eiffel Tower, the Shangri-La looks like a many-layered, rather ornate wedding cake.
In fact, the hotel began as a private residence to Napoleon's great-nephew, and fairly drips with opulence and luxury.
Each of the spacious 101 guestrooms and suites has a unique layout and feel, decorated in an elegant style that's a cross between Empire and Modern.
You'll love the beautiful swimming pool and terrific spa.
For an unforgettable experience, splurge on a room or suite with your own private terrace and enjoy Champagne, strawberries, and the best views in Paris every evening.
CHECK RATES
Mandarin Oriental Paris
★★★★★

Palace Hotel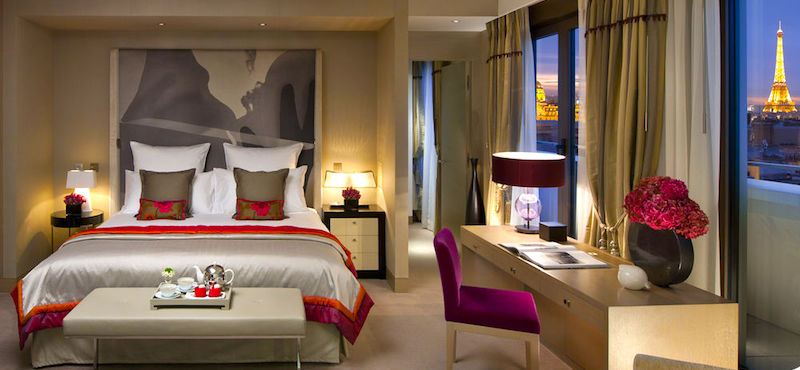 From its enviable location on a haute couture-filled block on Rue Saint-Honoré near Place Vendôme, Mandarin Oriental Paris exudes a soothing mix of tranquility and quiet luxury.
As soon as you enter the white marble-clad lobby, you can see the courtyard garden beyond - a green oasis in this busy part of the city.
Bouquets of fresh flowers created by hotel's in-house florist infuse the hotel with fragrance.
The 177 guestrooms feature sumptuous silks and lovely views, while a spa, Michelin-starred restaurant, and top-notch service ensure you'll feel pampered.
CHECK RATES
Le Ritz Paris
★★★★★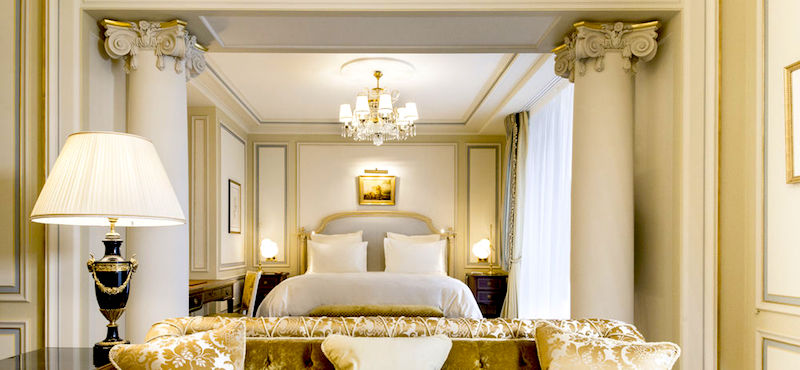 Le Ritz Paris recently reopened after a lengthy refurbishing, and while it does not have an official 5-star Palace designation (yet), you'll want to consider it an honorary member.
The luxurious 71 guestrooms and 71 suites include 15 historic suites named after famous guests, such as Maria Callas and F. Scott Fitzgerald. Suites contain museum-quality antiques, heated floors, and super-luxurious amenities.
You can enjoy a drink in the famed Bar Hemingway, relax in the huge garden - roughly half an acre in size, float in the mosaic-lined pool, and polish your culinary skills at the Ritz Escoffier cooking school.
CHECK RATES
Enjoy the Best of Paris