Paris Palace hotels cocoon you in luxury, surround you with beauty, and pamper you in every way possible. To win the coveted "Distinction Palace" official government rating award, a hotel that has already earned 5 stars for excellence has to go far beyond the 5-star standard.
Whether you want to celebrate a special occasion or just reward yourself with a few days and nights of bliss in the City of Lights, the Parisian Palace hotels give you the crème de la crème - the best of the best.
Each hotel offers you a unique ambiance and experience, ranging from traditional 18th century French royal grandeur to luxuriously modern serenity, with spectacular city views, impeccable service, and every amenity you can imagine.
Yes, a stay in one of these dazzling palaces will be a splurge - but your memories will be priceless.
Top photo: Mandarin Oriental Hotel on Rue St Honoré in Paris's 1st Arrondissement, (c) Paris Discovery Guide
Paris Discovery Guide is a reader-supported publication. When you buy through our links, we may earn a commission at no additional cost for you. Learn more
---
Four Seasons Hôtel George V
★★★★★

Palace Hotel
With 244 spacious guestrooms and suites, Four Seasons George V is the largest of the Paris Palace hotels, and commands a regal position on Avenue George V in the 8th Arrondissement's Golden Triangle designer boutique shopper's paradise.
Decor ranges from traditional Louis XV and Louis XVI to modern, and the luxury of the furnishings is rivaled only by the spectacular city views.
All suites include huge dressing rooms, and the largest have kitchens and offices in addition to dining rooms, living rooms, and bedrooms.
With a lovely swimming pool, great spa, and excellent Michelin-starred restaurants, the Four Seasons George V has a lot to love, including superb views of the Eiffel Tower from its terraces and many guestrooms.
---
Hotel Lutetia
★★★★★

Palace Hotel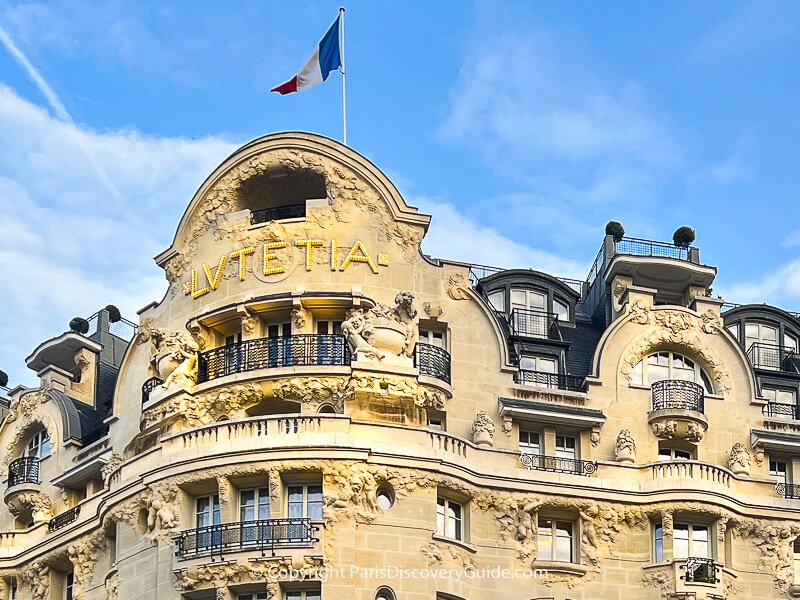 A recent 4-year top-to-bottom renovation has left the Art Nouveau/Art Deco Hotel Lutetia in the posh Saint-Germain-des-Prés on the Left Bank even more gorgeous than ever. Stunning public spaces, a spa and indoor swimming pool bathed in natural light, a superb location less than 5 minutes from Bon Marché department store, and wonderful onsite dining options make this a perfect base for your Paris visit.
A long line of celebrities have stayed and in some cases, lived here: Hemingway, Picasso, Matisse, Samuel Beckett, Josephine Baker, André Malraux, Serge Gainsbourg, Charles de Gaulle, Pierre Bergé who co-founded the Yves Saint Laurent Couture House, and even American filmmaker David Lynch.
But the real stars are the 184 guest rooms and suites, enlarged during the makeover and offering plush comfort in tones of charcoal, cream, and taupe. Pamper yourself by booking a suite with a balcony overlooking the Eiffel Tower and Assemblée Nationale, and you may never want to leave.
Although a visit to the Lutetia's Belle Époque Bar Josephine to savor a drink as you chill out to live jazz is a must!
---
Le Plaza Athénée
★★★★★

Palace Hotel
From the glitzy chrome-and-crystal lobby to its 208 opulent guestrooms, suites, and apartments, Le Plaza Athénée oozes sophisticated glamor in step with Dior, Chanel, Vuitton, and Armani and its other haute couture neighbors along Avenue Montaigne in the Paris's famed Golden Triangle in the 8th arrondissement.
In the summer, you'll love al fresco dining on the secluded terrace, which transforms in the winter into a private skating rink for hotel guests. With 5 onsite restaurants headed by Michelin-starred chef Alain Ducasse, you may never leave the hotel - but if you do, the hotel's chauffeur-driven limousines will take you to see all the top Paris attractions.
---
Park Hyatt Paris Vendôme
★★★★★

Palace Hotel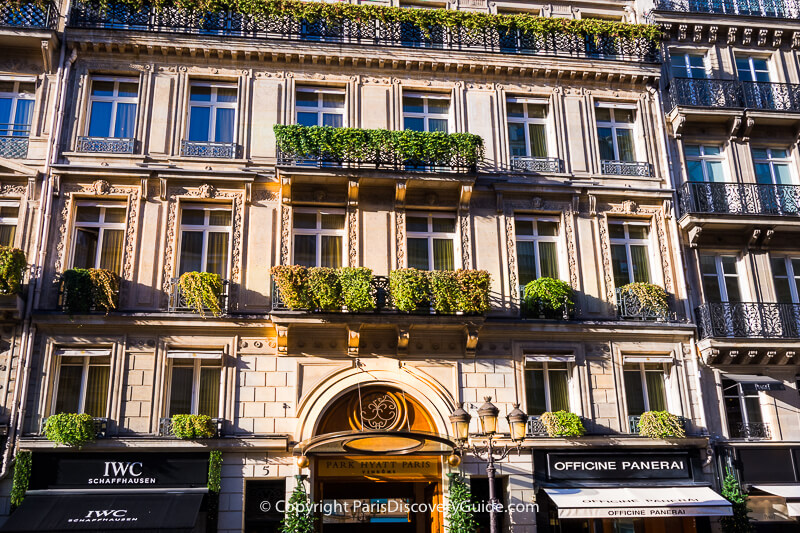 A distinctly Asian vibe sets the stage at Park Hyatt Paris Vendôme for a tranquil, soothing experience of understated luxury and personalized service.
The hotel occupies two classic Haussmannian buildings to the north of Place Vendôme in the 2nd arrondissement, surrounded by designer boutiques.
In the 153 guestrooms and suites, neutral tones combined with rich woods and touches of gold creating a sophisticated but soothing environment.
With a Michelin-starred restaurant and other top-notch dining options including an all-season terrace, an onsite spa, and plenty of modern art throughout the hotel, the Park Hyatt offers an appealing combination of luxury and simplicity.
---
Le Meurice
★★★★★

Palace Hotel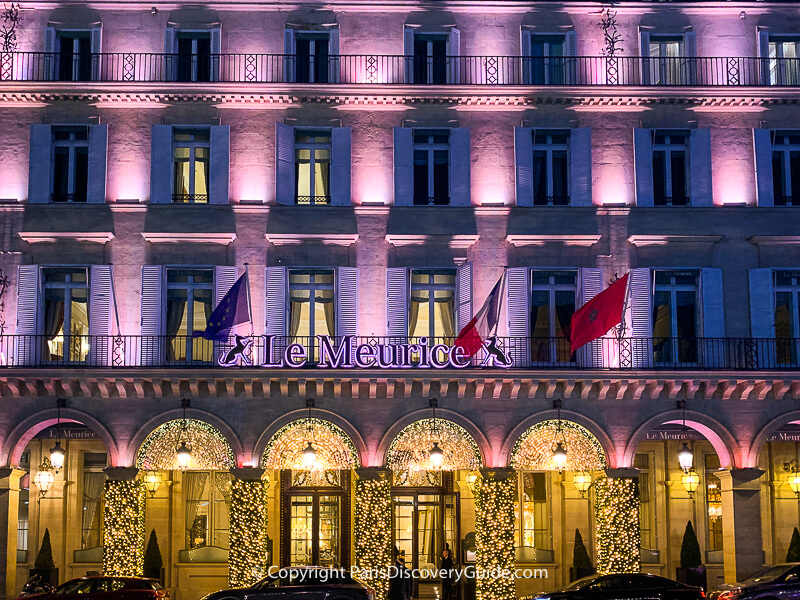 A heady mix of Louis XVI style furnishings, gold and crystal chandeliers, lavish murals, and luxury jewel-tone fabrics give you an unforgettable experience at Le Meurice, where many of the 160 guestrooms, suites, and penthouse overlook beautiful Tuileries Gardens next to that other (former) palace, the Louvre.
With wonderful dining and drinking options, special programs and services for kids, and a superb spa, you may not want or need to leave the hotel - but if you do, the hotel's prime location in the 1st arrondissement on Rue de Rivoli means you're just 2 very short blocks from all the fabulous designer shops, showrooms, and boutiques along Rue Saint-Honoré and Place Vendôme.
---
Le Bristol
★★★★★

Palace Hotel
112 Rue du Faubourg Saint-Honoré, 8th arrondissement; nearest metro: Miromesnil
Tradition and personalized service reign at Le Bristol, where acres of pink and white marble, 18th century Regency style furnishings and antiques, crystal chandeliers, and magnificent fresh flower arrangements combine luxury and comfort.
Many of the 188 guestrooms and suites feature floral prints in the hotel's signature pink and green combination. Lavish marble bathrooms could double as spas - but the hotel also has an exceptionally good spa, as well as a wonderful rooftop indooor pool.
A robust children's program and facilities make Le Bristol a longtime favorite for families, and the exclusive Rue du Faubourg Saint-Honoré location in the 8th arrondissement puts you at the epicenter of exclusive fashion showrooms and art galleries.
---
Mandarin Oriental Paris
★★★★★

Palace Hotel
From its enviable location on a haute couture-filled block on Rue Saint-Honoré near Place Vendôme, Mandarin Oriental Paris exudes a soothing mix of tranquility and quiet luxury.
As soon as you enter the white marble-clad lobby, you can see the courtyard garden beyond - a green oasis in this busy part of the city.
Bouquets of fresh flowers created by hotel's in-house florist infuse the hotel with fragrance.
The 177 guestrooms feature sumptuous silks and lovely views, while a spa, Michelin-starred restaurant, and top-notch service ensure you'll feel pampered.
---
Hotel de Crillon
★★★★★

Palace Hotel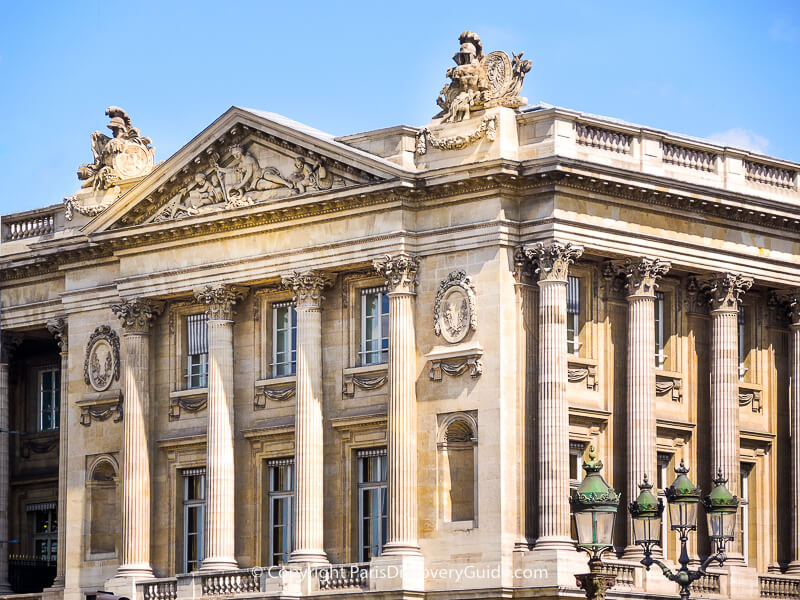 10 Place de la Concorde, 8th arrondissement
With a magnificent location on Place de la Concorde close to Tuileries Garden in the heart of Royal Paris, Hotel de Crillon exemplifies serene elegance, understated luxury, and comfort.
Considered by some to be Paris's most elite hotel ever since Marie-Antoinette took piano lessons here, the Crillon counts numerous celebrities, past and present, among its guests. Its 78 guestrooms, 36 suites, and 10 "signature" suites offer a range of choices, including a mega-suite with a 2-ton bathtub crafted from Carrara marble and and even larger suite, said to be the biggest in the city.
Beautifully ornate public areas combine with contemporary luxury in the guestrooms to provide a welcoming cocoon, with attention to details such as underfloor heating in the spacious marble bathrooms, luxurious Italian linens, and impeccible service.
Relax in the spa, float serenely in the indoor swimming pool, and dine in the hotel's gastronomic restaurant and the more casual brasserie. A secluded outdoor terrace provides the perfect oasis for afternoon tea. For a special treat, head to the bar where you can choose from over 200 kinds of Champagne and savor your choice under the beautifully restored hand-painted ceiling.
---
Le Ritz Paris
★★★★★
Le Ritz Paris reopened several years ago after a lengthy refurbishing, and while it does not have an official 5-star Palace designation (yet), you'll want to consider it an honorary member.
The luxurious 71 guestrooms and 71 suites include 15 historic suites named after famous guests, such as Maria Callas and F. Scott Fitzgerald. Suites contain museum-quality antiques, heated floors, and super-luxurious amenities.
You can enjoy a drink in the famed Bar Hemingway, relax in the huge garden - roughly half an acre in size, float in the mosaic-lined pool, and polish your culinary skills at the Ritz Escoffier cooking school.
---
Hotel Le Royal Monceau Raffles
★★★★★

Palace Hotel

37 Avenue Hoch, 8th arrondissement

Boasting a wonderful spa and the largest hotel swimming pool in Paris (as well as one of the loveliest terraces), Le Royal Monceau Raffles delivers a blend of luxury, art, and fun in an upscale 8th Arrondissement location halfway between the Arc de Triomphe and beautiful Parc Monceau.

The hotel's 149 rooms and suites combine soothing neutral tones with a plushy modern design overseen by Philippe Starck, wrapping you in a cocoon of comfortable luxury.

With lots of options for connecting rooms and suites, Le Royal Monceau welcomes families. If you've planning a visit with your kids, check out the children's cooking classes!
---
La Reserve Paris Hotel & Spa
★★★★★

Palace Hotel

42 Avenue Gabriel, 8th arrondissement

Located in an elegant 19th century mansion on a quiet avenue in the 8th arrondissement's Golden Triangle, but just steps from Champs Elysées, Le Reserve Paris Hotel & Spa exudes quiet elegance. Superb service, spacious guestrooms and suites, and an indoor swimming pool, hamman, a well-equipped gym/fitness area, and rejuvenating spa give you the perfect environment for relaxing and enjoying Paris at its finest.

With only 15 guestrooms and 25 suites, La Reserve gives you the pampered experience of staying in a private mansion with beautifully decorated public as well as private spaces. Be sure to try the special gastronomy menus created by the hotel's two Michelin-starred Chef for onsite restaurant, Le Gabriel.
---
The Peninsula Paris
★★★★★

Palace Hotel

The Peninsula Paris lets you gaze upon the Eiffel Tower from its rooftop restaurant as part of the 5-star experience of staying in this opulent hotel in a swanky part of the swanky 16th Arrondissement.

The hotel's 200 guestrooms and suites reside in a 19th century Haussmannian building. Behind the classic facade lies a posh world of cream and gray, with plenty of marble, gold, and crystal thrown in.

Take advantage of all the amenities in this super-luxury hotel - the wonderful spa and a huge (for Paris) swimming pool, roof-top fitness classes, and special tours.

Want to get closer to the Eiffel Tower? Ride over in the hotel's chauffeur-driven BMW or even their 1934 Rolls-Royce Phantom II. You're also very close to the Arc de Triomphe and Fondation Louis Vuitton in the Bois de Boulogne.
---
Shangri-La Hôtel
★★★★★

Palace Hotel

Perched in a spectacular location in the 16th arrondissement overlooking the Seine River and Eiffel Tower, the Shangri-La looks like a many-layered, rather ornate wedding cake.

In fact, the hotel began as a private mansion for Napoleon's great-nephew, and fairly drips with opulence and luxury.

Each of the spacious 101 guestrooms and suites has a unique layout and feel, decorated in an elegant style that's a cross between Empire and Modern.

You'll love the beautiful swimming pool and terrific spa.

For an unforgettable experience, splurge on a room or suite with your own private terrace and enjoy Champagne, strawberries, and the best views in Paris every evening.

Find out more about the 16th arrondissement
---
Want to Save on Your Paris Hotel?
Check our tips on how to find discounts, deals, and bargains for Paris hotels. Whether you're looking for cheap accommodations or want to pay less for luxury, we'll show you how to save on hotels in Paris.
Here are some shortcuts:
Booking.com: Need last minute reservations? Check out Today Deals on their website
Trip Advisor: Use their Best Value Deals & save BIG on your Paris hotel
Priceline: Find the lowest prices on Paris hotels with their Express Deals
---
Enjoy the Best of Paris
---
More Articles about Paris Hotels