Which season is best for your visit to Paris?
Each season in Paris offers something special . . . but depending on what you want to do, how much money you want to spend, and how well you tolerate - or not - large crowds and hot or cold weather, you may find that one season suits you better than another.
Here is our breakdown of what each season in Paris offers - especially the pros and cons - and our recommendations.
Since you can't always choose when you come, we include a few suggestions about how to mitigate some of the "cons" - plus tips about when NOT to visit if you have a choice.
Based on what you want to do, how much you want to spend, and how well you tolerate - or not - large crowds, every season in Paris offers something special . . . but may also have a few "cons."
Here is our list of five key factors you should consider, and how they affect each season in Paris.
Based on your priorities, you can decide which season and month will be the best time for your visit.
We'll wrap up with a few tips and warnings about particular times to avoid.
When to Visit Paris: Season by Season
So how do these 5 factors fit together? Here's a quick run-down of what they add up to for each season.
---
Visiting Paris in the Spring (March, April, May)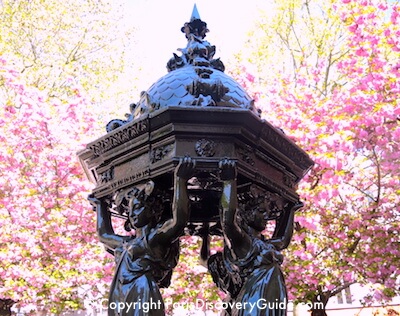 The beauty of Paris in the spring is legendary.
Flowering trees burst into bloom, days grow longer, sidewalk dining begins to pop up outside numerous cafes and bistros, and Parisians head outdoors.
Expect plenty of warm days and sunshine - plus a few days of rain.
Almost all attractions and restaurants will be open, and plenty of special exhibits will be underway at museums and the Grand Palais.
Hotels and airfare will still be relatively low in early March, although they will rise as shoulder season kicks in and spring progresses.
Numbers of tourists will increase and lines outside major attractions will grow longer as May approaches - but nothing like they will be during the summer. However, if you are traveling with children, you should remember that school vacations during April mean a lot of others will be doing the same thing. Disneyland Paris is probably where you will notice the biggest crowds of kids.
Recommendation: Spring is a wonderful time to visit Paris. Go in early March to take advantage of lower rates and shorter lines. Go in mid-April or May to maximize your chance of warmer weather.
---
Visiting Paris in the Summer (June, July, August)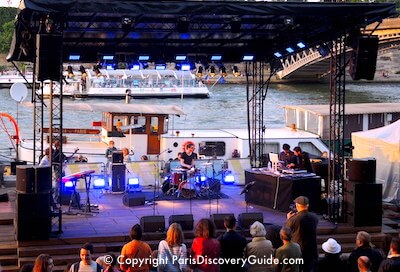 Paris summers are glorious.
Light lingers until 11pm, the weather is warm-to-hot, and lots of outdoor activities mean you'll have plenty to do.
Check out Paris Plages and Les Berges on both sides of the Seine, go for a drink and perhaps dinner on one of the river's floating barges, and take a cruise up the Canal Saint-Martin to the huge Parc de la Villette where you can rent a paddle boat for even more fun on the water.
If smaller museums are on your list of places to visit, check their schedules on their websites, as some may close during August. Street markets will shrink to almost nothing, as most of their Parisian customers are on vacation. A number of restaurants and small boutiques will also close. But plenty remain open.
Since this is the "high" season for Paris, expect to pay a hefty sum for your plane ticket and hotel. Book as early as possible to get the best rates and selection. You may save a bit on your hotel or apartment by coming in August.
Lines for top tourist attractions will be long, especially in June and July. If your budget permits, book "skip the line" options when possible. And wear plenty of sunscreen when you go out for the day.
Recommendation: Summer in Paris is a special experience. Defer visiting the most touristy places until another time, if possible, and embrace everything special that Paris offers during the summer. To get somewhat lower rates, go during August if you are not concerned about some places being closed.
---
Visiting Paris in the Fall (September, October, November)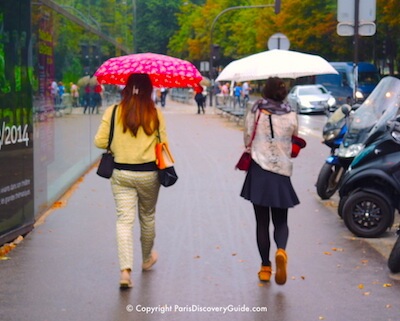 September days are mellow, but then the air turns crisp and leaves turn golden.
Parisians return from vacation, infusing the city with energy.
Some tourists remain, but lines at top attractions grow shorter.
Days also grow shorter - but so much is going on in the city that you may not notice.
Orchestra, ballet, and opera performances resume, and museums mount spectacular new shows.
Hotel rates and airfares begin to drop a bit - although the large number of business conferences and trade shows may keep them higher than you'd expect.
Harvest from across the French countryside flows into the markets and into the restaurants. Foodies will revel in the bountiful offerings.
Recommendation: Fall is an excellent time to visit Paris - IF you plan ahead and either avoid the biennial Paris Air Show and other huge events or snag flight and hotel reservations before they're booked up.
---
Visiting Paris in the Winter (December, January, February)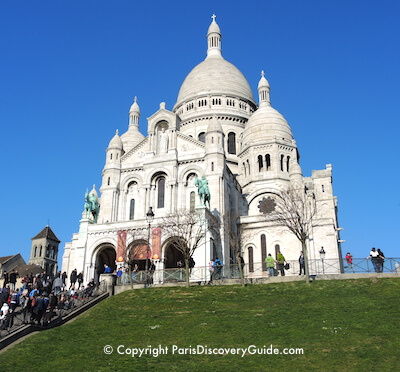 Paris winters may be rather gray and wet - and snow does occasionally cover the city - but if you don't mind the lack of sunlight, you will enjoy not having to wait in line or dealing with huge crowds of other visitors.
Sunny days, when they happen, are brilliant. And at least during some years, temperatures may reach the mid, even upper 50s on some day.
Christmas markets light up December, and fireworks usher in the New Year with plenty of celebrating.
Soldes (sales) signs show up everywhere in early January, ushering several weeks of increasingly steep discounts.
By February, days begin to get longer, and you'll see the sun more frequently.
Aside from the period around Christmas and New Year, plane fares and hotel rates are at their cheapest. Think of it this way: the whole city is on sale.
Recommendation: Visiting Paris in the winter has its rewards, especially if you want to enjoy the Christmas markets, party on the Champs Élysées on New Year's Eve, or hit the January sales. If lack of daylight bothers you, this is not when you should come.
When to AVOID Visiting Paris!
Unless you love huge crowds, paying high rates for your hotel room (if you can get one at all), or have a strong interest in the event causing the crowds, you may want to avoid coming to Paris when the city hosts mega-events.
The event attendees won't necessarily be at tourist attractions, but they do book up the city's hotel rooms - sometimes far in advance.
These events include:
Paris Air Show
Focuses on the latest developments in civilian and military aviation, and attracts 350,000+ visitors - LOTS of planes displayed on land and demonstrated in the air. Although the actual show takes place in Le Bourget Airport north of the city, most attendees stay, dine, and drink in Paris.
Schedule: 7 days, typically in early- to mid-June during odd-numbered years. The first 4 days are for members, and the remaining three are for the general public. Next show will be in 2019. See Paris Events in June for exact dates.
Paris Auto Show
Introduces new car models and concepts. Attracts 11,000,000+ visitors. Takes place at the Porte de Versailles exhibition center in the southeastern part of Paris in the 15th arrondissement.
Schedule: 14 days, typically during the first two weeks of October during even-numbered years. Every hotel room in the city fills up during this event. Next show will be in 2016. See Paris Events in October for exact dates.
Other Events
As mentioned early, September and October are usually packed with various trade shows in addition to the enormous Paris Auto Show in even-numbered years. It is not unusual to find seemingly every hotel room in the city booked if you wait until the last minute to reserve. Restaurants also get packed. Tourist attractions are much less impacted.
Paris Fashion Week actually takes place four times each year but the two biggest events are in March for fall/winter collections and late September - early October for spring/summer collections. Main events take place in the Carrousel du Louvre but other venues are used as well, with the Marais (especially the area around Place des Vosges) being especially impacted. You'll see lots of fashionably dressed models strolling around, which is fun ... less fun is trying to get a table at a restaurant or book a hotel room during these weeks, particularly on the Right Bank.
School Holidays
Schools across France and the rest of Europe have mid-term week-long holidays during April and October - so expect lots of families with kids and teens as well as school trip participants in Paris during those periods. In France, the holiday weeks are staggered for a 4-week period by region. Attractions such as Disneyland Paris, some museums, and the Eiffel Tower get a lot of these visitors.
Last 2 Weeks in December
Tout le monde, it seems, comes to Paris during this period to visit family for the holidays, stroll around festive Christmas Markets, gaze at sparkling Christmas lights, and celebrate the New Year. If you fall into these categories or perhaps simply love the idea of spending Christmas in Paris, be prepared to book early and pay almost as much as you might during the summer for flights. Hotel rates also go up
More Fun Things to Do & See in Paris