Christmas Eve Mass is a special part of the holiday season in Paris. Even those Parisians who normally enter a church only for weddings and funerals may attend a traditional Christmas Eve service. For many visitors, it's an unforgettable experience.
If your visit to Paris extends through Christmas Eve, you may want to consider this too. Whether you choose a Midnight Mass or an earlier service, you'll get to see the city's magnificent historic churches come to life with glowing candlelight, soaring organ music, and crowds of people.
The city's largest and most famous churches - Notre Dame de Paris Cathedral, Madeleine Church, the Basilica of Sacré Coeur, Saint Sulpice Church, Saint Eustache Church, and others - celebrate the occasion with sensational music, famous musicians, and superb choirs.
Beautiful nativity scenes featuring crechés and hand-crafted figures, holly garlands and seasonal flowers, and decorated Christmas trees add to the experience.
Almost all of the biggest and best-known Paris churches are Catholic, traditionally the dominant religion in France. They typically conduct masses in French, although occassionally a service may be offered in English or other languages.
Not fluent in French? Don't worry - you don't have to understand every word or even one word to have a meaningful experience at a Christmas Eve Mass, especially since music transcends language.
Paris is also home to a number of smaller churches devoted to other Christian denominations, including about half a dozen with services in English.
Our suggestions about where to attend Christmas Eve Mass include the grandest Parisian churches as well as smaller places of worship.
Even if you don't spend Christmas Eve at a service, go outside at midnight to experience a special tradition: you'll hear churches all over Paris ring their magnificent bells.
Joyeux Noël!
---
Quick Links: Christmas Eve Masses in French - Christmas Eve Services in English - More Ways to Experience Christmas in Paris
Top photo: Christmas tree in front of Notre Dame Cathedral (before the fire)
Paris Discovery Guide is a reader-supported publication. When you buy through our links, we may earn a commission at no additional cost for you. Learn more
---
Christmas Eve Masses at Spectacular Paris Churches
The following suggestions include some of the most famous Paris churches, where services are conducted in French.
You should expect large crowds, so plan to arrive early in order to get a seat.
We include each church's website address, so please check the online schedule for Christmas Eve and Christmas Day services in case of last-minute changes.
---
Église Saint Etienne du Mont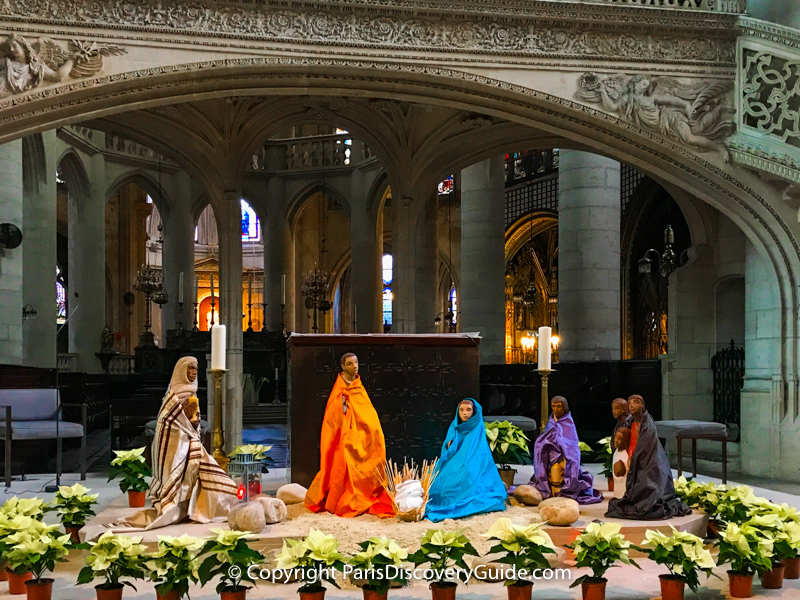 Église Saint Étienne du Mont (Place Sainte-Geneviève, 30 Rue Decartes, 5th arrondissement, Metro: Maubert Mutualité), tucked away behind the Pantheon in the Latin Quarter, is considered one of the loveliest historic churches in Paris, with beautiful stained glass and a rose window, soaring heights, and Paris's last existing carved stone rood screen.
During the Christmas season, Saint Étienne displays a beautiful nativity scene which you'll see as soon as you enter the church.
Check Saint Étienne's website closer to Christmas for the Mass and concert schedule.
---
Église Saint Eustache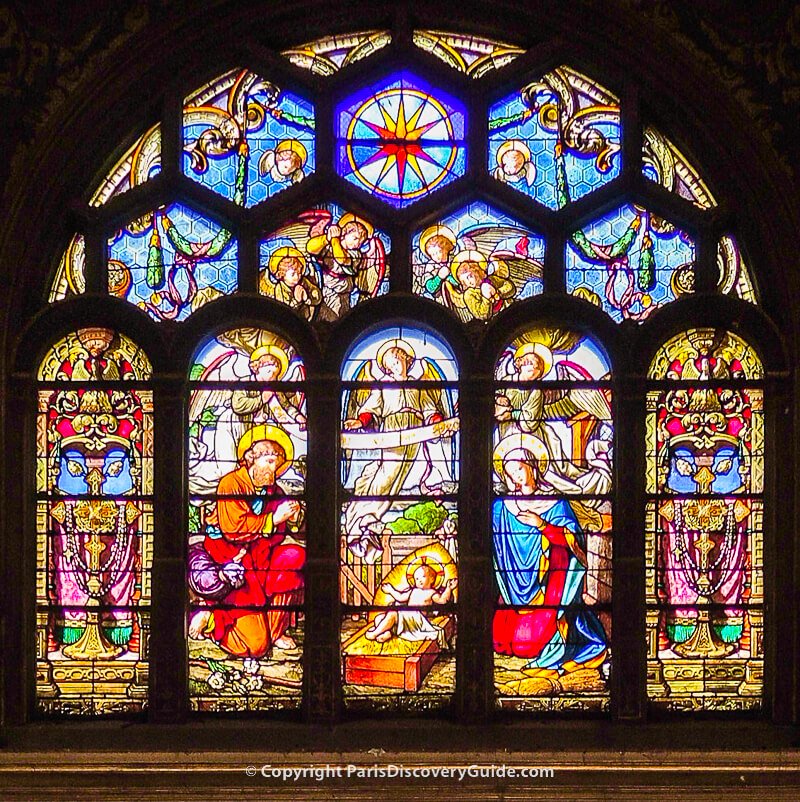 Église Saint Eustache (146 Rue Rambuteau, 1st arrondissement, Metro: Les Halles; website) is a magnificent cathedral-like church located in the Les Halles area and well worth a visit at any time due to its soaring gothic architecture, Renaissance interior, breath-taking art and stained glass windows, and a renowned organ, the largest in France.
During Advent, you can find a lovely nativity scene near the front of the church. But throughout the year, you can see a magnificent stained glass window depicting the Nativity in the church's south transcept.
On December 24, a Children's Christmas Eve Mass takes place at 7pm, followed by traditional songs at 7:30 and a Midnight Mass that begins at 10:30pm and runs until 12am.
On December 25, Christmas Day Masses take place at 11am and 6pm.
More about Paris in December
---
Basilica du Sacré Coeur - Montmartre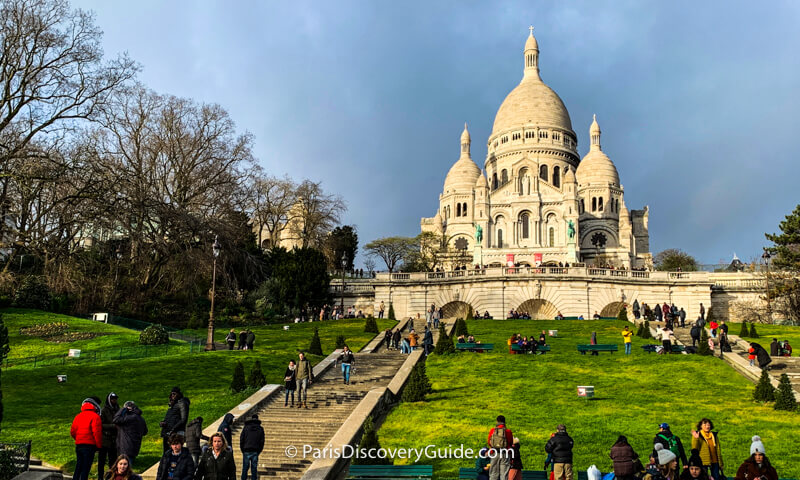 Sacre Coeur Basilica (35 Rue du Chevalier de la Barre, 18th arr, Metro: Abbesses or Anvers; take the Funicular up the hill; website) is one of the most recognizable landmarks in Paris, with a beautiful white limestone facade atop a Montmartre hill.
With a stunning mosaic covering the high domed roof over the altar and sweeping city views from its front steps, Sacré Coeur always wows visitors, but even more so at Christmas when a beautiful nativity scene becomes the center of attention.
Christmas Eve services on December 24 include a concert on its famous Cavaillé-Coll pipe organ at 10pm, a Christmas Vigil at 11pm, and Midnight Mass at 12 midnight. On December 25, Sacre Coeur holds a Christmas Day Mass at 11am.
---
Église Saint Sulpice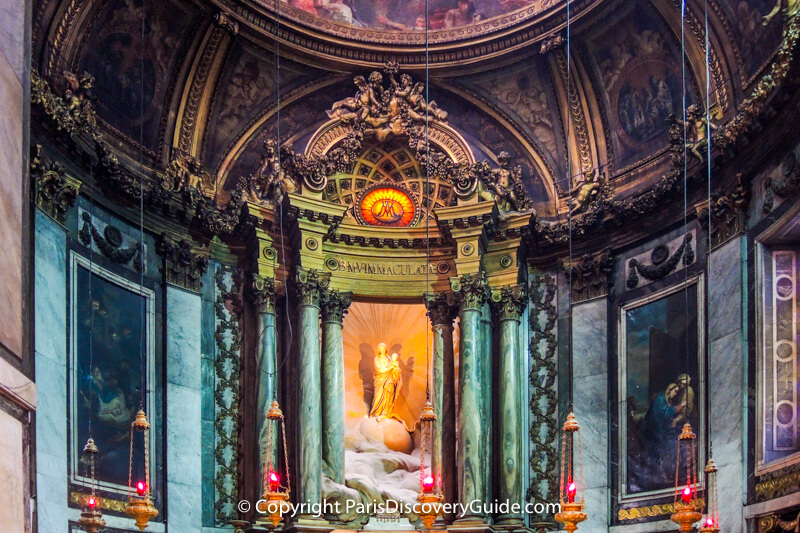 Saint Sulpice (2 Rue Palatine; 6th arr; Metro: Saint Sulpice; website) - Saint Sulpice is the second largest church in Paris, and one of the most compelling (you may remember it from international best seller and movie, The Da Vinci Code). Music lovers will welcome the chance to hear the world-renowned Cavaillé-Coll pipe orga, at the Christmas services.
On Christmas Eve, Saint Sulpice offers a Children's Mass at 7pm and Christmas Vigil and Midnight Mass at 11pm.
On December 25, a Christmas High Mass is observed at 11am-1:30pm and Christmas Vespers at 6pm.
Find ticketed Christmas concerts and other music performances take place at Saint Sulpice
---
Église de la Madeleine (Madeleine Church)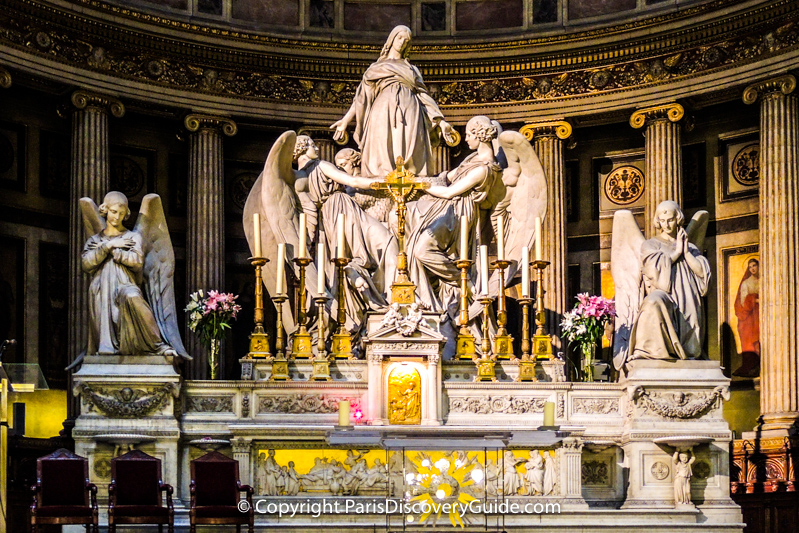 Église de la Madeleine's (Place de la Madeleine, 8th arrondissement, Metro: Madeleine; website) distinctive Neoclassical design featuring 52 massive Corinthian columns makes it a Paris landmark as well as home to an active congregation. Thanks to its magnificent Cavaillé-Coll pipe organ and superb acoustics, it's also a popular venue for classical music concerts.
On Christmas Eve, Madeleine Church holds a Vigil and evening Mass at 10pm.
Christmas Day Masses take place at 11am and 6pm.
Find Église de la Madeleine's classical concert schedule and tickets
---
Église Notre Dame de Lorette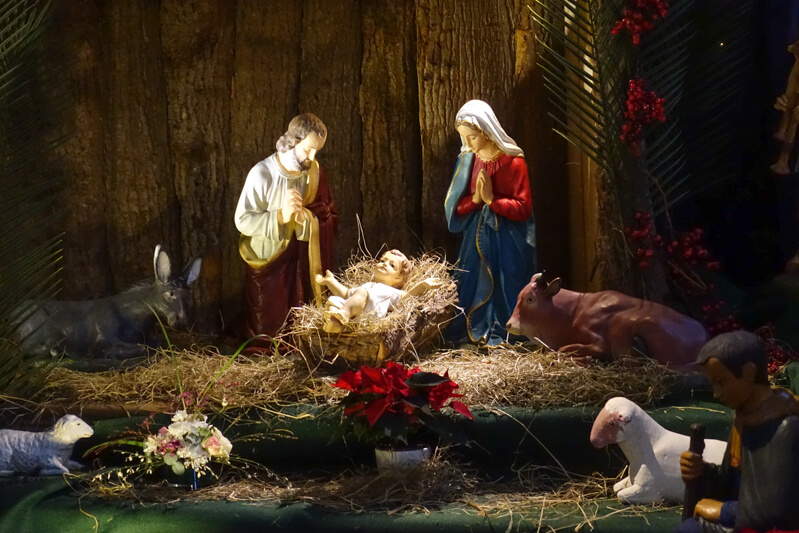 Eglise Notre Dame de Lorette (18 Rue de Châteaudun, 9th arrondissement, Metro: Notre-Dame de Lorette, Le Peletier; website), located on the southern edge of the trendy SoPi (South of Pigalle) neighborhood, features a Neoclassical design typical of the early 1800s when it was built to replace an earlier church desroyed during the Revolution. The church is perhaps best known for the beautiful murals painted directly on its interior walls.
On Christmas Eve, Notre Dame de Lorette offers masses at 6pm, 7:30pm, and a Midnight Mass at 11:30pm.
Christmas Day Masses take place at 11am and 6:30pm.
---
Cathédral Notre Dame de Paris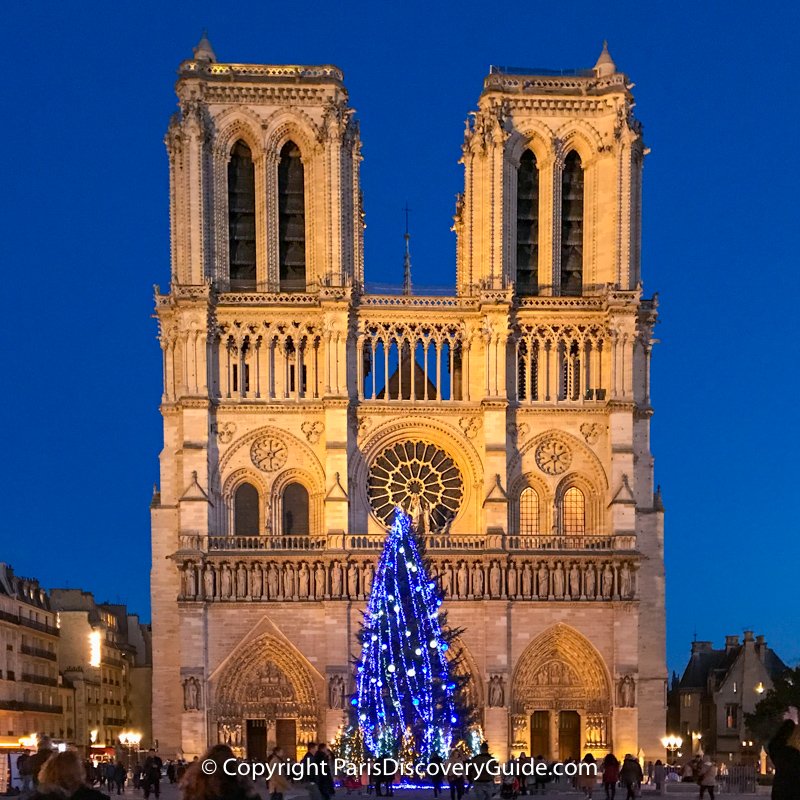 Please Note: Due to the tragic fire of April 15, 2019, services cannot be held at Notre Dame at this time. We are leaving the information about Christmas services at Notre Dame in place as we look forward to the day when the Cathedral reopens - possibly during 2024.
---
Considered a Gothic medieval masterpiece, Notre Dame Cathedral (6 parvis Notre-Dame, 4th arrondissement, Metro: Cité; website) dates back to the 12th century, and is the most visited place in Paris. Christmas has been celebrated at the cathedral for almost 900 years.
Notre Dame has a magnificent pipe organ and renowned bells, which you'll hear at the Christmas Eve services along with superb choral music.
Stop by before Christmas Eve to see the cathedral's beautiful nativity scene and decorations. The annual lighted Christmas tree in front of the cathedral draws large crowds of admirers throughout the month of December.
The first Notre Dame Christmas Eve Mass takes place on December 24 at 4:30pm, followed by a Family Mass at 6pm, Vespers at 8pm, and an organ concert from 10:30pm-11pm. Following the concert, the Cathedral's Midnight Mass begins at 11pm.
You should expect long lines for admission, particularly for the concert and Midnight Mass. Tickets are not required, but to get through a security at the entrance and find a seat, you should arrive at least 2-3 hours early.
More Notre Dame concerts during coming months
---
Where to Attend Christmas Services in English
American Cathedral (23 Avenue George V, 8th arr, Metro: Alma Marceau) - Episcopal church with two Christmas Eve services - one at 5pm for families, and a Midnight Mass at 10:30pm. A Christmas Day service takes place on the 25th at 11am. Website
St Michael's Church (5 rue d'Aguesseau, 8th arr; Metro: Madeleine) - Anglican church serving a diverse community. Midnight Mass services take place on Christmas Eve at 11pm, and Christmas Day services are on the 25th at 10:30am. Website
St George's Anglican Church (7 Rue Auguste Vacquerie, 16th arr: Metro: Kléber, George V) - Anglican Church with services mostly in English, for a congregation from all over the world, including a Malagasy community. Christmas Eve services in English include Midnight Mass and Blessing of the Crib at 10:30pm followed by Champagne. Christmas Day Masses are held at 10:30am and 4pm. Christmas Day services in Malagasy are held at 4pm on the 25th. Website
St Joseph's Catholic Church (50 Avenue Hoche, 8th arr, Metro: Étoile) - The only English-speaking Roman Catholic church in Paris. Check their website for service information closer to Christmas.
American Church (65 quai d'Orsay, 7th arr, Metro: Invalides) - Inter-denominational Protestant church. Check the website for Christmas service schedule, as well as for details about Candlelight Christmas concerts on December 8 at 5pm and 7pm (tickets required for the concerts). Don't miss the two Tiffany stained glass windows toward the back of the church - the only Tiffany windows in a French church. Docent tours of the church are offered each Sunday (except for the first Sunday of each month) and at other times during the week. Website
Temple de Pentemont (United Protestant Church of Pentemont-Luxembourg) (106 Rue de Grenelle, 7th arr, Metro: Solférino) - Protestant church carved out of 17th century convent in the mid-1800s by famed architect Victor Baltard, who also installed a huge Cavaillé-Coll pipe organ. Check their website for Christmas Eve and Christmas Day services information: https://www.epupl.org
Trinity International Church of Paris (58 Rue Madame, 6th arr, Metro: Rennes) - Christian church offering sermons in English with French subtitles. Website: http://trinityparis.com/
The Scots Kirk (17 Rue Bayard, 8th arr, Metro: Franklin D. Roosevelt) - The only Church of Scotland in France, as well as the only English-speaking Presbyterian church in France. All nationalities are welcome! Christmas Eve services - check website for details close to December 24. The Scots Kirk also hosts 2-3 concerts each month. Website (may take awhile to load)
---
More Ways to Experience Christmas in Paris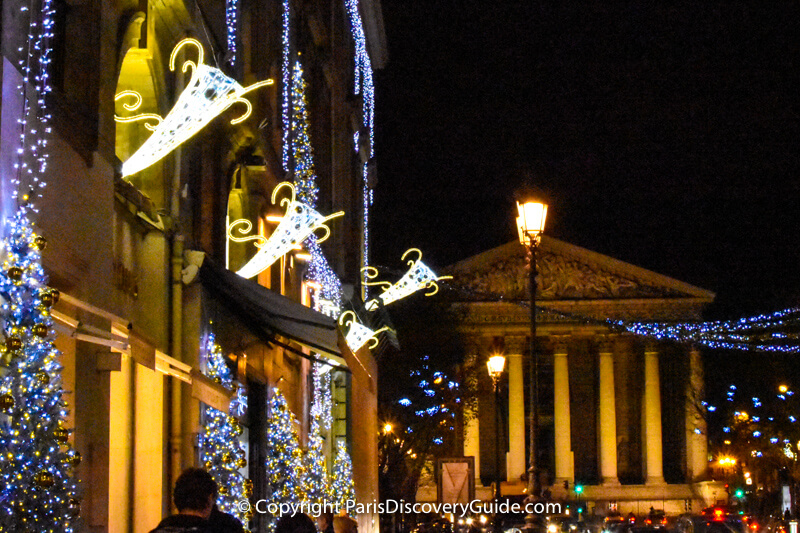 Christmas Eve and Christmas Day Concerts in Paris Churches - Experience the beauty of Saint Sulpice Church, La Madeleine Church, Sainte-Chapelle, Notre Dame, and other historic Paris churches while listening to soaring Christmas music and carols - Schedule & ticket info
Paris Christmas Lights Tour - Snuggle under a warm blanket as an open-top bus takes you past the city's most brilliant Christmas lights and decorations. Along the way, you'll also see famous Paris attractions such as the Arc de Triomphe, Paris Opera House (Palais Garnier), Eiffel Tower, and Notre Dame as well as famous neighborhoods such as the Left Bank. It's an unforgettable way to see Paris illuminated with thousands of sparkling lights! Book now
Private Christmas Tour of Paris with a Ferris Wheel Ride - A local professional guide picks you up at your hotel (and takes you back at the end) for this special tour, part walking, part driving, to see the most famous Paris holiday lights and decorations as well as some places you might not discover on your own. As a bonus, enjoy a glass of mulled wine (or hot chocolate) and a ride on the giant Paris ferris wheel. Book now
Want to Book a Paris Hotel for Christmas Eve?
Use this Paris hotel map to find a hotel with great rates in your preferred location:
Check out the newest Paris hotels
---
More Articles about Paris Christmas Events
---
More Things to Do in Paris for Christmas