Paris hotels and apartments near the Eiffel Tower treat you to the most famous view in Paris (and also in the world) while putting you within easy walking distance of the famous "Iron Lady."
Our recommended Eiffel Tower hotels and apartments cover a wide spectrum from nearby cozy budget-friendly boutique hotels to a sumptuous 5-star luxury splurge to spacious apartments with accommodations for up to six people.
So whether you want a luxurious hotel or apartment with a balcony where you can sit and sip Champagne each evening while enjoying sunset views over Paris's most famous attraction or just a simple place to stay nearby within easy walking distance, you'll find lots of choices to suit your needs.
And remember - to get a room with a view, be sure to request it when you make your reservations.
Top photo: Eiffel Tower viewed at twilight, (c) Paris Discovery Guide
Paris Discovery Guide is a reader-supported publication. When you buy through our links, we may earn a commission at no additional cost for you. Learn more
---
Cler Hôtel
★★★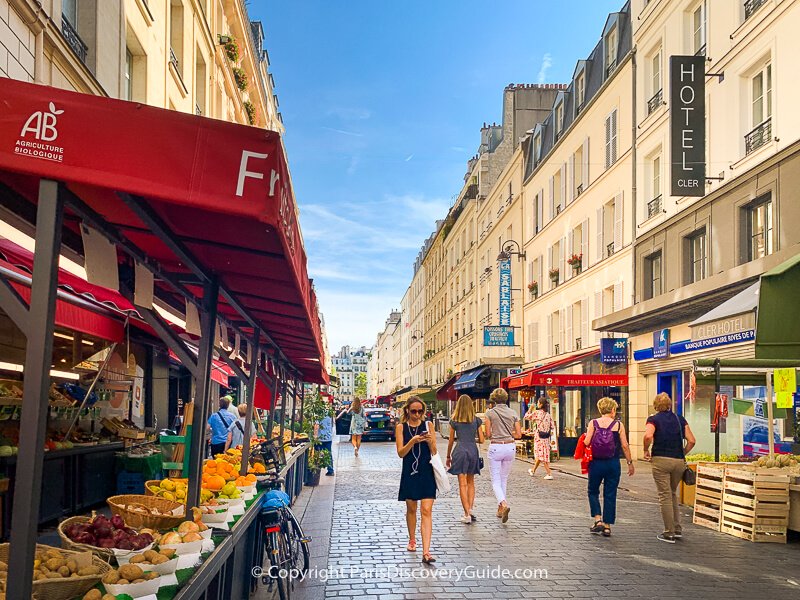 Located on Rue Cler, the popular market street in the 7th Arrondissement, the 3-star Cler Hotel is just a short stroll to the magnificent Champs de Mars, where the Eiffel Tower stands, and Invalides where you can visit Napoleon's tomb and the Army Museum. You'll love the Cler Hotel's perfect combination of comfort, top location, and budget-conscious rates!
With only 26 rooms, this comfortable boutique hotel offers a soothing, harmonious environment with sophisticated light wood floors, an antique marble fireplace int the lobby, and appealing warm colors. Furnishings are modern with a slight Deco twist, but all the comforts including air conditioning are strictly 21st century.
---
Pullman Eiffel Tower Hotel
★★★★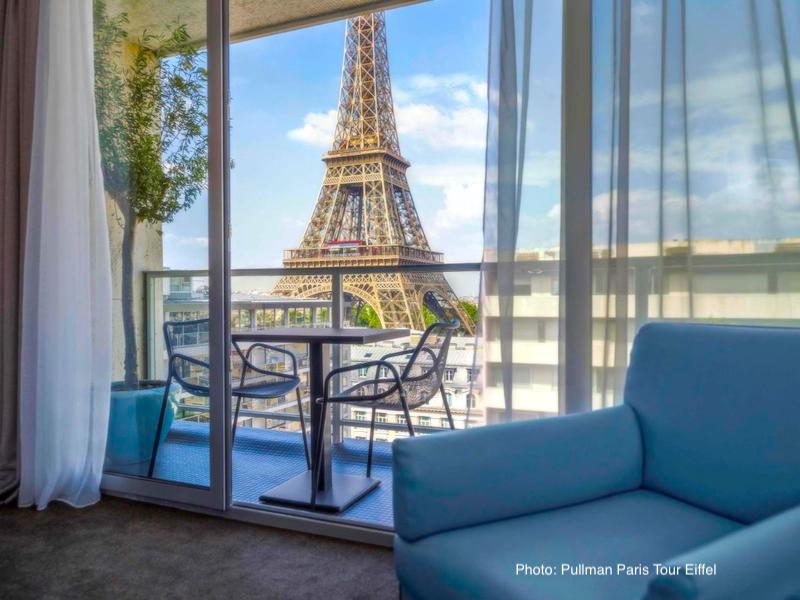 Overlooking the famous attraction, the 4-star Pullman Eiffel Tower Hotel offers spectacular Eiffel Tower views from many rooms and even the well-equipped gym as well as a superb location practically at the edge of the Champs de Mars - just a few of the reasons why visitors rank it as one of the most popular "great value" hotels in this part of Paris.
Compared with most other Paris hotels near the Eiffel Tower, the Pullman is huge - 430 guestrooms and suites comfortably decorated in sophisticated grays with occasional pops of bright color. In addition, the hotel offers plenty of adjoining rooms, making it a top choice for families or groups of friends.
Cross over the Seine River to the Right Bank and you'll be at Trocadéro, where you'll have wonderful views of the Tour Eiffel as well as easy access to all the interesting museums in Palais de Chaillot.
Back on the Left Bank, Musée Branly just a couple minutes' walk from the Eiffel Tower. Head up to the museum's rooftop bar, Les Ombres (or make reservations for a meal in its swanky restaurant) and you'll discover an insider's secret: romantic close-up views of Tour Eiffel!
Find more hotels in the 15th arrondissement
---
Le Damantin Hotel & Spa
★★★★★
1 Rue Bayard, 8th arrondissement
Housed in a gorgeous newly renovated 19th century red-brick mansion overlooking the Seine River and Eiffel Tower, the family-owned Le Damantin Hotel & Spa offers every luxury in its 44 guestrooms and suites: luxuriously comfortable beds and seating, elegant decor, impeccable service, an ideal location within walking distance of Paris's top attractions, and a fantastic indoor pool, spa, wellness center, and sauna.
You'll also love the fantastic marble bathrooms with huge tubs and separate showers. And as a bonus, the guestrooms are large by Paris standards. Book a room with a terrace, order a bottle of champagne, and you may never want to leave.
More places to stay in the 8th arrondissement
---
Canopy Paris Trocadero
★★★
★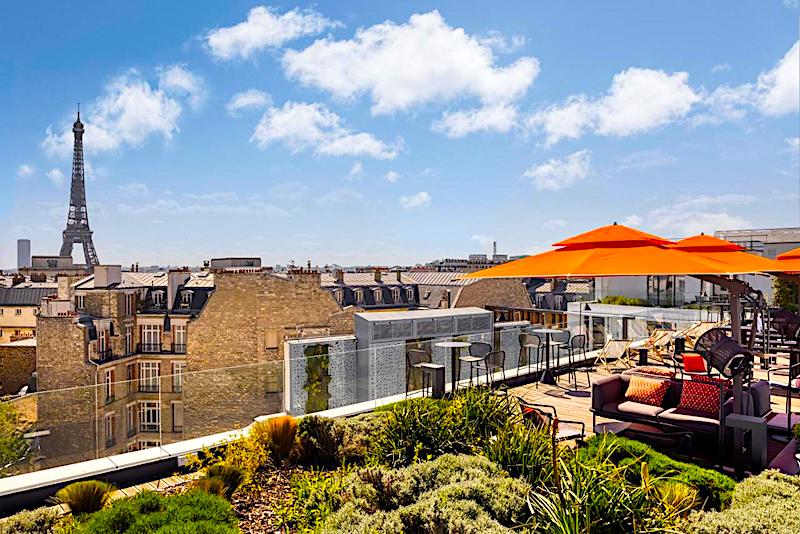 16 Av. d'Eylau, 16th arrondissement
Thanks to its wonderful location close to Trocadero's marble platform for viewing the Eiffel Tower, the 4-star Canopy Paris Trocadero Hotel by Hilton offers you a similar city-scape perspective of the famous monument from many of its 123 elegant and spacious guest rooms and suites.
However, for the best views of the iconic landmark, head up to the hotel's large rooftop terrace bar in the evening, where you can sip a glass of champagne or Parisian craft beer as a DJ plays music while city lights sparkle all around you.
You'll find a lot more to love at the Canopy Hilton Paris Trocadero - the fun Art Deco vibe, expansive public spaces for dining, relaxing, and even working on your laptop, a well-equipped fitness room, and easy access to all of the city's other iconic attractions.
---
Hôtel La Bourdonnais
★★★★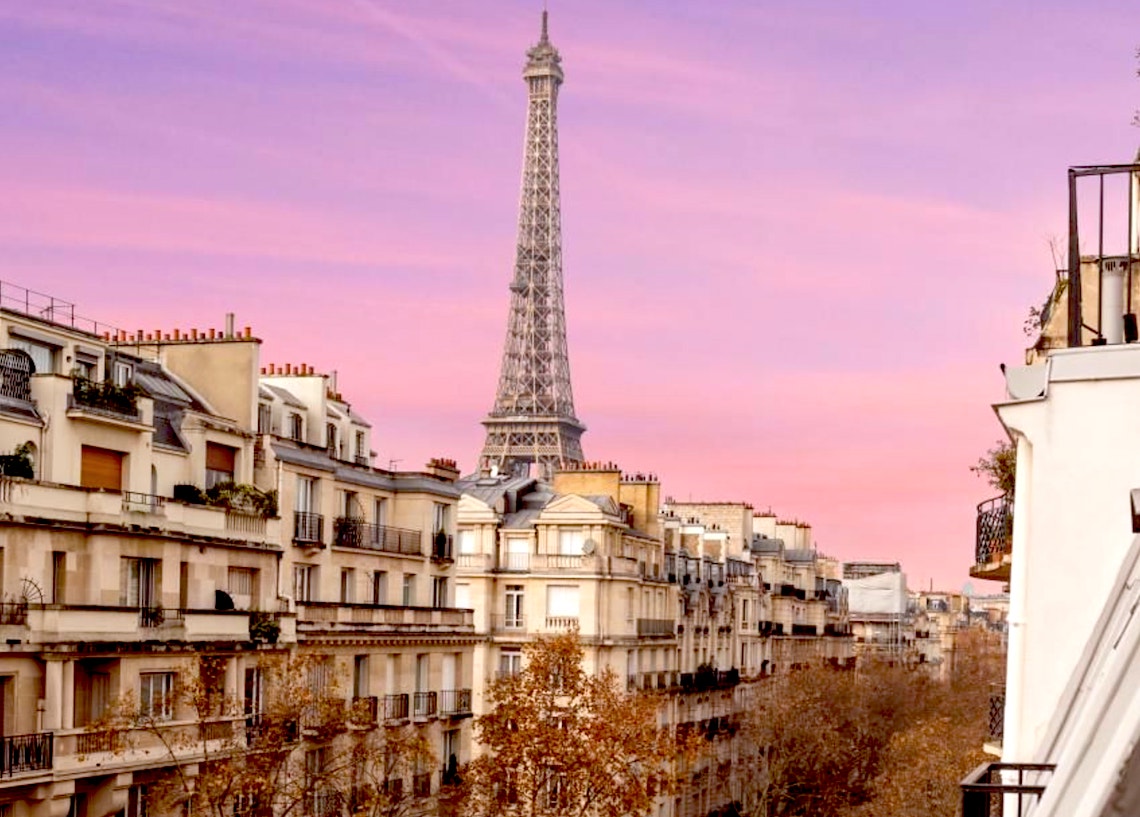 The fashionable 53-guest room Hôtel de la Bourdonnais offers all the luxuries, comforts, and personalized touches you'd expect in a 4-star hotel, plus wonderful Eiffel Tower views from many of its rooms (request a street-side room with a view and balcony).
Located in the chic 7th arrondissement, this highly-rated hotel is close to all the terrific restaurants and boutiques along Rue Saint-Dominique, the popular Rue Cler market street, a Metro station, and a stop for the hop-on hop-off buses.
A 2-minute stroll takes you to Champ de Mars, where you'll have picture-perfect views of the Eiffel Tower during the day and a spectacular spot to watch the nightly light show. You're also close to the Seine River, the Right Bank, and numerous attractions.
If you're traveling with your family, check out the Junior Suites. They accommodate up to two adults and two children, with baby beds, high chairs, and other family amenities available on request.
---
The Peninsula Paris
★★★★★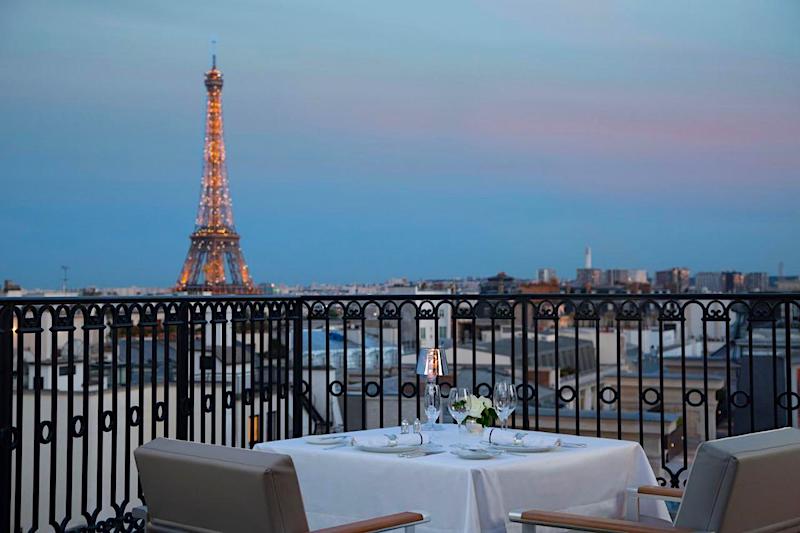 If your budget can accommodate it, The Peninsula Paris lets you gaze upon the city's most famous site from its rooftop restaurant as part of the 5-star experience of staying in this opulent hotel in a swanky part of the swanky 16th Arrondissement.
The hotel's 200 guestrooms and suites reside in a 19th century Haussmannian building. Behind the classic facade lies a posh world of cream and gray, with plenty of marble, gold, and crystal thrown in.
Take advantage of all the amenities in this super-luxury hotel - the wonderful spa and a huge (for Paris) swimming pool, roof-top fitness classes, and special tours.
Want to get closer to the Eiffel Tower? Ride over in the hotel's chauffeur-driven BMW or even their 1934 Rolls-Royce Phantom II. You're also very close to the Arc de Triomphe and Fondation Louis Vuitton in the Bois de Boulogne.
---
Le Derby Alma
★★★★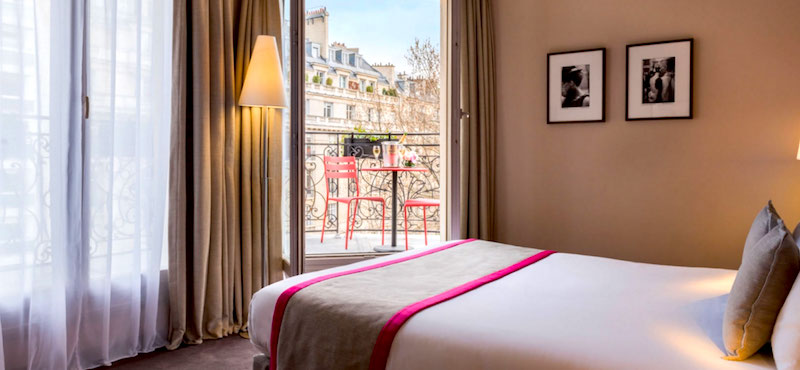 The charming 4-star boutique hotel Le Derby Alma is in a charming part of the upscale 7th Arrondissement, just a 5-minute walk to the Eiffel Tower and Branly Museum.
The hotel's 33 guestrooms and suites make a fashion statement with sleek elegant furnishings, lush fabrics, and beautiful flattering colors. For a special treat, request a room or suite with a balcony and perhaps an Eiffel Tower view.
Be sure to explore all of the wonderful boutiques and galleries along Rue de la Université and Rue Saint-Dominique, and try as many of the wonderful cafés and restaurants as you can squeeze into your itinerary. Also nearby are the Musée Rodin and the fabulous Bon Marché department store.
Book Now
---
Eyeful of Iron Luxury Apartment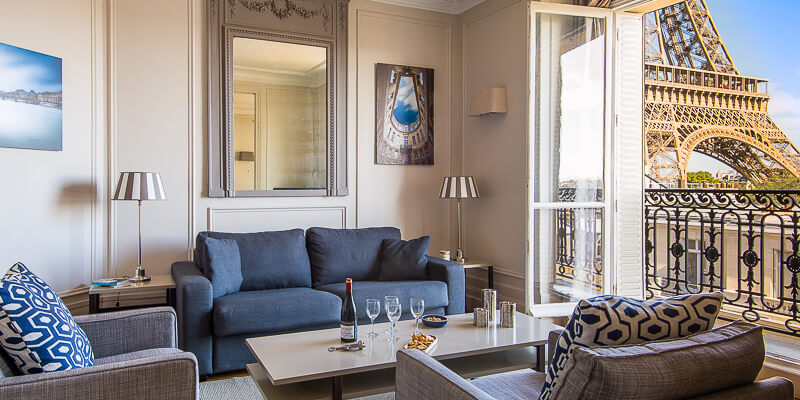 Treat yourself to the luxury of space, a perfect Paris location, and fantastic Eiffel Tower views from your living room balcony when you stay at the Eyeful of Iron 2-bedroom/2 bathroom apartment just a few minutes' walk from the famous tower, Champ de Mars, and Seine River.
This large apartment features comfortable furnishings, a modern vibe, and a king-sized bed and two twin beds to accommodate up to 4 guests. A metro stop just a couple of blocks away puts all of Paris within easy reach - but you'll also love the nearby neighborhood bakeries, cheese shops, fruit markets, and cozy bistros.
To see the Eiffel Tower from another perspective, explore the Île aux Cygnes, a small Seine River Island accessible from the Bir Hakeim Bridge near your apartment.
---
Hôtel Eiffel Trocadéro
★★★★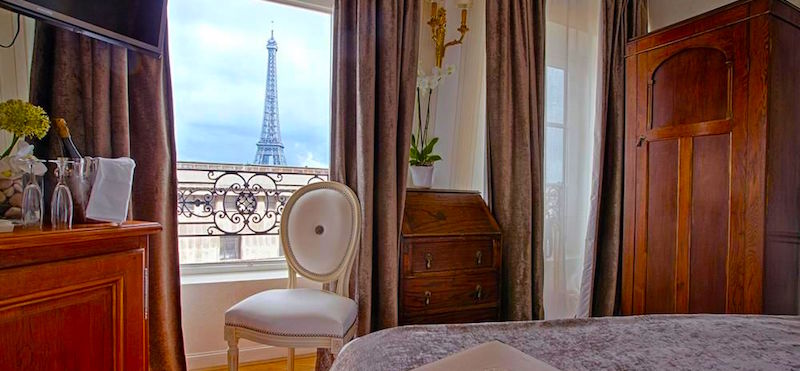 Located next to Trocadéro in the wealthy 16th Arrondissement, Hôtel Eiffel Trocadéro offers Eiffel Tower views from many guestrooms.
With only 19 guestrooms and suites in the cozy boutique hotel, you'll feel at home among the cheerful decor. Enjoy a meal at the hotel's ground floor restaurant - although you'll also find lots of other nearby places to dine.
The hotel's location next to Trocadéro and the Palais de Chaillot means you're just a few steps away from the front terrace at the former palace, where you'll find the best views of the Eiffel Tower in the city - and of the spectacular fireworks on Bastille Day. Stroll over in the evening to watch the Tour Eiffel's famous light show, or visit the Musée de l'Homme or one of the other fascinating museums now occupying the Palais.
---
Find More Hotels near the Eiffel Tower
Enter your check-in date to see hotels and rates available for your visit.
Tip: If you enter just your check-in date, the map will display rates for one night for the cheapest available room. If you plan to stay more than one night, enter your check-in and check-out dates to see the total cost for your visit.
Find best 7th arrondissement Paris hotels
---
Fun Ways to See the Eiffel Tower (& Skip the Line)
---
More Articles about Where to Stay in Paris