Although the weather in Paris in September can sometimes be warmer than you might expect and occasionally unpredictable, it can also feel just about perfect with blue skies, balmy temperatures, and the first hints of fall crispness, especially toward the end of the month.
September is also famously the time of "la rentrée" when Parisians return to the city feeling refreshed after being away for vacation. There's a buzz in the air as museums mount new exhibitions, the Paris Opera and Ballet gets ready for their new season of perforances, and boutiques display their new fall collections in their street-facing windows.
In the city's parks and gardens, the brilliant colors of autumn flowers and a second flush of rose blossoms put on a show that will last through most of the fall. By the end of the month, you'll even begin to see hints of changing foliage colors on the city's numerous trees - although since leaves on the magnificent horse chestnuts that dominate the Paris landscape tend to just turn brown before eventually dropping off, you may have to look hard to find flashes of gold and crimson.
September temperatures in Paris generally stay firmly in a moderate range, with the only real surprises coming on days when the thermostat soars into the upper 80s and low 90s (31°-34°C). If you're planning a visit during September, do yourself a favor and throw 1-2 articles of hot-weather clothing into your bag. Nights can get chilly, so add a couple of sweaters and perhaps a jacket to your packing list as well.
This is the perfect month to take advantage of the beautiful weather by planning outdoor activities while exploring the city. Consider a bike tour of the city's iconic neighborhoods or even Versailles, or perhaps a cheese, wine, and pastry tour of artistic Montmartre.
This article covers everything you need to know about September weather in Paris, packing tips, top things to do in September, and even recommendations about where to stay this month.
Article contents:
Top photo: Flowers blooming in Tuileries Garden on a spectacular September day, (c) Paris Discovery Guide
Paris Discovery Guide is a reader-supported publication. When you buy through our links, we may earn a commission at no additional cost for you. Learn more
---
What Is Paris Weather in September Really Like?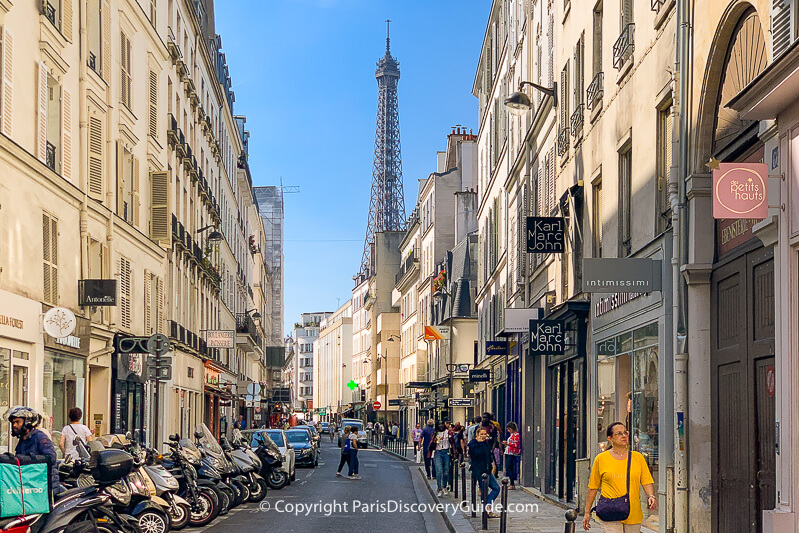 Paris September weather can be summed up in one word: "Glorious."
By this month, summer humidity has mostly disappeared, so you'll have a good chance of experiencing plenty of days with temperatures squarely in the "comfortable" zone.
Paris Temperatures in September: Average Highs & Lows
Here's a quick look at what September weather in Paris looks like on Fahrenheit (F) and Celsius (C) degree scales for average daily high and low temperatures, which have increased by 1-2 degrees Fahrenheit during the past decade:
Average September high temperature: 71°F (22°C)
Average September low temperature: 52°F (11°C)
Remember, these are averages, and definitely not a September weather forecast. To better understand what actual temperatures might be during your visit, take a close look at the September high and low temperature ranges in the following section.
Weather Statistics for September in Paris: High & Low Temperature Ranges
To see what September weather in Paris might really be like, looking at the average temperature ranges will give you a better idea than just checking the monthly averages. You'll also get a much better sense of what to pack - because Paris weather seldom hits the "average" mark for more than a day or two.
Here's the range of daily highs and lows throughout a typical Paris September:
Range of monthly high temperatures during September: 61°F to 94°F (16°C to 34°C)
Range of monthly low temperatures during September: 38°F to 66° F (4°C to 10°C)
Do note that high of 94°F (34°C) - obviously not quite a scalding as the triple-digit high temperatures in July and August, but certainly hot enough to wear loose-fitting clothing and perhaps a sleeveless top. Likewise, the low of 38°F (4°C) means bringing a warm jacket may be wise.
Here are the record-breaking extreme high and low temperatures during the past 30 years:
Highest September temperature (1991-present): 94°F (34°C) in 2020
Lowest September temperature (1991-present): 38°F (4°C) in 2012
Remember, Paris's climate is unpredictable from one year to the next (and on a daily basis) so you need to be prepared for a range of September weather conditions.
Sun and Clouds during September: What to Expect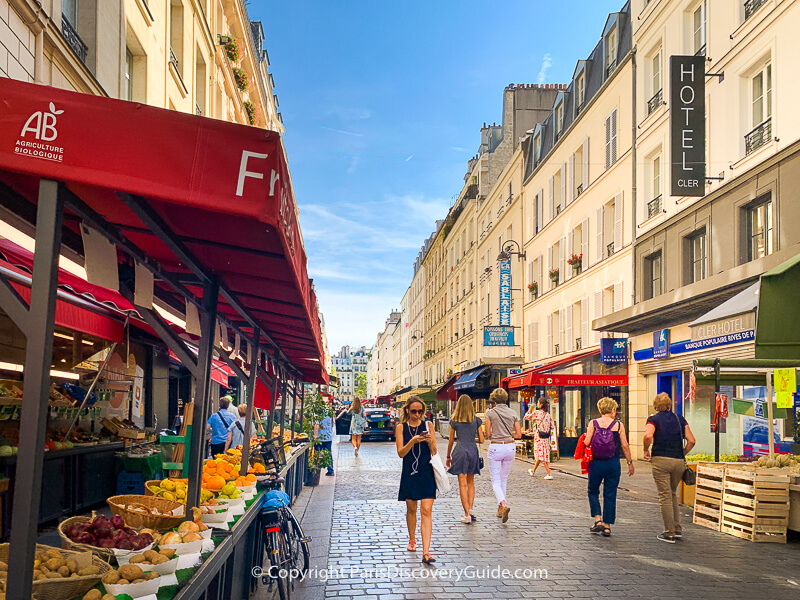 Although this month, like every month in Paris, offers a mix of cloudless, cloudy, and overcast skis, there's something about the September weather patterns that seems to produce an unusually high number of days with bright blue skies with few or no clouds.
That's why September is considered perhaps the most beautiful month of the year in Paris, and also why so many visitors arrive this month.
Days begin do begin to feel shorter, especially toward the end of the month (when the temperature also usually cools down a bit) - so enjoy the spectacular weather while it lasts!
Here's what you can expect:
Average hours of daylight:  12 hours, 30 minutes
Average hours of sunshine during Febuary:  5.5 hours per day

---
How Much Rain Does Paris Get in September?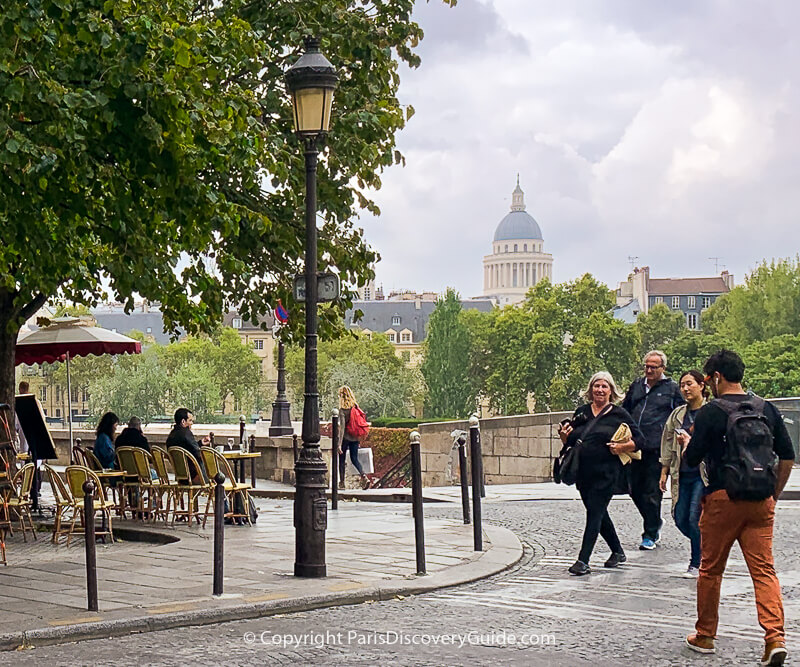 Paris records about 2 inches (about 51 mm) of precipitation on average over the course of 8 days during September, making this one of the dryer months of the year.
On average, you can expect brief (although sometimes hard) showers on 2-4 days, including maybe 5-8 days with drizzle or sprinkles occur for brief periods or even a few hours. If you get caught in a shower and don't have an umbrella, just duck into the nearest cafe for an espresso or glass of wine until it stops. Most of the time, any falling precipitation will barely even make you damp, so you can just ignore it.
September typically doesn't have the kind of weather patterns when rain can fall for days at a time, and there's usually not strong wind this month either - although of course, exceptions can happen.
---
What to Pack for September Weather in Paris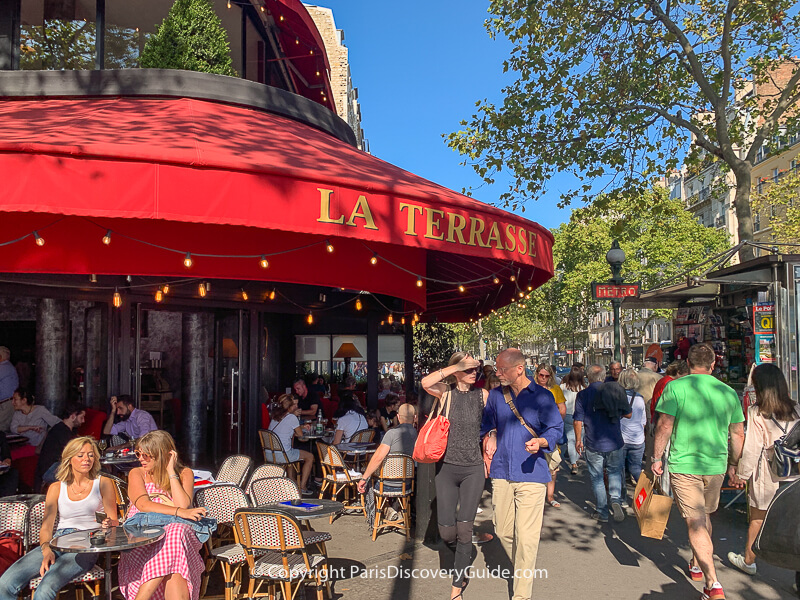 The photos in this article will give you a general idea of the types of clothing to pack for September, at least for daytime in ground-level or above locations.
With possible night time lows in the upper 30s/lower 40s (4-6°C), you'll want to add a sweater or two and a warm jacket to your packing list. You can layer them to stay warm if you're out late for a performance at the Paris Opera or a show at Moulin Rouge, or if you visit underground attractions such as wine cellars (which must stay at around 45°F/7°C) on a wine-tasting tour, or tour the Catacombs where you'll encounter similarly chilly conditions.
In addition to your core wardrobe of tops, bottoms, comfortable walking shoes, and under garments, here are essentials and options to consider for September:
A sweater or two and a warm jacket.
Sun screen. Or, you can wait until you get to Paris and buy high-quality brands such as La Roche Posay and Vichy at almost any Paris pharmacie (look for a green fluorescent cross outside the building). Most keep at least a minimal supply throughout the year.
Short-sleeved tops and lightweight pants and/or skirts. Considering the possibility of cooler evenings, you might throw in a long-sleeved shirt; for hot days, add one sleeveless top.
One or two sweaters in case the thermostat soars to 70°, and layer under your jacket or trench for extra warmth on the coldest days and evenings, especially on a Seine River sightseeing cruise or open-top hop-on hop-off bus where the temperature will feel at least 10 degrees colder. Cashmere (check options on Amazon) is ideal for keeping you toasty outside while not making you sweat inside.
If you anticipate being out a lot in the evenings, on Seine River cruises or even the hop on hop off bus, or in underground locations such as the Catacombs, you might consider bringing a warm scarf and even gloves.
Optional: small, collapsible umbrella. Alternately, you can always buy one in Paris if you need it - you'll see them everywhere from small convenience stores and souvenir shops where they cost 5-10€ to pricey boutiques and department stores where you'll pay much, much more.
Pro Tip: Right before you start packing for your trip, check the 7-day Paris weather forecast in case of any surprises. Here's the forecast in both Fahrenheit and Celsius:
PARIS WEATHER
PARIS WEATHER
---
Is Visiting Paris in September a Good Idea?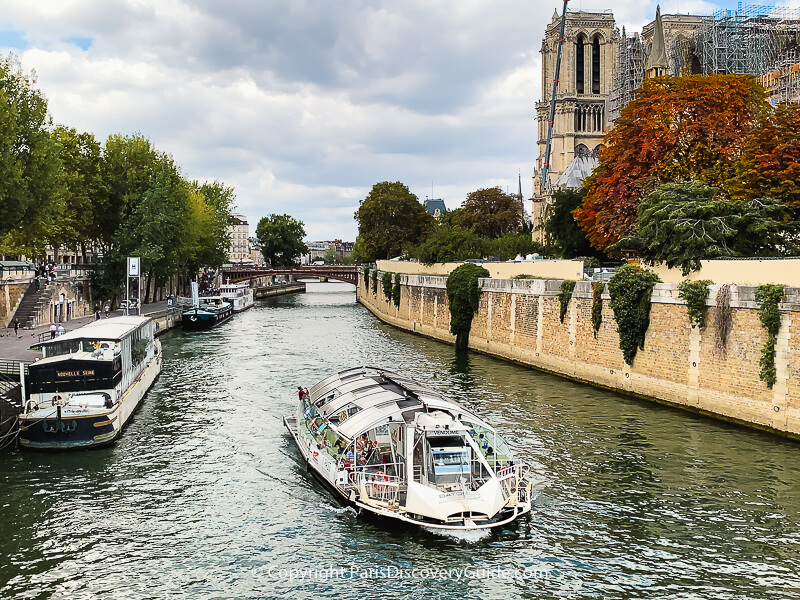 Absolutely yes! You'll love the bright, sunny weather and possible a few hints of fall color (although don't be disappointed if you don't see any, as Paris is not known for its fall foliage).
Here are more benefits to visiting Paris in September:
Somewhat fewer tourists than during June and July at popular attractions such as the Eiffel Tower, Louvre Museum, and Musée d'Orsay, although plane fares and hotel rates will still be high this month.
Cheap flights and low-season hotel rates, which start to go up next month as the "shoulder" travel season begins
An exciting lineup of classical concerts in the city's historical churches
Fantastic exhibitions at many Paris museums
And of course, the gorgeous (usually) September weather!
---
Weather-Proof Things to Do in Paris in September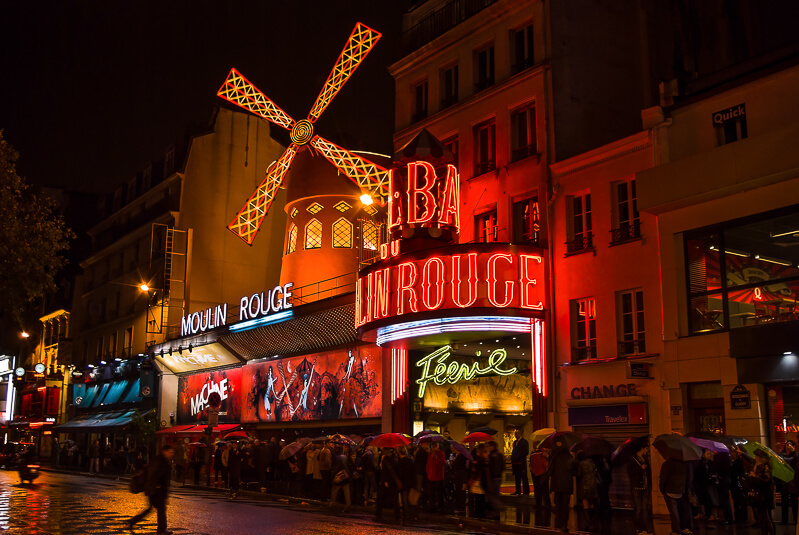 Recommended activities for staying dry while sightseeing in Paris during September weather, just in case you happen to be there during a rainy period:
---
More Fun Things to Do & See in Paris in September
---
Where to Stay in Paris during September
As you know by now, September weather in Paris can be fantastic, so this is a good time to stay in Paris neighborhoods where you'll enjoy strolling around.
Here are some suggestions:
Saint Germain neighborhood - Choose the popular Saint Germain neighborhood on the Left Bank of the Seine River, and you'll be close to famous bistros such as Les Deux Magots and Cafe de Flore, fabulous shopping (Winter Sales!), the Orsay Museum, and evening concerts at the medieval Saint-Germain-des-Prés church
Paris Hotels near the Louvre Museum and Tuileries Garden - These hotels in the heart of historic Paris close to the Louvre and gorgeous Palais Royal Garden, Jardin des Tuileries, as well as other top attractions, the Seine River, and too many wonderful restaurants and bistros to count!
Hotels in Le Marais - The Marais is one of the favorite neighborhoods among Paris visitors, and filled with numerous small parks and gardens, including Place des Vosges, created in the early 1600s and surrounded with vaulted arcades lined with appealing restaurants and boutiques
Use this hotel booking map to find more hotels and apartments for your travel dates:
Check out the newest Paris hotels
---
More about Paris in September
---
Paris Weather Resources
Want current Paris weather predictions? This is a good French source: Meteoblue
Historical weather data sources: The Weather Channel, Weather Spark, and Time and Date
---
---
More Information for Your Paris Visit in September