Even though the 2nd Arrondissement (sometimes called the Bourse) is the smallest of Paris's 20 districts and overlooked by many guidebooks, it actually packs lots of interesting things to do and see into its small size.
Look for "covered passage" shopping arcades in Paris, fashion and jewelry showrooms, popular pedestrian-only market streets, and several fascinating historic sites.
West of Avenue de l'Opéra is the 2nd arrondissement's most glamorous neighborhood where you'll find glitzy designer boutiques, upscale restaurants, and 4- and 5-star hotels including the renowned Park Hyatt Paris Vendôme, thanks to the well-heeled crowds drawn to the world-famous jewelry emporiums along Rue de la Paix, the Paris Opera House just steps away in the 9th district, and the glittering Place Vendôme in the 1st.
The Bourse neighborhood, named after the former Paris stock exchange once located in the majestic Palais Brogniart, occupies the 2nd district's middle swath. This is where you can explore the city's largest concentration of 19th century historic glass-roofed arcades (precursors to our modern indoor shopping malls), dine in the popular Asian restaurants along Rue Sainte-Anne, and buy cheese, wine, and baguettes in the wonderful pedestrian-only Rue Montorgueil market street - or claim a table and order a glass of wine and a platter of fresh oysters.
At the eastern end of the 2nd arrondissement, you can explore the Sentier neighborhood, still filled with wholesale textile stores and garment manufacturers although they are now losing ground to hip bistros, bars, and upscale hotels.
Once written off as a rather boring commercial area, Sentier is Paris's newest hot destination. Don't miss foodie-favorite Rue de Nil, home to the Chef Grégory Marchand's renowned Frenchie restaurant and other eateries, bars, and shops featuring locally-sourced produce, meat, fish, and cheese.
Our guide gives you a taste of the fascinating attractions and areas to explore here - and you're sure to find a lot more to love in this rapidly changing district.
Where to stay in the 2nd arrondissement
Top photo: Rue Montorgueil market street in Paris's 2nd arrondissement
Paris Discovery Guide is a reader-supported publication. When you buy through our links, we may earn a commission at no additional cost for you. Learn more
---
Guide to 2nd Arrondissement Paris: Top Attractions & Fun Things to Do
Explore the 2nd District's Historic Passages, Galeries, & Covered Arcades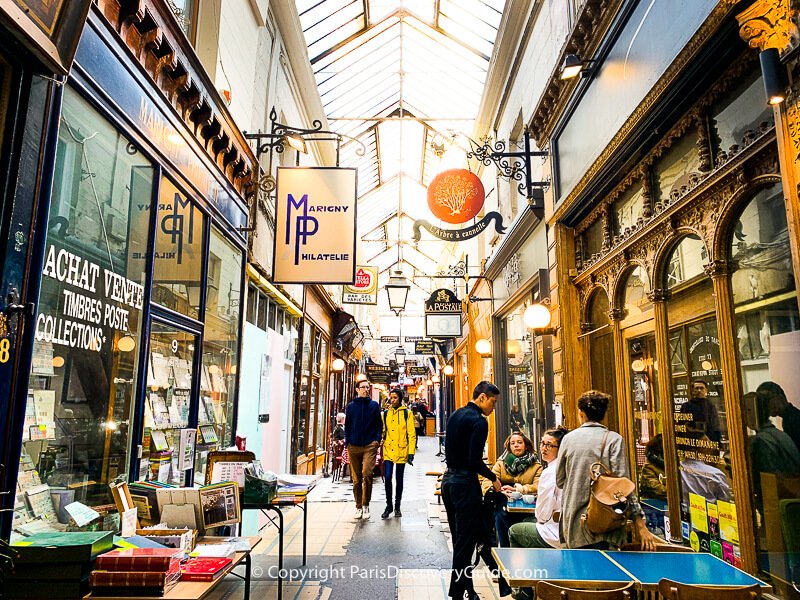 Covered passages - "passages couverts Parisiens" in French - transformed shopping in Paris starting in the late 18th century after the French Revolution led to the nationalization and sale of many city properties previously owned by religious orders and the Catholic church. The developers who bought these properties sought to maximize their profits by subdividing them and creating passages lined with small businesses and boutiques between the larger buildings.
At that time, Paris retained much of its medieval character. Going out to shop meant trudging through crowds down narrow muddy lanes, getting splashed with water (and worse things) by passing horses, walking past open sewers, and trying not to choke from the stench permeating the city.
So when developers transformed the passages between buildings into arcades covered by glass roofs to let sunlight stream in while keeping out rain, floors paved with tile to keep feet dry, and shops and cafes lining both sides began springing up around the city, they were a game-changer for wealthy Parisians - not just a place to shop, but also to socialize.
Out of the 150 or so covered walkways once lining the city, less than 30 remain and you'll find the largest number of them in the 2nd arrondissement. Each one is different, and they are fascination places to explore - an almost-hidden part of Paris where you can soak up all the architectural details plus shop, eat, and socialize. Explore on your own - or join a secret passages tour.
Here are 9 historic covered passages and galeries for you to find and enjoy in the 2nd district:
Galerie Vivienne - The 2nd Arrondissement's Most Elegant Arcade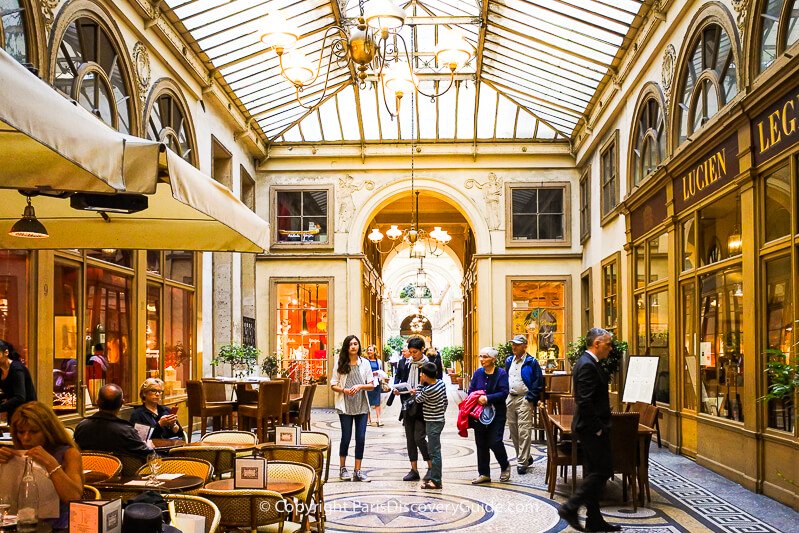 Upscale Galerie Vivienne (entrances at 6 Rue Vivienne, 5 Rue de la Banque, and on Rue des Petits-Champs) features beautifully restored original 1823 mosaic floors, a steel-and-glass roof soaring over a rotunda, and numerous high end clothing, gift boutiques and specialty shops. Antique and vintage stores attract lots of fans.
Stop by Legrande Filles et Fils to browse their superb selections of wines and gourmet foods, or experience special wine tasting event or meal in its adjacent restaurant, Le Comptoir de Dégustation. Across the passage, Bistro Vivienne serves French cuisine favorites.
Passage Choiseul in the 2nd District: Korean, Japanese, & other Asian Boutiques & Bistros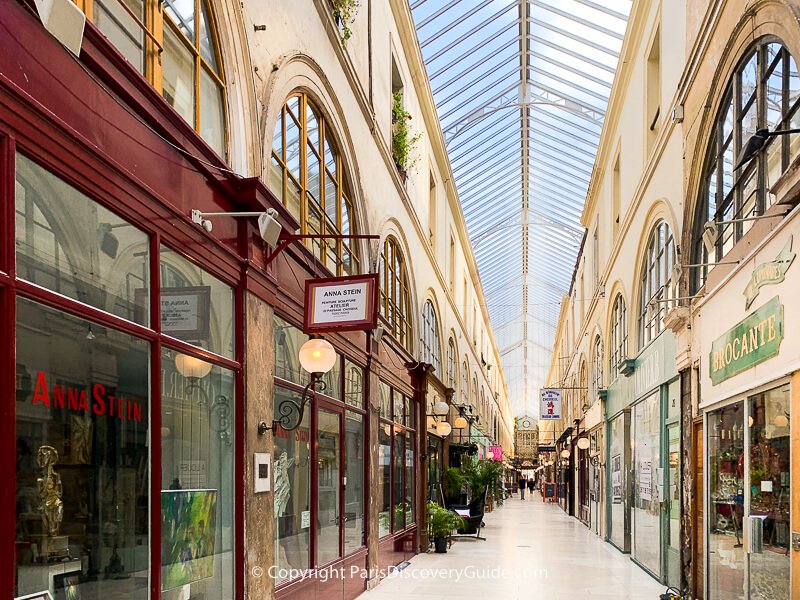 Dating back to 1827, Passage Choiseul is an extension of Rue de Choiseul (entrances at 40 Rue des Petits-Champs and 23 Rue Saint-Augustin).
Although it contains a variety of antique and vintage shops, galleries, clothing boutiques, jewelers, and specialty businesses such as an art supply store and an engraver and printing shop, in recent years it has also attracted a number of Korean and Japanese businesses and bistros, perhaps an extension of the Asian restaurants along nearby Rue Sainte-Anne and side streets streets.
Passage Choiseul's Asian connections go back farther, though, to 1970 when Japanese fashion designer Kenzo Takada opened his first Paris boutique here after hanging out with fellow designers Yves Saint Laurent and Karl Lagerfeld at the Le Sept disco (which closed a decade later) on nearby Rue Sainte-Anne.
Kenzo (as the designer was known) is credited with creating a buzz for the area that attracted the Japanese tourists who began visiting Paris in large numbers at this time, which then led to more Japanese businesses opening in the area. After a decade in Passage Choiseul, Kenzo and other designers moved slightly east to Place des Victoires - but the Asian influence in this part of the 2nd continued to grow.
Bonus: The arcade is also home to Théâtre des Bouffes Parisiens.
Tip: You can also access Passage Choiseul from Rue Sainte-Anne via Passage Sainte-Anne - but don't expect a glass roof and light-filled space - it's more like a dark hallway.
Fun Fact: French Symbolist poet Charles Baudelaire (Flowers of Evil) lived for a few months in the building next to the Passage Sainte-Anne entrance which is now Hôtel Baudelaire Opera.
Passage des Princes: An Arcade in the 2nd Devoted to Toys & Games
The Passage des Princes, built in 1860, has the distinction of being the last covered arcade authorized during the era of Baron Haussmann, who eliminated many of them as he rebuilt the city. Ironically, a real estate company bought it and destroyed in 1885 two architects then rebuilt it almost to its original specifications in 1995 (aside from the modern entrance on Boulevard des Italiens.
Today, Passage des Princes still looks new and gorgeous, with a stained glass cupola and two galleries covered by soaring steel and glass roofs supported by arabesques and meeting at a right angle.
What makes it both unique and highly popular (at least with kids and teens), however, is that all shops focus on a single theme: toys, scale models, and games of all sorts, including video.
Entrances: 7 Boulevard des Italiens, 97 Rue de Richelieu
Passage des Panoramas: A Stamp and Coin Collector's Paradise in the 2nd
Passage des Panoramas, which opened in 1800 and one of the first public spaces in Paris to get gas lighting (1817), forms a maze by connecting with several other glass-roofed arcades - Galerie Saint-Marc, Galerie Feydeau, Galerie Montmartre, Galerie des Variétes - within a large city block enclosed by Boulevard Montmartre, Rue Montmartre, Rue Saint-Marc, and Rue Vivienne.
Dealers specializing in antiques, stamps, and old coins occupied many of the small shops when Passage des Panoramas first opened, and they still do, although today you'll also find art galleries, wine shops, clothing boutiques, and many small cafes and bistros.
Théatre des Variétés stands at the end of Galerie des Variétés.
Parts of Passage des Panoramas look fairly shabby (don't be put off - it's part of the vintage effect!), while other sections seem to be under non-ending reconstruction. Wander around and let your interests guide you, while trying not to get lost in the maze.
Don't feel surprised if you end up spending much longer here than you expected. And also, take a look at the shops near the Passage's entrances - lots of interest boutiques, especially along Rue Vivienne (which, if you follow south for a few blocks, brings you back to Galerie Vivienne).
Passage du Grand Cerf: Arts, Crafts, & More in this Gorgeous Glass-Roofed Arcade
With its steel and glass roof soaring three floors high, light-filled Passage du Grand Cerf provides the perfect setting for the arty shops and boutiques lining its long tile-floored corridor.
Come here for vintage treasures, art, crafts, and artisan-made jewelry and clothing. You'll also some boutiques filled with contents too eclectic to classify.
Access: Rue Dussoubs, Rue Saint-Martin
Passage du Caire: The Oldest Arcade in Paris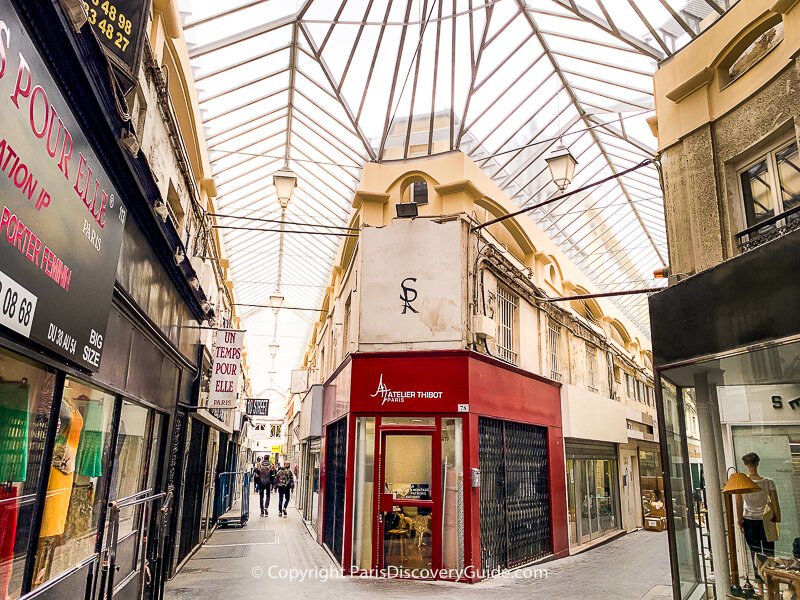 Despite being somewhat shabby and run-down, Passage du Caire still manages to exude an air of its former grandeur, especially when you look at it from the point where its three walkways converge as light streams in from the peaked glass roof.
Passage du Caire opened in 1798 just as Napoleon's campaign in Egypt ignited the French capital with a craze for all things Egyptian. Don't miss the three sculptural images of the Egyptian goddess Hathor peering down from the side of the building on Place du Caire where the the passage's main entrance is located.
In addition to being the oldest covered gallery in Paris, Passage du Caire is also the longest, narrowest, and the only currently occupied by wholesale textile, trim, and ready-to-wear businesses - a microcosm of the garment industry in Sentier. Someday gentrification will no doubt transform it - but for now, it's a fascinating place to just stroll through and observe all the activity.
Galerie Colbert - A Gorgeous Spot for a Quick Stroll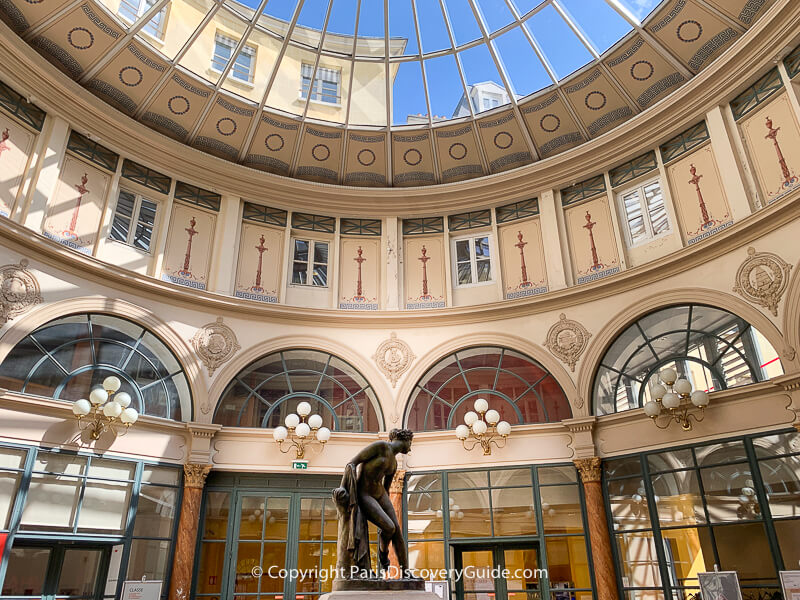 The first two things you'll notice about Galerie Colbert is 1) its spectacular rotunda topped by a glass dome, and 2) it contains just one restaurant (a splendid and very popular brasserie, Le Grand Colbert) and no shops. That's because the National Library of France bought the 1826 gallery several decades ago and it now houses the National Institute of Art History and a number of cultural institutions.
You can still visit Galerie Colbert to walk through it (after passing through a security check point) to admire the dome and ornate glass-roofed passage - well worth doing so, especially on a sunny day.
Location: Between 6 Rue des Petits-Champs and 2 Rue Vivienne
Passage du Bourg l'Abbe: Faded Elegance
This once-elegant passage built in 1828 retains much of its beauty, despite the mish-mash of shops inside.
Located: Between 120 Rue Saint-Denis and 3 Rue de Palestro
Want to explore the passages with an expert?
Join a secret passages tour to learn more about the passages' history and where to find the best treasures today.
---
Shop for Top-Quality Cookware in the 2nd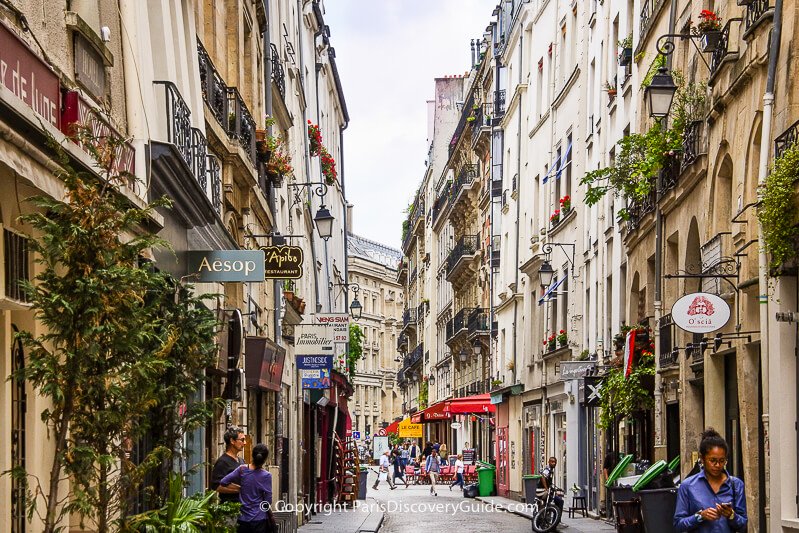 French cookware fans know the 2nd district as the location for two top Paris cookware stores: G. Detou and A. Simon.
Head to G. Detou (58 Rue Tiquetonne) for everything related to baking: specialty flours, hard-to-find spices and flavorings, little candy pastilles, top-quality coconut milk, not to speak of more varieties of flour, sugar, and other staples than you can possibly imagine. The huge variety of chocolate bars, including French brands you've likely never heard of, might make a chocoholic pass out from sheer joy.
Pronounce "G Detou" correctly like a French person would, and it sounds like J'ai de tout - "I have it all." They probably do.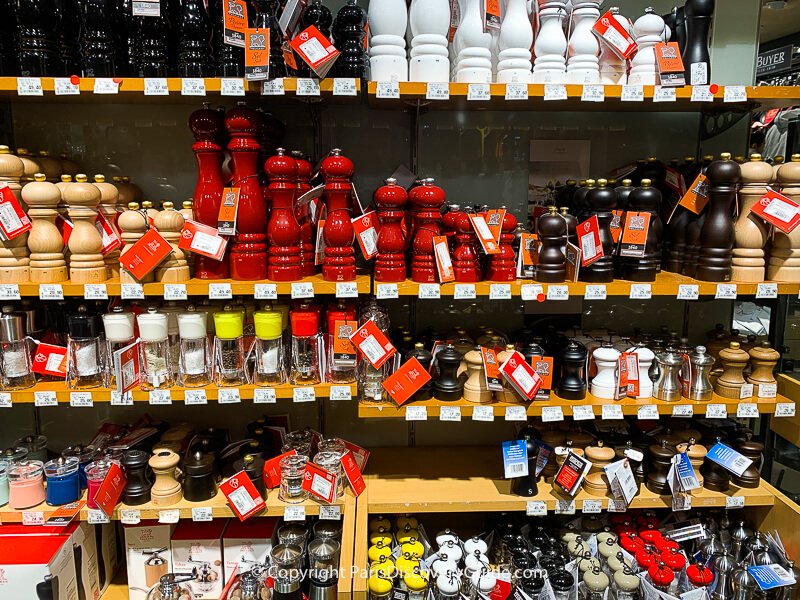 A. Simon (48 Rue Montmartre 75002) is where you'll find all kinds on utensils, containers, and Made-in-France cookware - Peugeot peppermills, professional-quality Opinel and Laguiole knives, Le Creuset and Staub baking dishes, plus china, silver, crystal, and much, much more.
---
Rue Saint-Anne Japanese, Korean, & Other Asian Restaurants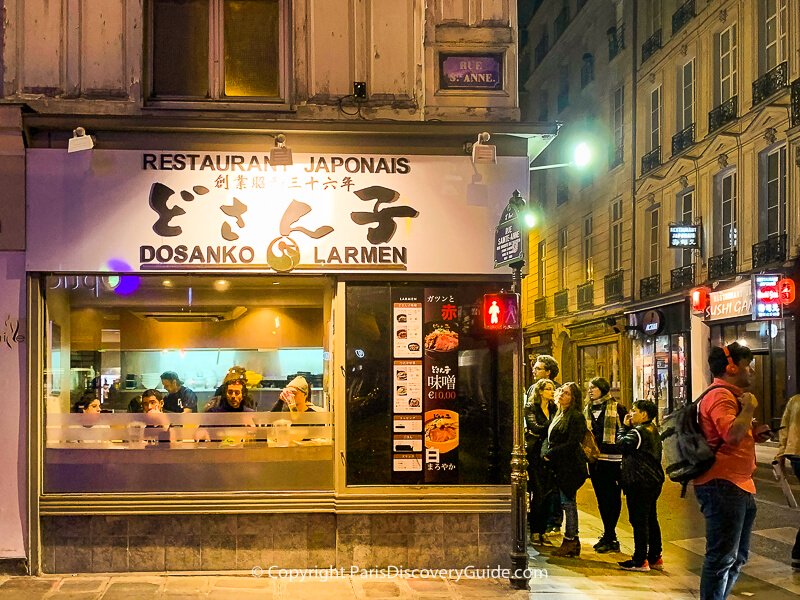 Fans of Japanese, Korean, Thai, Burmese, Vietnamese, Laotian, and Cambodian cuisine flock to Rue Sainte-Anne, which spans both the 1st and 2nd arrondissement and is considered to have the best Asian (excluding Chinese or Taiwanese, almost non-existent in this neighborhood) in Paris.
Look for these popular eateries along Rue Sainte-Anne and all the side streets. You can always spot the hottest places at the moment by looking for where the longest lines form at noon and dinner - but honestly, they're all very good and you really can't go wrong.
You'll find many other interesting small shops in this part of the Rue Sainte-Anne neighborhood as well, along with a few non-Asian places to eat. Look for the Voyageurs du Monde (48 rue Sainte-Anne) travel bookstore, Épices Roellinger (51 bis Rue Sainte-Anne) for spices, and Ace Boucherie & Traiteur (58 rue Sainte-Anne) for carryout deli and the city's best Wagu beef with the special cuts favored for Korean dishes.
Find out more about Rue Sainte-Anne in the 1st arrondissement
---
Rue Montorgueil Market Street - 2nd Arrondissement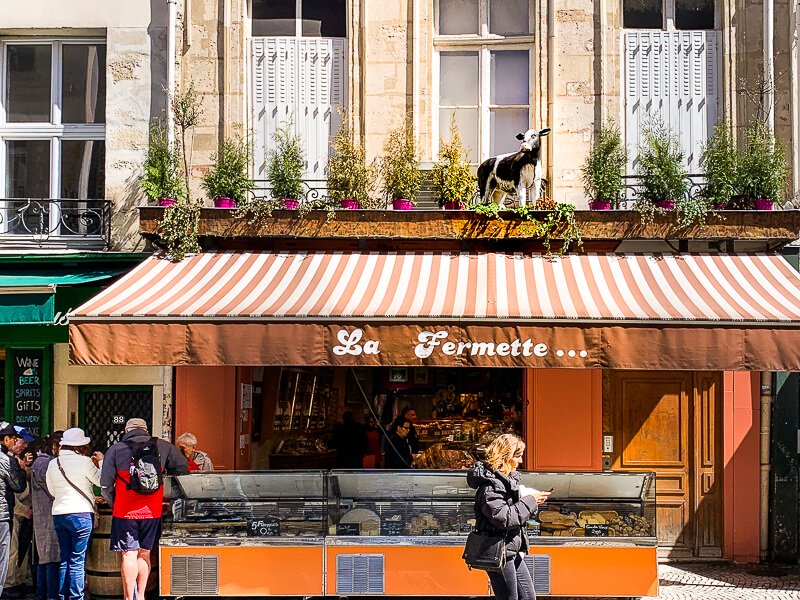 Pedestrian-only Rue Montorgueil, which passes through much of the 1st arrondissement from near Saint Eustache Church to Rue Étienne Marcel, continues through the 2nd up to Rue Réaumur.
Some of the market street's most-loved shops line this section: Stohrer, the oldest patisserie in Paris and originator of Baba au Rhum, La Fermette loved for its artisinal cheeses and the cute black and white cow peering down from above its canopy, Au Rocher de Cancale, where you can sit at a terrace table and slurp down some of the city's best oysters, plus bakeries, a fish store, a crêperie, a couple of wine stores, a rotisserie, small cafes, and even famed tea shop, Mariage Frères.
Stroll down the street, choose the cafe you like best, and then sit with a drink or snack, and enjoy some of the best people-watching in Paris.
---
Relax in the 2nd District's Only Park: Square Louvois
In a city known for its numerous public parks and green spaces - almost 500, at last count - the 2nd arrondissement has only one: Square Louvois, a small green oasis created in 1836 on Rue Richelieu where a theater - the first in Paris to provide seats for its spectators - once stood.
At the square's center is a very large ornate fountain, Fontaine Louvois, installed in 1844. Near its top are statues created by sculptor Jean-Baptiste-Jules Klagmann to symbolize France's four major rivers: the Seine, the Saône, the Loire, and the Garonne.
Benches at the edge of a gravel circle surrounding the fountain attract workers from nearby offices who come here to eat lunch and people from the neighborhood who come here to soak up the sun.
Fun fact: If you're a fan of the American TV series Gossip Girl, you may recognize the fountain from the episode where Blair pushes Serena into the water.
---
Palais Brongiart - Paris's Historic Bourse in the 2nd District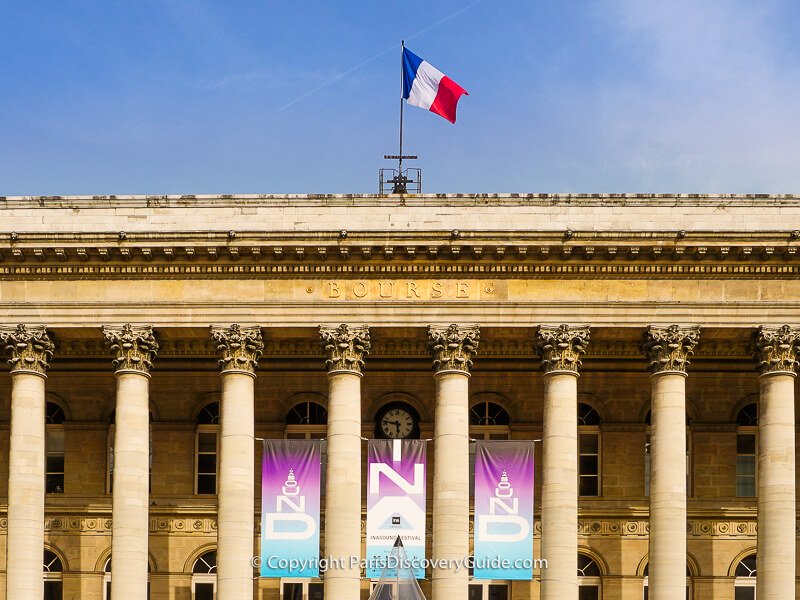 You're more likely to walk past the enormous neoclassical Palais Brongiart, site of the former Paris Bourse, or stock exchange, than go inside because the building now mostly serves as a site for trade show events, including some for Paris Fashion Week.
But even though France's securities market no longer operates here, you may still hear local residents call this part of the 2nd arrondissement "the Bourse."
A small street market pops up in the paved area in front of the building a few times a week with vendors selling food, household items, and clothing. A few stalls form a tiny brocante - flea market - where occasionally you might spot vintage dishes and even lamps.
---
Where to Glimpse the Middle Ages in the 2nd Arrondissement: La Tour Jean Sans Peur
Although you can see wonderful examples of Medieval religious architecture in Paris such as Sainte-Chapelle and Notre Dame, few residential properties from the Middle Ages can still be found - unless you count the Conciergerie, but that's a huge palace rather than a home.
La Tour Jean Sans Peur (John the Fearless Tower) at 20 Rue Étienne-Marcel is one of these rare places, although Baron Haussmann demolished the attached house - actually a mansion - while renovating large swaths of Paris.
The remaining tower, built around 1375, rises up almost 90 feet (27 m) high and contains a beautiful large spiral staircase that narrows toward the top - no city views, unfortunately, but fun to climb because at the top you can see the 2-room apartment, complete with state-of-the-art (for that time) latrine, where John hid from his numerous enemies and used a now-demolished small balcony as a lookout.
In case you're wondering about John, also known as the Duke of Burgundy: He aspired to be king and led a life of drama filled with marriages made for power and money, secret affairs possibly including the queen, deceit, murder, and finally assassination - his own - in a "live by the sword, die by the sword" moment.
You can visit the tower, see revolving exhibits on medieval life (usually very interesting), and climb to the top from Wednesday to Sunday, 1:30pm-6pm. Admission costs a few euros. Check the website to verify details.
Tip: Be reasonably careful going up and down the stairs - they've become worn during the past 850+ years and can be slippery.
---
Sentier - The 2nd Arrondissement's Newly Cool Neighborhood
The newly trendy Sentier neighborhood covers the corner of the 2nd arrondissement that lies roughly east of Rue Montmartre and north of Rue Réaumur and is a fascinating mix of Paris's traditional wholesale fabric and clothing district, tech companies, and foodies who started flocking to the area after Chef Grégory Marchand opened Frenchie, the more accessible (and affordable) Frenchie To Go, and Frenchie Bar à Vins along Rue de Nil.
What's the best way to explore Sentier? Walk up or down Rue d'Aboukir to the entrance of Passage du Caire (it can be hard to spot - if you miss it, there are others on Rue du Caire and Rue Saint-Denis). Check out the passage, and then walk around the rest of the neighborhood.
There's no one sight or attraction in Sentier that's a "must" but the wholesale shops make for fun window-shopping. In addition to Chef Marchand's mini-empire, you'll also spot many other appealing spots for a meal or quick drink.
If you aspire to end up at Frenchie for lunch or dinner, know that you must make reservations well in advance.
---
Opéra Comique at Salle Favart
Although the Opéra National de Paris which performs at Palais Garnier may be the most famous opera company in Paris, by no means is it the only one.
The highly regarded Opéra-Comique opera company (official name: Théâtre National de l'Opéra-Comique), which dates back to 1714, performs regularly at Salle Favart theater in the 2nd arrondissement.
Although Salle Favart does not compare with Palais Garnier because really, nothing does, it is still totally gorgeous and Opéra-Comique's performances are excellent (and easier on the wallet than those at the more famous venue). Opéra-Comique stages new contemporary operas as well as the classics.
What is "comic opera"? In 19th century France, French "comic opera," while not necessarily comic at all, denoted a "lighter" musical genre, today there's really not much distinction between it and regular "opera" except perhaps for a slight tilt toward satire.
Find Opéra Comique performances
---
The Grand Rex Theatre
You can't miss Le Grand Rex (1 Boulevard Poissonnière), thanks to its outsized Art Deco neon sign. When it opened in 1932 as the largest and grandest theater in Europe, it dazzled huge crowds with its starry ceiling, lavish decor, and enormous screen.
But unlike some venues that start big and then fizzle out, the Grand Rex has kept its reputation by continually updating the technology behind its reputation as a premier cinema, show, and concert venue for performers such as Bob Dylan, Nico, Edith Piaf, Harry Connick Jr, Leonard Cohen, Joan Baez, Tom Waits, Kelly Clarkson, Jane Birkin, Josephine Baker, Madonna, and Grace Jones.
The Grand Rex has added 7 more auditoriums (although none so big and lavish as the first, which has continued to be enhanced), and most recently, a club where you can hear electronic dance music. And its main auditorium still holds the record as the biggest and most advanced theater in Europe. France has designated it as a Historical Monument.
How to experience it? Go to a movie (most are in French but with English subtitles, or take one of the special behind-the-scenes tour where you'll get glimpses of how films are made with views of the director's office, the stage door, the tunnel used by stars, and the rooms used for projection, special effects, dubbing, and a lot more.
---
Get Your Caffeine Fix at the Most Beautiful Starbucks in Paris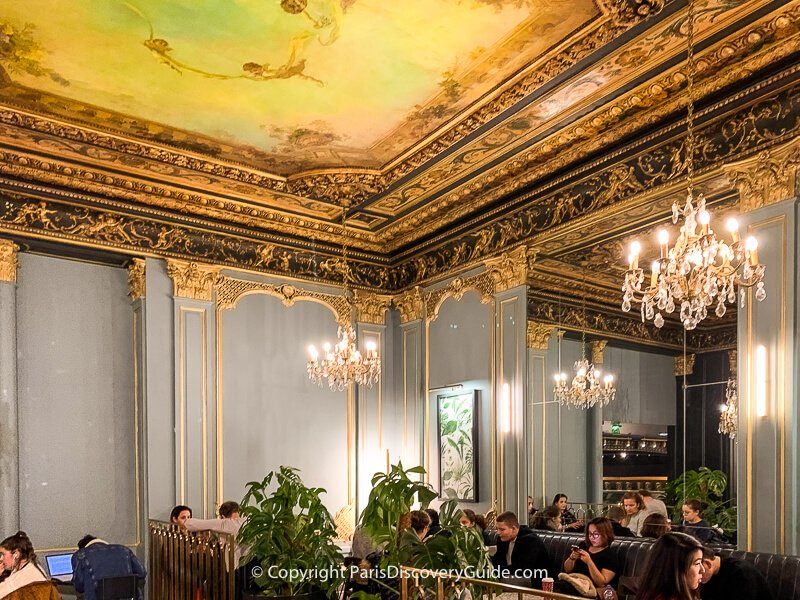 This may look like a fancy Parisian tearoom, but it's actually a Starbucks located at 3 Boulevard des Capucines, close to Opéra Garnier.
Starbucks opened their store here in 2006 but stepped back a few years ago and restored many of the 17th century building's original features: a steel and glass roof over an airy courtyard, the beautiful painted murals on the ceilings, and the incredibly intricate gilded moldings and paneled walls.
Tip: This Starbucks is almost always packed, with a line of people waiting to get seating. Worth the wait? Yes.
Opinion: Like other Starbucks in Paris, this one offers much better pastries (and a bigger variety) than their counterparts in the U.S. The fresh fruit, yogurt, and granola cups are also excellent.
---
Recommended Hotels in the 2nd Arrondissement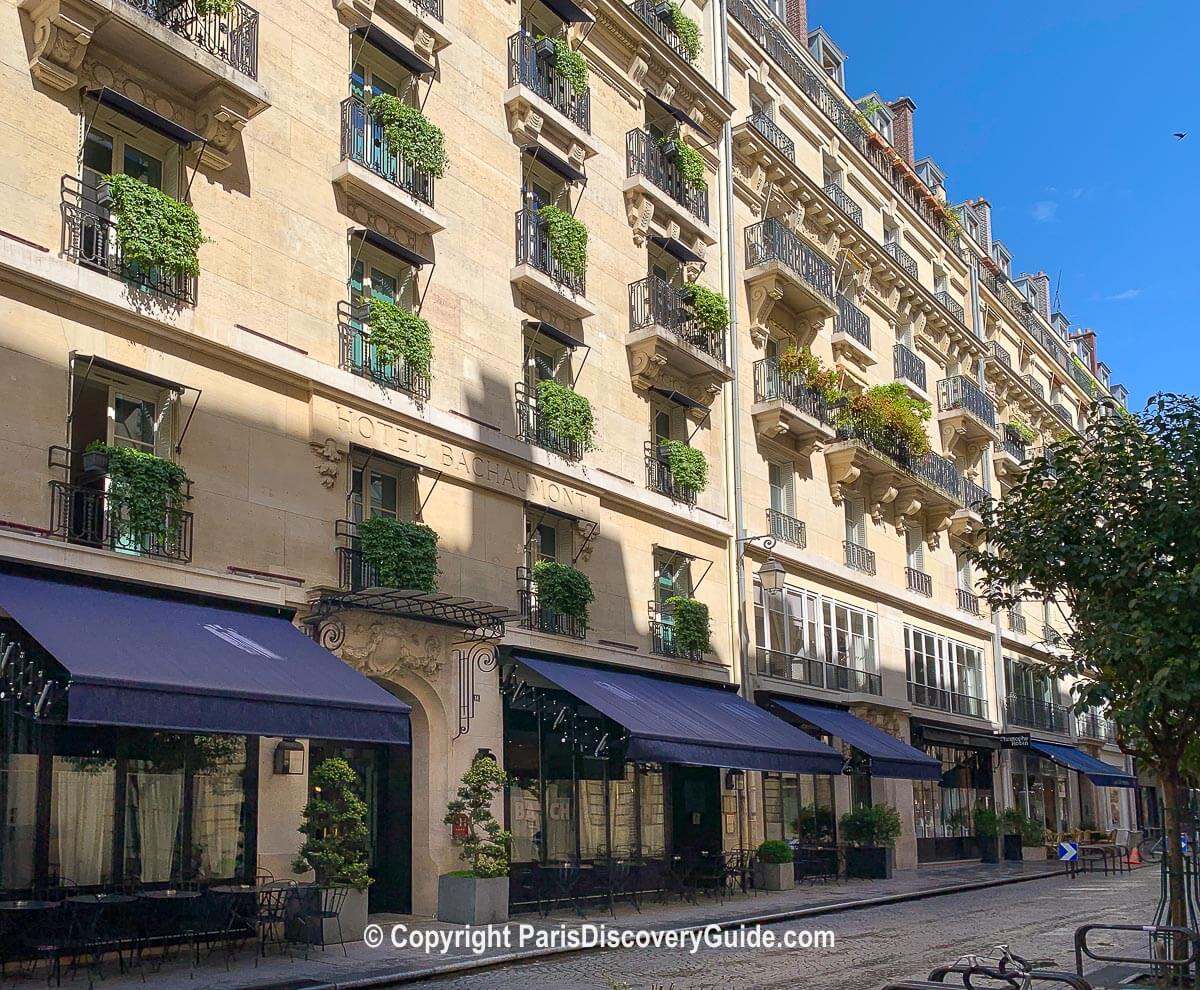 See more recommended hotels in the 2nd district Paris
---
Where to Eat in the 2nd Arrondissement
Le Grand Colbert (2 Rue Vivienne) - Gorgeous upscale Art Nouveau brasserie known for its excellent seafood, located in Galerie Colbert.
Frenchie (5 Rue du Nil) - Superb cuisine based on the freshest ingredients; reservations a must, but worth the wait. Choose a 3-course or 5-course menu for lunch or the 5-course menu for dinner. Unpretentious. Wide-ranging wine list from affordable to splurge.
Bistro Vivienne (Galerie Vivienne) - Casual French bistro favorites, usually excellent, and a very nice ambiance.
Rue Sainte-Anne - Any of the Asian restaurants on and near this foodie-favorite street.
---
More to See & Do in Paris
More Articles about Paris Arrondissements