Whether you're planning your first visit to the City of Light or have been here many times, the 1st Arrondissement of Paris will beckon you with its intoxicating mix of famous historic and cultural attractions, spectacular parks, hidden gardens, and shopping areas ranging from haute couture fashion showrooms to the largest mall in Paris. 
La première, as this district is called in French, is part of the original heart of Paris where a small Celtic tribe known as Parisii settled around 2,300 years ago along the Seine River.
Later, the most famous kings and queens of France built their magnificent palaces and superb gardens here.
Today, le Premier, as it is known in French, is absolutely packed with grand "bucket list" attractions: the Mona Lisa and other masterpieces in the Louvre Museum, Monet's massive water lily paintings in Musée de l'Orangerie (Orangerie Museum), spectacular stained glass and candlelight concerts in medieval Sainte-Chapelle, the haunting medieval Conciergerie where Marie Antoinette spent her final days as a prisoner, exquisite jewelers around Place Vendôme, and designer Coco Chanel's favorite spot for hot chocolate, the Angelina tea room.
You can discover and explore unexpected treasures here as well - 19th century shopping arcades, fascinating market streets and street markets, and popular jazz clubs and wine bars. From November through early January, stroll around one of the city's best and biggest Christmas market.
The 1st district also offers many excellent hotels in all price ranges, and a wide assortment of superb bistros, brasseries, bakeries, and restaurants along with the highest concentration of Japanese and Korean cafes and ramen bars in Paris.
Our guide to the 1st arrondissement introduces you to top attractions, plus recommendations for interesting neighborhood tours, where to stay, and where (and what) to eat.
You'll find the attractions located in four parts of the arrondissement:
"Royal Paris" - Famous museums & magnificent gardens where royal palaces once stood
Ile de la Cité - Explore Sainte Chapelle, the Conciergerie, & more in the historic heart of Paris
The Royal "Playground" - Find superb shopping, cultural venues, & royal gardens in this swath of the 1st arrondissement
Les Halles & Châtelet - Enjoy food streets, affordable shopping, churches, historic sites, & more
Have fun exploring!
Top photo: Fountain and pool in Tuileries Garden (Jardin des Tuileries) near the Louvre Museum in the 1st arrondissement
Paris Discovery Guide is a reader-supported publication. When you buy through our links, we may earn a commission at no additional cost for you. Learn more
---
1st Arrondissement Guide: Historic & Cultural Sites in "Royal Paris"
Where's the best place to start exploring the 1st arrondissement? Start with one of the city's most magnificent attractions: the Louvre Museum in the heart of "Royal Paris" on the Right Bank where French royalty created their palaces, gardens, and shopping arcades.
Louvre Museum: Mona Lisa, Mummies, & Much, Much More
If the 1st arrondissement represents "Royal Paris," then the Louvre Museum - the spectacular French Renaissance palace that generations of French kings and queens once called "home" - is the crown jewel.
Today, the Louvre is the world's biggest and most visited art museum, welcoming almost 10 million visitors in a typical year with almost 40,000 works of art on display.
Inside, you can see the world's most famous painting, Leonardo da Vinci's Mona Lisa, plus countless other treasures - everything from Egyptian mummies to medieval tapestries to Emperor Napoleon III's lavish 19th apartment.
And then there are the famous Greek and Roman sculptures such as Venus de Milo and the Winged Victory of Samothrace, Italian Renaissance masterpieces by Titian and Raphael, gallery after gallery of Northern European and English paintings, a fantastic new Islamic pavilion, the sumptuous Galerie d'Apollon filled with Louis XV's priceless (and dazzling) crown jewels. Down on the basement level, you can even see the dry moat and original foundations of the 12th century fortified castle that became the Louvre.
If you have only 2-3 hours for a visit, join a small group tour led by an expert guide who will whisk you past the crowds to see the most famous and memorable masterpieces while sharing interesting and entertaining insights about the Louvre's history and its art. You'll find plenty of excellent options:
Or, to explore on your own, get a timed-entrance skip-the-line ticket, or use a Paris Museum Pass for free admission.
Find out what to expect on a small group Louvre tour, and what you might want to see on your own afterward
Arc de Triomphe du Carrousel
After you leave the Louvre through the glass pyramid, walk toward the west (away from the museum) and the first thing you'll see is the Arc de Triomphe du Caroussel.
No, it's not the famous Arc de Triomphe. That one is twice the size and is located at the end of Champs Élysées in the 8th arrondissement.
Napoleon I, the former general who became Emperor of France in 1804 and was never shy about self-promotion, commissioned both of them to celebrate his military victories in the early 1800s. This one was completed in 1808, well before his defeat at Waterloo and forced abdication in 1814.
Bas-relief carvings and statues depicting armies, battles, soldiers, victories, and Napoleon himself cover the arch, but the most striking feature are the figures at the top. "Peace" rides in a chariot pulled by four horses flanked by golden "Victories" - an 1828 addition to celebrate the monarchy's restoration after Napoleon's exile.
Look through the Arc du Carrousel's central arch, and you may be able to see the more famous Arc de Triomphe to the west. Or just walk through it and enter Jardin des Tuileries, a gorgeous (and fun-filled) garden dating back to the 16th century.
Jardin des Tuileries - Catherine de Médici's Garden in the 21st Century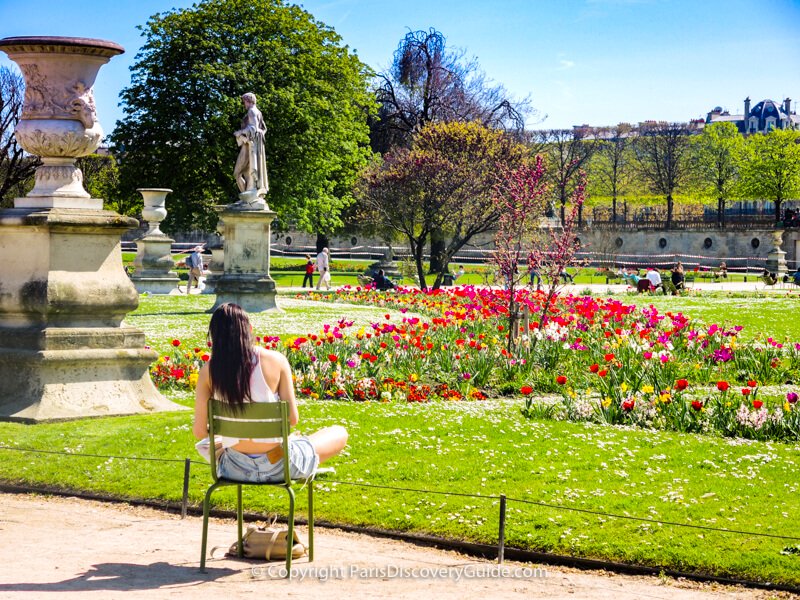 The year was 1559. Newly-widowed Queen Catherine de Médici moved into Louvre Palace with her children, including her 15-year-old son who had just become François II, the new King of France - but she wanted a more impressive royal residence. Within a few years, she commissioned the grandiose Tuileries Palace and a huge Italian Renaissance garden to the west of the Louvre where tile makers ("tuileries") had operated since the 1200s.
Don't bother looking for her palace - revolutionaries burned it to the ground during 1871. But Jardin des Tuileries continues to be one of the most magnificent and best-loved gardens in Paris - so don't miss the many things to do and see in it.
Claim one of the park's signature green steel chairs, and bask in the sun on a balmy afternoon, taking in the colors and scents of the masses of flowers or letting the gurgling fountains in the reflecting pools lull you to sleep. Smile as children use long wooden sticks to "sail" small wooden boats across the water. Get lost in the maze.
Stroll among the hundreds of larger-than-life-size statues, and stop for a croissant and café crème at Paul's near the Arc, or a glass of wine and snack at one of the cafes in the shady tree grove. Watch the on-going chess and boules games - or join in. Take a ride on the vintage merry-go-round. If you're visiting during November or December, visit the huge Christmas market - one of the best in the city!
Find out more about La Magie de Noël Christmas Market at Tuileries Garden
Maillol Sculptures in Tuileries Garden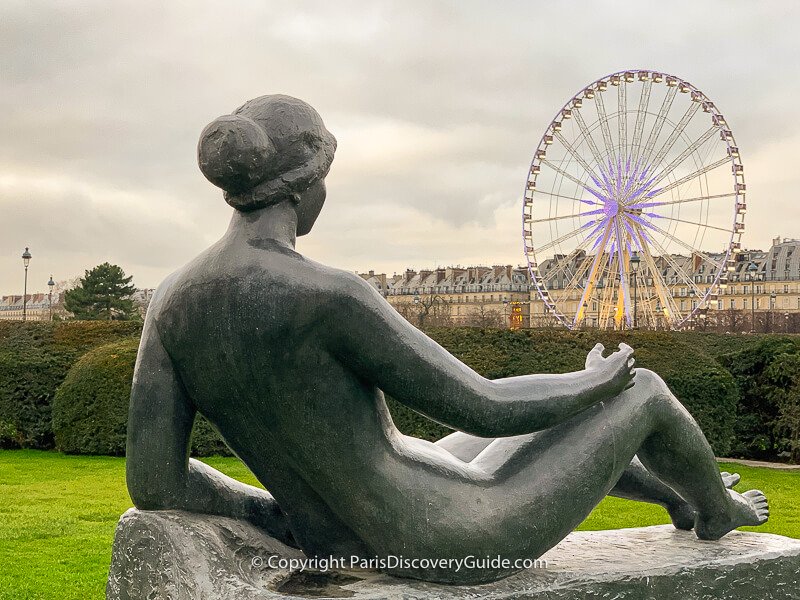 Among the hundreds of statues and sculptures dotted around Tuileries Garden, some of the most striking are the larger-than-life-sized female nudes by Aristide Maillol.
They are truly wonderful and you don't have to know their back-story to appreciate them - but it's too good to miss.
All of the Maillol sculptures in the garden depict Dina Vierny, who began modeling for him when she was 15 and quickly became his muse and platonic companion for the last 10 years of his life - while she also studied art at University of Paris, participated in the French Resistance against the Nazis by leading refugees into Spain ("follow the girl in the red dress," they were told), got arrested twice and spent 6 months in a Gestapo prison, performed as a singer, pursued her passion for collecting, and married a filmmaker.
When Maillol died in 1944, she inherited his sculpture and his fortune. She opened a museum dedicated to his work (Musée Maillol, 59 Rue de Grenelle, 7th arr), raised two sons, collected art, became friends with the surrealists, amassed a huge doll collection, launched her own gallery (La Galerie Dina Vierny, 36 Rue Jacob, 6th arr), and donated 20 of the Maillol sculptures for which she modeled to the French government with the condition they be displayed in the Jardin des Tuilieres.
Look for the Maillol sculptures in Tuileries (you'll find most of them at the eastern end closer to the Louvre). If you spot the one in the photo above, imagine her outstretched hand holding a glass of the finest champagne - a toast to a life well-lived.
Musée de l'Orangerie - Monet's Water Lilies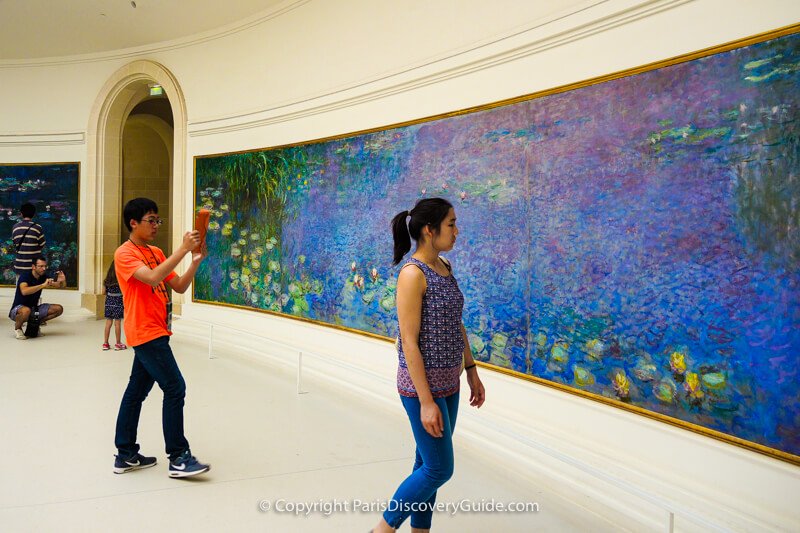 Tucked away in the southwest corner of Tuileries Garden is the Orangerie Museum, located in a building constructed by Napoleon III in 1852 to house the garden's citrus trees during cold winter months. Now, along with Musée d'Orsay across the river, Musée de l'Orangerie is where you'll see Impressionist and Post-Impressionist masterpieces.
The star attractions: eight of Claude Monet's enormous Water Lily paintings displayed on the main floor in two connected oval rooms designed by Monet himself. Illuminated by natural light, they are stunningly beautiful.
Downstairs, you'll find additional galleries filled with pieces by Impressionist and Post-Impressionist masters: Renoir, Rousseau, Matisse, Sisley, Modigliani, Picasso, and more. And as a bonus, the Orangerie Museum hosts several special exhibitions each year, always worth seeing and included in the price of your ticket.
A combo ticket lets you see both museums while saving a few Euros, and you can also use a Paris Museum Pass for free admission. Or, get a ticket for just l'Orangerie.
Jeu de Paume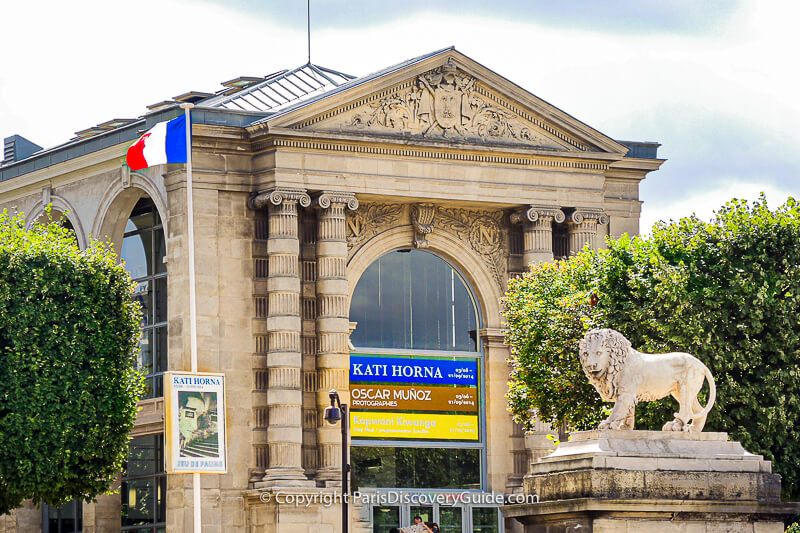 Napoleon III built Jeu de Paume, located in Tuileries Garden's northwestern corner, in 1861 to visually balance the Orangerie in the southwestern corner. Initially it contained indoor tennis courts, but once outdoor tennis became far more popular, it became an art gallery.
During World War II, the Nazis occupying Paris used the Jeu de Paume as a place to store the art they stole from local Jewish families prior to selling it; they then burned any unsold pieces, including works by Picasso and Dalí. The curator, an undercover French Resistance member named Rose Villand, maintained a secret list of all the art which enabled much of it to be located and returned to the owners.
Today, the Jeu de Paume is one of Paris's top exhibition centers for 20th and 21st century photography, film, and video installations.
Musée des Arts Décoratifs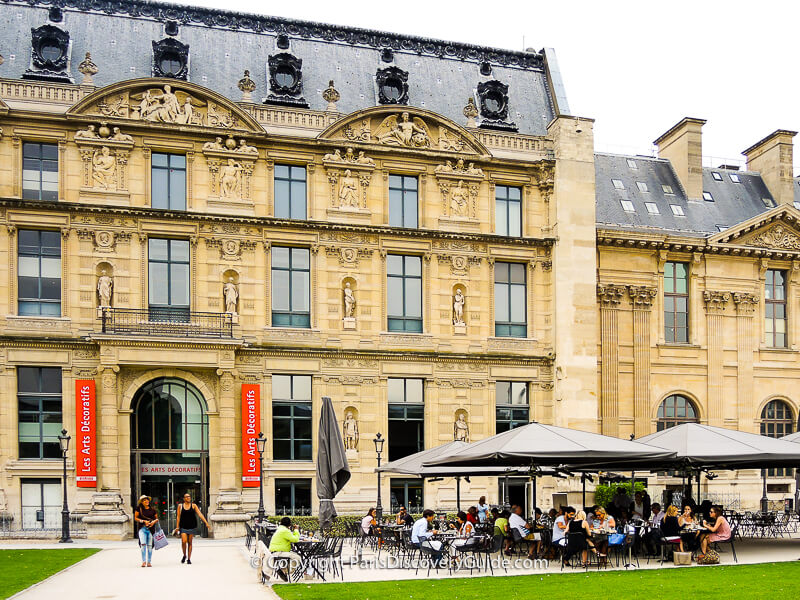 The Musée des Arts Décoratifs occupies the western tip of the Louvre's Richelieu Wing, bordered on one side by gardens and on the other by Rue de Rivoli and with entrances on each side. As its name suggests, its huge collection covers decorative arts from around the world - which means everything from art objects such as cloisonné vases and tapestries to fashion, textiles, furniture, ceramics, jewelry, lamps and lighting fixtures, toys, mirrors, fancy weapons, and so much more - from the Middle Ages to the present day.
With such expansive collections, the museum could easily become an incomprehensible jumble - but what makes it truly outstanding is the superb curation, especially the period rooms. And the in-depth special exhibits are always worth seeing. You can get free admission with a Paris Museum Pass or reserve a ticket online. Although some special exhibits require an extra fee, most are included with the regular ticket.
---
The 1st Arrondissement's Historic Heart: Île de la Cité
Although most of the 1st Arrondissement is on the Right Bank, the district also includes the western half of one of the two small natural islands in the middle of the Seine River, Île de la Cité. This historic island is packed with wonderful places to visit, including 3 magnificent world-famous masterpieces: Saint Chapelle and the Conciergerie, both in the 1st District, and on the eastern side, Notre Dame Cathedral in the 4th District.
Pont Neuf Bridge & the Seine River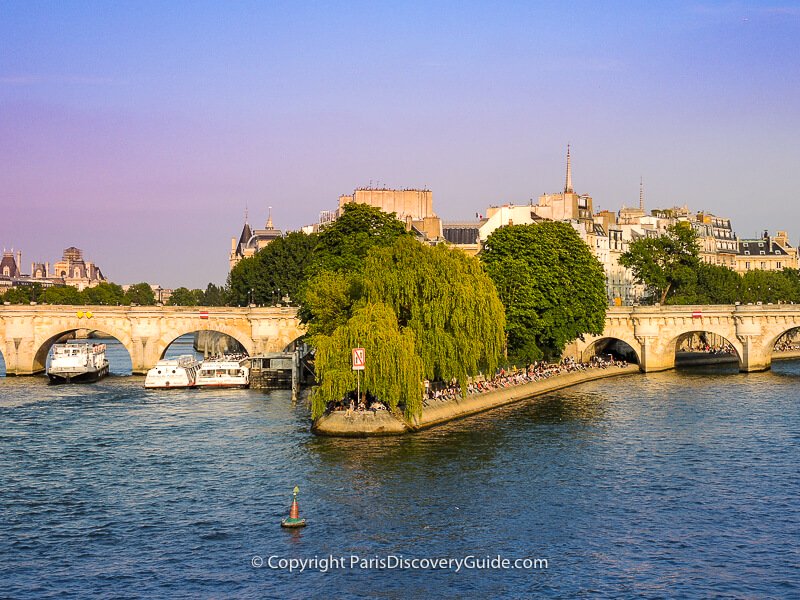 You've probably already seen Paris's oldest bridge, the Pont Neuf, in photos or movies. When the late afternoon sun sinks to the perfect angle and bathes the bridge with a pale gold, you're looking at one of the city's most beautiful sights.
Pont Neuf connects Ile de la Cité with the Right and Left Banks of Paris. When it opened to traffic back in in 1604, it passed over the very tip of the island but after a sandbar built up as the Seine flowed down-river, Parisians built stone embankments to protect it and create more land - now an almost-hidden park.
Want to photograph Pont Neuf? If you're planning to do a high resolution photo with a tripod, find a spot on the Pont des Arts bridge to the west of the island. For more interesting angles and closeups, take a late-afternoon Seine River cruise (or, for a different effect, choose a sunset cruise).
Sainte-Chapelle: Gorgeous Stained Glass & Candlelight Concerts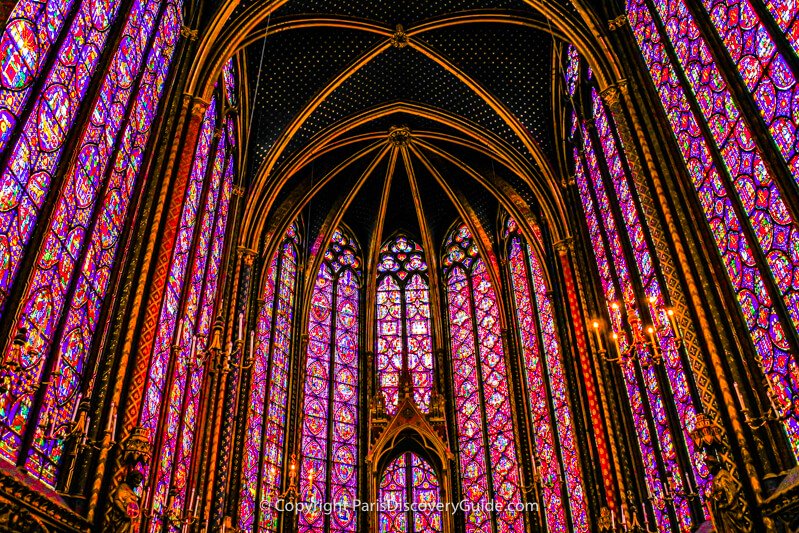 Sainte Chapelle's 15 soaring medieval stained glass windows in jewel-like hues of crimson, blue, gold, green, and purple make it one of Paris's most memorable sites, not only for its stunning beauty but also as a spectacular example of the best of French High Gothic architecture.
Look closely at the glass panels, and you'll see 1,113 scenes depicting Old Testament and New Testament biblical stories. French King Louis "The Pious" IX built the chapel, which was completed in 1248, to house his collection of sacred religious relics including Christ's Crown of Thorns.
What's the best way to experience Sainte Chapelle? Get tickets to explore on your own (you can also save with discounted combo tickets that include the Conciergerie next door) - or see this beautiful medieval gem by candlelight at a classical music concert (find the complete schedule here).
Learn more about Saint Chapelle
Conciergerie: Medieval Palace, French Revolution Prison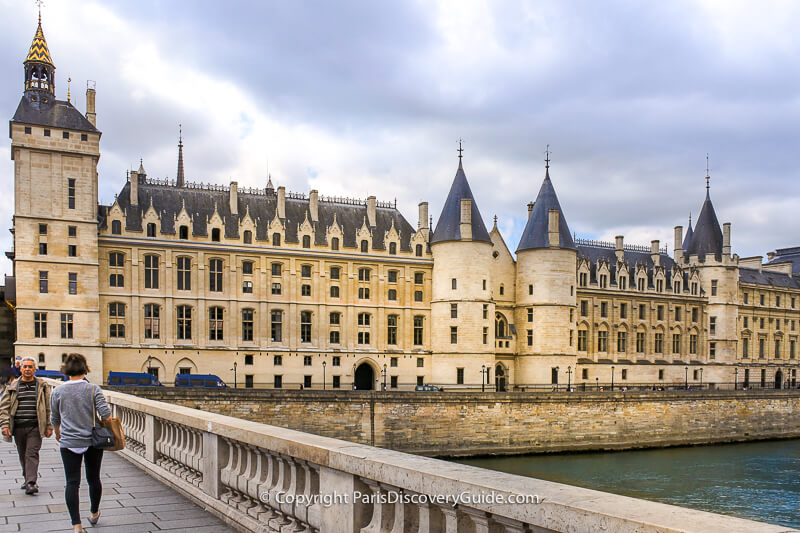 Although the Conciergerie often gets overshadowed by its more gorgeous neighbor, Saint Chapelle, it is just as fantastic in its own way. It began its existence as a Medieval royal palace dating back to the 6th century and expansions through the centuries transformed it into a spectacular example of 13th century Gothic secular architecture and like Saint Chapelle, a UNESCO World Heritage site.
La Conciergerie's immense medieval halls with soaring arches and vaulted ceilings alone make it worth seeing, and an optional "HistoPad" brings it to life with virtual reality for an immersive experience. But that's far from all you'll see here.
After the Louvre Palace on the Right Bank became the royal residence of choice at the end of the 14th century, the Conciergerie became a prison where a few centuries later, Marie Antoinette awaited her fate at the guillotine during the French Revolution - and the rooms you'll see showing how prisoners spent their last days are sights you'll probably remember long after your visit.
To see the Conciergerie, get a skip the line ticket online, which includes a HistoPad for use during your visit. Or save money with a combo skip-the-line ticket giving you entrance to both Sainte Chapelle and the Conciergerie (no HistoPad is included but you can rent one at the entrance for about 5 euros - if you're with your family or a small group, you can easily share the HistoPad).
Find out more about visiting the Conciergerie
Square du Vert Galant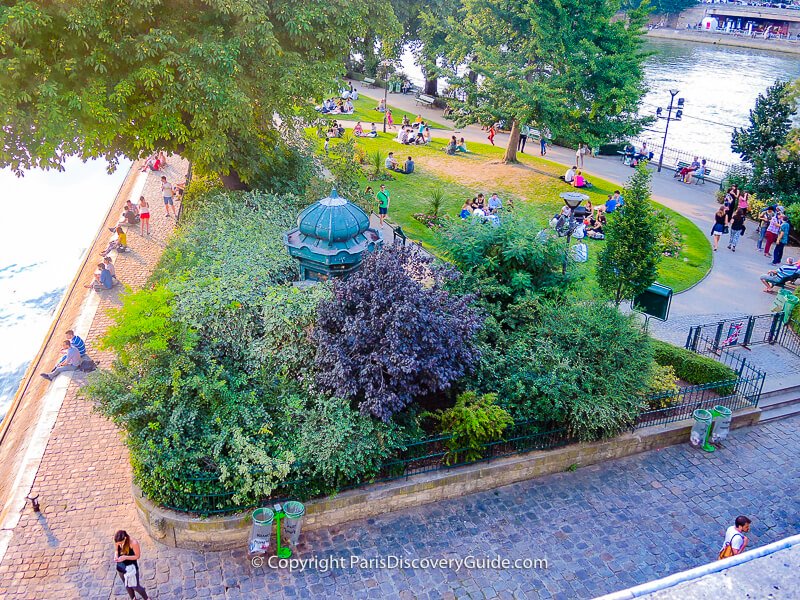 If you've taken a Seine River cruise, you've probably seen Square du Vert-Galant, a small leafy space at the very tip of Île de la Cité designated as a public park in 1607.
Stroll around the paths and admire the views of the Louvre Palace and the Institut de France, or bring a blanket, bottle of wine, cheese, and a baguette for a picnic on the grass.
What's especially cool about this small park? It's a Paris insider's secret, hidden from view unless you're on a Seine River cruise. To find it, walk west until you reach the Pont Neuf Bridge, where you'll also see a large statue of King Henri IV on horseback. At the edge of the bridge, look down and you'll see it, along with a rather steep staircase with a sign pointing to the doc for Vedettes du Pont Neuf, one of the river cruise boats. Go down the stairs and once you exit, you'll see the park straight ahead.
Find out more about all the other things to do & see on Ile de la Cité
---
The 1st Arrondissement's Royal Playground: Shopping, Entertainment, & More
Now we head back to the Right Bank to explore the area north of Tuileries Garden and the Louvre sometimes called "the royal playground" where generations of French kings built the beautiful squares, gardens, shopping arcades, and fashionable areas that we continue to enjoy today.
Place Vendôme, Diamonds, & the Ritz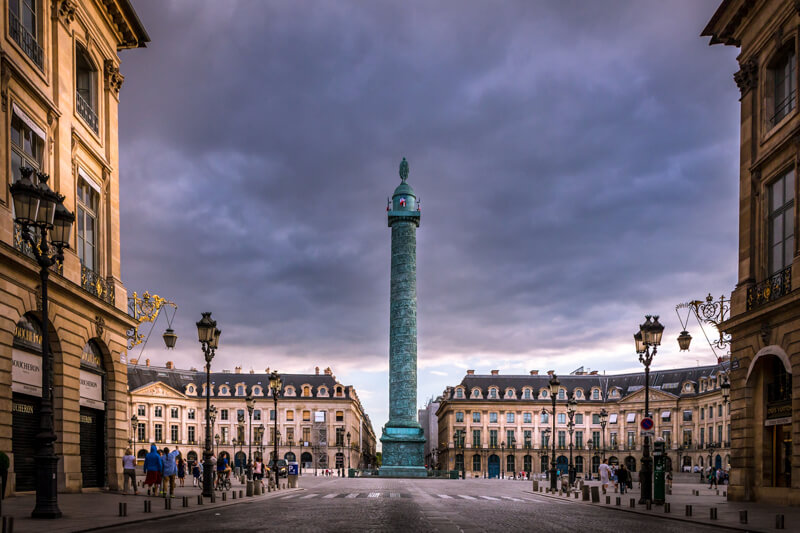 As you approach Place Vendôme, perhaps by walking two block up Rue de Castiglione from the north side of Tuileries Garden, the first thing you'll see is a soaring column. Napoleon ordered its construction in 1806 to celebrate his victories at Austerlitz. Covering the column are brass plates, weathered to a mellow turquoise, made from melted-down cannons captured at Austerltiz. A statue of Napoleon stands at the top.
Probably the second thing you'll notice about Place Vendôme are the elegant and virtually identical buildings surrounding the plaza. A century before Napoleon erected his column, Louis XIV envisioned the square as a testimony to his own military triumphs. After purchasing the land, he commissioned an architect to design the perfectly proportioned and matching façades, or fronts, of future buildings. Buyers could then purchase a plot behind the palatial façade and build their own hôtel particulier, or mansion, at the back.
Today, the prestigious Ritz Paris 5-star "Palace" hotel and the most famous luxury jewelers give extra glamour to Place Vendôme and Rue de la Paix. Look for boutiques where Boucheron, Chopard, Chaumet, Bulgari, Cartier, Gucci, Repossi, Chanel, Jaeger-LeCoultre, Feng J, Van Cleef & Arpels, Dior, and numerous others showcase their dazzling creations. Once you've had your fill of pricey bling, head to the cozy Bar Hemingway at the Ritz for a classic cocktail and the bar's acclaimed culinary specialty: superb hot dogs.
Seasonal tip: If you visit Paris in November or December, stop by Place Vendôme to see the brilliant Christmas lights.
Rue Saint-Honoré: Where to Find the Crème de la Crème of Luxury Parisian Fashion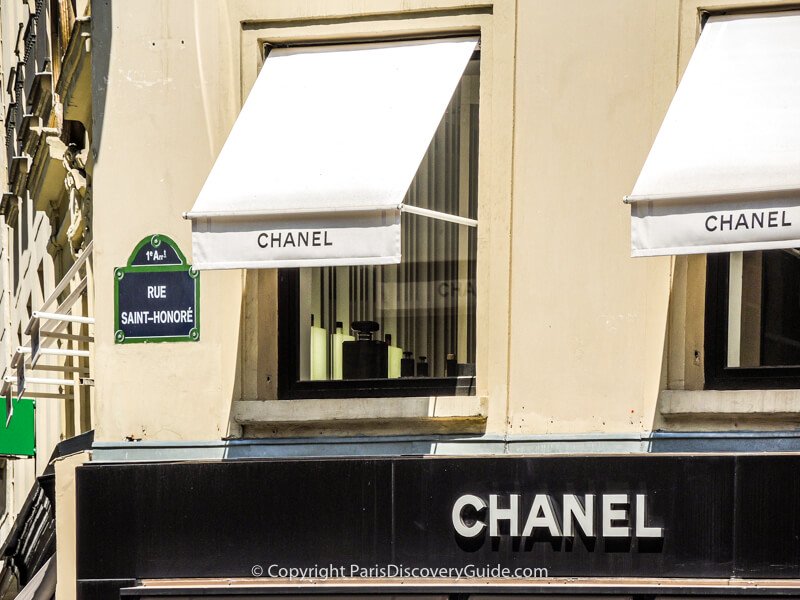 Walk along Rue Saint Honoré just to the south of Place Vendôme, and you'll quickly see why this famous street forms the heart of the 1st arrondissement's luxury shopping district.
All of the biggest names in French and international fashion - Louboutin, Hermès, Rykiel, Zadig & Voltaire, just to name a few - have boutiques tucked among the luxury hotels and jewelers who compete for real estate along this stretch. A few swoon-worthy home decor shops add to the thrill.
Coco Chanel and her signature black and cream colors continue to be a huge presence in this area. Explore Rue Cambon to see her original boutique and couture salon, and then pop down to her favorite tea house, Angelina (226 Rue de Rivoli), for a cup of hot chocolate and a special pastry.
To get a closer look with an expert fashion industry professional, join a Fashion History in the Heart of Paris small group tour and learn more about Parisian haute couture as well as current fashion trends.
Learn more about shopping at Rue Saint-Honoré and Place Vendôme
Rue de Rivoli Arcades
One of Paris's most interesting and varied shopping areas runs for almost a mile under the 18th century arcades along Rue de Rivoli on the north side of Tuileries Garden and the Louvre.
"Eclectic" hardly begins to describe what you'll discover under the arcades: high end art and objets d'art galleries, bookstores, antique stores, somewhat cheesy souvenir shops (with very competitive pricing, and incidentally, the best place to buy a cheap umbrella during unexpected rain storms), a gold dealer, home decor showrooms, a Western Union office, a currency exchange, a cigar shop or two, clothing boutiques ranging from luxe to discount, and a few other places that defy categorization.
Add to this mix an assortment of luxury hotels including Le Meurice, Weston Place Vendôme, Saint James Albany, and Hotel Regina, a range of places to eat and drink including brasseries, hotel bars, cafes, and the Angelina tea house loved by Coco Chanel, and a golden statue of Joan of Arc on horseback, and you'll see why the Rue de Rivoli arcades still attract crowds of enthusiasts after almost three centuries.
Nearest metros: Place de la Concorde, Tuileries, Palais Royal/Musée du Louvre, Louvre-Rivoli
Carrousel du Louvre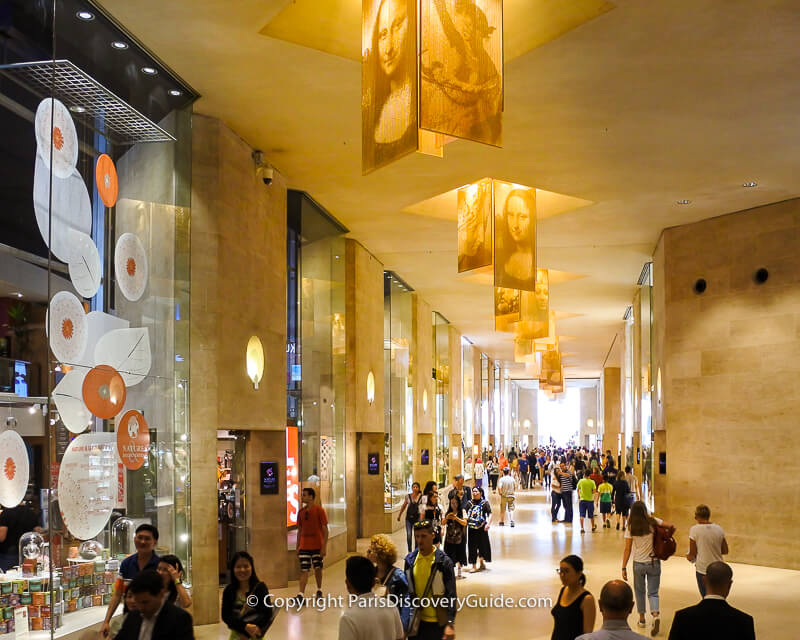 Fans of The Da Vinci Code
know Carrousel du Louvre as the site of the Inverted Pyramid skylight, but to everyone else, it's an appealing shopping mall tucked under an edge of the Louvre with entrances to the famous museum as well as the popular and historic Comédie Français theatre on the other side of Rue de Rivoli.
A branch of the Au Printemps department store anchors the mall, which also showcases a number of other mostly French high-end brands such as La Coste, Perigot, Fragonard, Maje, L'Occitane, Caudalie, and Pylones, plus a few international brands popular in France. As with other Paris malls, international visitors can combine purchases from all stores to reach the 175€ threshold for VAT exemption, so it's an excellent place for last-minute gift shopping.
A food court on the mezzanine level features cuisine from around the world; the North African food is particularly good.
Palais Royal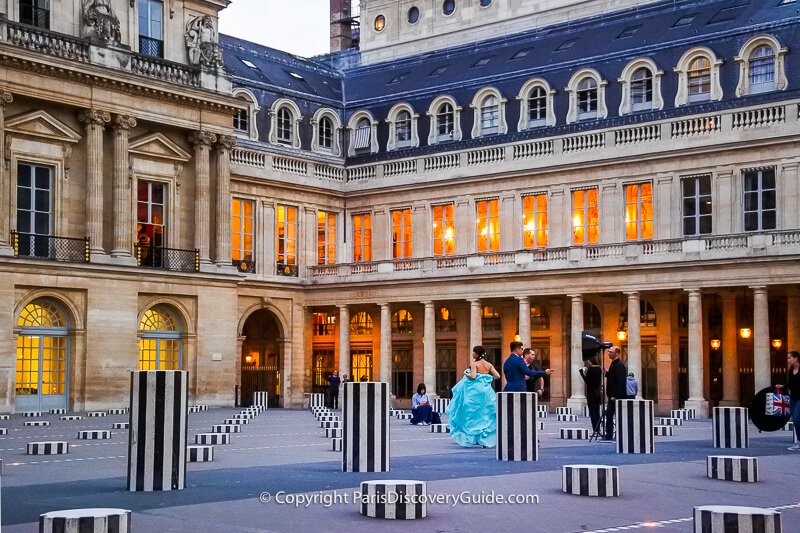 A block away from Musée des Arts Décoratifs and the Louvre is another former palace, Palais Royal, built by the powerful and super-wealthy Cardinal Richelieu in 1639 as his personal residence. After his death three years later, it became the king's property and home to various members of French royalty.
Flash forward to the 1780s: the palace, now much enlarged, now has a gorgeous garden, shopping arcades, theaters, and cafes surrounding the whole complex and nearby streets, and is the favorite gathering spot of Paris's wealthy upper class and increasingly, the affluent middle class - especially after the Revolution.
Today, much is still the same, at least in spirit, despite a few significant changes: government departments including the Ministry of Culture now occupy Palais Royal, which is closed to the public - although it opens to the public once each year in mid-September for European Heritage Days.
Another change: sculptor Daniel Buren's black and white columns, installed in 1986 amid much controversy but now a popular attraction.
Palais Royal Garden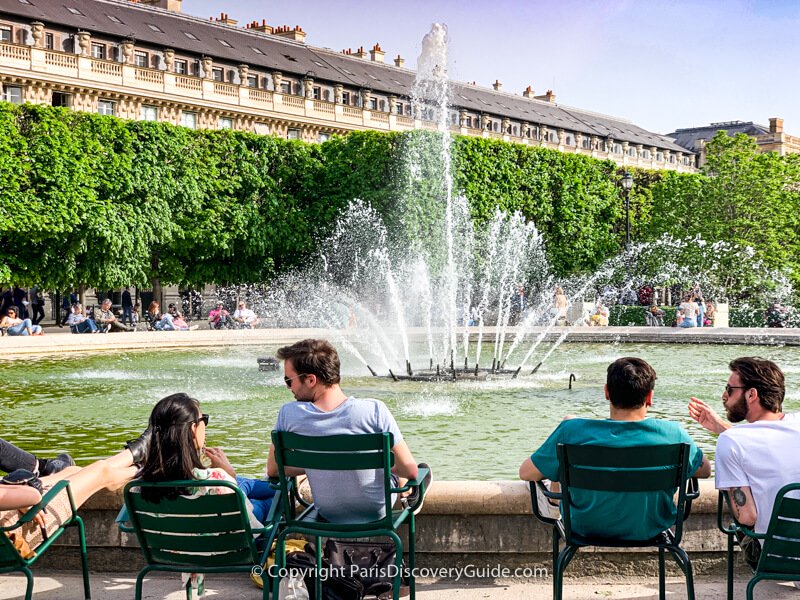 Almost totally surrounded by the elegant 16th century Palais Royal with shopping arcades along three sides, the Palais Royal Garden is hidden from sight (unless you know where to look) but well worth the effort of seeking out. The easiest way to access the garden is on its north side through Passage du Perron, an extension of Rue Vivienne although there are discrete entrances on the other three sides as well.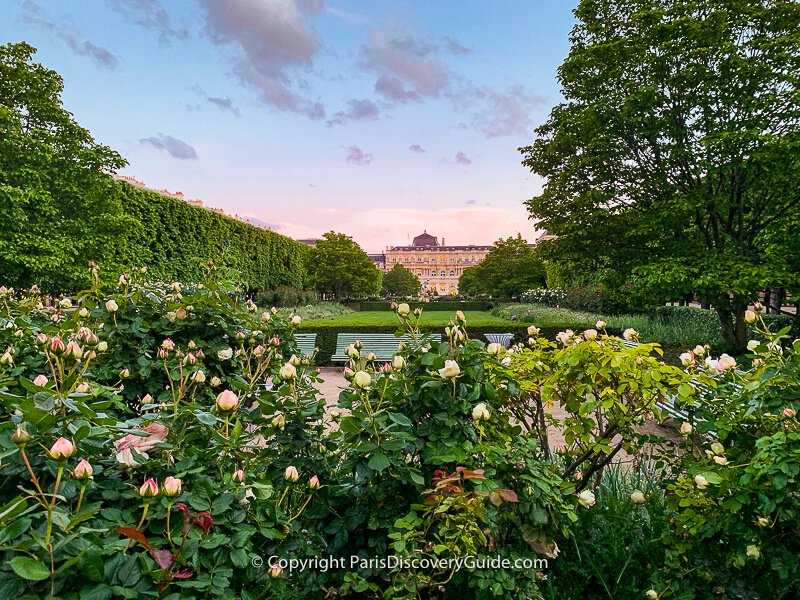 Find a comfortable chair next to the pool and fountain, join a game of boules in the shaded allées between the long rows of manicured lime and chestnut trees, or just stroll around admiring the beautiful displays of flowers, perennials, and statues. And take a moment to smell the roses.
Palais Royal Arcades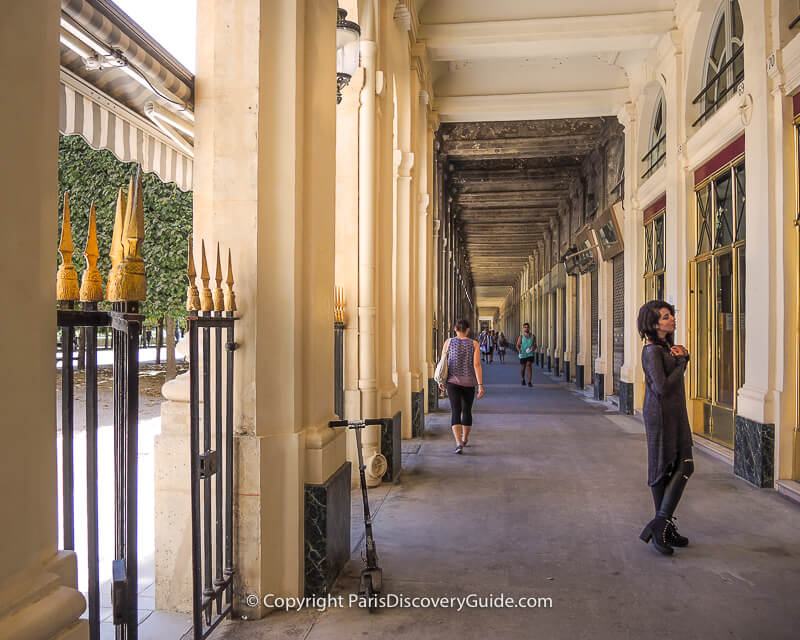 Although the almost-hidden shops under the covered arcades surrounding the Palais Royal garden date back to the early 1700s, today they are almost an insider's secret, partly because most of them offer rare, antique, or expensive luxury items such as vintage Chanel, hand-carved canes, and exquisite jewelry selected to appeal to the relatively small number of connoisseurs and collectors who can afford them.
Fortunately, window-shopping is free - plus you never know when you'll see, for example, a leather bag so sumptuous that you'll realize you can happily exist on ramen for a few months in order to afford it.
Speaking of food, Paris's first really magnificent restaurant, Le Grand Véfour, opened in the Palais Royal arcades in 1784, and is still going strong with Michelin-starred Chef Guy Martin at the helm. Peek through the windows to glimpse the spectacular interior, or make reservations for a memorable meal. You can expect dinner with wine to run around 400€/person - far less than you'd spend on that bag in the boutique window - while the prix-fixe lunch menu (without wine) feels almost like a bargain at just over 100€.
Find out more about shopping at the Palais Royal arcades
Galerie Véro Dodat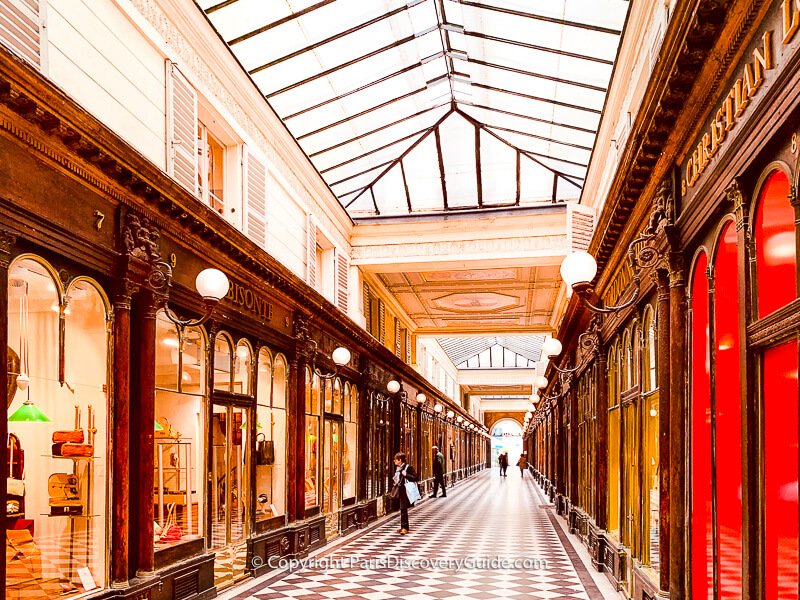 When a passion for covered passages - the precursor to modern malls that revolutionized shopping for wealthy Parisians - swept across the city in the early 19th century, the neoclassical Véro-Dodat Gallery stood out for its elegance and assortment of luxury boutiques. It still does.
Although the two Louboutin showrooms may be the showstoppers, the art galleries, antique stores including an antiquarian bookseller, jewelry and accessories shops, and luxury clothing boutiques are outstanding.
Most of the shop owners are specialists in their fields, and attract international clientele. For example, if you play gypsy jazz and need a specialized repair on your Selmer Maccaferri, for example, you'll seek out the expertise at the stringed instrument and sales shop F. Charle (the rest of us will be content to just drool at the vintage concert posters in the window).
Galerie Véro Dodat also includes a couple of appealing and affordable places to eat: historic Café de l'Epoque which serves up classic brasserie dishes, and Restaurant Véro-Dodat, which specializes in simple homemade dishes.
Véro-Dodat Gallery location: Entrances at 2 Rue du Bouloi and 19 Rue Jean-Jacques Rousseau
Find out more about Paris's beautiful covered passages
Comédie Française
If you're not French, you may not be familiar with 17th century playwright/actor Molière (Jean-Baptiste Poquelin) - but his huge and lasting impact on French theater is similar to William Shakespeare's legacy in English-speaking countries. His troupe of actors performed in and around Palais Royal, and the small slice of the 1st arrondissement surrounding
Named after Molière's theatrical troupe, Comédie Française (2 Rue de Richelieu, in the Salle Richelieu section of the Palais Royal complex) dates back to 1680 and is the oldest active theater company in the world.
Attend a show here (in French), or go on a guided 1-hour tour offered on Saturdays and Sundays. Not only will you see public areas including the ornate lobby, grand stairway, galleries, and theater auditorium, but you also get to visit private spaces with painted ceilings, art, and the red velvet armchair where Molière collapsed on stage while performing in his comedy, The Hypochondriac, and then died a short time later at his nearby home. Book your tour on the theater's website - and please note: tours slots usually fill up 2-3 months in advance.
No time for a tour? Peek inside the door to see the ground floor reception area, with statues of Molière and other playwrights plus grand staircases going to upper levels. The theater's boutique under the arcade on the left offers interesting and unique gift-worthy items.
Moliere Fountain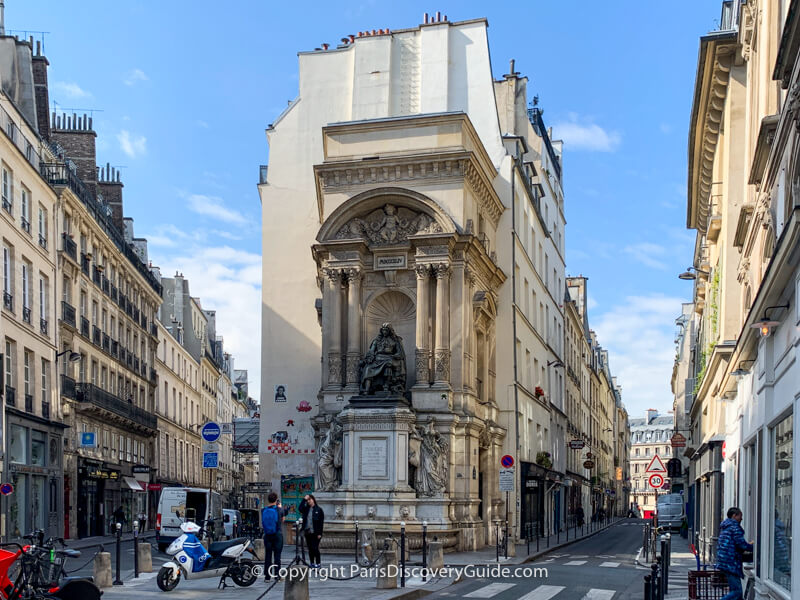 Walk a block up Rue de Richelieu from Comédie Française to where it meets Rue Molière, and tucked this quiet corner is the stately Molière Fountain topped with a statue of the famous 17th century playwright/actor/poet who lived, rehearsed, wrote and died in this part of the 1st arrondissement.
In a city filled with statues, what makes the Molière Fountain significant? When it was erected in 1844, the bronze sculpture of Molière was the first public monument commemorating a non-royal, non-military person. And probably one of the very few that didn't also include a horse.
Rue Saint-Anne: A Hub of Asian Food & Culture in the 1st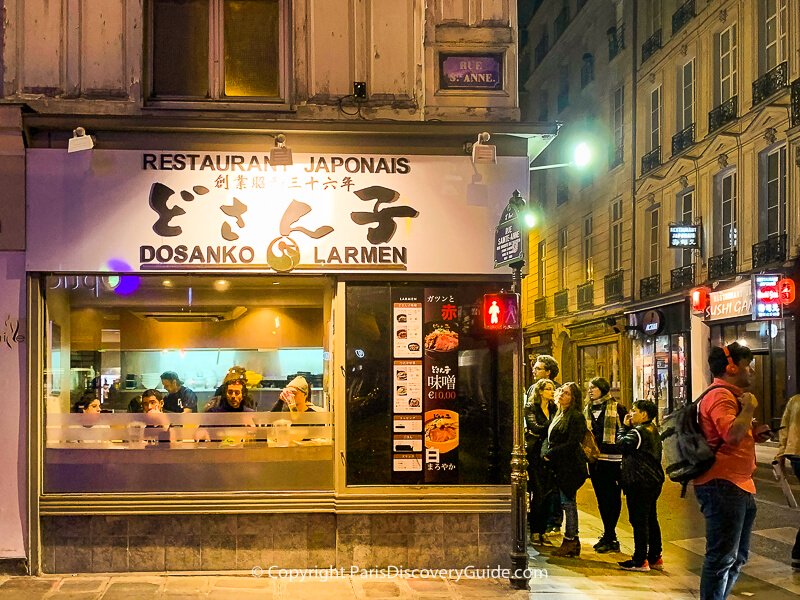 For over a decade, luminaries of the fashion world, artists, and entertainers converged at clubs along Rue Sainte-Anne, also the center of Paris's gay culture. But after the gay community begin shifting to the Marais in the late 1970s, the clubs also closed. Soon, Japanese tourists started traveling to Paris in large numbers in the '80s and '90s, and Japanese travel agencies, shops, and finally restaurants started moving into the vacant storefronts.
Today, Parisians from all over the city and visitors from around the world flock to Rue Sainte-Anne where dozens of tiny Asian restaurants attract large crowds at noon and every night except Sunday, when most are closed.
Four of the most popular places - Aki (#11 bis), Aki Café (#75), Aki Boulanger (#16; in addition to Japanese-inspired pastries, you can also get bento boxes, rice balls, and other food to eat at the bar along the windows or carry out to the sidewalk tables), and Sapporo ramen bar (#37) - belong to Serge Lee, born in Japan to Korean parents and regarded as the neighborhood's most successful entrepreneur.
Today, you'll find almost as many Korean restaurants and groceries, plus Thai, Vietnamese, Cambodian, Laotian, and Burmese choices (for Chinese food, you'll need to go to other parts of the city), along with a few non-Asian restaurants and other businesses.
And what started as a small enclave clustered in a small section of the street in mostly the 1st arrondissement now extends far into the 2nd and along many side streets.
Tip: Although some people initially referred to this area as "Little Tokyo" and many guidebooks continue to do so, that's outdated. Just call it "Rue Sainte-Anne."
Place des Victoires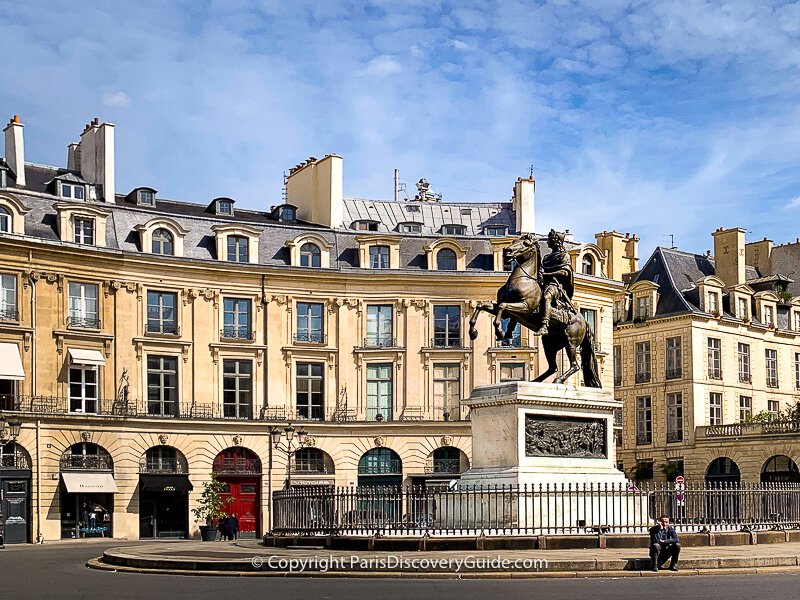 The first thing you'll notice when you enter Place des Victoires, perhaps by walking two blocks along Rue des Petit Camps/Rue la Feuillade from the Palais Royal Garden, is the larger-than-life-size monument of a man sitting on a rearing horse.
From a distance, the statue looks no different from other similar statues dotting Paris - but get closer, and you'll notice something weird: the man - who, incidentally, is Louis XIV, aka the "Sun King" - is dressed up like the Roman emperor Caesar with a crown of laurel on his head.
This is actually the second statue of Louis XIV dressed as Caesar in this spot, and was erected in 1828 by Charles X to replace an earlier statue of Louis destroyed during the French Revolution.
The beautiful buildings surrounding Place des Victoires date back to the late 1600s. Designer boutiques fill most of the ground-level retail spaces, with offices and apartments above. You'll find an excellent mix of well-known French designers such as Maje, Gerard Darel, and Zadig and Voltaire, plus a few lesser-known younger designers.
---
1st Arrondissement Guide: Top Attractions around Les Halles & Châtelet
"Royal Paris" gives way to commerce on the 1st district's eastern side, where the Les Halles market provided much of the city's fresh food supply for almost 1,000 years before being replaced with a shopping mall. In this area you'll still find numerous small shops offering specialty foods and cookware, one of Paris's famous market streets, the city's former commodities exchange building, the majestic Eglise Saint Eustache, and, as you go closer to the Seine and the Marais in the 4th district, a heady mix of jazz clubs and theaters.
Pinault Collection @ the Former Bourse de Commerce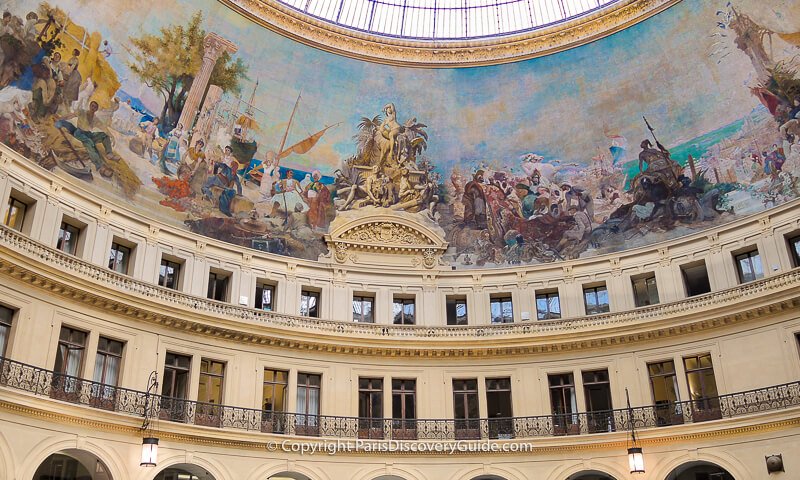 After an extensive renovation and redesign by Japanese architect Tadao Ando, the former Bourse de Commerce (Paris commodities exchange) has been transformed into a showcase for the contemporary art collection of François Pinault, owner of luxury brands such as Gucci and one of the wealthiest men in France.
Look for three levels of galleries inside the circular building and jaw-dropping art by present-day masters such as Cindy Sherman, Jeff Koons, Damien Hurst, and Cy Twombly, with plans for about 10 special exhibitions each year. Bonus: the building's lovely 19th century painting surrounding the huge glass-and-iron domed ceiling continues to grace the top level.
Tickets: Buy from machines at the ticket pavilion across from the Bourse
Medici Column: Catherine de Médicis' Astrological Observatory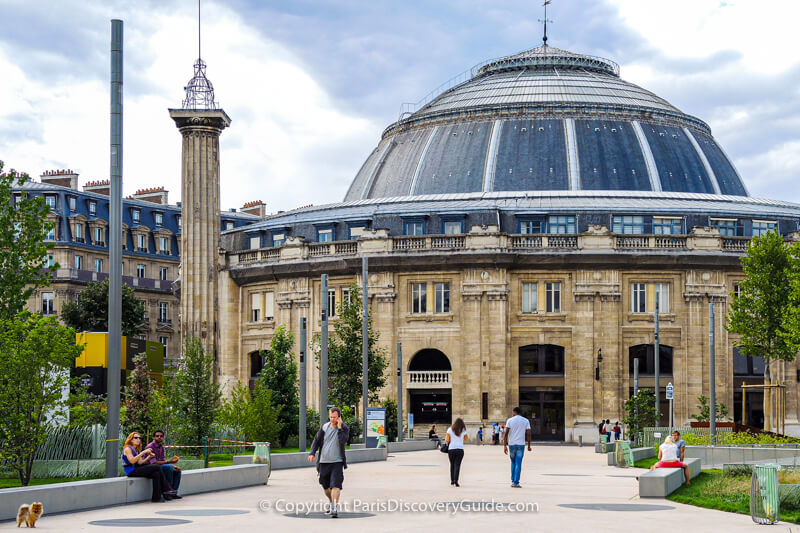 Located behind the Bourse de Commerce at the western edge of the Nelson Mandela Garden, the 92 foot (28 m) high fluted column topped with an iron frame once covered with glass is easy to miss but evokes 16th century royal history.
Queen of France Catherine de Médicis ordered the Colonne Médicis to be built in 1575 as a tribute to her late husband King Henry II, whose death had been predicted by Nostradamus, and as a place for her personal astronomer/sorcerer/childhood friend Cosimo Ruggieri, who later predicted her death, to conduct experiments.
Inside the column, a spiral staircase with 145 steps leads to the top. Outside, walk around the square base and you can see how each corner corresponds to a point on a compass.
Nelson Mandela Garden (Jardin Nelson Mandela)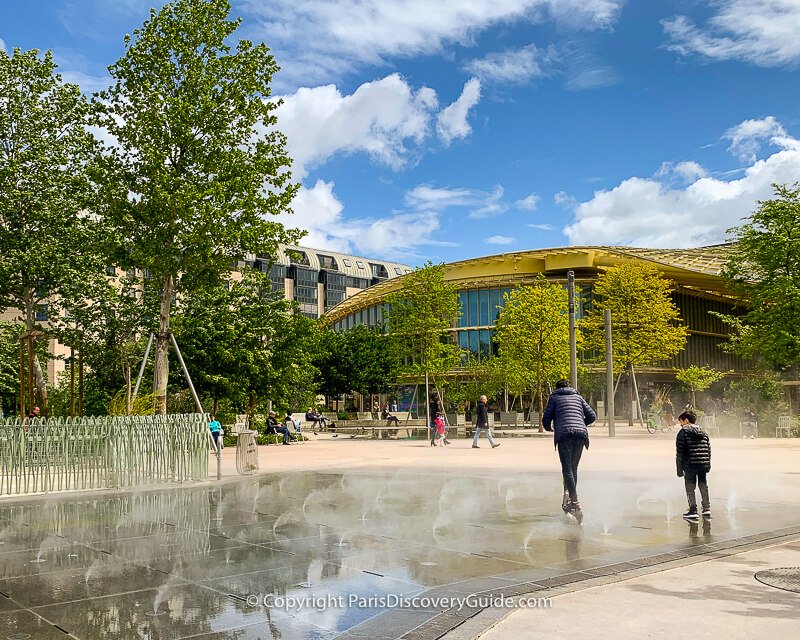 Located just beyond the Medici Column and between the majestic Saint-Eustache Church and Les Halles shopping/entertainment mall, Nelson Mandela Garden includes expansive green lawns, a large and innovative children's playground, a tropical greenhouse, beautiful plantings, a spray pool, and lots of places to sit.
Enjoy the park as you explore the surrounding area, buy a sandwich at a nearby bakery for a picnic lunch, or, if you're here with children, let them explore the playground or just run around the grassy lawns.
Eglise Saint Eustache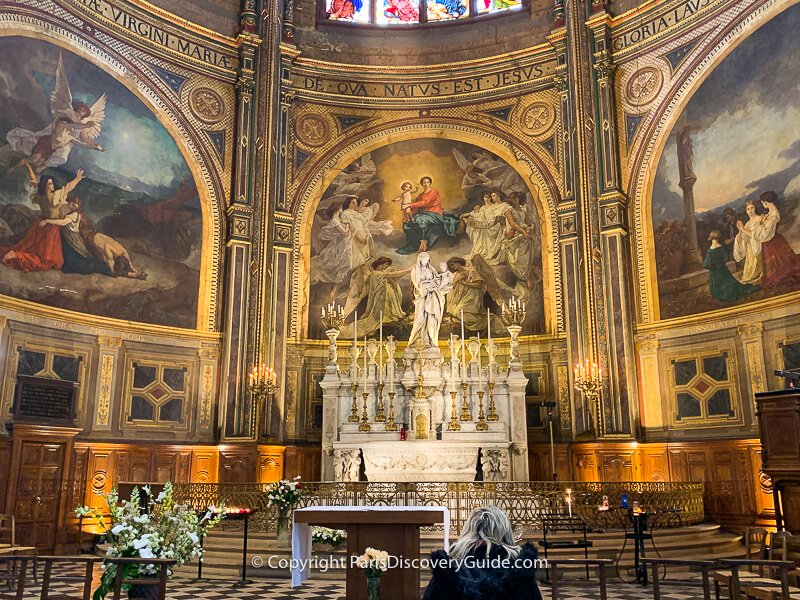 The magnificent Eglise Saint Eustache, known as the "Royal Church" due to all the baptisms, weddings, and funerals for the Parisian upper crust until the French Revolution, dominates the landscape surrounding the heart of the traditional Les Halles neighborhood where it stood next to the former marketplace.  
Walk around the outside of the church, and you'll see spectacular French Gothic architecture with flying buttresses, towers, and all the other flourishes popular when construction started in 1532.  
But when you walk inside among all the soaring arches and vaulted ceilings to look at the stunning altars, art, and gilded wood, what you'll see are the Renaissance and Classical decorative details in vogue more than a century later when interior work finally completed.  
Somehow, this jumble of styles blends together harmoniously to make St Eustache one of Paris's most memorable churches and the perfect setting for significant art treasures - almost too much to take in during one visit. Here are a few masterpieces you should not miss:
Chapel of the Virgin - This stunningly beautiful chapel dates back to 1640 and features three huge paintings by Thomas Couture and a beautiful Virgin and Child sculpture by Jean-Baptiste Pigalle (he created a similar and perhaps even lovelier Virgin and Child for Saint-Sulpice Church; there's also a wonderful sculpture by him in the Louvre depicting Mercury putting on his running shoes)
Chapel des Charcutiers (Chapel of the Butchers) - The stained glass depicts, not a biblical scene as you might expect, but pork being butchered - a reminder that Saint-Eustache, even pre-Revolution, has always encompassed the working class as well as the elite
"The Life of Christ" by American artist Keith Haring - A simple and moving white-gold-over-bronze panel, late 20th century
"Les Disciples d'Emmaüs" by Rubens - Simply wonderful
The Mausoleum of Colbert - Beautiful funeral monument with statues carved by Charles Coysevox (you can see lots of his other work in the Louvre)
Le Marché des Fruits et Légumes - A colorful 20th century sculpture (with St Eustache in the background) commemorating the women and men who worked at Les Halles, the city's central market from medieval times until 1969
The other don't-miss experience at Saint-Eustache Church is the immense pipe organ, which rivals those at Notre Dame and Saint Sulpice for size and complexity, and was almost totally rebuilt a few decades ago to produce the finest sounds possible. The best way to hear it is to attend one of the occasional public concerts (check the schedule) or the main Sunday mass.
Les Halles
When you see Les Halles from a distance, what you'll notice first is the huge golden canopée (roof) undulating in the sunlight. Underneath, escalators take you down several levels to the Châtelet-Les Halles metro and RER train station, which about 750,000 commuters pass through daily.
On the levels above, you'll find a huge shopping mall featuring mostly the same national chain stores you can see throughout the city, plus several very good restaurants.
The Les Halles marketplace began a thousand years ago when a dry goods exchange sprang up in the 1000s and eventually grew into Paris's biggest fresh food market, dominating this part of the 1st arrondissement. Novelist Émile Zola famously called Les Halles "the belly of Paris."
The dozen enormous glass and cast-iron pavilions erected in 1870 to house the vendors are remembered with nostalgia - you'll occasionally see re-created versions of them in films.
Today, the glass pavilions are gone, razed in 1971 when the wholesale vendors were relocated to warehouses in the suburb of Rungis. The market's demise resulted from its success - the area's narrow streets and lanes simply could not handle all the congestion caused by the sprawling market - not to speak of the overwhelming smells, chaos, and occasional knife fights.
But you can still find the market's character northwest of the mall, where small shops along Rue Coquillière and nearby streets offer artisinal products and unique items you may not find anywhere else, and around the Rue Montorgueil market street.
Food & Wine Experiences near Les Halles
Paris Wine & Cheese Lunch - Whether you're new to French wine or a connoisseur, you'll learn something new at this lunch with wine, cheese, and charcuterie (smoked ham and sausages). You'll taste wines from 5 different regions of France, learn how to read a French wine label, and how to pair wine with food from a sommelier at a popular wine bar near Les Halles and the Louvre. Find out more
French Wine Experience & Tasting - Taste 3 different wine, tour the wine cellars of former French kings next to the Louvre, and learn about French grapes and wine regions from a sommelier. Find out more
Copper Pots, French Knives, & Lots More French Cookware at E. Dehillerin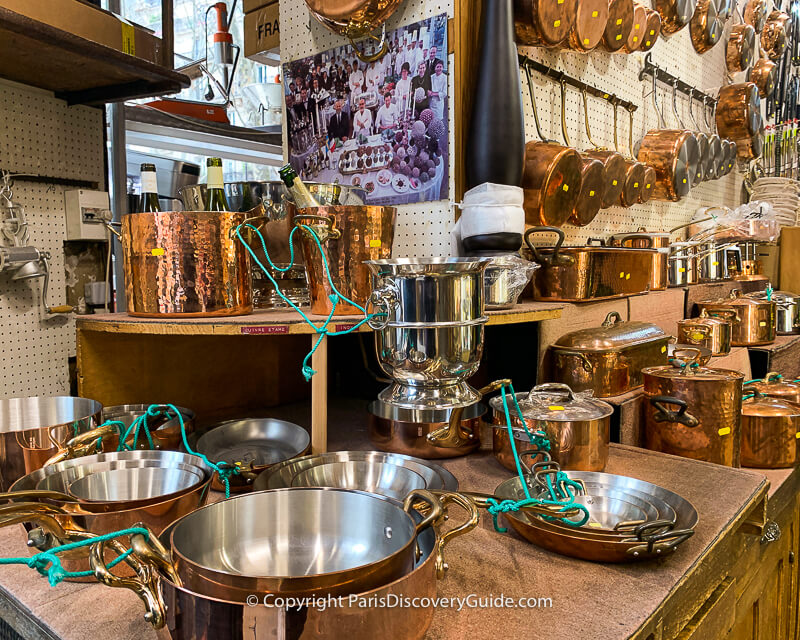 At the edge of the old Les Halles market area just to the west and north of the old Bourse is a warren of small streets and lanes packed with small cafes, wine bars (including the popular O Château), specialty shops, and perhaps the most famous cookware store in the city, E. Dehillerin (18 Rue Coquillière), where for over two centuries professional chefs and restaurant owners have bought their cookware.
The good news: You can too.
The bad news: Unless you live in Paris or nearby, you have to haul it home with you, possibly by plane or train. So you may want to pass on the larger, heavier items such as the copper champagne coolers and Le Creuset braisers in favor of perhaps a small copper saucier for melting butter, Laguiole knives (among many other wonderful French brands), madeleine mold, wine opener, or even an escargot dish (which can double, sort of, for serving deviled eggs if your local home market doesn't carry snails).
In the interest of time management, just be aware that if you plan to pop inside Dehillerin's for a quick 20-minute look-around, you'll probably still be there two hours later.
Rue Montorgueil Market Street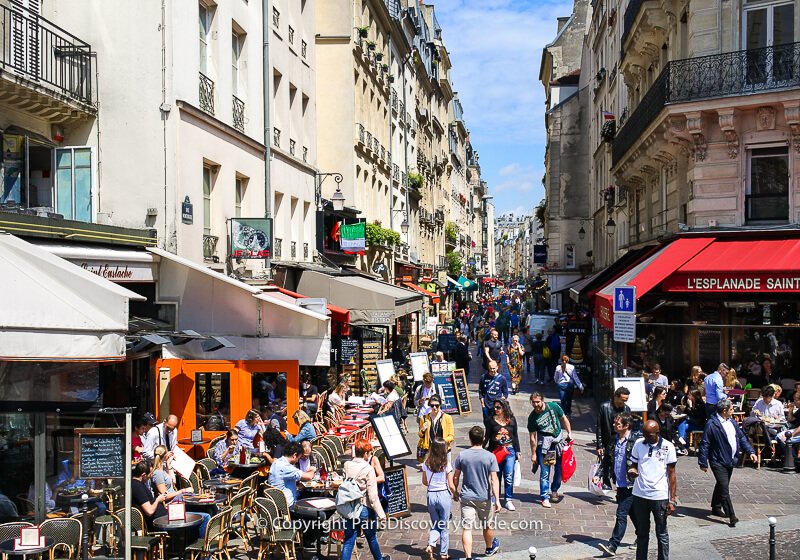 Stroll down Rue Montorgueil to experience the mouthwatering food and great vibes of one of Paris's foodies-heaven market streets.
Bursting with small cafes, brasseries, cheese sellers, bakeries (including Stohrer, the city's oldest patisserie and Baba au Rhum originator), butchers, fruit and veggie markets, fish mongers, Italian delis, wine shops, flower sellers, chocolatiers, hair salons, independently-owned boutiques, and even a few brand-name chain stores, the pedestrian-only Rue Montorgueil begins next to Saint Eustache Church and Les Halles and extends for 8-10 (depending on how you count) blocks through the 1st and 2nd districts.
As you explore, don't forget to look up. You'll be rewarded with all kinds of interesting sights: the large golden snail over the door top to L'Escargot (and don't miss the baby snails), lots of hanging lanterns and flower boxes, fancy ironwork surrounding tiny balconies, a mural or two, and even a cow.
Once you've soaked up the sights, find a table and relax over a café crème or glass of wine, perhaps accompanied by a snack or meal.
Rue des Lombards Jazz Clubs
Tucked away in a small corner of the 1st district between Rue Sainte Opportune and Boulevard de Sébastopol is an area unknown to most Paris visitors where you'll find some of the city's top jazz clubs along Rue des Lombards. Pawn brokers used to set up shop here and the narrow lanes still have a mildly "back alley" feel which adds to the ambiance.
The three best jazz clubs at the moment include Sunset/Sunside with contemporary acoustic jazz on the ground floor and electro/new jazz on the lower level, Baiser Salé where you'll hear fusion jazz with Latin, African, Indian, and Middle Eastern influences, and Duc des Lombards, the most upscale of the three and most popular with tourists, partly because one of the popular Paris jazz tours often ends up here for a meal and a performance. Performances at the Duc often include some of the bigger names in French and international jazz, with tickets typically running about 30€ - 40€ vs 10€ - 20€ at the other two.
All three have full bars and serve food, with Sunset/Sunside and Baiser Salé offering casual fare and Duc des Lombards a bit fancier. You can stop by at any of them for a drink without catching a performance, but if you are there for a performance, you are also expected to have at least a drink or two (with or without alcohol) because the bar profits help keep ticket prices reasonable.
A variety of other lively pubs, bistros, and clubs along with a few small shops and boutiques make the Rue des Lombards neighborhood an interesting place to explore, day or night.
Although you probably won't go out of your way to see the next two sites located south of Les Halles, both look striking enough to grab your attention if you pass by and, like most places in the 1st District, offer interesting back-stories.
Fontaine des Innocents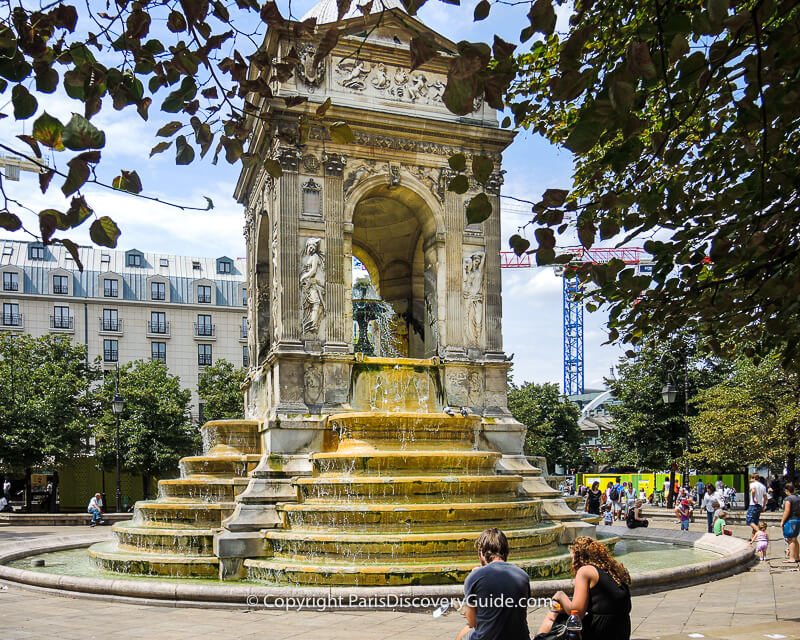 Next to the Les Halles shopping mall and the new Hotel Novotel Paris les Halles, you may notice a rather large Renaissance-style monument called the Fontaine des Innocents. It dates back to the mid-1500s, when it was created to celebrate King Henry II's "Royal Entry" into the City of Paris along nearby Rue Saint Denis.
Although you can't tell by looking at it, there is an upper floor near the top and it originally had a balcony which officials used as a viewing platform.
After the ceremonies, the neighborhood residents used the fountain for their drinking water - a bad idea, as it was built against a church wall next to the Cimetière des Innocents (Holy Innocents Cemetery) where by the 1700s, unsanitary conditions and incompletely decomposed bodies caused an unholy stench and major outbreaks of disease.
Then in 1780, the unspeakable happened: the weight of decaying corpses in a mass grave caused an underground wall to collapse and dump a mound of remains into the basement of the building next door, killing a few people who were in the wrong place at an unfortunate moment.
As a result, the church was demolished and the cemetery's bones removed to the Catacombs.
Find out more about visiting the Paris Catacombs
This story doesn't end there, though. The City of Paris created several new burying grounds far outside the city's walls, including the hauntingly beautiful Père Lachaise Cemetery, which is now the world's most-visited graveyard.
And the Fontaine des Innocents has been moved several times during the past two centuries, with a fourth wall added to enable it to be the free standing French Renaissance masterpiece you can see today.
Find out more about visiting Père Lachaise Cemetery
If you happen to pass by the fountain, consider this quirky fact: during the late 1600s/early 1700s, locals converted its top floor into a residence with windows and even a chimney.
Place du Châtelet Victory Column
If you walk across the Pont au Change bridge from Île de la Cité to the Right Bank, straight ahead you'll see a public square called Place du Châtelet with the Fontaine du Palmier, a large fountain with a soaring column surrounded by sphinxes at its center and topped by a golden figure who represents the Roman winged goddess of Victory. The monument represents French military victories, particularly Napoleon's triumphs in Egypt.
Two almost identical theaters flank the square:  Théâtre du Châtelet, which specializes in popular musicals such as "Kiss Me Kate" and "An American in Paris,"  and Théâtre de la Ville, which presents contemporary dance performances. Both theaters date back to the 1860s but have recently been renovated.
So why is this area called Châtelet ("little castle" in French)? A "strong hold," or fortified castle, containing a number of prisons stood here for centuries before being demolished over 200 years ago. Only the name remains.
---
Where to Stay in the 1st Arrondissement
Find More Hotels & Apartments in the 1st Arrondissement
Enter your dates, and find more places to stay on this Paris hotel map:
Check out the newest Paris hotels
---
Where to Eat in the 1st Arrondissement
Areas with Markets, Street Markets, & Culinary Themes
Marché Saint-Honoré Restaurants - Numerous small cafes and bistros lining the narrow streets around the market - Place du Marché Saint-Honoré, Rue du Marché Saint-Honoré, and Rue de la Sourdière - typically serve up French brasserie-type fare: simply prepared meats and seafood, steak-frites, salads, pasta, burgers, soups, and quiche.
Rue Montorgueil Market Street - One of the most popular pedestrian-only market streets in Paris. In addition to butchers, fishmongers, and cheese sellers, you'll find dozens of small eateries such as Au Rocher de Cancale (#78) which offers well-prepared traditional French food, bars, and bakeries including the famous pastry shop La Maison Stohrer (#51). Or buy a wedge or two of cheese at La Fermette, pick up a baguette and bottle of wine, and head to nearby Nelson Mandela Park.
Rue Sainte-Anne - Considered to have the city's best Japanese & Korean restaurants, Rue Sainte-Anne and nearby side streets offer dozens of excellent and affordable spots such as Sapporo, Kadoya, On the Bab, and Kunitorayo where you can feast on sushi, ramen, dumplings, bibimbop, and other East Asian specialties. Look for other Asian cuisines as well: Vietnamese, Laotian, Chinese, Thai, Cambodian, Burmese. Just don't call the area "Little Japan" or "Little Tokyo" as many guidebooks do - that label hasn't been accurate or used locally for well over a decade.
Place Dauphine (Ile de la Cité) - Small cafes, bistros, and bars line the square, and all are good - so walk around, check out the menus posted outside the doors, and choose whatever appeals to you the most.
Where to Eat near the Louvre
Although the Louvre contains 8-9 cafes, bakeries, refreshment counters, and bistros inside the museum, you'll find more interesting choices nearby.
Several favorites to consider:
Angelina (226 Rue de Rivoli) - Richly delicious hot chocolate poured from a pot, over-the-top pastries, and light meals in a gilded Belle Époque tea room; a favorite of famous designer Coco Chanel as well as modern fashionistas. Reservations usually needed for lunch or dinner.
Cafe Marly (93 Rue de Rivoli) - Tucked away in the arcades of the Louvre, with lovely terrace views of the Pyramid and gardens. Continuous service, with elevated brasserie-type fare. Three courses plus wine and coffee will run at least €100/person. Reservations are usually a good idea.
Le Nemours (Place de Colette) - Quintessential Paris grand café next to Comédie Française and the Palais-Royal Garden offering continuous service, a heated terrace, and high-quality, reasonably-priced casual fare.
Loulou (107 Rue de Rivoli) - Located next to the Musée des Arts Décoratifs with a splendid outdoor terrace for summer dining; somewhat on the pricey side but fantastic Italian cuisine. Reservations almost always essential.
Caroussel du Louvre Food Court (enter the shopping mall at 99 Rue de Rivoli; to access the food court, take the elevator from the mall's ground level up to the mezzanine level) - Features stalls serving international cuisine; some are quite good, and prices are affordable.
More Places to Dine
Here are some more favorites in a variety of 1st District locations:
Poulette (3 Rue Etienne Marcel) - Charming small bistro with a zinc-top bar and Belle-Epoque scenes on the tile walls serving fantastic steak-frites and seasonal dishes near Les Halles.
Le Comptoir des Petits Champs (17 Rue des Petits Champs) - Small romantic bistro near Palais Royal serving seasonal specialties .
H.A.N.D. (39 Rue de Richelieu) - Who would expect California favorites near Palais Royal? Excellent versions of American classics - burgers, avocado toast, grain bowls, etc - but with a French flair.
Royal Opéra (19 Avenue de l'Opéra) - A beautiful classic brasserie with serving traditional French bar fare: onion soup, burgers, salads, croque monsieurs, omelets, steak-frites, escargot, frogs legs, nutella crepes.
Au Pied de Cochon (6 Rue Coquillière) - French onion soup, raw bar, and seafood including roast lobster - but the real reason to come here is for the pigs feet, although the other pork choices are also excellent, as are the steaks; this large classic brasserie next to Les Halles is open 24x7.
Le Grand Véfour (17 Rue de Beaujolais in the arcades on the north side of Palais Royal Garden) - Opened in 1784 and still one of Paris's grandest (and most beautiful) Michelin-starred restaurants with Chef Guy Martin at the helm; order à la carte or choose the prix-fixe menu for lunch (around 115€/person) or dinner (around 315€/person), plus wine (perhaps another 50-100€/person, depending on what and how much you drink). Please note that prices may change without our knowledge. The check may dent your wallet, but the meal will be memorable.
Champeaux (north end of Les Halles shopping center) - A bright and airy contemporary brasserie with upbeat service, offering chic modern versions of classic pub fare - eggs mimosa, cheese souffles, salads, burgers, steaks, chicken, fish, desserts. Stop by for just a drink, a small snack, or a traditional 3-course meal. Part of the Alain Ducasse restaurant family; you can buy a box of Ducasse gourmet chocolates your way out (to give to someone else as a gift, of course).
Best 1st Arrondissement Tours
Paris in One Day Sightseeing Tour - This popular tour offered through booking service Viator includes a guided tour of the 1st arrondissement's most important attraction, the Louvre Museum. You also get a Seine River cruise to the Eiffel Tower, where you can either end your tour with or without lunch, or opt to continue and visit the outside of Notre Dame Cathedral. Find out more
Half-Day Electric Bike Tour - In addition to famous 1st arrondissement attractions such as the Louvre, you'll also explore other top neighborhoods such as the Marais, the Lating Quarter, and Saint-Germain-des-Prés as you enjoy the comfort and ease of getting around on your electric bike.. Find out more
Book a Local Friend - For the ultimate flexibility, book a local Parisian who will customize a personalized tour of the 1st arrondissement - or anywhere else in Paris - based on what you want to see and do. Find out more
---
More to See & Do in Paris's 1st Arrondissement
---
Pin Now, Read Again Later
---
More Paris Arrondissement Articles