What's the best way to experience superb French cuisine while you explore Paris?
Join a Paris food tour, a wine tasting experience, a dinner cruise, or even a cooking class! You'll savor fantastic cheese, chocolates, wine, champagne, and pastries while you learn about what makes them special and unique.
As a bonus, you'll also explore iconic neighborhoods such as Montmartre, Saint-Germain-des-Prés, Bastille, and the Marais, see top attractions, and, depending on the experiences you choose, perhaps even visit a vineyard in the beautiful Champagne region or get a behind-the-scenes view of a bakery as you watch how croissants are made.
Take a look at the following descriptions of 15 mouth-watering Paris food and wine experiences - everything from walking tours to gourmet dinners to wine (and beer!) tastings to cooking classes. Reserve tickets for your favorites, and get ready for a close-up view of Paris's culinary culture.
As Hemingway famously wrote, "Paris is a moveable feast" - and you're about to experience it on these favorite Paris food tours. Bon appetit!
Top photo: Display in a Paris produce market in the Latin Quarter neighborhood
Paris Discovery Guide is a reader-supported publication. When you buy through our links, we may earn a commission at no additional cost for you. Learn more
---
Best Paris Neighborhood Walking Tours with Food & Wine Tastings
Explore Paris's most famous neighborhoods as you sample fantastic pastries, cheese, charcuterie, wine, macarons, and chocolates on these five wonderful gourmet walking tours:
1. Taste Cheese, Wine, & Pastries in Montmartre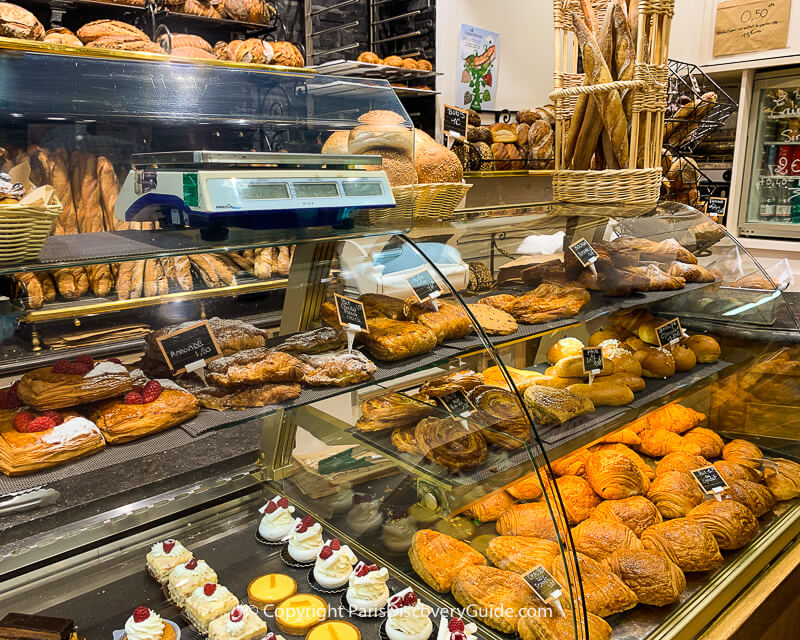 You'll discover why Montmartre, once the home of Van Gogh, Toulouse-Lautrec, Picasso, and other starving artists, has become a favorite of some of the city's best food artisans, markets, and bakeries as you sample their creations on the small-group 3-Hour Montmartre Cheese, Wine, and Pastry Tour.
What you'll eat: As you walk along the cobblestone lanes past terraced cafes and markets brimming with fresh produce, your guide will take you to the best spots to taste the exceptional quality of the local products. You'll sip wine as you sample local cheeses and charcuterie, enjoy freshly-made French pastries, and savor incredible hand-crafted chocolates.
What you'll see: Along the way, your guide will show you Montmartre's most famous sights: Moulin Rouge, Sacré Coeur, the hillside vineyard, historical windmills, and the private mansions tucked away among the neighborhood's picturesque hillsides.
"Tour was so fun and interesting! Delicious cheese, wine and pastries. We couldn't eat dinner."
---
2. Indulge in Pastry and Chocolate Tastings in Saint-Germain-des-Prés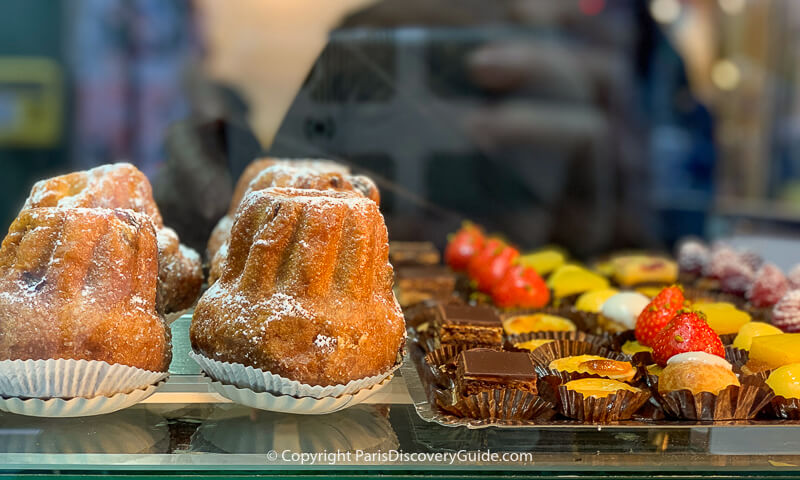 The Chocolate & Patisserie Walking Tour takes you on a fascinating 3-hour gourmet stroll of the posh Saint Germain des Prés neighborhood. You'll make eight stops along the way on this favorite Paris foodie tour to taste fine chocolates, macarons, and pastries and even have a cup of tea, coffee, or hot chocolate. 
What you'll experience: As you sample all the different confections, you'll learn about the history of this famous neighborhood and its culinary artisans, including some of France's best chocolate and pastry chefs. You'll even visit famed chocolatier Debauve & Gallais, a favorite of Marie-Antoinette.
Bonus: You get a wonderful tour of the neighborhood as you explore its hidden passages, boutiques, galleries, and beautiful churches such as Saint Germain des Prés and Saint Sulpice.
"Far exceeded our expectations. Parisian food is amazing!"
---
3. Enjoy Specialty Cheeses, Wine Pairings, & Desserts in the Marais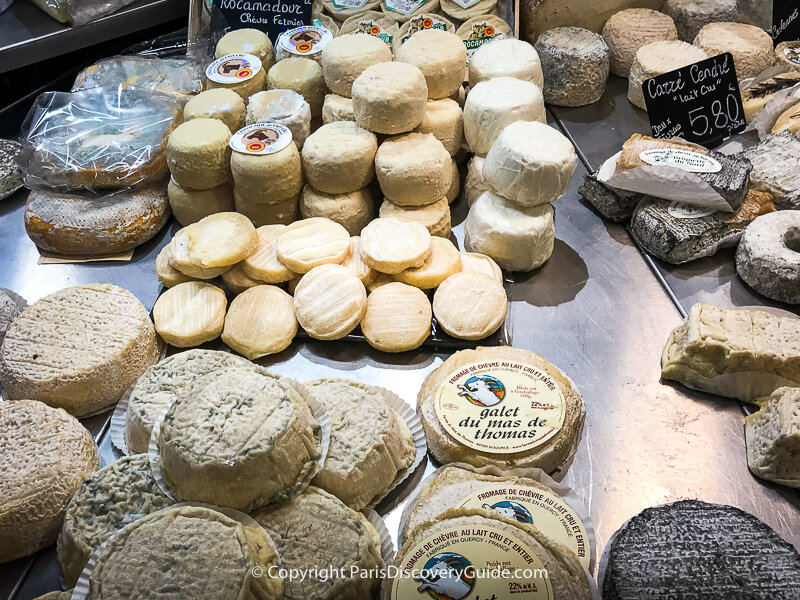 A cool feature of the Marais Walking Food Tour is that your guide takes you through off the usual tourist path in this uber-trendy neighborhood to visit the best artisan shops, bakeries, and markets. You'll savor an explosion of flavors as you sample specialty French cheeses paired with wine, flavorful cured ham and charcuterie, fresh pastries, and a variety of confections. Note the addresses as you'll want to return on your own!
Special moment: You'll also tour the Marché des Enfants Rouges, Paris's oldest covered market, bursting with fresh produce and specialty vendors who bring together the best local products of the Île de France region around Paris. As you sample the juicy ripe strawberries, freshly-picked raspberries, or other seasonal treats, you'll discover why Parisians cherish their local markets.
Bonus: Along the way, you'll also see a lot of the hidden corners of the Marais - superb art galleries, unique boutiques, hidden gardens, bistros where you'll want to return for a meal, and fascinating architecture.
"Our guide knew so much about food, wine, and Paris. We loved his passion, and we could have never discovered all these spots on our own. This is the third Get Your Guide Paris food tour we've done on this trip and each one has been top quality."
---
4. Sample the Finest Chocolates on this "Royal Paris" Walking Tour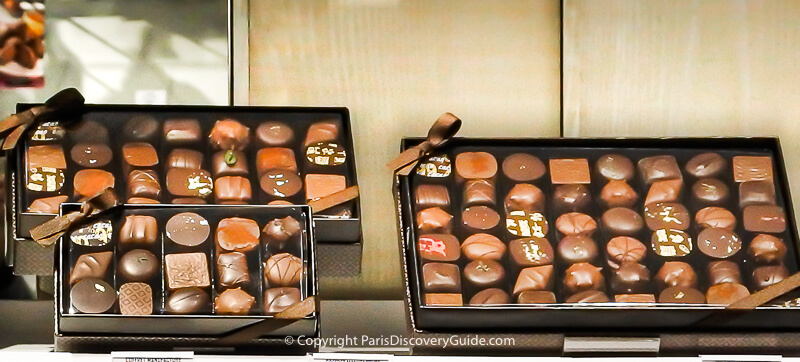 If you dream about tasting and comparing some of the world's best chocolates, learning about artisan chocolate production in Paris, and experiencing the differences between traditional and modern chocolates, the Pure Chocolate Walking Tour is for you!
Why you'll love this tour: In two words: Superb chocolates! In the company of an expert guide who is passionate about chocolate, you'll visit five master chocolatiers in around Madeleine Church, Tuileries Garden, and Place de la Concorde and savor the different styles and flavors of their chocolates.
Bonus: You'll also get a wonderful introduction to the shops, boutiques, and arcades in this upscale part of the 1st and 8th arrondissements known as "Royal Paris," once the home of French nobility and now a favorite of fashion designers.
"Our guide was absolutely amazing and so were the chocolates. Now we need to move to France because ... the chocolates!"
---
5. Take a Gourmet Food Tour of the Latin Quarter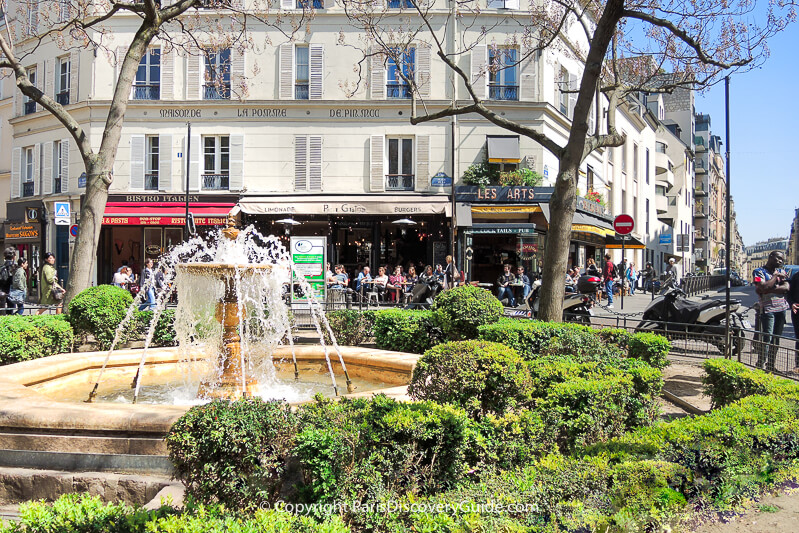 The Paris Gourmet Food Tour is all about experiencing the flavors and pairings of some of France's most famous products while exploring the narrow lanes and medieval ambiance of Paris's Latin Quarter.
What you'll do: As you stroll around this evocative part of Paris, you'll visit a neighborhood market known for its high quality and wide variety of fresh produce and artisan products, stop by a fromagerie where you'll taste a variety of cheeses paired with wine and discover how the flavors enhance each other, and visit several bakeries to sample an amazing variety of freshly-baked French pastries.
Tour highlight: At the end, you'll stop by a shop with regional specialties and savor foie gras, France's most luxurious delicacy.
"Wonderful tour, way beyond our expectations. We'd never tasted real fois gras before, and are amazed by how much we loved it."
---
6. Explore the Fascinating Bastille District on a Gourmet Tasting & Walking Tour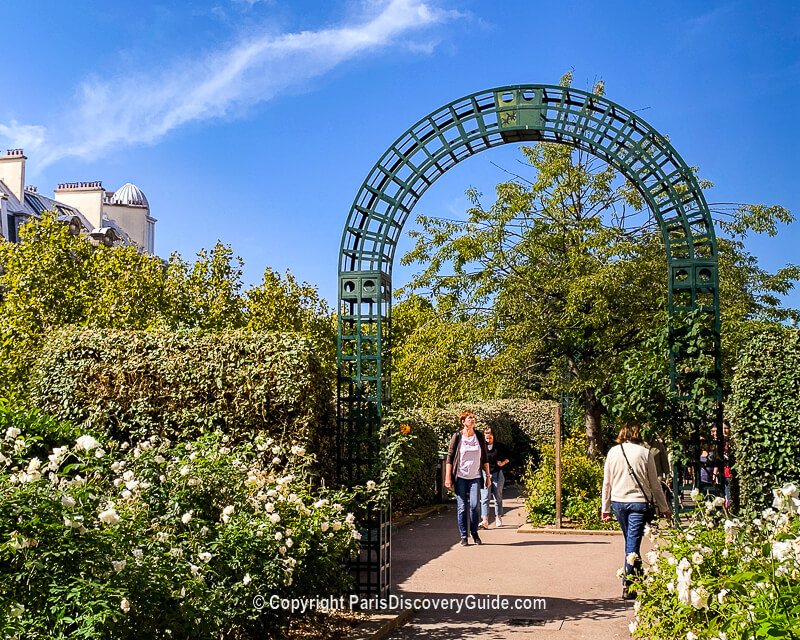 What's cool about the small-group Bastille District: Food Tasting, Promenade Plantée, & Viaduc des Arts Walking Tour is that not only do you get to taste delicious gourmet treats at specialty shops, but you also will explore one of Paris's most vibrant neighborhoods, a favorite of Parisian foodies.
Where you'll go: You'll start at Place de la Bastille where the French Revolution began, and then you'll stroll past some of Paris's most iconic lesser-known destinations - scenic Port de l'Arsenal where Canal Saint-Martin and the Seine River meet, the Promenade Plantée elevated walkway, artisan shops at the Viaduc des Arts, and indie boutiques along Rue d'Aligre - as you stop and sample food along the way.
Tour highlight: Visits to traditional food markets overflowing with beautiful seasonal produce, freshly baked breads, regional cheeses, and fine wines.
"Fantastic food, plus we saw parts of the "real" Paris that we'd have never found on our own. We'll be back!"
---
Best Champagne, Wine, & Beer Tasting Experiences
7. Savor 8 Champagnes & Lunch on this Day Trip from Paris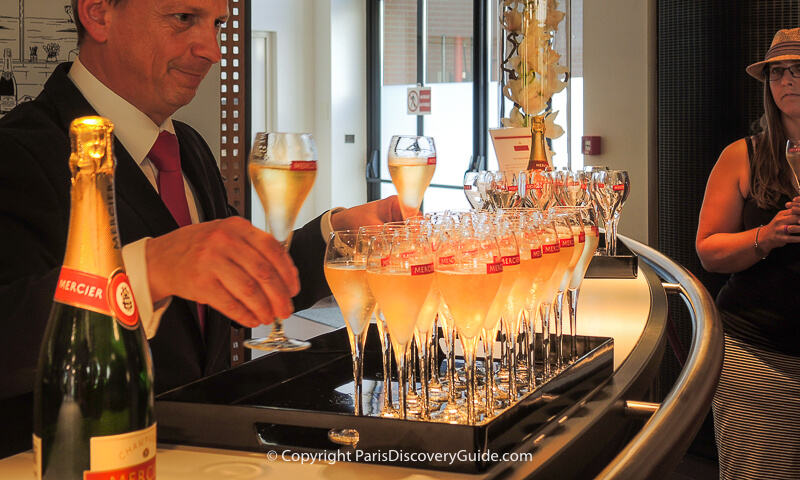 On this Champagne Tasting and Lunch day trip, your driver-guide will transport you from Paris to the famous town of Epernay in the Champagne region where you'll spend the day sipping and comparing eight different Champagnes, enjoying a delicious French lunch, and participating in a Champagne Master class held (weather permitting) in the heart of a vineyard. You'll also learn how the terroir (soil) and climate in this region create the perfect conditions for producing this special beverage.
What's special: You'll visit three very different Champagne houses: A world-famous one, plus a mid-sized and a small family-owned one. This gives you the chance to compare the tastes of all the different beverages and decide which is your favorite. As a bonus, you can also buy bottles to take back to Paris.
Bonus: Getting to see the beautiful countryside and vineyards as your driver takes you around the area.
"This was absolutely amazing! Drank lots of lovely champagne and had a great day with our guide. Loved the lunch with champagne pairings."
---
8. Compare Beer vs Wine on the "Bastille Bites" Tour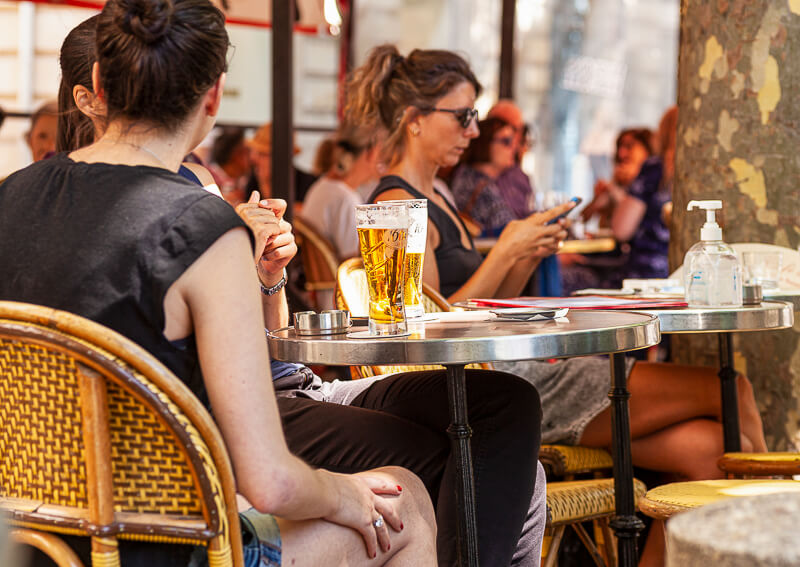 Did you know that the Paris region is home to numerous small producers of excellent craft beer? C'est vrai! You'll get to try some of the best on the Paris Craft Beer Tasting Tour.
What you'll do: With your expert guide/craft beer enthusiast, you'll stroll through Parisian neighborhoods as you sample brews at three different craft breweries on this small-group tour. Along the way, you'll also sample snacks of charcuterie and cheese.
Bonus #1: You'll learn a bit about the interesting but mostly overlooked history of beer in France.
Bonus #2 - You'll pass through interesting parts of Paris, and will discover some great beer-focused bars to return to on your own.
Bonus #3 - Did we mention the excellent beer and food?
"Fantastic guide and experiences! Loved all the places we visited, and can't wait to go back!!!"
---
9. Take a French Wine Tasting Class with an Expert Sommelier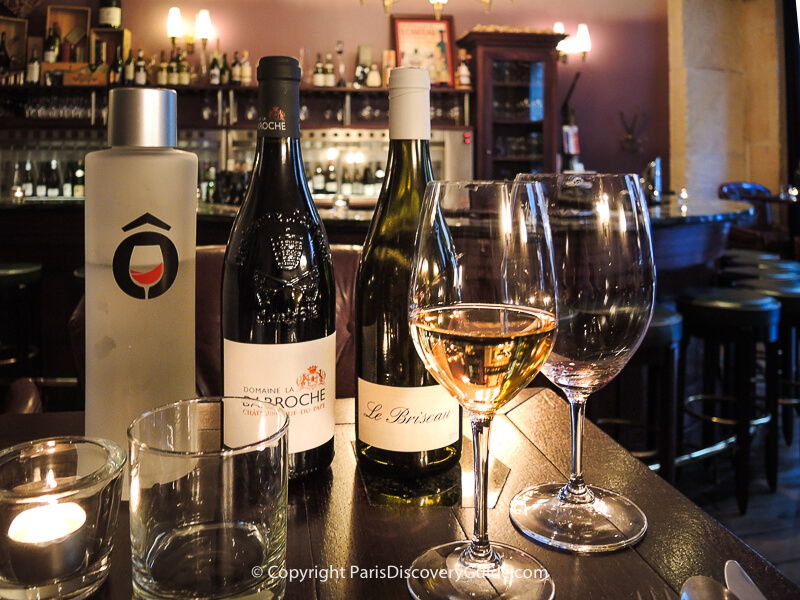 During the French Wine Tasting Class with Sommelier experience, you'll savor wines from different French regions as you learn what makes each area and its wine unique, how to taste wine properly to detect the subtle flavors and nuances, and how Champagne is made. A basket of bread is available to help you clear your palate between courses.
What may surprise you: How different the wines are from each other, once you get tuned into how to really taste them and "read" their subtle tones and notes.
Bonus: You'll learn how to read French wine labels, understand the meaning of concepts like terroir and appelation, and tell the difference between wines from Sancerre and Bordeaux, Burgundy and the Rhone. Get ready to impress your friends!
Already know these things? Just sit back, relax, and enjoy the different wine selections - they're really good!
"Sublime. A highlight of our trip to Paris."
---
Best Paris Gourmet Dinner Cruises, Tours, & Meals
10. Savor a Gourmet Dinner on this Seine River Evening Cruise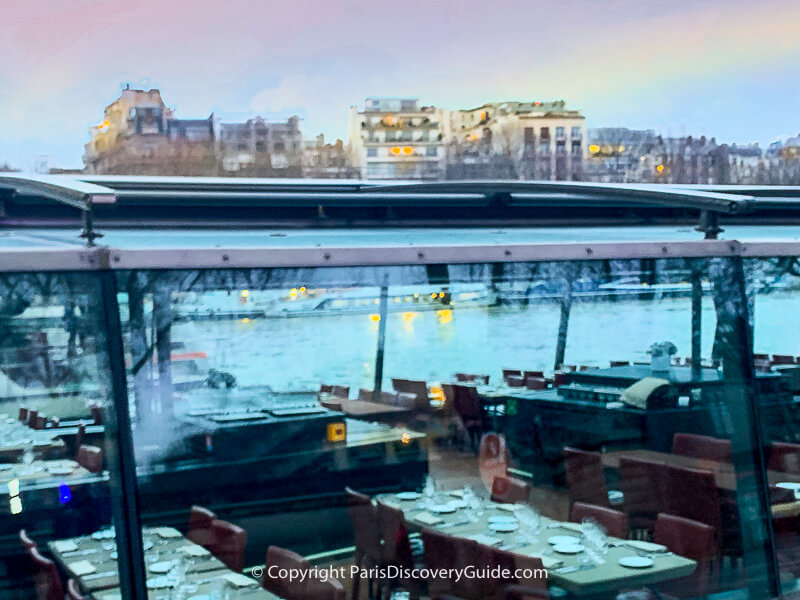 The Evening Cruise with Dinner on the Seine River gives you the perfect combination of a gourmet dinner and panoramic views of Paris's most famous monuments such as Notre Dame Cathedral, the medieval towers of the Conciergerie, the Eiffel Tower, and the Beaux-Arts architecture of the Orsay Museum as you glide past on a glass-enclosed cruise boat.
Your choices: Choose the 2.5 hour cruise starting at 8:30 pm if you want to enjoy live music and a more leisurely experience, or the 1.15 hour cruise at 6 pm if you have other plans such as a concert for later in the evening. You also choose your level of "service," which determines your seating location (pro tip: all tables provide excellent views; choose a round table up front or window table for the most romantic vibe), and whether or not you get extras such as an aperitif, cheese course, etc. Finally, once you're at your table, you get to select your menu items for each course.
The experience: You can expect delicious food and wine, and magical views from the windows.
"Beautiful and romantic experience. Excellent food and wine. Great value for the money. We loved it."
---
11. Best Gourmet Dining on a Bus Tour: 5-Course Dinner Plus Champagne on the Bus Toqué Tour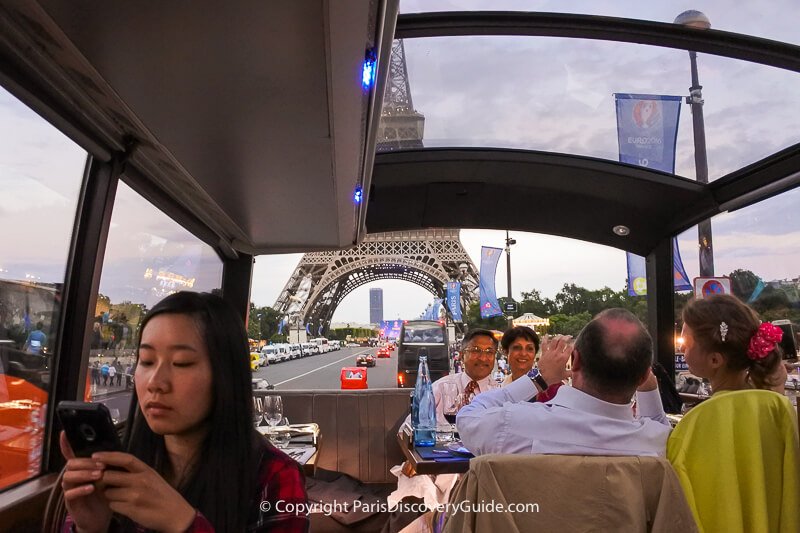 The Bus Toqué Tour with 5-Course Dinner & Champagne - a double-decker bus with panoramic windows and glass roof outfitted with tables like a bistro - lets you pair a fantastic 5-course gourmet meal of French cuisine prepared in the on-board kitchen with a tour through Paris of top attractions such as the Louvre, Arc de Triomphe, Eiffel Tower, and Notre Dame. Includes a glass of Champagne.
The experience: It's like having a gourmet meal in a top restaurant, but with the added bonus of sightseeing - perfect way to make the most of your time in the City of Light.
"Sublime food and Champagne, plus great views of the city. Perfect way to spend our first night in Paris."
12. Best Lunch with Wine & Cheese Pairings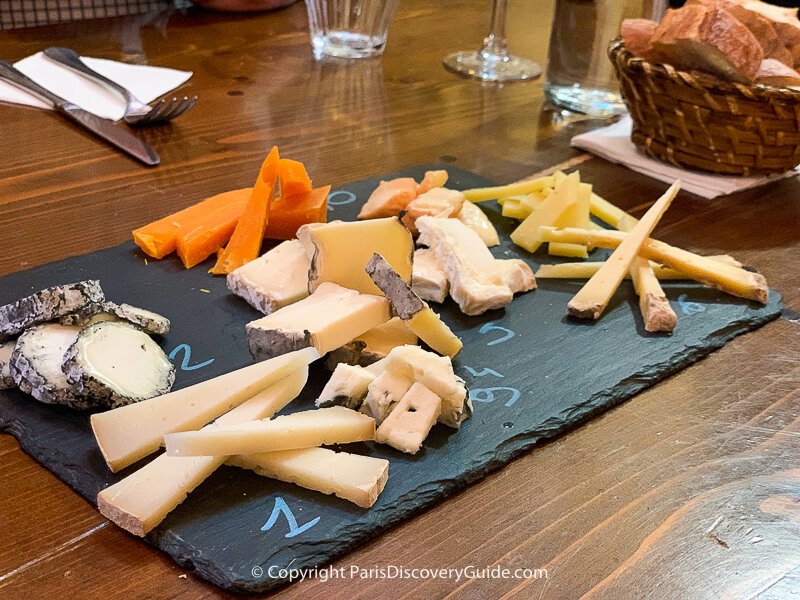 Wine and cheese make the perfect pairing, and they're the focus in this Wine and Cheese Lunch in a beautiful tasting room in a wine bar near the Louvre. You'll try five different wines including Champagne) from five different regions of France as your sommelier explains why they pair well with specific cheeses.
Cool to know: The hotel particulier (mansion) where the wine bar is located once belonged to Madame de Pompadour, the official chief mistress (yes, that was really a title) of King Louis XV back in the 1700s.
Bonus: You get to sample a selection of smoked ham and saucisson, and experience how well that also pairs with wine.
"The wines and cheeses were memorable, and we learned a lot. This was a wonderful afternoon activity, and a relaxing break from sightseeing."
---
Best Paris Market Tours & Cooking Experiences
13. Visit a Paris Market & Enjoy a Cooking Class with a Paris Chef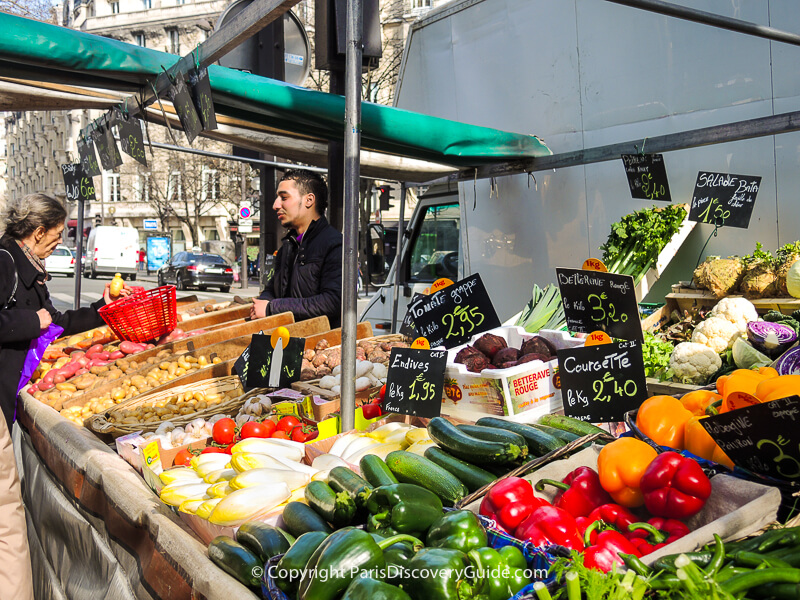 During the Market Visit and Cooking Class with a French Chef experience, you'll explore street market with a professional Paris chef, who will give you tips on how to find the highest-quality fresh produce and other local foods. Then, you'll participate in a cooking class where the chef will show you how to use simple recipes to make a 3-course meal including first course, main course, and dessert with your purchases.
Highlights: You get to eat what you cooked! (And it's also really cool to get to see the chef's personal kitchen, equipment, and Paris apartment.)
Bonus: The chef will email the recipes to you so that you can make the meal again once you get home.
"I was surprised by how much I learned! And our meal was fantastic. My best Paris experience so far."
---
14. Learn How Baguettes, Croissants, & Pastries Are Made at a Top Paris Bakery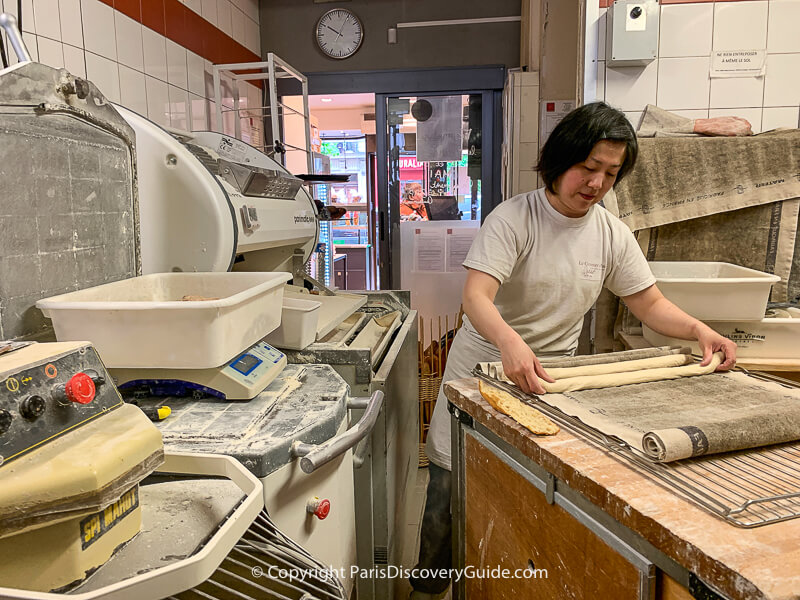 If you're a fan of French bread and pastry, 2-Hour Behind the Scenes Bakery Tour, you will be fascinated to see how it's all made. In this kid-friendly experience, you get to go into the kitchen of a top Paris bakery, where the host will show you the all the different mixers, equipment, and the super-high quality ingredients from different parts of France. As they go about their regular work, the bakers will demonstrate all the steps and techniques for making baguettes, croissants, tarts, and other goodies.
Highlights: You'll get to do a few things yourself!
Bonus: You start your experience with a breakfast of croissants and pain au chocolat at the bakery. When you leave, you get a fresh-baked baguette to take with you.
"So much fun! We were thrilled to get an insider's view of a real Paris bakery." ~ Albert & Jean
---
15. Explore Paris's Marche d'Aligre: 3 Markets in 1!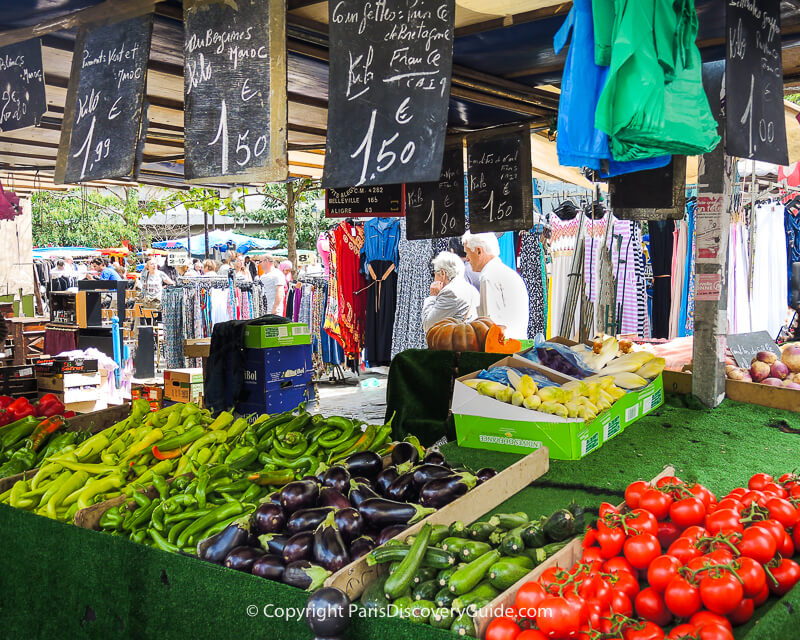 Discover Paris's Marché d'Aligre 2-Hour Market Tour unknown to many tourists, where you'll discover and explore one of the city's most sprawling and interesting market areas. Your guide will lead you through Aligre's three markets: an indoor covered market packed with specialty products, an outdoor area where vendors display a vast selection of fresh produce, and finally, one of the city's most popular flea markets where you can look for (and maybe find) a vintage treasure.
This tour is for you if: You want to get off the well-beaten tourist path and explore an authentic part of the "real" Paris.
Bonus: You get to taste a variety of specialty foods, and sip mint tea in a corner cafe.
Pamela: "I felt immersed in real Parisian life in this market - fantastic experience."
---
More Popular Paris Food Adventures
---
More Articles about Things to Do in Paris