Although the weather in Paris in February may be chilly enough at times to remind you winter isn't over year, this late-winter month usually offers enough warm sunny days to show you that spring is just around the corner. In fact, by the end of the month, you'll see more magnolia and cherry trees starting to bloom than you might expect.
February marks a transition period as winter Paris weather fades away. On some days, warmer temperatures seem to announce the beginning of spring.
But here's what you should know: Paris February weather still packs plenty of wintery punch, including cold, rain, and perhaps even a day or two when you'll wake up to see snow on the ground. These cold winter days can happen at any time during the month - and the same is true for the warm spring days.
So you'll need to pack layers to prepare you for whatever version of February weather greets you when you wake up this morning - more about what to pack later.
You should also plan a mix of indoor and outdoor activities for your visit. When February winter weather makes itself felt, spend time at museum exhibitions, concerts in historic churches, covered markets, and cozy bistros where you can sip hot chocolate and enjoy a steaming bowl of onion soup.
But also schedule a outdoor activities where you can soak up some sun while exploring the city - perhaps a cheese, wine, and pastry tour of artistic Montmartre, or a fun bike tour through Saint Germain, the Latin Quarter, and the Marais neighborhoods.
So keep reading to find out everything you need to know about February weather in Paris, packing tips, top things to do in February, and even recommendations about where to stay this month.
Article contents:
Top photo: Magnolias & daffodils starting to bloom in late February in Palais Royal Garden, (c) Paris Discovery Guide
Paris Discovery Guide is a reader-supported publication. When you buy through our links, we may earn a commission at no additional cost for you. Learn more
---
What Is Paris Weather in February Really Like?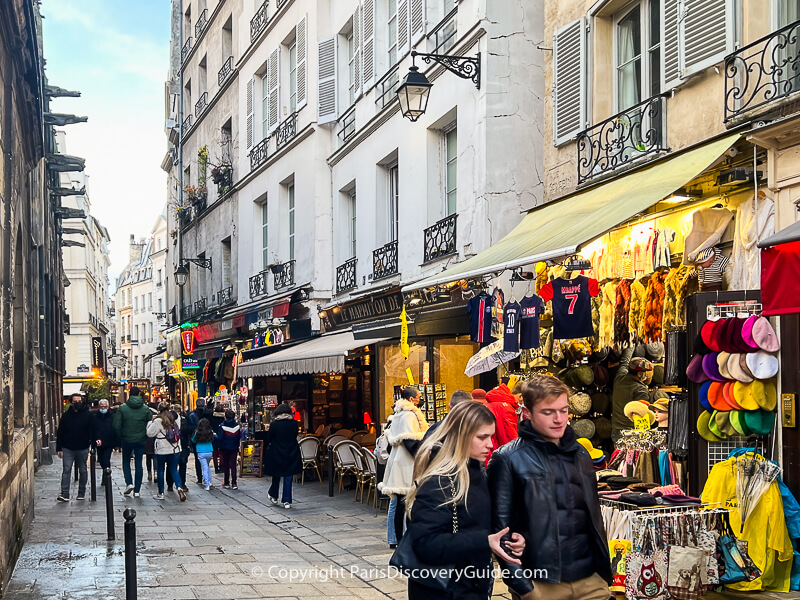 Even though the official beginning of spring doesn't happen until March 21, you'll see (and feel) the transition from winter to spring take place during February, when the Paris weather also becomes even more unpredictable than normal.
Of course, weather patterns differ each year, but if you visit Paris for a week or more during February, you're likely to experience a little of everything this month offers, from warm sunny days to cold rain, wind, and perhaps even snow.
Paris Temperatures in February: Average Highs & Lows
Here's a quick look at what February weather in Paris looks like on Fahrenheit (F) and Celsius (C) degree scales for average daily high and low temperatures, which have increased by 1-2 degrees Fahrenheit during the past decade:
Average daily February high temperature: 48°F (9°C)
Average daily February low temperature: 35°F (2°C)
Remember, these are averages - useful for comparing one month with another, but they are definitely not a weather forecast for Paris in February. To better understand what actual temperatures might be during your February visit, always check the February high and low temperature ranges in the following section.
Weather Statistics for February in Paris: High & Low Temperature Ranges
If you want to find out what February weather in Paris might be like, looking at the average temperature ranges will give you a better idea than just checking the monthly averages. You'll also get a much better sense of what to pack - because Paris weather seldom hits the "average" mark for more than a day or two.
Here's the range of daily highs and lows throughout a typical Paris February:
Range of monthly high temperatures during February: 31°F to 70°F (-1°C to 21°C)
Range of monthly low temperatures during February: 10°F to 50° F (-12°C to 10°C)
Notice how the huge temperature variation of about 40 degrees - and now check these record-breaking temperatures for the past three decades, and when they occurred:
Highest monthly February temperature (1991-present): 70°F (21°C) in 2019
Lowest monthly February temperature (1991-present): 10°F (-12°C) in 1991
As you can probably guess from the high end of these ranges, it's not unusual for Paris to have several days during February when daytime temperatures soar into the 60s and as high as 70°F. Although these temperatures happen frequently later in the spring, they can feel like a heat wave in February. Stroll through almost any city park, and you'll see Parisians laying on the ground to soak up the sun.
But remember, Paris's climate is unpredictable from one year to the next (and on a daily basis) so you need to be prepared for a range of February weather conditions.
Sun and Clouds during February: What to Expect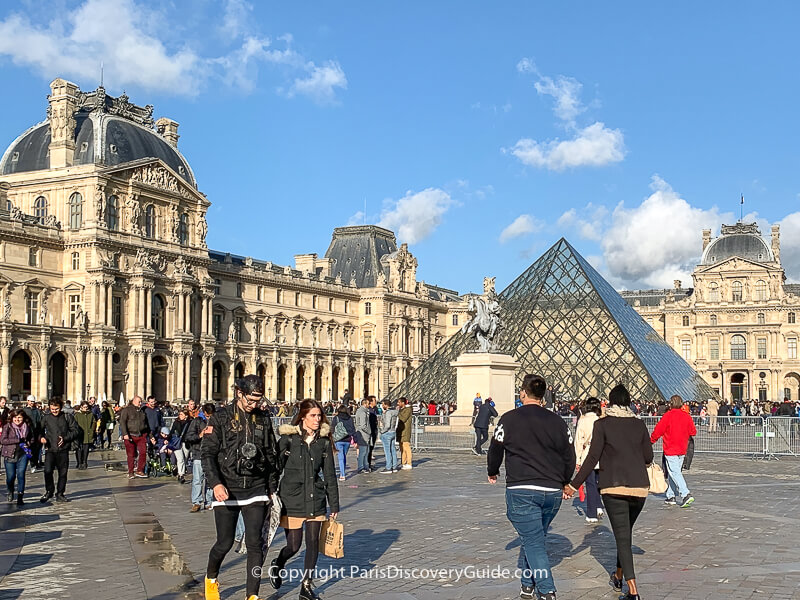 February in Paris offers a mix of cloudy, overcast conditions and brilliant, vividly blue skies - often during the same day.
Days begin to feel noticeably longer this month compared with January, partly because they typically include slightly more hours of sunshine.
Here's what you can expect:
Average hours of daylight:  10 hours, 10 minutes
Average hours of sunshine during February:  3 hours per day

In a typical year, you can expect about 7-13 days to be totally or mostly sunny.
If you happen to be in Paris in February during a period - let's say 3-5 days or longer - of brightly sunny days and perhaps warmer than normal temperatures, you'll feel euphoric and wonder why Paris winters get such a bad rep. If this happens, count yourself as lucky, and read the next section as a reality check.
Find out about best places to stay in Paris in the winter
---
How Much Rain, Wind, & Snow does Paris Get in February?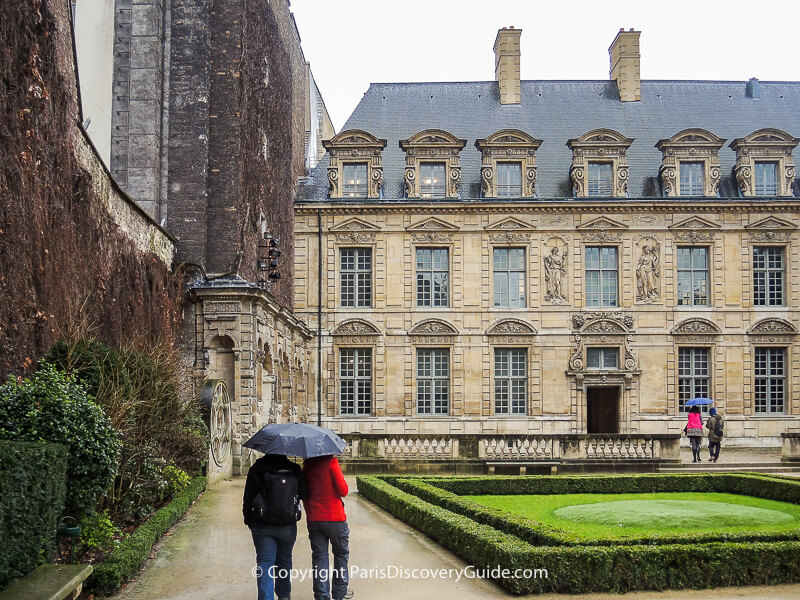 Paris records about 1.6 inches (about 4.1 cm) of precipitation on average during February. That's the least precipitation of any month, although of course February is also the shortest month.
In a typical year, you can expect brief showers on 4-7 days, including maybe 1-3 days (or even more) when steady rain falls for a longer period of time. You may also encounter occasional downpours. The effect can be bone-chilling, especially since the short days of February can feel dark and gloomy when there's a lot of cloud cover. This is the time to immerse yourself in museums and in cozy cafes with steaming cups of hot chocolate.
Scattered rain showers or sprinkles may occur on perhaps another 5-6 days. If you get caught in one, just duck into a doorway or under an overhanging balcony because the shower will most likely end as soon as it began.
On nights when the temperature drops below freezing, you may see a few snowflakes or even "ice fog," which is exactly what it sounds like: frozen fog or mist suspended in the air. During some years, the temperature never drops low enough for this to happen.
Although Paris can to be breezy in February, including occasional strong winds (which invariably seem to happen on cold days, producing a significant wind chill factor), conditions are normally relatively calm. Of course, storms can (and do) happen during any month in Paris, so consider adding a rain-resistant jacket to your packing list - more about that in a moment!
Snowfall (meaning more than a few flakes) during February is fairly rare for Paris. If you're here all month, you may see a small amount of snow on perhaps two or three or maybe even four days, but typically less than an inch of snow accumulates on the ground and it may melt before you see it.
---
What about the Weather at Popular Day Trip Locations?
For popular locations near Paris such as Versailles Palace, and Disneyland Paris, January weather will be almost identical to conditions in Paris.
If your day trips include more distant spots such as Bruges or the D-Day landing beaches in Normandy, check their local weather before you go. Bruges, for example, may be similar to Paris, but coastal areas can be colder at this time of the year.
Bring an umbrella or rain hat, and if you think you'll encounter colder weather, bring an extra sweater for an additional layer as well as a warm scarf, hat, and gloves.
---
February 2: Predicting Rain on France's Chandeleur Day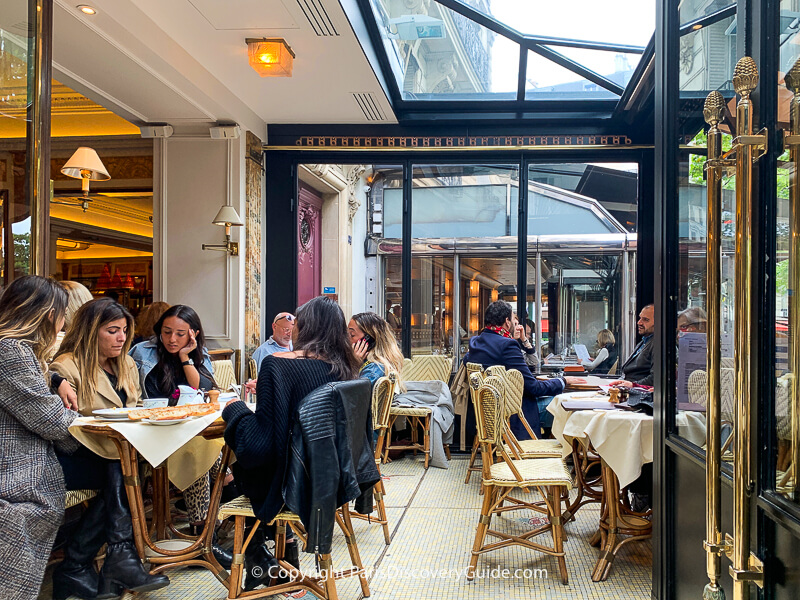 First, what's Chandeleur? The short answer is that it's the day when everyone one in France eats lots of crêpes, and if you're lucky enough to be in Paris on February 2nd, you should too.
But more to the point related to weather predictions: there's a saying in France that goes like this:
"Quand il pleut pour la Candeleur, il pleut pendant quarante jours. Quand la Chandeleur est claire, l'hiver est par derriere."
In English, that means: "When it rains on Chandeleur, it will rain for 40 days. When it is clear on Chandeleur, the winter is behind us."
As you no doubt have noticed, Chandeleur resembles Groundhog Day in the U.S. and Canada, including the date.
Is this saying accurate? Well, it probably has about reliability as a groundhog's shadow but with the added bonus of tasty crêpes.
But more important: if you're in Paris on February 2nd, look for rain, and then head to the nearest creperie. (You can find out more about Chandeleur traditions in our February Events article.)
---
What to Pack for February Weather in Paris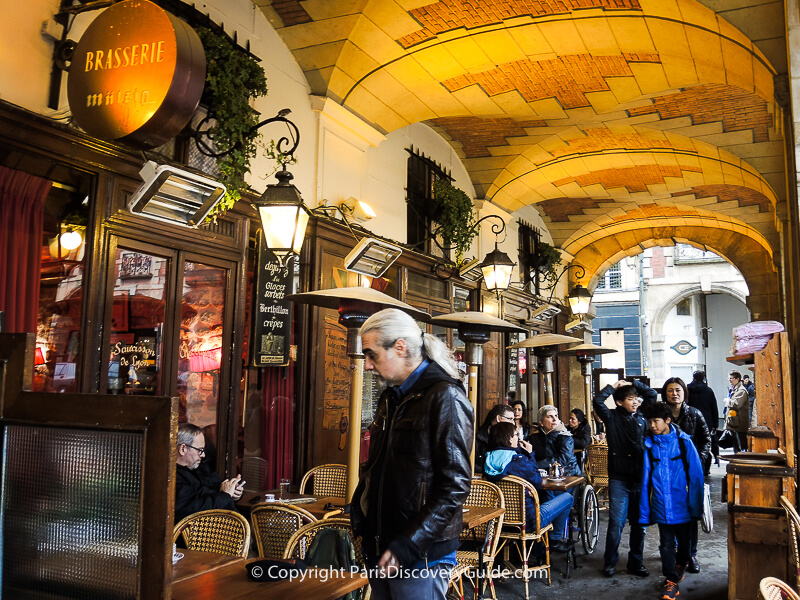 Paris weather often changes rapidly, so pack for a range of temperatures and conditions. Be prepared to dress warmly on cold or rainy days, but in layers you can shed if the temperature soars.
In addition to your core wardrobe of tops, bottoms, comfortable walking shoes, and under garments, these are the essentials and options to consider for February:
A warm jacket or a trench coat with a zip-out lining - water-resistant is ideal. Consider bringing a rain hat for when you get caught in surprise showers.
One or two sweaters in case the thermostat soars to 70°, and layer under your jacket or trench for extra warmth on the coldest days and evenings, especially on a Seine River sightseeing cruise or open-top hop-on hop-off bus where the temperature will feel at least 10 degrees colder. Cashmere (check options on Amazon) is ideal for keeping you toasty outside while not making you sweat inside.
A pair of comfortable ankle boots and your favorite walking shoes. Bring both warm and lighter-weight socks.
A warm scarf, gloves, fleece-lined leggings, and a warm hat are useful on cooler days and chilly nights. If you live in a warm climate such as Texas or Australia and don't have these items in your regular wardrobe, don't worry. You can buy what you need once you reach Paris. Monoprix and Camaïeu offer nice quality items at affordable prices.
A rain hat or umbrella will be useful if you experience rainy days. A rain hat takes up almost no packing space, but umbrellas are a little bulkier. Bring one from home, or buy one in Paris if you need it (umbrellas are also a fun souvenir) - you'll see them everywhere from small convenience stores and souvenir shops where they cost 5-10€ to pricy boutiques and department stores where you'll pay much more.
Pro Tip: Right before you start packing for your trip, check the 7-day Paris weather forecast in case of any surprises. Here's the forecast in both Fahrenheit and Celsius:
PARIS WEATHER
PARIS WEATHER
---
Is Visiting Paris in February Worth It Despite the Potentially Cold Weather?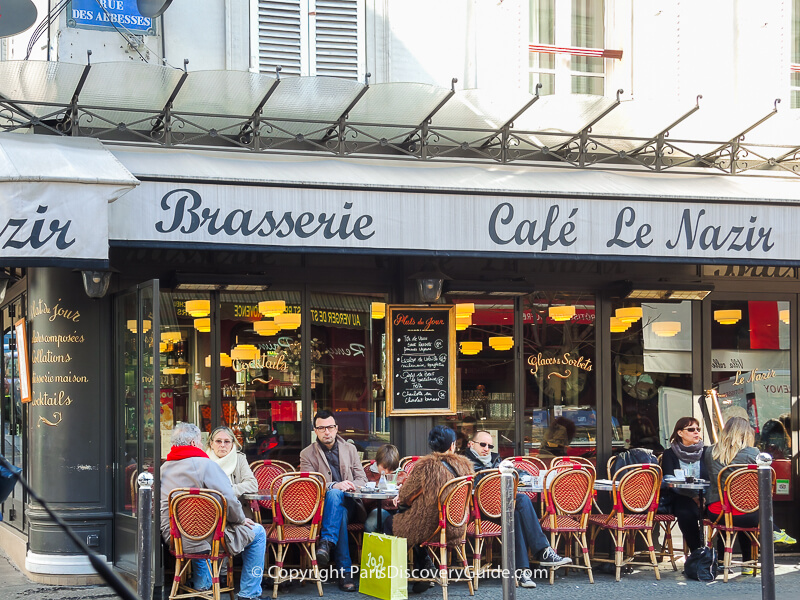 Yes, definitely. You'll feel euphorbic on the bright sunny days, and longer periods of daylight make even the chilly gray days feel quite bearable. As a bonus if you're in Paris at the end of the month, you see the earliest magnolias, cherry trees, and daffodils start to bloom.
Here are more benefits to visiting Paris in February:
Cheap flights and low-season hotel rates, which start to go up next month as the "shoulder" travel season begins
Fantastic exhibitions at many Paris museums and a huge lineup of concerts, opera, and ballet
On warm sunny days, you can sit outside at a cafe terrace and enjoy a glass of chilled white wine (or two), but a steaming cup of hot chocolate will still be a pleasure on colder days.
Bakeries and confiseries fill their windows with mouth-watering galettes des rois for Epiphany and luscious chocolates for Valentine's Day, which of course you must sample
Crowds remain small at popular attractions such as the Eiffel Tower, Louvre Museum, and Musée d'Orsay
---
Weather-Proof Things to Do in Paris in February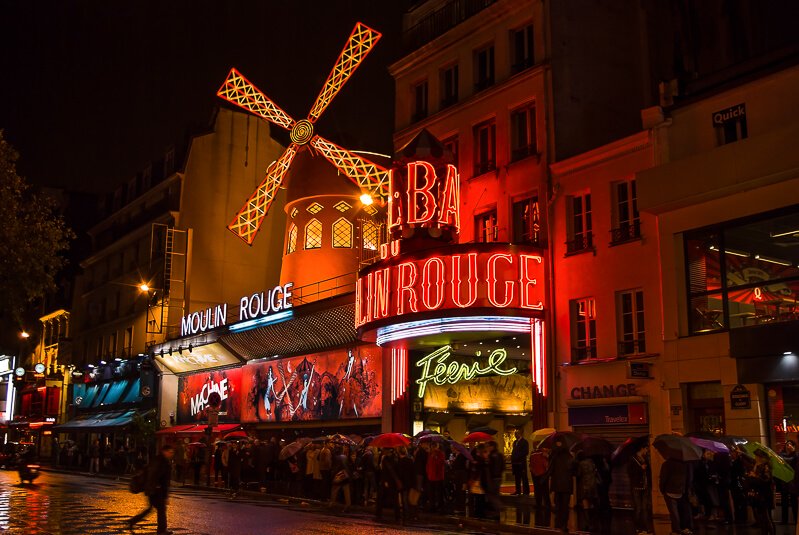 Recommended activities for staying warm and dry while sightseeing in Paris during February weather:
---
More Fun Things to Do & See in Paris in February
---
Where to Stay in Paris during February
As you know by now, February weather in Paris can be chilly and rainy so a smart strategy is to stay in central Paris neighborhoods close to top attractions, lots of restaurants, and convenient metro stations. On warmer days, stroll by the Seine River and the outdoor markets.
With these criteria in mind, we recommend staying in these top locations during February:
Paris Opera House neighborhood - When you stay in the lively neighborhood surrounding the Paris Opera House, you'll also be close to the famous Galeries Lafayette and Au Printemps department stores, the Grevin Wax Museum, and Madeleine Church, home to classical concerts. Find concert schedules for the Opera House and Madeleine Church
Saint Germain neighborhood - Choose the popular Saint Germain neighborhood on the Left Bank of the Seine River, and you'll be close to famous bistros such as Les Deux Magots and Cafe de Flore, fabulous shopping, the Orsay Museum, and evening concerts at the medieval Saint-Germain-des-Prés church
1st Arrondissement/Louvre & Ile de la Cite neighborhoods - Stay in the historical Paris 1 district next to the Seine, and you'll be just a short walk (depending on which hotel or apartment you choose) from the Louvre Museum, Tuileries Garden, Musée de l'Orangerie, Sainte Chapelle, and Palais Garnier (the Paris Opera House)
Use this hotel booking map to find more hotels and apartments for your travel dates:
Check out the newest Paris hotels
---
---
Paris Weather Resources
Want current Paris weather predictions? This is a good French source: Meteoblue
Historical weather data sources: The Weather Channel, Weather Spark, and Time and Date
---
---
More Information for Your Paris Visit in February