"Do I need travel insurance for my Paris trip? "
For most travelers, the short answer to this question may be an emphatic "Yes."
Most travel insurance plans for international trips cover two major categories of risk:
Trip Insurance protects you when things go wrong before and during your trip. You have prepaid non-refundable reservations but have to cancel at the last minute, your trip gets delayed or interrupted by something beyond your control, your baggage gets delayed, lost, stolen, or damaged, or you rent a car and it gets damaged or stolen; you can also customize plans to fit your needs, such as adding "cancel for any reason" coverage
Travel Medical Insurance covers your expenses when you unexpectedly get sick, injured, or die while traveling. It covers your emergency medical (and possibly emergency dental) care, transportation to the closest medical facility, and even repatriation of your remains if the worst happens. If you want to make sure you are covered for Covid, check the terms and conditions closely as many policies exclude or have limitations.
The good news: Travel insurance is easy to get and relatively cheap - especially when you consider what it covers and its value if anything goes wrong during your trip.
Travel insurance also helps you get assistance fast when you're in an unfamiliar place if it offers 24x7 support. And if things go wrong, it can save you a ton of money. More important: it gives you peace of mind.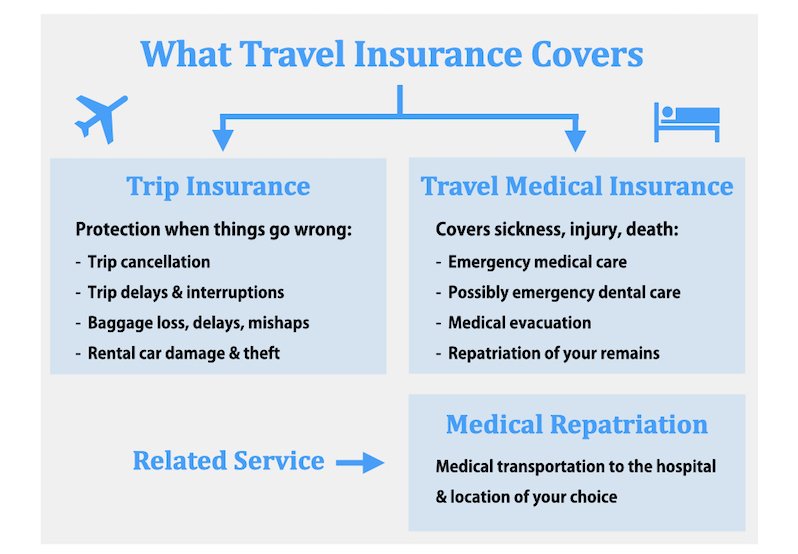 Top photo: The Eiffel Tower and magnolias in bloom in Paris in April, (c) Paris Discovery Guide
Paris Discovery Guide is a reader-supported publication. When you buy through our links, we may earn a commission at no additional cost for you. Learn more
---
What Does Travel Insurance Cover? 7 Essential Ways It Can Protect You
Choosing the right travel insurance for your trip to Paris can be tricky.
Do a quick search on the web, and you'll see hundreds of different choices. A plan designed to cover you during a cruise to Antarctica may be overkill for Paris, known for its excellent medical care and many top-notch hospitals. How do you find the right travel insurance at the right price?
Let's look at the 7 essential ways travel insurance can protect you from unexpected but potentially costly emergencies, cancellations, and interruptions - and what to look for when choosing a plan for your trip to Paris.
1. Trip Cancellation
What if you have to cancel a trip unexpectedly? Travel insurance reimburses you for prepaid non-refundable expenses such as your hotel or apartment bookings, airline and train tickets, tours, and event tickets - as long as you are canceling for a covered reason.
What is a "covered reason"? This might include sickness, injury, or the death of a family member, as well as specified reasons which prevent you from traveling. Definitions and the amount of reimbursement vary by plan so check the details carefully.
What if you might need to cancel for a non-covered reason? "Cancel for Any Reason" coverage gives you broad protection but typically increases the cost by 40%-50%. Not all plans offer this option.
What about the credit card you use for booking flights and accommodations? Can it protect you for prepaid expenses and lost baggage? Maybe, if you use a premium card such as the Chase Sapphire or American Express Gold - but you still need to look for gaps and benefit limits.
2. Trip Delays & Interruptions
What if you or your travel companion gets sick or injured, or a family member dies while you're in Paris and you need to return home immediately? Or severe weather delays your departure, causing you to miss prepaid non-refundable nights in your Paris hotel?
This is where trip delay/interruption coverage comes in. Similar to trip cancellation coverage, it reimburses you for prepaid expenses and perhaps other costs such as a last-minute return airline ticket.
What's covered as well as the level of benefits can vary widely between plans - so know what you need, how much you might get, and what's not covered.
3. Baggage Losses, Mishaps, & Delays
Being without clothing, personal care items, and other things you need for your trip to Paris if your checked bags get lost or even just delayed can be a huge hassle - not to speak of the expense of having to replace them.
Travel insurance typically includes reimbursement for lost, delayed, damaged, or stolen baggage up to certain limits such as $500 per bag, or even less. Jewelry, cash, and even sunglasses may not be covered.
You can control your potential losses by leaving your most expensive things at home and putting your valuable items such as your laptop and camera along with a change of clothes in your carry-on bag.
But watch out for this "gotcha": if you plan to shop a lot in Paris, make sure the baggage coverage will cover the value of your luggage contents on your return flight. If not, choose a plan with a higher limit.
4. Rental Car Damage & Theft
Paris's top-notch public transportation system means you don't need a car in the city, and France's fast and convenient train network covers most day trip and weekend getaway destinations.
But what if you want to rent a car for a leisurely drive through the countryside? Should you add rental car protection to your travel insurance, or choose the collision damage waiver offered through your rental car company?
Here's the catch about many collision damage waivers: They may not cover all parts of the car such as windows and tires, they don't usually cover theft unless you pay extra, and they may have a deductible of $1,000 or more. (All monetary estimates in this article are in U.S. dollars.)
So definitely check out the what the travel insurance plans offer. Their optional (or included) car rental insurance may offer much better coverage at about the same cost.
5. Emergency Medical Care
No matter how healthy or fit you are, medical emergencies can happen: You wake up in the middle of the night with acute appendicitis requiring emergency surgery. A fall off a rental bike lands you in the hospital with a severe concussion and a broken arm. Possible strep throat requires visiting a doctor for testing and antibiotics.
The good news: Excellent medical care and top-notch hospitals are readily available in Paris and other parts of France. And more good news if you are from the US - health care in France costs significantly less than in the U.S. But that doesn't mean it's free, despite what you may have heard.
Although French and other EU citizens with a European Health Insurance Card (EHIC) card pay little or nothing for medical care, everyone else is charged the regular rates. This may mean a hefty charge to your credit card. In some situations, you may even be asked to pay a deposit before treatment.
But wait! you may be thinking. I already have health insurance. Won't that cover me in Paris?
If you are from the US, probably not. Most private health insurance policies do not cover medical costs while you're outside of the country, nor does Medicare. Even if you have a Medigap policy that picks up some costs, benefits are typically quite limited. If you are from Canada, you may have some insurance coverage but it varies by province and the Canadian government recommends getting additional amounts. If you are a UK national, you can continue to use your EHIC card post-Brexit until it expires and then apply for the replacement Global Health Insurance (GHIC) card from NHS, although the UK government and European Commission advise getting health coverage insurance before your trip.
Bottom line: If you don't have health insurance that covers medical emergencies during international travel, you need to get it. If you have a pre-existing condition, make sure the insurance policy you select covers it adequately. Some plans also cover emergency dental care.
6. Medical Evacuation & Medical Repatriation
Most travel insurance includes medical evacuation coverage, which pays the cost of transporting you to the closest medical facility equipped to provide for your care. Sounds good, right?
But here's the catch: the insurance provider, not you, gets to choose the facility.
What if you believe you'll get better, more specialized treatment elsewhere? Or you want to return home for your inpatient recovery? Then you'll need to pay for medical transport out of your own pocket - not easy to do when costs can easily reach $200,000 or more if an international private medical flight with medical care is required.
However ... if you have medical repatriation coverage, it will provide medical transportation to the hospital of your choice in your home country where you'll be close to your regular doctors, family, and friends. All you have to do is request it. And then breathe a sigh of relief, knowiing that help is on its wayi.
Medical repatriation coverage is actually a service, not an insurance policy - and it's surprisingly affordable.
What you need to know: Many travel insurance plans include "medical repatriation" as a benefit - but read the details, and you'll realize what they're offering is medical evacuation to a hospital of THEIR choice, not medical repatriation services to get you to a hospital of YOUR choice. Don't be fooled.
7. Repatriation of Your Remains
In Oscar Wilde's novel, The Picture of Dorian Gray, a character says, "... when good Americans die they go to Paris."
But as appealing as that may sound in theory, if you do happen to die in Paris during your trip, staying there will cost you (or, your estate). Getting your remains back to your home country is not cheap either. A formal process involving lots of paperwork is required. Whether your remains end up being repatriated or buried or cremated in France, current costs range from about $5,200 to $7,000 or more.
If you're like most people, you most likely don't already have insurance to pay for repatriation of your remains - but fortunately this coverage is usually bundled with other travel medical insurance.
What if you don't have repatriation insurance and your loved ones can't or won't pay for it? Your body will be buried in an unmarked grave, probably in a Paris suburb or banlieue, for five years in case anyone comes forward to claim your remains and pay the fees.
If no one steps forward to do this, your remains will eventually be cremated and your ashes buried. And no, probably not in Paris. You will most likely still be somewhere outside of the city - not quite what Wilde had in mind for a final reward.
---
What Are the Best Travel Insurance Plans & Companies for Paris?
Which travel insurance should you choose for your trip to Paris? The three companies below receive positive reviews from many travelers and offer a variety of plans, benefits, and options at economical prices. Read the terms, conditions, and descriptions of coverage to decide if the policy you choose is right for you because everyone's needs differ:
AIG Travel Guard
Travel Guard's travel insurance offers standard trip insurance with inclusions that cover you for unannounced strikes (although spoiler alert: almost all strikes in France are announced in advance) and a number of other circumstances such as military service that might disrupt your trip.
The top two tiers offer a variety of choices for customizing your plan with optional coverage, including "cancel for any reason" coverage.
---
World Nomads
If you're looking for affordable travel insurance coverage with emergency medical benefits and trip insurance benefits, World Nomads offers two plans. The Standard plan covers both trip and travel medical needs, while the Explorer plan adds rental car coverage and lets you choose other options based on your needs.
World Nomads provides 24-hour emergency assistance and up-to-the-minute safety advice, and some of the most competitive pricing you'll find online.
---
Seven Corners
Need only travel medical insurance for your trip to Paris? Seven Corners offers a Medical Protection Only plan that allows you to choose your level of coverage. Seven Corners' plan is also available to people 65+, although some limits apply.
Seven Corners offers trip coverage with three different tiers of benefits. A couple of the upper tiers cover pre-existing conditions (make sure you understand the restrictions). You can also choose optional rental car damage, and "cancel for any reason" coverage is an option for the two higher tiers.
---
What Are the Best Repatriation Services?
In this small, highly specialized field, two companies stand out for their comprehensive services: MedjetAssist and Global Rescue. You can choose a short-term or annual membership. Although there is a lot of overlap in the services they provide, there are also some differences - so make sure you read their terms carefully to choose the best one to fit your needs.
MedjetAssist
MedjetAssist provides medical transport and repatriation services to sick or injured travelers to a home-country hospital of their choice.
Hopefully you will never need these services - but if the worst happens, you'll be able to get medical care in the location of your choice.
Global Rescue
Global Rescue provides sick or injured travelers with medical transport and repatriation services to the hospital of their choice.
Having access to these services gives you and your loved ones peace of mind, whether or not you ever need to use them.
---
Travel Insurance FAQs & Tips
How Much Does Travel Insurance Cost?
Industry experts estimate that trip insurance typically runs about 4%-8% of the total price of your trip. Adding "cancel at any cost" trip insurance typically increases the cost by about 30%-40%.
Here are three things to keep in mind:
What's the biggest mistake that many travelers make? Incorrectly assuming their regular health insurance covers international travel.
What might have the biggest impact on your bank account if you don't have adequate travel insurance? Emergency medical care and emergency transportation/evacuation.
What's the biggest regret you might want to avoid? Not having the travel insurance protections or repatriation services you need if you need them.
When Should I Buy Trip insurance?
Best practice is to buy it as soon as you book your flight and make any other major prepaid non-refundable expenses such as accommodations. Many insurance companies won't sell travel insurance within a few days of your departure, or if they do, they offer lower benefit levels or quote a higher cost.
What if I Have Pre-Existing Conditions? Can I Still Get Medical Coverage?
Yes, although not all plans cover pre-existing conditions, and the definition of "pre-existing conditions" varies from company to company.
If you have a well-controlled treated condition such as high blood pressure or diabetes, check the terms of the policy you're considering - you may find you're covered by their regular terms.
Should I Buy Trip Insurance While Booking My Flight or Accommodations?
As you're booking your flight, reserving a hotel room, or renting an apartment, you'll likely see an insurance offer pop up - life insurance in case your plane crashes (statistically, the chance of this happening is far lower than your chance of willing a lottery), or cancellation insurance for prepaid non-refundable hotel reservations or apartment deposits.
If you compare the cost of these offers with quotes for travel insurance, which covers a much broader range of risks, it's not hard to see which is the better deal.
Is Travel Insurance Worth It?
Like all insurance, trip insurance protects you against the biggest risks and worst financial consequences.
When you buy fire insurance for your home, for example, of course you hope it never burns down or gets destroyed by a tornado or flood or whatever - but if the worst happens, you're protected from financial disaster.
Travel insurance works the same way. You expect your trip to Paris to be a fantastic, wonderfully memorable experience - and it most likely will be. But if you do have to cancel your trip at the last moment, never see your bags again after checking them at the airline counter, or need hospital care in Paris, your insurance protects you.
So yes, when the worst happens, travel insurance is worth every penny you spent on it. The peace of mind you get from knowing you're protected is priceless.
---
More Travel Insurance Information
International Travel Insurance Resources
Learn about U.S. Medicare coverage limitations during international travel here
Read the Canadian Government's recommendations about travel insurance here
Check U.S. Department of Transportation regulations and maximum compensation for lost or damaged baggage here.
Disclaimer
The information provided in this article is intended to help you plan your trip, and should not be construed as financial or legal advice. The information provided about travel insurance in this article is a brief summary only, and does not include all terms, conditions, limitations, exclusions and termination provisions of the travel insurance plans described. Coverage may not be available for residents of all countries, states or provinces. Before purchasing any of the plans described here, please carefully read your policy wording for a full description of coverage.
---
More Articles about Planning Your Trip to Paris
---
Fun Paris Activities
---
Where to Stay in Paris
Need to find a hotel or apartment for your stay in Paris? Use this hotel map to find hotels and apartments near your favorite March events and Paris attractions: