Have no doubt: the Tuileries Garden "La Magie de Noël" Christmas Market, located practically in the shadow of the famous Louvre Museum, is like no other Marché de Noël in Paris.
It's the biggest, the liveliest, the loudest, and the most fun-filled Christmas market in the city - a top destination for Parisians and visitors from all over the city and other parts of France during its 6-7-week stay from late November through early January.
Part traditional Christmas Market, part holiday carnival, the Tuileries Christmas Market stretches for almost half a mile along the north side of the garden between Place des Pyramides and Place de la Concorde.
This pop-up seasonal destination practically bursts with fun activities, gifts for everyone on your holiday list, and yummy regional foods and beverages, including vin chaud (hot mulled wine), roasted chestnuts, and other seasonal favorites.
Top photo: Snack bar and Ferris wheel at the Tuileries Garden Christmas Market, (c) Paris Discovery Guide
Paris Discovery Guide is a reader-supported publication. When you buy through our links, we may earn a commission at no additional cost for you. Learn more
---
What Should You Expect at the Tuileries Christmas Market?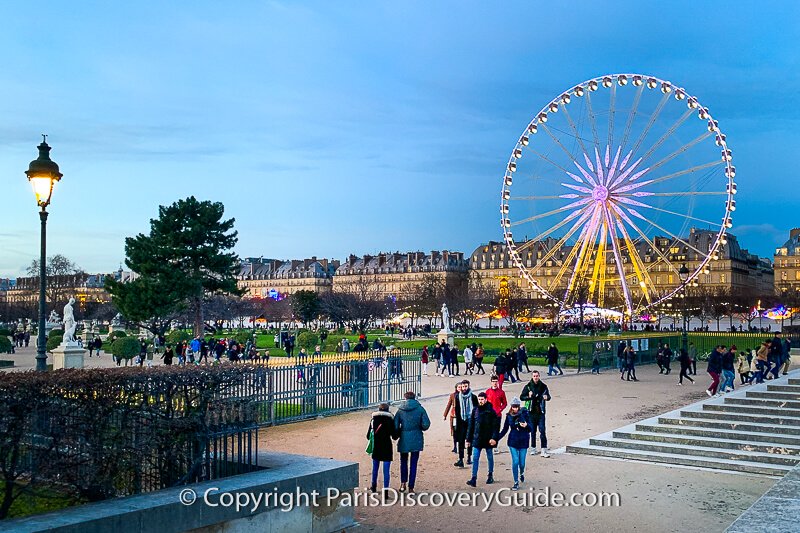 As you walk across Tuileries Garden toward the Magie de Noël, the enormous Ferris wheel silhouetted against the skyline and bright lights from all the amusements promise fun and entertainment beyond what you'd typically expect at a Christmas market - and that's exactly what you'll find.
As you get closer, you'll smell the delicious aromas of sizzling sausages, raclette (a melted cheese dish), and freshly made waffles and crepes in the market's wooden chalets. You'll hear a mix of high-energy Christmas music and laughter. Best of all, you'll find attractions for all ages.
The market has three major parts:
But you'll discover lots more: a small ice rink, a Champagne igloo, dozens of Christmas trees - plus larger-than-life-sized plastic Santas, reindeer, and candy canes, and of course lights of all types (including flashing), sizes, and colors everywhere. There's even a much-smaller-than-lifesize Eiffel Tower.
In case you're wondering: yes, it could be kind of tacky - but it's not. Instead, the festive mix captures the joy of the season and joie de vivre. Even the giant plastic Santas somehow seems charming.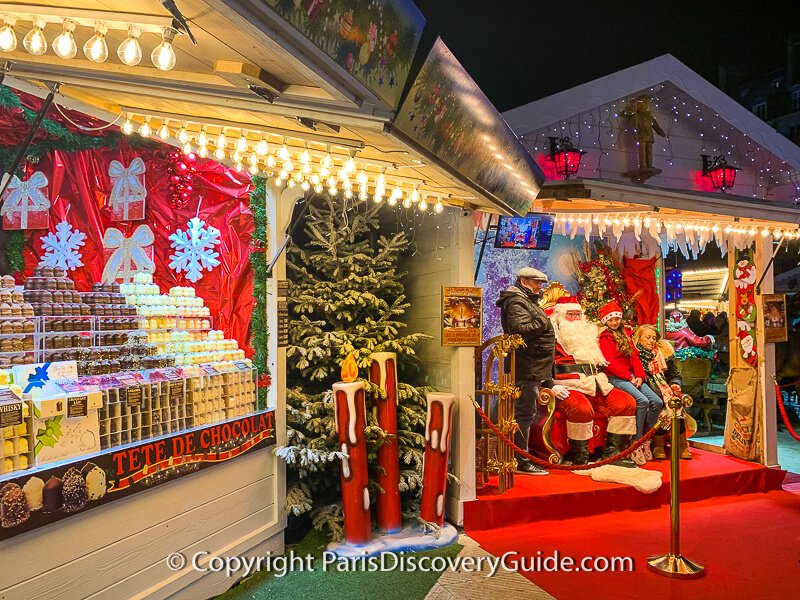 So when you want to spend a few hours shopping for holiday gifts while sipping a cup of vin chaud, enjoying views of the Eiffel Tower's nightly light show from the top of the Ferris wheel, or perhaps driving a bumper car, head over to the Tuileries Christmas Market in Paris's 1st arrondissement. It truly is a magical experience!
---
Festive Christmas Shows
---
What to Do, Eat, & Drink at La Magie de Noël Christmas Market
With over 100 white Bavarian-style chalets dedicated to tantalizing French cuisine, beverages, and artisan crafts, gifts, candy, and wine, plus a seemingly endless number of fairground attractions, you could easily spend many hours visiting even half of them.
Here's a small sample of what you can experience at the Tuileries Christmas Market:
1. Ferris Wheel, Champagne, and Views of the Eiffel Tower on the Paris Skyline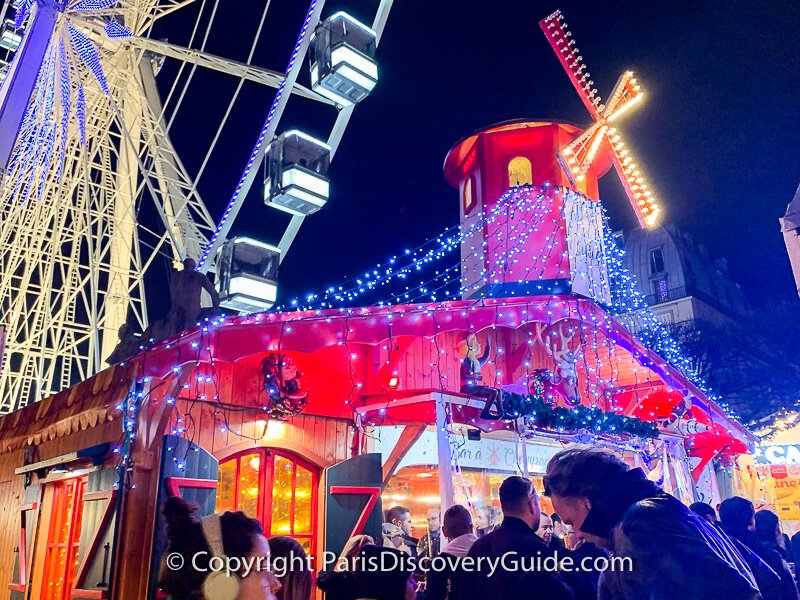 A spin on the giant Ferris wheel gives you fantastic night views of the Paris skyline from different levels as you ride up to the top and then back down.
Pro Tip #1: Add to the magic by timing your ride to coincide with the sparkling light show at the Eiffel Tower. (The lights begin to sparkle at the start of each hour and last five minutes, starting with the first hour after the sky turns dark and continuing until the final show at 1 am.) Even if your timing is off and you miss the show, you'll still see the brightly lit Tour Eiffel against the night sky.
Pro Tip #2: Before you get in line, treat yourself to a glass of bubbly at the nearby Champagne bar to enjoy during your ride.
---
Special Christmas Cruises
---
2. Artisan Village for Crafts, Gifts, and Specialty Products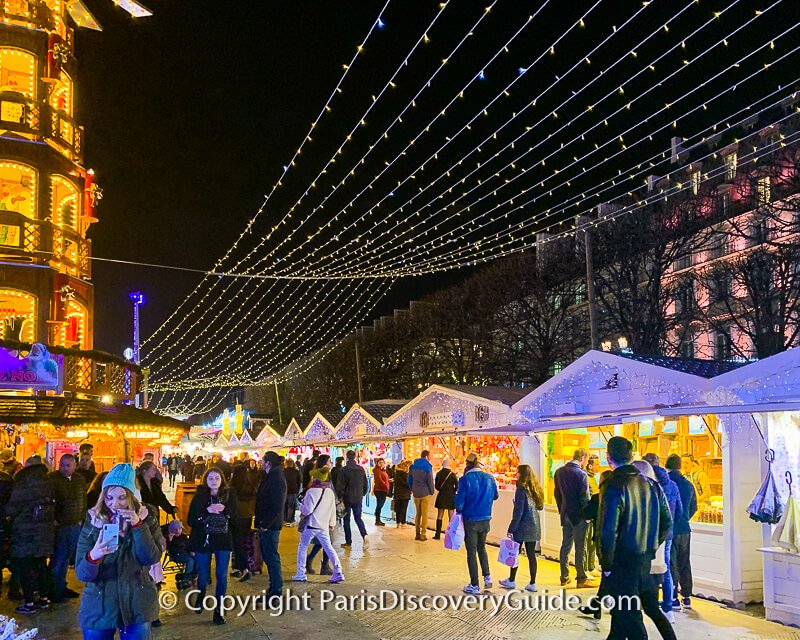 You'll find the white chalets of Artisan Village clustered in several parts of Tuileries Garden Christmas Market's half-mile length, which means that whereever you are in the market, you'll find interesting browsing opportunities.
At least 80% of the artisans feature products made in France, although a few also offer hand-crafted products from all over the world, including North Africa, Asia, and Russia.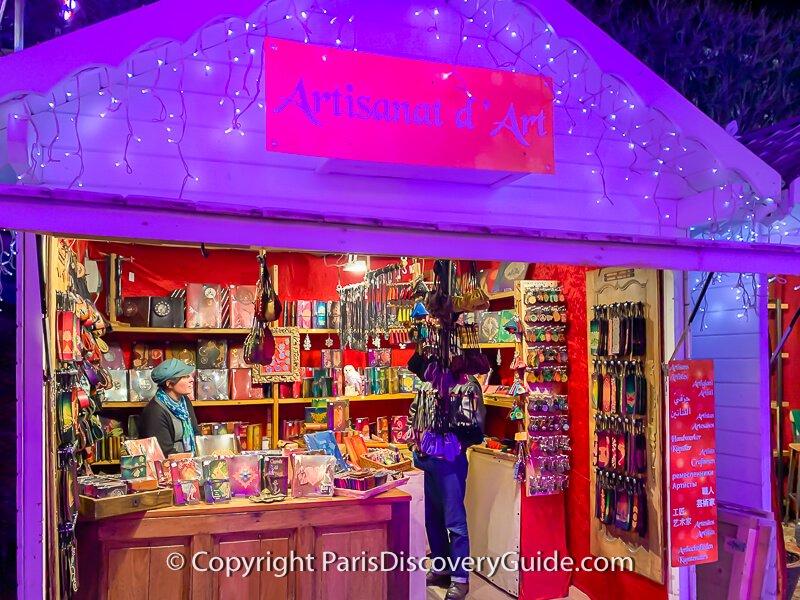 The quality of many of the Artisan Village items is generally quite good, and you'll easily spot many things that would make interesting gifts (including a few for yourself).
Pro tip: Leave your shopping until the end of your Christmas Market visit so that you don't have to carry your purchases while you, for example, drive a bumper car or ice skate.
---
Sparkling Christmas Lights
---
3. The Roasted Chestnuts Cart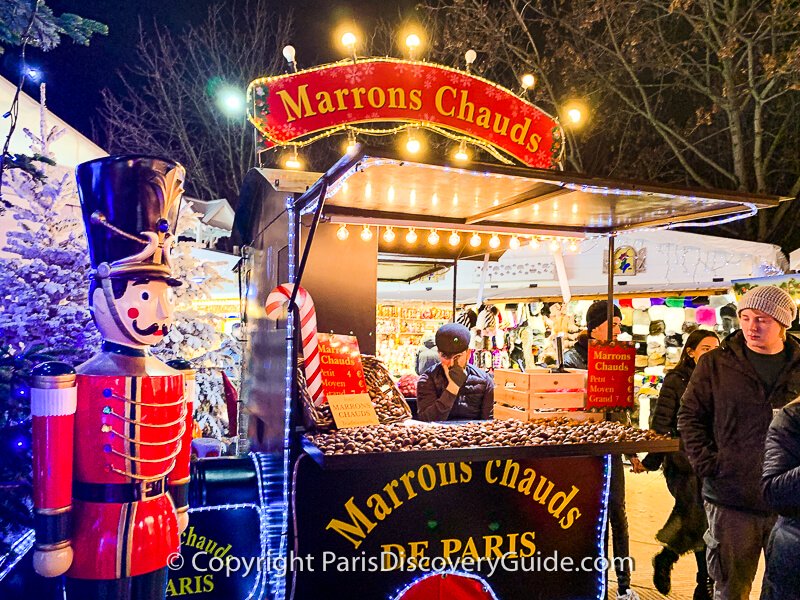 As soon as the weather turns chilly in late fall in Paris, "Marron Chauds" carts overflowing with hot roasted chestnuts begin to appear all over the city, including the Magie de Noël Christmas Market, luring shoppers with their intoxicating aroma.
Should you buy a packet of these seasonal treats? Definitely! They only cost a few Euros, and you can munch on them as you walk around. They also double as a good (although temporary) hand-warmer if you forget to wear gloves.
Pro tip: You can choose a small, medium, or large packet. With so many tempting things to eat at this Christmas market, you may want to choose the small size unless you're with a group and planning to share. If that's not enough, you can always buy another one later.
---
4. What to Eat at Tuileries Christmas Market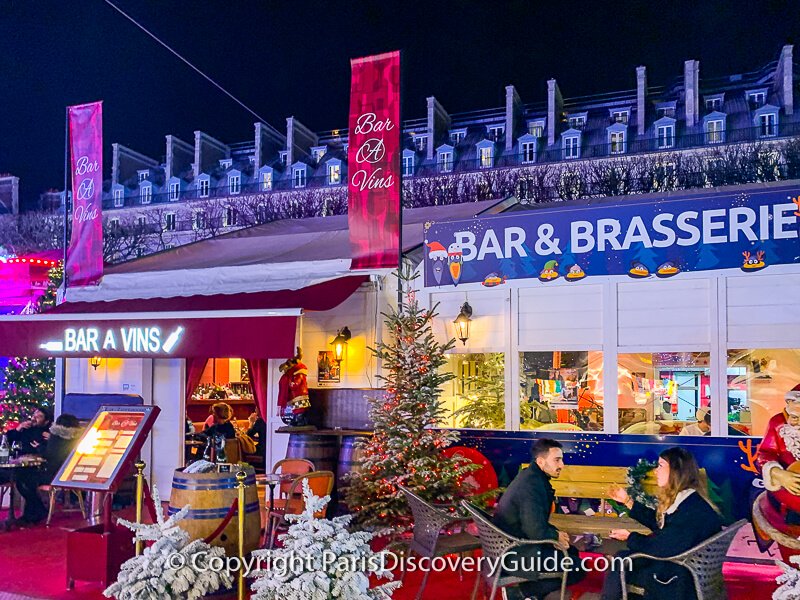 For many Paris locals, the highlight of the Tuileries Christmas Market is the food. Choices range from snack foods such as hot waffles (gaufres) with your choice of toppings, crepes, and croque madames, to sausages, cheeses, and other regional specialties, to brasseries offering a full range of casual food such as burgers, steak-frites, and onion soup.
For something even sweeter than a Nutella crepe, you'll find plenty of chalets offering chocolates and other specialty candies, including nougats from the South of France.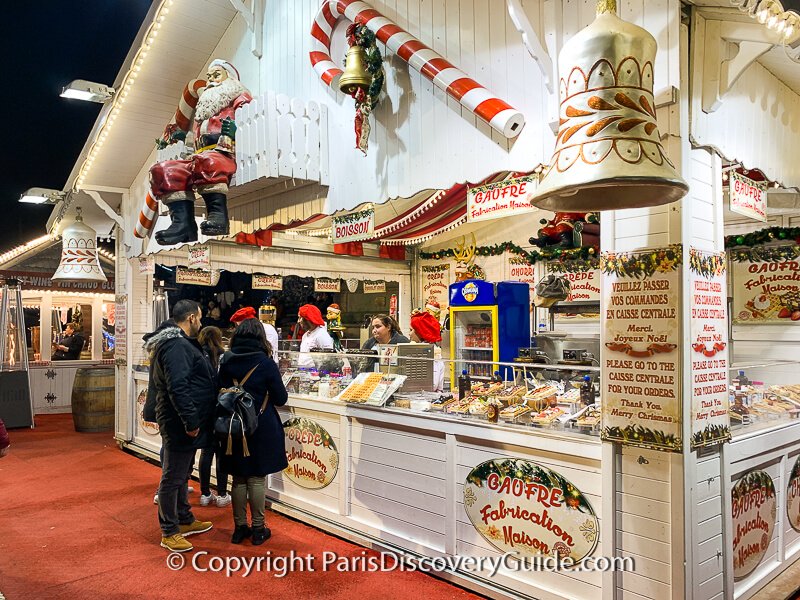 In addition, you'll find numerous bars where you can get vin chaud (hot mulled wine), regular wine or beer, brandies and Calvados, hot chocolate, and even espressos.
Calvados, in case you're wondering, is a type of brandy made in Normandy from apples and sometimes pears. If you like strong liquors, you should definitely try it.
Stands offering regional specialties are especially popular, both for eating on the spot and buying for gifts.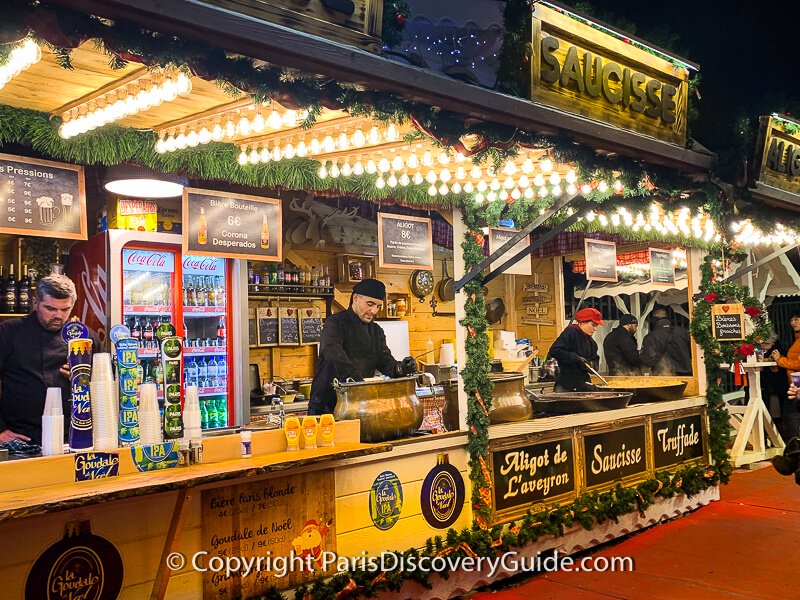 For example, this stand (above photo) offers specialties from the Aveyron region located in south-central France served from large steaming copper vats including sausages, aligot (a creamy mix of mashed potatoes, cheese, cream, and butter), and truffade (thinly sliced potatoes sauted in goose or duck fat and layered with a regional cheese called tomme fraiche de Cantal). You should definitely try them, as they are truly mouth-watering delicious. For your own sanity, do not think about the calories!
All of these dishes pair well with beer and wine, which you can also buy here.
More Ways to Celebrate Christmas in Paris
---
5. The Ice Skating Rink at Tuileries Christmas Market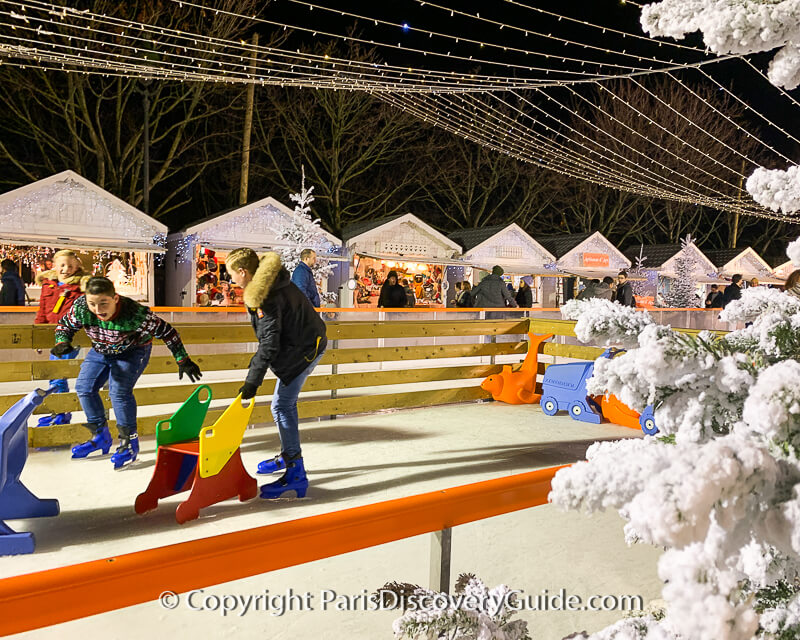 Although Magie de Noël's ice rink is relatively small, the fun it brings is enormous. There's even a small area which hold-on devices (above photo) where beginners can learn. And no need to bring skates, because you can rent them at the rink.
Prefer a larger ice skating rink? Normally, you could head over to the seasonal rink at Grand Palais - the largest in the world and another popular Paris holiday destination - but it's closed for renovations for a few years - so this rink is a decent second choice.
Find out more about Christmas in Paris
---
6. More Things to Do at the Tuileries Christmas Market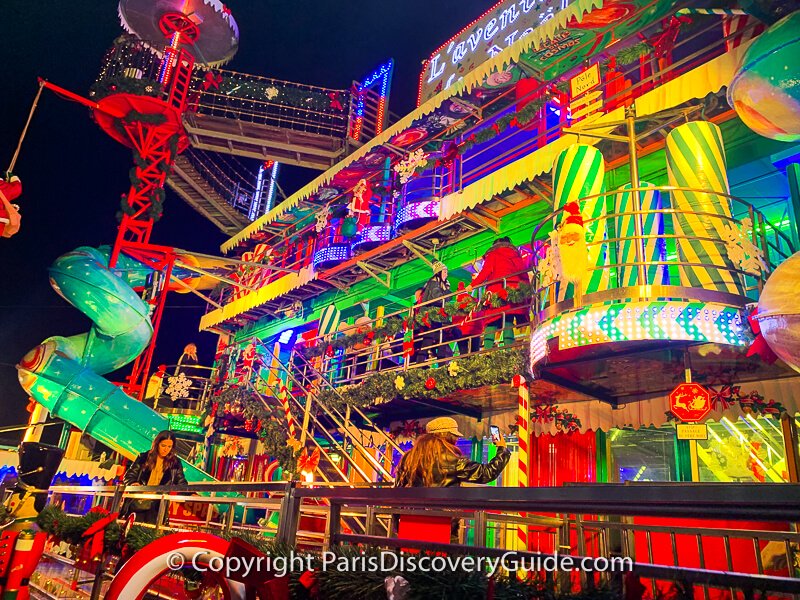 Two of the most popular carnival-type attractions at the Tuileries Christmas Market are the multi-story brightly-lit "fun" houses.
Head to L'Aventure de Noël ("Christmas Adventure") for "chills and thrills" including a maze, slightly scary monsters and clowns, viewing platforms, numerous Santas, and enclosed (for safety) circular toboggan-like slides.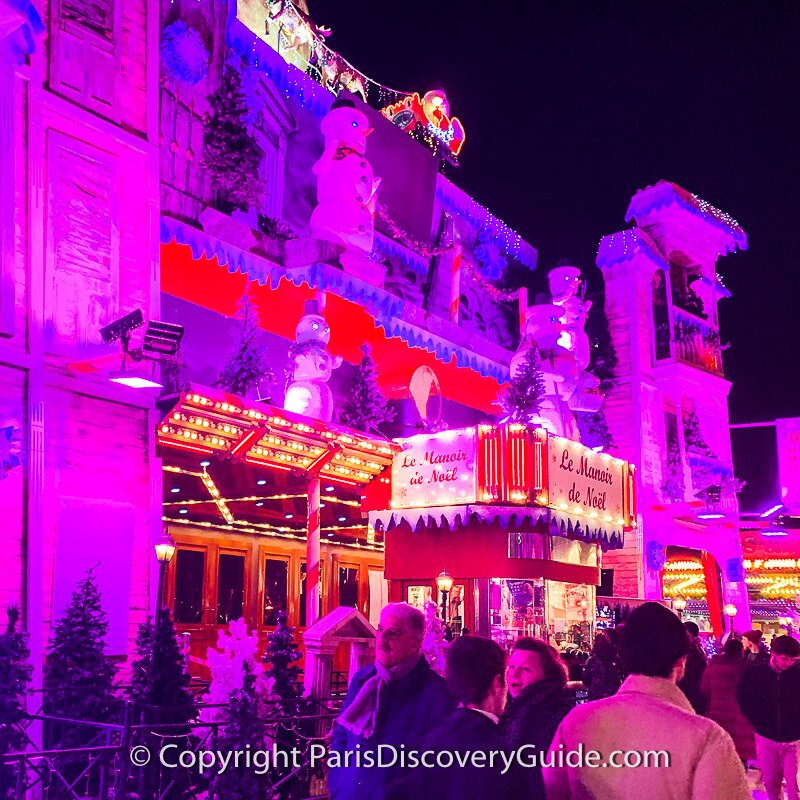 For a somewhat more sedate experience, try Le Manoir de Noël ("Christmas House"), which emphasizes fun Christmas and special lighting effects.
On a typical night, both attractions are filled with 20-somethings, shrieking with delight.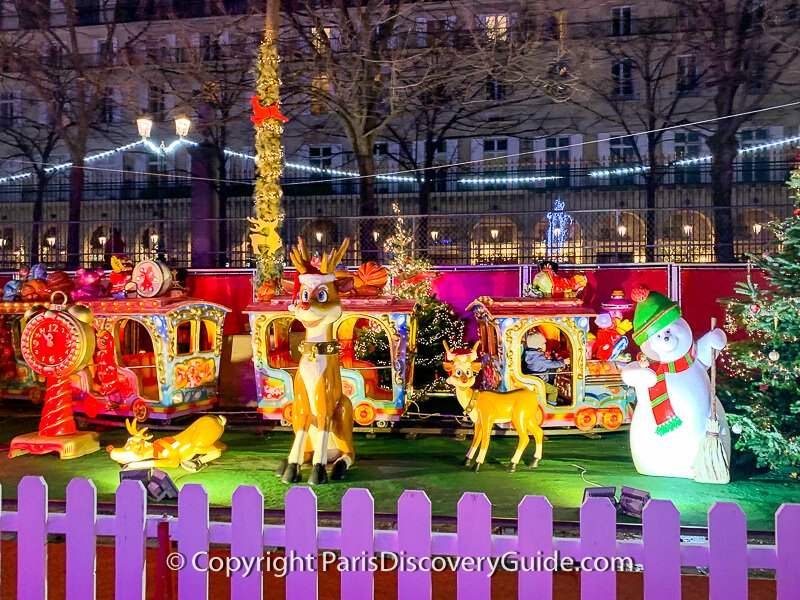 For the youngest visitors, a small train provides lots of safe entertainment.
There's also a traditional carousel, popular with all ages, as well as other games and amusements.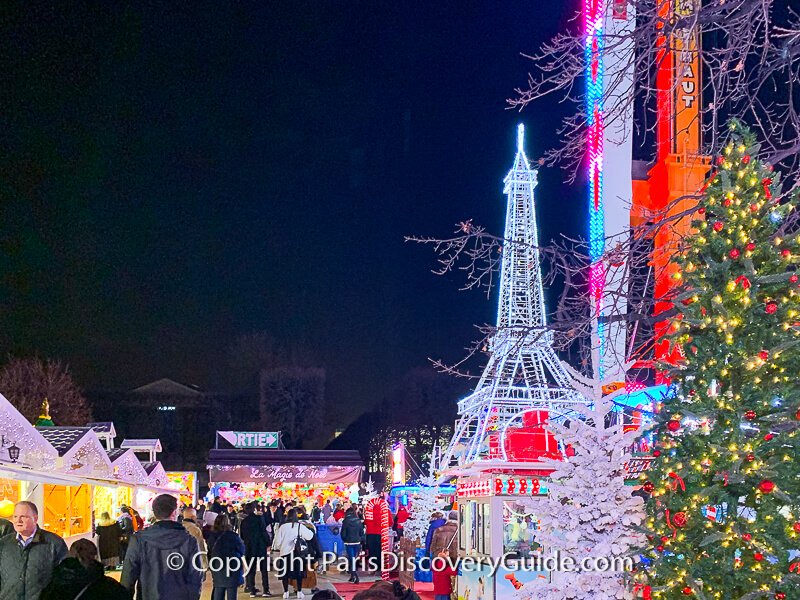 Although the Christmas Market's bright-lit miniature Eiffel Tower doesn't rival the light show at the actual tower, which you can see in the distance, it serves as a fun backdrop for selfies.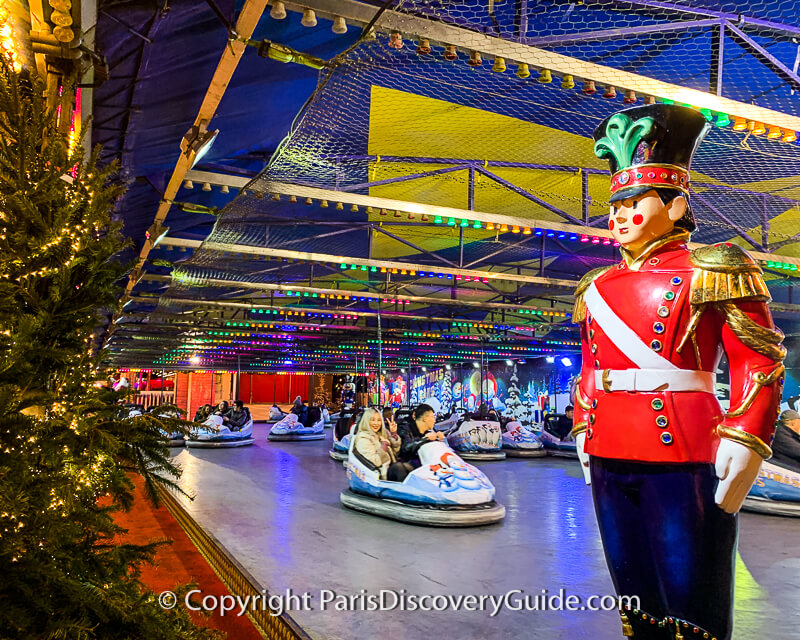 Bumper cars are another huge attraction at La Magie de Noël.
The colored lights, wall murals of snow-colored trees and Christmas decorations, and white floor make it feel as though you're gliding (and bumping) around a winter wonderland.
---
7. Champagne Igloo at La Magie de Noël Christmas Market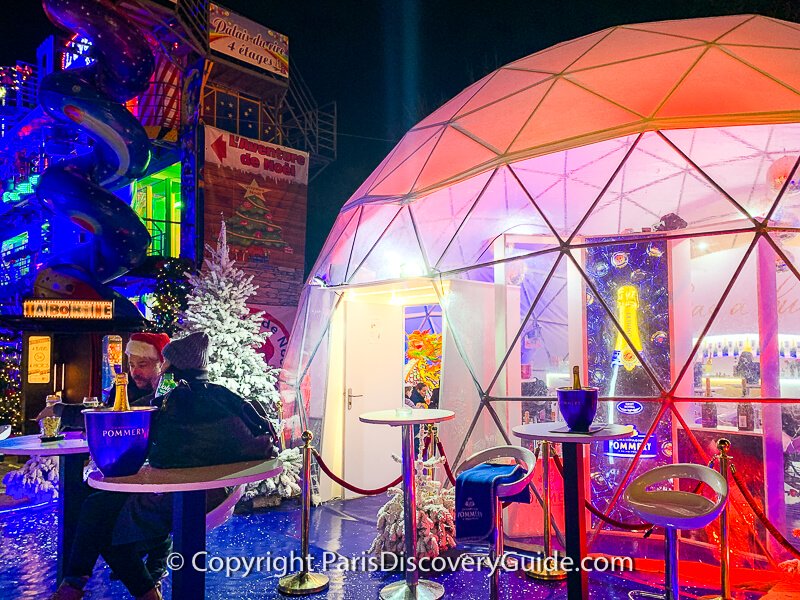 Several Champagne bars dot the Tuileries Christmas Market - but the most unique one is an eye-catcher shaped like an igloo.
Sponsored by the famous French Champagne house Pommery, the bar serves (not surprisingly) a variety of Pommery Champagnes - the perfect way to end your visit to the market.
---
Map Showing Tuileries Christmas Market Location
Location of the Tuileries Christmas Garden
As you can see in this map, the Magie de Noel Christmas Garden occupies a fairly broad swath along the north side of Jardin du Tuileries - about double the area occupied by the summer carnival.
---
Tuileries Garden Christmas Market Visitor Information
Tuileries Garden Christmas Market Opening Hours & Dates
Getting to Tuileries Christmas Market
---
How the Champs Élysées Christmas Market Became the Tuileries Garden Christmas Market
The Magie de Noël Christmas Market at Tuileries Garden evolved from the holiday market that used to line both sides of the eastern end of traffic-packed Champs Élysées, with a Ferris wheel in Place de la Concorde on the other side of a busy traffic circle.
After the owner of the market failed to comply with a list of improvements specified by the Mayor of Paris after the 2016 holiday season, he struck a deal to operate in Tuileries Garden, which falls under a different administrative jurisdiction.
But when the market opened in its new location in 2018 after being closed during the previous holiday season, numerous major improvements (ironically, basically what the Mayor had requested) were apparent: much better quality products for sale, with roughly 80% of them made in France (a recent government regulation applicable to all French Christmas markets), better food and beverage selections, and far more Christmas decorations, especially in the carnival attractions.
(As an aside: the food is surprisingly good - in fact, so good that in a city filled with plenty of wonderful food options, Parisian families choose to come here for a meal and entertainment.)
In addition, the Tuileries location works much better for giving a real "village" feeling, with everything consolidated in the half-mile long space, nicely removed from the sight, noise, and pollution of car traffic.
As a bonus, the beautiful holiday lights and nicely decorated stores along Champs Élysées can now be fully seen again and even without the Christmas Market, it attracts as many visitors as ever.
---
Special Christmas Cruises
---
More Places for Holiday Shopping near Tuileries Christmas Market
Need to do more holiday shopping?  Walk up Rue de Castiglione to Place Vendôme, or turn left or right on Rue Saint-Honoré and explore the chic boutiques. Check out the brightly-lit stores in the underground shopping mall Carrousel du Louvre (enter near the Palais Royal/Musée du Louvre Metro station). Or walk across Place de la Concorde to explore all the stores lining both sides of Champs-Élysées under the sparkling of lighted trees, and the designer showrooms along nearby Avenue Montaigne.
If you continue walking down Avenue Montaigne toward Place de l'Alma, you'll soon see the spectacularly lit Eiffel Tower framed by the street's lovely white Christmas lights.
Find more places to see dazzling Paris holiday lights & decorations
---
Best Places to Stay near Tuileries Christmas Market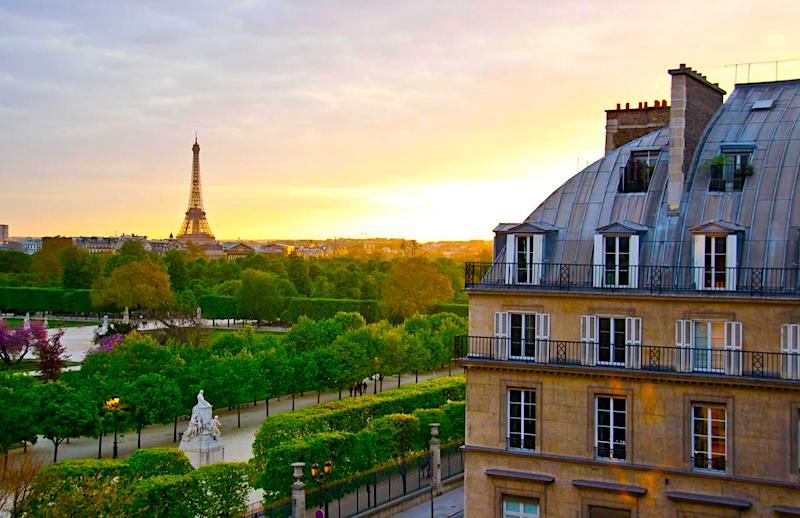 Choosing a Paris hotel near the Tuileries Christmas Garden puts you in a fantastic location near lots of top attractions. You'll find plenty of great choices in the 1st arrondissement, as well as in the Saint Germain neighborhood in the 6th, directly across the Seine.
Find more hotels near the Louvre Museum and Tuileries Garden
Use this Paris hotel map to find more hotels and apartments near the Tuileries Christmas Market. Add your travel dates to see availability and best rates:
Check out the newest Paris hotels
Find Christmas Market tours & other favorite Paris Christmas activities
---
More Fun Things to Do & See in Paris at Christmas
---
Check our December Events Calendar for more pop-up markets and dates
---
More About Celebrating Christmas Holidays in Paris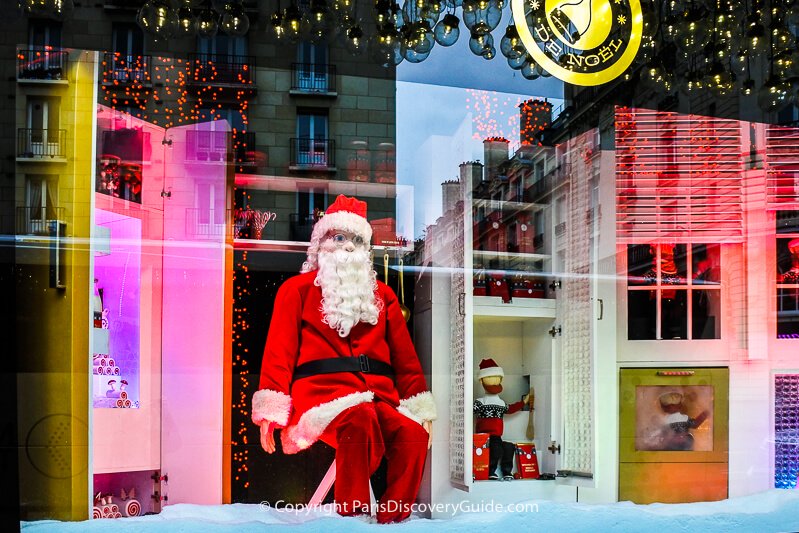 ---
More Fun Things to Do in Paris at Christmas
---
More about Paris in December