Every year, Paris's famous big department stores - les grands magasins - dazzle children and adults alike with imaginative Christmas window displays featuring fantastical animated scenes with sparkling lights, festive holiday music, and of course lots of jolly Santas, festive Christmas trees, teddy bears and other toys, and beautifully wrapped gifts.
The stores - Galeries Lafayette, Printemps Haussmann, Bon Marché, BHV Marais, and La Samaritaine - typically reveal their spectacular windows in early November, just as the first holiday lights and other decorations begin to light up the city with seasonal cheer.
The most elaborate windows take teams of artists, artisans, and decorators up to a year to design and create, but their efforts pay off for the stores as crowds of Parisians as well as visitors from other parts of France and countries around the world gather to view the enchanting holiday scenes, Christmas lights, and window decorations - and of course, shop in the stores where even more Christmas holiday decorations add to the celebratory mood.
If you're visiting Paris during the holiday season, don't miss the magical experience of seeing these enchanting Christmas displays filling the stores' huge street-side windows.
Spend a few moments soaking up the magic - it's part of the pleasure of being in Paris at Christmas.
Quick links: Galeries Lafayette - Printemps Haussmann - Bon Marché - BHV Marais - Map Showing Store Locations - More Ways to See Christmas Decorations in Paris
Top photo: Brightly decorated window at a Paris department store, (c) Paris Discovery Guide
Paris Discovery Guide is a reader-supported publication. When you buy through our links, we may earn a commission at no additional cost for you. Learn more
---
Galeries Lafayette: Huge & Fabulous Holiday Windows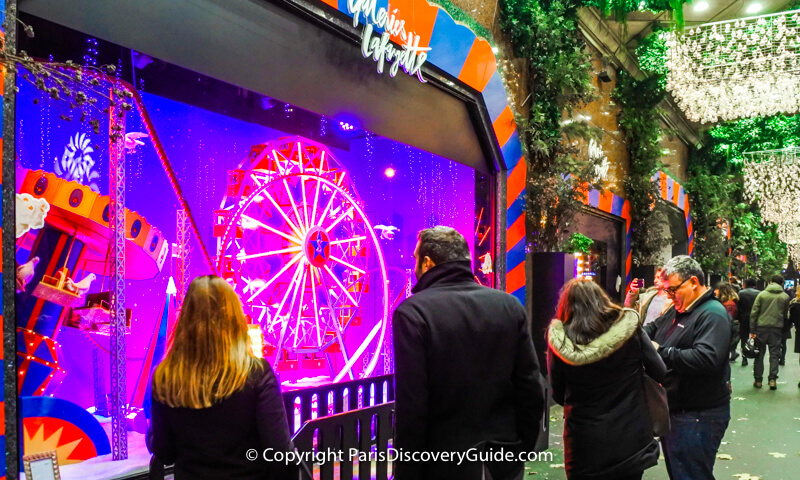 Galeries Lafayette's flagship store on Boulevard Haussmann, one of Paris's historic Grands Boulevards, boasts a large number of huge windows overlooking the famous street as well as around the corner on Rue de la Chaussée d'Antin.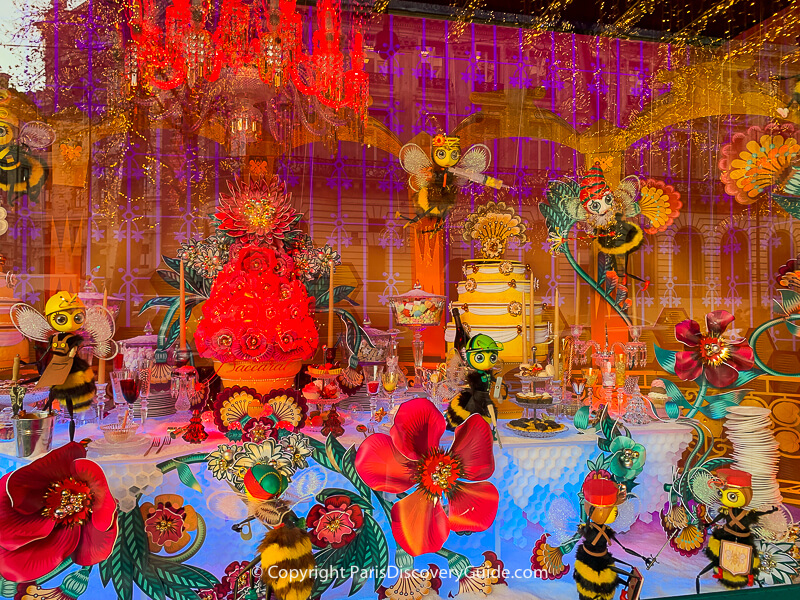 You'll see elaborate automated figures enacting fantastical scenes and favorite Christmas legends in non-stop shows that mesmerize you as you watch.
Each year features a different theme. Look closely, and you will see fantasy versions of trapeze artists and magical clowns, nature themse such as flowers and bees, childhood favorites such as candy canes and teddy bears, a favorite children's book such as "The Little Prince," or fairground theme such as "The Greatest Showman."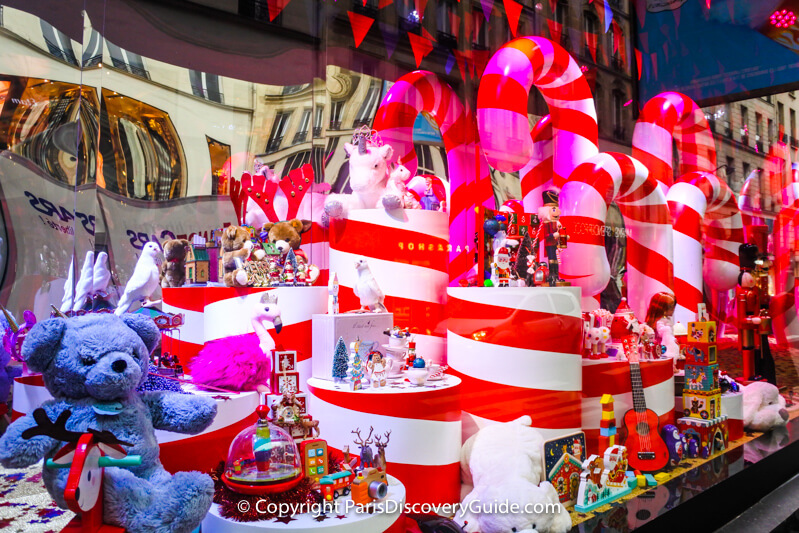 Luxury goods such as designer bags and gorgeous jewelry provide an extra layer of interest in some windows, while others focus almost solely on irresistible fashion favorites or kids toys - all offered for sale inside.
Be sure to stroll through the store to see the fabulous (and enormous!) Christmas tree suspended from Galeries Lafayette's famous 140+ foot Art Nouveau stained glass dome.
Crowds of shoppers become particularly dense around noon and again in late afternoon and evening, so plan your visit during the morning or mid-afternoon to get the best views.
For a more personalized experience, join this "Paris at Christmas" tour to see the famous window displays and Galeries Lafayette's famous Christmas tree and glass dome, plus holiday decorations in 19th century covered passages and French holiday food specialties.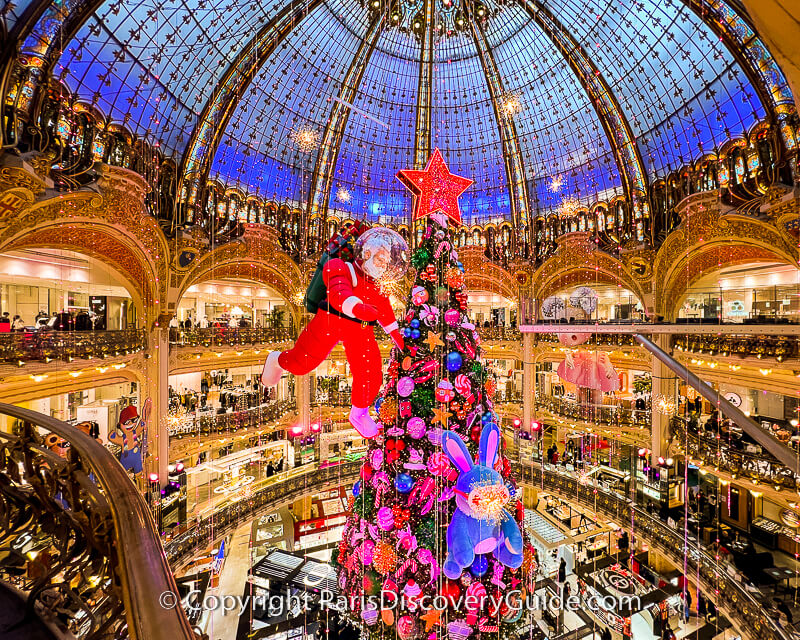 Even Galeries Lafayette's rooftop deck gets into the holiday spirit with a giant Noel sign: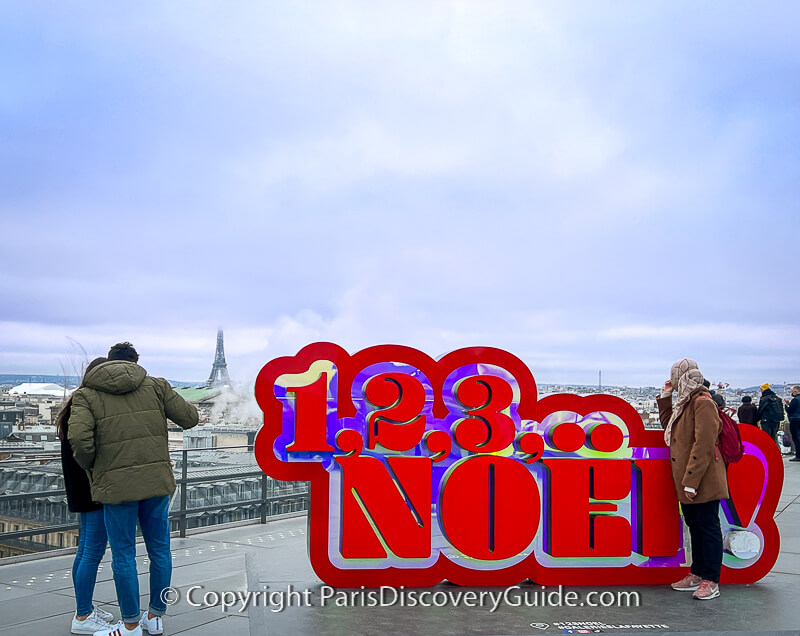 Location: 40 Boulevard Haussmann, 9th arrondissement
Metros:  Chaussée d'Antin, La Fayette
Stay nearby:
- Hotel Banke Opera - 4-minute walk from Galeries Lafayette; relax in the hamman after a day of shopping - More
- Hotel Saint Petersbourg Opera - 5-minute walk from Galeries Lafayette; great value for your money - More
More to enjoy nearby: Paris Opera House; Christmas lights along nearby Faubourg Saint-Honoré
---
Printemps Haussmann: Christmas Gifts & Fantasy Worlds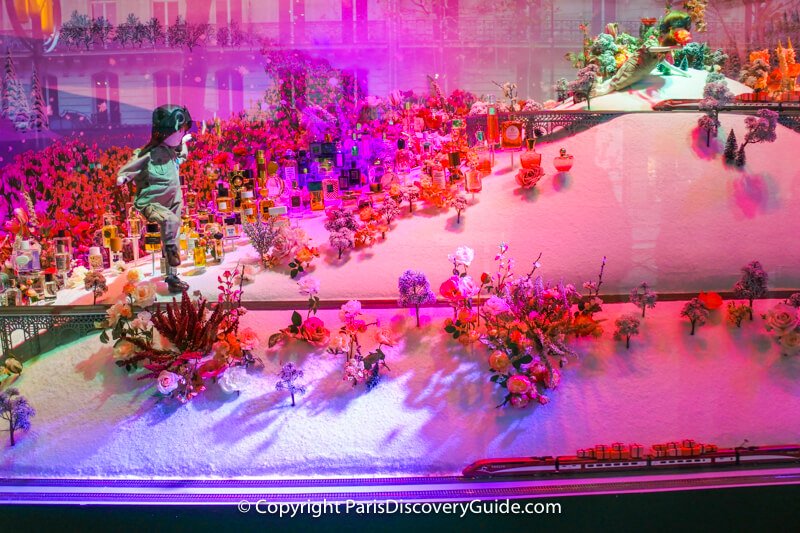 Printemps Haussmann, also located on Boulevard Haussmann, creates unique and beautifully crafted Christmas windows that compete successfully with next door neighbor Galeries Lafayette's splendid displays.
At Printemps, you can see an appealing new theme unfold across the windows each year, with high-end designer merchandise skillfully woven in among the appealing scenes. Look for lust-worthy bags from Fendi, exquisite perfume from Yves Rocher, and Burberrry trench coats and scarves.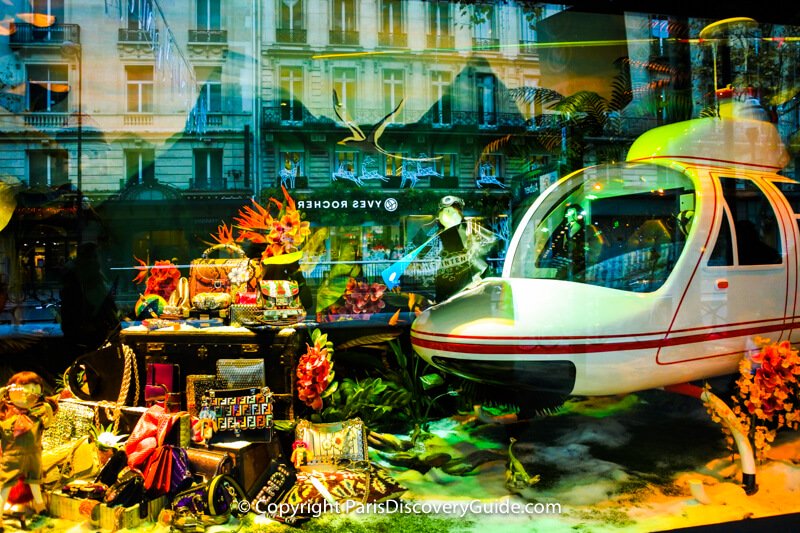 Printemps-Haussmann excels at getting even the tiniest details of the miniature worlds displayed in their windows just right.
Take a look at the backgrounds - snowy villages, city architecture, beautifully decorated Christmas trees. It's a fantasy world - but step inside the store and you'll see the real thing!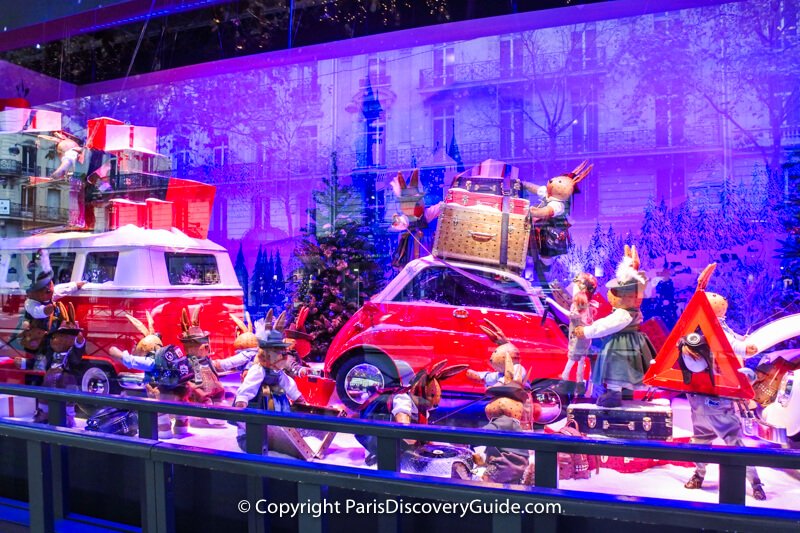 Location: 64 Boulevard Haussmann, 9th arrondissement
Metro: Chaussée d'Antin, La Fayette
Stay nearby:
- Maison Albar Hotel Opera Diamond - Excellent hotel close to Galeries Lafayette and Saint Lazare station - More
- Best Western Plus Hotel Sydney Opera - Highly rated budget hotel close to Printemps-Haussmann - More
More to enjoy nearby: Christmas lights along Boulevard Haussmann
---
---
BHV Marais: Christmas Windows with a Theme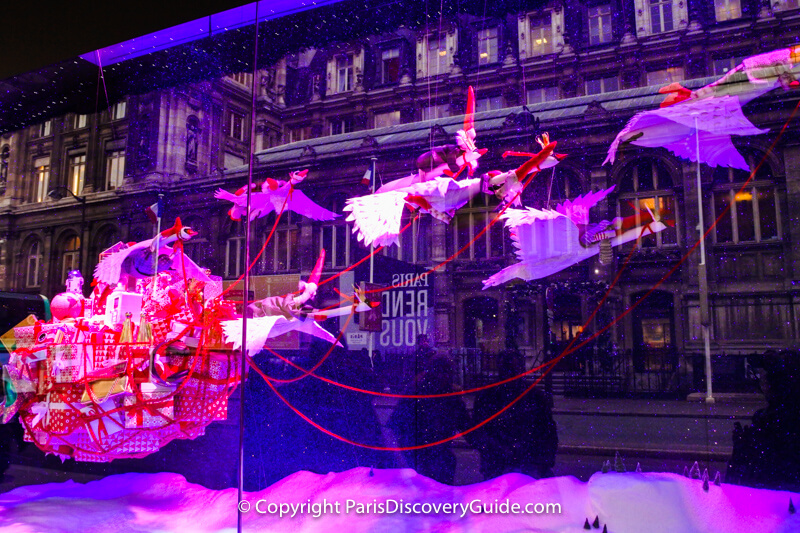 BHV Marais, located across Rue de Rivoli from the magnificent 19th century Hôtel de Ville (Paris City Hall) in the 4th arrondissement, lives up to its full name - The Bazaar of l'Hôtel de Ville - by featuring a marvelous selection of luxury goods from a wide range of sources.
More often than not, the department store's Christmas windows reflect this focus as the store teams with luxury brands, French regions, or even other countries to present toys and other products interspersed among the Santas and decorated trees.
So while you'll see holiday motifs and upbeat seasonal music, animations, and mulit-colored light shows dancing across the window displays, you'll also observe lots of wonderful merchandise representative of the brand, region, or country's culture - all tastefully shown within the context of the holiday spirit. Be sure to look for the Lego window!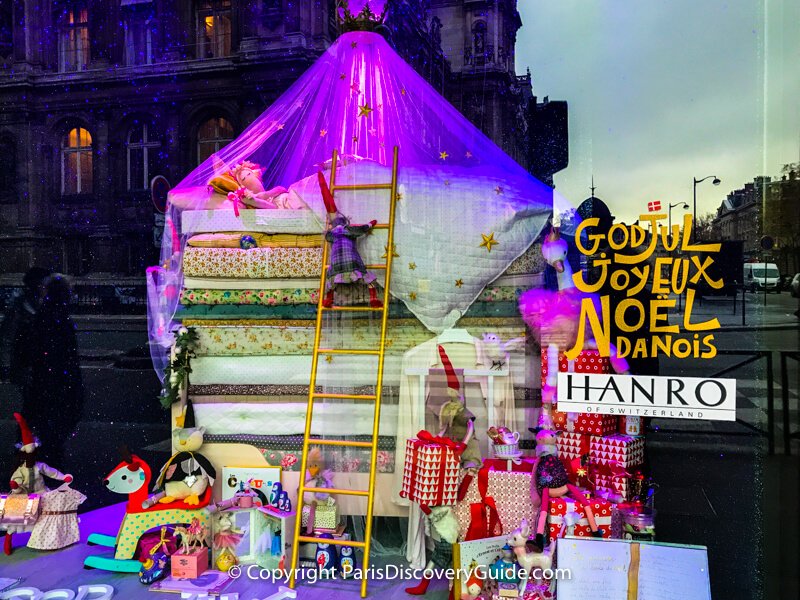 Location: 52 rue de Rivoli, 4th arrondissement
Metro: Hôtel de Ville
Stay nearby:
- Hotel Victoria Chatelet - Charming boutique hotel with affordable rates - More
- Hotel des Deux Iles - Small elegant hotel in a 17th century building on nearby Ile Saint Louis - More
More to enjoy nearby: Christmas Market at Les Halles; shopping at boutiques in the Marais; jazz (every shopper needs a reward) at the clubs along Rue des Lombards
---
Need to Book a Paris Hotel for Your Christmas Visit?
Planning a trip to Paris during the holiday season? Use this hotel map to find hotels near your favorite Christmas attractions:
Check out the newest Paris hotels
---
Bon Marché: Christmas Holiday Windows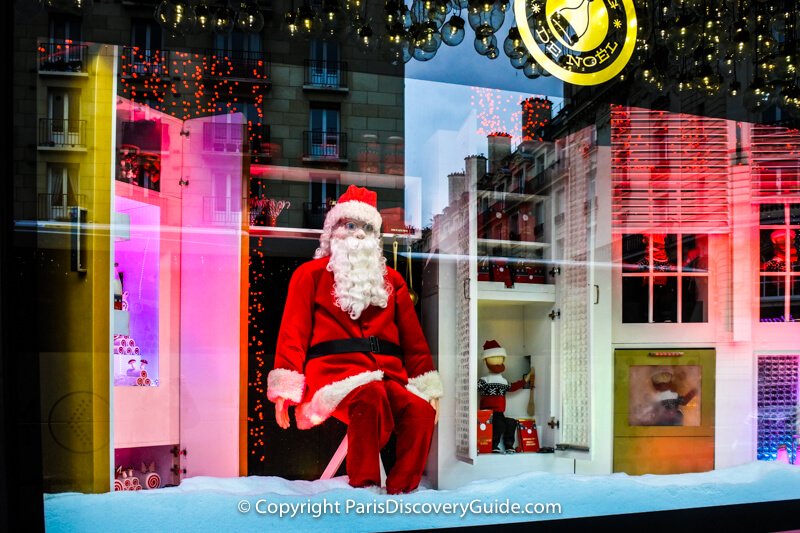 As the oldest department store in Paris as well as the only one on the Left Bank, Bon Marché uses its expansive street-side windows along Rue de Sèvres in the ritzy 7th arrondissement to serve up Chrismas nostalgia for simplicity and elegance.
Look for jolly Santas, sparkling lights, piles of brightly wrapped gifts, and traditional Christmas carols wafting through the speakers to put you in the holiday mood.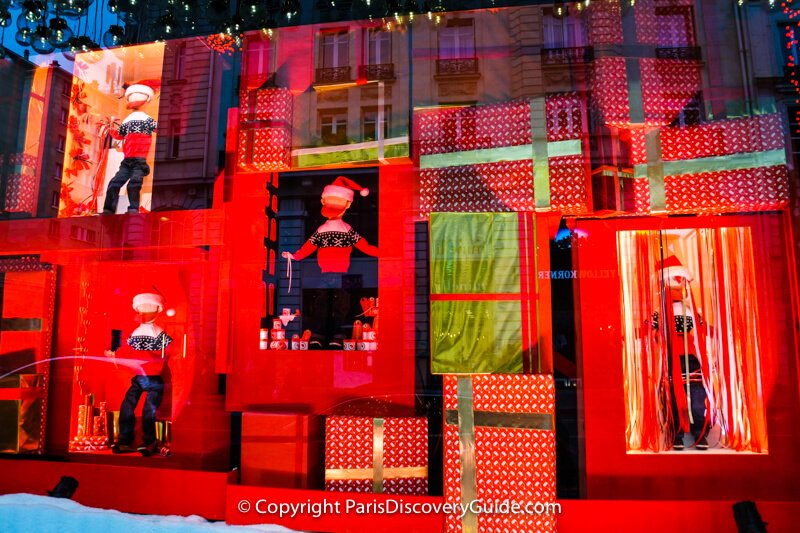 You'll see some animations, but instead of intricate story lines or products displayed across the windows, Bon Marché's message is simple: Christmas is coming, traditions matter, and the holiday season promises warmth and good cheer.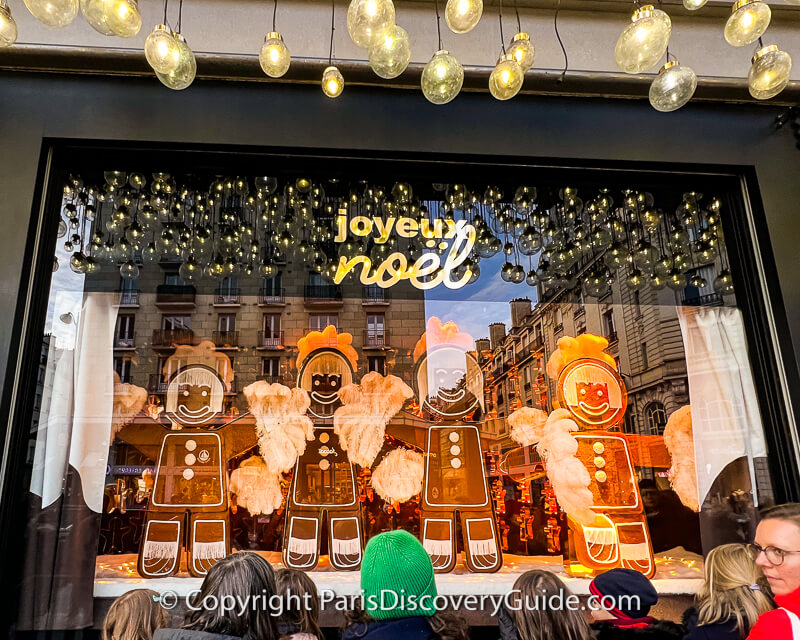 Location: 24 Rue de Sèvres, 6th arrondissement
Nearest Métro: Sèvres Babylone
Stay nearby:
- Hôtel Lutecia - Grand 5-star hotel around the corner from Bon Marché; relax in the pool or at the Jazz Bar after a day of shopping - More
- Hotel Le Petit Chomel - Lovely and affordable boutique hotel within a 1-minute walk from the store - More
More to enjoy nearby: Luxembourg Garden - beautiful even in the winter!
---
La Samaritaine: Christmas Holiday Windows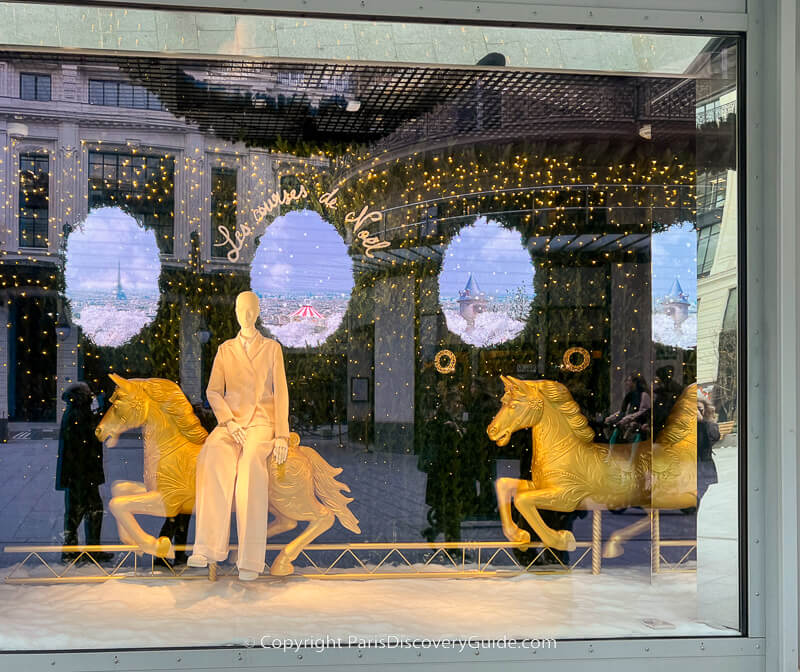 Newly reopened after a long hiatus, La Samaritaine features elegant but understated holiday windows to reflect its sophisticated interior.
Inside, the golden theme of the holiday decorations continues, enhancing the main building's beautiful architecture and sweeping Art Nouveau staircase.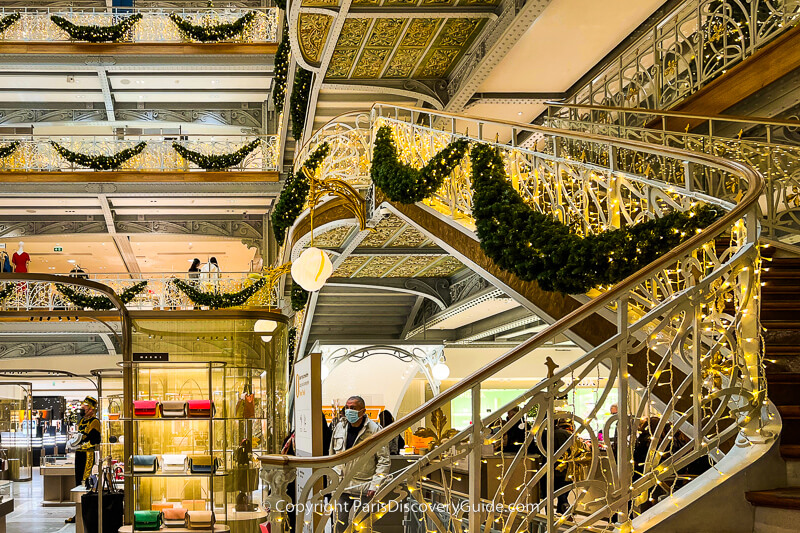 ---
Map & Addresses for Paris Department Stores with Christmas Window Displays
Store Addresses
Galeries Lafayette: 40 Boulevard Haussmann, 9th arrondissement, 75009
Au Printemps: 64 Boulevard Haussmann, 9th arrondissement, 75009
BHV:

52 rue de Rivoli

, 4th arrondissement, 75004
Bon Marché: 24 Rue de Sèvres, 6th arrondissement, 75006
La Samaritaine: 19 Rue de la Monnaie, 1st arrondissement, 75001
---
Map Showing Paris Grands Magasins - Big Department Stores
---
Other Store Windows with Christmas Decorations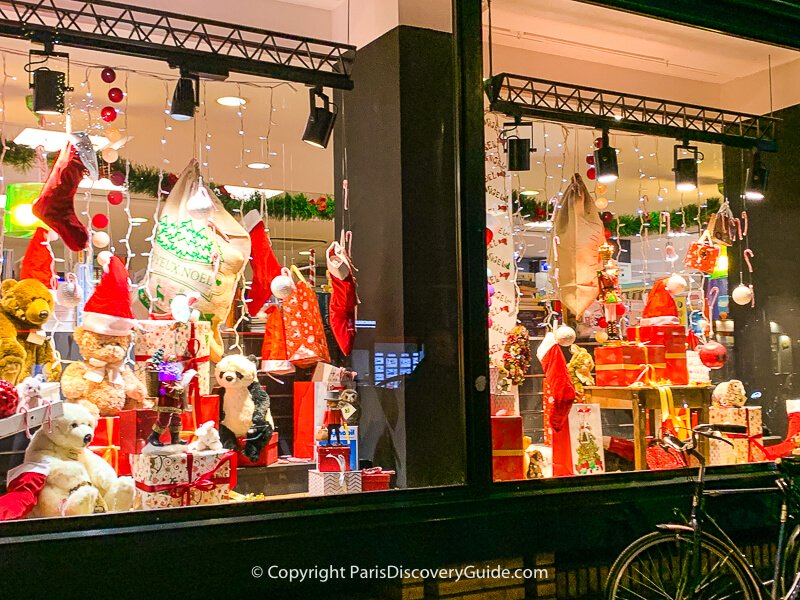 Virtually every store window features holiday decorations from simple to elaborate designed to lure in shoppers.
Best neighborhoods and areas for walking around and window-gazing: Saint Germain (Paris 6), Le Marais (Paris 4), Champs Elysées/Avenue Montaigne (Paris 8), Boulevard Haussmann/Avenue de l'Opera/Rue Saint-Honoré/Rue de la Paix (Paris 9/2/1), and Rue Saint-Louis en l'Île (Île Saint-Louis, Paris 4).
More Ways to See Christmas Displays, Lights, & Decorations in Paris:
---
---
Pin Now, Read Again Later
---
Want to Save on Your Paris Hotel?
Check our tips on how to find discounts, deals, and bargains for Paris hotels. Whether you're looking for cheap accommodations or want to pay less for luxury, we'll show you how to save on hotels in Paris.
Here are some shortcuts:
Booking.com: Need last minute reservations? Check out Today Deals on their website
Trip Advisor: Use their Best Value Deals & save BIG on your Paris hotel
Priceline: Find the lowest prices on Paris hotels with their Express Deals