Every summer, Paris Beaches - or Paris Plages, as they're called in French - pop up along the banks of the Seine River, Bassin de la Villette, and other locations, transforming the riverside into a city resort with beach chairs and umbrellas, gardens, cabanas, and even three large swimming pools.
Pop-up bars, cafes, and ice cream stands along the water and even on barges add to the festive ambiance.
All activities are free - and you'll find plenty to choose from, including lots of things for families: swimming pools, movies, water sports, games, petanque, concerts, pedal boats, kayaks, canoes, art exhibits, plus a lot more!
Paris Plages spans a two-month period from early July through late August or early September. Locations vary a bit from year to year. This year includes the Seine River banks along the 1st, 4th, 6th, and 7th arrondissements in central Paris, the immensely popular Bassin de la Villette where most of the water sports take place, and Trocadero Gardens (Jardins du Trocadero), where some of the 2024 Summer Olympics in Paris will take place..
Take a look at our guide to fun things to do at each Paris Plages location.
Top Photo: Paris "beach" along the Right Bank of the Seine River, (c) Paris Discovery Guide
Paris Discovery Guide is a reader-supported publication. When you buy through our links, we may earn a commission at no additional cost for you. Learn more
---
Paris Beaches along Parc Rives de Seine on the Right and Left Banks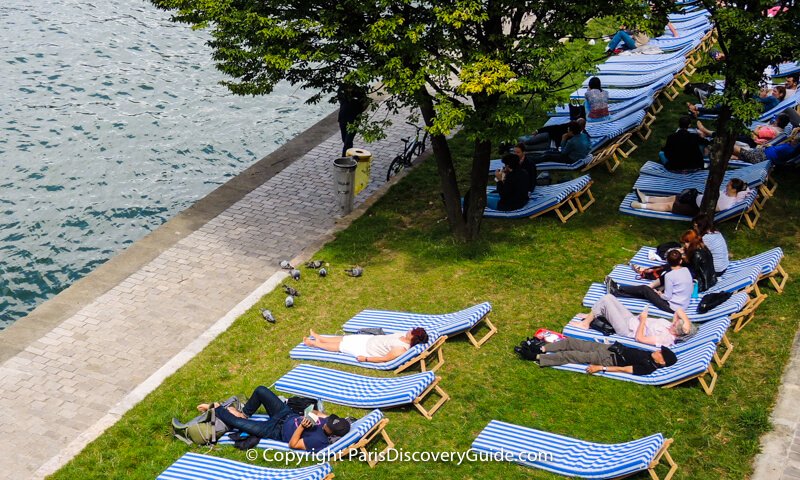 Along both sides of the Seine River in the heart of the city, Paris Plages transforms the entire Parc Rives de Seine - a beautiful park created from a former highway - into a scene from the French Riviera with beach chairs, colorful umbrellas, palm trees, and entertainment.
On the Right Bank, the Paris beaches stretch from the Pont Neuf bridge close to the Louvre to the Pont de Sully bridge just a few blocks from Place de la Bastille.
Along the Left Bank, the beach runs from the Pont de l'Alma bridge near the Eiffel Tower and Branly Museum to the Pont Royal bridge next to the Orsay Museum (almost opposite from the Louvre).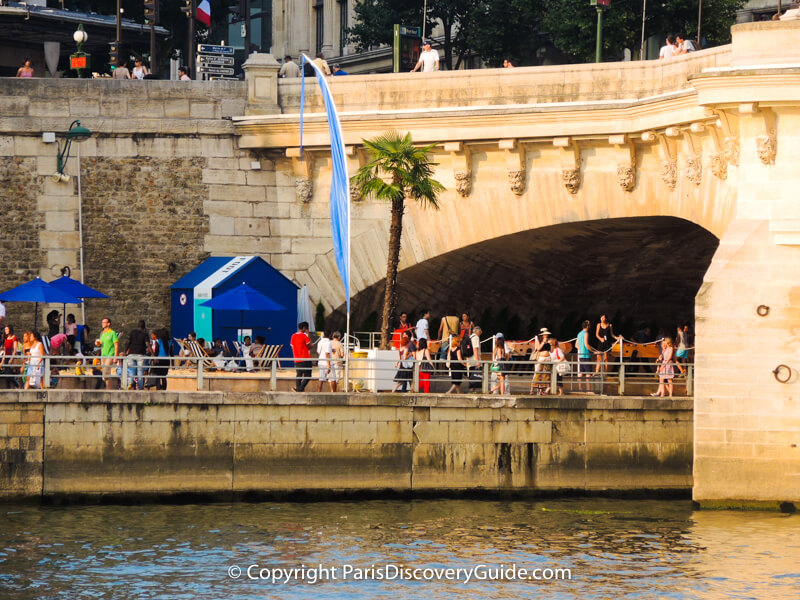 In the past, thousands of tons of sand were trucked in for the event each year, only to be removed a month later when the areas reverted back to traffic-filled highways.
Now the car-packed highways are gone (along with a lot of pollution), and the whole area has become a year-round park. Grass and trees replace the sand as a more environmentally-friendly, literally "greener," approach.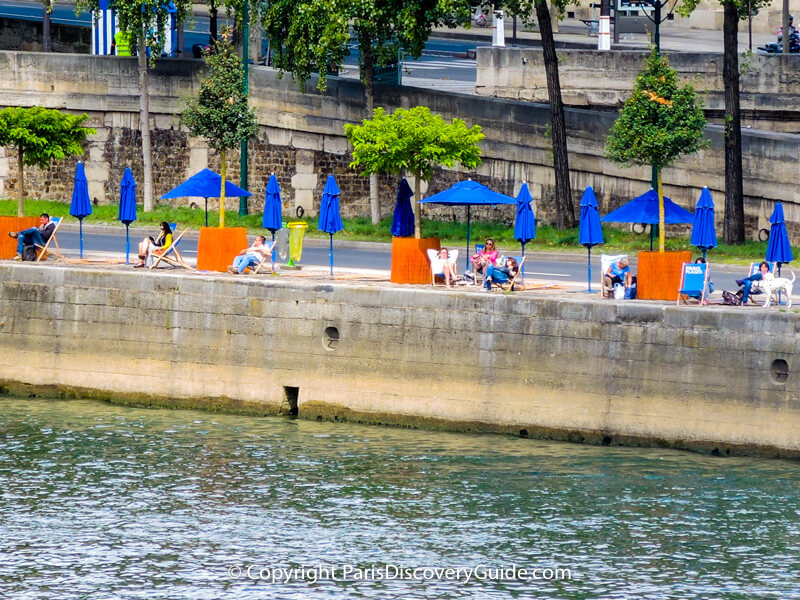 On the Right Bank, the seasonal beach focuses on tranquility and enjoying the sun. Tall potted palm trees add to the tropical ambiance. Even if you have just a few minutes to spare, relax in a chair or recliner while time slows down a bit.
If you have a little more time, stop by one of the pop-up bars or small cafes and buy a glass of wine and perhaps a snack. Find a comfortable place to sit, and gaze across the water at one of the best views in Paris.
Closest Metro stations to Right Bank beaches: Pont Neuf, Pont Marie, Sully-Morland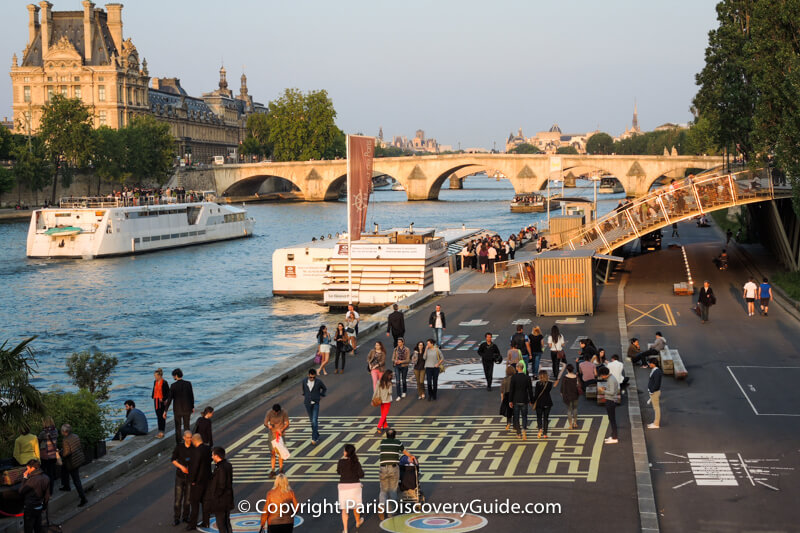 The Left Bank beach, formerly called Berges des Seine, is where to go for games, activities, art displays, a climbing wall, lively restaurants and bars, and dancing by the water.
You'll find many kids' activities here as well, plus wide paths for running, biking, and skateboarding.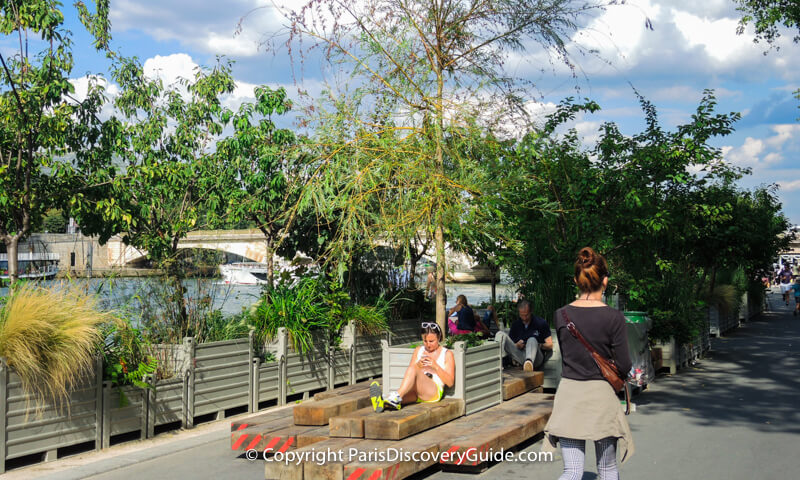 The Left Bank beach also provides deck chairs and plenty of other spots to relax with a book or a picnic.
Hungry? Try the lively pop-up restaurants offering casual food, wine, beer, and ice cream at outdoor picnic tables - or look for Rosa Bonheur, a floating restaurant on a barge near the Pont Alexandre III bridge. Modeled after a guinguette - 18th century outdoor bars featuring cheap wine, food, music, and dancing, Rosa Bonheur serves up excellent pizza cooked on the terrace in the world's 8th largest wood-fired pizza oven, and of course, music and dancing.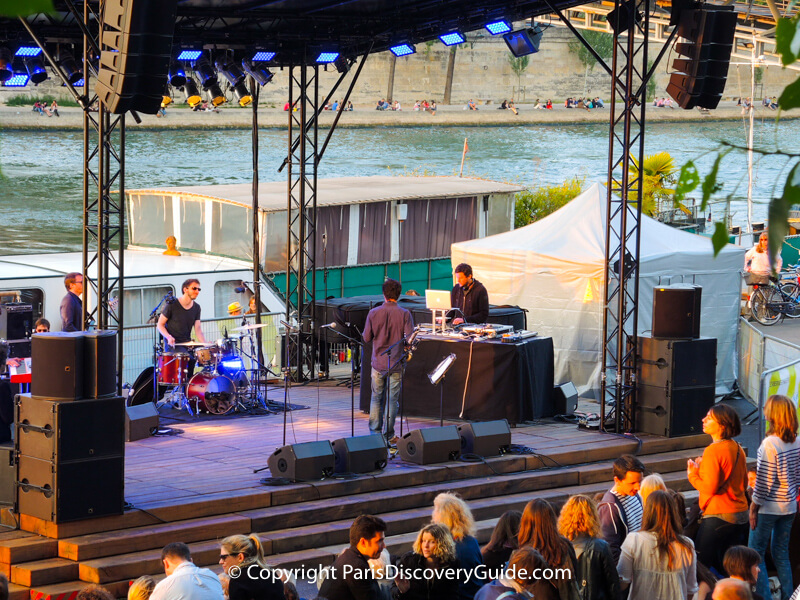 Concerts by mostly local groups take place on a waterfront stage.
Closest Metro stations to Left Bank beaches: Invalides, Assemblée Nationale
Closest RER: Pont d l'Alma, Invalides, Gare du Musée d'Orsay
---
Paris Beaches at Bassin de la Villette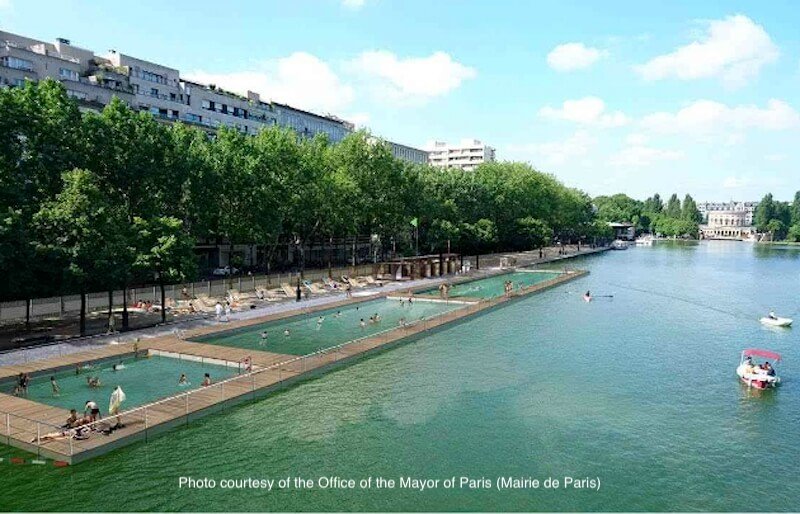 Bassin de la Villette, a broad expanse of water about half a mile long connecting Canal Saint-Martin with Ourcq Canal in the 19th arrondissement, boasts four large Paris Plages swimming pools floating within the canal itself open daily from 11am to 8:30pm. To ensure safety, only 200 people can use the pools during the same time slot, and each pool is disinfected between time slots.
Each pool has a different water depth to accommodate young children, people with reduced mobility, and swimmers of all abilities.
With free admission and plenty of lifeguards, showers, and changing rooms, the pools are a huge hit on hot summer days.
Even more important, they showcase the city's delivery on its promise to clean up formerly-filthy urban waterways to be safe for public swimming.
Will swimming in the Seine be next? Rumors say yes, in just another year or two . . . so stay tuned for the next exciting development of Paris Plages!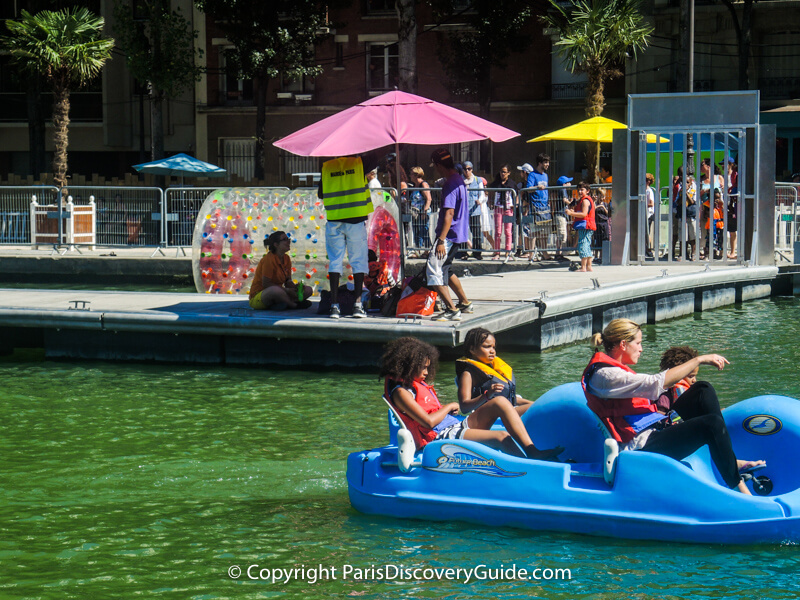 Elsewhere around the Bassin, you'll find plenty of other waterfront activities offered free of charge - pedal (ie, bicycle) boats, paddle boats, ziplines, sailboats, kayaks, canoes, and various activities and workshops. Look for the new climbing wall!
Instructors will be on hand throughout the day and evening help you have a fun and safe experience.
Waterfront cafes line the beach, so plan to reward yourself after your water sport adventure. Ice cream, wine, and snacks are just a few of the appealing options on offer.
Free movies and concerts round out the fun.
In addition to the beach recreation area, there's a lot more for you to explore near Bassin de la Villette. The area around Saint Martin Canal, one of Paris's newly trendy hot spots, practically overflows with interesting boutiques, galleries, pop-up stores, and hip bars and bistros serving up excellent food. You'll usually see lots of colorful street art on the neighborhoods walls.
Just beyond the Bassin is the expansive Parc de la Villette, home to one of Paris's best science museums, Cité des Sciences et de l'Industrie, with lots of interactive hands-on exhibits for kids of all ages. Philharmonie de Paris, the spectacular Paris concert hall designed by architect Jean Nouvel which opened in 2015, is here as well.
Free outdoor movies during the summer provide the perfect excuse for a picnic in the park under the stars - check our July and August calendars for exact dates.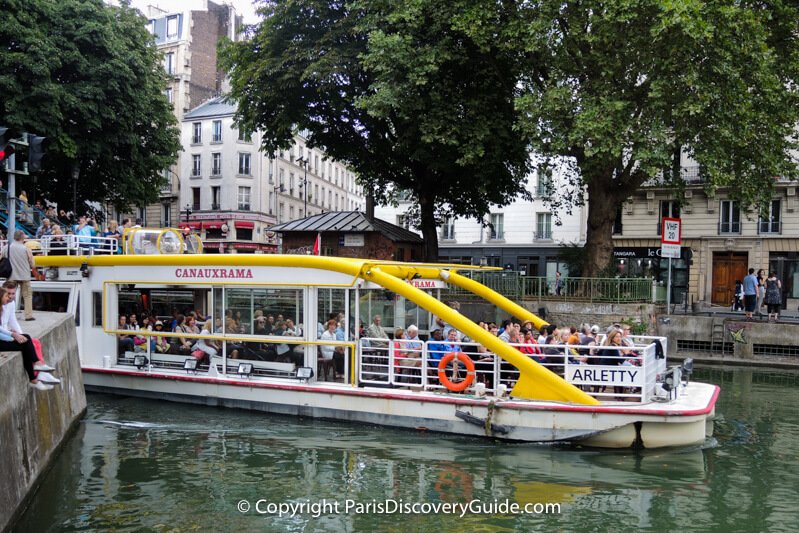 Closest Metro to Bassin de la Villette: Juarès
For a scenic view of the Canal Saint-Martin and Bassin de Villette, hop on one of these fun cruises:
---
Paris Discovery Guide's Insider View
Paris Plages provides lot of summer fun and entertainment - but it also showcases the city's increasingly green, clean, and human-friendly environment.
No more exhaust fumes and pollution from traffic along the banks of the Seine now that city has permanently transformed the river roads into a park! Swimming in clean water in the Canal de l'Ourcq! Pedestrian-only streets and bike lanes everywhere!
After beginning back in 2002 with only one small artificial beach, Paris Plages is now a major summer attraction for locals and tourists alike - part festival, part beach, and part reflection of the city's 21st century green culture.
---
Paris Plages at Trocadéro Fountains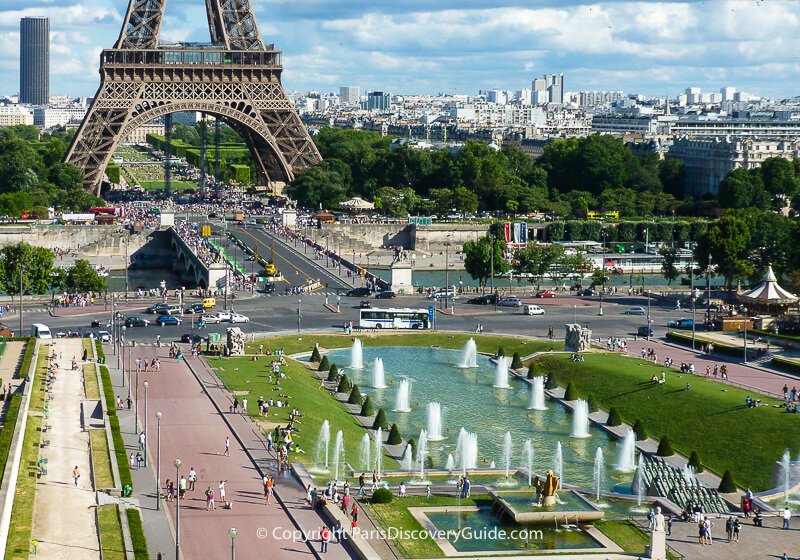 Again this year, the City of Paris will host lots of sports activities such as street basketball around the Trocadero fountains as part of Paris Plages. As a bonus, you'll practically be in the shadow of the Eiffel Tower.
This area, which can accommodate about 8,000-10,000 people, will be the site of some events during the 2024 Summer Olympics to be held in Paris.
More to do in this area: Explore the views from each level of the Eiffel Tower. (Get your tickets in advance to avoid wasting time in line.) Take a spin on the nearby merry-go-round. Hungry? Walk up to the top of the Trocadero plaza and head over to the creperie stand for a nutella-banana crepe. For a glass of wine or a meal, head to one of the cafes or restaurants around Place du Trocadero (Avenue du President Wilson).
---
Paris Plages at Hôtel de Ville - Not This Year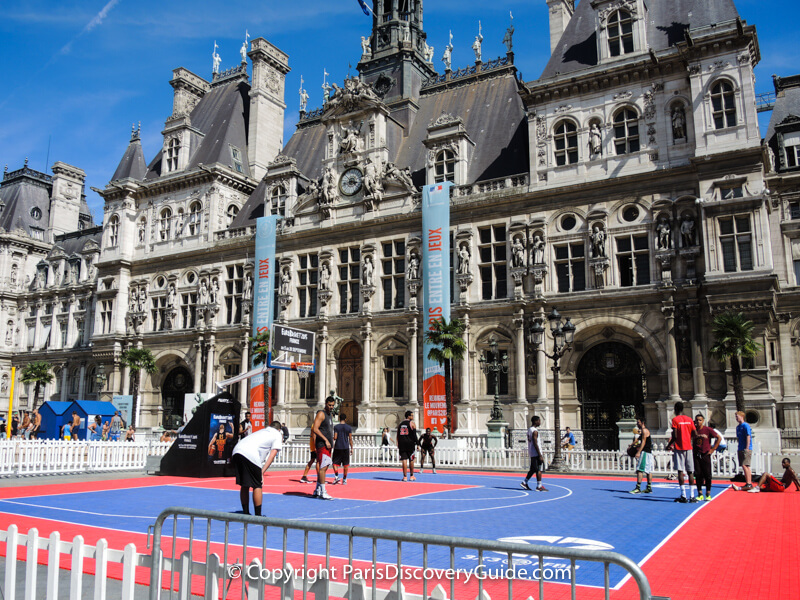 Please note: This venue is not part of Paris Plages this year, but we are leaving this information up in case you want to check out what might be happening here in future years:
Paris Plages converts the spacious courtyard in front of Hôtel de Ville into a sports-oriented venue for volleyball, basketball, runners, and other athletics. You'll even find a running track repurposed from Paris's successful 2024 Olympics bid.
Games go on almost non-stop - you're likely to see several underway anytime you walk by. These are pick-up games, so feel free to join in - you will be welcome!
Also look for special displays and art to celebrate the 2024 Summer Olympics in Paris.
For three days during early July, the courtyard transforms into a concert stage for free live non-stop performances by about 30 artists sponsored by Fnac, the large electronics store. Check our July Events Calendar for exact dates and information about getting tickets, necessary for admission due to capacity constraints.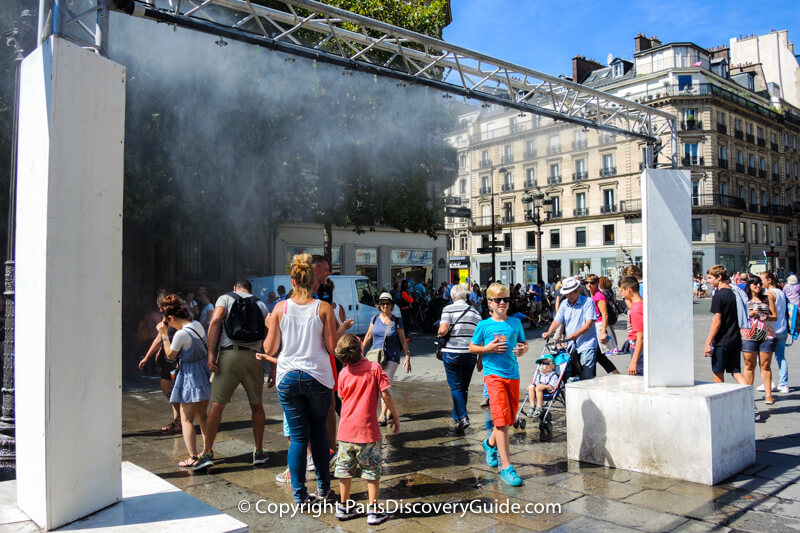 ---
More Paris Cruises
---
More Articles about Fun Things to Do in Paris in the Summer